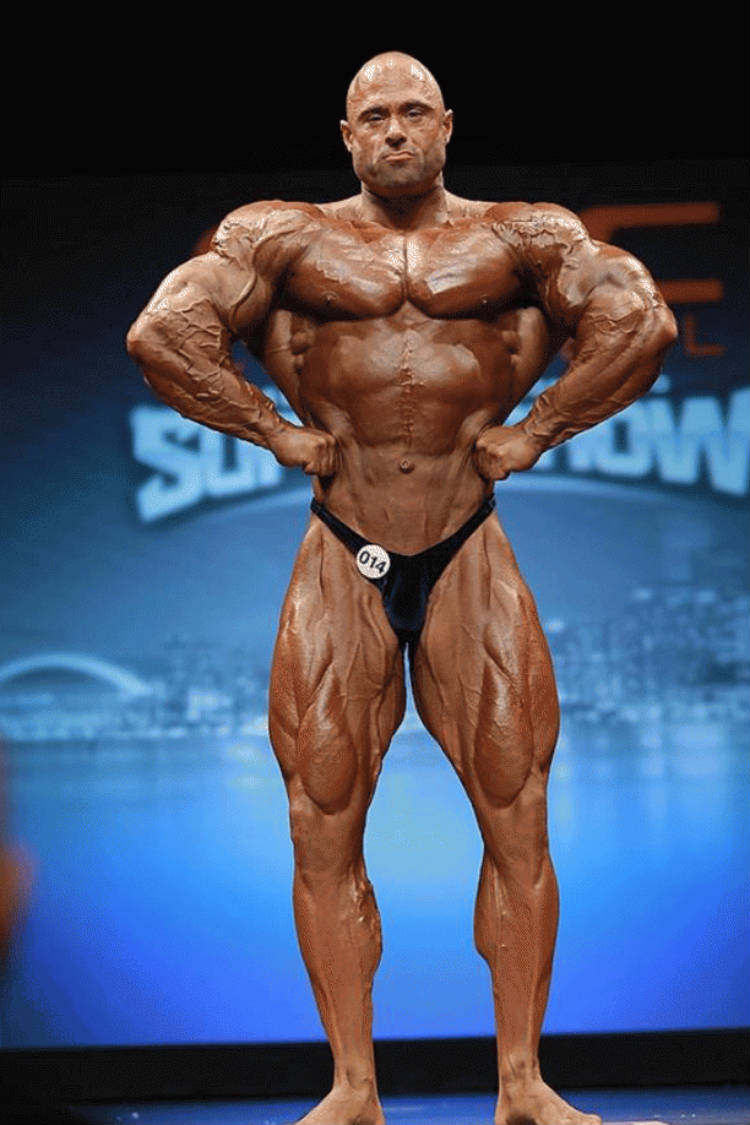 Frank McGrath
IFBB Professional Bodybuilder, Sponsored Athlete
Frank McGrath is an IFBB professional bodybuilder and sponsored athlete from St Johns, Newfoundland (Canada.) He rose to fame in the early 2000's, when he won his pro card at the 2003 Canadian championships.
While Frank is famed for his huge arms today, he says that he was actually the small boy in the class growing up. He idolized superheroes on television while wanting to be as a strong as Arnold Schwarzenegger.
After a successful start to his professional career in 2003, Frank suffered a serious injury in training, followed by another in a car crash. He didn't let this put an end to his career though – returning to training as soon as he could.
It is this dedication to the sport, which has made Frank one of the worlds most highly-respected bodybuilder's. This is his story:
---

Athlete Statistics
Full Name: Frank Mcgrath
Weight
Height
Waist
Age
235 - 245lbs (106.6 - 111.1kg)
5'11" (180cm)
28"
45
Date of Birth
Nationality
Profession
August 9, 1978
Canadian
IFBB Professional Bodybuilder, Sponsored Athlete
Era
2000, 2010
| | |
| --- | --- |
| Weight | 235 - 245lbs (106.6 - 111.1kg) |
| Height | 5'11" (180cm) |
| Waist | 28" |
| Age | 45 |
| Date of Birth | August 9, 1978 |
| Nationality | Canadian |
| Profession | IFBB Professional Bodybuilder, Sponsored Athlete |
| Era | 2000, 2010 |
---

Accomplishments
Competitions
2000 Newfoundland Championships Heavyweight & Overall, 1st
2001 Canadian Championships Superheavyweight, 6th
2003 Canadian Championships Superheavyweight & Overall, 1st
2004 Toronto Pro Invitational, 12th
2009 IFBB Tampa Bay Pro Open, 9th
2011 IFBB Tampa Bay Pro Open, 3rd
2011 IFBB Toronto Pro Invitational Open, 4th

2011 IFBB Pro Bodybuilding Weekly Championships, 3rd

2013 IFBB Toronto Pro Supershow, 4th

2015 IFBB Ferrigno Legacy, 6th
---

Biography
Early Years
Frank was born and raised in Newfoundland, Canada. He says that he was the "small kid" growing up and was always terrible at sports. Some of his earliest memories were of watching superhero movies, and wishing he could be as strong as the figures on screen.
As he entered his pre-teens, he says that he wanted to find superheroes in the real world. Because of this, he began to follow famous bodybuilders such as Arnold Schwarzenegger – seeing them as the embodiment of everything he wanted to be.
Beginning To Train
While Newfoundland is a very small Canadian province, it has a long standing tradition of bodybuilding and strength competitions. Because of this, Frank was aware of the bodybuilding lifestyle, and he began training as a teen with the vision of building a physique just like Arnold's.
He rapidly learned about bodybuilding nutrition, and soaked up all the training tips he could from his peers. Through this, he gradually developed a competition ready physique.
Going For The Pro Card
Luckily for Frank, Newfoundland had an amateur competition he could enter; the Newfoundland Championships. He knew that the 2000 event could be his for the taking, so he began training hard with the intention of competing.
He managed to get ready for the competition in good time, and won the competitions heavyweight category outright – bagging the overall trophy as well. Winning this event qualified him for the 2001 and 2003 Canadian Championships Superheavyweight category.
In the first event, he managed a 6th place position, but in 2003 he managed to win the entire contest coming in 1st and overall. For Frank this meant that he was now an official bodybuilding professional.
---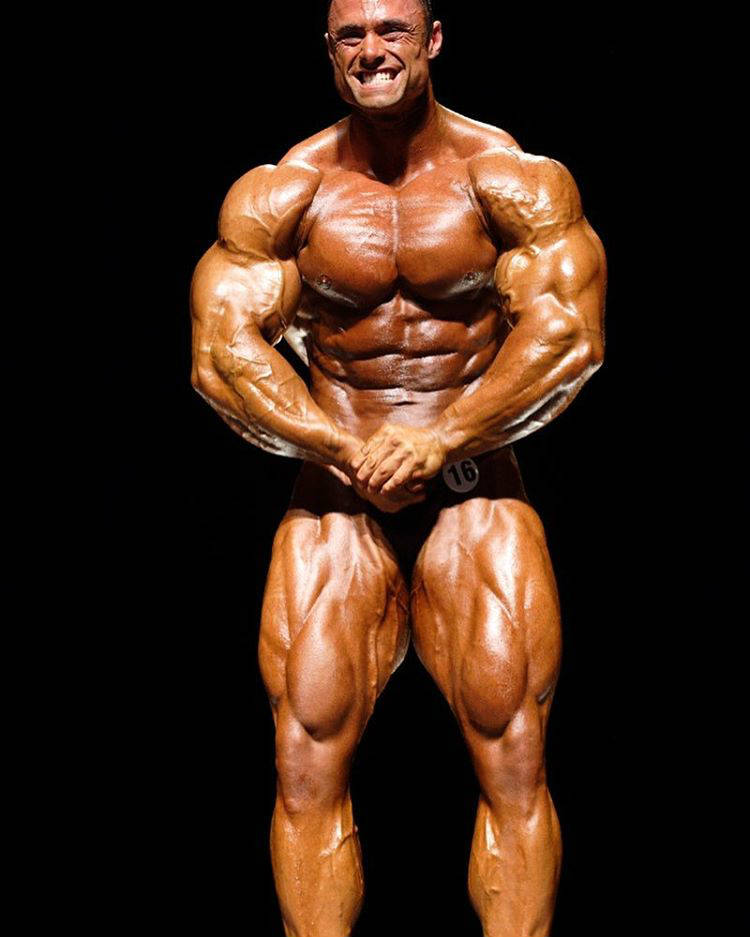 ---
Professional Competitions
After this victory, Frank began to compete in his first professional competitions with the best in the world. He didn't begin well with a 12th at the Toronto Pro Invitational, but he managed to make steady improvements.
Unfortunately, these improvements were put on hold when Frank severely injured himself.
Suffering From Injuries
In 2008, he severely tore his tricep while training, days before the 2008 Arnold Classic. This set him back a lot in his training – meaning that he had to sit out of competitions until the next year.
In a potentially career and life ending event, Frank was also in a serious car crash in 2010. On February 25, a driver "T-Boned" Franks car, instantly putting him in a life or death situation. He was in the hospital for over a month and had to have his spleen removed completely.
"I had to have my arm stitched back together, as a huge piece of skin was missing. My lung was collapsed, and there was damage to my left shoulder. I lost over three liters of blood."
Getting Back Into The Sport
While these injuries were extremely serious, they didn't put an end to his career. In fact, Frank says that he worked harder than ever once he had recovered.
This hard work was reflected in his 3rd place at the 2011 IFBB Tampa Bay Pro Open. He was extremely happy with this result, and it marked his return to the professional competitions he always wanted to be a part of.
He also made it to the Mr Olympia competition in the same year. He didn't place well that time round, but he was extremely happy with his performance nonetheless.
---

Training
Training After His Injuries
Frank says that people constantly ask him about the injuries he suffered in the car crash in relation to his training.
He says that he doesn't know if he has fully recovered, but he can still train hard and still has the drive inside him to be the best.
 "Go after what you want in life no matter what obstacles are in your way."
Heavy Weights
When Frank lifts, he lifts heavy and tries to constantly push past his personal bests. On the incline bench press, he can easily lift 315 pounds for 10 reps, without much effort.
He loves to hit his shoulders very hard too. During a shoulder session, he typically focuses on side laterals and presses. He starts the session with dumbbell side laterals, with an intention of adding lean muscle to the medial head of the deltoid.
Following this, he begins to push out military presses, locking some reps out, and holding others short to maximize the time under tension. This is a particularly strenuous exercise, but Frank follows it up with thirty front raise reps, while holding a 45 pound plate.
To finish off this punishing workout, he incorporates a punishing super set of leaning side dumbbell raises, with machine shrugs. He says that he wants all of his workouts to hurt, saying "I'm going to have to do something to torture myself" each session.
Building His Famous Arms
"You don't just blend in. You're a freak. You're something different. You should embrace it. And go with it."
Frank has some of the most widely discussed arms in bodybuilding. When it comes to training his biceps and triceps, he goes typically hard and completes a lengthy workout.
He sometimes completes two arm workouts in one week, combining free weight movements, with new machine movements that he has gradually incorporated for variety. He usually begins with a barbell curl, using the EZ Curl Bar.
Following this, he may begin with an assault of one armed dumbbell preacher curls – pushing his biceps to their limits. These sets are followed by rope hammer curls, which attack his forearms as well, then barbell wrist curls, dumbbell wrist curls, reverse cable curls and wrist rollers.
This workout has been designed to be a grueling ordeal which leaves Franks arms pumped to their limits, and the muscles broken down as much as possible.
---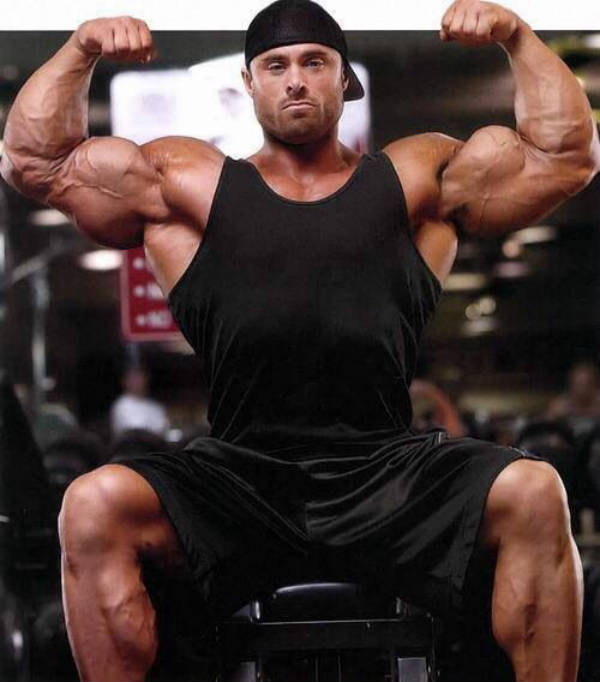 ---
Weekly Routine
Day 1: Chest
Incline Barbell Press: 4 sets  12-6 reps
Flat Dumbbell Press: 4 sets  12-8 reps
Incline Dumbbell Flyes: 3 sets 12-8 reps
Dumbbell Pullovers: 3 sets  12-10 reps
Cable Crossovers: 4 sets 15-12 reps
Day 2: Back
Wide Grips Chins: 4 sets  10 reps
Barbell Rows: 4 sets  12-6 reps
T-Bar Rows: 4 sets 12-8 reps
Underhand Grip Pulldowns: 3 sets 12-10 reps
Day 3: Off
Day 4: Legs
Leg Extensions: 4 sets  20 reps
Leg Press: 4 sets 20-12 reps
Hack Squats: 4 sets 15-10 reps
Lunges: 3 sets 15-12 reps
Stiff-legged Deadlifts: 4 sets 12-8 reps
Lying Leg Curls: 4 sets 15-10 reps
Day 5: Delts
Barbell Military Press: 4 sets 12-6 reps
Seated Side DB Lateral Raises: 4 sets 12-8 reps
Bent Rear Delt Lateral Raises: 4 sets 12-10 reps
Hammer Strength Machine Press: 3 sets 12-10 reps
DB Shrugs: 4 sets 12-8 reps
Day 6: Arms
Barbell Curls: 4 sets 12-6 reps
Alternating Dumbbell Curls: 4 sets 12-8 reps
Preacher Machine Curls: 4 sets 15-10 reps
Close Grip Bench Press: 4 sets 15-8 reps
Skullcrushers: 4 sets 12-8 reps
Pushdowns: 4 sets 15-10 reps
or
EZ Bar Curls (with Arm Blaster): 4 sets x 15-10 reps
Dumbbell Preacher Curls: 4 sets x 12-8 reps
Rope Hammer Curls: 4 sets x 15-10 reps
Behind-The-Back Barbell Wrist Curls: 3 sets x 15-10 reps
Dumbbell Wrist Curls: 3 sets x 15-10 reps
Reverse Cable Curls: 3 sets x 15-10 reps
Wrist Rollers: 2 sets x 20 reps
Day 7: Off
---

Nutrition
Advice To Younger Athlete's
When it comes to nutrition, Frank's message to all young bodybuilders trying to build their physique is simply "eat your face off." He says that nothing can replace a healthy and nutritious diet that meets the individuals caloric needs.
Favorite Meals
Frank loves to start the day well with a hearty and nutritious breakfast. One such meal when he was visiting Philadelphia, was poached eggs with pancakes, breakfast meats and orange juice.
He occasionally eats out after a workout too. During the off-season he eats whatever he wants as long as it hits his macronutrient needs. This can range from a large burger, to an omelette with meat.
Protein Based Recipes
When he is not eating out, Frank meets his own macronutrient and caloric needs by cooking a lot of his own meals. He loves to cook when he can – providing many of his favorite recipes to his fans via social media.
Frank also enjoys adding protein powder to various traditional recipes to make treats. He sees that if something tastes like junk food, but is very healthy, you have the best of both worlds.
His recipe for protein brownies is below:
Ingredients
· 2 Eggs
· 2 Bananas
· ¼ cup of Applesauce
· 2 tablespoons of Chocolate Chips
· 2 scoops of chocolate whey protein
Instructions
Mix the eggs, bananas and applesauce, before adding in the chocolate chips and whey powder.
Microwave on high for 6 minutes, or bake for 20 minutes at 360 degrees Fahrenheit
"Challenge yourself to look at food differently and strategize easy and healthy methods of making the often daunting task of reaching your daily nutritional quotas fun."
---

What we can learn from Frank McGrath
Franks McGrath is a fighter. He has fought through two serious injuries, and continues to make his mark in the professional bodybuilding world.
Without this dedication, it would've been be hard for him to have made it from Newfoundland, to the Mr Olympia tournament of 2011. Apply the same level of determination in your own fitness journey and who knows where you could end up.