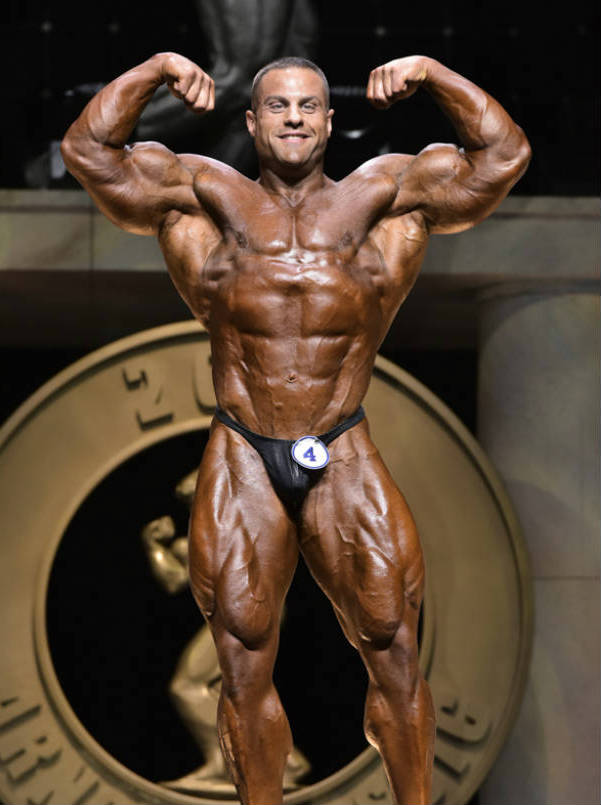 Evan Centopani
IFBB Professional Bodybuilder
Evan Centopani is an IFBB professional bodybuilder from Connecticut, USA. He's a successful athlete who has won a number of IFBB shows, including the New York Pro and the Tampa Pro.
While Evan's physique has allowed him to win some of the most prestigious shows in America, he wasn't always so muscular. In fact, growing up Evan suffered a lot with weight issues, which dominated his childhood and early teens.
When he was 15, he became obsessed with using his size to deliver strength. He gradually started to become interested in working out and focused on his nutrition and technique everyday.
This would allow him to build the physique he always wanted. He began to compete at amateur shows and won every competition he entered. He took his Pro Card in 2007 and started an excellent professional career full of victories and hard training.
This is Evan's story:
---

Athlete Statistics
Full Name: Evan Centopani
Weight
Height
Nationality
Profession
255 - 265lbs (115.7 - 120.2kg)
5'11" (180cm)
American
IFBB Professional Bodybuilder
Era
2000, 2010
| | |
| --- | --- |
| Weight | 255 - 265lbs (115.7 - 120.2kg) |
| Height | 5'11" (180cm) |
| Nationality | American |
| Profession | IFBB Professional Bodybuilder |
| Era | 2000, 2010 |
---

Accomplishments
Competitions
2005 Bev Francis Atlantic States tournament, 1st and overall
2006 NPC Junior Championships, 1st and overall
2007 NPC National Bodybuilding & Fitness Championships, 1st and overall (pro card)
2009 New York Pro, 1st
2011 Flex Pro, 1st
2011 IFBB Los Angeles Pro competition, 1st
2011 Arnold Classic, 4th
2012 Arnold Classic, 3rd
2012 Mr. Olympia, 8th
2013 IFBB Tampa Pro, 1st
2013 Mr. Olympia, 13th
2014 Arnold Classic, 5th
2014 IFBB Australia Pro Grand Prix, 1st
---

Biography
Weight Problems As A Child
Growing up in Connecticut, Evan who has been nicknamed 'the Ox', struggled hugely with his weight. At the age of 12, he was actually 220lbs and was clinically obese.
In an online post, Evan talks about his youth and says that, at times, he would eat 3 large breakfast meals per day. He would also indulge with high fat and and processed foods and would eat snacks all day.
Starting To Become Active
Evan would go on to attend a prep school in his local town, but wasn't very active or involved in sports until the age of 15.
Around this time, he started to ride his bicycle with his friends and was impressed by the strength he could transfer from his weight into the pedals. This small event was the spark that made Evan interested in strength training, and he didn't look back.
---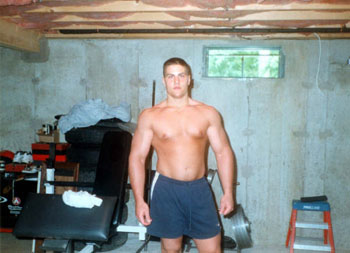 Evan as a teenager in his basement gym
---
Playing Sports In High School
In High school, Evan's friends were always telling him how good he would be at football if he gave it a shot. He was tall, heavy, and could run quite fast, but he never attended training to find out.
While he didn't become involved in football, Evan was always in the gym during these years. He was obsessed with building muscle and becoming stronger in the process.
As he spent more time in the gym learning techniques from peers and books, he also read about nutrition. He developed a meal plan, becoming much more concerned with what he was eating and how beneficial the food was for his body.
Taking Bodybuilding Seriously
Evan didn't pursue bodybuilding as a potential career until he was 23 years old. He decided that he wanted to show his physique off to the world, so began to compete at amateur shows.
His first show was the 2005 amateur Bev Francis Atlantic States tournament. He wasn't sure if he would place at all, but, to his surprise he won the heavyweight class and also lifted the overall title.
The following year, Evan had another great success. He went on to win the NPC Junior Championships and take the 1st and overall once more. For him, this successful run was a sign that he couldn't stop and had to see how far he could go in the sport.
---
 
---
Achieving A Pro Card
In 2007, Evan solidified this success by claiming his Pro Card. He won the superheavyweight class at that years NPC National Bodybuilding & Fitness Championships, and could now pose with the best bodybuilders on earth.
He did so at his first professional show; the New York Pro in 2009. In this pro-debut, he took an incredible 1st and was ecstatic in front of the large crowd at the Tribeca Performing Arts Center.
Focusing On Becoming Better
In early 2010, Evan Centopani announced on a radio station that he would be taking the year off to focus on his training and nutrition. He knew that his initial professional success had to be improved on, if he was to continue the winning streak.
He spent a lot of time working on technique and posing with his coach, but when 2011 came around Evan was ready to perform. He was back in action at the following year's Arnold classic tournament, where he took 4th place.
A Major Victory In LA
One of Evan's greatest wins was at the 2011 IFBB Los Angeles Pro competition. In this show, he was declared the overall winner of the general bodybuilding category and had truly arrived in the professional bodybuilding world.
Following this event, Evan decided that he would take a break from professional shows and focus on helping others reach the top. He chose to spend his time offering tips on ways to stay toned and lean – setting up a website to help the general public.
---

Training
Hard Hitting Chest Workout
Evan trains with heavy weights and introduces a lot of supersets to work is body to its limits. He uses machines, cables and free weights, and has no issues with trying out new equipment and techniques to see if they will give him an edge.
His usual chest routine is below:
Cable Cross-Over 4 sets of 10-15 reps, starting lighter with higher reps, then adding weight and lowering reps
Incline Barbell Bench 5 sets of 6-12 reps, starting lighter with higher reps, then adding weight and lowering reps
Machine Press 4 sets of 10-15 reps, starting lighter with higher reps, then adding weight and lowering reps
Supersetted with…
Flat Dumbbell Fly 4 sets of 8-12 reps, starting lighter with higher reps, then adding weight and lowering reps
Parallel Bar Dip 4 sets of 8-12 reps
Training Split
Day 1: Legs
Day 2: Off
Day 3: Chest and Tris
Day 4: Back
Day 5: Off
Day 6: Hams and Calves
Day 7: Delts and Bis
Day 8: Off
---

"I like to start with a cable or a machine first to get a lot of blood in the muscle without stressing the tendons."
---
Training Arms Infrequently
Evan insists that time away from arm training is the best way to make them bigger and stronger. He says that arms are generally over trained when working out, so taking a sabbatical from the workout helps massively, as the tendons can heal.
When he does workout, he lifts as heavy as he can and includes a wide variety of exercises. His usual routine is below:
Single-Arm Preacher Curls
Evan usually starts his workout with the single-arm preacher curl. He does this, as the movement is a pure isolation movement which doesn't stress the muscle too much.
Alternate Dumbbell Curl
Following this, he moves on to the alternate dumbbell curl. He's always includes this exercise in his arm session, but has never gone beyond 8 reps per set, as he doesn't want to overtax the muscle again and risk a tear, or long term injury.
He says regarding this, "When I see guys getting overzealous and heaving up mega heavy curls for just a few reps, I cringe because I know they're setting themselves up to get hurt."
Barbell Curl
As well as the dumbbell curl, barbell curls are also extremely important to Evan. He says that he used to use an EZ bar to complete the lifts, but switched to a straight bar after noticing the lift to be much more punishing and effective.
---

---
Tricep Dip
The barbell curl is the last freeweight exercise of Evan's set, and he switches to bodyweight and machine exercises shortly after. The first of these exercises is the dip, which Evan enjoys greatly.
He sees that the dip is an ideal transition into the tricep section of the workout, and he only needs to add weight to his body during the pre-competition stage.
Single-arm Overhead Dumbbell Extensions
For his first tricep exercise, Evan completes the single-arm overhead dumbbell extension. He says that he has been completing this exercise since he was working out in his basement as a youngster, so he knows how effective it can be with correct form.
He also stresses that correct weight is vital. Even when he was 300lbs, he says that he would never go above 60lbs on each weight to avoid pointless injury.
Rope Pushdowns
Rope pushdowns are another exercise which do not require massive amounts of weight to be effective. Evan likes to complete sets of 20 reps, with rest periods of 20-30 seconds per set.
At the end of this exercises period, he may switch to single arm movements in order to really hit each tricep hard before moving on.
Dip Machine
Evan usually finishes his arms session with a hard hitting dip machine set. He values the 1980's style dip machine at his gym in Connecticut; believing that some of the old equipment works the muscle better than the new machines.
During this set, he really squeezes out the reps hard and finishes the session as he started it; with intensity.
---

Nutrition
Healthy And Nutritious
Evan has created an extremely healthy diet which includes nutritious fruits, vegetables and lean meat options to keep his body and muscles fueled all day.
He chooses to prepare his meals a day in advance of eating, storing them in individual containers in the refrigerator. Through doing this, he avoids the hassle of returning from a workout to cook.
Off-Season Recipes
In the off-season, Evan loves to experiment with interesting new meal options, as he has the chance to eat a lot of calories. He cooks meals such as roasted chicken with garlic rapini and rosemary boiled potatoes.
Such meals allow Evan to really enjoy his bulking season. He also loves to eat meals that really take him back to his youth, so pasta with meatballs and steak dishes are always on the menu.
Competition Diet
Evan's competition diet is naturally much more strict and includes lean meats and regimented carbs. He makes these changes, so that he can loose weight and build muscle at the same time.
He loves to eat large amounts of eggs for breakfast, then lean meat such as chicken and lean steak throughout the day.
An example of one days eating in Evan's competition season is below:
Meal 1: 6 whole eggs
Meal 2: 8oz chicken, 1/3 cup macadamia nuts
Meal 3: 50g Iso whey, 2 tbsp peanut butter
Meal 4: 8oz chicken, 1/3 cup macadamia nuts
Meal 5: 8 oz steak, 2 cups broccoli, 2 tbsp olive oil
Meal 6: 50g Iso whey, 2 tbsp peanut butter
---

What we can learn from Evan Centopani
Evan's story shows how bodybuilding can be a way to fight through personal weight problems. He worked out hard and managed to lose weight and build a lot of muscle – seeing how powerful he could be.
This change in appearance also gave him a massive self-esteem boost. He used this to carve out a career in the bodybuilding world; finding success at the most prestigious shows on earth.