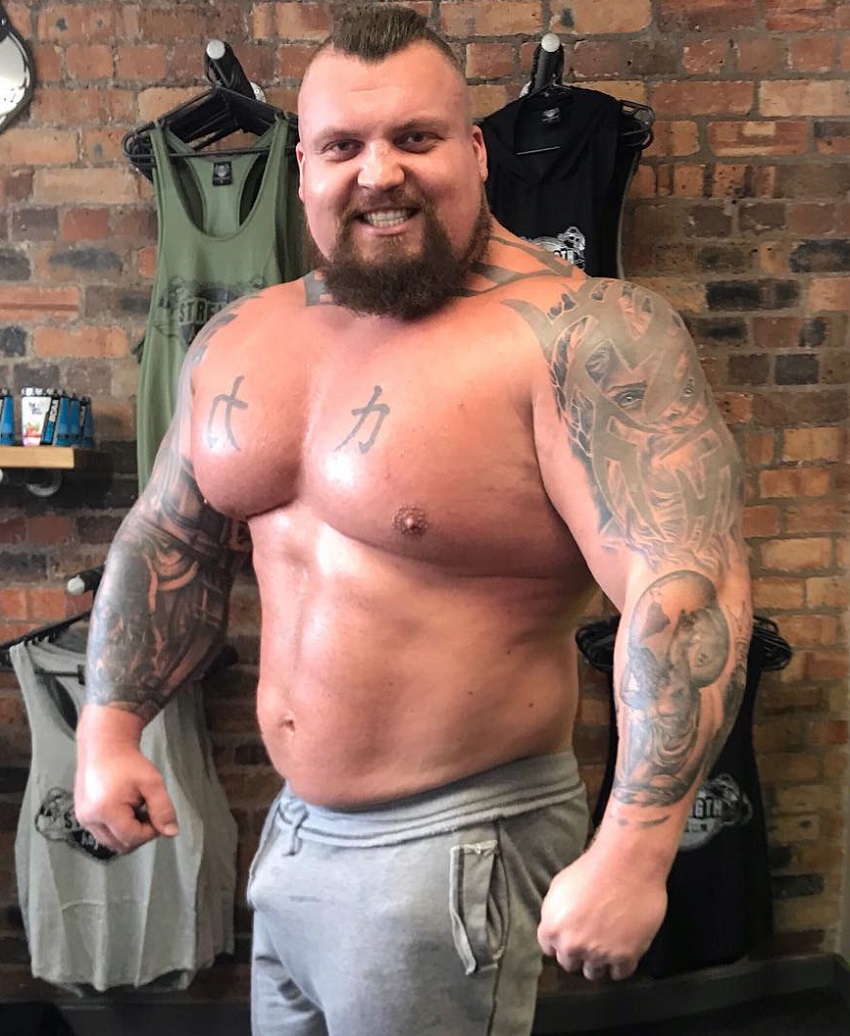 Eddie Hall
Professional Strongman
Eddie Hall is an English professional strongman, known for his incredible feats in the weightlifting sport.
Eddie is the winner of the 2017 World's Strongest Man competition, alongside being the only man to ever deadlift 500 kilograms (1,102 lbs).
He's also won the England and UK's Strongest Man events on multiple occasions, which makes him one of the greatest strongman athletes ever.
However, Eddie's life wasn't always full of success and joy. Throughout his childhood, he battled with anxiety and depression, along with facing some terrible, life-altering events.
Here's his story:
---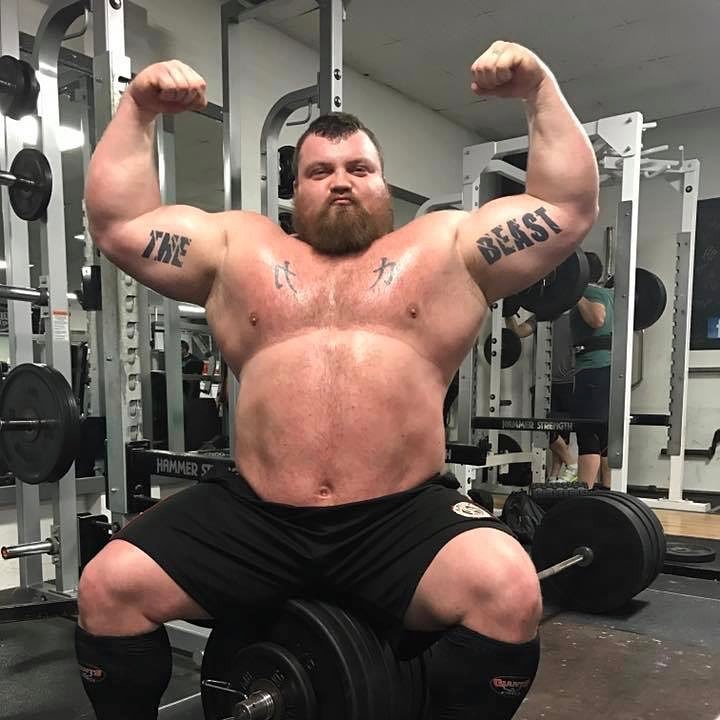 Athlete Statistics
Full Name: Edward Hall
Weight
Height
Age
Date of Birth
Over 310lbs (140.6kg)
6'3" (190.5cm)
35
January 15, 1988
Nationality
Profession
Alias
English
Professional Strongman
The Beast
Era
2010
| | |
| --- | --- |
| Weight | Over 310lbs (140.6kg) |
| Height | 6'3" (190.5cm) |
| Age | 35 |
| Date of Birth | January 15, 1988 |
| Nationality | English |
| Profession | Professional Strongman |
| Alias | The Beast |
| Era | 2010 |
---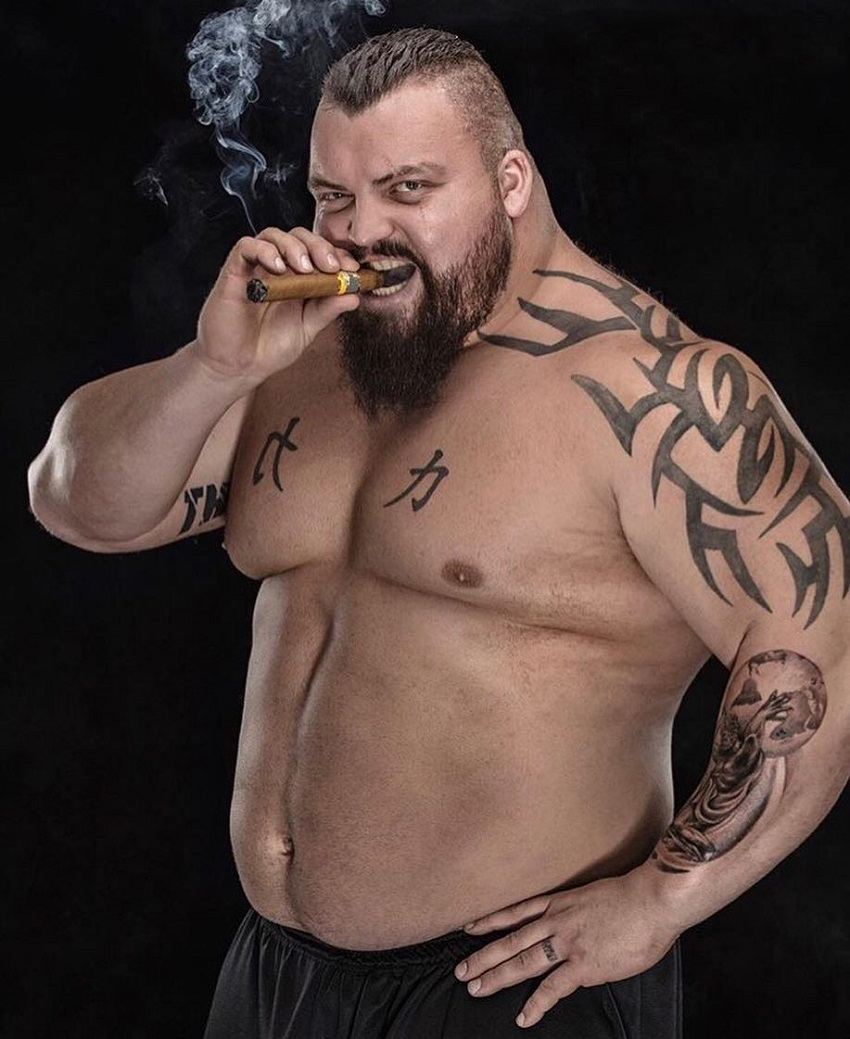 Accomplishments
Eddie's Benchmark Stats
In competition:
Deadlift with straps, suit & hitching – 500 kg (1,102.3 lb) – world record
Rogue Elephant Bar Deadlift with straps – 465 kg (1026 lb)
Axle press – 216 kg (476 lbs) strict press – world record
Log Lift – 213 kg (469 lb) strict press – British record, done at Europes Strongest Man 2018
Gym lifts (all raw):
Squat – 405 kg (891 lb)
Bench press – 300 kg (660 lb)
Leg press – 1000 kg (2,200 lb) for 10 reps
Deadlift with 18-inch bar – 536 kg (1,181.7 lb) – world record
---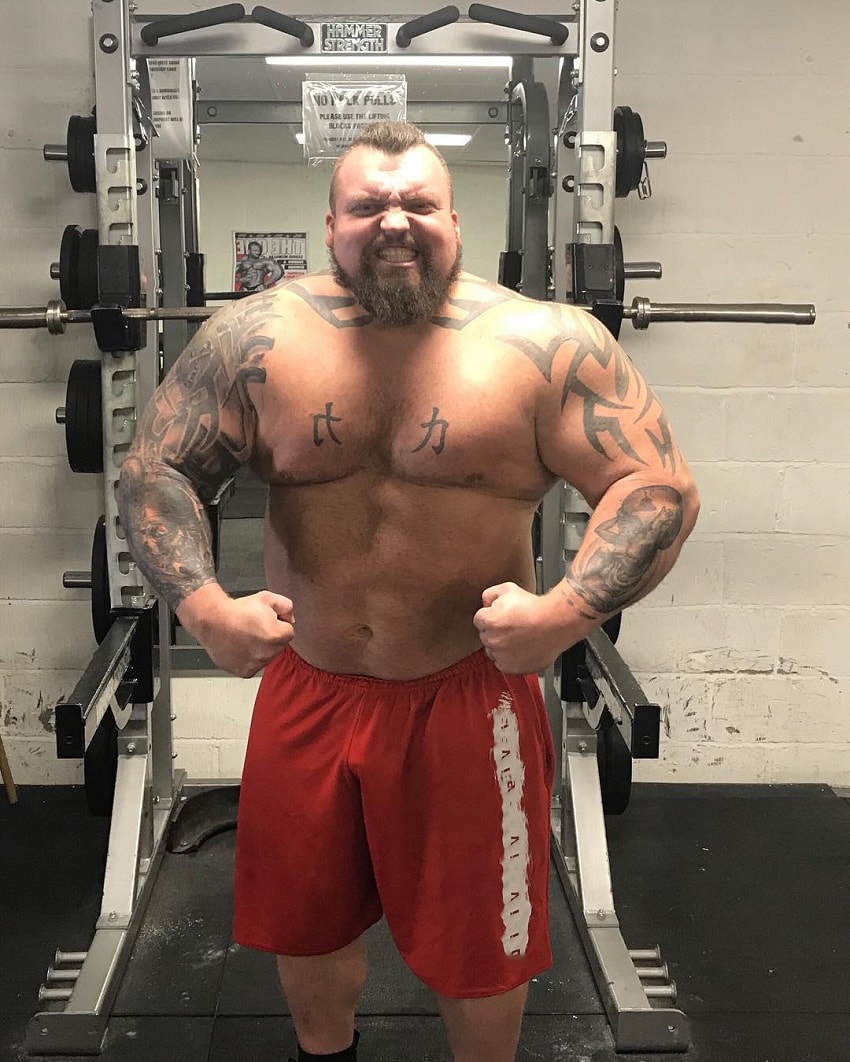 ---
Strongman Competitions
World's Strongest Man
18th
2012 World's Strongest Man
18th
2013 World's Strongest Man
6th
2014 World's Strongest Man
4th
2015 World's Strongest Man
3rd
2016 World's Strongest Man
1st
2017 World's Strongest Man
Europe's Strongest Man
2nd
2017
Giants Live
4th
2012 Australia
2nd
2013 Hungary
3rd
2014 Hungary
Britain's Strongest Man
1st
Britain's Strongest Man 2014
1st
Britain's Strongest Man 2015
1st
Britain's Strongest Man 2016
1st
Britain's Strongest Man 2017
1st
Britain's Strongest Man 2018
UK's Strongest Man
1st
UK's Strongest Man 2011
1st
UK's Strongest Man 2012
1st
UK's Strongest Man 2013
1st
UK's Strongest Man 2014
1st
UK's Strongest Man 2015
1st
UK's Strongest Man 2016
England's Strongest Man
1st
England's Strongest Man 2010 (Elite)
1st
England's Strongest Man 2011 (UKSC)
---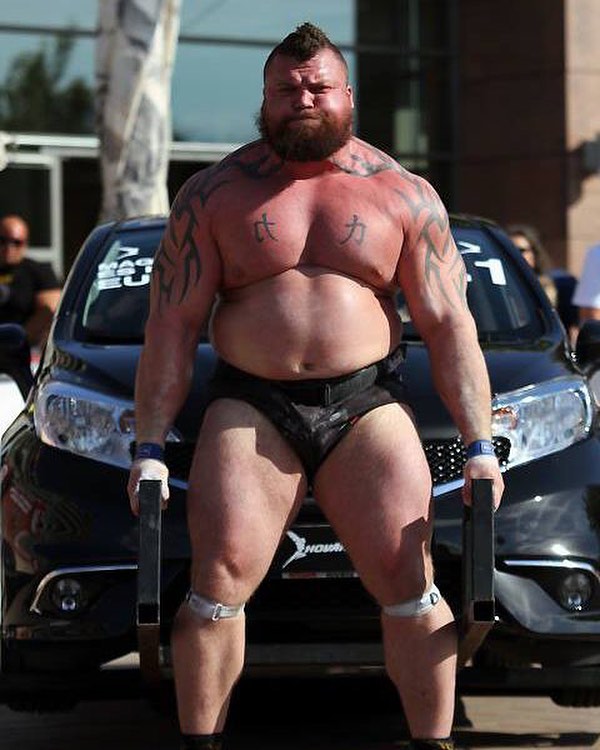 Biography
Boisterous Early Life
Eddie Hall was born in January 1988, in Staffordshire England. While he's successful today, his early life was all but easy. When he was 12, Eddie's nan was diagnosed with cancer. This shocked Eddie so much, that he started having anxiety attacks.
Eddie's anxiety problems seriously affected his school and career. So much so, that he had to abandon his dreams of becoming a competitive swimming star. Unfortunately, Eddie's health problems became so severe over time, that he got expelled from his school.
In Eddie's words; "When I was 12 or 13 my nan was diagnosed with cancer. I was having a really hard time at school, I was thrown out of the swimming club – which was going to be my career.
Soon I started getting in trouble with the police, in trouble with my parents, my family, always getting into fights and, I don't know, it just hit me hard. I got huge anxiety attacks where I couldn't leave the house."
---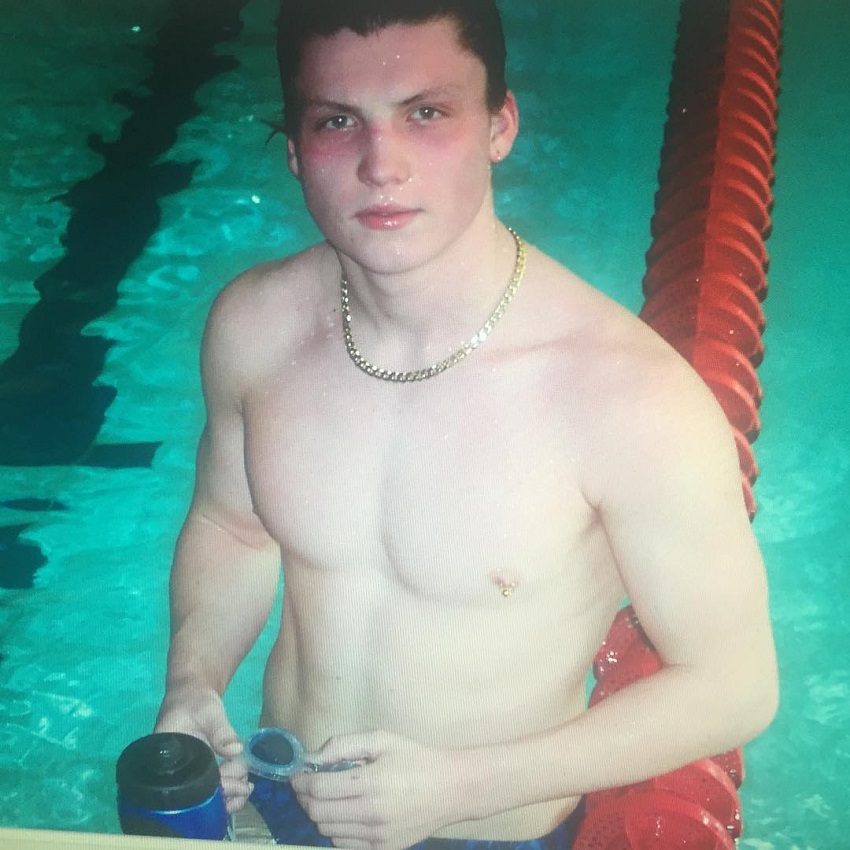 Eddie Hall in his youth.
---
Turning to Strongman
After several years of battling anxiety, Eddie decided to turn his life around. His first step was to start counseling therapy. During the course of the therapy, Eddie was put on a medication to ease his anxiety.
This was a long and difficult process which lasted for over four years. Remembering some moments from this difficult period, Eddie said; "I'd always be wanting to go to the toilet to sit on my own and just rock back and forth and just calm down and get the anxiety out."
"If I had to go out for a family meal or go out with mates, I'd be throwing up before I went out, I'd be that anxious. Doctors put me straight on medication and straight into counseling. I was on them for about four years and it did help."
While the medication and counseling helped Eddie, the biggest change in his life came in 2008, when he started doing strongman. In Eddie's own words; "Then I started doing strongman and the depression just disappeared."
Finding Relief Through Weightlifting
As soon as he started lifting heavy weights, Eddie felt better than ever. The 'iron' was his outlet for the negative emotions he was experiencing at the time.
But Eddie didn't just strengthen his mentality. His physical strength also grew, and with it, his passion for strongman and bodybuilding.
---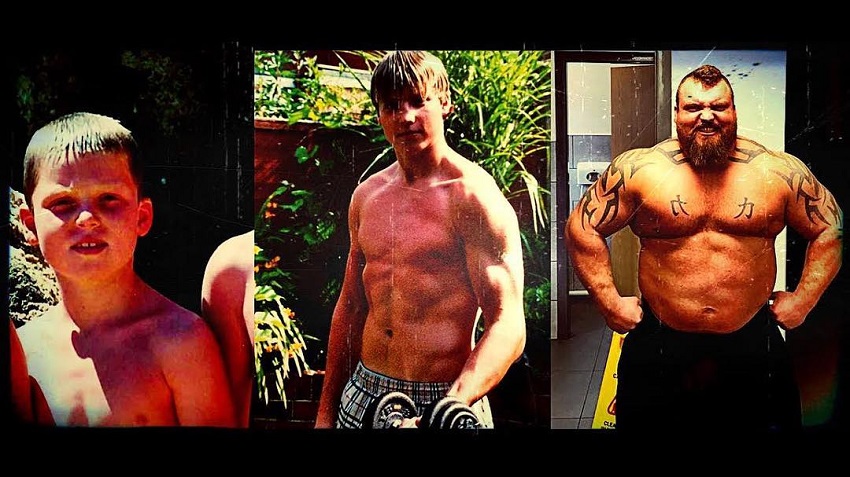 Eddie Hall's transformation over the years.
---
First Competition, First Victory
Eddie's passion kept on growing, as he began to fantasize about competing in strongman events. Then, in 2010, his dreams became a reality.
After Dave Meer of Staffordshire dropped out of England's Strongman Championships due to an injury, a place opened up for Eddie.
He went on to take Dave's spot and compete at the 2010 English Strongman Championships. Impressively, Eddie won the competition on his first attempt by only half a point.
It was after this victory, when Eddie realized he could make a name for himself as a strongman.
---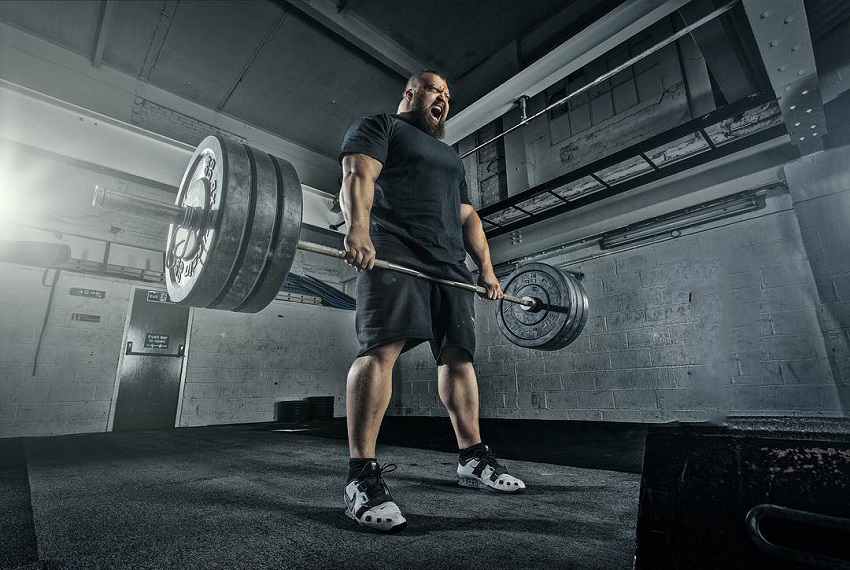 ---
UK's Strongest Man
A year after his first competition, Eddie went on to win the UK's Strongest Man show, which was held in Belfast.
Shortly after the victory, Eddie set a new national record by hanging on to 40kg axes for one minute and 18 seconds – becoming the record holder in the "Viking Hold."
Unfortunately, Eddie tore his forearm tendons during the contest. This prevented him from competing at the World's Strongest Man 2011, but he was still set to compete at the contest in 2012.
First Time Competing at WSM
Eddie's first contest of 2012 came in February. He took part at the Giants Live Melbourne show, where he placed fourth.
Two months later, Eddie was invited to partake in Europe's Strongest Man. He didn't have a lot of time to prepare, but was still able to take the top 8 place at the contest.
Eddie's biggest challenge came a couple of months later, when he took part in his first World's Strongest Man event. He finished in 18th place that day.
---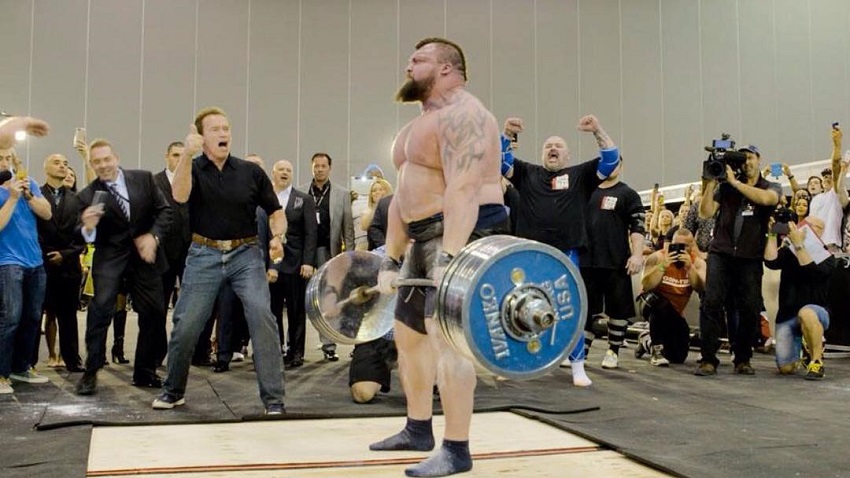 ---
Breaking Records
In Spring of 2013, Eddie qualified for Europe's Strongest Man, after Ervin Kanton was forced to quit due to an injury. He came in eighth place at the event.
One year later, Eddie reached the finals of the World's Strongest Man for the first time. He came in second place in the Squat Lift category, and sixth place overall.
In March 2015, Eddie set a world record for the first time in his career – achieving a 462 kg, or 1,019 lbs deadlift. He accomplished this feat at the Arnold Classic Australia, where he was cheered by Arnold Schwarzenegger himself.
Not long after, Eddie broke his own record by lifting a 463kg in the deadlift at the 2015 World Deadlift Championships. Eddie also finished 4th at the 2015 World's Strongest Man, bettering his previous result by four places.
The World's Strongest Man
After placing 4th at the 2015 WSM, Eddie's results only got better and better. In March 2016, he set a new world record in deadlift, before breaking it again four months later – achieving a 500 kilogram (1,100lbs) deadlift. During the event, Eddie passed out from lifting such heavy weight.
The pinnacle of Eddie's career came in 2017, when he claimed the long-awaited 2017 World's Strongest Man title. With this victory, he cemented his place as one of the greatest strongman athletes the world has ever seen.
---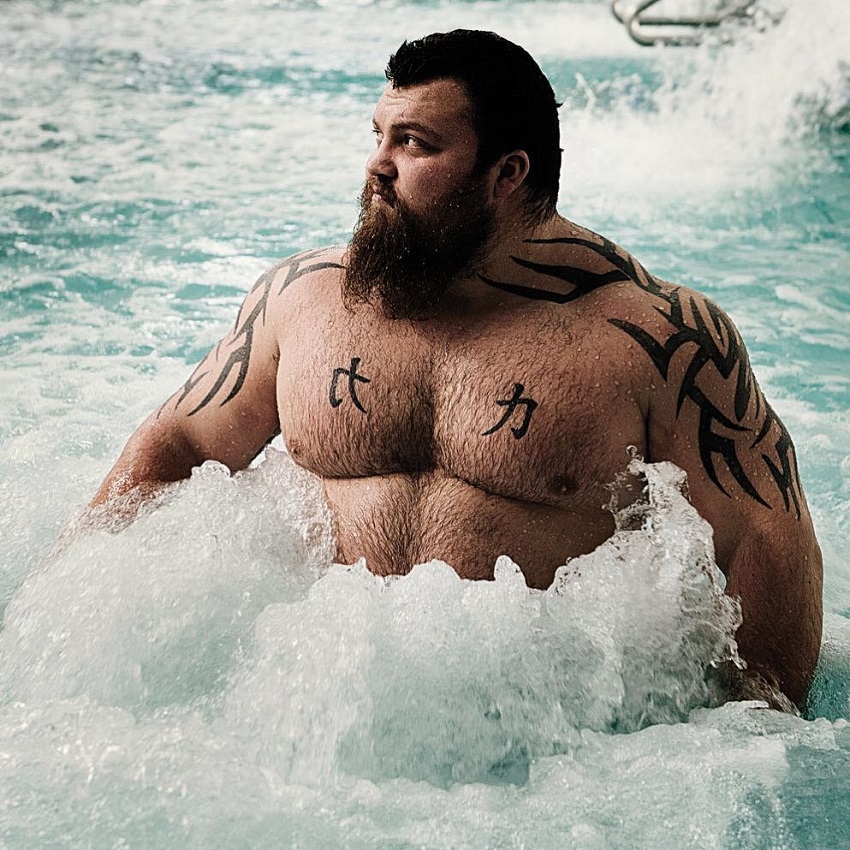 Training
Training to Become World's Strongest Man
During his peak, Eddie trained six times per week, up to four hours per day. This included weight training, stretching, hot-cold baths, physiotherapy, and other recovery treatments to help his muscles grow.
"I was training four hours a day, physio two hours a day, stretching an hour a day, hot-cold treatments an hour a day, hyperbaric an hour a day, meditation, I was sleeping 13 hours a day, food prep, eating food."

"Honestly, no joke, I would see my wife and kids for an hour or two a week at most. And that put so much strain on me mentally because, if I failed, all that f****** sacrifice would have been for nothing."
In terms of his training specifics, Eddie has always tried to be explosive in his exercises. This has allowed him to build fast-twitch muscle fibers, which help him the most with his overall strength.
---
---
Eddie Hall's Workout Routine
DAY
BODY PART/EXERCISE
VOLUME
TIME
Monday
Swimming,Weight training legs and biceps:
Squats, leg press, hamstring curls, good mornings
1 minute on 1 minute off, Pyramid sets (up to 90% 1RM) for 6 reps
1 hour4 hours
Tuesday
Weight training chest and triceps:
Flat bench press, incline bench press, incline dumbbell press, incline tricep extension, rope pulldown
Pyramid sets (up to 90% 1RM) for 6 reps
2.5 hours
Wednesday
Strongman conditioning:
Prowler, tyre hits, tyre flips, boxing pads, step ups, battle ropes.Physio and hot/cold treatment
1 hour1.5 hours
Thursday
Weight training back and biceps:
Deadlift, lat pulldown, front pull downs, seated row, standing bicep curls
Pyramid sets (up to 90% 1RM) for 6 reps
3.5 hours
Friday
Weight training shoulders and calves:
Seated dumbell press, log press, seated band work on smith machine, standing lateral raise, seated lateral raise, standing calf raise
Pyramid sets (up to 90% 1RM) for 6 reps
3 hours
Saturday
PhysioHot/cold treatment
1 hour1 hour
Sunday
Recovery day
Big eat day
---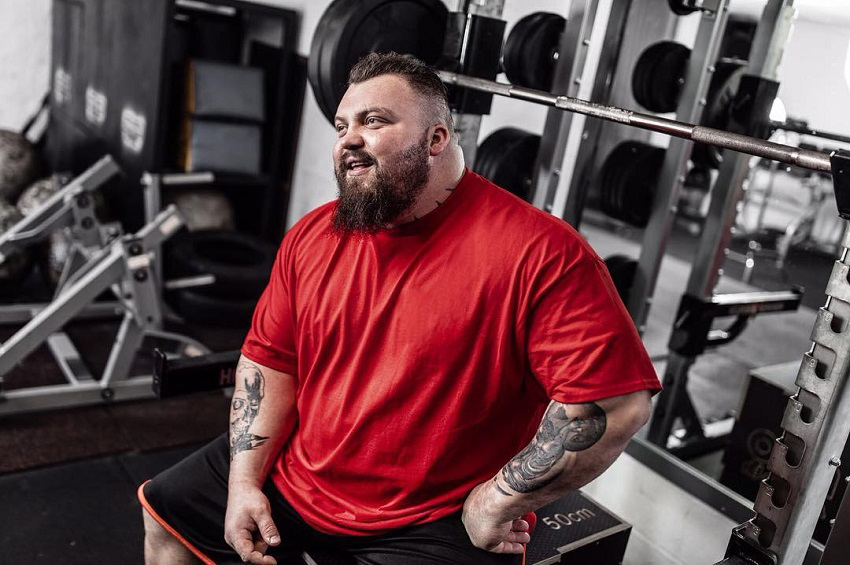 Nutrition
12,000 Calories a Day
When he wants to 'bulk up,' Eddie will consume up to 12,000 calories per day. Needless to say, this number isn't easy to achieve, but it's crucial for Eddie to fuel his huge muscles.
As Eddie said; "It's actually like a normal diet, I eat porridge with fruits for breakfast. But when everyone else is having a bowl, I'll have a bucket. I just multiply the proportions, so these are huge amounts of food." – Eddie Hall
Here's how it all looks on a plate;
Eddie Hall's Daily Meal Plan
7 A.M.  – 750ml antioxidant smoothie and weight gainer shake (800 calories)
9 A.M. – 8 egg omelet, 100g oats, amino acid supplement, and 5 pieces of fruit (2,200 calories)
11 A.M. – Green tea mixed with 30 grams of coconut oil, protein powder, and 75 grams of almonds (750 calories)
1 P.M. – 300g of chicken, 500g of rice, and 200g of vegetables (1,400 calories)
3 P.M. – Smoothie: 3 bananas, protein powder, 80g almonds, 300ml full-fat milk and 50g peanut butter (1,300 calories)
4 P.M. – 1-liter cranberry juice (750 calories)
6 P.M. – 1ltr buttermilk, 1ltr coconut water (1,200 calories)
8 P.M. – Spaghetti Bolognese: 300g mincemeat, 300g spaghetti 2ltr fruit cordial with water, and 1 scoop of L-Carnitine (1,150 calories)
10 P.M. – Snack and protein powder (500 calories)
---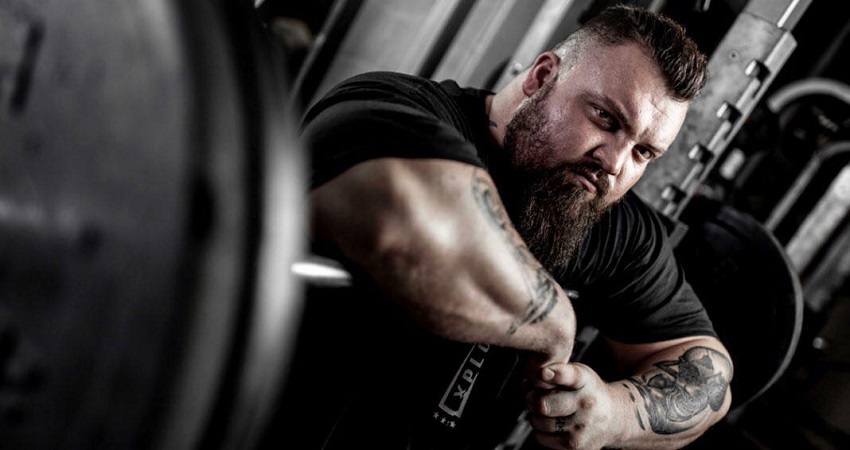 Idols and Influences
It was Eddie's own will to improve his situation during the times of depression and anxiety that have influenced his life the most.
Thanks to his strong mindset, he was able to completely turn his life around and create a better future for himself and his family.
---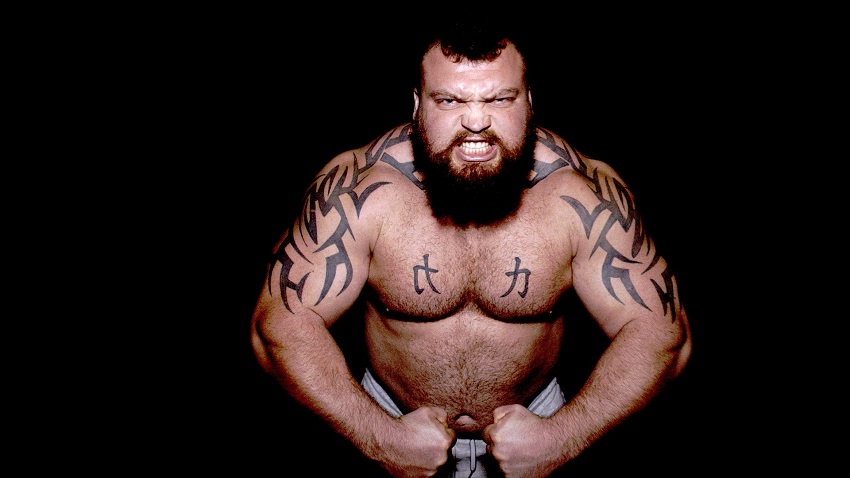 What we can learn from Eddie Hall
Eddie Hall has taught us to never give up, no matter how challenging life gets. After being expelled from school and his swimming team, Eddie became depressed about his situation.
However, he didn't let these events destroy his life. Instead, he came back strong to become the strongest man in the world – winning the prestigious title in 2017, after years of dedication and hard work.
The main lesson we can learn from Eddie's story is that there's always a way out. Keep pursuing your passions in life, and use the obstacles that you face as a way to grow stronger  – just like Eddie Hall did.