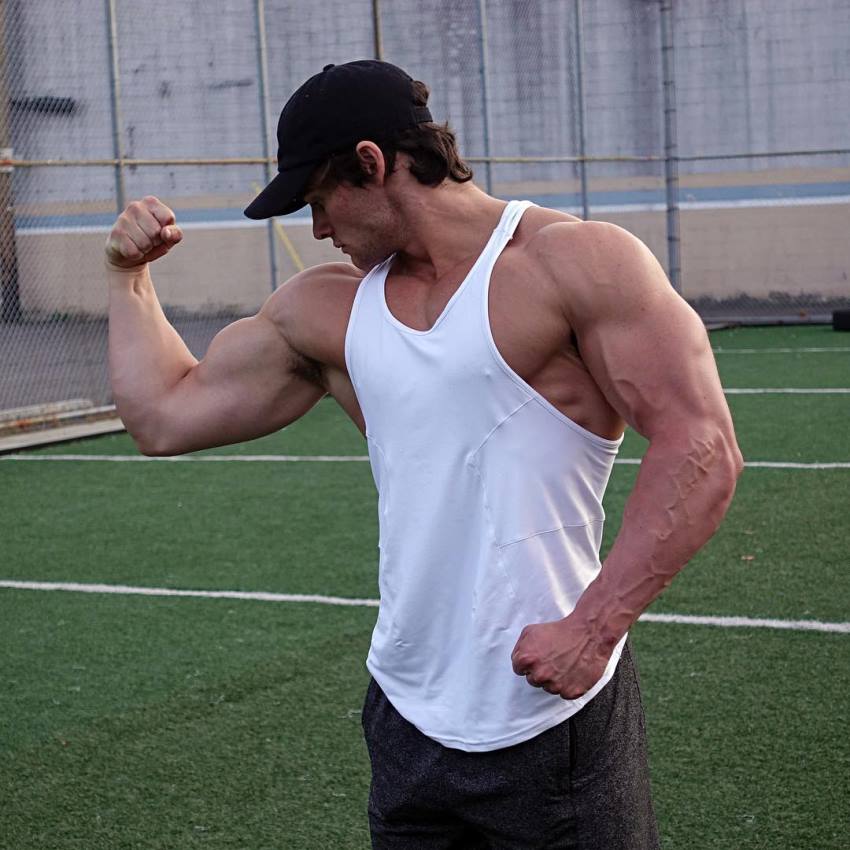 Dylan McKenna
Fitness Model, Online Coach, Social Media Personality
Dylan McKenna is an American-born fitness model and online coach. Initially, Dylan became interested in bodybuilding to improve his performance in high school sports.
However, after noticing improvements in his physique from lifting weights, Dylan's mindset completely changed. He went on to leave high school sports to fully dedicate himself to bodybuilding.
Over time, Dylan built a strong and ripped physique. Furthermore, people around him began praising his progress. This, in turn, motivated Dylan to share his transformational story with as many people as possible – uploading his progress pictures on the internet.
Since then, Dylan has grown in success and recognition. He remains dedicated to his quest, which is "to help people feel confident about themselves, and learn that they can still have a life while also looking great, and being strong as an ox." This is his story:
---
"Just wanted to thank everyone who supports me from the bottom of my heart. Y'all are truly amazing, there is a lot of hate and negativity in the fitness industry for sure.

But on my social media, I mainly get positive supportive feedback. It's crazy to think a year ago I had no idea what I wanted to do, and now I'm living a dream."
Athlete Statistics
Full Name: Dylan McKenna
Weight
Height
Age
Date of Birth
175 - 185lbs (79.4 - 83.9kg)
5'8" (172.5cm)
25
March 15, 1998
Nationality
Profession
Era
American
Fitness Model, Online Coach, Social Media Personality
2010
| | |
| --- | --- |
| Weight | 175 - 185lbs (79.4 - 83.9kg) |
| Height | 5'8" (172.5cm) |
| Age | 25 |
| Date of Birth | March 15, 1998 |
| Nationality | American |
| Profession | Fitness Model, Online Coach, Social Media Personality |
| Era | 2010 |
---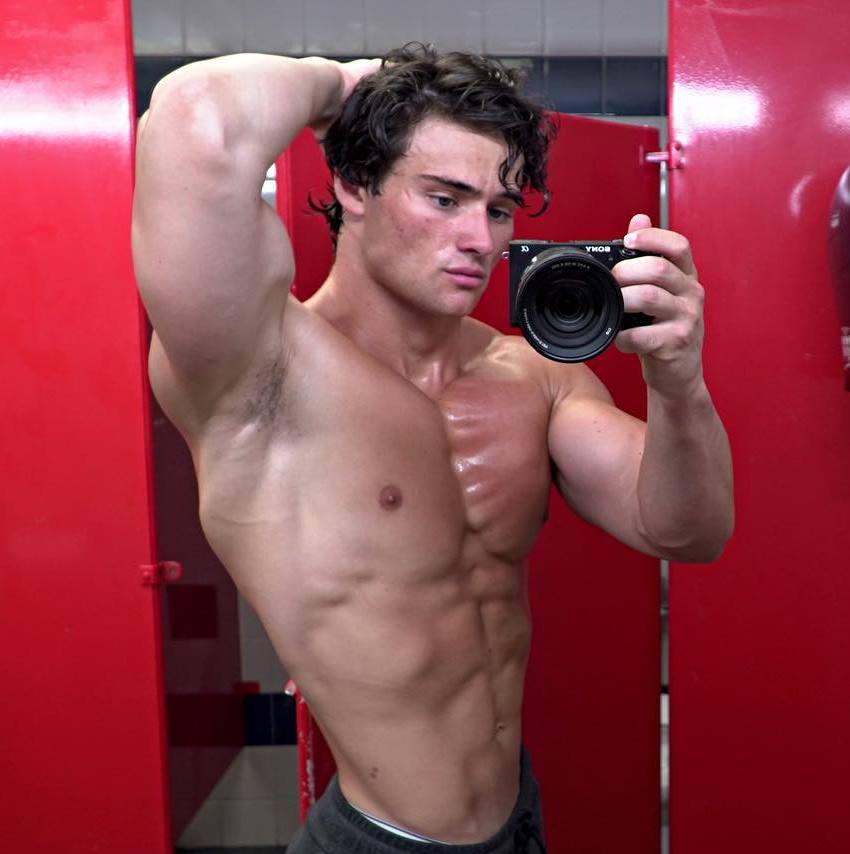 Accomplishments
Fitness Model
Online Coach
Sponsored Athlete
---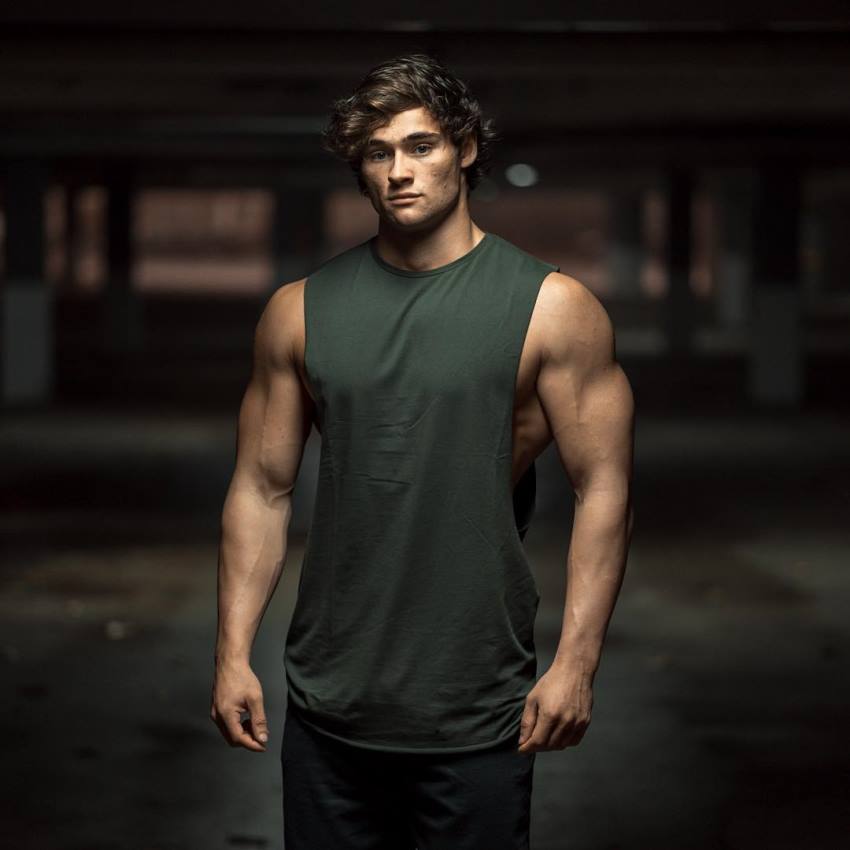 "Never let someone tell you what you can do, also don't let sucking at something in the beginning turn you off of doing it if you love it!

NFL players once didn't know football, and leading scientists once had no idea what the periodic table was. You have to start somewhere."
Biography
Introduction to Bodybuilding via High School Sports
Dylan McKenna was born on 15th of March, 1998 in New Jersey. Growing up, Dylan loved to play sports. However, he had one problem – lack of size and strength.
In order to improve his physical performance in sports, Dylan decided to sign up at a local gym. He began training with weights, quickly noticing progress in his strength, and size. This, as a result, made him become more interested in bodybuilding, and less in sports.
Here's Dylan talking about his beginnings in bodybuilding; "As soon as I started lifting, I quickly stopped doing all of my sports to fully pursue my passions of training, helping others better themselves, as well as push my limits in the gym."
Aged 14, Dylan embarked on his quest to build an admirable physique. Over the months and years, he was able to achieve his goal, and much more.
---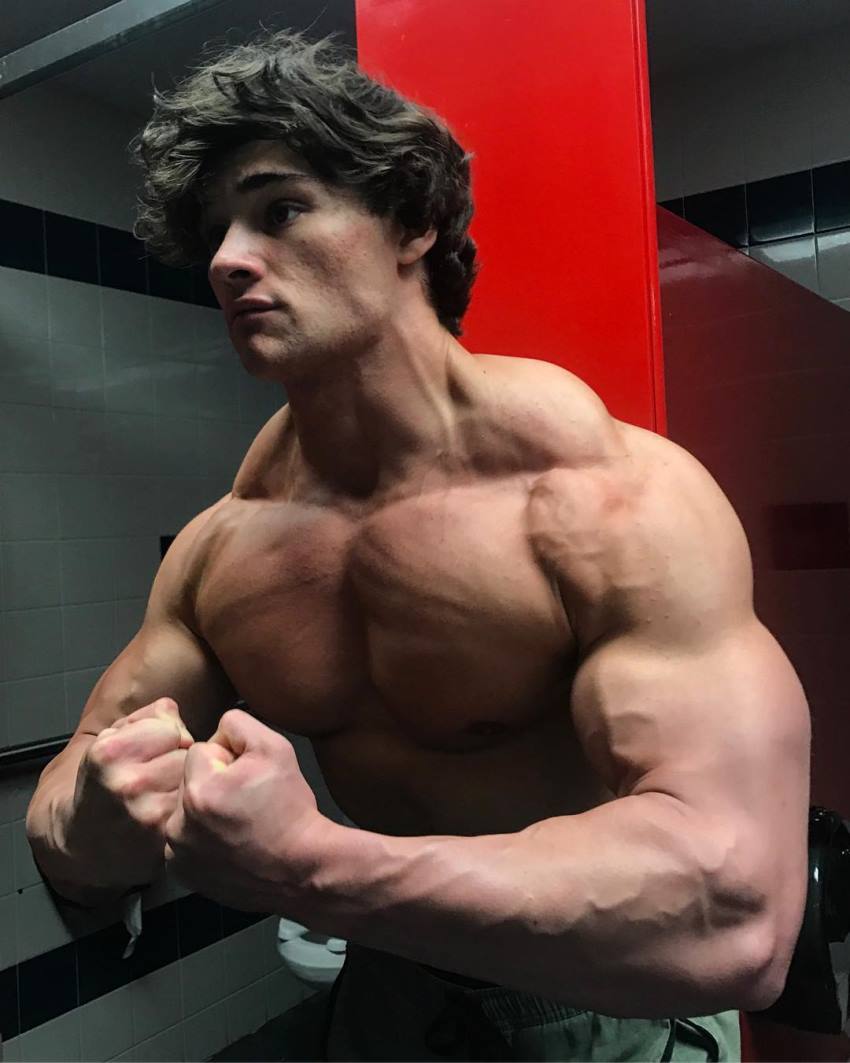 ---
Helping Others
One thing led to the next, and Dylan soon began helping those around him become fit and healthy. However, at first, the number of people he helped wasn't huge but it slowly grew as Dylan opened his social media pages.
Eventually, Dylan reached people from all over the globe through his online posts, helping them achieve their own transformation.
As a result of his efforts, Dylan became a fitness and social media sensation, with a fan base that continues to grow to this day.
---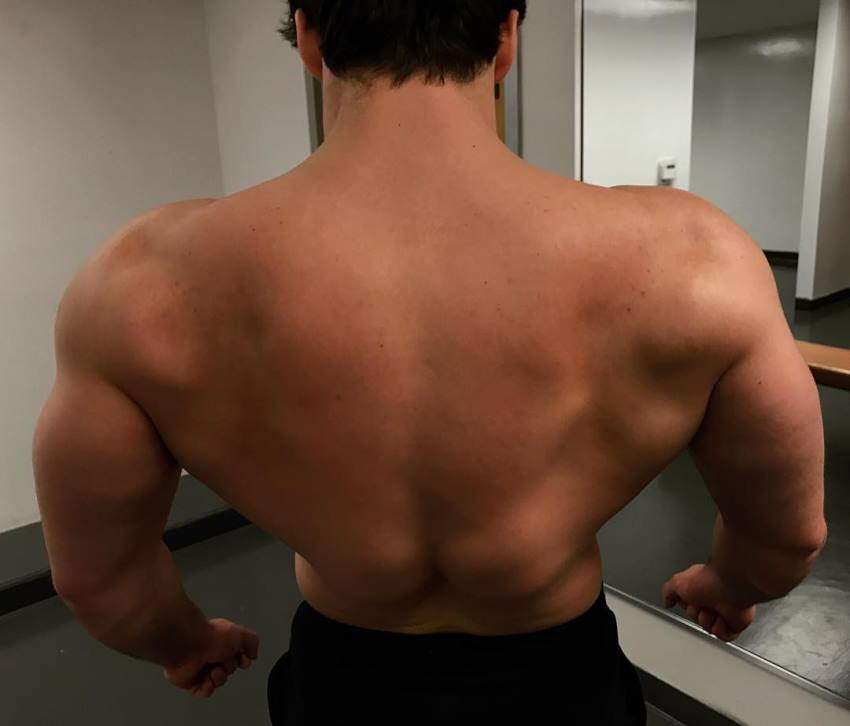 Dylan McKenna showing off his wide and muscular back.
Training
Dylan McKenna's Chest Workout Routine
Dylan doesn't follow a typical chest workout routine. He utilizes several unique concepts which he developed over the years of training.
Specifically, these concepts include lifting heavy weights with low-to-moderate volume, doing drop sets and going to failure on the first exercise. Lastly, Dylan also adds shoulder and triceps exercises like skull-crushers and seated military press to his chest workout.
While this type of training might not work for everyone. It has helped Dylan grow his chest more than any other method he tried.
Here's a close-up look;
Warm up on the incline bench
Incline Barbell Bench Press, 2 sets of 10 reps
Incline Barbell Bench Press with pause on the bottom, 1 set of 5 reps (followed by 1 more set of light weights until failure)
Seated Military Press, 3 sets of 8 reps
Hammer Strength Bench Press, 3 sets of 10 reps
Lateral Raises, 3 sets of 20 reps
Dumbbell Skullcrushers, 3 sets of 8-10 reps
Dips, 4 sets of 10 reps
---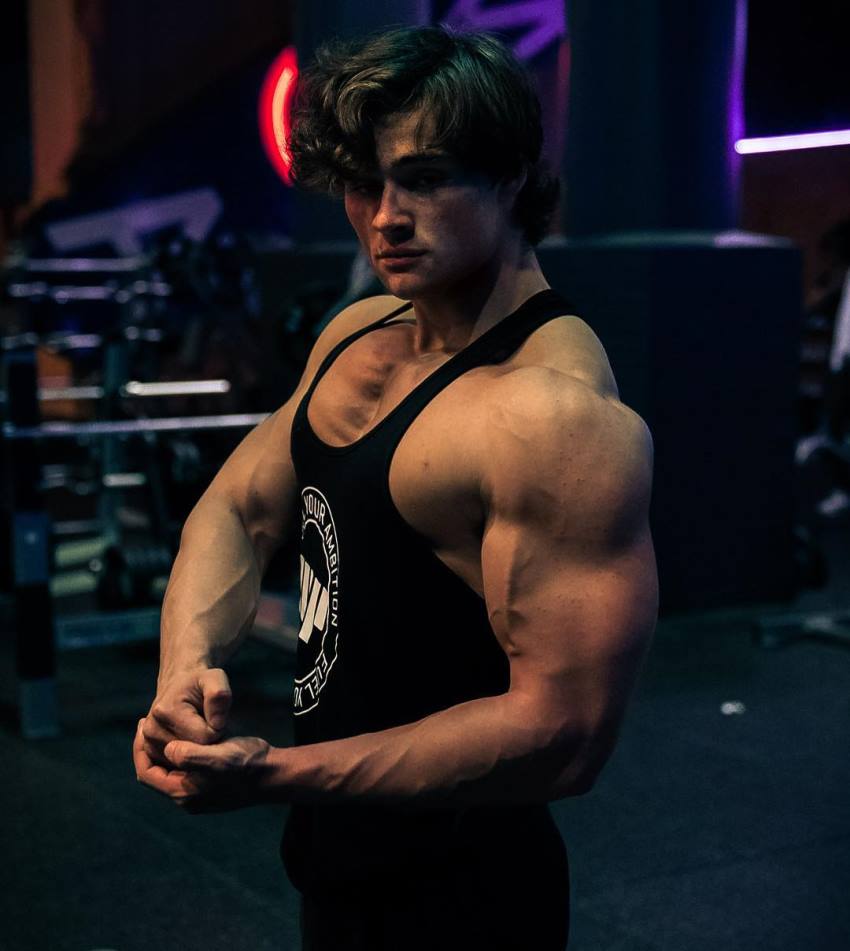 ---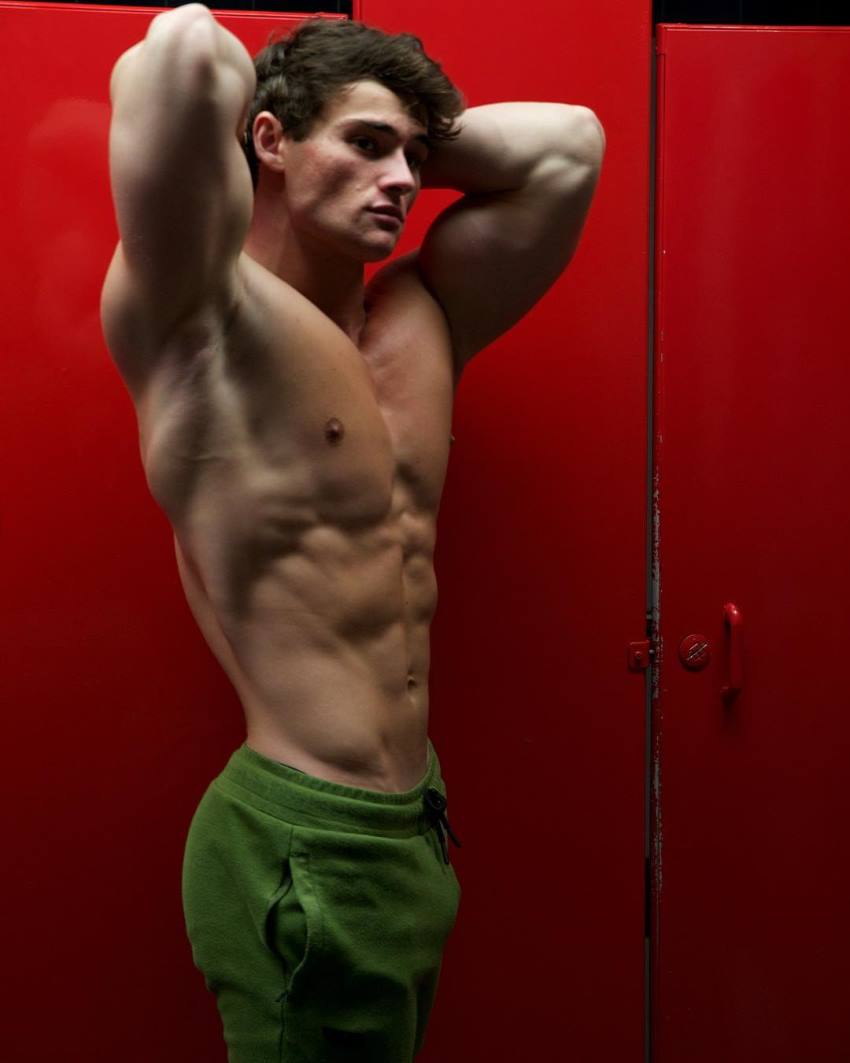 "If you grind even on the days you don't want to, your good days in the gym will turn into amazing days. It will shape you into a more disciplined person.

Next time you just don't feel like going to the gym change your mindset around, and go kill your workout to the best of your ability. You will thank yourself afterward for it."
Nutrition
'Bulking' Diet
When adding muscle mass, Dylan will eat about 3500 calories every day. He likes to keep his diet relaxed, eating everything that fits his macro goals for the day. In a way, Dylan follows an IIFYM (If It Fits Your Macros) approach when 'bulking.'
He tracks all of his foods by using a weight scale. This, in turn, helps him avoid exceeding his allowed calories for the day.
Some of the foods Dylan will eat throughout his mass gaining phase include;
Cheeseburger
Milk
Whole Wheat Pasta
Ground Beef
For supplements, he'll take;
---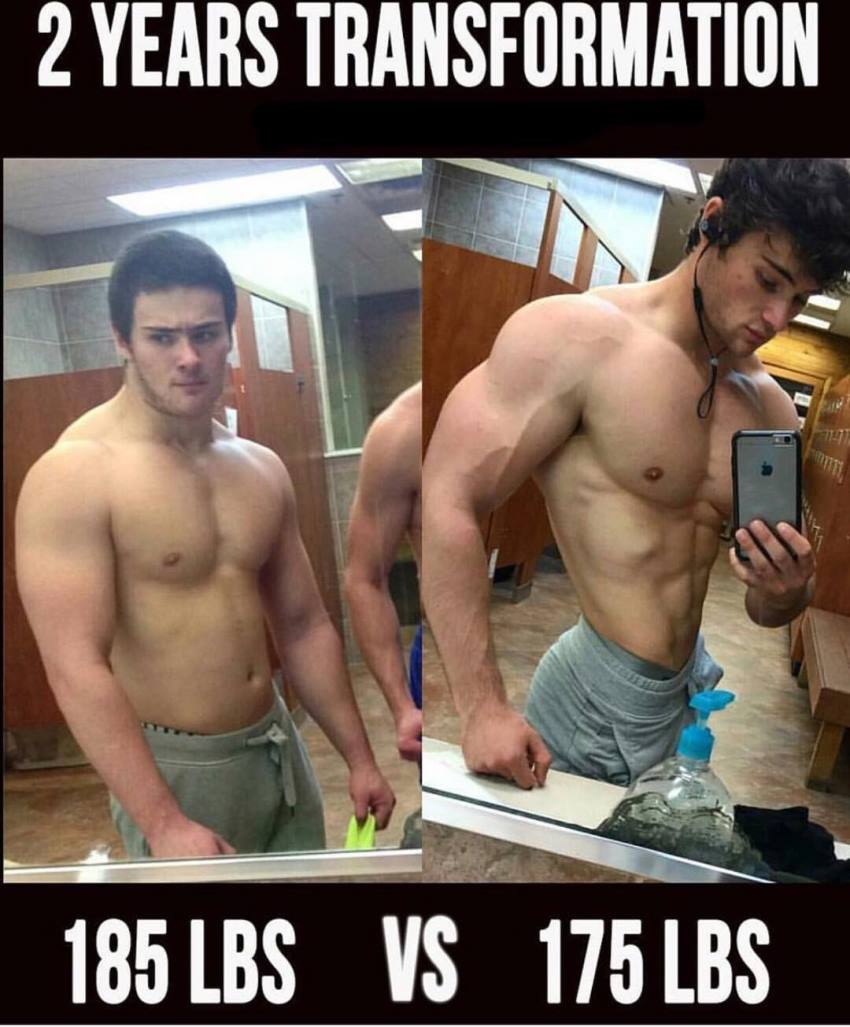 Dylan McKenna's transformation; from 'bulk' to 'cut.'
---
Lean 'Bulking' Advice
For everyone who gains weight easily and wants to add muscle, Dylan advises going for slow and lean 'bulk.' He believes it's counterproductive to try to eat as many calories as possible to gain muscle.
As Dylan says; "If your someone who packs on bodyweight quickly, don't be lazy by doing a dirty bulk. It's truly only going to add extra body fat, with no other benefits besides little more strength gains due to the better leverages, and constantly having so many calories in you. " – Dylan McKenna
---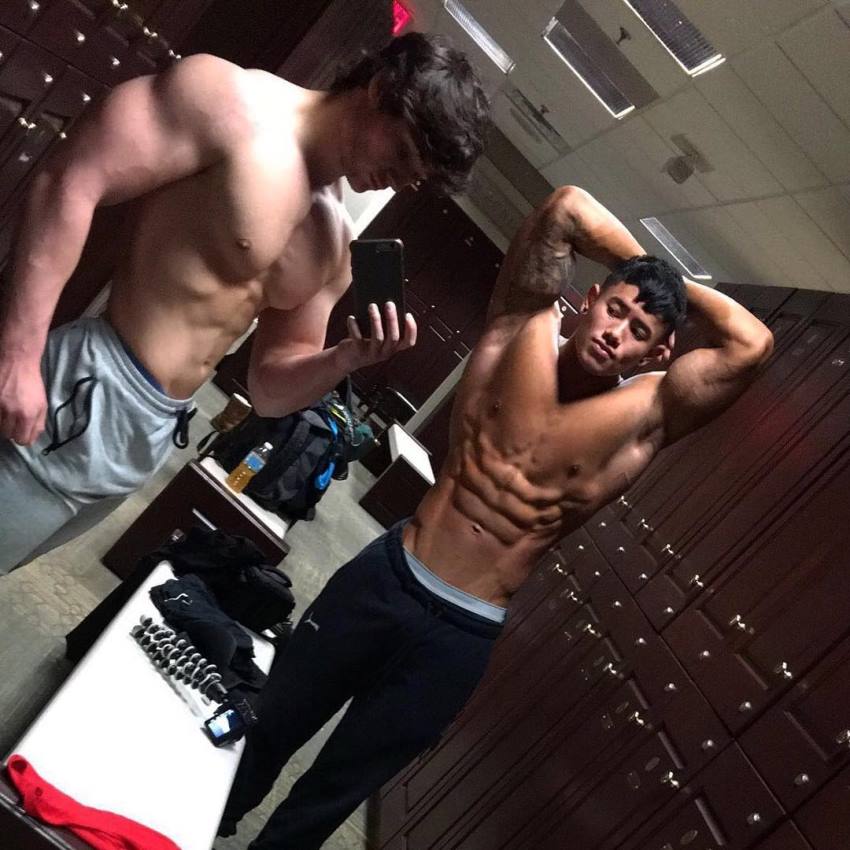 Dylan McKenna taking a picture with Steven Cao (right).
Idols and Influences
Having the Right Mindset
Dylan said when he was a child, people around him would encourage him to go after his dreams. They would tell him that he could achieve whatever he puts his mind to.
As a result, Dylan grew up with a strong sense of self-belief. Ultimately, this allowed him to accomplish all of his set goals – including becoming a bodybuilder and fitness model.
Dylan stated that it's extremely important to be surrounded by supportive people. He said:"It's never too late to shift your mindset up, and start believing in you, and what you can accomplish if you give it your all. "
---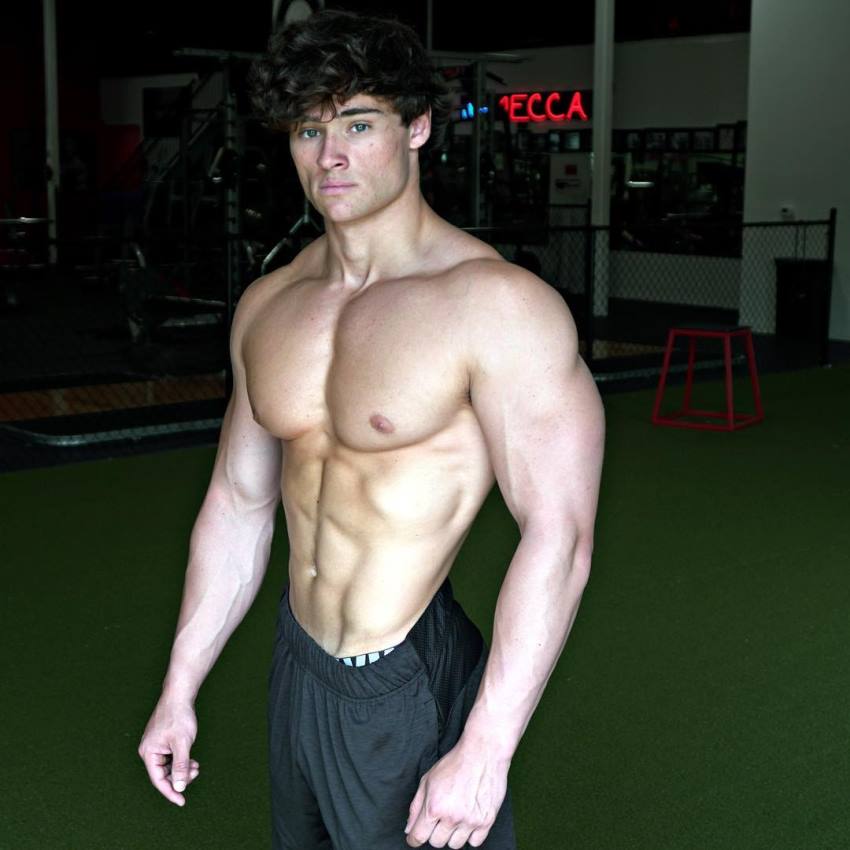 What we can learn from Dylan McKenna
Dylan McKenna commenced his bodybuilding journey after years of playing high school sports. He didn't originally plan on becoming a bodybuilder.
However, after seeing progress in his physique from weightlifting, Dylan was 'sold' to his new lifestyle. Through strength training and planned diet, Dylan was able to go from a slim kid to a bodybuilding star. He seized each opportunity bodybuilding presented him, and hasn't looked back since.
If nothing else, Dylan McKenna has taught us that we should take advantage of each opportunity life gives us. If you can do this, then chances of you accomplishing your goals will be that much higher.