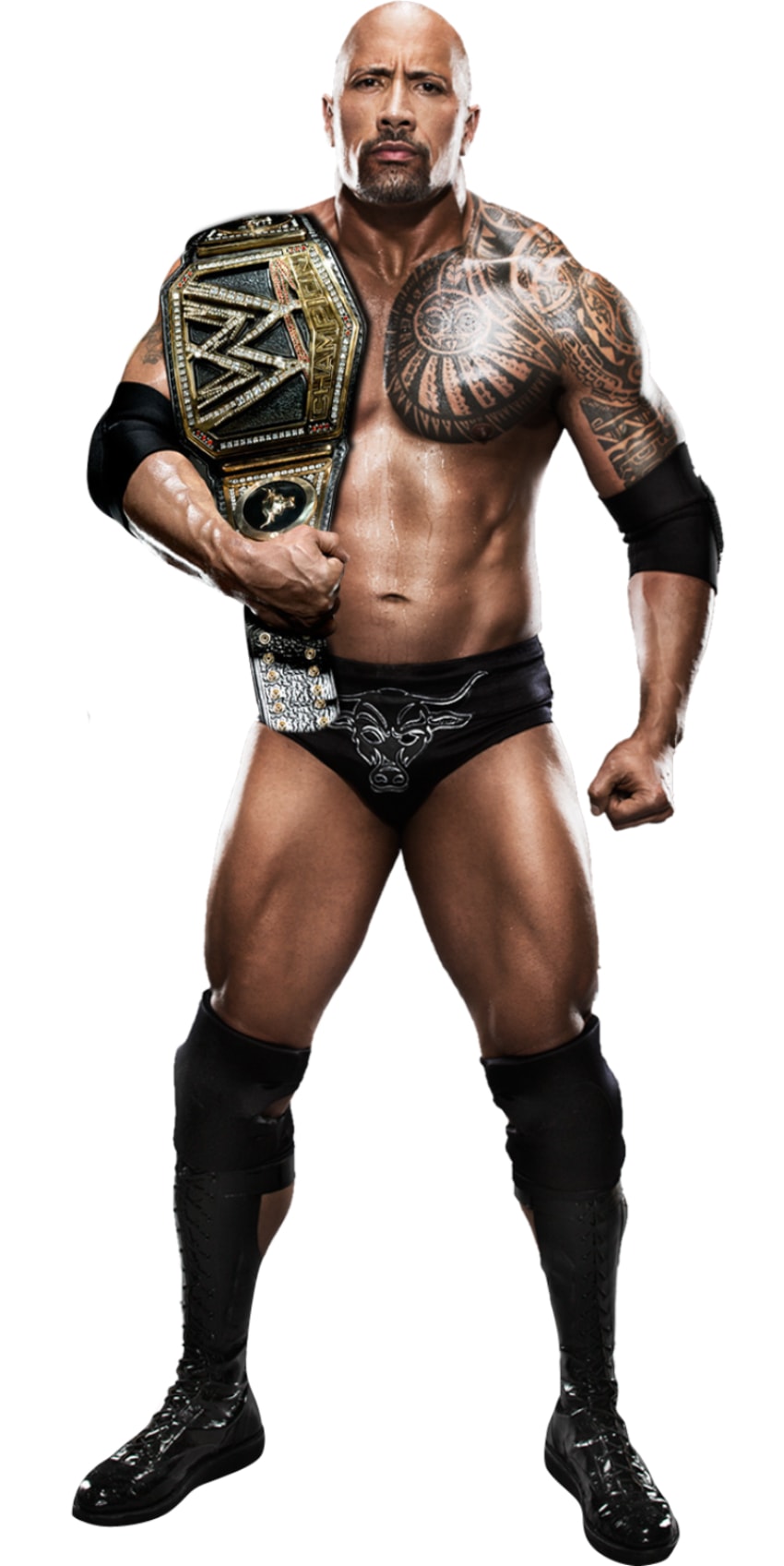 Dwayne Johnson The Rock
Actor, Producer, Singer, Professional Wrestler
He's been named The Rock, Flex Kavana, Rocky Maivia, The People's Champion, and The Brahma Bull. He is an American actor, singer, producer, and professional wrestler. Dwayne Johnson The Rock is a representation of success in many aspects of life.
Born in California, USA, Dwayne's journey began in college, where he was a football player for the University of Miami. He was one of the key players and had brought his team national championship title in 1991. After college, Dwayne followed in his father's and grandfather's footsteps and became a professional wrestler.
He gained mainstream fame after joining the World Wrestling Federation, and later WWE, where he appeared as the main figure from 1996 to 2004, and from 2011 to 2013. In his wrestling career, Dwayne won the WWF/WWE Championship 8 times, WWF Tag Team Championship 5 times, WCW/World Championship twice, and was 10-time WWE world champion.
In 2000, he published his autobiography The Rock Says, which debuted at No. 1 on The New York Times Best Seller list, and sold over 720,000 copies in hardcover alone. Dwayne's first leading film role was in 2002, where he was paid US $5.5 million for his role in The Scorpion King. Ever since then, he has appeared in various films such as The Fast and the Furious, Get Smart, The Game Plan. And has hosted and produced The Hero, a reality competition series.
In 2013, Dwayne Johnson The Rock was listed no.25 in Forbes' Top 100 Most Powerful Celebrities. He was the highest-paid actor of 2016 and was listed among the 100 most influential people in the world by Time. Dwayne's unique character, talent, and larger than life personality has made him a role model for people everywhere, and this is his story:
---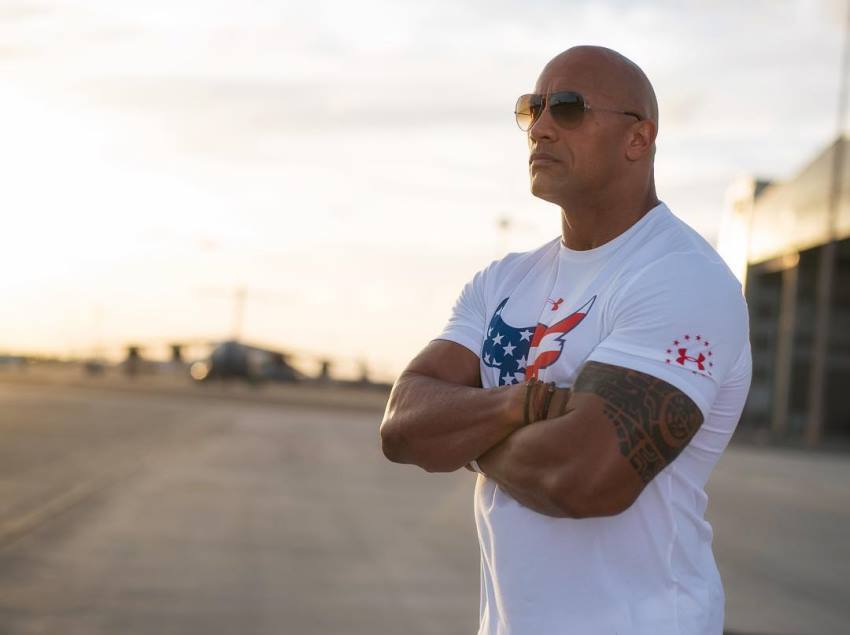 "All successes begin with Self-Discipline. It starts with you."
Athlete Statistics
Full Name: Dwayne Douglas Johnson
Weight
Height
Arms
Chest
255 - 265lbs (115.7 - 120.2kg)
6'5" (195.5cm)
20''
50''
Waist
Thighs
Age
35''
31''
51
Date of Birth
Nationality
Profession
May 2, 1972
American
Actor, Producer, Singer, Professional Wrestler
Alias
Era
The Rock, Flex Kavana, Rocky Maivia, The People's Champion, The Brahma Bull, The Great One, The Corporate Champion
1990, 2000, 2010
| | |
| --- | --- |
| Weight | 255 - 265lbs (115.7 - 120.2kg) |
| Height | 6'5" (195.5cm) |
| Arms | 20'' |
| Chest | 50'' |
| Waist | 35'' |
| Thighs | 31'' |
| Age | 51 |
| Date of Birth | May 2, 1972 |
| Nationality | American |
| Profession | Actor, Producer, Singer, Professional Wrestler |
| Alias | The Rock, Flex Kavana, Rocky Maivia, The People's Champion, The Brahma Bull, The Great One, The Corporate Champion |
| Era | 1990, 2000, 2010 |
---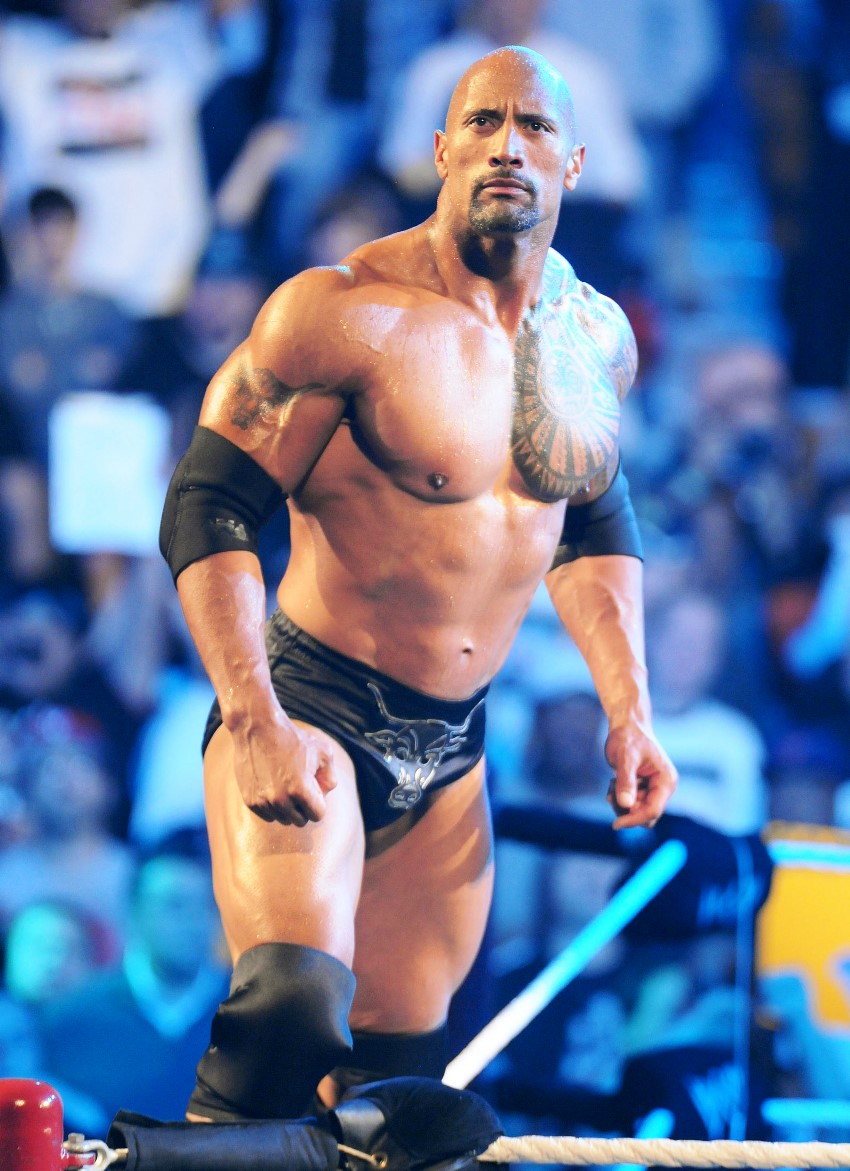 "Don't be afraid to be ambitious about your goals. Hard work never stops. Neither should your dreams."
Accomplishments
Movies
Beyond the Mat (1999)
Longshot (2000)
The Mummy Returns (2001)
The Scorpion King (2002)
The Rundown (2003)
Walking Tall (2004)
Be Cool (2005)
Doom (2005)
Gridiron Gang (2006)
Reno 911!: Miami (2007)
Southland Tales (2007)
The Game Plan (2007)
Get Smart (2008)
Race to Witch Mountain (2008)
Planet 51 (2009)
Tooth Fairy (2010)
Why Did I Get Married Too? (2010)
The Other Guys (2010)
You Again (2010)
Faster (2010)
Fast Five (2011)
Journey 2: The Mysterious Island (2012)
Snitch (2013)
G.I. Joe: Retaliation (2013)
Pain & Gain (2013)
Fast & Furious 6 (2013)
Empire State (2013)
Hercules (2014)
Furious 7 (2015)
San Andreas (2015)
Central Intelligence (2016)
Moana (2016)
The Fate of the Furious (2017)
Baywatch (2017)
Jumanji (2017)
Discography
2000 "It Doesn't Matter" The Ecleftic: 2 Sides II a Book
2001 "Pie" WWF The Music, Vol. 5
2005 "You Ain't Woman Enough" Be Cool soundtrack
2010 "Wind Beneath My Wings" Tooth Fairy soundtrack
2012 "What a Wonderful World" Journey 2: The Mysterious Island soundtrack
2016 "You're Welcome" Moana soundtrack
---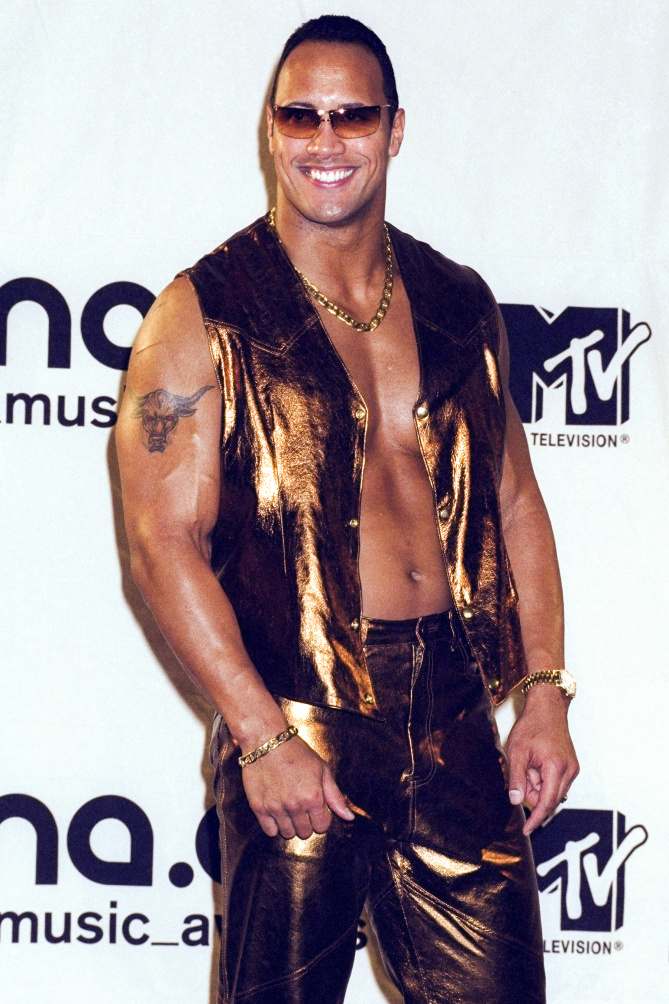 ---
Wrestling
Finishing moves
Corporate Elbow
Rock Bottom (Falling side slam) – 1997–present
Running shoulderbreaker – 1996
Signature moves
Float-over DDT
Flowing snap DDT, sometimes followed by a kip-up
Jumping clothesline
Running swinging neckbreaker
Running thrust lariat
Samoan drop
Sharpshooter
Snap overhead belly-to-belly suplex, sometimes to an oncoming opponent
Spinebuster
Managers
Debra
Mr. McMahon
Shane McMahon
Nicknames
"The Brahma Bull"
"The Corporate Champion"
"The Great One"
"The Most Electrifying Man in All of Entertainment"
"The Most Electrifying Man in Sports Entertainment"
"The People's Champion"
"Rocky"
Entrance themes
"Destiny" by Jim Johnston (1996–1997)
"Power" by Jim Johnston (August 11, 1997 – May 4, 1998)
"You Smell It?" by Jim Johnston (May 11, 1998 – August 24, 1998)
"The Rock Says" by Jim Johnston (August 30, 1998 – October 18, 1998)
"Do You Smell It (V1)" by Jim Johnston (October 19, 1998)
"Do You Smell It (V2)" by Jim Johnston (October 26, 1998 – August 26, 1999)
"Hypnotize" (Instrumental) by The Notorious B.I.G. (November 30, 1998)
"Do You Smell It (V3)" by Jim Johnston (August 30, 1999 – September 23, 1999)
"Know Your Role" by Jim Johnston (September 26, 1999 – April 2, 2001; March 8, 2004 – October 2, 2009)
"If You Smell" by Jim Johnston (July 30, 2001 – February 20, 2003)
"Is Cookin'" by Jim Johnston (February 23, 2003 – March 1, 2004)
"Electrifying" by Jim Johnston (February 14, 2011–present)
---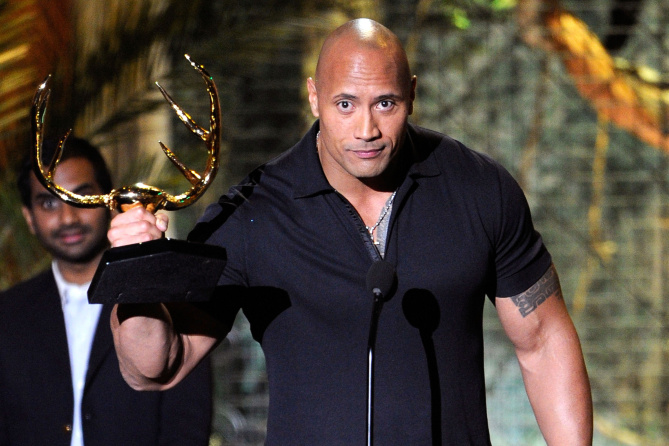 ---
Championships
Pro Wrestling Illustrated

Match of the Year (1999) vs. Mankind in an "I Quit" match at Royal RumbleMatch of the Year (2002) vs. Hollywood Hulk Hogan at WrestleMania X8
Most Popular Wrestler of the Year (1999, 2000)
Wrestler of the Year (2000)
Ranked No. 2 of the top 500 singles wrestlers in the PWI 500 in 2000
Ranked No. 76 of the top 500 singles wrestlers of the "PWI Years" in 2003

United States Wrestling Association

USWA World Tag Team Championship (2 times) – with Bart Sawyer

World Wrestling Federation/Entertainment/WWE

WCW/World Championship (2 times)
WWF/E Championship/WWE Undisputed Championship (8 times)
WWF Intercontinental Championship (2 times)
WWF Tag Team Championship (5 times) – with Mankind (3), The Undertaker (1), and Chris Jericho (1)
Deadly Games WWF Championship Tournament (1998)
Royal Rumble (2000)
Sixth Triple Crown Champion
Slammy Awards (9 times)

Best Actor (2014)
Game Changer of the Year (2011) – with John Cena
Guess Who's Back or: Return of the Year (2011)
LOL! Moment of the Year (2012, 2013) – insulting John Cena using the history of Boston, Massachusetts – Rock Concert on the 20th-anniversary episode of Raw
Match of the Year (2013) – vs. John Cena for the WWE Championship at WrestleMania 29
New Sensation (1997)
"Tell Me You Didn't Just Say That" Insult of the Year (2014) 
"This is Awesome" Moment of the Year (2015 – shared with Ronda Rousey)

Wrestling Observer Newsletter

Best Gimmick (1999)
Best on Interviews (1999, 2000)
Most Charismatic (1999, 2000, 2001, 2002, 2011, 2012)
Best Box Office Draw (2000, 2011, 2012)
Most Improved (1998)
Wrestling Observer Newsletter Hall of Fame
Other Awards
1991: NCAA National Championship – as a member of the Miami Hurricanes
2001: Teen Choice Awards – Choice Movie Villain
2012: CinemaCon Action Star of the Year
2013: Kids Choice Awards – Favorite Male Butt Kicker
2016: People's Choice Award – Favorite Premium Cable TV Actor
2016: Mr. Olympia ICON Award
2016: People Magazine Sexiest Man Alive
2017: Star on the Hollywood Walk of Fame
---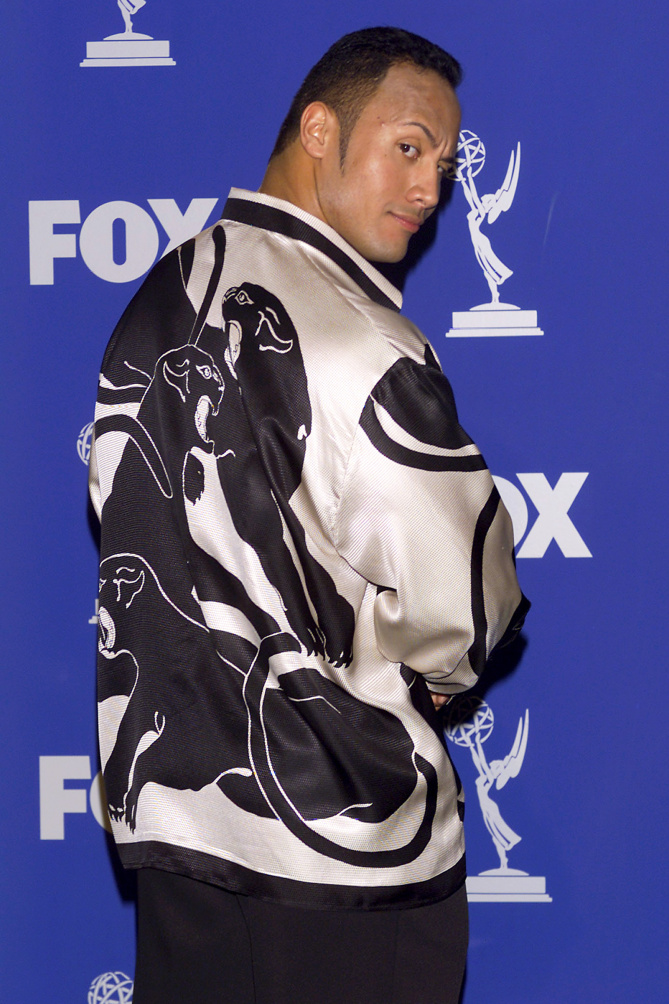 "One of the most important things you can accomplish is just being yourself."
Biography
Family of Wrestlers
Dwayne Douglas Johnson, also famous for his alias The Rock, was born on May 2, 1972, in Hayward, California. He is the son of professional wrestler Wayde Douglas Bowles AKA Rocky Johnson, and Ata Johnson.
Dwayne was raised in a family with a long history in wrestling. His grandfather, Peter Maivia, was a wrestler, and his grandmother, Lia Maivia, was one of the few female wrestling promoters. His cousin Savelina Fanene is also a professional wrestler. Since his early years, Dwayne was under "pressure" due to his family's expectations, which he believes built his strong character and made him accustomed to those high expectations.
Growing up, Dwayne was constantly on the move, as his father's job required frequent relocations. He lived in the suburbs of Grey Lynn in New Zeland for a short time, before moving back to the United States with his family. At the age of 16, Dwayne briefly moved to Honolulu, Hawaii, where he attended President William Mckinley High School. One year later, his father's job required his family to move to Bethlehem, Pennsylvania.
Dwayne's family stayed in Bethlehem for a longer period of time, which allowed Dwayne to focus on his career and school. He started playing football at Freedom High School and also became a member of track and field and wrestling teams.
Football Career and Turn of Events
With each day, Dwayne's desire to play football grew stronger. His family eventually moved to Miami, where he took a full scholarship at the University of Miami.
As a defensive tackle, Dwayne was a skilled football player; praised by his coach and teammates. Because of his outstanding performances, Dwayne became part of the Miami Hurricanes' National Championship team.
However, this all changed when he moved to Canada and joined the elite Calgary Stampeders. Two months into the season, Dwayne was cut from the team. He was devastated by the event. But eventually, he decided to move on and find another passion.
---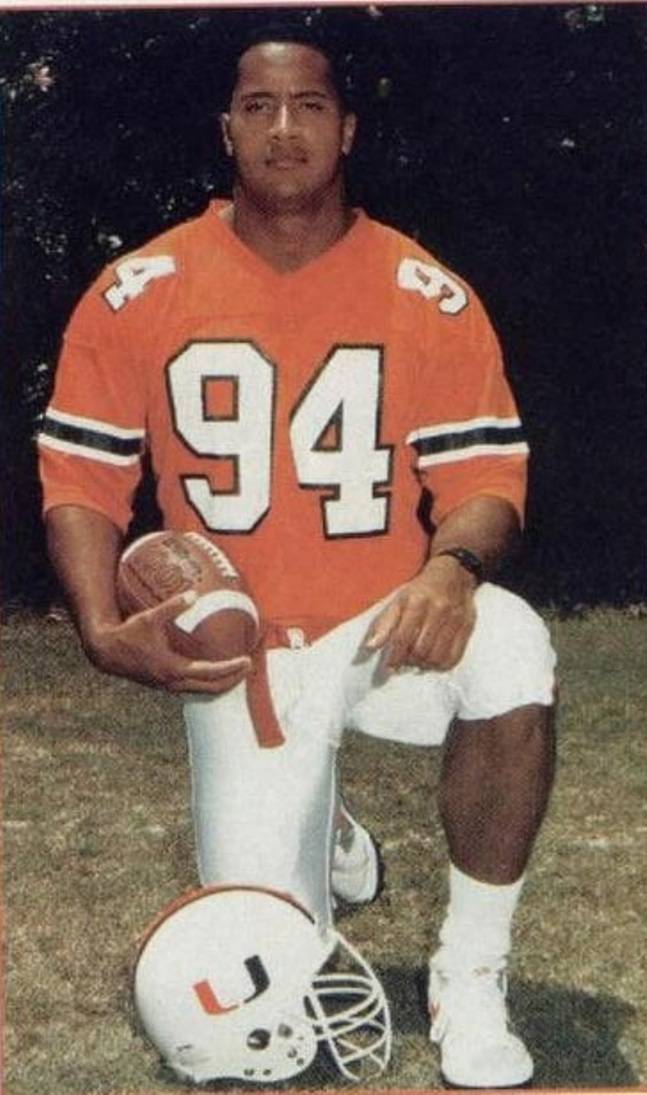 ---
Birth of a Great Wrestler
As the years passed, Dwayne realized he wanted to become a wrestler, like his most of his family.  Despite the initial resistance from his father, Dwayne was determined he would become a wrestler. His father later agreed to train him, but said he wouldn't "go easy on him".
Dwayne's first several tryout matches went fairly well. He defeated The Brooklyn Brawler at a house show, and lost the two other matches against Owen Hard and Chris Candido.
However, in the summer of 1996, he tag-team wrestled under the nickname "Flex Kavana", and won the USWA World Tag Team Championship twice. His partner was Bart Sawyer.
This was a historical moment in Dwayne's career, as he signed a contract with WWF, and started gaining mainstream popularity. After signing a contract, he began training under Tom Prichard, Mark Henry, and Achim Albrecht.
Rocky Maivia Debut
Dwayne's made his WWF debut under the nickname Rocky Maiva. It was a combination of ring names of his father and grandfather. Initially, he was reluctant to take "Rocky Maivia ring name, but Vince McMahon and Jim Ross persuaded him to do so.
His debut came on November 4th, 1996, on Monday Night Raw. His first match was on November 17th – it was an eight-man elimination match. Dwayne was the sole survivor, as he single-handedly eliminated Goldust and Crush. However, Dwayne didn't have it easy when he started his WWF career. Because of his "cheesy" character, he was often booed and rejected by the WWF fans.
In his first ever singles match, Dwayne defeated the infamous Salvatore Sincere. This is where his rise to the top in the WWF world began. In 1997, he won the International Championship, and later defended the title at In Your House 13: Final Four.
In April of 1997, Dwayne lost his title to Savio Vega by count out. During that time, the WWF fans became increasingly hostile towards Dwayne. Chants such as "Die, Rocky, die!" and "Rocky sucks!" were common during his matches.
---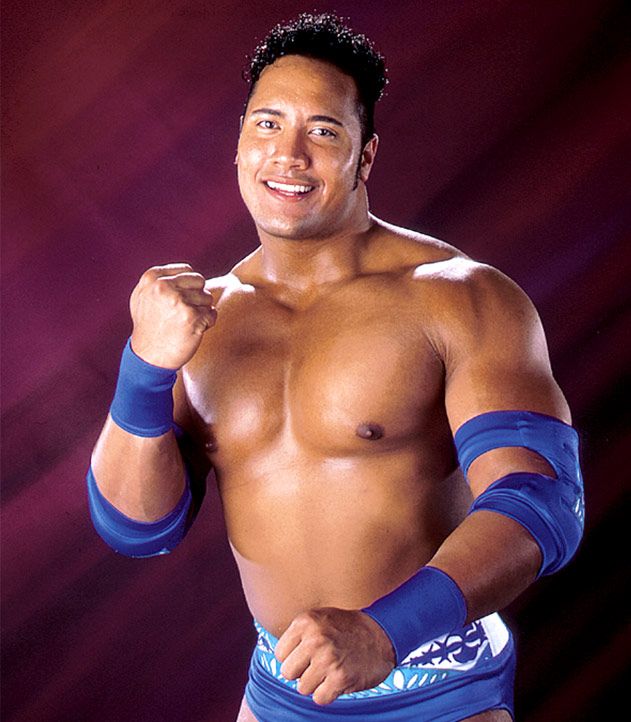 ---
1997-1998 Period
In April 1997, Dwayne lost the Intercontinental Championship title to Owen Hart. Later that year, he wrestled against Mankind. During the match, he suffered an injury to his knee, which put him out of the ring for several months.
He returned four months later, and claimed his new ring name – The Rock. He went on to insult the fans in his promos and the WWF TV interviews; also calling Kevin Kelly derogatory names.
On March 30, 1998, The Rock made his debut at the Intercontinental Championships, where he defeated Faarooq and took the leadership over the Nation of Domination from him. Dwayne successfully defended the title against the same opponent a year later.
1998-1999 The Corporation
Dwayne's rise in popularity and his successful promos led to a face turn. Dwayne went on to call himself "The People's Champion", gaining affection from some of WWF fans that were once hostile towards him.
This, however, led to a conflict between The Rock and Mr.McMahon. McMahon said to Dwayne he had an issue with "the people" to provoke him and his new nickname "The People's Champion." Dwayne's response to Mr.McMahon was defeating his associate, Mankind in the finals of a WWF tournament.
However, several months later, at a pay-per-view event, Dwayne had a rematch with Mankind, where he almost lost his title. Dwayne passed out during one of Mankind's submission moves, but he didn't tap out – as a result, Dwayne retained his title.
Dwayne continued having back and forth conflicts with Mankind for several months, before ending the feud on February 15. That day was also highlighted by Dwayne's third WWF Championships victory in a ladder match with Mankind, and Big Show. He lost his WWF Champion title a month later, after being defeated by Stone Cold Steve Austin in a Wrestlemania match.
---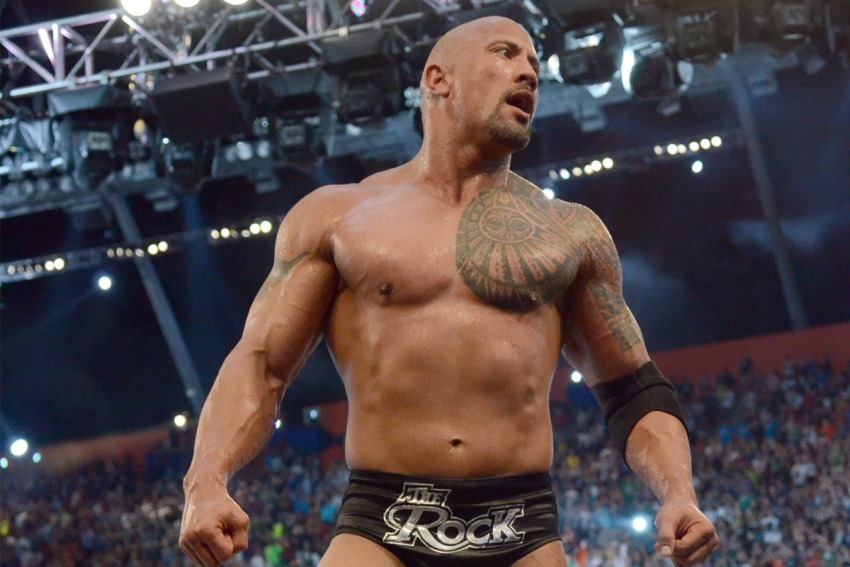 ---
Pairing up With a Former Enemy
Towards the end of the year 1999, Dwayne teamed up in several matches with his former enemy Mankind. Fighting against Big Show and The Undertaker in a WWF Tag Team Championships. Dwayne and Mankind won the title one out of total three times.
Following the Championships, Dwayne and Mankind continued performing comedic skits together. Their most famous one was This is Your Life, which was based on the TV show.
In January 2000, Dwayne was a part of the Royal Rumble match. He ended up being one of the two last men standing, together with Big Show. Big Show wanted to defeat Dwayne by throwing him over the top rope doing the powerslam move. However, Dwayne countered Big Show's move on the ring, sending him to the floor, and coming back to ring as the winner.
Dwayne defeated his arch-enemy Big Show once again in the episode of Raw Is War, on the March 13th, 2000. In addition to beating him, Dwayne also qualified for facing Triple H, the WWF Champion in his next match at WrestleMania. Unfortunately for Dwayne, he wasn't able to take the title from Triple H, who together with Vince, defeated Dwayne during the match.
4th WWF Championships Victory
For the next several weeks, The Rock continued feuding against Triple H, eventually winning his fourth WWF Champion title.
On May 21st, in the Iron Man match, the two faced each other once again. This time, however, Dwayne was disqualified due to The Undertaker intervening between him and Triple H; giving Triple H one point to win the title.
Dwayne's fifth WWF Champion title came on June 25th, when he scored the winning pin in a match against Shane McMahon, Triple H, and Vince McMahon. He then went on a rampage; defending his title for the next several months, in three matches.
The first match came on July 23rd, when Dwayne won against Chris Benoit and Fully Loaded. The second was on August 27, defending the title against SummerSlam, Kurt Angle, and Triple H. And the last match came on September 24th, when he solidified his WWF Champion status by defeating The Undertaker and Kane.
---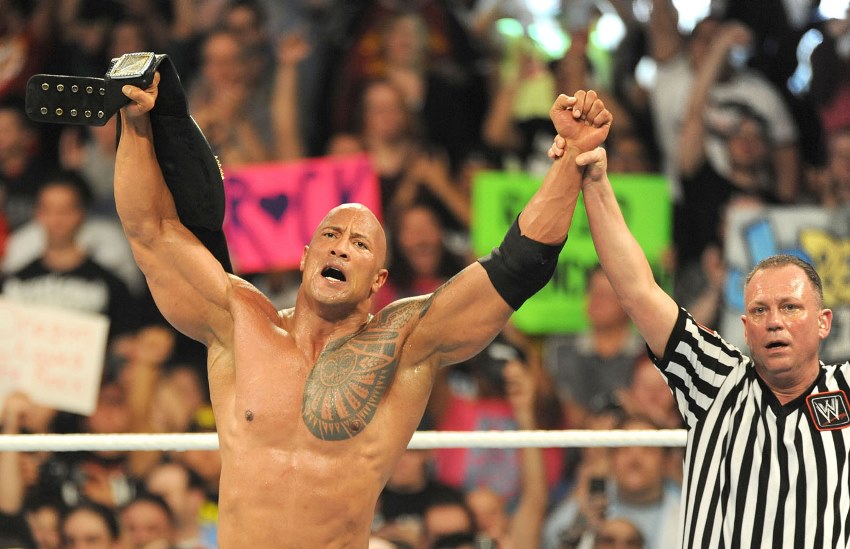 ---
Wrestlemania X-Seven
Dwayne's reign as the WWF Champion came to an end in October 2000. That month, he lost the title to Angle at No Mercy. Dwayne's next opponent was Rikishi, whom he defeated at Survivor Series pay-per-view event.
After winning the match, Dwayne went on to try and regain the WWF title. His attempt was unsuccessful, as he lost a six-man match at Armageddon. The victor was Kurt Angle. One month later, Dwayne paired up with The Undertaker for the WWF Tag Team Championships, winning the event, then losing it to the same opponents the following night.
In Spring 2001, Dwayne continued his feud with Angle over winning the WWF Champion title. The culmination came in February, where Dwayne was finally able to defeat Kurt Angle – winning his sixth WWF Championship.
Dwayne was then put up against the Royal Rumble champion, Stone Cold Steve Austin at WrestleMania X-Seven contest. Austin allied with McMahon, who helped him defeat Dwayne, and bring home the title.
Suspension from WWF
The following night after his defeat, Dwayne battled Austin and McMahon once again. However, this time, Triple H also intervened.
Dwayne hoped that Triple H would help him against his opponents, but the exact opposite happened – Triple H came with a sledgehammer, attacking Dwayne instead of Austin and McMahon – resulting in Dwayne's defeat.
After the match, Dwayne was indefinitely suspended from WWF. He then decided to use this time to act a role in the action-fantasy film The Mummy Returns.
---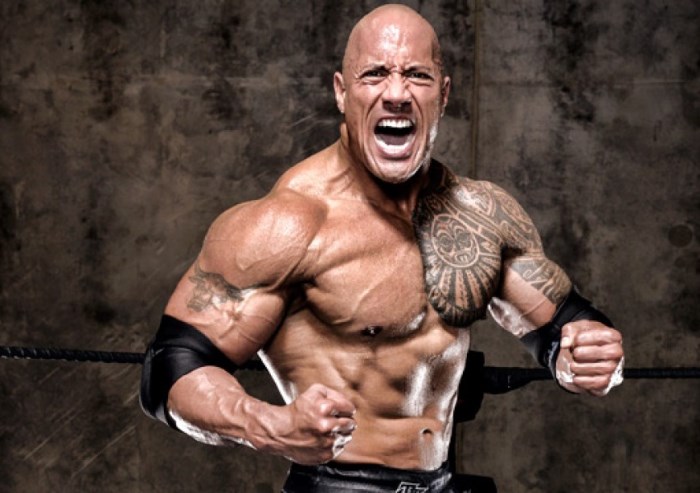 ---
Comeback
Dwayne Returned to the WWF in mid-summer 2001. Upon his return, he had to decide which group of wrestlers he wanted to join – The Alliance, or the WWF. He chose WWF.
Dwayne then returned to his impressive success streak, winning the WCW Championships against Booker T. However, he didn't hold the title for long, losing it to Chris Jericho at No Mercy pay-per-view event. The next night, however, Dwayne and Jericho teamed up together, and won the WWF Tag Team Championships against the Dudley Boyz.
On November 5, 2001, Dwayne defeated Jericho in one of the episodes of Raw; winning his second WCW Championship, later renamed to World Championships. As Dwayne was a part of WWF, he had to battle in a ten-man elimination match against the best representatives of The Alliance.
By the end of the match, Dwayne and Steve Austin were the only contenders remaining. Dwayne represented WWF, and Austin The Alliance. After a long and difficult battle, Dwayne was proclaimed the victor; forcing the opposition to disband. His last match of 2001 came at the World Championships against Chris Jericho. Who defeated Dwayne, and claimed both WCW and WWF title to his name.
Fighting Against Hulk Hogan
Few months prior to WrestleMania, Dwayne challenged Jericho for the WWF Championship title at Royal Rumble pay-per-view battle. Dwayne's attempt was unsuccessful, as Jericho once again came out victorious. Dwayne's only victory during this period was against The Undertaker at another pay-per-view event called No Way Out.
In WrestleMania X8, Dwayne challenged legendary Hulk Hogan to a battle. Both Dwayne and Hulk were the best in their generations of wrestlers, and the match between them was deemed as extraordinary by many people.
Ultimately, it was Dwayne Johnson The Rock who was victorious, pinning Hulk Hogan at WrestleMania X8. After the match, the two legends became allies.
---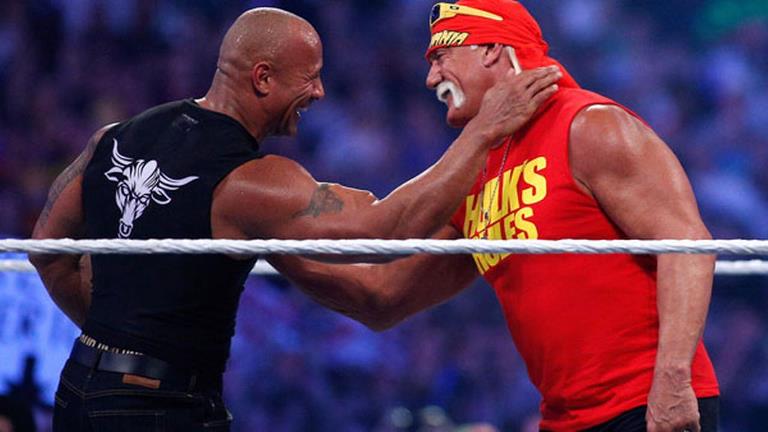 Dwayne Johnson The Rock and Hulk Hogan smiling at each other in the ring.
---
Breaking Records in Wrestling
In May 2002, WWF was renamed to WWE. Dwayne's first WWE match in 2002 came on July 21, when he defeated The Undertaker and Kurt Angle in a triple threat contest; winning his record-breaking seventh WWE Champion title in the process.
Dwayne went on to defend his WWE title at Global Warning contest against Brock Lesnar and Triple H. That same year in August, Dwayne lost the WWE Champion title to Brock,  along with his old record for the youngest WWF/WWE Champion from 1998.
After the defeat to Brock, Dwayne declared to everyone he would always be "The People's Champion", despite the booing he received from the crowd.
Departure from WWE
After years of wrestling professionally in WWE, Dwayne began appearing less and less in professional wrestling battles; instead, appearing in other, non-wrestling roles.
After organizing a pie-eating contest as a part of the WWE event. Dwayne stated he was no longer a part of WWE, and that his professional contract with them is terminated.
However, Dwayne still kept the nickname "The Rock", as a part of his deal with WWE.
---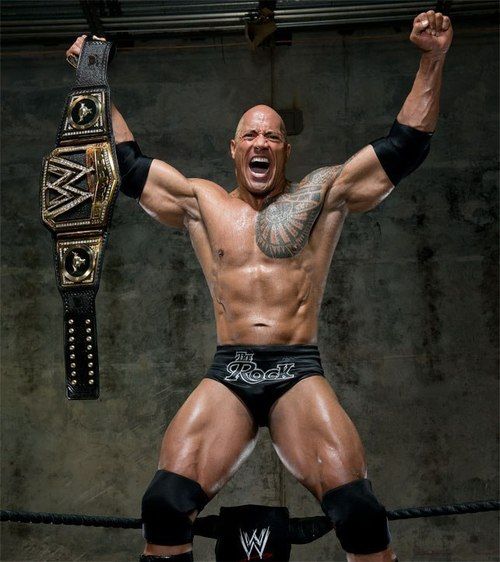 ---
Occasional Appearances Between 2004-2009
In August 2004, Dwayne made a surprise return in an episode of Raw. Where he defeated his opponents La Résistance and Jonathan Coachman. The following year, he did an interview with WWE, where he talked about his history with the federation, his acting career, etc.
Almost three years later, Dwayne appeared in a WWE show once again. In March 2008, Dwayne introduced his father and grandfather into the WWE Hall of Fame; giving a speech in front of many people.
During his speech, Dwayne joked with wrestlers such as Chris Jericho, John Cena, Mick Foley, Santino Marella, Steve Austin, and Shawn Michaels; showing his light-hearted humor.
In October 2009, Dwayne cut a promo of SmackDown via video, as a part of the ten-year anniversary of SmackDown.
Dwayne's Feud With John Cena
On 14th of February, 2011, Dwayne was featured as the host of WrestleMania on an episode of Raw. Which was his first appearance in seven years. During the promo of the episode, Dwayne addressed fans and other famous wrestlers like John Cena; inducing the crowd into signing and yelling chants.
This was also the beginning of Dwayne's feud with John Cena, with whom he argued over social media. Dwayne would often make fun of John's clothing through his social media posts, calling him names such as "Vanilla Ice." John responded to Dwayne in the same way, provoking him over the internet.
Eventually, the two met in the ring, together with Alex Riley and The Miz. Dwayne fended off Alex and Miz, but the third opponent, John Cena, proved to be one opponent too many – John blindsided Dwayne with a wrestling throw "Attitude Adjustment."
---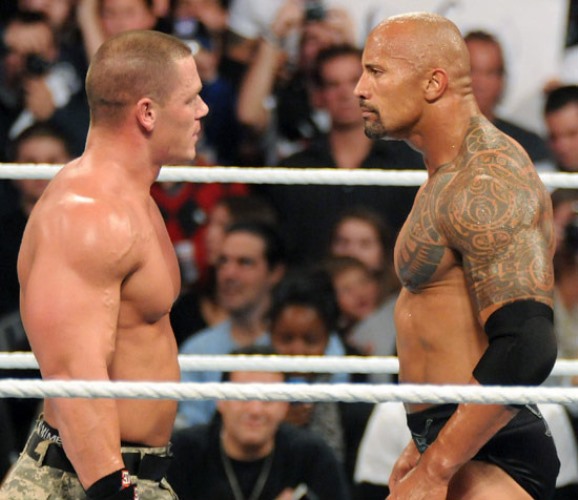 John Cena on the left, looking at Dwayne Johnson The Rock on the right.
---
"Once in a Lifetime" Battle With Cena
In April 2012, Dwayne faced John Cena at WrestleMania championships. The event was hyped for a year before its occurrence; many people called it "Once in a Lifetime" event.
During the match, John was confident he could do a People's Elbow move on Dwayne, but Dwayne was ready for it – countering John's move with a Rock Bottom, and winning the match.
The following night in the episode of Raw, Dwayne praised John and his fighting abilities; saying their match was "an honor" for him. At the end of his speech, Dwayne said he would become WWE Champion once again.
Eight WWE Championship Title
In early January 2013, in the episode of Raw, Dwayne returned to WWE matches to confront CM Punk. The two had started a feud which lasted for almost an entire month, culminating on January 27th.
That day, CM Punk defeated Dwayne with the help of The Shield. This resulted in McMahon wanting to strip CM Punk of his title, but Dwayne requested to restart the match instead.
The match was restarted, and this time, Dwayne defeated CM Punk to win an incredible eight WWE Champion title.
---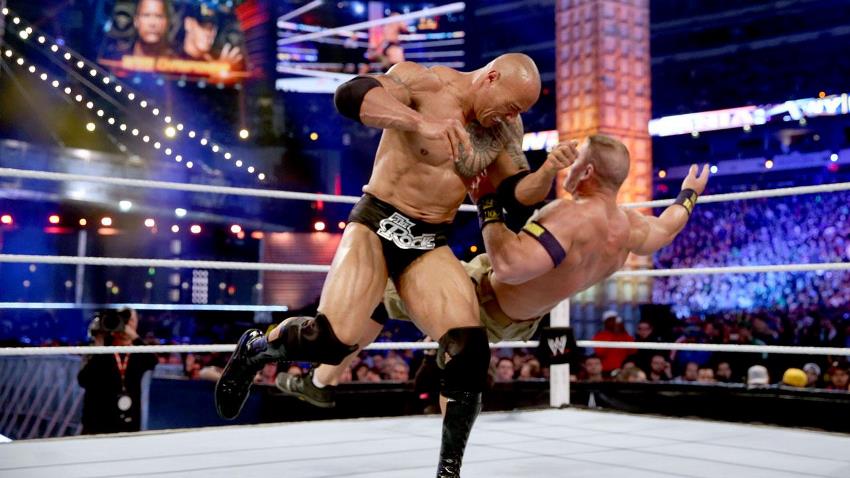 ---
Serious Tendon Injury
After 70 days of his reign as a WWE Champion, Dwayne lost his title to John Cena. Dwayne planned on getting a rematch with John, however, an injury struck him.
Dwayne tore his adductor and abdominal tendons from his pelvis during WrestleMania, which prevented him from appearing in the following WWE Championships.
The injury was so serious that Dwayne had to undergo a long and complicated surgery to reattach his tendons.
Sporadic Appearances of Dwayne Johnson The Rock
In the Spring of 2014, Dwayne appeared in WrestleMania XXX together with legendary Hulk Hogan and Stone Cold Steve Austin. On October 6th same year, Dwayne surprised everyone with his appearance in a match against Rusev and Lana; throwing Rusev out of the ring.
By 2016, Dwayne made several more appearances, both in wrestling and non-wrestling roles. Some of them were the event at the 2015 Royal Rumble, WrestleMania 31, Raw, and WrestleMania 32.
---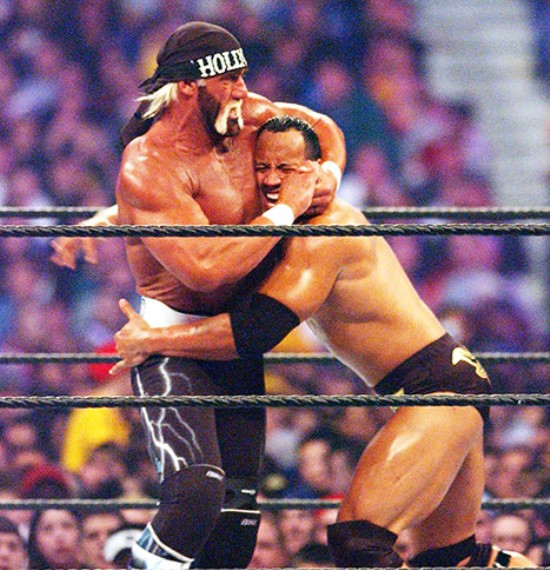 Hulk Hogan and Dwayne Johnson The Rock wrestling each other.
---
Wrestling Going Mainstream
Dwayne's success in the world of wrestling had allowed him to enter mainstream pop culture and music industry. He appeared in numerous singles, music videos, and soundtrack albums. Such as "WWF The Music, Vol.5.", and "It Doesn't Matter."
In 2000, Dwayne hosted a Saturday Night Live show, which featured some of his fellow wrestlers. Like Mick Foley, Triple H, and The Big Show. Dwayne says it's the success of that show that brought him numerous invitations to Hollywood studios.
Dwayne appeared as a guest in films like That '70s Show and Star Trek: Voyager. In That '70s Show, Dwayne played a role of his father. And in Star Trek: Voyager, he played an alien wrestler character that uses The Rock's signature moves.
Dwayne Johnson The Rock Legacy in Wrestling
In his long and illustrious wrestling career, Dwayne achieved an incredible amount of success. Many recognize him as one of the greatest professional wrestlers of all-time.
Even Hulk Hogan, the legendary wrestler of his own time, referred to Dwayne as "the biggest superstar in the business." While his former rival, and a fellow wrestler John Cena said The Rock is "the biggest superstar in the history of WWE." 
Many wrestlers alongside John Cena and Hulk Hogan gave their highest respect and recognition to Dwayne. The Attitude Era went as far as to say; "I don't think there's ever going to be a star in the history of this business that is bigger than The Rock."
Dwayne was on the cover of several WWE video games. Including the famous "WWF SmackDown! 2: Know Your Role" combat sports game. Among Dwayne's countless records in WWE, here are just a few of them;
The most Raw show events in one year – 38 in the year 2000.
One out of three WWE wrestlers ever to be on a headline of WrestleMania in three different decades (the other two are The Undertaker and Shawn Michaels) – the 1990s, 2000s, and 2010s.

The youngest WWF Champion wrestler, and the youngest Intercontinental Champion of his generation

The first-ever wrestler to win the WWE/WWF Championships six, later, seven times
---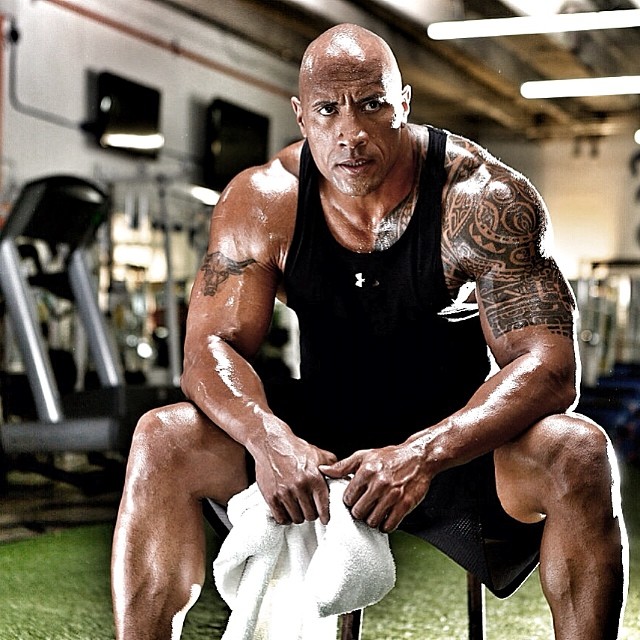 ---
Acting Beginnings
Alongside his WWE career, Dwayne also acted on television. His first acting job came in 1999, when he played the role of his own father in That '70s Show; appearing in one of the episodes.
In less than a year, Dwayne received another role in Star Trek: Voyager series, in the episode "Tsunakatse."
Breaking into Mainstream
Dwayne's acting career 'blew up' with his roles in movies such as The Scorpion King, Walking Tall, The Mummy Returns, and The Rundown. He also played a supporting role in the crime-comedy film Be Cool, and was the main villain character in Doom.
In 2006 and 2007, Dwayne acted in Reno 911! Miami, and Gridiron Gang. Which was followed by roles in Southland Tales, The Game Plan, and Get Smart.
A year later, in 2008, Dwayne was nominated for the Favorite Movie Actor award for his performance in The Game Plan. He lost out to Johnny Depp, who won the award for his brilliant role in the film Pirates of the Caribbean: At World's End.
On the March 28th, 2009, Dwayne hosted the Nickelodeon Kid's Choice Awards, and he also appeared in the Cory in the House TV Show that same year. Dwayne also lent voices for animated films and productions. The most notable being Moana.
---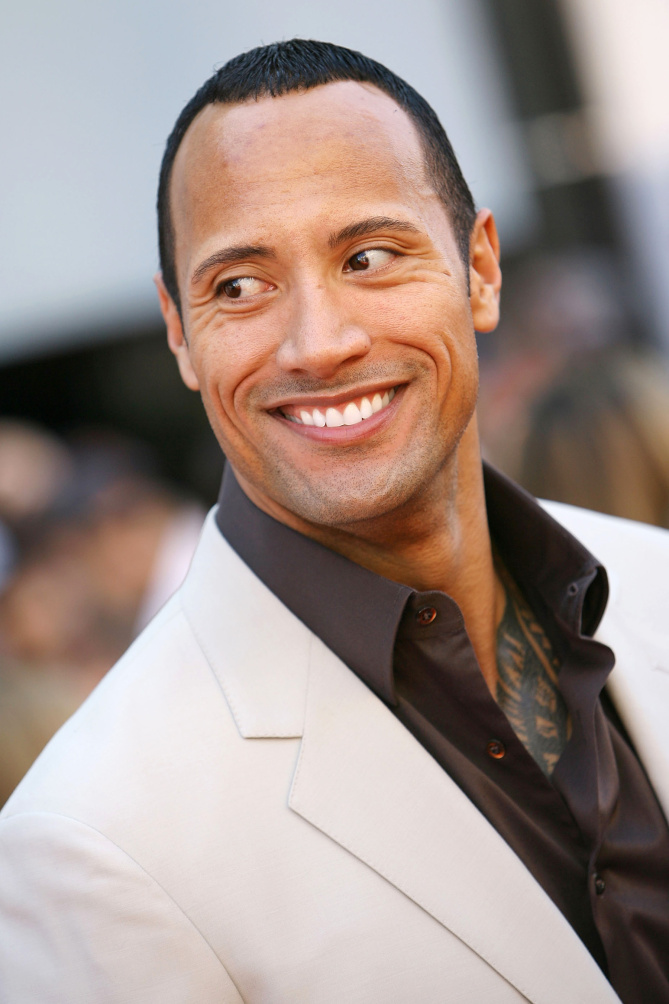 ---
Other Roles and Appearances
Some of the most popular movies with Dwayne Johnson The Rock as an actor include;
Fast Five (2011)
Furious 7 (2015)
Fast and Furious 6 (2013)
Central Intelligence (2016)
The Fate of the Furious (2017)
Hercules (2014)
Snitch (2013)
Baywatch (2017)
In December 2013, Dwayne was named by Forbes as the top-earning actor of 2013. His films brought in an incredible 1.3 billion dollars for the year in total. The majority of this income came from the movie Fast & Furious 6, which was one of Dwayne's most successful movies in his acting career.
Other Work of Dwayne Johnson The Rock
In 2000, Dwayne co-wrote and published his autobiography under the title The Rocks Says. It rapidly rose to success, staying at the No.1 spot on The New York Times Best Seller record for a number of weeks.
In May 2015, Dwayne broke a Guinness World Record for taking the most selfies in under three minutes. He managed to take 105 selfies with his fans during the premiere of American disaster film San Andreas.
---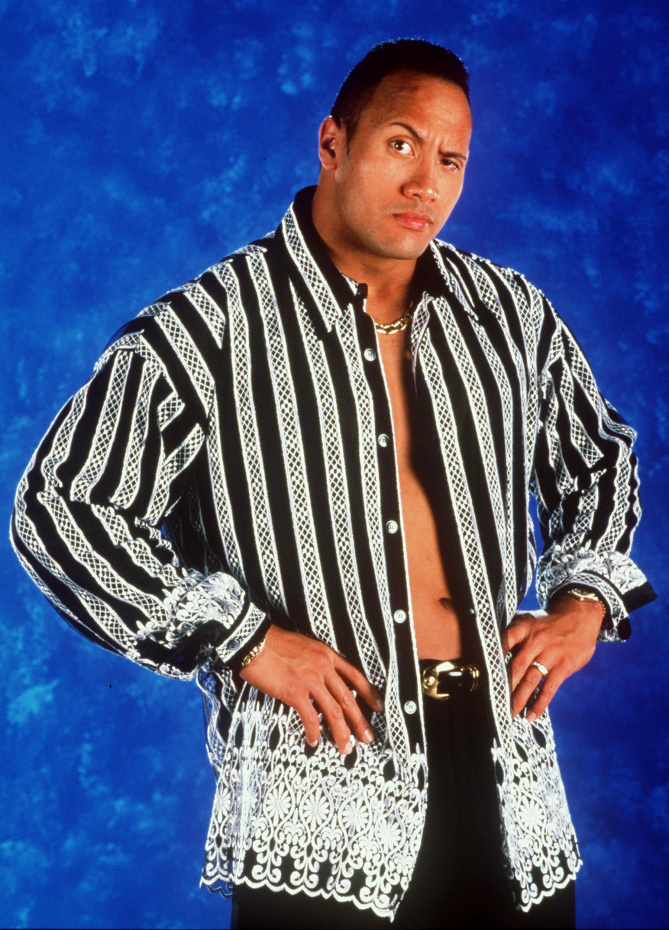 ---
Campaigns and Activism
Dwayne was a part of 2000 Democratic National Convention, which was also a part of "Smackdown Your Vote" campaign.
In 2006, Dwayne created his foundation for terminally ill children, naming it Dwayne Johnson Rock Foundation.
One year later, Dwayne donated 1 million dollars to the University of Miami. His goal was to help the University renovate its facilities. As a sign of gratitude, The University renamed a locker room from one of the teams in Dwayne's honor.
Personal Life of The Rock
In July 2014, Dwayne was bestowed upon the title of Seuili by Malietoa Tanumafili II, as a sign of gratitude for his service to the people of Samoan Islands.
Dwayne married his ex-wife Danny Garcia in May 1997, with whom he has one daughter. The pair divorced on June 1st, 2007.
Soon after, Dwayne started dating Lauren Hashian, with whom he welcomed their daughter Jasmine in December 2015.
---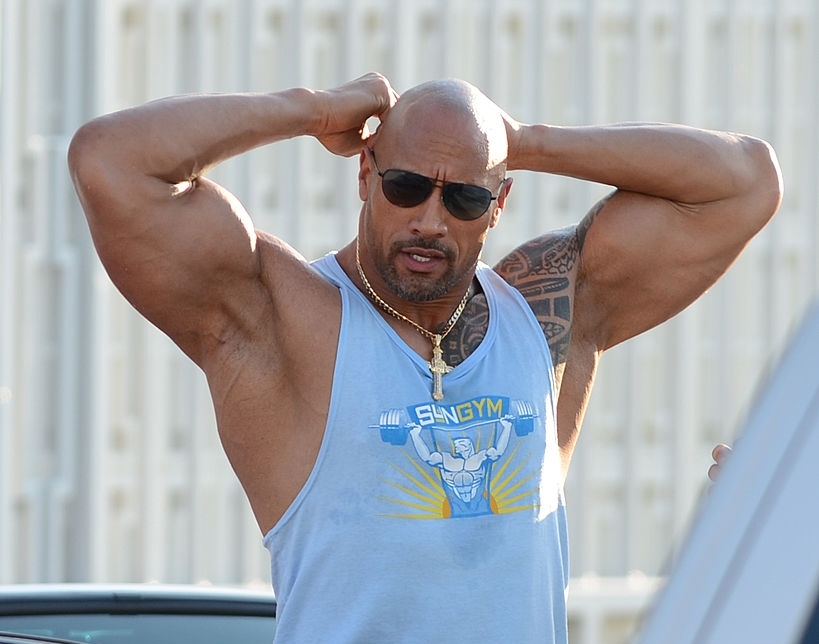 "Invaluable warm up. When training my fav body part (legs) I used to do minimal warm up and just jump into the fire. After years of football and wrestling injuries – 5 knee surgeries, 1 shredded Achilles and the most sexiest fun pain injury of all – ripping the top of my quad and adductor tendon off my pelvis – I've learned the best thing we can do is always carve out the proper time to warm up those muscles, tendons & ligaments so we do what we luv… and that's get in the game and f*ck shit up. "
Training
The Rock Morning Routine
Dwayne The Rock wakes up at 4 AM, hitting his cardio session 30 minutes within waking up. The type of cardio he'll do depends on his goals and roles for his movies.
As The Rock says; "Depending on the role I'm training for or playing at the time, I usually smash out about 30-50 minutes on the elliptical cross trainer first thing in the morning, whether I'm at home or at a hotel, after drinking a cup of coffee. But when I'm at home, I like to hit the road as well."
After he's finished with the cardio, Dwayne will eat his first meal of the day.
---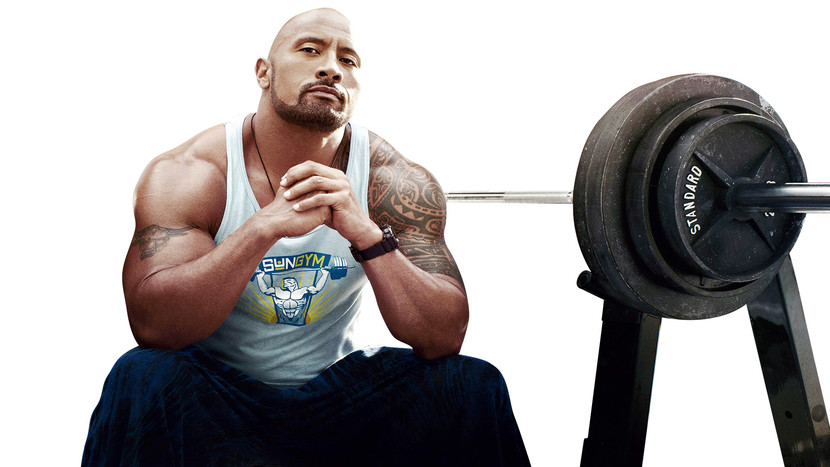 ---
Working Out With Weights
A few hours after his breakfast, Dwayne will usually have his second training session of the day – weightlifting.
With all his day-to-day responsibilities and busy schedule. The Rock says this is a precious time for him, as nobody bothers him with questions or tasks. "Working out is my therapy, and it's cheaper than a shrink. I can't imagine my life without training, honestly," says Dwayne The Rock.
To build muscle and stay lean, Dwayne follows a typical bodybuilder's model for lifting weights. He lifts heavy, with a lot of volume, working out six times per week in total.
Each of his exercises consists of 4 sets. In each set, Dwayne The Rock aims to do at 10-12 reps. His rest between each set is 60-90 seconds long.
Training For Movies
Dwayne's training changes significantly when he trains for movies. Sometimes, he does a lot of strength-based training. And sometimes, only bodyweight exercises.
For his role in Hercules, Dwayne spent six months training alone in Budapest. He did a lot of heavy weightlifting, in order to build a chiseled physique for his role in the movie.
For San Andreas, it was a completely different story. Here, Dwayne played a role of a first responder in the fire deparment, so he did more body-weight work. As Dwayne The Rock says; "That role required a lot of core strength, so I did a lot of rope work and some water-based and bodyweight work."
---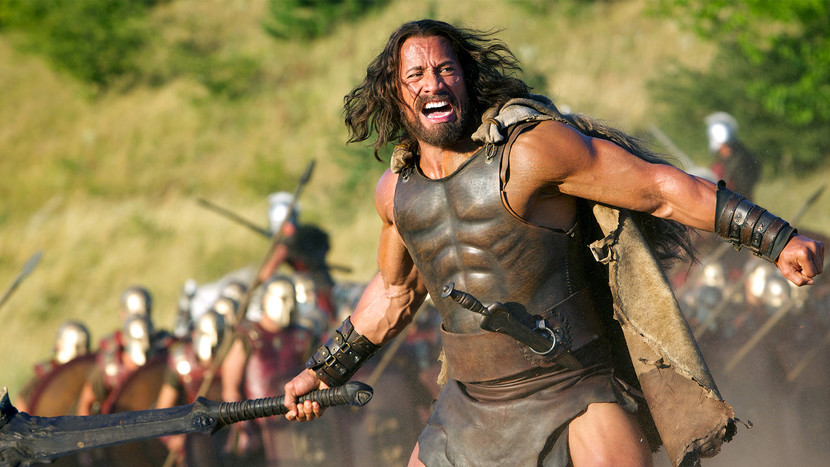 ---
Workout Routine of Dwayne Johnson The Rock
Day 1: Legs
Running, 30-50min
Barbell Walking Lunge, 4 sets, 25 reps
Leg Press, 4 sets, 25 reps
Leg Extensions, 3 sets, 20 reps
Barbell Squat, 4 sets, 12 reps
Hack Squat, 4 sets, 12 reps
Romanian Deadlift, 4 sets, 10 reps
Seated Leg Curl, 3 sets, 20 reps
Thigh Abductor, 4 sets, 12 reps
Day 2: Back
Running, Treadmill, 1 set, 30-50 minutes
Wide-Grip Lat Pulldown,4 sets, 12 reps
Bent Over Barbell Row,4 sets, 12 reps
One-Arm Dumbbell Row, 4 sets, 12 reps
Barbell Deadlift, 3 sets, 10 reps
Pullups, 3 sets (to failure)
Dumbbell Shrug, 4 sets, 12 reps
Inverted Row, 3 sets (failure)
Hyperextensions (Back Extensions), 4 sets, 12 reps
Day 3: Shoulders
Running, Treadmill, 30-50 minutes
Dumbbell Shoulder Press, 4 sets, 12 reps
Standing Military Press, 4 sets, 12 reps
Front Dumbbell Raise, 4 sets, 12 reps
Side Lateral Raise, 4 sets, 12 reps
Reverse Machine Flyes, 4 sets, 15 reps
Seated Bent-Over Rear Delt Raise, 4 sets, 12 reps
Day 4: Arms/Abs
Running, Treadmill, 30-50 minutes
Dumbbell Bicep Curl, 4 sets, 15 reps
Hammer Curls, 4 sets, 15 reps
Spider Curl, 4 sets (to failure)
Triceps Pushdown, 4 sets, 15 reps
Overhead Triceps, 3 sets, 15 reps
Hanging Leg Raise, 4 sets, 20 reps
Rope Crunch, 4 sets, 20 reps
Russian Twist, 4 sets, 20 reps
Day 5: Legs
Day 6: Chest
Running, 30-50 minutes
Bench Press, 4 sets, 12 reps
Incline Dumbbell Press, 4 sets, 12 reps
Dumbbell Bench Press, 4 sets, 12 reps
Flat Bench Cable Flyes, 4 sets (to failure)
Incline Hammer Curls, 4 sets, 12 reps
Dips, 4 sets (to failure)
Day 7: Rest
---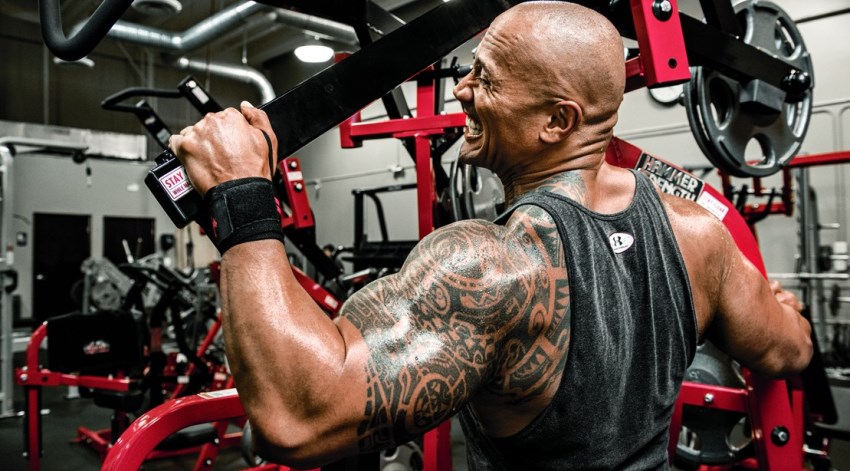 "The first step to achieving your goal, is to take a moment to respect your goal. Know what it means to you to achieve it."
Nutrition
The Rock's Full Day of Eating
For Dwayne, training hard for movies is only half of the job done. He works just as hard when planning his diet, and carefully choosing his meals. He only eats lean, protein-packed foods which help him stay strong, and lean.
Here's full day of eating for Dwayne The Rock;
1st Meal
Steak, 10 oz
Oatmeal, 2 cups
3 Egg Whites
1 Whole Egg
Watermelon Juice, 1 glass
Meal 2
Chicken, 2 oz
Bell Pepper, 2 oz
Mushrooms, 3
Broccoli, 3 cups
Protein Shake
Meal 3
Salmon, 8 oz
Asparagus, 8 tips
2 Whole Eggs
Rice Medley, 2 cups
Broccoli, 3 cups
Meal 4
Steak, 10 oz
Baked Potato, 3 oz
Asparagus, 8 tips
Orange Juice, 1 glass
Meal 5
Casein Protein, 20 grams
10 Egg Whites
---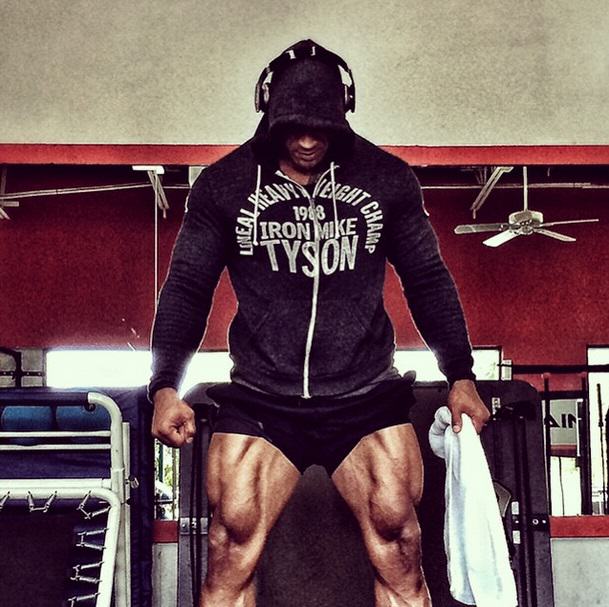 ---
Dieting for Hercules
To attain the most muscular and ripped physique possible for his role in Hercules. Dwayne ate over 10 pounds worth of food every day. Which translates to a daily calorie intake of around 5100kcal.
During that period, Dwayne ate 1000 kcal worth of cod fish alone. Alongside other nutrient-rich foods like eggs, chicken, vegetables, and steak.
This is how his meal plan looked;
1st Meal

 – 10 oz cod, 2 whole eggs, 2 cups oatmeal

2nd Meal

 – 8 oz cod, 12 oz sweet potato, 1 cup veggies

3rd Meal

 – 8 oz chicken, 2 cups white rice, 1 cup veggies

4th Meal

 – 8 oz cod, 2 cups rice, 1 cup veggies, 1 tbsp fish oil

5th Meal

 – 8 oz steak, 12 oz baked potato, spinach salad

6th Meal

 – 10 oz cod, 2 cups rice, salad

7th Meal

 – 30 grams casein protein, 10 egg-white omelet, 1 cup veggies (onions, peppers, mushrooms), 1 tbsp omega-3 fish oil
---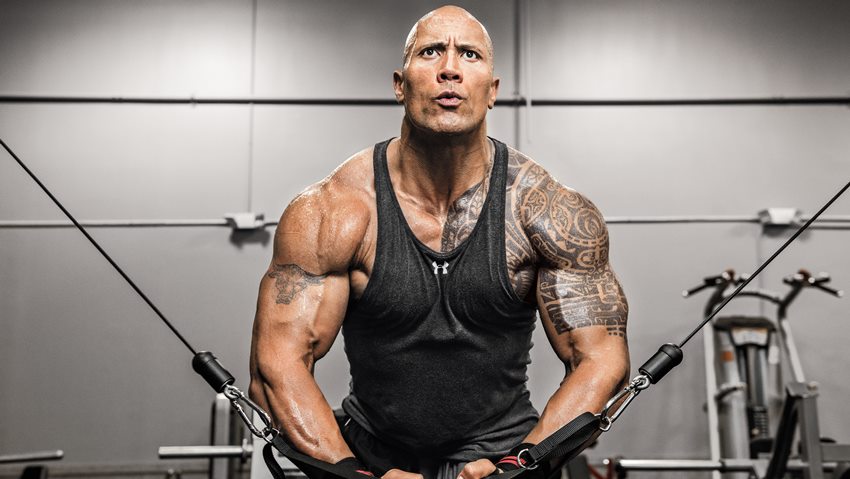 "The wall! Your success is on the other side. Can't jump over it or go around it. You know what to do."
Idols and Influences
One of the biggest, if not the biggest influence in Dwayne's wrestling career was his father.
Other influences include his friends, his grandfather, grandmother, and his cousin. Who were all professional wrestlers themselves.
---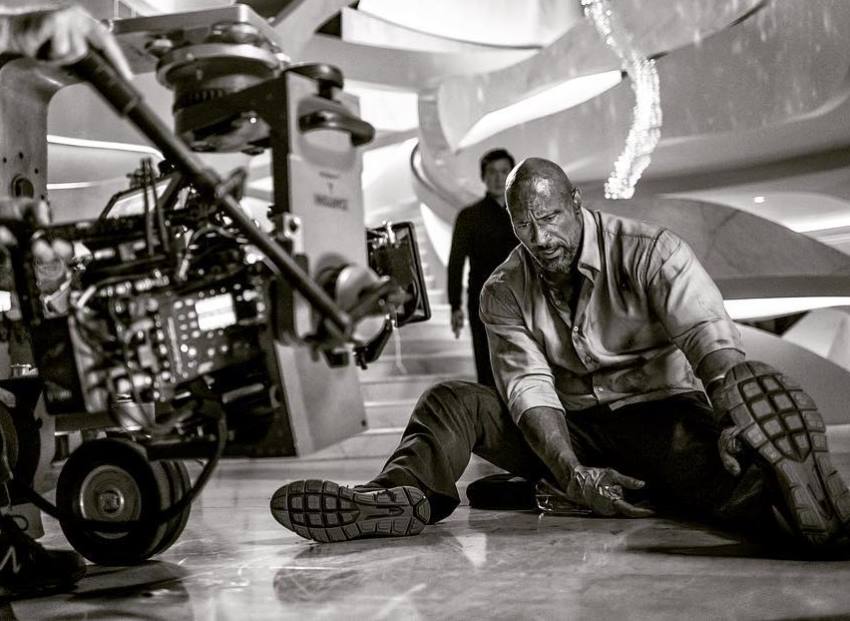 "When life puts you in tough situations, don't say "Why Me?" Just say "Try Me.""
What we can learn from Dwayne Johnson The Rock
Growing up as a skilled football player. Dwayne's dreams were 'shattered' when he found out he couldn't continue his professional career in the sport.
However, looking back now. Dwayne says this is the best thing that has ever happened to him. In his words; "You realize that playing in the NFL was the best thing that never happened, because it got me here."
What Dwayne's story tells us is: you should never give up because of adversities that happen in your life. Who knows, maybe certain turn of events that you think are disastrous lead you to something even better – just like we've seen with Dwayne Johnson The Rock.
---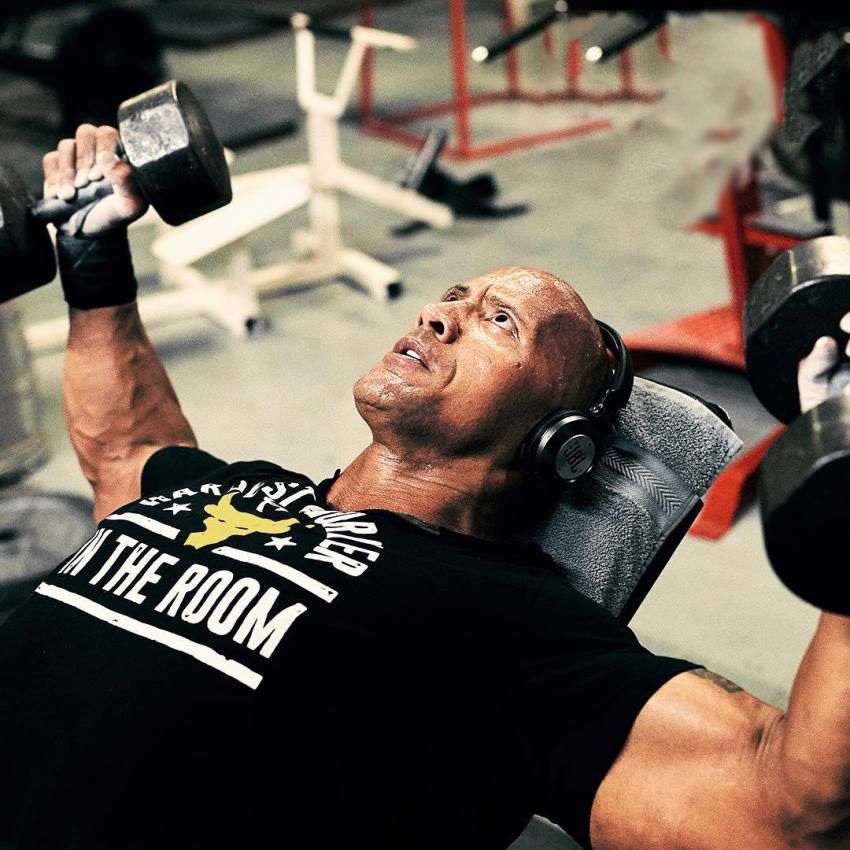 ---
Motivational Message From The Rock
One day, while Dwayne trained in the gym. He met a man with no legs and one arm. The man inspired Dwayne The Rock to write this message to everyone;
"Nick Santonastasso was born with one arm and no legs. In his mind, there's nothing he can't do… and he's right. He's right because he does everything he sets his mind to. Competed as an amateur wrestler, motivational speaker, trains like a beast and also competes in bodybuilding contests.
We chatted after my workout about the power of choice. He said, I could've been pissed at the world for being born like this, but instead I choose to live life to the fullest, be happy and crush everything I put my mind to and hopefully, I can inspire people to do the same.
Yes sir. Life deals us cards on a daily basis, but we always get to decide how we're gonna play 'em. Keep crushing life my man and inspiring all those around you.  And thank you for helping frame my perspective on life just a little bit more." – Dwayne Johnson The Rock
---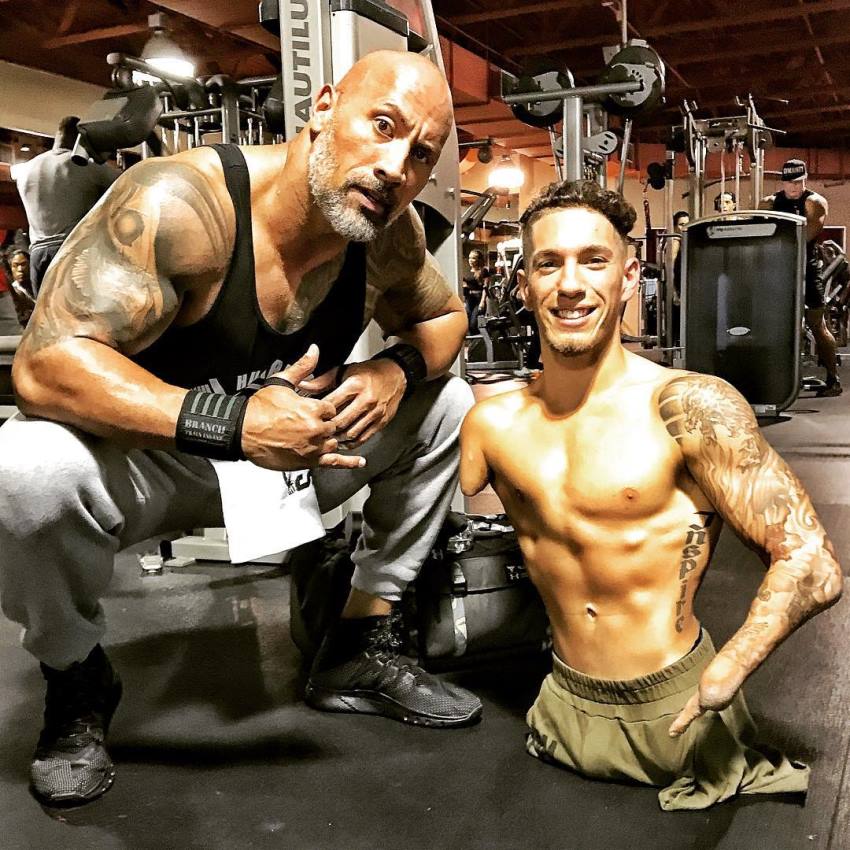 Dwayne Johnson The Rock and Nick Santonastasso in the gym.
---