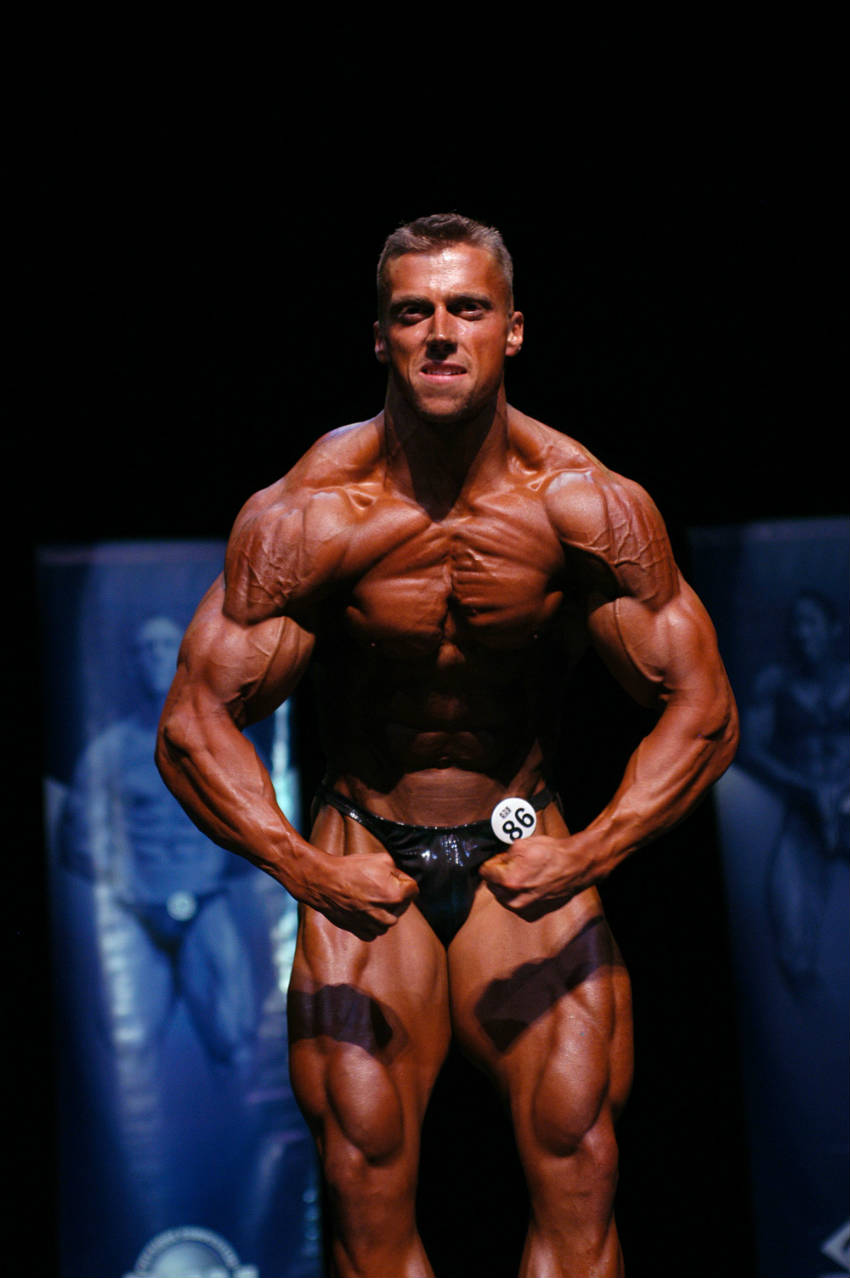 Doug Miller
Bodybuilder, Personal Trainer, Entrepreneur
Doug Miller is a professional bodybuilding champion, personal trainer and entrepreneur from Pennsylvania, USA. He prides himself on his natural approach to bodybuilding nutrition, winning several high profile championships with his well-built physique.
Despite the complete dedication Doug has for his bodybuilding career, the sport wasn't always his main love. In high school, Doug was a keen soccer player and athlete who weighed 135 pounds at his heaviest. It was a chance encounter with a friend which led him to attending his first weight lifting session; from then on he was "hooked" to the bodybuilding lifestyle.
He has competed at 7 competitions, winning 3 professional tournaments in the process and claiming his Pro card. From these victories, he gained confidence in his own abilities. He created an online training assistant program, as well as a book on the biology of bodybuilding. This is his story:
---

Athlete Statistics
Full Name: Doug Miller
Weight
Height
Year of Birth
Nationality
185 - 195lbs (83.9 - 88.5kg)
5'9" (175cm)
1979
American
Profession
Era
Bodybuilder, Personal Trainer, Entrepreneur
2000
| | |
| --- | --- |
| Weight | 185 - 195lbs (83.9 - 88.5kg) |
| Height | 5'9" (175cm) |
| Year of Birth | 1979 |
| Nationality | American |
| Profession | Bodybuilder, Personal Trainer, Entrepreneur |
| Era | 2000 |
---

Accomplishments
Competitions
2002 – INBF Presidential Cup, Gaithersburg, MD- 1st Overall Men's Novice Bodybuilding
2003 – OCB Charm City Classic, Baltimore, MD- 1st Overall Men's Open Bodybuilding (won pro card)
2005 – IFPA American States Pro, Las Vegas, NV- 2nd Men's Pro Bodybuilding
2007 – IFPA Yorton Cup Pro International, Washington, DC- 2nd Men's Pro Bodybuilding
2007 – IFPA Gaspari Nutrition Pro Classic, Cape Cod, MA- 1st Men's Pro Bodybuilding
2009 – IFPA Yorton Cup Pro Bodybuilding World Championships, Washington, DC- 1st Men's Pro Middleweight- 1st Men's Pro Overall
2009 – IFPA Gaspari/Dymatize Pro Classic, Cape Cod, MA- 1st Men's Pro Heavyweight- 1st Men's Pro Overall
---

Biography
Sporting Beginnings
Doug was born and raised in Huntingdon Valley, a small town near Philadelphia. He was keen sportsman growing up and played a variety of sports including soccer, swimming, and baseball.
In high school in particular, he earned 11 varsity letters in soccer and was an all-regional athlete. Despite his sporting prowess, he was unhappy with his physique and, in his words, was "135 pounds soaking wet!".
He decided to pursue academics over athletics in college, choosing to attend Penn State University's Scheyer Honors Program. He graduated with degrees in Biochemistry, Molecular Biology and Economics.
He says that although he was very interested in his academics, "there was something missing". He missed the physical training involved in his sporting past and, fortunately, his roommate suggested he should check out the campus weight room. After completing just one weightlifting session he was hooked, working out multiple times a week.
First Competitions
By the time Doug had graduated, he was well-built, 175-pounds and had learned a lot about weight training. He used the skills gained during his scientific degree to research supplementation, which really helped him make gains in his size and strength.
The biochemistry element of his degree also gave him a good understanding of how the human body is made stronger. He implemented his knowledge of muscle protein synthesis into his daily routine, which allowed him to build muscle fast.
In 2002, a year after Doug graduated, he was encouraged by a bodybuilder at his local gym to get into competing. He attended his first show as a beginner, but even while suffering with his nerves throughout, won the overall novice division of the INBF Presidential Cup in Maryland.
---

---
Getting His Pro Card
Fourteen months later in 2003, Doug made a decision that would change his life. He attended his first major competition – the 2003 OCB Charm City Classic – coming away with another 1st place trophy. With this victory, he claimed his pro card, beginning a professional bodybuilding career.
Meeting His Wife Through Bodybuilding
In 2004, Doug was asked to be a judge at an OCB amateur bodybuilding show. He says that a "cute Southern girl" tapped him on his shoulder and began talking to him. He fell in love with her and 20 months later they were married.
His new wife Stephanie became a guiding light for his career. Fortunately, she was also a bodybuilder, so she helped Doug with all aspects of his training, from preparing meals to working out alongside him.
They also both prepped for their shows together, and in 2005 they ended up competing together at the same competition. The 2005 IFPA American States Pro was a key moment in Dougs career; his wife ended up coming first and he came second, so they both took trophies back home with them.
Branching Out
Between 2007 and 2009, Doug continued to achieve his bodybuilding goals and he won several more competitions. The IFPA Gaspari Nutrition Pro Classic,  IFPA Yorton Cup Pro Bodybuilding World Championships and the IFPA Gaspari/Dymatize Pro Classic were brilliant achievements for Doug – proving to his peers that he was a force to be reckoned with.
Following these victories, Doug decided to take some time out from the sport, beginning a career that would help others to reach their goals. He set up an online training, competition and nutrition preparation business and immediately saw clients sign up.
Alongside this online company, Doug also co-authored a book which discusses the biology behind bodybuilding. In the book he hopes to "distill the science of muscle building for everyday people to understand".
---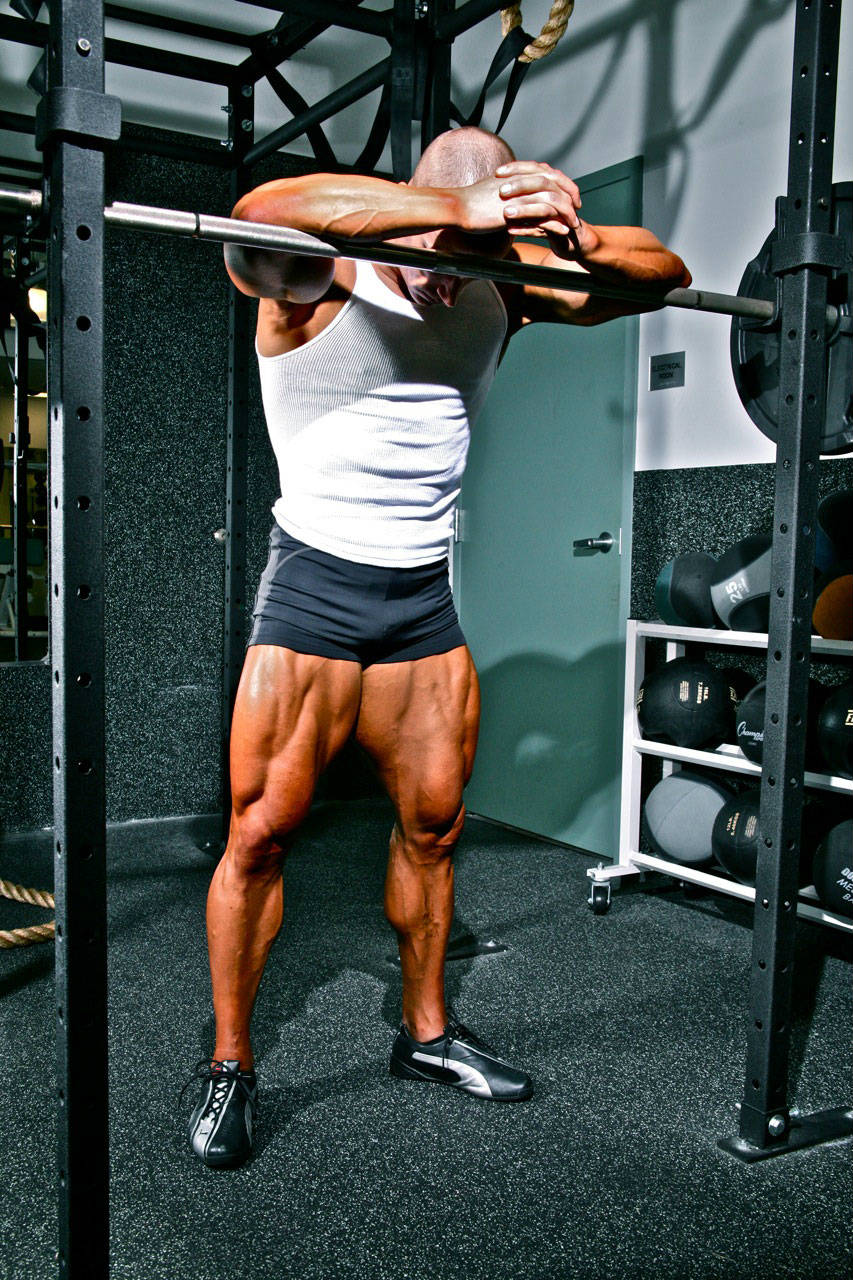 "Regardless of your goals, when you walk out of the gym, you should feel like there is no possible way you could have worked harder".
Training
Training Philosophy
Doug's philosophy on training is simple; he says if you're not completely worn out when you leave the gym, you haven't worked hard enough. Doug has always enjoyed training as hard as possible, describing it as "hard, heavy and intense".
He also says that his workouts are "instinctual" . He has a body part planned for each day,  but the actual exercise selection and rep range varies depending on how he feels on the particular day.
While this is not a conventional training approach, he says he is now at a point where he is "in tune" with his body. Because of this, he says he knows the best exercises to incorporate in each session. He tries not to cross the line in his workout intensity, always pushing close, but not too close to the pain threshold.
Off-Season Training
Doug's off-season split of choice is an 11-day, hypertrophy focused plan which prioritizes his chest and traps.  It looks like this:
Day 1: Chest/delts/traps/lats/abs
Day 2: Quads/hams/calves
Day 3: Arms/traps/delts/abs
Day 4: Cardio or off
Day 5: Back thickness/traps/rear delts/abs
Day 6: Chest/delts/calves
Day 7: Cardio or off
Day 8: Hams/quads/abs
Day 9: Back/chest/traps
Day 10: Arms/calves/abs
Day 11: Cardio or off
Competition Training
When Doug is preparing for a competition, he enjoys training the same bodypart multiple times in a week.
Sunday: Quads/calves
Monday: Chest/abs
Tuesday: Back/traps
Wednesday: Arms/forearms/abs
Thursday: Hamstrings/glutes/calves
Friday: Shoulders/traps/abs
Saturday: Cardio
This is Dougs favorite workout split. He uses it in 4-8 week periods during the off-season to change things up. He likes that it allows him to focus on one body part each day, and it allows enough recovery time for each bodypart so that he can hit it with high intensity again the following week.
Cardio
In terms of cardiovascular training, Doug gradually increases his cardio during the pre-contest period. He combines short high-intensity interval training sessions on the exercise bike, with longer 45 minute lower intensity cardio sessions on the treadmill.
---

Nutrition
Diet
Doug has built his diet around the three macro-nutrients; carbohydrates, proteins and fats. He only eats high quality lean meat and fish such as salmon and chicken. When it comes to his carbs, he obtains them only from the healthiest sources such as potatoes and rice.
When preparing his meals, he likes to cook them the day before he eats them. He does this as a way to avoid skipping meals; if he already has a meal prepared, it isn't as easy to make up an excuse as to why he cant cook one after a workout.
Supplements
Supplements are central in Doug's diet. He uses them heavily in order to improve his pre-show cut, as well as to improve his muscle-building capabilities. His usual stack is below:
Creatine
Whey Protein isolate
BCAA's
Pre Workout
Energy Drinks
Testosterone Booster
---

Idols and Influences
Doug takes inspiration from his wife and training partner Stephanie. He sees her as his ideal training partner, as she also lifts weights and competes as a bodybuilder.
---

What we can learn from Doug Miller
Doug Miller's story shows us how beneficial a bodybuilding spouse or partner can be for a professional. His wife Stephanie inspired him to be the best he could be, as well as literally being there for him in his training.
If you are lucky enough to have a partner who lifts weights, you could make the most of this opportunity and train alongside them.