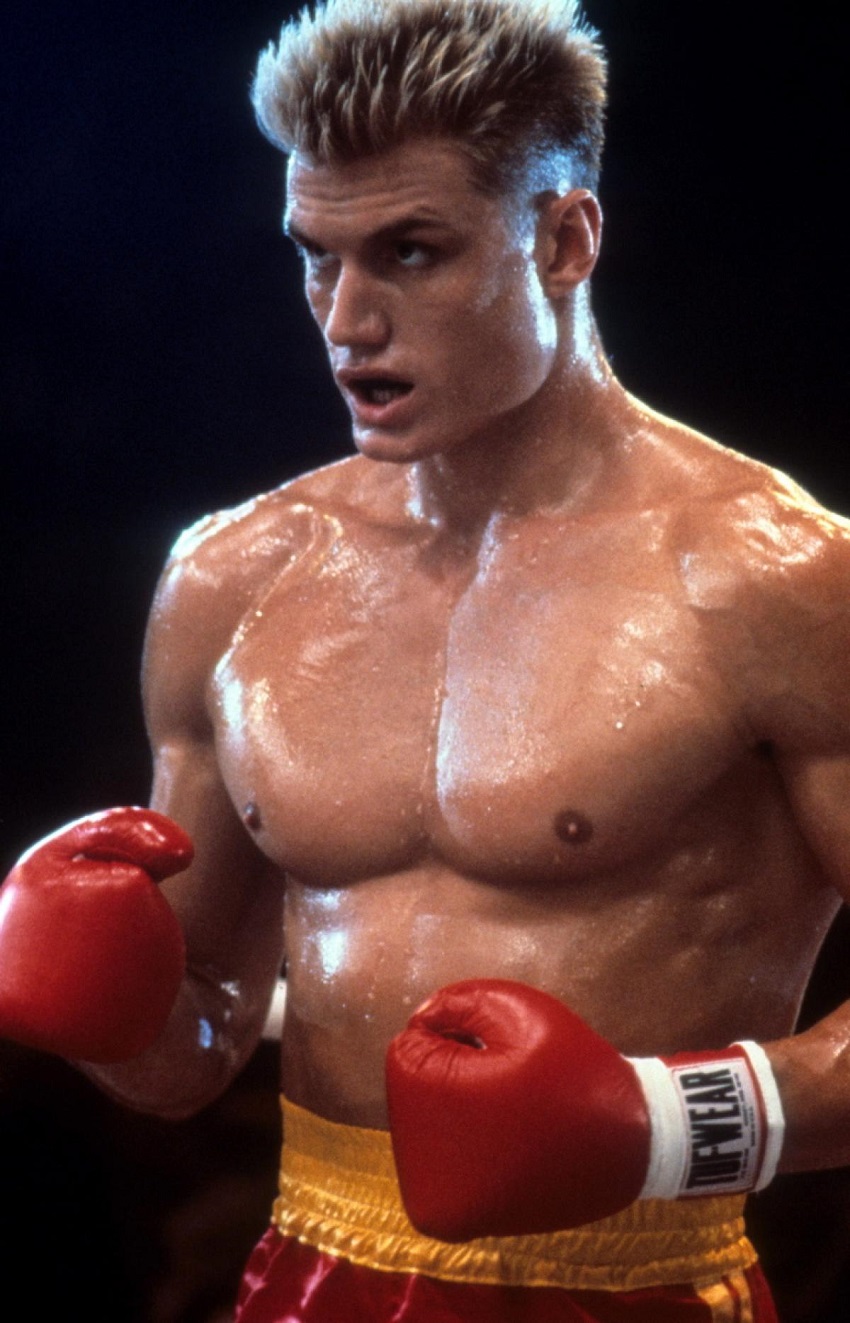 Dolph Lundgren
Actor, Producer, Fitness Star, Businessman, Martial Artist, Screenwriter, Director
Dolph Lundgren – he's an actor, director, martial artist, and fitness star. He has also been on the big screen since the 1980s, making his debut as a KGB henchman 'Venz'. His breakthrough came only several months later, when he played as the infamous Ivan Drago in Rocky IV.
From his humble beginnings in Spånga, Sweden, to a gleaming career in Hollywood as an actor, fitness superstar, and producer. Dolph has inspired generations with his movie roles and fitness transformations. To this day, Dolph has maintained a phenomenal physique, looking stronger than ever.
Among all of this, he's kept a humble attitude towards life. Working with charities and blood donation organizations, Dolph's got a big heart and keeps helping those in need.
With no signs of stopping, Dolph Lundgren will be sure to go down as one of the great icons of the film industry – this is his story:
---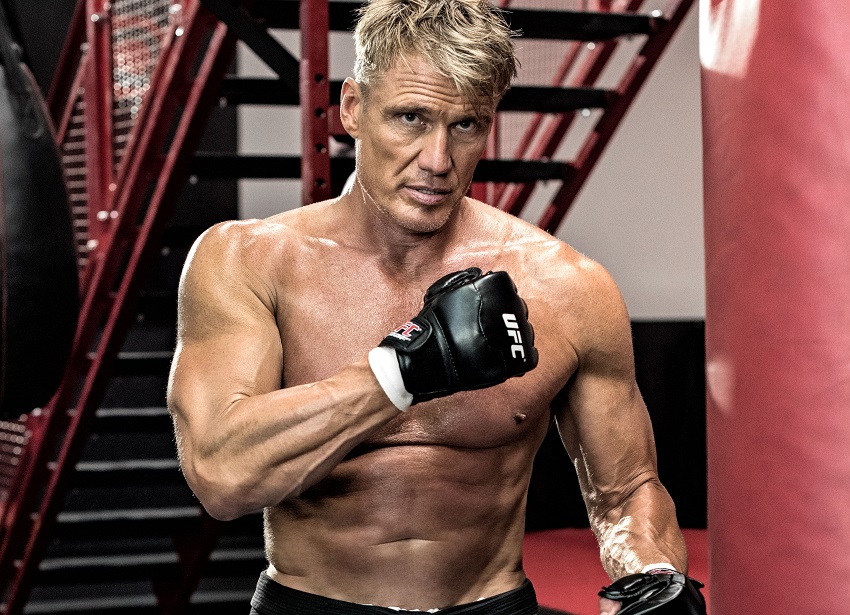 "I try to keep the martial arts up. It's a good thing, not just physically but also for your mind."
Athlete
Statistics
Full Name: Hans "Dolph" Lundgren
Weight
Height
Age
Date of Birth
245 - 255lbs (111.1 - 115.7kg)
6'5" (195.5cm)
65
November 3, 1957
Nationality
Profession
Era
Swedish
Actor, Producer, Fitness Star, Businessman, Martial Artist, Screenwriter, Director
1980, 1990, 2000, 2010
| | |
| --- | --- |
| Weight | 245 - 255lbs (111.1 - 115.7kg) |
| Height | 6'5" (195.5cm) |
| Age | 65 |
| Date of Birth | November 3, 1957 |
| Nationality | Swedish |
| Profession | Actor, Producer, Fitness Star, Businessman, Martial Artist, Screenwriter, Director |
| Era | 1980, 1990, 2000, 2010 |
---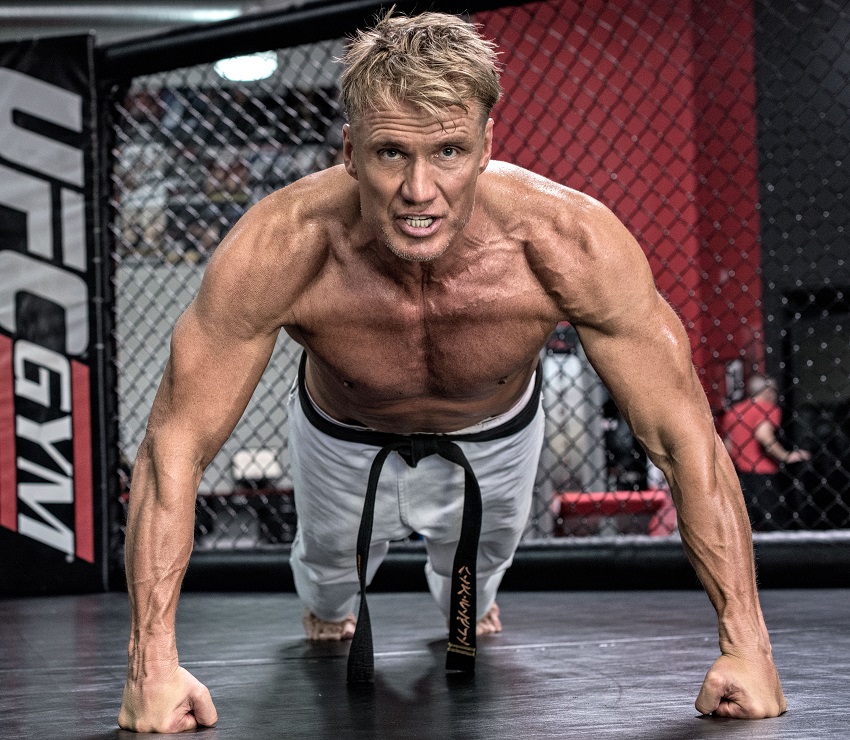 "Hollywood is great for entertaining people, it's a wonderful business but it's make-believe, you must remember that. That's one of the most important things to remember and the distinction in your own life, otherwise people get lost in their own fame, and it makes them unhappy."
Accomplishments
Feature Movies
1985
A View to a Kill, as Venz
Rocky IV, as Ivan Drago
1987
Masters of the Universe, as He-Man
1988
Red Scorpion, Lt. Nikolai Rachenko
1989
The Punisher, as Frank Castle / The Punisher
1990
I Come in Peace (aka Dark Angel), as Det. Jack Caine
1991
Cover-Up, as Mike Anderson
Showdown in Little Tokyo, as Sgt. Chris Kenner
1992
Universal Soldier, as Sgt. Andrew Scott / GR13
1993
Joshua Tree (aka Army of One), as Wellman Anthony Santee
1994
Pentathlon, as Eric Brogar
Men of War, as Nick Gunar
1995
Johnny Mnemonic, as Karl Honig
The Shooter (aka Hidden Assassin), as Michael Dane
1996
Silent Trigger, as Waxman
1997
The Peacekeeper, as Mjr. Frank
1998
The Minion, as Lukas Sadorov
Sweepers, as Christian Erickson
1999
Bridge of Dragons, as Warchild
Storm Catcher, as Mjr. Jack Holloway
2000
Jill Rips (aka Jill the Ripper), as Matt Sorenson
The Last Warrior (aka The Last Patrol), as Capt. Nick Preston
Agent Red, as Matt Hendricks
2001
Hidden Agenda, as Jason Price
2003
2004
Direct Action, as Frank Gannon
Fat Slags, as Randy
Retrograde, as John Foster
The Defender, as Lance Rockford
2005
The Mechanik (aka The Russian Specialist), as Nikolai Cherenko
2006
2007
Diamond Dogs, as Xander Ronson
Missionary Man, as Ryder
2009
Direct Contac, as Mike Riggins
Command Performance, as Joe
Universal Soldier: Regeneration, as Andrew Scott
2010
Icaru, as Edward Genn
The Expendables, as Gunner Jensen
2011
In the Name of the King 2: Two Worlds, as Granger
2012
Small Apartments, as Dr. Sage Mennox
Stash House, as Andy Spector
One in the Chamber, as Aleksey "The Wolf" Andreev
The Expendables 2, as Gunner Jensen
Universal Soldier: Day of Reckoning, as Andrew Scott
2013
The Package, as The German
Legendary: Tomb of the Dragon, as Harker
Battle of the Damned, as Mjr. Max Gatling
Ambushed, as Maxwell
Blood of Redemption, as Axel
2014
Puncture Wounds (aka A Certain Justice), as Hollis
The Expendables 3, as Gunner Jensen
Skin Trade, as Det. Nick Cassidy
2015
War Pigs, as Capt. Hans Picault
The Good, the Bad and the Dead (aka 4Got10), as Bob Rooker
Shark Lake, as Clint Gray
Riot, as William
2016
Hail, Caesar!, as Submarine Commander
Kindergarten Cop 2, as FBI Agent Zack Reed
Female Fight Club, as Sam Holt
Larceny, as Jack
Don't Kill It, as Jebediah Woodley
Welcome to Willits, as Derek Cameo
2017
Altitude, as Matthew Sharpe
Dead Trigger, as Kyle Walker
2018
Black Water Post-production, as Marco Co-starring with Jean-Claude Van Damme
Aquaman Post-production, as King Nereus
TBA
A Man Will Rise, as Cowboy Hitman[161] Uncompleted
---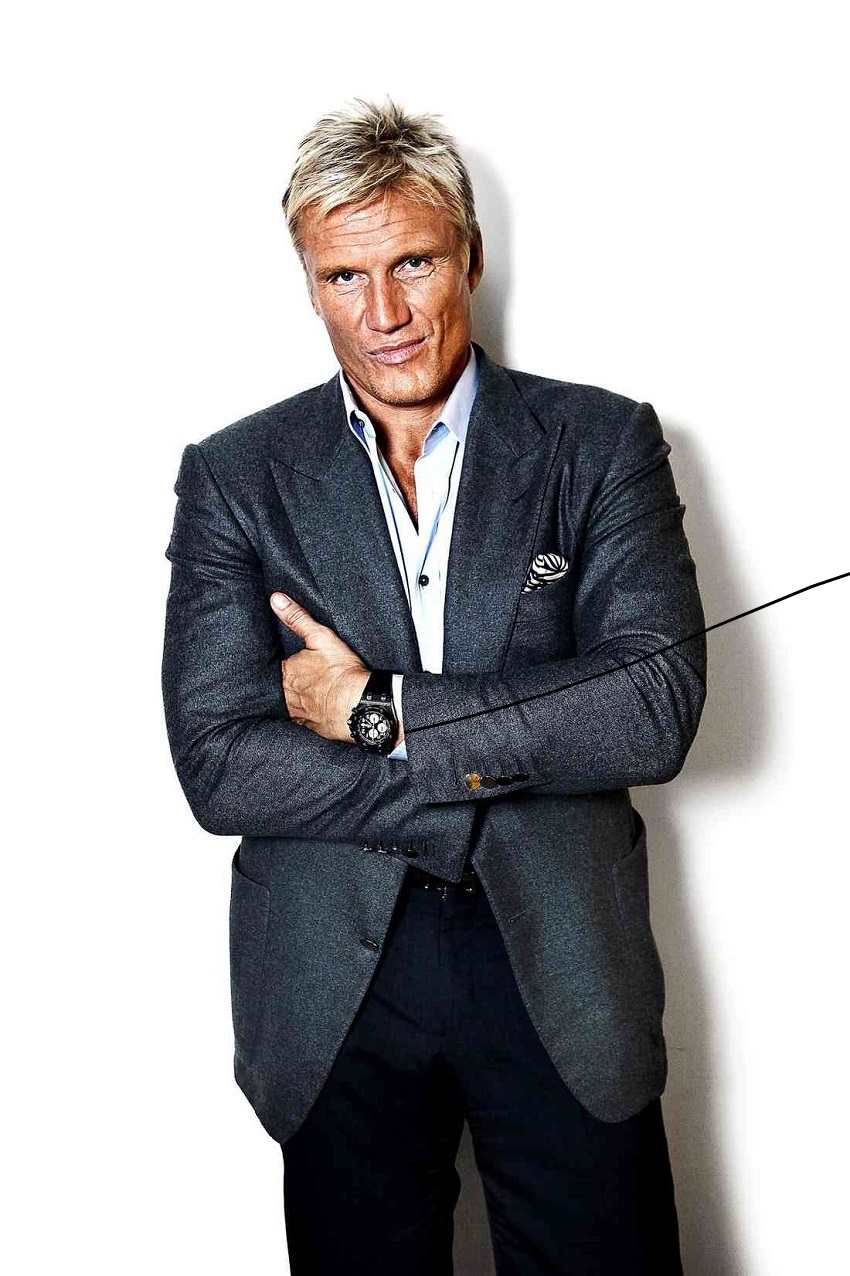 ---
On Television
1998 Blackjack, as Jack Devlin
2010 Chuck, as Marco
2012 The Eric Andre Show, as Himself
2013 SAF3, as John Eriksson
2013 Sanjay and Craig, as Himself
2015 Workaholics, as Dolph Lundgren
2016 Space Awards, as Himself
2016–2017 Arrow, as Konstantin Kovar
2017 Sharknado 5: Global Swarming, as Gilbert (Lil Gil) Shephard
2017 Tour de Pharmacy, as Gustav Ditters
Music Videos
| Year | Title | Artist(s) | Role | Notes |
| --- | --- | --- | --- | --- |
| 2017 | "Believer" | Imagine Dragons | Boxer against Dan Reynolds | Directed by Matt Eastin |
Nominations and Awards
| Year | Nominated work | Award | Results |
| --- | --- | --- | --- |
| 1985 | Rocky IV | Marshall Trophy for Best Actor | Won |
Special Awards
| Year | Ceremony | Award | Results |
| --- | --- | --- | --- |
| 2007 | Málaga International Week of Fantastic Cinema | Fantastic Lantern | Won |
---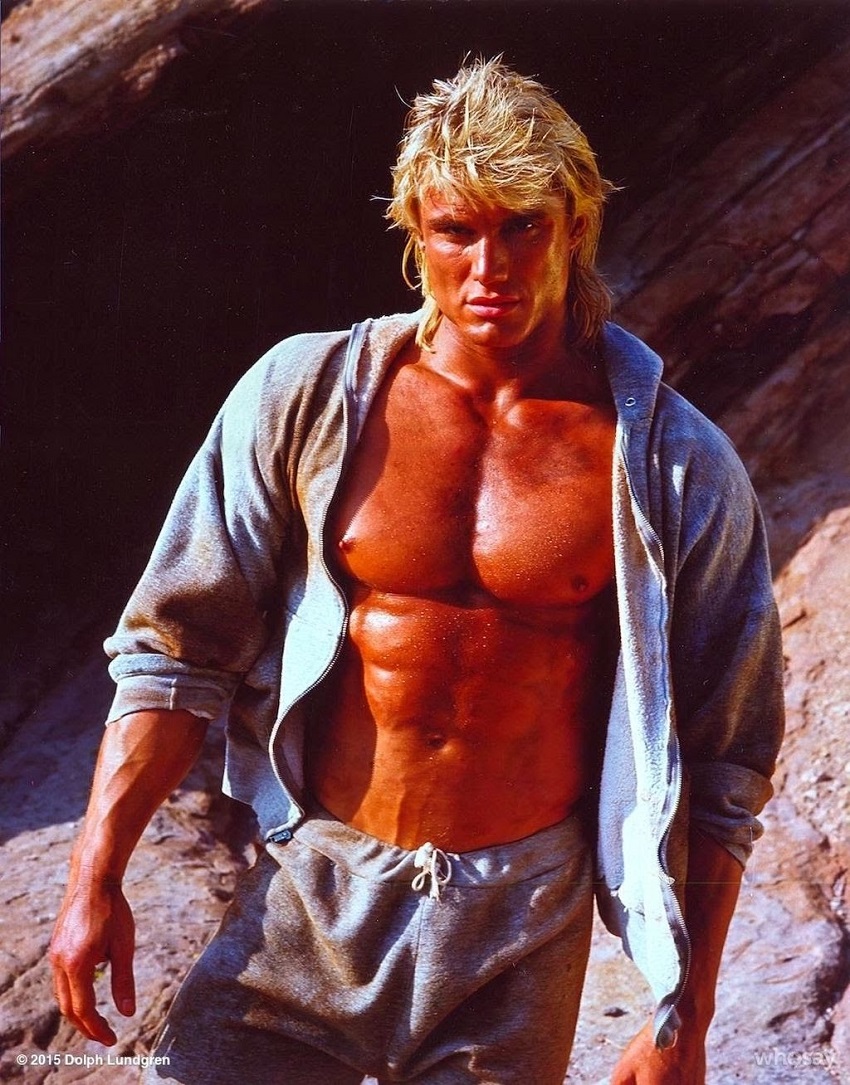 "When I started studying acting in New York, I didn't plan to be an action hero. I just wanted to learn acting because I felt it was something I needed to try to do for myself, to express something, my inner pain, or something I couldn't get out."
Biography
Problems in the Family
Hans "Dolph" Lundgren was born on 3rd of November 1957, in Stockholm County, Sweden. His mother was a language teacher, and his father was an engineer who also worked for the Swedish government. Alongside his parents, Dolph has an older brother and two sisters.
During his early youth, Dolph didn't have an easy life. He described himself as a "runt," and was generally an insecure child growing up. His father was a temperament man, often venting his frustrations onto Dolph, his brother, as well as his mother. As Dolph remembers, there were times where his father would call him a "loser."
Instead of being insulted by his father's words, Dolph used this as a motivation to prove himself. He decided to take on heavy contact sports to look and feel stronger in his own skin.
"I still love my father, no matter what happened. There are many things about him I still admire. As a child, I was probably too much like him, very stubborn—perhaps that's what he couldn't deal with." – Dolph Lundgren
Contact Sports and Weightlifting
At the age of seven, Dolph tried his first contact sport – judo. A few months later, he switched to Gōjū-ryū. He practiced these two disciplines for three years, gradually improving his strength and other physical abilities. Then, at the age of 10, he made a switch to karate.
As Dolph's physical abilities improved, so did his self-esteem. After seeing his physical progress in the mirror, Dolph became 'hooked' on improving his strength and size. However, he knew that contact sports, such as karate, could only get him so far in terms of muscle development.
In order to grow bigger and stronger, Dolph decided to start lifting weights in the gym. He'd first finish his karate training, after which he'd go to the gym to work-out with heavy compound exercises. It wasn't long before his physique started to improve.
---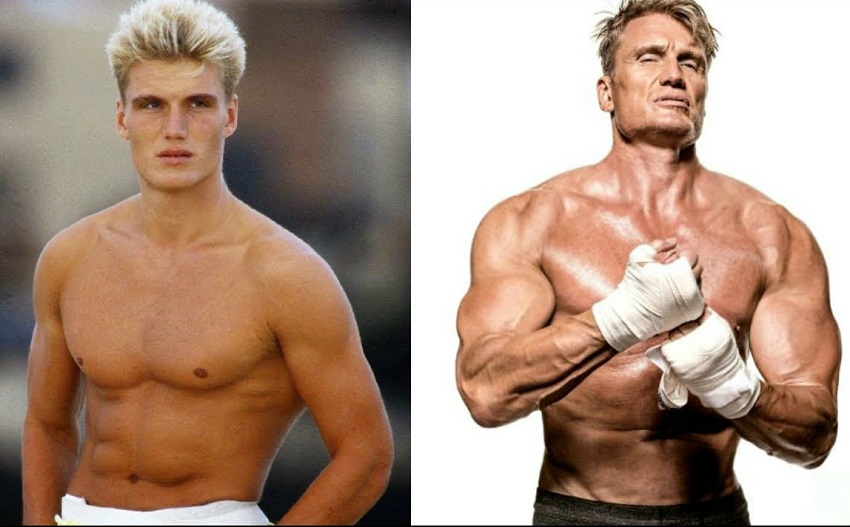 ---
Going After the "American Dream"
Dolph's was an ambitious person from a young age, this became more and more apparent as he grew older. Noticing Dolph's ambitions, his father told him he should move to America.
In Dolph's words; "My dad always told me that if I wanted to make something special with my life, I had to go to America." It wasn't long before Dolph listened to his father's advice.
After graduating from high school with top grades, he moved to the United States to study chemical engineering. He spent one year in America, before moving back to Sweden to serve one year in the Swedish Marine Corps.
After he finished his service, Dolph continued with his academic pursuits. During the late 1970s, he studied at the Royal Institute of Technology in Sweden where he graduated with a chemical engineering degree.
Balancing Karate, a Full-Time Job, and Academics
Amidst his diligent studying, Dolph also found time to hone his karate skills. Spending five years training hard in the dojo, Dolph eventually earned the 2nd rank Kyokushin black belt.
It was at this point, Dolph decided to put his karate experience to the test. In 1980, he entered the European Championships in karate, where he was proclaimed victorious. He won the same tournament a year later, before winning a heavyweight tournament held in Australia in 1982.
That same year, Dolph graduated from the University of Sydney with a master's degree in chemical engineering. Among all of this, he worked as a bouncer in nightclubs to pay for his studies.
Needless to say, juggling karate tournaments with academics and a full-time job wasn't an easy task, but Dolph made no excuses – he did whatever it took to realize his goals.
---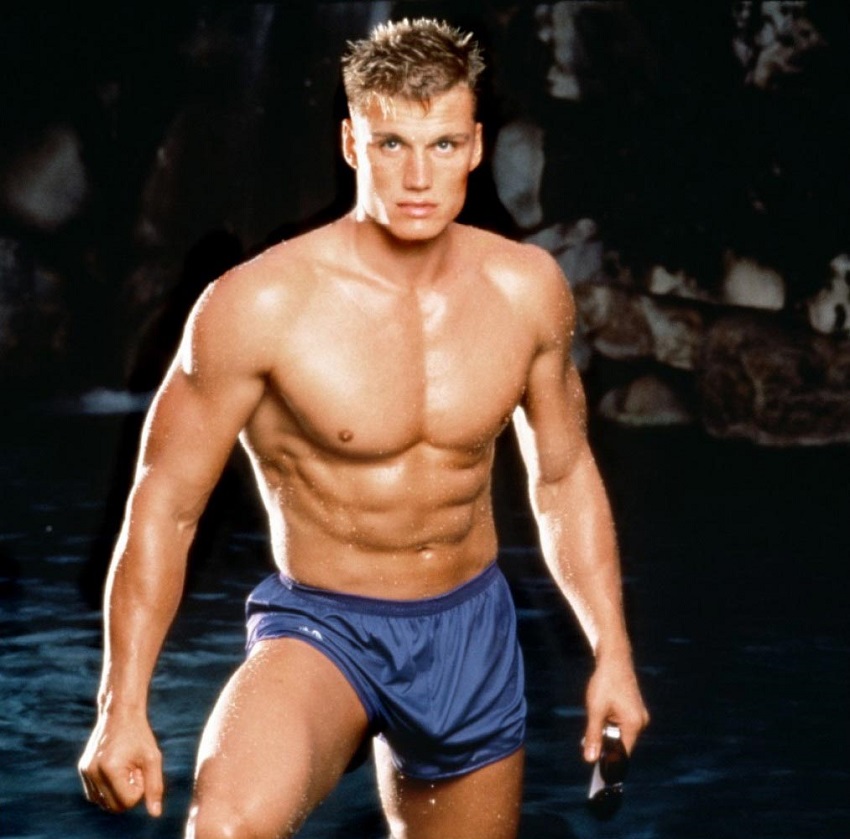 ---
Early Film Career
During his time in Sydney, Dolph became a bodyguard for Grace Jones, a Jamaican singer and model. Not long after, Dolph and Grace started a relationship.
It was during this period, Dolph received a full scholarship to MIT. As a result, he moved to Boston. However, at this point, his love for academics began to fade away, with a new passion taking its place – acting.
His passion grew even stronger when his girlfriend suggested they should move to New York City together, where he could pursue bigger opportunities in acting. Ultimately, Dolph decided to take the plunge, moving to a new city to pursue his passion for acting.
After a few months of working as a model and bouncer for nightclubs in Manhattan, Dolph got his first movie role. He played a KGB henchman in the James Bond movie A View to a Kill. Although this was only a minor role, it was the beginning of something much bigger for Dolph.
Insane Physique for Rocky IV
Dolph's breakthrough came in 1985, when he starred in the legendary Rocky IV movie, portraying a Soviet boxer Ivan Drago.
In order to get ready for his role, Dolph trained extremely hard in the gym for months. Working out six days a week, along with following a strict diet plan, Dolph carved out a remarkable physique. His bulging abs, and also his big and vascular arms, had left everyone in awe once the movie came out.
Featuring Sylvester Stallone as the protagonist, Rocky IV became a huge success. What's more, Dolph Lundgren caught a break with his role of Ivan Drago, one of the most iconic movie characters to this day.
---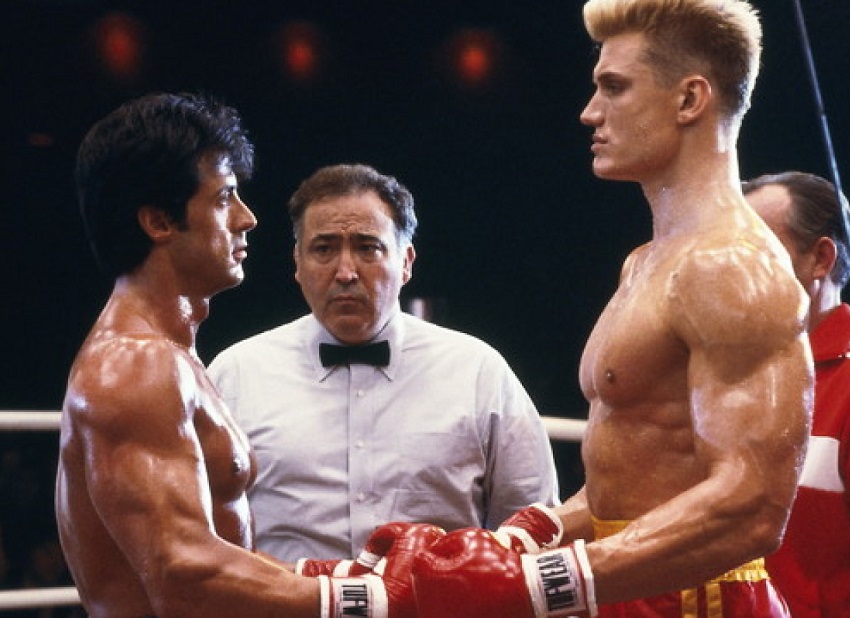 Sylvester Stallone and Dolph Lundgren during a boxing scene in Rocky IV.
---
The 1980s, 1990s, and 2000s
Since Rocky IV, Dolph has starred in over 40 films, most of them falling into the action category. In 1987, he played 'He-Man' in Masters of the Universe. Two years later, he portrayed Frank Castle in the American-Australian action movie The Punisher.
During the 90s, Dolph played in other movies such as Joshua Tree, Dark Angel, Blackjack, and Universal Soldier. By 2004, Dolph's ambitions grew further, as he decided to try a role of a movie director.
Then, a few months later, he directed his first movie, The Defender. Enjoying his new role, Dolph went on to direct a number of movies throughout the 2000s, with his last one being Icarus.
Return to Hollywood Acting
After a long period of performing in straight-to-video movies since the mid-90s, Dolph made his return to Hollywood in 2010, playing Gunner Jensen in The Expendables.
The movie featured some of the biggest names in Hollywood, including Sylvester Stallone who wrote, directed, and also starred as the leading actor. Other famous actors were Randy Couture, Terry Crews, Jason Statham, Mickey Rourke, Jet Li, and Steve Austin.
The movie topped charts in the U.S, UK, India, and China, achieving great success. People wanted to see more, which resulted in the sequel, The Expendables 2, being released in 2012. As well as The Expendables 3 in 2014, where Dolph reprised his role.
---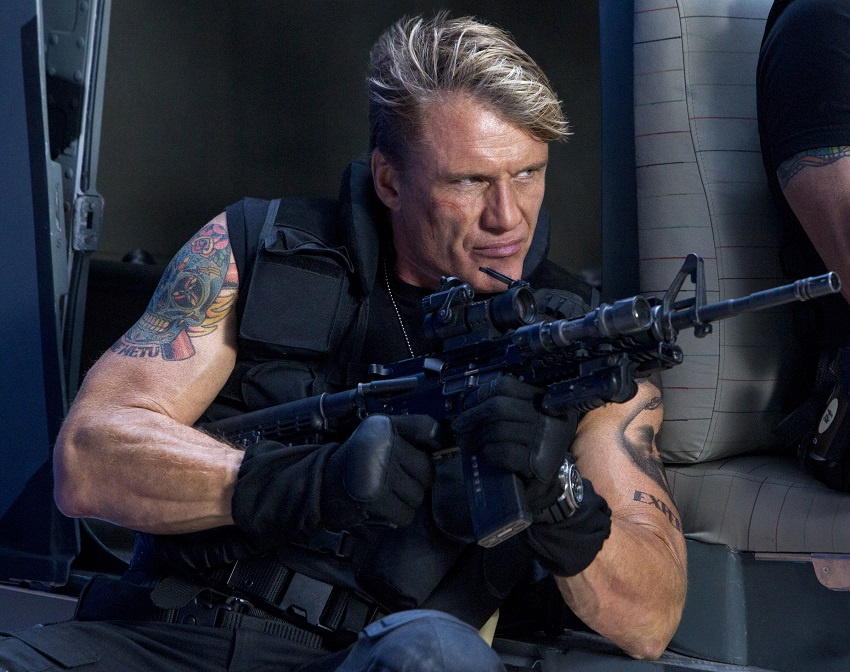 Dolph Lundgren in The Expendables 3.
---
Personal Life of Dolph Lundgren
Dolph resides in Los Angeles, California. He speaks both English and Swedish, as well as some Italian, French, Spanish, German, and Japanese.
During the 1980s, Dolph started a relationship with Grace Jones, a Jamaican singer. After the two split apart, Dolph started a new relationship with Paula Barbieri which lasted for a number of years.
In 1994, Dolph had his first marriage. He married Anette Qviberg, a fashion stylist. After their marriage, Dolph and Anette moved to Marbella, Spain where they lived for several years. They have two daughters, Greta Eveline Lundgren, and Ida Sigrid Lundgren.
Wanting to give his daughters a normal childhood, Dolph raised them in Sweden, away from the limelight of Hollywood. In 2011, he and his wife Anette had officially divorced.
---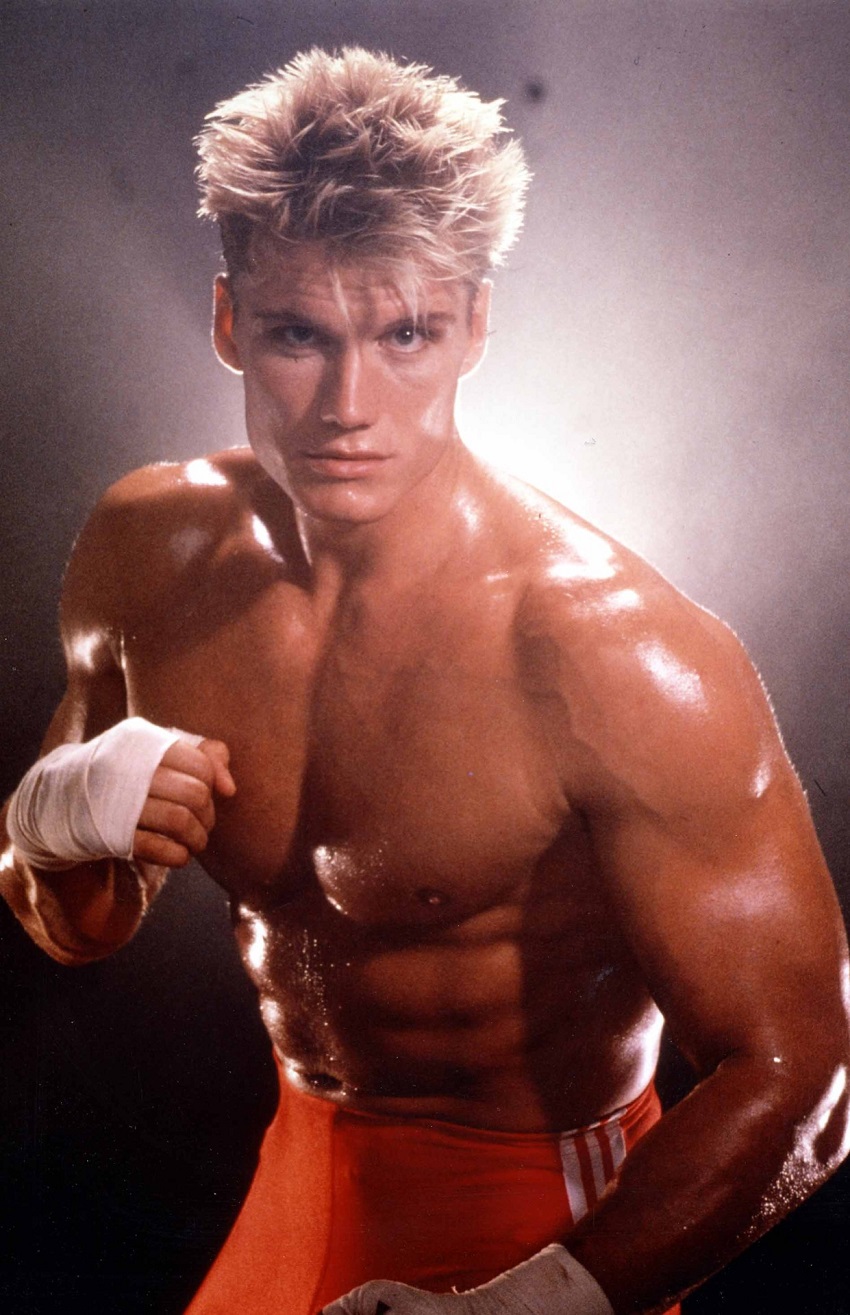 ---
Movie Injuries
During his acting career, Dolph has suffered a number of injuries in his movie sets. Some were minor, some more serious. Recalling his boxing scenes with Stallone in Rocky IV, Dolph said that both himself and Stallone suffered multiple injuries from mishits.
They would get a script with the punches, which was over 20 pages long. Each page was full of words like "left-right-left-right uppercut-2jabs," something that Dolph and Stallone had to memorize by the letter.
This initially proved to be quite a challenge for both actors. They had to move quickly while memorizing the script. Sometimes, one of the actors would make a mistake, resulting in unwanted punches and injuries. In Dolph's words; "We got hurt most of the time in training and preparation because we would get a script with all the punches. 
So obviously when you are moving fast and don't remember all the instructions then you would get hit because you forgot to duck the right way or something. Yeah, we got hit pretty much in the beginning."
---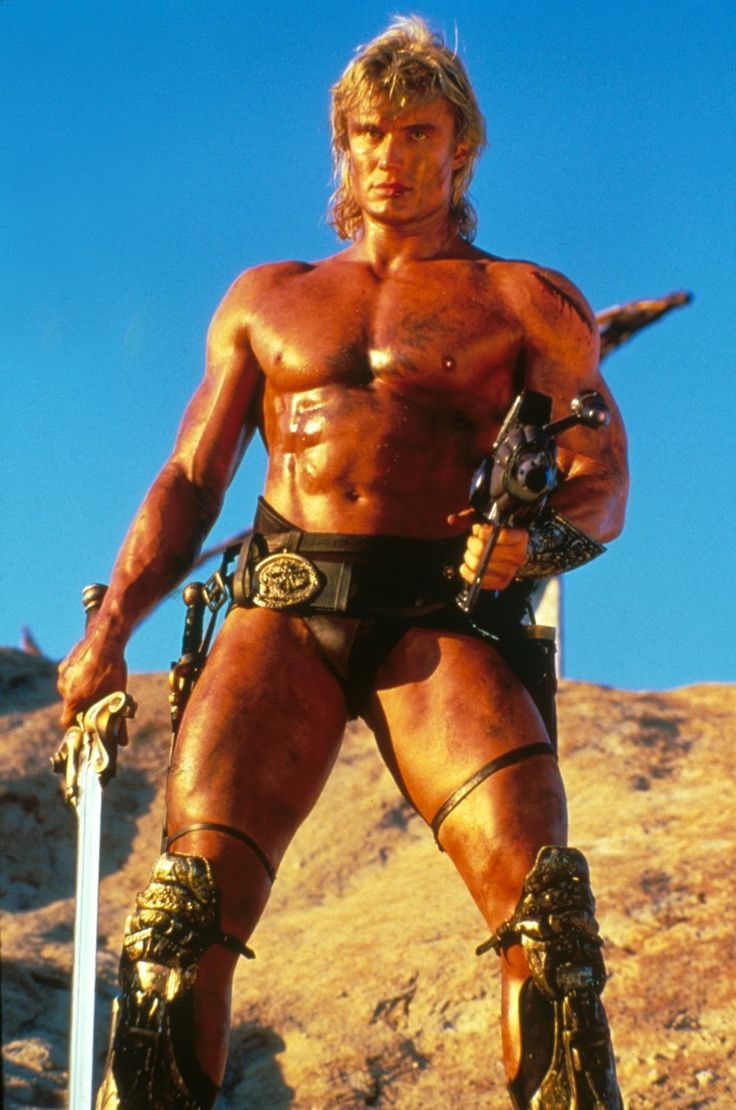 "I do a little bit of yoga-style meditation. Relaxing and breathing even just one minute a day makes a big difference."
Training
Intense Training For Rocky IV
In order to build his physique for the role of Ivan Drago, Dolph had to adopt a new training plan. While previously, during his karate days, Dolph worked on his speed and flexibility, he now had to focus on gaining muscle.
Under the guidance of Stallone, Dolph followed a six-day workout split where he trained like a bodybuilder, lifting compound movements to build strength and size. His workouts lasted for two hours.
In addition to weight training, Dolph also did two hours of boxing in the afternoon to burn extra calories."We were training a different muscles split, usually 2 muscle groups, and then we did 2 hours of boxing in afternoon. The weight training was very intense and together with the boxing, I became very cut." – Dolph Lundgren
After one year of training, Dolph added 8 kg of pure muscle. Along with dropping his body fat significantly. Standing at 6'5" tall and weighing 220lbs of 'rock-solid' muscle, it was at this point Dolph was ready to play Ivan Drago.
---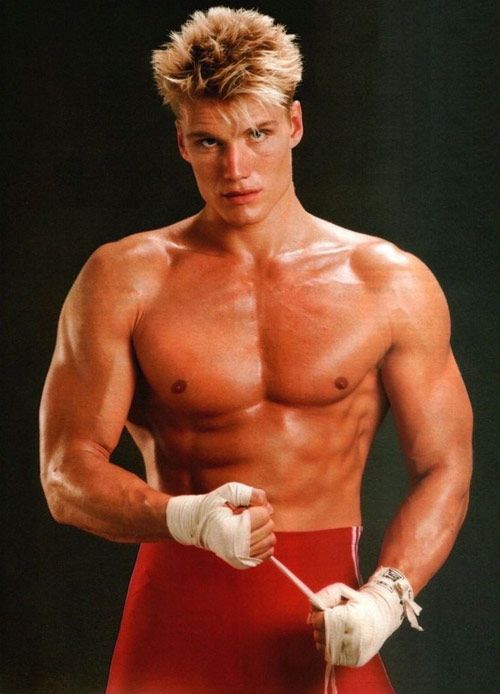 ---
Dolph Lundgren's Workout Routine
Dolph has two workouts which complement each other in terms of improving strength, power, and recovery times. While one workout focuses on developing explosive power and strength, the other one optimizes recovery.
Here's how it looks;
Workout 1 – Strongman Training
Exercise 1A 

Heavy Sandbag Carry, 3 sets of 20 yards, 30-60 sec rest

Exercise 1B

Bosu Sandbag Chest Press, 3 sets of 15 reps, 30-60 sec rest

Exercise 2A

Light Sandbag Clean and Jerk, 3 sets of 12 reps, 30-60 sec rest

Exercise 2B

Light Sandbag Over-the-shoulder Carry, 3 sets of 20 yards, 30-60 sec rest

Exercise 3A

Sandbag Toss Over Shoulder, 3 sets of 16 reps each side, 30-60 sec rest

Exercise 3B

Plank With Leg Curl, 3 sets of 15 reps each leg, 30-60 sec rest
Workout 2 – Recovery Circuit
Exercise 1A

Bear Crawl Into Side Plank, 1 set of 8 reps each side, 30 sec rest

Exercise 1B

Bosu Band Flys, 1 set of 10 reps each side, 30 sec rest

Exercise 1C

Medicine Ball X'S, 1 set of 20 reps, 30 sec rest

Exercise 1D

Bosu Band Flys, 1 set of 10 reps in each direction, 30 sec rest

Exercise 1E

Bosu Dumbbell Clean and Jerk, 1 set of 12 reps, 30 sec rest
---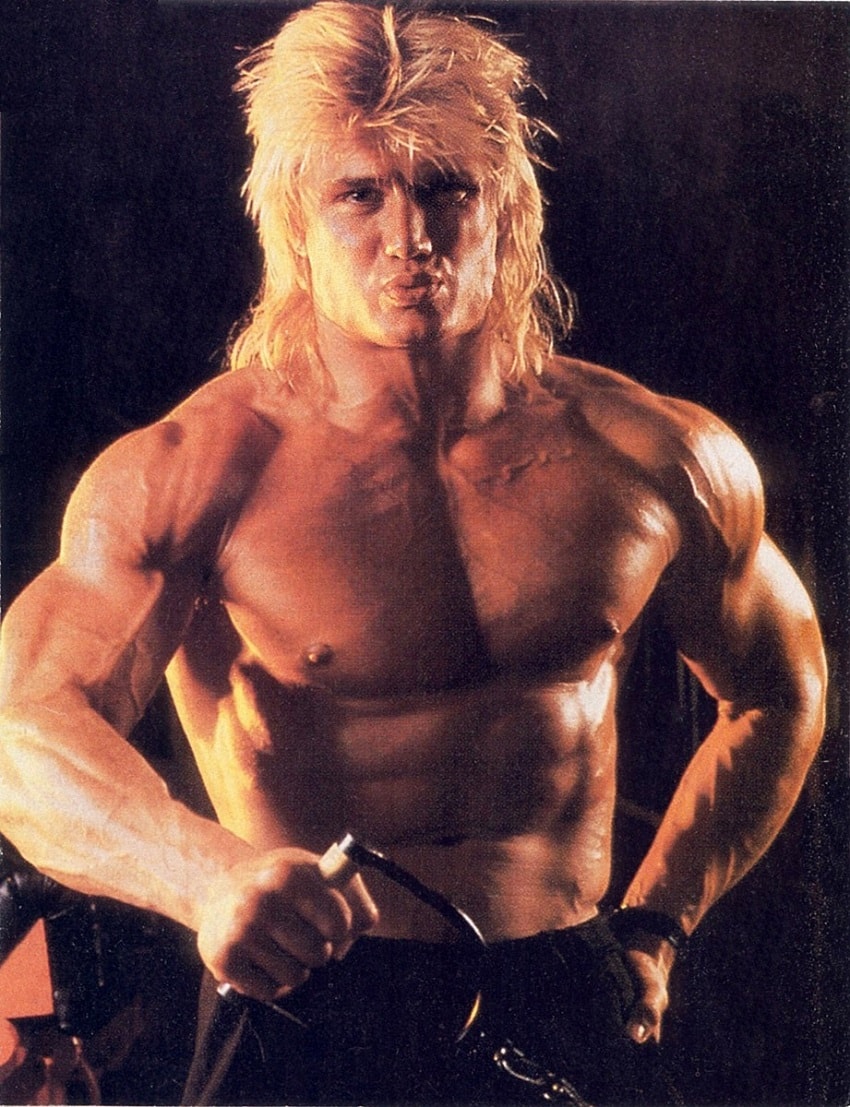 ---
Training Smarter
Dolph's training style has changed over the years. The workouts that he had as a 25-year old no longer give him the same results today. Dolph now trains much smarter, paying attention to details in his workouts, as well as giving his body enough rest.
Here's Dolph talking about his training nowadays; "You have to think more and you have to be smarter. You have to ask yourself, 'How do I feel today? What's going on tomorrow? Am I traveling? Do I have any small injuries? Are my energy levels low?'
When you're 25 you just go the gym and lift, or just go for a run and push through it. You can still do that when you're older, but you'll pay the price the next day."
Training When Filming vs Training Off Set
Dolph's training for movies looks much different than his regular, everyday workouts. When he's filming, Dolph trains with fewer reps and heavier weights.
He also adds more compounds movements, such as deadlifts, squats, and power cleans. These exercises help Dolph gain as much muscle as possible in the shortest space of time.
In addition, his workouts are typically shorter when filming for movies. They last between 45-60 minutes. Lastly, Dolph adds cardio to his routine when he needs to lose fat fast for a movie. He'll usually do an hour of cardio every day until he reaches his body fat percentage goal.
---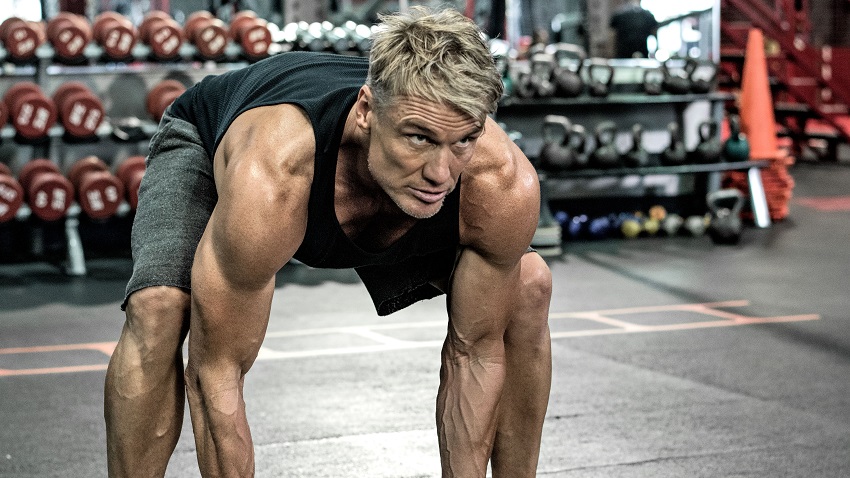 ---
Health Benefits of Walking and Running
Dolph is a big believer in the benefits of running and walking. He states that these activities not only improve his physique, but also his overall health. In own words of Dolph; "Walking, or running in the sand is great for your legs and your whole body. Why do you think the Brazilians have those tight, muscular bodies?
If you don't have a beach near, try to walk somewhere with a soft surface, like a football field, or a park. Hard surfaces take a toll on your joints. The softer the surface and the thinner the shoes, the better.
Your bare feet making contact with the earth has a healing quality. Plus the view and the fresh air… you can't beat it! They say that mailmen have a longer lifespan than most. They walk every day, pretty far, at a normal pace, up and down stairs and get plenty of fresh air. " – Dolph Lundgren
---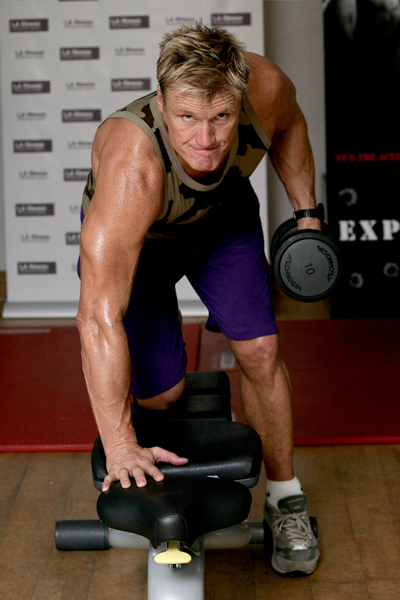 "There are a lot of great athletes who stop working out, and they get out of shape like everybody else in their 30s and 40s."
Nutrition
Ivan Drago's Diet
Just like with his training, Dolph had to completely change his diet for his role in Rocky IV.
He ate like a bodybuilder, following a high-protein, low-fat, and low-carb diet. He had 5-6 smaller meals per day to 'ignite' his metabolism.
On top of it all, Dolph also took bodybuilding supplements, such as protein powder and amino acids to promote muscle recovery.
"I was living the life of a bodybuilder, and I actually continued training and eating like this for about 5 years around that time."
---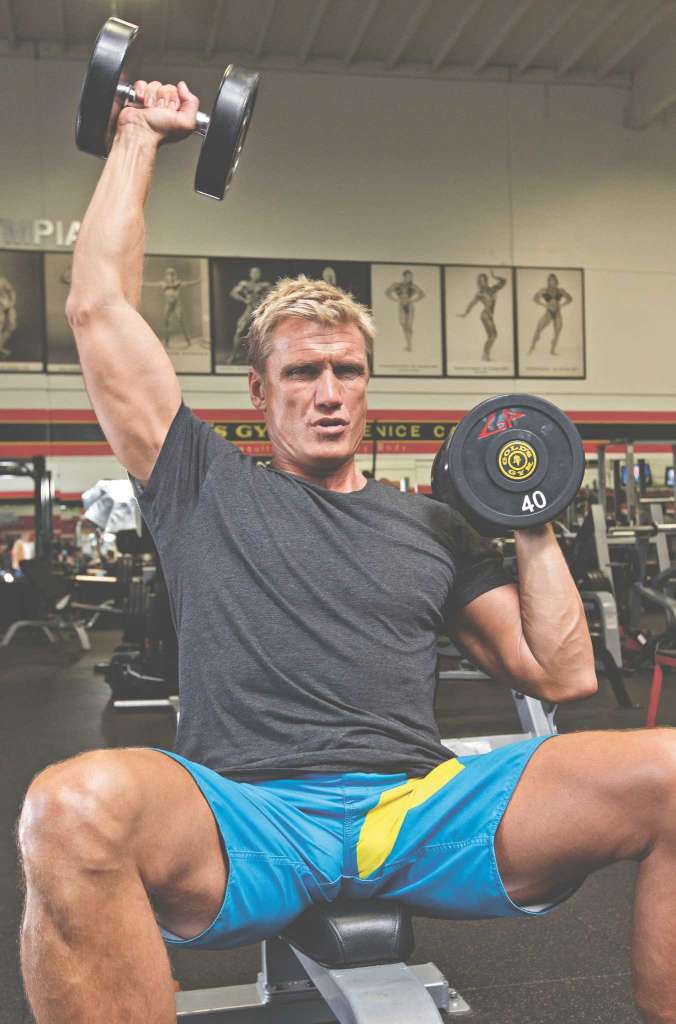 ---
Dieting For Movies
Here's how Dolph's meal plan looks when he's dieting for movies;
First thing in the morning
Vitamin C, protein powder, apple cider vinegar, and Glucosamine mixture
Breakfast
Lunch
Grilled fish with potatoes and vegetables
Snack
Dinner
Thai chicken soup with rice and fruit salad for dessert
Bedtime
---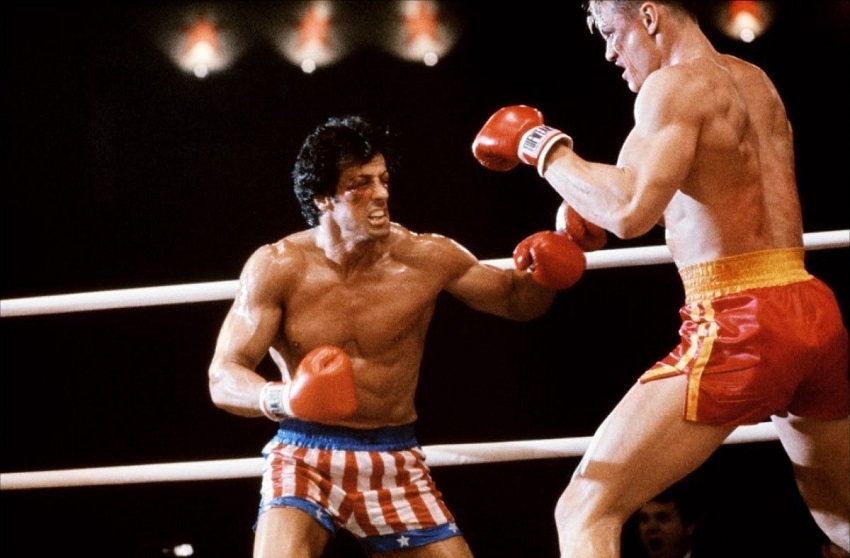 Dolph Lundgren and Sylvester Stallone fighting in Rocky IV.
---
How Dolph Lundgren's Diet Looks Nowadays
When he isn't filming, Dolph will eat a balanced diet consisting of lean proteins, complex carbs, and fats. He'll also treat himself to a cheat meal here and there to satisfy his taste buds.
In regards to supplements, Dolph doesn't take as many as he used to. The only supplements he takes now are whey protein, vitamin C, and Glucosamine.
He'll have a mixture of apple cider vinegar, protein powder, vitamin C, and glucosamine in the morning to get his body started. This will keep him energized throughout the day, along with reducing his appetite.
---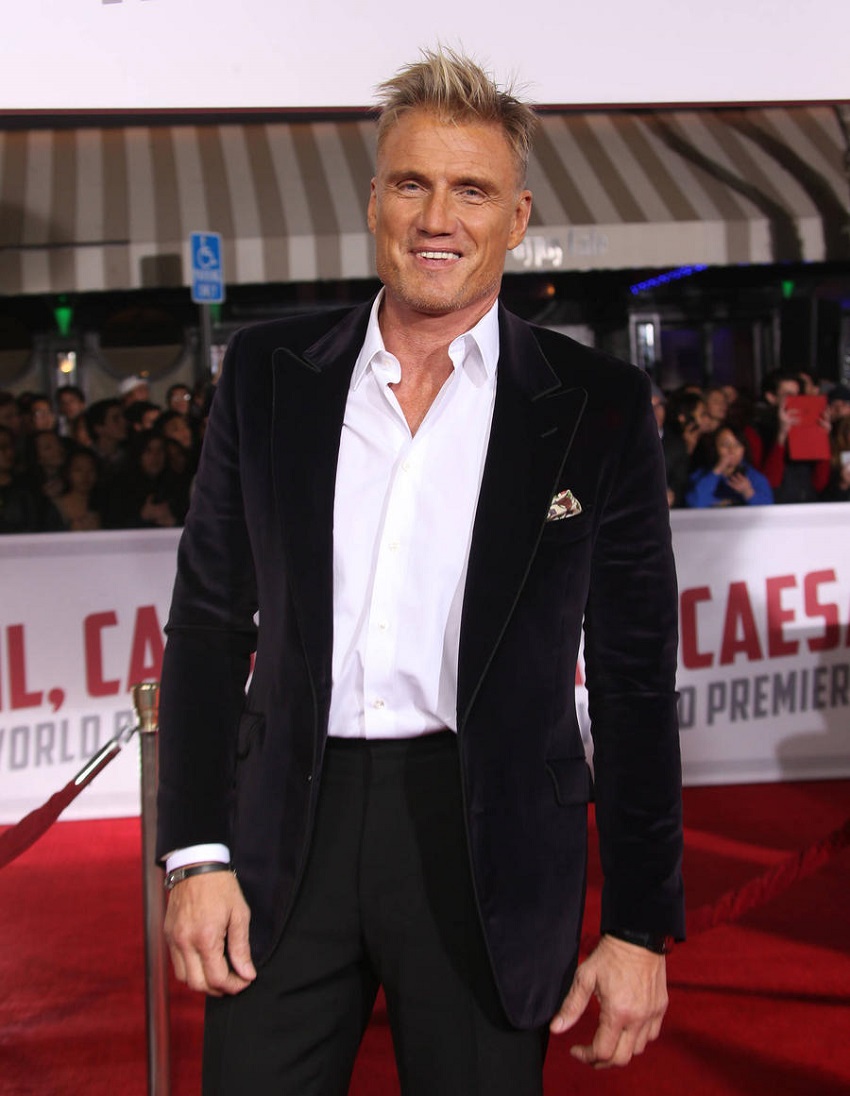 "At least once a week, I try to have one day where I have nothing planned so I can get up and just go back to bed and lay around and recharge my batteries."
Idols and Influences
Dolph Lundgren cites Sylvester Stallone as the person who introduced him to bodybuilding during the 1980s. Under Stallone's guidance, Dolph began his preparations for his Ivan Drago role.
Changing his diet from the bottom-up, Dolph increased his protein intake, while minimizing carbs and fats. With this approach, he was able to gradually gain lean muscle, without adding extra body fat in the process.
After several months of working with Stallone, Dolph added around 8kg of pure muscle to his frame.
---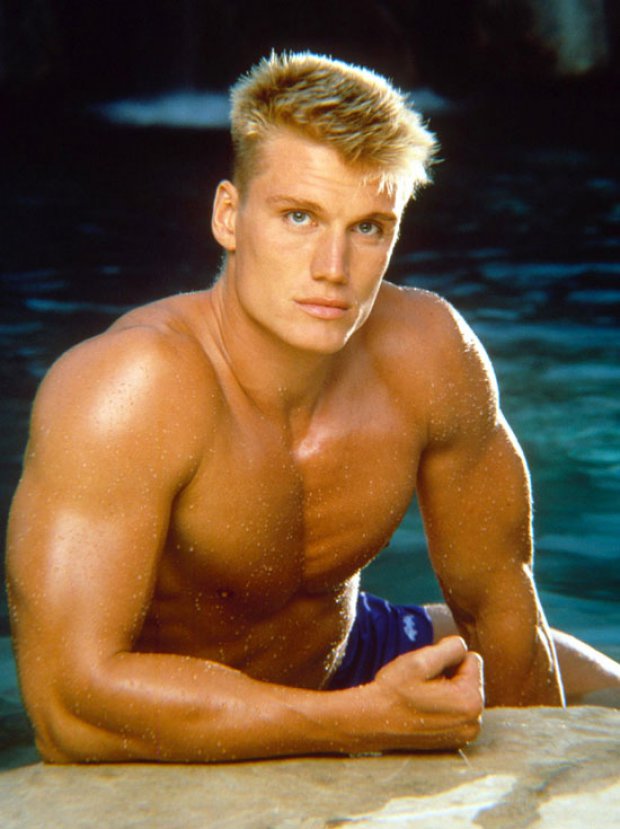 "I wanted to become an engineer, or get a masters in business. But I had the opportunity to do films when I was about 25 and it was a great way to express myself."
What we can learn from Dolph Lundgren
Dolph Lundgren is not only a great icon in Hollywood, but also an inspiration for people everywhere. His blockbuster movie roles, along with his humble personality, have won hearts of millions of fans.
His story has taught us that the effect we have on others is more important than fame and glamour. Stay dedicated, work hard, but also remember to help others along the way. That's one of the ways you can reach greatness – just like Dolph Lundgren.