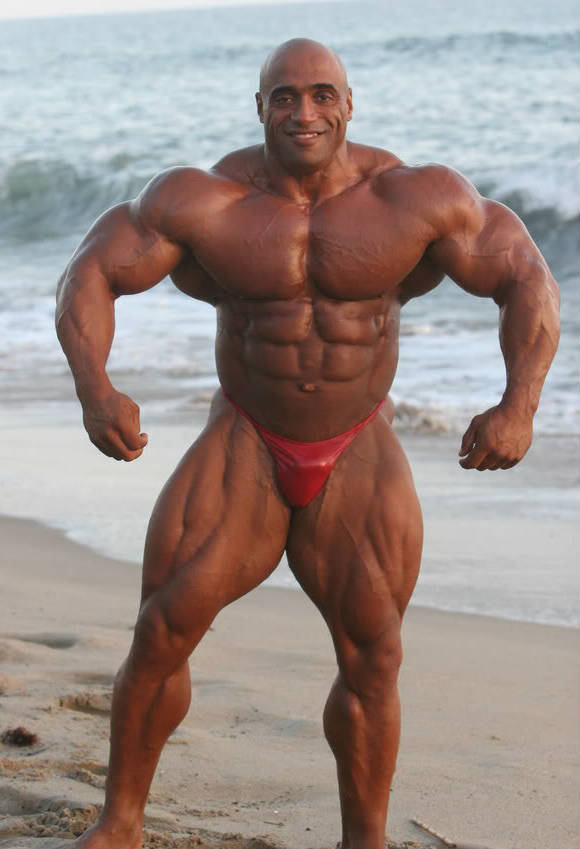 Dennis James
IFBB Professional Bodybuilder
Dennis 'The Menace' James is an IFBB professional bodybuilder from Heidelberg, Germany. He is well-known as an accomplished athlete, and for his larger than life character.
Growing up, Dennis was extremely sporty and always stayed fit. After becoming involved in bodybuilding at an early age, he decided to take part in junior competitions. He placed very well in a number of competitions, before taking his pro card in 1999 and entering the big leagues.
His first Mr. Olympia was in 2000, where he placed 11th. He would go on to compete in a total of 7 Mr Olympias, managing to take an excellent 4th in 2003 which showed that he had what it took to stand with the best on earth.
Dennis has been featured in many fitness and bodybuilding magazines, and looks back on his career with pride.
---

Athlete Statistics
Full Name: Dennis James
Weight
Height
Age
Date of Birth
255 - 265lbs (115.7 - 120.2kg)
5'8" (172.5cm)
57
May 31, 1966
Nationality
Profession
Era
German
IFBB Professional Bodybuilder
1990, 2000, 2010
| | |
| --- | --- |
| Weight | 255 - 265lbs (115.7 - 120.2kg) |
| Height | 5'8" (172.5cm) |
| Age | 57 |
| Date of Birth | May 31, 1966 |
| Nationality | German |
| Profession | IFBB Professional Bodybuilder |
| Era | 1990, 2000, 2010 |
---

Accomplishments
Competitions
1993 NABBA Mr Universe, Medium-Tall, 4th
1994 NABBA Mr Universe, Medium-Tall, 2nd
1995 NABBA Mr Universe, Medium-Tall, 1st
1996 NABBA Universe – Pro, 2nd
1997 NPC Junior Nationals, Light-HeavyWeight, 6th
1997 NPC Nationals, HeavyWeight, 4th
1998 NPC USA Championships, Super-HeavyWeight, 1st and Overall
1999 Night of Champions, 15th
2000 IFBB Arnold Classic, 4th
2000 IFBB Grand Prix England, 3rd
2000 IFBB Grand Prix Hungary, 3rd
2000 IFBB Ironman Pro Invitational, 7th
2000 IFBB Mr. Olympia, 11th
2000 IFBB World Pro Championships, 4th
2001 IFBB Arnold Classic, 3rd
2001 IFBB Grand Prix Australia, 2nd
2001 IFBB Grand Prix England, 3rd
2001 IFBB Grand Prix Hungary, 1st
2001 IFBB Mr. Olympia, 7th
2002 IFBB Arnold Classic, 7th
2002 IFBB Grand Prix England, 2nd
2002 IFBB Grand Prix Holland, 4th
2002 IFBB Mr. Olympia, 10th
2002 IFBB Show of Strength Pro Championship, 5th
2003 IFBB Mr. Olympia, 4th
2003 IFBB Show of Strength Pro Championship, 4th
2004 IFBB Mr. Olympia, 8th
2005 IFBB Charlotte Pro Championships, 2nd
2005 IFBB Mr. Olympia, 6th
2006 IFBB New York Pro Championships, 3rd
2006 IFBB Mr. Olympia, 9th
2006 IFBB Grand Prix Austria, 4th
2007 IFBB New York Pro, 2nd
2007 IFBB Colorado Pro Championships, 8th
2008 IFBB Tampa Bay Pro, 2nd
2008 IFBB Europa Super Show, 2nd
2009 IFBB Arnold Classic, 7th
2009 IFBB New York Pro Show, 2nd
2009 IFBB Tampa Pro, 1st
2009 IFBB  Europa Super Show, 1st
2009 IFBB Mr. Olympia, 14th
2010 IFBB Mr. Olympia, 11th
2012 IFBB Masters Mr. Olympia, 3rd
---

Training
Heavy And Simple
Dennis trains occasionally with his protégé Mamdouh 'Big Ramy' Elssbiay. They focus on simple workouts which last no more than 45 minutes, and train in the exceptionally well-designed Oxygen Gym in Kuwait.
Because the pair cannot train together year-round, they like to focus on creating workouts which can be completed alone without the need for a spotter. From their workouts, Dennis created the 'Menace Time Under Tension' approach.
In the MTUT, Dennis spends 10-20 seconds lifting the weight using his full range of motion, before lowering the weight back down as normal. He says that "it's a lot safer than negatives. You don't want to risk an injury by lifting weights you can't handle and then trying to let them down slowly on the negative."
Chest Workout
When Dennis trains his chest, he uses this MTUT technique sporadically. He starts with a hammer strength incline press, which, through isolating the muscle creates a thick upper-chest.
The isolating ability of the machine also means that he doesn't have to engage his shoulder muscles at all during the lift. In terms of the rep-range, 20 rep sets are quite common for each set and he generally lifts until failure.
Hammer strength incline press 2 sets (warm-up) x 20 reps then 3 sets x 8-12 reps
Dumbbell Flye 4 sets x 10 reps
Machine Chest Press (1 warm-up) x 20 reps then 3 sets x 8-12 reps
Cable Crossover 4 sets x 10 reps
---

---
Dumbbell Flye
For the dumbbell flye, Dennis doesn't use his MTUT technique. There is a high possibility of injury if he uses the same approach as the incline hammer strength press, so he completes a standard lift.
For this exercise, Dennis lies on a flat bench and focuses on technique rather than weight. He says that the flat bench in particular allows him to hit his entire pec and avoid tricep stimulation.
Cable Crossover
The final chest exercise in Dennis' set is the cable crossover. He says that when completing the exercise, you should always "focus on crossing over each time, without dropping your chest when you do."
Dropping the chest in this movement can mean that the shoulders take over and the chest isn't actually stimulated at all.
Intense Weekly Routine
Monday – Chest and Biceps
Tuesday – Quads, Hamstrings and Calves
Wednesday – Back
Thursday – Delts and Triceps
Friday – Chest and Biceps
Saturday – Rest Day
Saturday – Rest Day
---

Nutrition
Big Eating
Dennis follows a simple and nutritious diet plan. He eats a large amount of calories each day and prioritizes healthy protein sources such as lean meats and eggs.
His off-season diet includes a lot more carbohydrates than his competition meal plan (below.) When he is approaching a competition, he drops his carb intake massively and focuses on his protein intake to ensure he builds muscle and looses fat.
Typical meals during his competition meal plan include chicken and brown rice. This meal includes healthy meat and carbohydrate sources and is a quick and easy dish to prepare.
Meal 1 – 100 grams of oats and 90 grams of whey isolate protein
Meal 2 – 12oz chicken breasts, 300 grams of potatoes
Meal 3 – 14oz chicken breasts, 60 grams of oats
Meal 4 – 12oz chicken breast, 230 grams of rice
Meal 5 – 12oz steak, 250 grams of sweet potato plus broccoli
Meal 6 – 90 grams of whey isolate protein
---

Idols and Influences
Dennis is influenced by watching bodybuilding videos online. He loves to watch his peers, as well as a variety of other athletes from various weight classes. He says that he just loves the sport in general, so he wants all bodybuilders to succeed.
Combined with video watching, Dennis is also inspired by his training partner Steve. He loves listening to Steve's inspirational words and pushing himself in every training session.
---

What we can learn from Dennis James
Dennis has shown how a simple approach can be an effective one. He trains hard, but uses simple movements in order to stimulate his muscles.
When it comes to his nutrition, he also values simplicity here. He eats simple, healthy and nutritious meals that serve his end goal of building and maintaining lean mass.