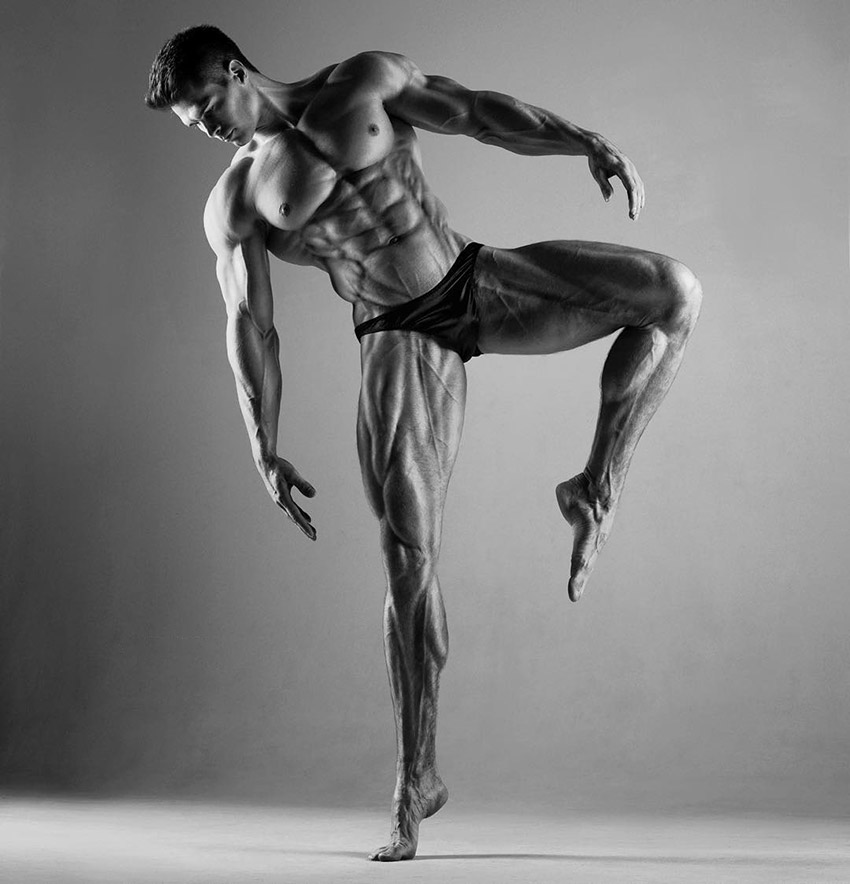 Denis Gusev
Professional Bodybuilder, Fitness Model
Denis Gusev entered the world of fitness at an early age, being part of his athletics team in high school. He began building his body to further his track and field ability, but by the age of 31, he decided to take part in his first competition.
Denis now has numerous shows under his belt, as well as featuring in various magazines as a fitness model. This is his story:
---

Athlete Statistics
Full Name: Denis Gusev
Weight
Height
Arms
Chest
205 - 215lbs (88.5 - 93.0kg)
6'1" (185.5cm)
17"
47"
Waist
Thighs
Calves
32"
27"
16"
Year of Birth
Nationality
Profession
1981
Russian
Professional Bodybuilder, Fitness Model
Era
2010
| | |
| --- | --- |
| Weight | 205 - 215lbs (88.5 - 93.0kg) |
| Height | 6'1" (185.5cm) |
| Arms | 17" |
| Chest | 47" |
| Waist | 32" |
| Thighs | 27" |
| Calves | 16" |
| Year of Birth | 1981 |
| Nationality | Russian |
| Profession | Professional Bodybuilder, Fitness Model |
| Era | 2010 |
---

Accomplishments
Competitions
2012 Russian Championship, 8th
2013 Moscow Regional Open Cup, Winner of the best routine
2013 Moscow Open Cup, 3rd
2013 East Europe Cup/Russia Open Cup, 3rd
2013 IFBB World Championship, 2nd
2013 IFBB Arnold Classic Europe, 1st (Pro Card)
2014 IFBB Pro Grand Prix Los Angeles, 16th
2014 IFBB Pittsburgh Pro, 12th
2014 IFBB Europa Dallas Super Show, 3rd
2014 IFBB Pro Fort Lauderdale, 13th
2014 IFBB Pro Dayana Cadeau Classic, 3rd
2014 IFBB Pro Kentucky Muscle, 14th
2014 IFBB Pro Felicia Romero, 10th
---

Biography
Early Years
Born in the small town of Tikhoretsk, Russia, Denis grew up as a very athletic child. Competing in his school's track and field team at the age of 10 – this led to an inevitable passion for fitness. To support the sport, he began training in the gym to increase his athletic ability, and fell in love with the gym.
By the age of 17, in 1998, Denis had developed a shredded physique and began studying physical education and sports at college. For the next two years, he learned about the importance of nutrition and made it his goal to pack on some muscle.
Becoming a Personal Trainer  and Fitness Modelling
At the age of 26, in 2007, Denis moved to Moscow to pursue a career in fitness. He managed to get a job as a personal trainer in his newly adopted city, continuing to sculpt his body in his spare time.
With a great knowledge of nutrition and training strategies, the future IFBB Pro gained a lot of muscle mass over the next couple of years. It was at this point that Denis began receiving invitations to attend photo-shoots as a fitness model.
This made him realize that he could have a serious future in the industry.
---

---
First Competition and IFBB
By the time he was 31, in 2012, Denis finally decided to enter his first competition. Although he didn't win, he had gained vital experience that would help him in the future.
A year later, after more intense training and preparation, he returned to the stage at the 2013 Moscow Regional Open Cup. He walked away from the show as the winner of the best routine – this gave him even more motivation to succeed.
After a further two low-profile contests, placing 3rd both times, Denis entered his biggest contest yet – the 2013 IFBB World Championship. Impressively, he placed the highest he had ever placed before, coming a close 2nd.
Motivated by his progress, he was more determined than ever to take home his first victory.
Earning his Pro Card
Not long after placing 2nd at the World Championships, he entered the Arnold Classic Europe that same year. This time, he walked away in 1st place.
All of his intense training had paid off – along with the victory, Denis had also earned his Pro Card. At the age of 32, he had finally realized his dreams of both winning his first competition and becoming a professional bodybuilder.
Life as a Pro and going back to College
Over the course of 2014, Denis appeared in an impressive 7 shows. However, he was not able to replicate his success in the Arnold Classic – the highest he placed was 3rd.
Since his last competition, 2014 IFBB Pro Felicia Romero, Denis decided to further his education. He graduated from the Moscow State University of Economics, Statistics and Informatics (MESI), majoring in analytical economics.
---

Training
Denis trains in the gym for 5 days per week. On the days that he works out, he trains cardio in the morning, then returns to the gym in the evening to lift weights.
However, Denis is a strong believer that diet is more important than training, and is more strict keeping his diet than a training routine.
---

"A good diet that is sometimes more important than the actual workout."
Nutrition
Denis aims to eat 6-7 meals per day to keep his metabolism high and feed his body. He plans his diet around lean proteins and complex carbs to maintain his shredded physique.
Diet Plan:
Denis' diet plan would look something like this:
Meal 1 – 50g porridge with Milk and Honey
Meal 2 – Beef with Buckwheat
Meal 3 – White Fish with Buckwheat
Meal 4 – Chicken with Buckwheat
Meal 5 – Fish with Salad (Tomato, Cucumber, Low-Fat Cheese)
Meal 6 – Fish with Salad (Tomato, Cucumber, Low-Fat Cheese)
---

What we can learn from Denis Gusev
One thing we can learn from Denis is that knowledge is key to success. He spent years in education, learning about physical exercise and nutrition, and it all paid off when he set his sights on becoming a competitive bodybuilder.
Denis has taught us that it's never too late to begin competing – he only stepped on stage at the age of 31, but through intense training, still managed to earn his Pro Card a year later.