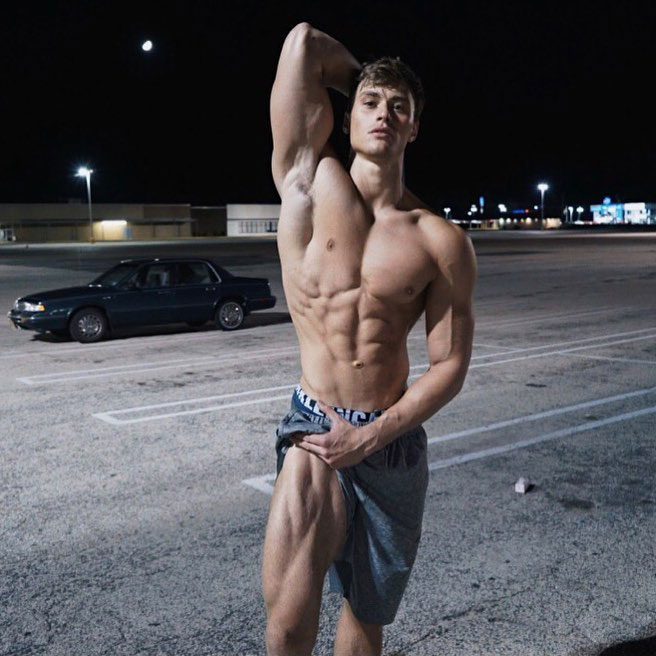 David Laid
Bodybuilder, Powerlifter, Fitness Model, Sponsored Athlete, Social Media Celebrity
David Laid saw his fitness journey take off from an early age, becoming a social media celebrity, sponsored athlete and fitness model. But firstly, he had to overcome issues in his teenage years – struggling to cope with everyday life.
David had to grow up without a father, losing him when he was just 2 years old. Self-confidence issues then became apparent in his life – brought on by the bullying that he suffered further down the line.
To make matters worse, at the age of 14, David was diagnosed with scoliosis. It was at this point, David realized that he needed to make a change in his life. He began weight training to add muscle mass to his skinny frame, but still, the bullying continued.
However, David eventually put all of this in the past – following in the footsteps of his idols such as Jeff Seid and Greg Plitt to totally transform his body, while soaring to fame across his social media pages. This is his story.
---

Athlete Statistics
Full Name: David Laid
Weight
Height
Age
Date of Birth
185 - 195lbs (83.9 - 88.5kg)
6'2" (188cm)
25
January 29, 1998
Nationality
Profession
Era
Estonian
Bodybuilder, Powerlifter, Fitness Model, Sponsored Athlete, Social Media Celebrity
2010
| | |
| --- | --- |
| Weight | 185 - 195lbs (83.9 - 88.5kg) |
| Height | 6'2" (188cm) |
| Age | 25 |
| Date of Birth | January 29, 1998 |
| Nationality | Estonian |
| Profession | Bodybuilder, Powerlifter, Fitness Model, Sponsored Athlete, Social Media Celebrity |
| Era | 2010 |
---

Accomplishments
Career Achievements
Bodybuilder
Powerlifter
Sponsored Athlete
Fitness Model
Social Media Celebrity
---

Biography
Early Life
David Laid was born in Estonia in 1998. At the age of 2, he lost his father in a tragic accident, who sadly slipped off the side of a docked ship – sustaining fatal injuries. His mother was left devastated by the loss, she then made the decision to make a better life for herself and David – moving to the US a few years later.
Fast forward to the age of 14, David began to suffer from bullying due to his a skinny frame – it was at this point he weighed only 98 lbs. Because of this, he was insecure about his body, which further developed into self-confidence issues. Without a father to support him, this only made matters worse.
Matters were made worse when David was diagnosed with scoliosis. He was then advised by doctors to start weight training, but the bullying continued. As a result, David states this had negative impact on his life:
"Every aspect of my life was heavily impaired by how insecure I was and how I looked. I was an absolute twig".
However, David eventually realized that self-confidence issues were stopping him from living his life in a positive way. It was at this point, that David knew that he needed to change his life for the better – he then found fitness.
When Fitness Transformed His Life
David made it his mission to add muscle mass to his skinny frame. By doing so, he was able to overcome the personal confidence issues that had previously taken over his life.
David began by researching ways of building muscle via YouTube. He came across several body transformation videos – inspiring him to not only improve his confidence, but also create a phenomenal physique that he's since become renowned for. David states:
"I would watch YouTube fitness videos, eat, go to the gym, go home, watch more videos, go to bed, repeat. That's all I would do. That and go to school".
Due to his slim build, David quickly began to build significant lean muscle mass. He was now motivated more than ever to earn a great physique.
Eventually, after several months of training hard in the gym, David made considerable progress. While at the same time, making insecurity and low self-esteem a thing of the past.
---

David Laid shortly after he started weight training, compared to several months later.
Present Day
Ever since the beginning of his early days in fitness, David's social media following grew rapidly. Where he constantly shares a video of his body transformation online. Because of this, he's become an inspiration for many people across the world. This proved to everyone that he was capable of turning his life around, earning a great physique along the way.
David often documents his progress, which gives him the motivation to keep pushing forward. It's now David's aim to inspire others to achieve their own fitness goals.
---

Training
David lists deadlifts, squats and the bench press as his favorite exercises. David uses these three lifts to continually improve upon his physique, which allows him to grow at a fast pace.
David trains in the gym on a regular basis, usually 6 times per week in order to achieve maximum results from his workouts. Sometimes, he trains for up to an incredible six hours per day – showing the extreme amount of dedication that he has to reach his goals.
David generally follows a push, pull, legs split – being the method of training that works best for him. Two example workouts that David follows are listed below:
David Laid Workouts
Back Workout
Deadlifts
Lat Pulldowns
Bent Over Barbell Rows
One Arm Dumbbell Rows
Machine Lat Pulldowns (Underhand Grip)
Straight Arm Pulldowns
Chest and Shoulders Workout
Seated Barbell Shoulder Press
Incline Dumbbell Chest Press
Standing Dumbbell Side Lateral Raises
Pec Deck Flyes
Lat Pulldowns
Seated Cable Rows
Tricep Pushdowns
Alternating Dumbbell Curls
Dumbbell Hammer Curls
---

Nutrition
David says his main downfall has always been his lack of an appetite. Not wanting to eat large amounts of foods on a regular basis.
Initially, this meant that he hit a plateau when building muscle in the gym. This forced David to learn more about macronutrients, he then began to follow a flexible diet (IIFYM) – eating higher calorie foods that allowed him to quickly gain size.
David's diet meant that he could eat whichever foods that he liked, as long as he stuck to his caloric intake. He would then adjust his calorie goals depending on whether he was cutting, bulking, or maintaining his body weight.
Additionally, David began his fitness career thinking that it would be necessary to consume a wide variety of supplements. However, he quickly realized that this wasn't the case. Now, David keeps his supplement stack simple, using the following:
David Laid Supplements
Whey Protein
Creatine
Pre-Workout
Multi-Vitamin
---
Editor's Tip
Inspired to reach your true potential like David? Read our ultimate guide on how testosterone boosting supplements can really enhance your game!
---

Idols and Influences
When David started out in fitness, he came across several body transformation videos – discovering the likes of Marc Fitt, Jeff Seid and the Hodgetwins. These are bodybuilding figures that had managed to achieve amazing physiques, while documenting their progress via their online vlogs – inspiring David to do the same.
Furthermore, David idolizes Greg Plitt. Which was one of the figures in bodybuilding that inspired him the most, to earn the physique that he always dreamed of, while continually pushing himself to achieve more in the gym.
However, David learned to become a self-motivated individual in his journey throughout fitness, stating that it was only him that could make a difference in his life:
"The only person to blame for your shortcomings is yourself".
---

What we can learn from David Laid
Through hard work and determination, David Laid was able to build a physique that allowed him to overcome insecurity about his looks. He sought advice on building muscle by following his bodybuilding idols online. Eventually, David was able to transform his body – just like his fitness icons.
David faced roadblocks in his life, stopping him from getting to where he wanted to be. But, with a dedicated mindset when training hard in the gym, David set himself up to achieve great things – such as becoming a sponsored athlete and fitness model.
What we can learn from David Laid is; fitness has the ability to transform your life in a positive way. While at the same time, giving you the strength to overcome any obstacles on your path.