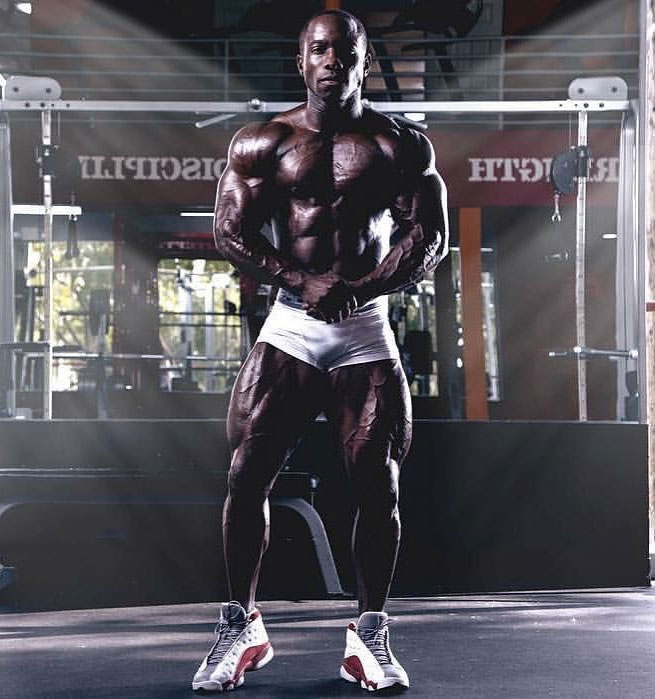 Damion Ricketts
IFBB Professional Bodybuilder, Sponsored Athlete
Damion Rickett's is an IFBB professional bodybuilder, US Marine and sponsored athlete from St Anns, Jamaica. He's made waves in the professional bodybuilding scene and aims to become the best in the sport.
Growing up in Jamaica until the age of 13, Damion was involved in sports and weight lifting in a local gym. He moved to Pennsylvania with his family aged 13; beginning to take bodybuilding seriously after watching Ronnie Coleman on television.
From this day forward, Damion was determined to become a pro. He joined the marines after school, but he still held on to the bodybuilding dream – working out while on tour in Iraq. He competed in amateur competitions when he returned from his duties and won several – claiming a pro card at the 2012 NPC Nationals.
Fast forward to today and Damion has won professional shows. He aims to be a bodybuilder to rival the best of all time, but he also wants to help the young guys starting out. He offers personal training classes and motivational talks to this end.
This is Damion's story:
---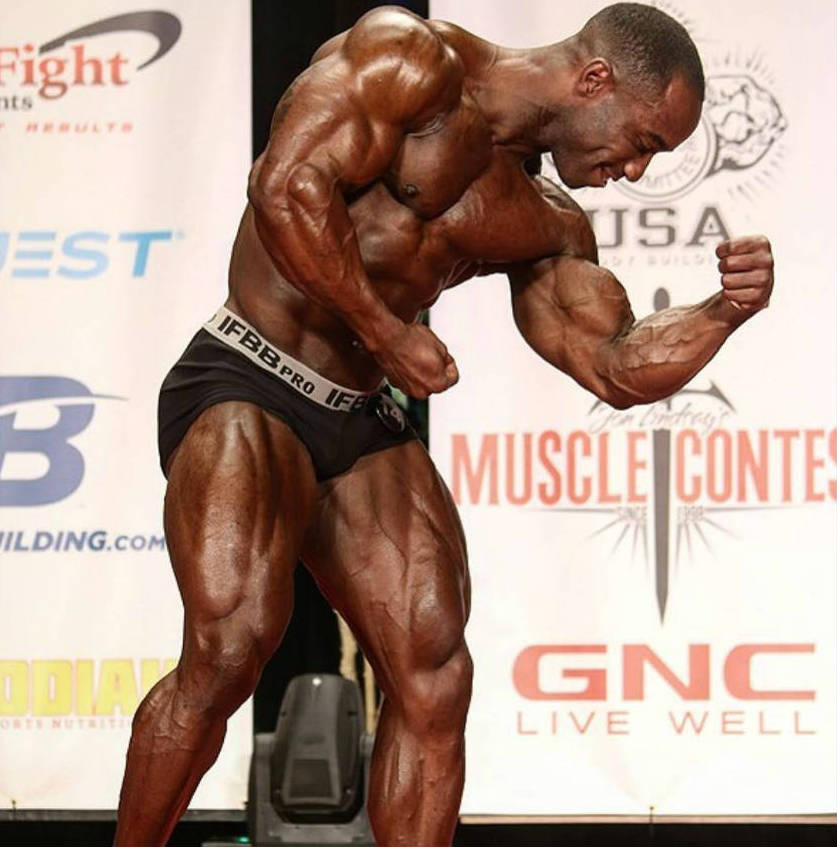 Athlete Statistics
Full Name: Damion Ricketts
Weight
Height
Year of Birth
Nationality
145 - 155lbs (65.8 - 70.3kg)
5'6" (167.5cm)
1993
Jamaican
Profession
Era
IFBB Professional Bodybuilder, Sponsored Athlete
2010, 2000
| | |
| --- | --- |
| Weight | 145 - 155lbs (65.8 - 70.3kg) |
| Height | 5'6" (167.5cm) |
| Year of Birth | 1993 |
| Nationality | Jamaican |
| Profession | IFBB Professional Bodybuilder, Sponsored Athlete |
| Era | 2010, 2000 |
---

Accomplishments
Competitions
2008, 1st Annual NGA Natural Muscle And Figure classic, Lightweight, 1st
2008 Georgia State SNBF, 1st
2008 NPC Eastern Seaboard Bodybuilding, 1st
2012 NPC Atlantic USA Bodybuilding, 1st
2012 NPC National Championships, 5th
2013 NPC National Championships, 1st place (pro card)
2015 Europe Phoenix 212 Pro , 17th
2015 Lou Ferrigno Classic, 15th
2016 Joe Lindsey Pacific USA Classic Physique, 1st
---

Biography
Early Years
Damion was born and raised in the large parish of St Anns, Jamaica. He had an enjoyable childhood and played a lot of sports, but his family decided that they would have a better life in America.
Because of this, Damion moved to Pittsburgh, Pennsylvania when he was 13. In American high school, he made full use of the sports facilities and sports clubs and played  soccer almost every day.
His favorite sport during this period was wrestling. Damion attended a regular class and saw physical sports as the most fun to take part in.
Becoming Interested In bodybuilding
Damion says that he first became interested in bodybuilding, when he was watching ESPN as a teenager. He watched the Mr Olympia contest and was blown away by the physiques he saw on stage. He particularly liked watching the likes of Ronnie Coleman – admiring his passion for the sport and his huge chest.
Combined with this love for the sport and its heroes, Damion also wanted to impress the ladies. He would go to the beach regularly and see women staring at men with good physiques, so he wanted a piece of the action.
Starting To Train
From the day that he saw his first Mr Olympia on television, Damion started to train as hard as he could to build an aesthetic physique. He started with bodyweight workouts in his bedroom, before beginning to use the schools gym as much as he could.
This fitness that he developed in the school gym, would lead him toward choosing an active career when he left high school. He spoke to a military recruiter on a school careers day, and ended up signing up to join the Marines.
US Marine Career
Damion enlisted in the Marine Corps straight out of school in 2003. He completed two overseas tours in 2005 and 2007 – enjoying the experience massively.
The area which Damion chose to work in was the supply section of the corps, so he had more free time that any other infantry man to work out in the gym. He says that when he worked out using the tiny base gym with just a few dumbbells and a bench, his results were still impressive. From this point he was hooked.
---

---
Amateur Competitions
On return to the US, Damion became obsessed with the idea of competing. He trained extremely hard in order to be ready for his first ever competition – the 2008 NGA 'Natural Muscle And Figure classic.'
While he was a newbie at this time, Damion still had a massive amount of confidence in his own abilities. He stood on the stage and felt an "overwhelming" sense of achievement. He posed excellently and won the competition easily.
Achieving His Pro Card
Following this victory, he won another major trophy at the 2008 Georgia State SNBF. At this point, there was only one thing on Damion's mind – his pro card.
In order to get his pro card he would have to win a national competition. He set his sights on the 2013 NPC Nationals, knowing that he would have to win multiple regional NPC competitions to even qualify for this event.
But win them he did.  He won the NPC Eastern Seaboard competition in 2008,  following this up with another win at the NPC Atlantic USA show. His first national show didn't go to plan, as he came in 5th, but on the second time round he managed to win.
With this victory at the 2013 NPC USA Nationals, Damion had made his dream of becoming a professional bodybuilder a reality.
Winning His First Pro Show
Damion's first two professional shows did not work as as well as he would have hoped. He came in at 17th at the 2015 Europe Phoenix 212 Pro, then followed this up with a 15th at the 2015 Lou Ferrigno Classic.
This did not deter Damion at this stage though. He looked at the competitions laid out in front of him, deciding that the 2016 Joe Lindsey Pacific USA Classic Physique would be the show for him.
After a hard cutting period, he stood on the stage as confident as ever – knowing that he could potentially win the entire competition. As the judges read his name out in 1st place, he says he was ecstatic.
Helping The Youth
Damion knows how hard it is to achieve anything in bodybuilding. Because of this, he takes out as much time as he can to help young bodybuilders trying to make their mark. He offers personal training classes and motivational guidance to youngsters whenever he can.
---

Training
Favorite Areas To Train
Damion's favorite areas to train are his back and quads. For him, his back has always been a weak area. Because of this, he loves to hit it with hard, relentless sessions which enable him to create a more proportional aesthetic.
When it comes to building his large quads even larger, Damion says that squats are king. He believes that squats separate the men from the boys – pushing him to his limits and forcing him to dig deep and feel the burn.
Routine
Damion's weekly routine focuses on a combination of compound and isolating exercises. He avoids grouping major muscles together, as he doesn't want to overtax his central nervous system.
Day 1: Chest And Abs
Dumbbell press (4 sets) (12, 10, 8, 6 reps)
Incline dumbbell press (3 sets) (10,8,6 reps)
Decline barbell press (3 sets) (10 reps)
Cable cross over (4 sets) (10 reps)
Pec Deck Fly (4 sets) (10-12 reps)
Day 2: Back And Traps 
Wide grip pullups (5 sets) (10 reps)
Dumbbell row (4 sets) (10 reps)
Cable row (4 sets) ( 12, 10, 8, 8 reps)
Lat pulldown (4 sets) (10 reps)
Day 3: Biceps,Triceps And cardio
Straight bar curl (3 sets) (10 reps)
Cable curl (4 sets) (10 reps)
Hammer curl (3 sets) (10 reps)
Cable triceps extension (4 sets) (8-10 reps)
Close-grip barbell press (3 sets) (10 reps)
Weighted dips ( 3 sets) (10 reps)
Skull crushers (3 sets) (10 reps)
Day 4: Quads And Calves
Barbell Squat (4 sets) (12, 10,8,6 reps)
Leg press (3 sets) (10 reps)
Leg extension (4 sets) (10 reps)
Thigh abductor (3 sets) (10 reps)
Day 5: Hamstrings And Deltoids
Barbell lunge (3 sets) (10 reps)
Romanian Deadlift (3 sets) (10 reps)
Seated leg curl (4 sets) (10 reps)
Lying leg curl (3 sets) (10 reps)
Bent over dumbbell raise (4 sets) (10 reps)
Arnold press (3 sets) (10 reps)
Alternate dumbbell raises (3 sets) (10 reps)
Day 6: Cardio And Abs
Day 7: Rest
Advice For Young Bodybuilders
Damion loves to help younger bodybuilders who have the same dream that he did growing up. He says that it takes a lot of hard work and dedication to get to a point in your career where you are winning shows.
He says that they should never give up if they don't see obvious results in their physique straight away; it's a long term game and those who win are those who are consistent.
---

Nutrition
Food In The Marines
When Damion is on deployment with the Marines, his food choices are much more limited than they would be at home. He typically needs to supplement with protein shakes regularly to keep his protein intake regular. His usual meal plan for the day is below:
Breakfast
Oatmeal
Cereal
1 mix of protein shake
2 eggs
Waffles
Lunch
1 mix of protein shake
Baked chicken
2 slices of pizza
Dinner
1 MRE (Meal Ready To Eat)
Food When Not On Deployment
In contrast to this simple military diet, the food Damion eats when he is at home and preparing for competitions is varied and much more nutrient dense. He aims to eat a lot of chicken and tilapia (a fish), he also includes protein shakes where he can to improve his overall intake also.
For carbs he chooses healthy options such as sweet potato and oats. These are both very healthy and sensible options that enable him to refuel quickly. His meal plan for this food is below.
7:00 am (Meal 1): 6 egg whites 4oz Grilled chicken
Half a cup of oatmeal
9:00 am (Meal 2): 50 grams of protein, 6oz of Tuna
11:00 am (Meal 3): 8oz of chicken breast, Medium sweet Potato, 4oz of mixed vegetables
1:00 pm (Meal 4): 8oz of Grilled chicken, 8oz of green beans
3:00 pm (Meal 5): 50 grams of protein
5:00 pm (Meal 6): 12oz of Tilapia, 8oz of mixed veggies
8:00 pm Dinner (Meal 7): 8oz of chicken breast & medium sweet potato
10 pm (Meal 8): 50 grams of Protein
Supplements
Before Damion works out, he usually uses a pre-workout powder to increase his focus. He also drinks regular whey protein shakes – usually sprinkling some creatine in the shake to fuel his muscle recovery.
---

Idols and Influences
When it comes to Damion's main influences in the sport, the bodybuilding legends come immediately to his mind. He loves to watch old tapes of Arnold Schwarzenegger, Ronnie Coleman, Gustavo Badell, and Dexter Jackson at the Mr Olympia. In fact, it was watching Ronnie Coleman as a boy which made him start lifting in the first place.
In terms of his day-to-day bodybuilding journey, Damion cites his wife as one of his main influences. She gives him the motivation he needs to become the best and push himself daily in the gym. As an athlete too, she knows his struggle.
---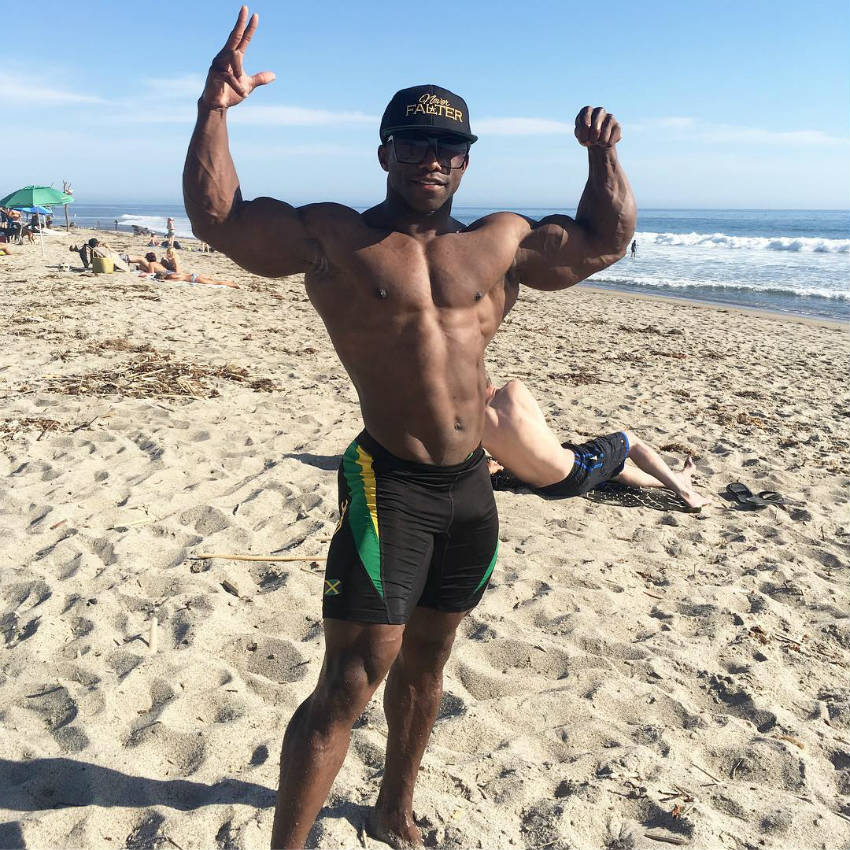 What we can learn from Damion Ricketts
Damion Ricketts has shown us that a dream can be made into reality with hard work. His bodybuilding career started as a pipe dream after he saw Ronnie Coleman perform at the Olympia Weekend. After years of hard work, he was posing at professional shows himself with the best in the world.
If you really want something, it will be useful to show the same level of dedication that Damion has shown. If you want something that bad, you will achieve it one day.