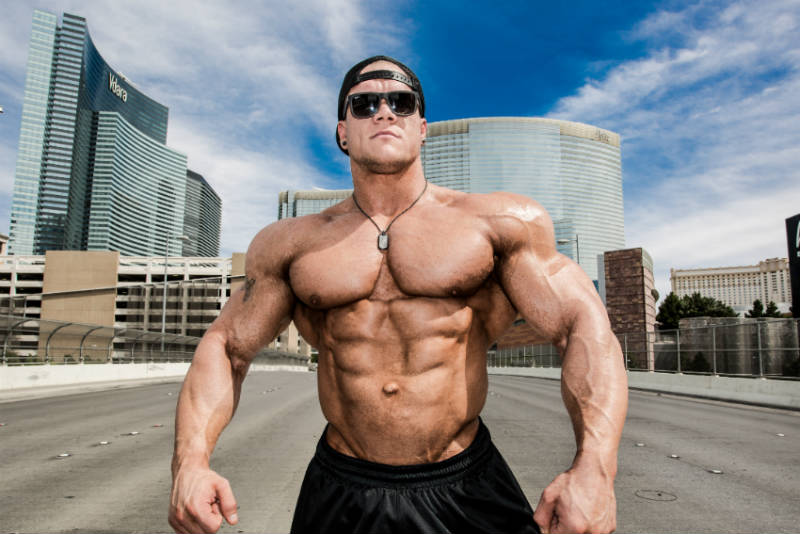 Dallas McCarver
IFBB Professional Bodybuilder
Dallas McCarver was an IFBB professional bodybuilder and sponsored athlete from Tennessee, USA. He created a lot of buzz in the professional competition circuit, due to his gargantuan size and excellent proportionality.
Growing up, Dallas was extremely sporty and played football in junior and high school. It was through football that Dallas began weight lifting to build his size and strength; taking to the sport immediately.
His love for the bodybuilding lifestyle gradually took over his passion for football. His first bodybuilding show was in 2011 at the NPC Hub City Fitness Quest, and he won decisively. Two shows and two wins later, and Dallas had taken his pro card aged just 21.
He won 3 out of 5 of his IFBB competitions between 2012 and 2015. His massive 6'1″ 300lb frame has captured the attention of the worlds media, and he revels in the success he has achieved.
On the 22nd August 2017, the whole bodybuilding industry stopped, as news emerged that Dallas had passed away. This page serves as a tribute to Dallas McCarver and his achievements.
---

Athlete Statistics
Full Name: Dallas Mccarver
Weight
Height
Waist
Year of Death
255 - 265lbs (115.7 - 120.2kg)
6' (183cm)
34"
2017
Nationality
Profession
Era
American
IFBB Professional Bodybuilder
2010
| | |
| --- | --- |
| Weight | 255 - 265lbs (115.7 - 120.2kg) |
| Height | 6' (183cm) |
| Waist | 34" |
| Year of Death | 2017 |
| Nationality | American |
| Profession | IFBB Professional Bodybuilder |
| Era | 2010 |
---

Accomplishments
Competitions
2011 NPC Hub City Fitness Quest, Junior Heavyweight, 1st
2011 NPC Battle at the River Championships, 1st
2011 NPC Battle at the River Championships, 1st
2012 IFBB North American Championships, 1st
2012 IFBB North American Championships, np
2012 IFBB North American Championships, 1st
2015 IFBB California State Pro, 1st
2015 IFBB Olympia Weekend, 13th
---

"I felt that if I just kept growing and kept my proportions roughly the same, given my frame and shape, I could put a pretty good physique together for the pros."
Training
Full Training Routine
 Day 1: Quads – a.m. Hams and calves – p.m.
 Day 2: Chest – a.m.  Biceps and some triceps – p.m.
Day 3: Back
Day 4: Shoulders and traps – a.m  Triceps and some biceps – p.m.
45 minutes cardio (treadmill, StepMill, elliptical, bike or outside walking) 3 times a week (competition season)
Focusing On The Classic V-Taper
Dallas believed that the V-taper aesthetic was very important for him in competitions. He weighed 312 pounds in the off-season, and he loved the opportunity to work extremely hard before competitions to cut down.
In 2016, his waist before a competition measured in at 34 inches – an incredible achievement for a man of his size and weight.
---

---
Huge V-Taper Focused Workout
Wide-grip Chin Up
For Dallas, the wide-grip chin up was his foundation movement for building a big back. He started every back day with the exercise as a general warm up to "loosen up the shoulders" and open up the scapulae. Occasionally, he would return to the exercise later in the workout to test his strength.
When he completed the movement, he kept his torso upright as straight as possible to maximize the tension of the movement.
"To me, if you gain two inches around your chest, two inches on your quads and inch on your arms, but two inches on your waist, you failed…you haven't made your physique better, you just made a bigger version of the same exact physique."
Lat Pulldown With Dual Handles
Dallas introduced a few varieties of lat pulldowns, always switching up the grip attachments to suit each exercise. He always preferred the double handle attachment, as he has wide shoulders so needs as much scope in the movement as he can get.
"Using two handles that I can pull apart as I pull down allows me to open everything up more."
---

---
Behind The Neck Smith Machine Press
While many bodybuilders avoid this movement as it can be dangerous if not completed properly, Dallas loved the behind-neck smith machine press. He incorporated it in every back session and loves the pump it gives.
The only change Dallas chose to make from his frontal smith machine exercises, is that he used less weight. He also chose to remain upright rather rather than in any sort of recline.
Dumbbell Lateral Raise
This was an essential exercise for getting Dallas' round, topped delts that he was known for. He liked to keep his pinkie finger raised up throughout the movement and completed 20 reps with four to five partials.
Cable Lateral Raise
Following the dumbbell assault on his lats, Dallas moved over the the cables. The cables allow for a stretch and resistance in the bottom segment of the range of motion, which ensured a full contraction at the top.
---

---
Single-arm Front Raise
Moving back to the dumbells for one set, Dallas performed the single-arm front raise face down on an incline bench. He said that if you complemented the movement standing, the dumbbell would lose the isolation on the front deltoid, as it would be would be over the head during the lift.
Hanging Leg Raise
The hanging leg raise is a punishing exercise. It's made all the more painful due to Dallas' sheer size, and lifting his heavy legs is a serious challenge after the first set.
He said that this is one of the best ab exercises that really separates the men from the boys.
Floor Crunch And Rope Crunch
Dallas finished this monster workout with two types of crunches; the floor crunch and the rope crunch.
For the floor crunch, he focused on a rep pattern of 25-30, 20-25, 15-20 then 15-20. He says that he sees people "doing crunches and sit-ups fast, and they are totally missing out on the real benefits." hen he completes the movement, he takes it slow in order to feel the full muscle contraction.
For the rope crunch, he followed a similar approach. He faced away from the weight stack in order to feel a full stretch of the abs at the top. He kept his reps high, (15-20 per set) and loved the burn it gives.
Avoiding Weighted Ab Workouts
The only exercises that Dallas refused to incorporate into his weekly routine were weighted ab exercises. He said "why would you want to have huge abs, that's going to make your midsection thicker!"
Dallas aimed to keep his midriff as tight and narrow as possible, including these exercises would ruin his entire aesthetic.
---

Nutrition
Changing Protein Intake
Before Dallas found his coach, he said that he was eating 12, 14, sometimes even 16 ounces of meat protein per meal.
His coach taught him that the body can only utilize so much protein at one time from direct sources. After that, the protein is broken down into energy supply rather than felling the muscloes as intended.
As a result of this new knowledge, Dallas went from eating 12-14 ounces of protein per meal, to six or seven ounces. He said that he saw no difference in muscle gains whatsoever.
Nutritional Plan
Dallas ate a healthy and nutritious diet. He started the day with a strong coffee, then included lean meat and fish which enabled him to flood nutrients into his large physique.
Upon Waking 4 oz. black coffee
Meal 1: 2 whole Omega-3 eggs, 10 egg whites, 1/2 cup Cream of Rice
Meal 2: 10 oz. chicken breast, 1 cup jasmine rice
Meal 3: 10 oz. tilapia, 10 oz. sweet potato
Meal 4: 10 oz. chicken breast, 1 cup jasmine rice
Meal 5: 10 oz. tilapia, 1 cup jasmine rice
Meal 6: 12 oz. tilapia, 1 cup asparagu
Fast Metabolism
When Dallas played football, he said that he used to eat until he threw up. He said that he became too bulky with this approach and felt bloated all day due to the sheer amount of waste in his body.
When he became a bodybuilder, he chose to stay lean at all times. His extremely fast metabolism allowed him to eat 5,000 to 5,500 calories to stay lean with very little body fat. He said, jokingly, that this amount of calories "is more than a lot of guys eat even when they are trying to bulk."
---

What we can learn from Dallas Mccarver
Dallas' approach to bodybuilding allowed him to become one of the youngest IFBB professionals of all time. He began as a footballer who would eat too much and train with standard movements, but he gradually designed his own diet and routine.
The success he has saw came from his determination to find out what worked for him. He aimed to be the best through implementing these changes, and building a great physique, something he'll always be remembered for.