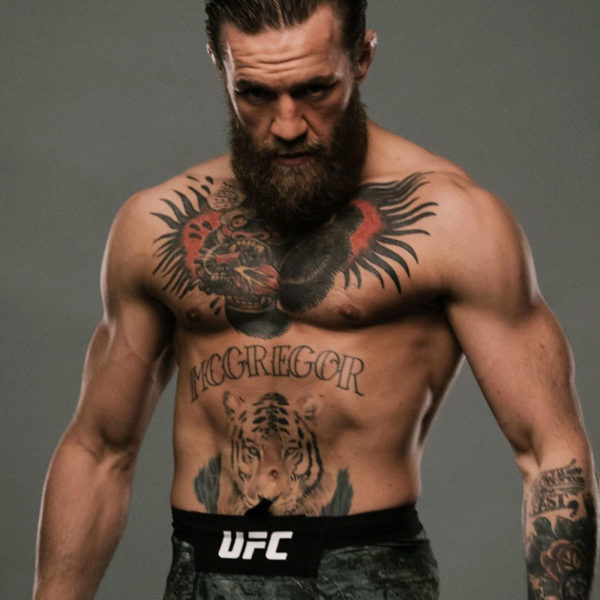 Conor McGregor
Professional MMA Fighter
Conor McGregor is an Irish professional MMA fighter, professional boxer, businessman, and one of modern combat sports biggest stars. But the 'Notorious' wasn't always a world-renowned mega-celebrity.
His story is a true tale of rags to riches. Beating the binds of unemployment and welfare cheques to become two-division UFC champion, selling out arenas, and drawing the highest pay-per-view buys to date.
This is the story of the 'Notorious' Conor McGregor.
---
Athlete Statistics
Full Name: Conor Anthony McGregor
Weight
Height
Age
Date of Birth
145 - 155lbs (65.8 - 70.3kg)
5'9" (175cm)
35
July 14, 1988
Nationality
Profession
Alias
Irish
Professional MMA Fighter
Notorious
| | |
| --- | --- |
| Weight | 145 - 155lbs (65.8 - 70.3kg) |
| Height | 5'9" (175cm) |
| Age | 35 |
| Date of Birth | July 14, 1988 |
| Nationality | Irish |
| Profession | Professional MMA Fighter |
| Alias | Notorious |
---
Accomplishments
Former Cage Warriors Fighting Championship Featherweight Champion
Former Cage Warriors Fighting Championship Lightweight Champion
Former Interim UFC Featherweight Champion
First Multi-Division Cage Warriors Fighting Championship Champion
First Simultaneous Multi-Division Cage Warriors Fighting Championship Champion
Former UFC Featherweight Champion
Former UFC Lightweight Champion
First Simultaneous Multi-Divisional UFC Champion
Third Multi-Divisional UFC Champion
Most consecutive Performance of the Night awards in UFC history (5)
Most consecutive post-fight bonuses in UFC history (8)
Tied for second-most Performance of the Night Bonuses in UFC history (7)
---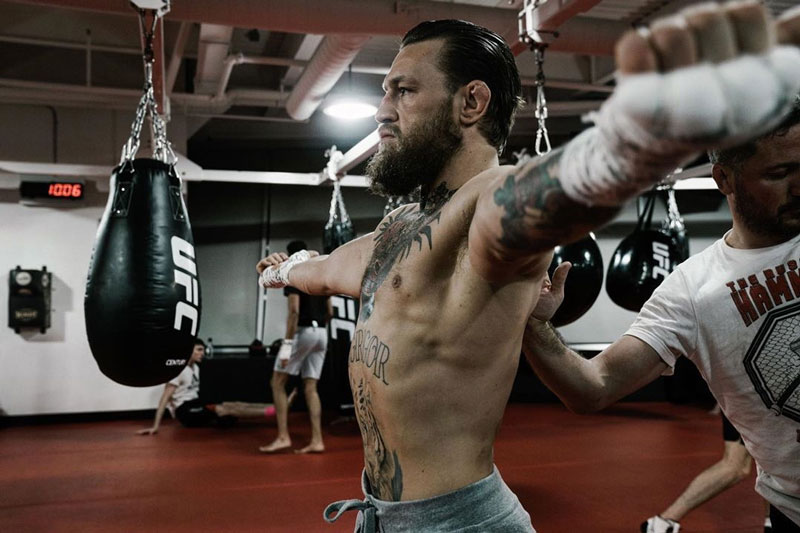 Biography
Early Life
Born and raised in, Dublin, Ireland, Conor McGregor found his competitive feet playing football as a youngster. Although a promising player on the football pitch, by 12-years old he'd been bitten by the combat sports bug.
Conor began boxing at a local club in Crumlin, the town he was born in, and quickly found an aptitude for the sweet science. Although now a major celebrity and athlete, he still regularly returns to his grass-roots beginnings, supporting Crumlin Boxing Clubs young fighters and sharing his own fighting secrets.
Fast forward to 2006, and the McGregor family moved to a different part of Dublin called Lucan, which lead to Conor making a forever life-changing chance encounter. Struggling to make new friends as a brash teenager at a strange school, Conor met Tom Egan, who went on to be Ireland's first-ever UFC fighter.
At the time they were both just schoolboys with a fascination with football and fighting. According to McGregor, he had no doubt he was going to become a top international competitor one day.
Naturally, it didn't take long for the pair to embark on a journey into mixed martial arts together. With the UFC set firmly in their sights, the pair worked tirelessly in their pursuit to put Ireland back on the international fight map. The rest, as they say, is MMA history.
MMA Career Beginnings
Conor McGregor made quick work of his amateur MMA debut, winning via first-round TKO. It was 2007 and the 'Notorious' was a fresh-faced 18-years old now ready to blaze through the professional ranks. During the following year, he'd mark first fight as a professional by securing another TKO finish, this time in the second round.
But, the road to greatness wasn't without its tests of grit. Conor faced losses early into his professional career and at one time even contemplated changing careers to become a plumber. Interestingly, it wasn't his teammates or fans who kept him on track when he considered quitting, but his mother. She'd seen her son's natural, raw talent for fighting and called John Kavanagh, Conor's coach, to convince the 'Notorious' to stay the course.
Never a slow starter, McGregor then rapidly scaled the international stage, going on an eight-fight winning streak between 2011 and 2012. During this time of running through his competition, he'd secured both the featherweight and lightweight straps in Europe's coveted Cage Warriors promotion, a feat that firmly put him on the UFC's radar.
Thanks to his flashy fan-favorite style of aggressive striking, highlight-reel knockouts, and kingly confident quick-wit, the trash-talking Irishman had all the makings of a breakout success story.
His trash talk had become legendary, with comparisons to Ali being made. Conor himself calls this tactic drawing his opponents into "psychological warfare" well before the bout. McGregor cites Muhammad Ali as being one of his first inspirational figures.
Now, all Conor needed at this point was an audience. Dana White, the UFC's infamously rigorous promoter, saw a once in a lifetime opportunity. This is where McGregor's career catapulted him to where he is today.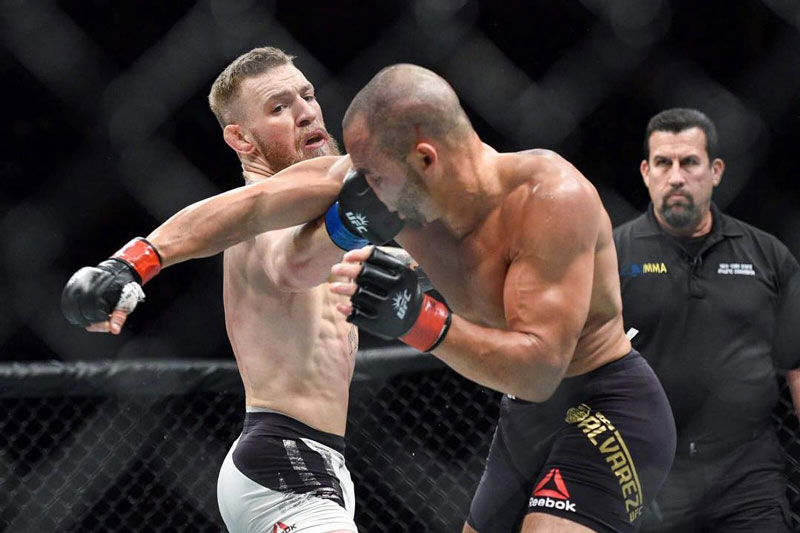 Dominating the UFC
Conor McGregor impressed White so much he was offered a UFC contract after just days of them meeting. 'Notorious' blazed then onto the American scene, proving he more than lived up to the hype with seven successive victories over international competition.
In the final of this string of fights, McGregor shocked the MMA world by knocking out the reigning featherweight king Jose Aldo in just 13-seconds. Aldo had not been beaten by any man in the nine years prior and some fans thought 'Notorious' out of his depth.
Conor would then go on to battle UFC veteran Nate Diaz in a contest he'd lose on paper but gain the admiration of many new fans because of. Diaz agreed to step into the fight at late notice, requiring McGregor to make the leap to welterweight from his usual 145 lbs., two divisions lower. Five months later the pair would meet again to trade blows, with the 'Notorious' reigning victorious this time, in a bludgeoning bout hailed the best ever by some critics.
Before taking an extended break from the octagon to box, McGregor decided one belt wouldn't cut it. He'd make the leap up to lightweight to challenge Eddie Alvarez for the 155lb. title. McGregor looked calm and calculated from the opening bell, managing to pull back when it mattered and make Alvarez miss before knocking the champ out. In doing so, the 'Notorious' had repeated his Cage Warriors feat to become a two-division UFC champion, and being the first-ever European to do so.
Professional Boxing
Despite his roots in amateur boxing, Conor McGregor never entered the professional ranks. So, in a test of his showmanship, he challenged the world's most successful boxer Floyd Mayweather, a champion undefeated in 50 professional bouts.
As much a business move as a test of skill, Conor was outboxed by Mayweather, but the move won him even more international acclaim. Now he was more than the brash UFC double-champion and now a household name across the globe. Most loved him, many hated him, but everybody knew about the 'Notorious'.
Return to UFC
Conor McGregor finally returned to the UFC octagon in 2018 to face undefeated wrecking ball Khabib Nurmagomedov. During his absence, Conor had been stripped of his UFC titles due to inactivity and Khabib was wiping out the lightweight division with ease.
The 'Notorious' would ultimately lose this fight via a dangerous neck crank submission. However, thanks to his massive star power and master trash-talking, he'd hyped the fight so well fans purchased the most pay per views in UFC history.
---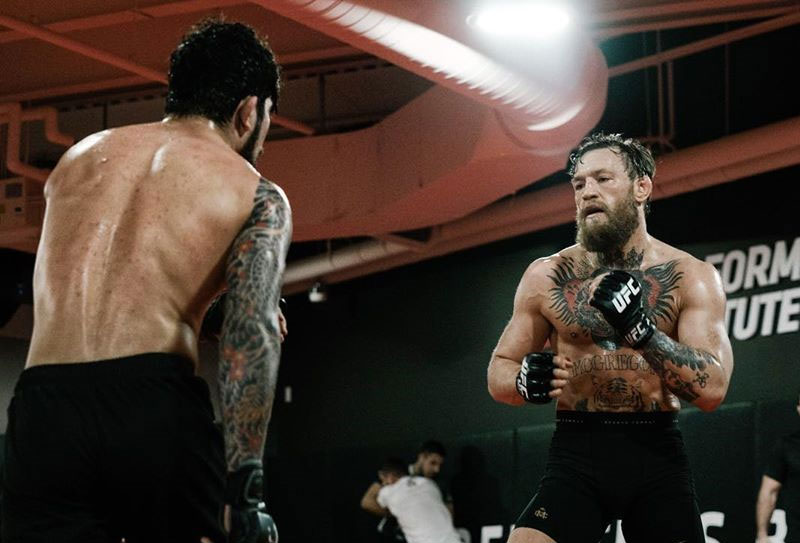 Training
Conor McGregor is a professional MMA fighter, so most of his training time will be based around mastering different disciplines. His main weapon is an aggressive blend of boxing with traditional karate, but he'll also train grappling to make him a complete all-round fighter. Besides being one of the top MMA fighters on the planet, McGregor is also a brown belt in Brazilian Jiu-Jitsu under his coach John Kavanagh.
During the run-up to a competition, fighters enter what they call a camp. Here, they'll train almost every day, often twice in 24-hours to prepare their body for battle. Time is split between learning techniques, drilling them, and live sparring. Camps are notoriously difficult times, as fighters are usually dropping weight during the process. Fighting every day on a low-calorie diet isn't always fun – but tough times are when champions reveal themselves.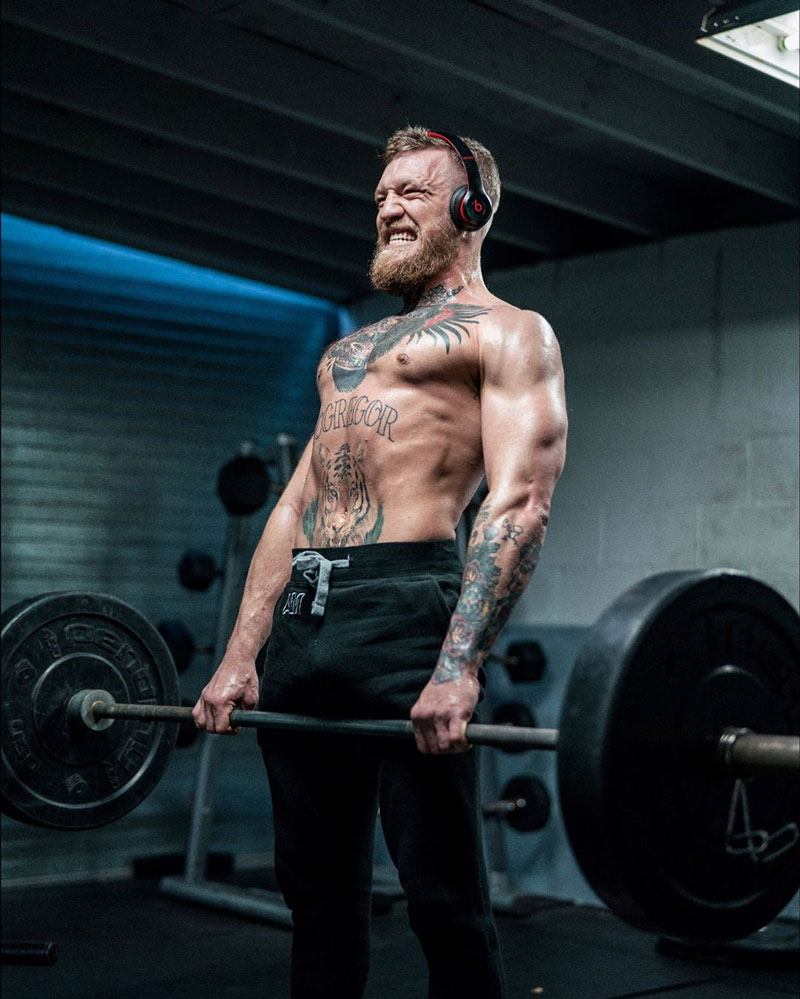 Conor McGregor, like almost all top UFC fighters, builds his body alongside a strength and conditioning coach. These sessions make his muscles, bones, and connective tissue strong enough to withstand the violent rigors of MMA. According to McGregor's training footage, his workouts mainly compromise of highly-functional compound exercises. He uses these multi-joint movements to create champion-worthy strength and fight-ending power.
S+C sessions also push the limits of his cardiovascular system so he can fight hard, round after round. Besides his morning run, McGregor has been known to cycle considerable distances, and use a rowing machine to complete exhausting sprints intervals. Yet, most of Conor McGregor's 'gas tank' will be built in his technical MMA and sparring sessions.
---
Nutrition
Conor McGregor is a high-level athlete and needs to eat like one. He isn't all about aesthetics, but performance inside the octagon.
Interestingly, Conor isn't a huge fan of grainy carbs. Instead of mountains of pasta, he prefers to take in sugars from fruit and occasionally sweet potato. Butternut squash is another of his go-to carbs when not eating fruit.
According to McGregor, he always eats, "good meat – chicken, salmon, some steak and a lot of quality greens." He'll also choose an egg omelet for brunch with an Americano coffee. Conor has become synonymous for his love of coffee and it's not out of the ordinary to see him sporting a tailored suit with coffee mug in hand.
Conor understands how important protein is for maintaining his strong, lean physique. When he isn't in a position to eat lean meats, he'll often use protein shakes to help recovery. Hydration is another key aspect of his nutrition, and the fighter claims to start every day by stretching and adequately hydrating. His drinks of choice are usually water or coconut water.
---
Idols and Influences
Muhammad Ali and Bruce Lee are two of Conor McGregor's earliest and biggest influences. He reflects this in his fighting style, by blending the footwork, evasion and in-out striking style of both of his idols.
McGregor is also a master of marketing and promoting himself by trash-talking, confidently confronting opponents, and working up MMA media frenzies. It's impossible to deny he takes a lot of cues from Ali, who Conor considers the king of pre-fight showmanship. Ali would make himself a larger-than-life character in the press before he fought; using a combination of quick-wit, confidence, and memorable soundbites engage fight fans. His words would often be directed right at his opponents, causing them to fight with reckless emotion, or have their will broken before the battle.
Christiano Ronaldo has also been named by Conor in more recent years. "Cristiano is a phenomenal athlete, person, and entrepreneur," he said to FIFA.
---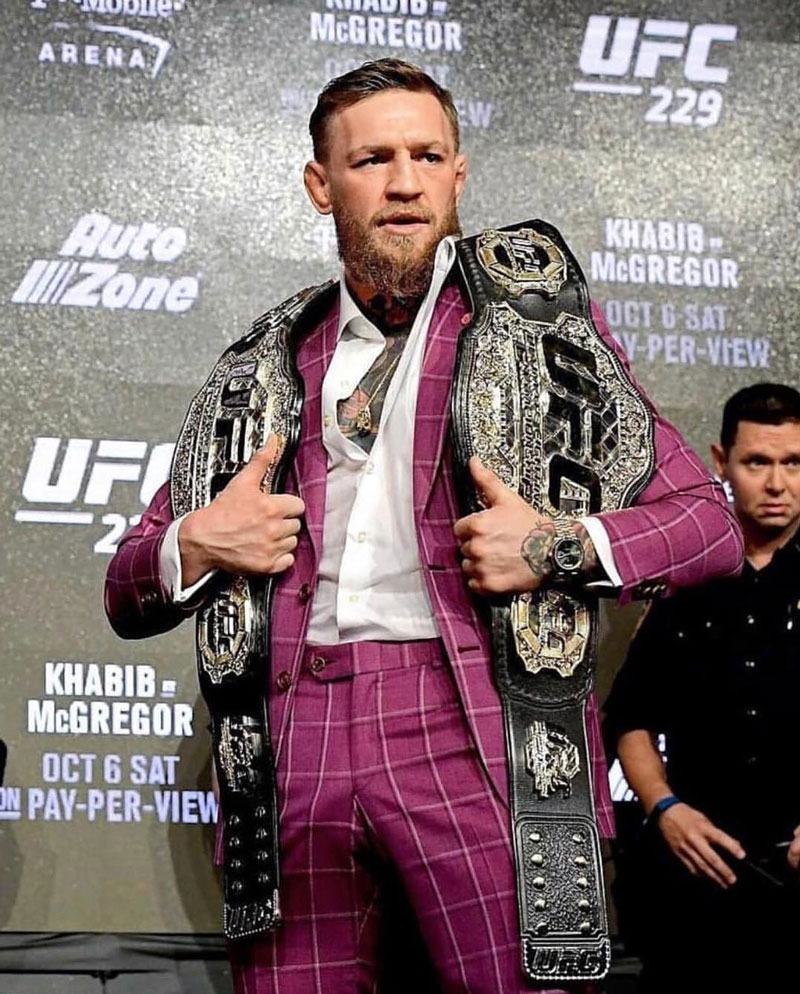 What we can learn from Conor McGregor
At one time Conor McGregor was an unemployed young man trapped in Dublin, Ireland. A decade and countless hours of grinding later he's transcended the sport of MMA to become a global superstar. What was his secret? We'll give you a hint, money or luck had nothing to do with it.
Despite a raw, rugged determination to fight, discipline ultimately took Conor from broke fighter living on welfare to millionaire businessman. He trained hard during his early years to cement a pathway to greatness.
Conor's unshakeable confidence oozed inside and outside of the octagon – even when facing seemingly unbeatable undefeated champions. He mastered the tongue of trash talk to take over newsreels, worm inside his opponent's heads, and have men beat before the opening bell. Conor McGregor became bigger than a man fighting inside a cage – he grew into a movie character, loved by most and hated by many.
While his recent legacy has been inflicted with lawsuits and a bout of recklessness, Conor McGregor still stands as a top competitor to this day. He's the story of a man who never gave up, remained stoic in defeat, and came back swinging when counted out.
You too can choose to adopt this never say die mindset. Believe you'll achieve your goals, then go out and prove it!