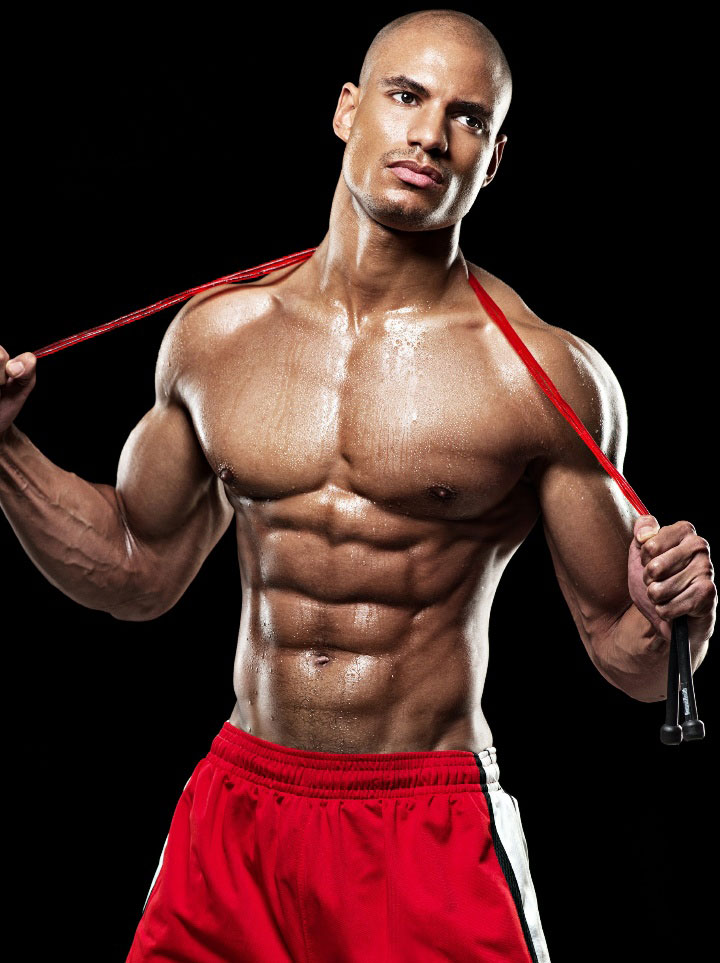 Brandon Carter
Certified Personal Trainer, Nutritionist, Fitness Model, Online Fitness Celebrity, CEO, Author
Brandon Carter is a certified personal trainer, fitness model, nutritionist, best-selling author, social media celebrity and CEO hailing from Chicago, USA. He became a big name in the fitness industry, but his journey didn't have the best of starts.
His earlier life was surrounded by controversy, as Brandon became involved in the drug trade to make a living for himself. After a while, he began to realize that this lifestyle meant putting himself and his close ones at risk. But it wasn't until the loss of his father, that he eventually decided to leave his drug dealing days behind.
This became a huge turning point for Brandon – realizing he had to change his ways. Brandon learned to accept his past, admitting that he made mistakes. Soon enough, he found fitness. This offered him the chance to completely turn his life around for the better.
He began to share his story with others online, aiming for them to steer clear of the path he once chose. In the process, he became a social media celebrity, inspiring others to place negativity in the past – to help them achieve great things in their fitness journey. Here is his story:
---

Athlete Statistics
Full Name: Brandon Carter
Weight
Height
Chest
Waist
185 - 195lbs (83.9 - 88.5kg)
6'2" (188cm)
40"
30"
Year of Birth
Nationality
Profession
1982
American
Certified Personal Trainer, Nutritionist, Fitness Model, Online Fitness Celebrity, CEO, Author
Era
2010
| | |
| --- | --- |
| Weight | 185 - 195lbs (83.9 - 88.5kg) |
| Height | 6'2" (188cm) |
| Chest | 40" |
| Waist | 30" |
| Year of Birth | 1982 |
| Nationality | American |
| Profession | Certified Personal Trainer, Nutritionist, Fitness Model, Online Fitness Celebrity, CEO, Author |
| Era | 2010 |
---

Accomplishments
Certified Personal Trainer
Best-Selling Author
Fitness Model
Nutritionist
Social Media Celebrity
CEO of His Own Supplements Company
---

Biography
Early Life
Brandon Carter was born in the south side of Chicago in 1982. In his early academic career, Brandon had a keen interest in sales and marketing, something that he would major in at college.
His fitness journey began at an early age, becoming a fitness trainer at the age of 18. This was something that Brandon was passionate about, as it allowed him to not only keep himself motivated, but also motivate others.
Brandon's next chapter began when he entered the music industry as a rapper, eventually becoming a signed artist. This was something that he loved, and could see his career excelling in. Brandon went to great lengths in order to take his career to the next level – by relocating from Miami to New York to follow his dream.
However, Brandon's career in music failed to take off. Eventually, he was dropped from the label, which truly scuppered his future plans. Brandon would now commence on a downward spiral, becoming homeless for a short period through a lack of funds.
Choosing a Dark Path
Brandon would eventually choose the wrong path in his life, leading to him making several bad decisions. He became involved in the drug trade, as he thought that this would be the best way for him to earn a large amount of money.
Brandon found success as a drug dealer, truly delivering on his aim to make some serious money. But inside, Brandon knew that what he was doing was wrong – tearing people's lives apart and not helping anyone.
Eventually, Brandon would have to deal with the loss of his father, having a negative effect on his life. He now lacked a figure that he could rely on for help and support, guiding him on the right path. A huge turning point in Brandon's life had now been reached – he realized that he needed to change his ways.
---

Turning His Life Around
Brandon was now aware that the lifestyle that he had chosen could have disastrous consequences. Not only for him, but also for his loved ones. He had made a lot of money from the drug trade, but now was the time to leave that life behind him.
From experience, he knew that fitness was a great way of helping people transform their lives for the better. It was his desire to become involved in something that he was passionate about – helping to improve the lives of others while achieving their fitness goals.
Brandon then decided to set up his own online coaching business, but it took a while to take off. He wasn't making much money at first, having to work two jobs alongside his fitness business in order to make ends meet. This really took its toll on Brandon – at times leaving him close to breaking point.
However, he wanted to help people achieve their fitness goals, so ensured that he never gave up on this ambition. He kept himself motivated despite how much hard work he was having to put in, with solid results soon beginning to show.
Rise to Fame
Brandon turned to the internet in order to improve his outreach, so he had the potential to help as many people as possible. He wanted to help drive them forward in their fitness journey, to achieve things they never thought they could.
He set up a YouTube channel so that he could spread his message of helping others achieve their fitness goals, while sharing his story that saw his fitness journey reach its peak. This allowed Brandon to reach his own goal of building a phenomenal physique – taking his fitness journey to the next level.
Brandon quickly became an inspiration for many, after he came to terms with his past. He learned to accept that he had made mistakes, and that he had learned from them. Brandon had completely reinvented himself as a whole new person, willing to help others reach their fitness goals.
Present Day
Brandon has gone from strength to strength to become a social media celebrity. Starting a career in fitness allowed him to have a fresh start, and completely change his life for the better. He has obtained a large following online, showing just how far he has come since leaving his darkest days behind him.
Brandon has become successful in the field of fitness by setting up his own company, fitness modelling and providing his expertise to others, ensuring that they don't make the same mistakes as him. Along the way, he has been able to earn himself a great physique.
Brandon is ashamed of his dark past, but has learned to accept it, knowing that it taught him many life lessons, including learning from his mistakes. He regularly shares his positive outlook on life with others, showing just how far he has come in his fitness journey.
---

Training
Brandon ensures that he remains consistent with his training so he can maintain his ripped physique, staying on track to reach his fitness goals. He is able to do this by regularly mixing up his training. In particular, Brandon regularly uses Calisthenics, which he has listed as one of his favorite ways to train.
Brandon has a preferred workout split, that being training full body as opposed to working separate muscle groups. He found that through trial and error, this was the method that worked best for him. A full body workout which Brandon uses consists of the following exercises:
Full Body Workout
Barbell Squats
Kettlebell Swings
Incline Barbell Presses
Barbell Bent-over Rows
Handstand Pushups
Overhead Presses
T-Bar Rows
TRX Curls
TRX Skullcrushers
Calisthenics Training
Battle Ropes
HIIT Cardio on Punch Bag
---

Nutrition
Brandon Carter follows a ketogenic diet in order to maintain his shredded physique. He found that this was the diet that worked best for him, after previously following an intermittent fasting diet.
Brandon eats a low amount of carbohydrates in order to stay as ripped as possible, instead placing emphasis on eating a high amount of fat to keep himself energized and satisfied for the day. He splits his macronutrients into the following percentages:
Macronutrient Split
75% Fats
20% Protein
5% Carbohydrates
To set him up for the day's events, a low carbohydrate meal that Brandon eats regularly is listed below:
Low-Carb Bodybuilding Ketogenic Meal Recipe
6 Eggs
2 Tbsps Unsalted Butter
2 Handfuls of Spinach
28g Cheddar Cheese
5 Slices of Bacon
Guacamole
---

Idols and Influences
Early in his life, Brandon would look up to his father. He taught him many things that would set him up for the future – being a figure that Brandon could really rely on for advice and support.
However, soon after finishing college, Brandon chose a path that would lead making many poor decisions. He would continue this until the death of his father, at which point his life would completely change for the better. Brandon now realized deep down that the lifestyle he had chosen wasn't doing him any good.
Brandon would then became very self-motivated. He began working 2 jobs while using any free time that he had, to turn his fitness dreams into reality. Soon enough, through sheer hard work and determination, Brandon became an internet sensation – all thanks to his dedication in turning his life around.
He regularly shares his journey online with others, having come to terms with his dark past. Brandon uses this to his advantage in that it taught him some important lessons – the main one being to place in the past any negativity.
---

What we can learn from Brandon Carter
Brandon Carter initially chose a path in his life that meant that despite him making a huge financial gain, those around him would suffer. He had to deal with the loss of loved ones, really taking its toll on him.
However, by placing negativity in the past, Brandon was able to move forward with his life and overcome his darkest days. Through hard work and determination, he was able to turn his passion for helping others into financial success, something he had always dreamed of.
What we can learn from Brandon Carter is that in life, things won't always be simple. But with a positive mindset and staying motivated, it is possible to overcome any obstacles to achieve many great things – just like Brandon.