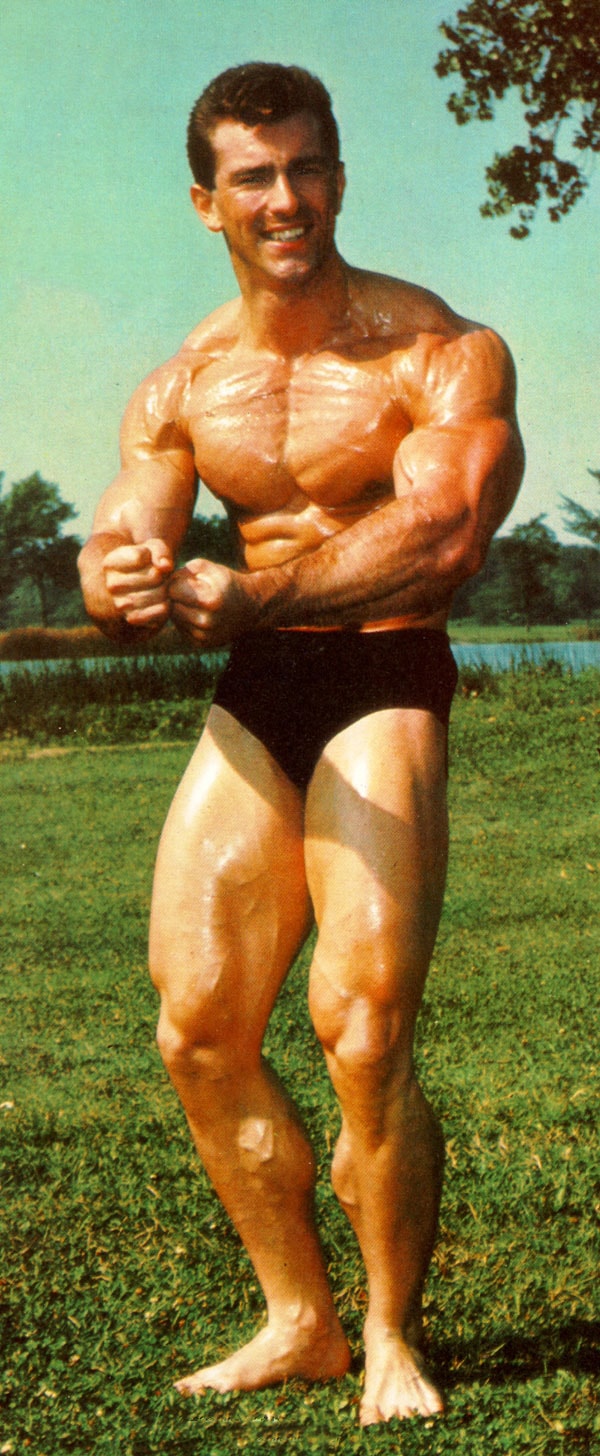 Bob Gajda
Bodybuilder, Sports Training Pioneer
Bob Gajda is an American bodybuilder and sports training pioneer known for winning the 1996 AAU Mr. America title.
Throughout his competitive career, which ended the same year he won the Mr. America. Bob worked and trained with, and competed against several legendary bodybuilding names. Including Sergio Oliva "The Myth," Joe Weider, and Arnold Schwarzenegger.
Alongside his accolades on the bodybuilding stage, Bob also developed, and popularized a number of training concepts – such as the well-known PHA system. He also helped build a chain of gyms and training centers for young bodybuilders. He was responsible for the development of bodybuilding scene in Chicago.
With his endless list of achievements, Bob Gajda stays recognized as one of the most influential pioneers of the bodybuilding industry. This is his story:
---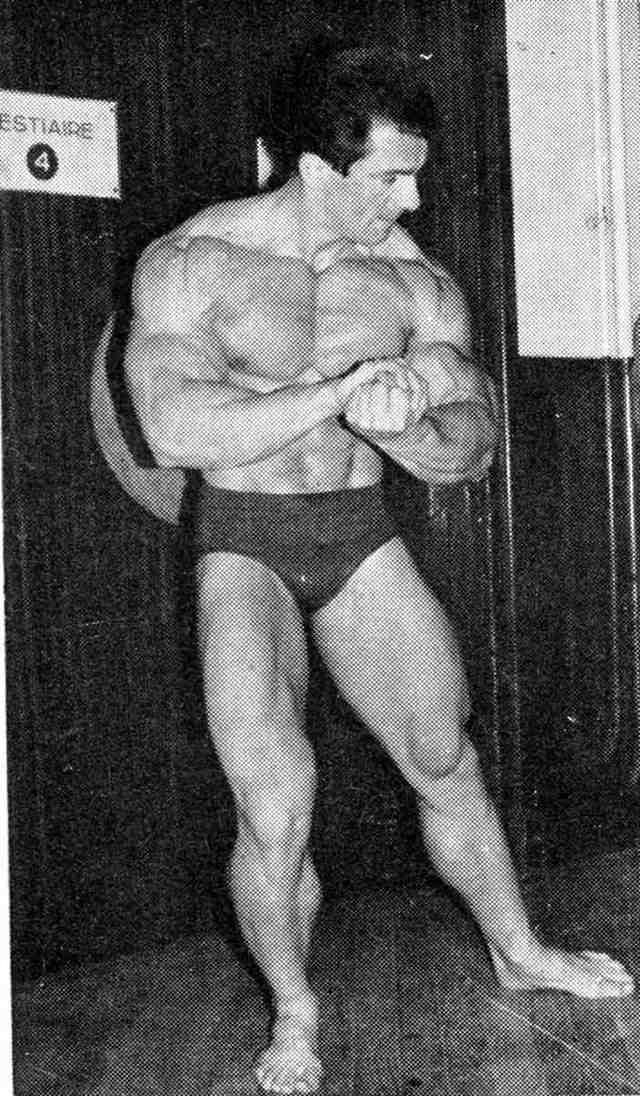 Athlete Statistics
Full Name: Robert Steven Gajda
Weight
Height
Arms
Chest
185 - 195lbs (83.9 - 88.5kg)
5'9" (175cm)
19''
49''
Waist
Thighs
Calves
29''
25.6''
18''
Age
Date of Birth
Nationality
83
September 14, 1940
American
Profession
Era
Bodybuilder, Sports Training Pioneer
1960, 1970
| | |
| --- | --- |
| Weight | 185 - 195lbs (83.9 - 88.5kg) |
| Height | 5'9" (175cm) |
| Arms | 19'' |
| Chest | 49'' |
| Waist | 29'' |
| Thighs | 25.6'' |
| Calves | 18'' |
| Age | 83 |
| Date of Birth | September 14, 1940 |
| Nationality | American |
| Profession | Bodybuilder, Sports Training Pioneer |
| Era | 1960, 1970 |
---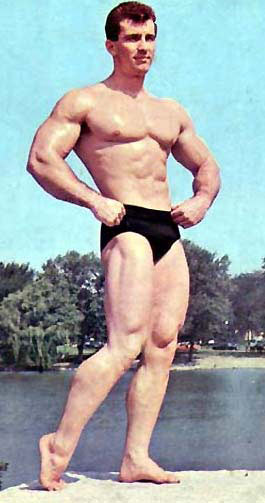 Accomplishments
1966 AAU Mr. America, 1st place
1966 FICH Mr. Universe, 1st place
Awards
---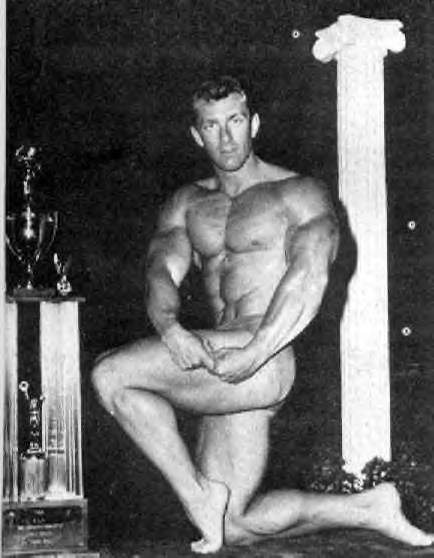 Biography
From Sports to Bodybuilding
Bob Gajda says he was an athlete from as early as he can remember. In his youth, Bob played sports like baseball, football, and basketball, being proficient in them despite his lack of size and strength.
However, as Bob further progressed in the ranks of competitive sports. He realized his lack of size and power caught up with him. He could no longer throw the ball as far as it was required, and not strong enough for challenges against his opponents.
This is when Bob realized he needed to do something about his physical shortcomings. He began his research on the topic of physical strength and speed; shortly after, finding out about bodybuilding and how it affected overall strength, endurance, and power.
This is Bob talking about his first-time experience with bodybuilding; "At that time I was a small guy so I took the Jowett course, took the Charles Atlas course and all the others and then I kind of got involved with the barbells and dumbbells." – Bob Gajda
Lifting Behind the Coach's Back
However, Bob didn't have the permission to train with weights from his coach. At the time, bodybuilding was still in its early stages, and many people, including Bob's coach Believed that training with weights would make a person "musclebound", i.e. 'too muscular.'
But Bob didn't want to stop lifting weights. He continued training without his coach knowing; becoming infatuated by the progress he saw on his physique. However, not long after, the coach caught Bob working out with weights.
The coach then took Bob to the near church where he made Bob "promise in front of the Holy Mother that I wouldn't lift weights." 
But Bob didn't listen once again. As he says, he promised that he wouldn't lift weights at home, as this is where he had them. However, he continued lifting weights at the near park district gym, where his coach couldn't find him.
Achieving Success in Sports
After a few months of secretly training with weights, Bob gained a fair amount of size, strength, and explosive power.
His coach was impressed by his progress, in Bob's words; "the coach put his arm around me and said, "take a look at this guy, he is throwing ten yards further, he is bigger, faster, and stronger and he did it with calisthenics."
However, all of Bob's fellow teammates laughed at the coach, because they all knew Bob's progress didn't come from calisthenics alone.
From there on, Bob further progressed in shape and size; gradually sculpting the physique that would win him the 1966 Mr. America title a few years later.
---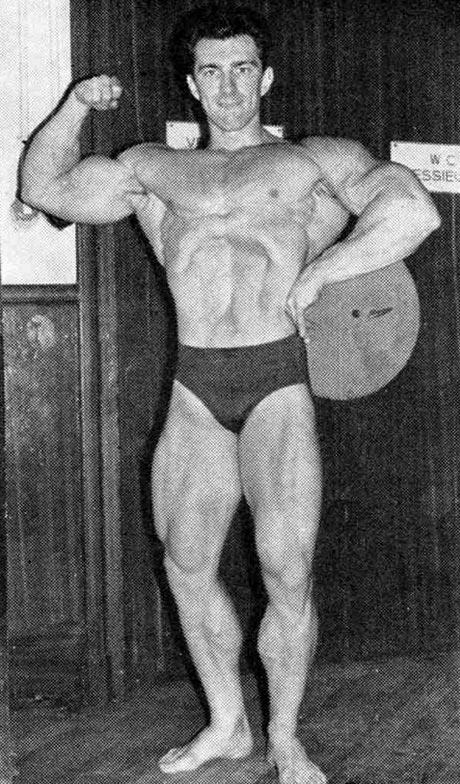 ---
Making Waves in Bodybuilding
By the end of his first year training with weights. Bob decided to leave his old sports behind, and focus on bodybuilding, more so, the competitive part of the sport.
At first, he began appearing on local bodybuilding stages. His well-balanced and ripped physique allowed him to quickly progress among the competitive ranks; eventually, allowing him to take part in the prestigious 1964 Mr. America national contest.
Bob placed 11th at the contest that day, before bettering his result by nine places the following year; finishing in the runner-up position at the 1965 Mr. America.
Having earned a 2nd place finish at such an early stage in his career. Bob made waves within the bodybuilding industry – many sports commentators and bodybuilding experts had Bob as the winner of the Mr. America in 1996.
Beating Sergio Oliva
However, Bob had one major obstacle on his way towards winning the Mr. America title – Sergio Oliva. The legendary Cuban bodybuilder, also known as The Myth stood as the greatest opponent Bob faced in the 1966 Mr. America contest.
Impressively, Bob's physique was so sharp and conditioned that he was proclaimed the winner, edging out the three-time Mr. Olympia Sergio Oliva in the finals.
Bob's and Sergio's rivalry only lasted on the stage, the two bodybuilders were good friends. Here's Bob talking about his relationship with Sergio Oliva;
"He was a very good lifter. That was the first thing I noticed. The first time I met him he was lifting at Sayre Park. I was lifting too; we were lifters. So it wasn't bodybuilding to begin with, it was weightlifting. I invited him over to my gym and he came. And from that point on we were partners." – Bob Gajda
End of Bodybuilding Career
Riding high from his victory at the 1966 Mr. America. Bob took part in one last bodybuilding contest – the 1996 FICH Mr. Universe. Bob's opponents proved to be no match for him once again, as he added one more trophy to his cabinet.
After the 1996 Mr. Universe, Bob retired from competitive bodybuilding; turning his focus towards becoming a training coach.
---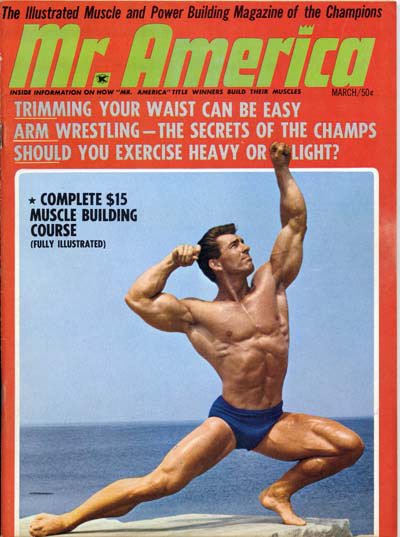 ---
The Muscle Factory
Throughout the years, Bob became involved in building a chain of gyms and training centers in Chicago.
The first gym, the Duncan YMCA training center. Became known as "the muscle factory", where young kids and teenagers would come to train. "It was getting crazy at the time and I was running YMCA weight-training programs, getting kids involved in the sport and improving their self-esteem," said Bob.
All of this had a huge impact on the Chicago bodybuilding scene, which Bob helped to establish and grow.
Sports Performance Pioneer
Over the years, Bob Gajda built an iconic status, thanks to his efforts in bodybuilding.
From a competitive bodybuilder winning medals. To a training expert who introduced others to the 'lifting sport'. Bob has seen, and done many things in the bodybuilding community.
Having helped countless people live healthier lives, as well as having won numerous bodybuilding accolades. Bob has cemented his status as one of the most iconic names of the 'Iron Game.'
---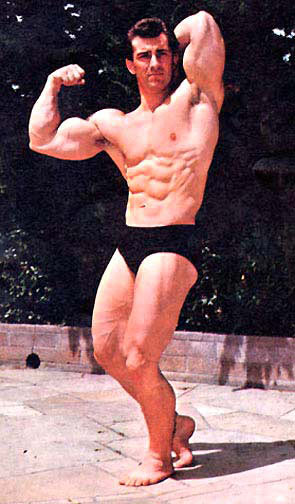 Training
Training For Basketball
Bob was once a skilled basketball player who focused on body weight training to accomplish his goals in the sport.
He believes that working on balance, mobility, stability, and core strength is the key to jumping high. He also says how body weight training is superior to machine training when it comes to training for balance, mobility, and jump strength in sports.
Here are some of Bob's top exercises for improving these abilities;
One-legged squats
One-legged jump squats
Free-hand jump squats
Machines vs Free Weights
When it comes to machines vs free weights, Bob doesn't prefer one over another. Instead, he believes each one has its own function in strength training.
According to Bob, training with free weights allows for better mind-muscle connection and muscle contraction. It also allows Bob to utilize multiple muscle groups, something he can't do with isolation machines.
On the other hand, machines help Bob isolate certain muscles. This can be good if he wants to improve a specific muscle in his body, which might be lacking when compared to other muscles.
---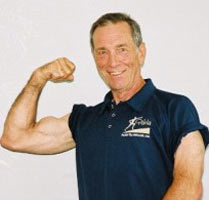 Bob Gajda nowadays.
---
PHA Workout
PHA, aka, Peripheral Heart Action was initially introduced in bodybuilding by Dr. Arthur Steinhaus, in the late 40s. However, Bob Gajda popularized it in America and Canada. It's intended for serious bodybuilders who reached a plateau with their regular training, and are in search for a bigger challenge.
The main goal of Bob Gajda's PHA program is to make the heart pump blood to the extremities. Which is achieved through a constant use of compound movements. According to Bob, this is effective for fat burning, muscle building, and cardiovascular health, as it puts high demands on the heart.
Peripheral Heart Action combines extremely short rest periods with heavy loads and upper-lower body alternations in four to six repeated circuits. As Bob says, this is something that is only intended for bodybuilding veterans who know their body. The reason for this is the enormous stress PHA puts on the heart, and the body.
An example of PHA total body training routine;
Standing barbell good mornings, 8-10 reps, 60 seconds rest
Wide-grip pull-ups, 8-10 reps, 60 seconds rest
Leg presses, 20-25 reps, 60 seconds rest
Barbell military presses, 10-12 reps, 60 seconds rest
Repeat four to six times using the heaviest load possible
---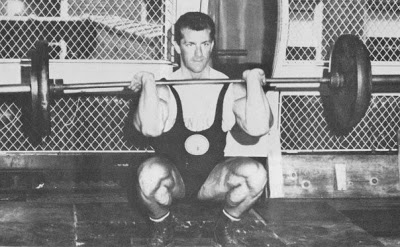 Nutrition
Milk and Egg Protein
During his prime, Bob ate a diet that was based on proteins and healthy fats. Speaking of proteins, he got the majority of them from eggs and milk, which he believes are one of the most bioavailable sources of protein. He ate a meal consisting of milk or egg protein up to six times per day.
To further his muscle development, Bob used germ oils and polypeptides as his sterols. He also drank liquid amino acids to ensure his body received a constant supply of the muscle-building blocks.
Supplementation
During the latter stages of his bodybuilding career. Bob used a liver supplement to help his organs, to clean the body from toxins that built up from the huge amount of food he consumed. Bob says, at one point, he took up to 25 liver tablets every two hours.
Here's Bob talking about him talking liver tablets back in the day; "They were convenient; you could always get a water fountain. It was funny. Sometimes I would be doing a bench press and I would be spitting them out, shooting them out like bullets. I hit my training partner in the chest."
---

Idols and Influences
Bob's early influences, as he says, were "the guys who had a combination of strength and muscle." They were John Grimek, Steve Reeves, and Arnold Schwarzenegger.
Other bodybuilders that influenced Bob on his journey include Reg Park and Bill Pearl, one of the first icons in bodybuilding history.
---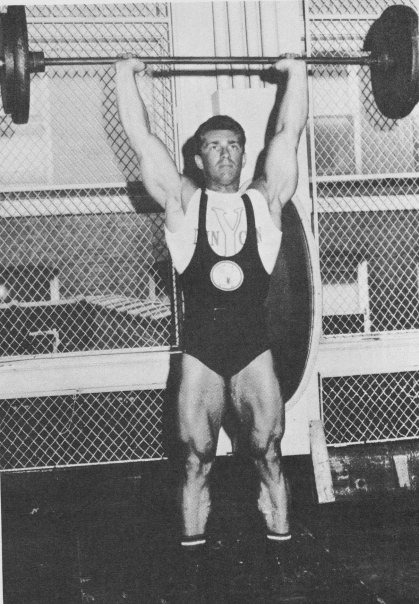 What we can learn from Bob Gajda
From working with legends like Joe Weider and Sergio Oliva, to popularizing bodybuilding concepts and training methods across America and Canada. Bob Gajda has left a permanent mark in the sport of bodybuilding. Bob didn't only become one of the most recognized bodybuilders of his era. He created them too, and still does to this day.
There is a lot we can take away from Bob Gajda and his story. From a career standpoint, he taught us that doing what you love is possibly the greatest thing you can accomplish in life. Find your passion, act on it, and don't let anyone stop you from reaching your ultimate goal.
Outside of bodybuilding, Bob has taught us that you should always be thankful for what you have, and help others when you can. At the heights of his career, Bob stopped competing and opened his training centers to help others build their greatest physiques.
He knew that bodybuilding wasn't about an individual – it was about making partnerships, helping others, and growing the community to make the sport great for years to come.