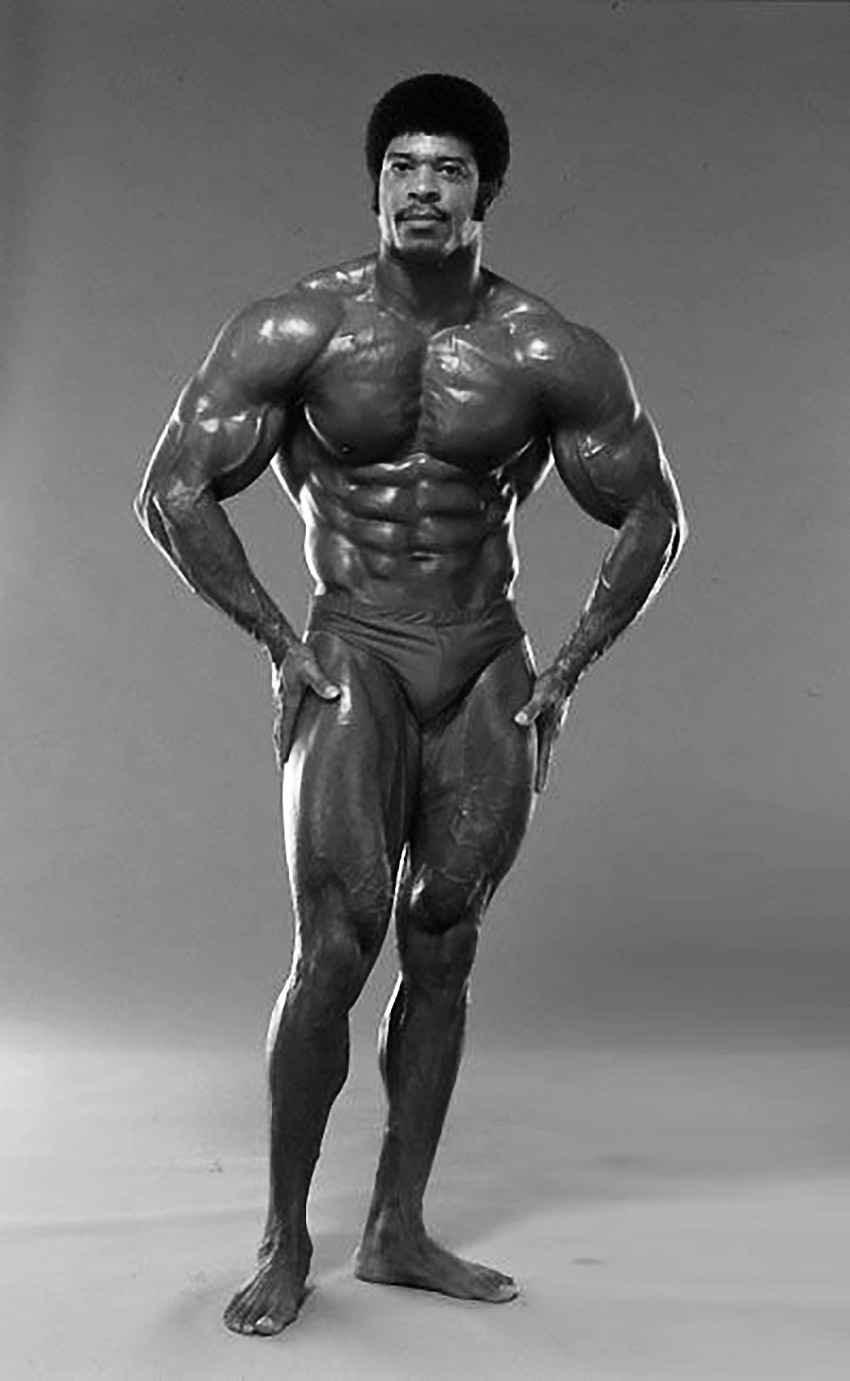 Bill Grant
Bodybuilder, Spokes Person, Personal Trainer, Company Director
The "Man of Steel" Bill Grant and his illustrious career within the sporting word of bodybuilding has touched generations of fitness enthusiasts the world over. His ambitions started at the ripe age of 9 years old. His training was simple but smart, he'd train anywhere he could, from the bedroom to a friend's backyard.
With a sporting background in high school and the desire to grow stronger than his competitors, Bill's thirst for size and strength propelled him to greatness.
Bill's decades of knowledge hasn't gone unnoticed, he's been awarded the lifetime achievement award for his efforts in helping others achieve their goals, as well as supporting many charitable events.
He's been a model for fitness and success for more than five decades, and this is his story:
---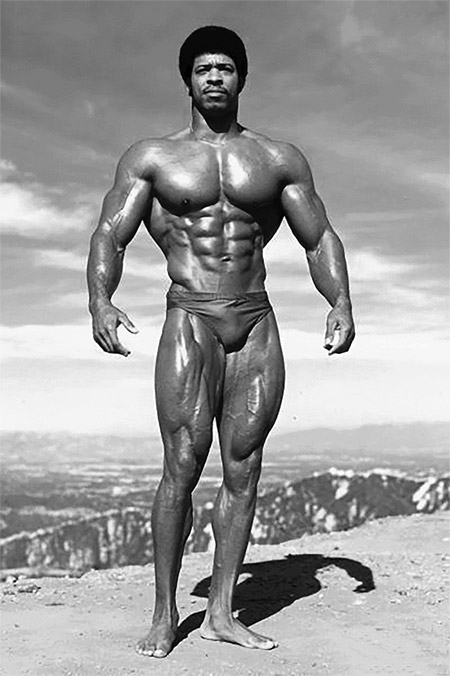 Athlete Statistics
Full Name: Bill Grant
Weight
Height
Year of Birth
Nationality
185 - 195lbs (83.9 - 88.5kg)
5'9" (175cm)
1946
American
Profession
Alias
Era
Bodybuilder, Spokes Person, Personal Trainer, Company Director
Man Of Steel
1960, 1970, 1980
| | |
| --- | --- |
| Weight | 185 - 195lbs (83.9 - 88.5kg) |
| Height | 5'9" (175cm) |
| Year of Birth | 1946 |
| Nationality | American |
| Profession | Bodybuilder, Spokes Person, Personal Trainer, Company Director |
| Alias | Man Of Steel |
| Era | 1960, 1970, 1980 |
---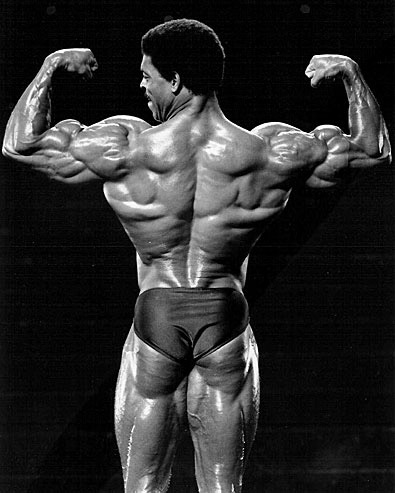 Accomplishments
1988 IFBB Night Of The Champions 13th
1988 IFBB Chicago Pro 13th
1986 IFBB Night Of The Champions 9th
1985 IFBB Night Of The Champions 11th
1984 IFBB Olympia 15th
1984 IFBB Canada Pro 7th
1984 IFBB Grand Prix World 7th
1984 IFBB World Grand Prix 7th
1984 IFBB World Pro 3rd
1983 IFBB Grand Prix Las Vegas (Caesars) 7th
1982 IFBB Grand Prix Belgium 7th
1982 IFBB Grand Prix Sweden 8th
1981 IFBB Grand Prix England 6th
1981 IFBB Grand Prix Belgium 7th
1981 IFBB Grand Prix California NP
1981 IFBB Grand Prix Wales 6th
1981 IFBB Pro World NP
1980 IFBB Night Of The Champions 7th
1980 IFBB Canada Pro 5th
1980 IFBB Grand Prix California 9th
1980 IFBB Grand Prix Pennsylvania 8th
1979 IFBB Night Of The Champions 5th
1979 IFBB Canada Diamond Pro Cup 6th
1979 IFBB Canada Pro NP
1979 IFBB Florida Pro 8th
1979 IFBB Grand Prix Pennsylvania NP
1979 IFBB Grand Prix Vancouver NP
1979 IFBB Pittsburgh Pro 7th
1978 IFBB Olympia 7th
1978 IFBB Night Of The Champions 3rd
1978 IFBB Pro World 6th
1977 IFBB Olympia 5th
1976 IFBB Olympia 4th
1974 IFBB Mr. International 1st
1974 IFBB Mr. World 1st
1973 IFBB Mr. International 2nd
1973 IFBB Mr. World 3rd
1973 IFBB Mr. World 1st
1970 AAU Junior Mr. America 3rd
1970 AAU Junior Mr. America 7th
1970 AAU Mr. America 12th
1970 AAU Mr. America 7th
1968 AAU Mr. America 17th
1968 AAU Mr. USA 6th
---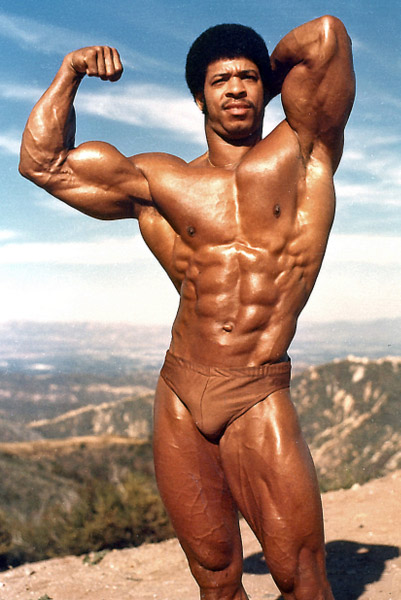 Biography
Weight Training At 9
When Grant was 9 years old he picked up his first set of weights, which was in fact, a barbell. But this was just experimenting in the early stages, it wasn't until when he was 12 that he started to get involved with bodybuilding. A close friend introduced him to weight training.
This friend had a set of weights in his backyard and showed Bill how to lift weights in the basic form. This was beginning of the Man of Steel and his journey into the world of bodybuilding. He didn't have the facilities to train as many people do now. In the "60s and "70s there wasn't local gyms or weight training clubs, so this had to do.
He recalls that he'd train in his basement or even in his bedroom. He would find anywhere he could to train until he turned 14 in 1960. This is when Bill joined the local YMCA, this is when he says "I really got started seriously".
The YMCA wasn't much to look at on his account, it was dark and dirty basement but a "great place!" It didn't have fancy machines or state of the art equipment, but it was a step up from training in his bedroom or in the backyard; Bill was in his element.
"The only machine we had was a leg press but it was made of wood! We also used truck gears for weights about 40 or 50 pounds. We didn't have all the fancy equipment the gyms have today. I weighed 110 pound and I was 4"9."
---
A young Bill Grant.
---
Being Bullied And Competing
With his small frame and weak muscles, he was constantly picked on by everyone; "I was always picked on, beaten by everybody even by the girls. I have two others sisters and they can beat me too. I got tired to be beaten all the time, I loved sport, but I couldn't play football because I was too small."
Bill had enough of the bullying and being unable to play sports in school which he loved so much. He went on to gain a massive 45 pounds to his skinny frame within the space of four years. Then, he took part in a competition called "Mr. High School New Jersey" where he positioned a respectable 5th place. This was his first taste of a competitive life and being on stage. His passion only grew stronger.
"I read all the magazines religiously and honestly I saw Serge Nubret in a magazine, and Sergio Oliva, Reg Park."
Competition History
History shows that Bill went onto have a successful career as a professional bodybuilder. In 1968 he entered his first serious competition Mr. USA and placed a respectful 6th. Then, he completed the very same year in the Mr. America where he placed 17th. This shook Bill into a realization that he needed to train harder to come back stronger for following year.
There was a slow and steady progression through the ranks as Bill climbed to the top of his game in 1972 where he walked home with 1st place in the Mr. World. He again took 1st place in 1974 Mr. World and Mr. International. Bill's career has been filled with top places for over two decades with competitions not only in the United States but also across Europe. With over 44 professional competitions under his belt, it's clear to see that Bill's a true champion.
---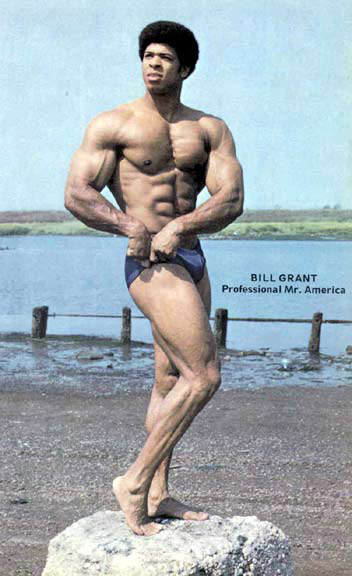 ---
Meeting Heroes In South Africa
Bill met Reg Park, one of his idols back in the early days of bodybuilding in 1975 on the film set "Pumping Iron" whilst in South Africa. He also recalls seeing Serge Nubret, another one of his idols. Meeting his inspirations, Bill can say first hand that Reg Park was a great guy and a true champion.
Whilst spending time in South Africa, he had the opportunity to rub shoulders and even share rides with his life-long heroes. Reg Park offered to pick Bill up from the airport upon his arrival into the country. At the time, when apartheid was still strong in some areas, it was a difficult time.
Bill remembers asking Reg where the toilet was in the airport, Reg replied that the toilets were segregated for black and white people. He said that the restroom for black people wasn't clean and not acceptable to use. Here's Bill talking about what happened next;
"He told me: If you can wait, you will go to my house and you can to go the bathroom there. I was really in shock; he introduced me to his son Jon, with today I'm still friend with… Reg was very kind to me. He offered his home for a week. He took me to one of his favorite restaurants in town. And as I walked into the restaurant, I could see the people looking at me, you know Reg was very famous in South Africa with all his movies. There were Blacks who were looking through the window and they were staring and seeing me sitting with Reg. It shows the real character of Reg, kind, loving, caring about the people."
Meeting heroes and making life long friends is what Bill loved deeply about the sport of bodybuilding and the characters it produced. He went on to compete for two decades winning titles and placing in respectable positions all through the "60s, "70s and "80s.
Bill's Professional Career
Bill's created and produced his own Comcast radio show and Cable television fitness program called "Fit for Life". It boasts a massive following of 1.5 million audience members per month. He's also appeared in movies such as ABC's Friday Night Movie of the Week, Hustler of Muscle Beach and Pumping Iron, which stars Arnold Schwarzenegger. Bill's also tried his hand at theater productions the Runaway Train and Smokey Robinson Review.
He's also appeared on numerous news shows around the globe such as the ABC, CBS, CNN, WOR, & ESPN stations, and also Fox News. Bill's become one of the leading spokespersons who advocates health and fitness through vigorous exercise programs, healthy nutrition choices, and a positive mental attitude.
Among being a spokesperson and starring in movies and commercials, Bill's also an active community and charity member. He's worked with leading organizations including the Metropolitan YMCAs of the Oranges Kids Care Club, Newark YMCA Sports Legends, the Parkinson's Unity Walk, and the Alan T. Brown Foundation.
With Bill's work within the industry for over 40 years, he's been awarded a lifetime achievement award from one of the major online bodybuilding companies. His charitable work and consistency in the sport has proven that Bill's love for bodybuilding has helped thousands around the globe.
---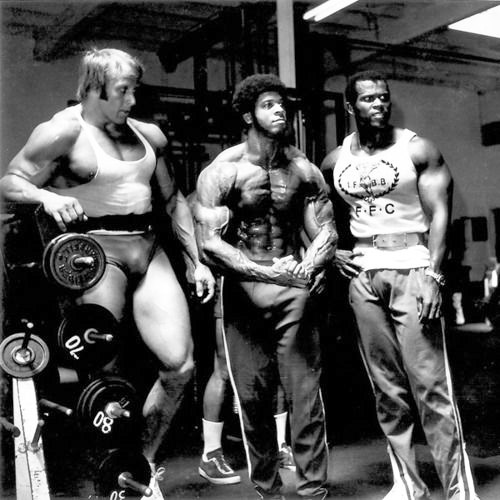 Training
His love for training couldn't stop Bill from finding any space he could to improve his body. This included training in his bedroom at 9 years of age, and then finally joining a YMCA when he was old enough. Bill's also been one of the greats that trained in Gold's Gym in the golden era. He was actually one of the first on the scene, and it's been said that he was one of Arnold's first training partners.
Bill found that a lot of the guys he would train with used high intensity and volume throughout the week. For Bill, this was too much volume. His body responded better to shorter training routines, "less-is-more" type of training. He would use intense focus and made sure that every rep counted.
Supersets
Being a huge fan of super-setting his workouts, Bill would utilize this type of training to get the most bang for his buck. For example, when he'd train his chest and back (something that's normally done in a superset workout, where the opposing muscles are worked one after the other) he'd then move on to shoulders. The shoulders would be worked using straight sets to round off his workout.
This type of workout won Bill the 1972 Mr. America title. It's also what got him to 1st place in the Mr. World in 1974.
Bill's Mr. America Workout
Monday: Chest/Back/Shoulders
Tuesday: Arms/Legs
Wednesday: Rest Day
Thursday: Chest/Back/Shoulders
Friday: Arms/Legs
Saturday: Rest
Sunday: Rest
---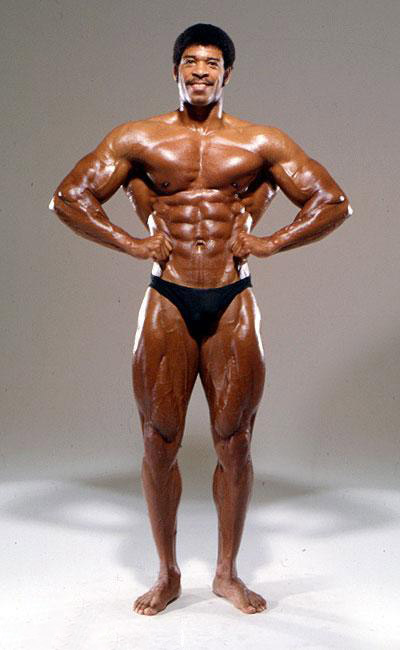 Nutrition
Bill's diet back in his early days of training still resembles the way he eats today. He eats four to five meals a day which consist of 60% protein, 30% carbohydrates, and 10% fat.
He's one of the lucky guys that doesn't really need to diet down hard, as he has a fast metabolism. So, eating healthy meals and eating often supports his's fat loss needs perfectly. 
Bill's Proteins
He takes a wide variety of supplements. He says this is because the foods are not clean today due to the way the soil has been treated. His main sources of protein will come from sources such as eggs, chicken breast, turkey, yogurt, non-fat milk, and non-fat cottage cheese.
Bill's Carbs And Veg
Like most Pro's, Bill diet consist of a large amount of high fiber carbohydrates, which help to balance his nutritional needs. These include rice, squash, potatoes, oatmeal, and whole grain pasta. He also likes to add legumes in there too, such as beans and peas.
High fiber vegetables like broccoli, asparagus, celery, cauliflower, cucumber, eggplant, green beans, mushrooms, onions, peppers, spinach, and zucchini, are all among the many healthy food choices that he makes daily in his goal for a healthy life.
Although Bill advocates healthy eating at all costs, he indulges occasionally. Here's Bill talking about moderation;
"Friday night is pizza night. I do allow myself to go off my diet occasionally. Good nutrition doesn't mean you can't eat your favorite foods on occasion. The trick is learning moderation and balance."
Bill's Diet For Contest Prep
Meal One: 

Bowl of oats, yogurt, 

creatine and amino acids.
Meal Two: Protein drink.
Meal Three: Rice and beans with eggs.
Meal Four: Filet mignon with yam.
Meal Five: Protein drink.
---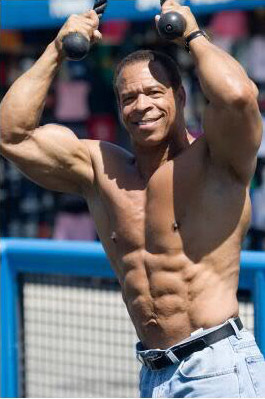 Idols and Influences
Bill was influenced by some of the great names in bodybuilding such as Serge Nubret, Sergio Oliva, and Reg Park. These idols are the ones that he looked up to and aspired to emulate. He worked hard his entire life to create the perfect physique. It's clear to see that Bill's achieved his dreams and has become a highly respected figure in the world of bodybuilding, just like his heroes.
---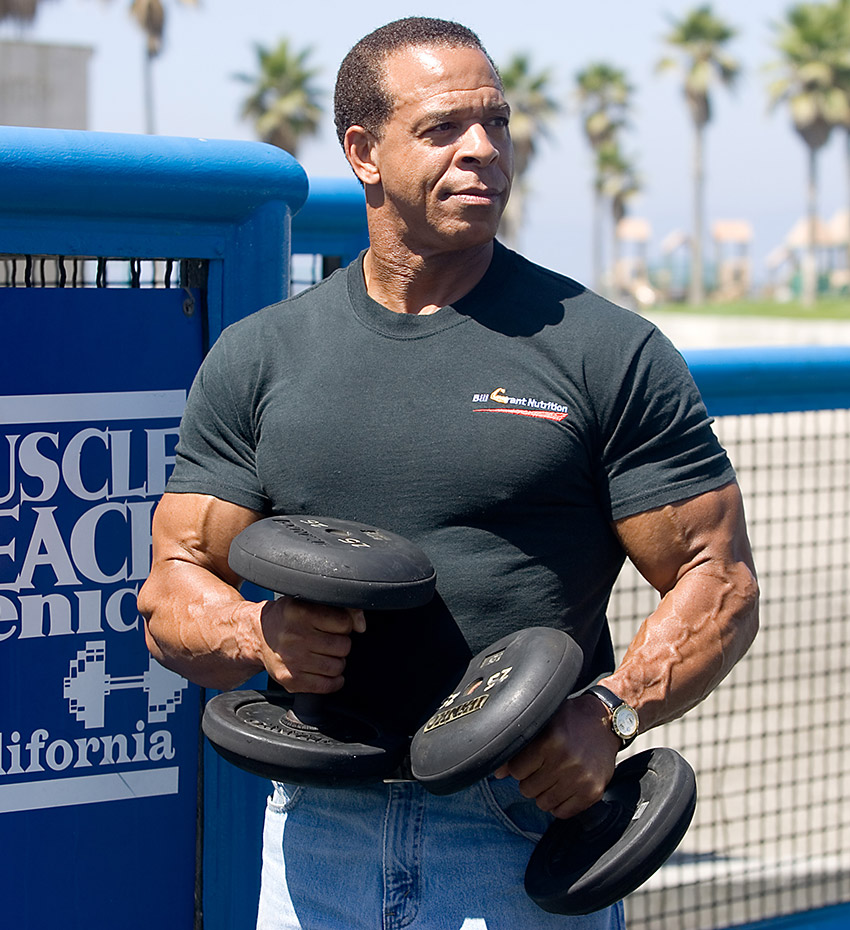 What we can learn from Bill Grant
Not all champions are born with good genetics, and whilst some make winning look easy, Bill's years of hard work and dedication shows otherwise. His pure love and unforgiving resistance to creating the perfect physique has brought him to the forefront of the sporting world within competitive bodybuilding.
Each individual is different in their approach to training; not everyone has to start training at 9 years old to see results, there's also some that start much later on in life. But there's one thing that's persistent among the ones who achieve their goals, and that's the commitment and drive to move forward. With the same mindset and attitude towards life, you too can achieve greatness.