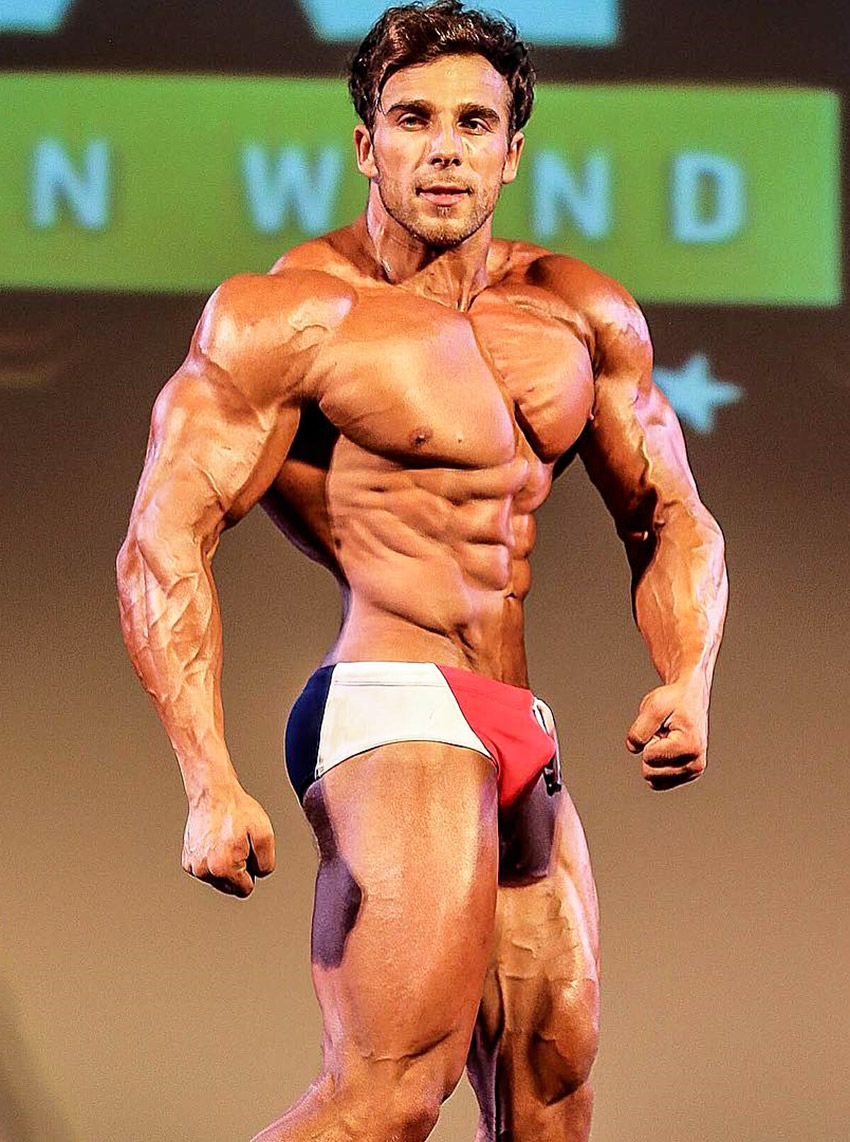 Artemus Dolgin
Bodybuilder, Fitness Model
Artemus Dolgin's journey on his way to becoming a professional bodybuilder is extremely inspiring. He moved to America with nothing and worked as a waiter and janitor in order to survive, determined to realize his dream of becoming a pro.
By 2016, after years of hard work and determination, Artemus had found success as a competitor and entrepreneur after starting a gym clothing company.
This is his story:
---

"You've got to love yourself so much… that your willing to take all the world's shit, like an iron shield that feels nothing, knows no one and fears nobody… be willing to go through all the pain no one else can stand to feel"
Athlete Statistics
Full Name: Artemus Dolgin
Weight
Height
Nationality
Profession
185 - 195lbs (83.9 - 88.5kg)
5'9" (175cm)
Russian
Bodybuilder, Fitness Model
Era
2010
| | |
| --- | --- |
| Weight | 185 - 195lbs (83.9 - 88.5kg) |
| Height | 5'9" (175cm) |
| Nationality | Russian |
| Profession | Bodybuilder, Fitness Model |
| Era | 2010 |
---

"I started competing may 2013, it was local NPC men's physique show in Rockford. I placed 4th in my class"
Accomplishments
2013 NPC Rockford, Men's Physique, 4th
2013 NPC Nationals Chicago, Men's Physique, 2nd
2013 NPC Team Universe, Men's Physique, 1st (Pro Card)
2013 IFBB Tampa Pro, Men's Physique, 6th
2014 IFBB New York Pro, Men's Physique, 15th
2014 IFBB Denver Mile High Pro, Men's Physique, 14th
2014 WBFF Sacremento, Muscle Model, 3rd
2014 WBFF Worlds Las Vegas, Muscle Model, 10th
---

"I was introduced to a rusty barbell by my father when I was 6 years old"
Biography
Early Life
Born and raised in Moscow, Russia, Artemus Dolgin became fascinated with bodybuilding from an early age. At the age of 6, Artemus' father gave him an old barbell. This was what motivated the youngster to begin his journey.
As soon as he was old enough, Artemus began lifting weights in his father's basement gym.
"My father built an old school basement gym in Russia, mostly for gangsters. I still remember its smell and the noise of those old Olympic weights that became music to me"
Making Progress
By the time Artemus entered high school, he'd grown into the most muscular kid in his year. At this point, he was invited to join his school Greco-Roman wrestling team.
However, after being inspired by the likes of Arnold Schwarzenegger and Danny Padilla, the future IFBB Pro began making plans to move to America.
He enrolled at the University of Kiev in the hope that a degree would allow him to make the big move to the US.
---

Artemus during his early teenage years in Russia.
---
Move to America
After graduating from College, Artemus finally fulfilled his desire and moved to Chicago, America. However, life wasn't easy at first for the Russain.
Although he continued training to sculpt his dream physique, he was forced to find work wherever he could to fund himself. He moved between numerous jobs, working as a waiter and janitor.
But his determination soon paid off.
American Scholarship
During his time working in a diner, Artemus drew attention for his formidable physique. As he served a group of athletes in the restaurant, Artemus was invited to train with a Greco-Roman wrestling team.
He impressed the head coach with his strong build and skill, and was accepted as part of the team – along with this accomplishment, he was granted a full scholarship to attend College in St. Louis, Missouri.
---
 
Artemus working out in Venice, Muscle Beach.
---
First Competition
By the time he'd graduated from College for the second time, Artemus had developed his dream figure. It was at this point that he set his sights on becoming a competitive bodybuilder.
Artemus entered his first competition in 2013 – the NPC Rockford in the Men's Physique category. Although he didn't win, he managed to place a respectable 4th with very little knowledge of stage-posing.
This made him more determined than ever to make a name for himself in the industry.
Pro Card
It wasn't long until Artemus had entered his 2nd show, the 2013 NPC Nationals Chicago. After practicing his stage routine, he placed a close second.
But his greatest achievement yet came in his third contest.
Later that year, Artemus walked on the stage of the 2013 NPC Team Universe with the aim of winning his first competition – and the Russian competitor managed exactly that.
Artemus walked away with the trophy, but he'd also realized his dream. Along with his victory, he'd earned his Pro Card, becoming a professional bodybuilder.
---

Artemus training in the gym.
---
Life as a Professional Bodybuilder
Over the course of the next year, Artemus entered 5 more shows. However, his experience in the pro leagues didn't go as planned.
Halfway through 2014, the Russian bodybuilder decided to change federations, from IFBB to WBFF – he became unhappy with the judging in the IFBB competitions, as they marked him down for his size.
As a WBFF competitor, Artemus entered shows in the Muscle Model category, placing 3rd and 10th that same year.
"I switched over to WBFF as I was poorly judged because of my size. I was told that I was 'too big' for physique"
Entrepreneur
In 2015, Artemus decided to pursue a career away from the stage. He founded a gym clothing company with several other bodybuilders.
By 2016, his company had become a success, sponsoring legends of the sport like Danny Padilla and Tom Platz.
---

"As I progressed at the sport, I realized the importance of understanding your body and truly connecting to it. I switch my routines all the time as well as intensity, volume and weight"
Training
Artemus always trains multiple muscle groups per session. He works out 6 days per week, allowing his body to recover on Sundays.
He switches his routines regularly so that he always makes progress.
Workout Routine:
Monday – Legs, abs
Tuesday – Back, biceps, abs, cardio
Wednesday – Shoulders, triceps, abs
Thursday – Legs, abs
Friday – Chest, abs, cardio
Saturday – Arms, abs
Sunday – Rest
---

"My diet is always changing depending on what I'm trying to accomplish: lean out or put on quality size"
Nutrition
Artemus never follows a specific diet plan, always changing things up to fit his goals (cut or lean bulk).
He aims to eat a balanced diet that fits his macros, planning his meals around lean proteins, green vegetables, and complex carbs – he stays away from processed foods and sugars.
Unlike other athletes, Artemus doesn't allow himself any cheat meals, always staying focused on his journey.
Supplements Stack:
Multivitamins
Fish Oil
Creatine Monohydrate
BCAA
Glutamine
Joint Support Supplements
---

"My goal is to inspire people all over the globe to live a healthy, fit, functional, and fun lifestyle"
Idols and Influences
It was Artemus' father that first encouraged him to lift weights, but he names Arnold Schwarzenegger and Danny Padilla as his main idols in the sport.
On social media, Artemus can often be found posting pictures of himself in the famous poses of "The Austrian Oak", Arnold and "The Giant Killer" Danny.
---

"I am here to show you that even the craziest dreams come true!"
What we can learn from Artemus Dolgin
Artemus has told us that we have to work hard to realize our dreams. His journey wasn't easy – he worked as a waitor and janitor in order to survive, but took his chance when he was given it.
One thing we can take away from Artemus' story is to never give up. You should always believe in yourself and never stop trying to reach your ambitions.