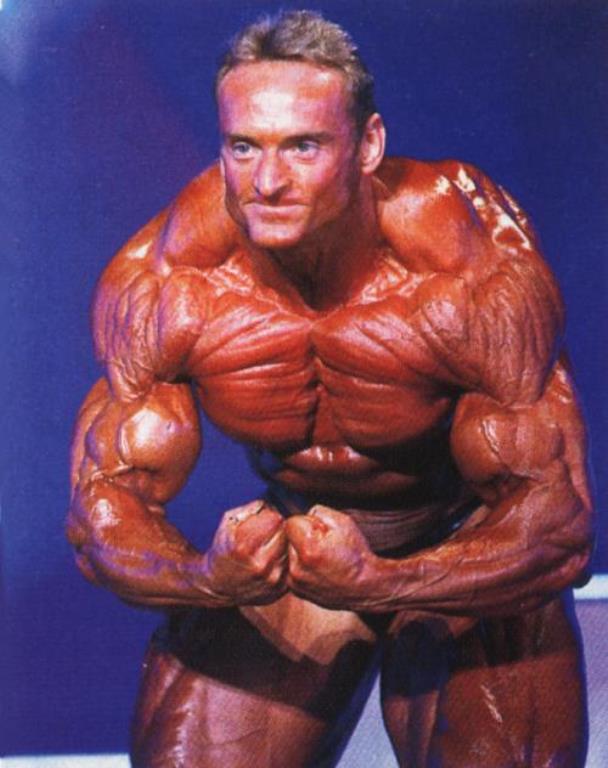 Andreas Munzer
Professional Bodybuilder
Andreas Munzer was a professional bodybuilder from Austria, known for his extremely ripped physique and tragic early death. His bodybuilding debut came in 1986, at the European Amateur Championships. Just three years later, Andreas entered the Pro Circuit, where he started competing with the best bodybuilders in the world.
Between 1989 and 1996, Andreas placed highly in numerous competitions. Including the Mr. Olympia, and Arnold Classic. During this period, he became known for his extreme conditioning and unnaturally low levels of body fat – something that some say was linked to his premature death.
On March 12th, 1996, Andreas' body started shutting down. He started bleeding from the inside, and his organs began to fail. Two days later, Andreas was pronounced dead.
Andreas' stays remembered for his long list of accomplishments. And for having one of the most conditioned physiques to ever grace the bodybuilding stage. This is his story:
---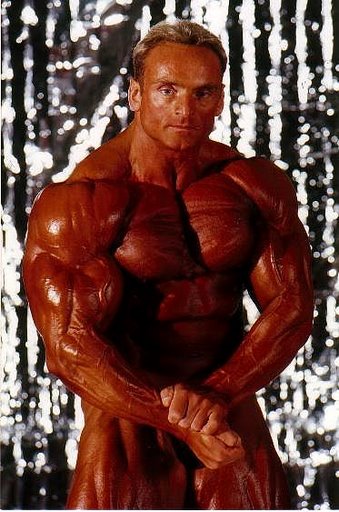 "The lesson I learned is that we too easily deceive ourselves into thinking we're exerting enough effort. To take ourselves over the top, enough is never enough. Only more than we ever thought possible is enough."
Athlete Statistics
Full Name: Andreas Münzer
Weight
Height
Arms
Chest
235 - 245lbs (106.6 - 111.1kg)
5'7" (170cm)
21''
58''
Date of Birth
Date of Death
Age at Death
October 25, 1964
March 14, 1996
31
Nationality
Profession
Era
Austrian
Professional Bodybuilder
1990, 1980
| | |
| --- | --- |
| Weight | 235 - 245lbs (106.6 - 111.1kg) |
| Height | 5'7" (170cm) |
| Arms | 21'' |
| Chest | 58'' |
| Date of Birth | October 25, 1964 |
| Date of Death | March 14, 1996 |
| Age at Death | 31 |
| Nationality | Austrian |
| Profession | Professional Bodybuilder |
| Era | 1990, 1980 |
---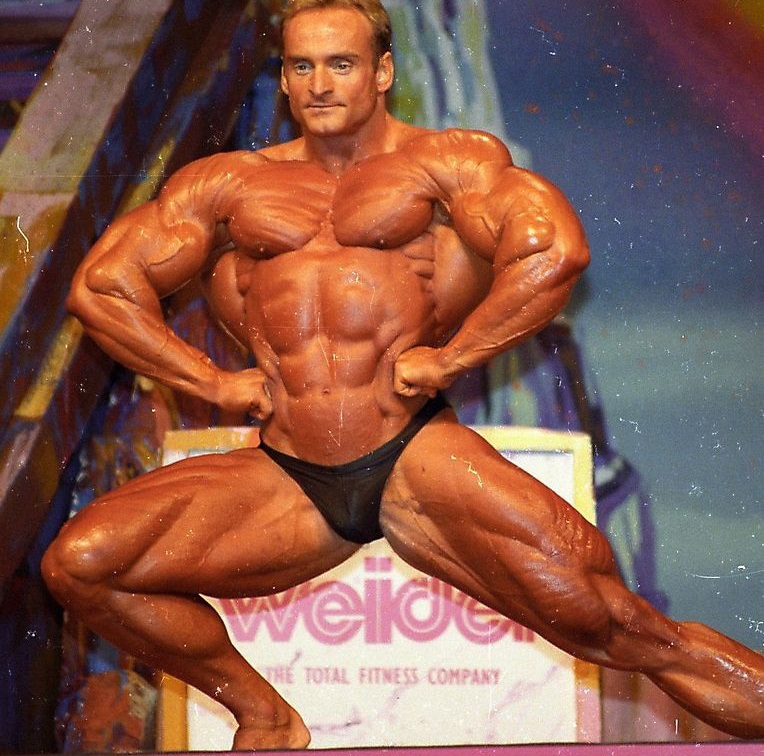 Accomplishments
 Bodybuilding Competitions
European Amateur Championships MiddleWeight, 1986, 6th
World Amateur Championships Light-HeavyWeight, 1987, 3rd
World Amateur Championships Light-HeavyWeight, 1988, 3rd
Mr. Olympia, 1989, 13th – IFBB Pro Debut
World Games HeavyWeight, 1989, 1st
Arnold Classic, 1990, 3rd
Grand Prix Germany, 1990 3rd
Mr. Olympia, 1990, 9th
Arnold Classic, 1991 9th
Ironman Pro Invitational, 1991 3rd
Mr. Olympia, 1991, Didn't place
Pittsburgh Pro Invitational, 1991, 4th
Arnold Classic, 1993, 7th
Grand Prix Germany, 1993 (2) 2nd
Grand Prix Germany, 1993 4th
Night of Champions, 1993, 2nd
Mr. Olympia, 1993, 9th
Arnold Classic, 1994, 5th
Grand Prix France, 1994, 8th
Grand Prix Germany, 1994, (2) 5th
Mr. Olympia, 1994 9th
Arnold Classic, 1995, 4th
Arnold Classic, 1996, 6th
San Jose Pro Invitational, 1996, 7th
---
Biography
Andreas' Start to Competing
Andreas Munzer was born on October 25th, 1964. His first bodybuilding show came in 1986. Wheer he took part in the European Amateur Championships, and took 6th place in the Middleweight class.
Two years later, Andreas qualified for the IFBB Pro circuit by placing 3rd at the 1988 World Amateur Championships.
Andreas made his Pro debut in 1989, at the famous Joe Weider's Mr. Olympia. He came as an outsider with little experience. But still, he managed to place 13th and beat some of the world's best bodybuilders.
First Victory
Andreas' first title in the Pro ranks came just a couple of months after his Mr. Olympia debut. It was the 1989 World Games contest, and Andreas came in 1st place.
In 1990, Andreas competed at the Arnold Classic for the first time. Where he finished among the top 3 contestants.
---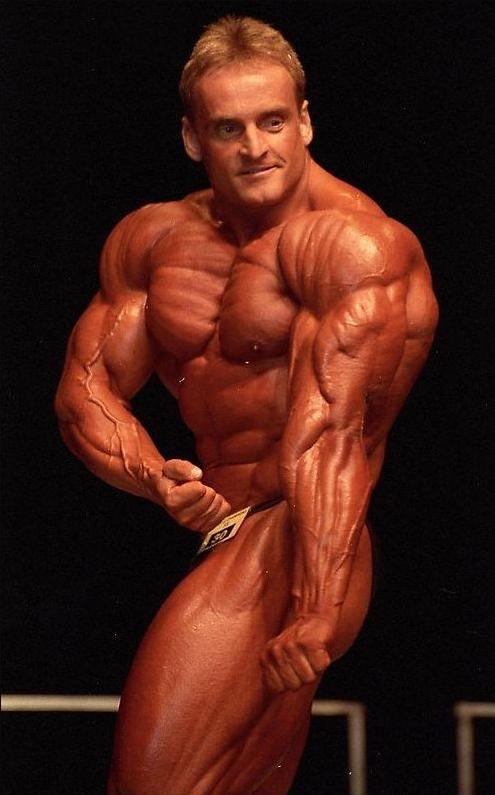 ---
Later Contests
Between 1990 and 1996, Andreas partook in 19 competitions. His best results during this period were;
3rd place at the 1991 Ironman Pro Invitational
2nd place at the 1993 Grand Prix Germany
2nd place at the 1993 Night of Champions
Top 9 at the 1993 Mr. Olympia
4th place at the 1995 Arnold Classic
Even though he didn't win any major competition during this period, Andreas was held in a high regard among other professional bodybuilders. His outstanding posing performance, and possibly the best conditioning ever seen. Which all made him a frightening opponent on the bodybuilding stage.
However, it was this extreme conditioning that was linked to Andreas' premature death.
Early Demise
During his last two competitions in 1996. Andreas felt unusual pain in his muscles, and later, in the stomach as well. However, he didn't pay much attention to the pain at first.
But after several months, the pain became so intense that Andreas could no longer endure it. He immediately went to a hospital, and was admitted there on March 12th, 1996.
Andreas' internal organs started bleeding, his liver and kidney failing shortly after. The doctors tried to stop bleeding by operating on Andreas and offering him a blood transfusion. But unfortunately, Andreas' condition was so severe that he died two days later, aged 31.
The official cause of Andreas' death was "dystrophic multiple organ failure".
---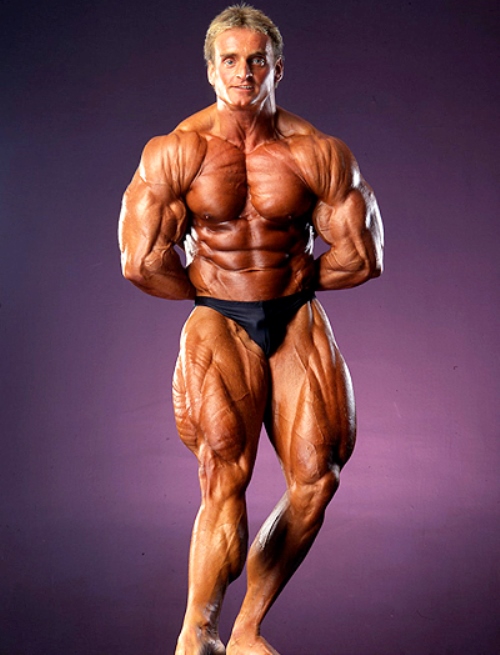 ---
Post-Mortem Findings
After his death, the autopsy revealed that Andreas had an extremely high muscle mass index with almost zero fat in his body. Also, his liver had a number of large tumors which destroyed the organ from the inside.
Andreas' heart weighed 636 grams, which was over 300 grams more than a heart of an average man.
While he competed, Andreas used various drugs and diuretics to help him achieve his extremely low levels of body fat – this was another possible reason for his death at the age of 31.
Funeral
Arnold Schwarzenegger, a friend and one of Andreas' idols in bodybuilding, sent a wreath to Andreas' funeral in Styria, Austria, with the message reading; "A last greeting to a friend."
---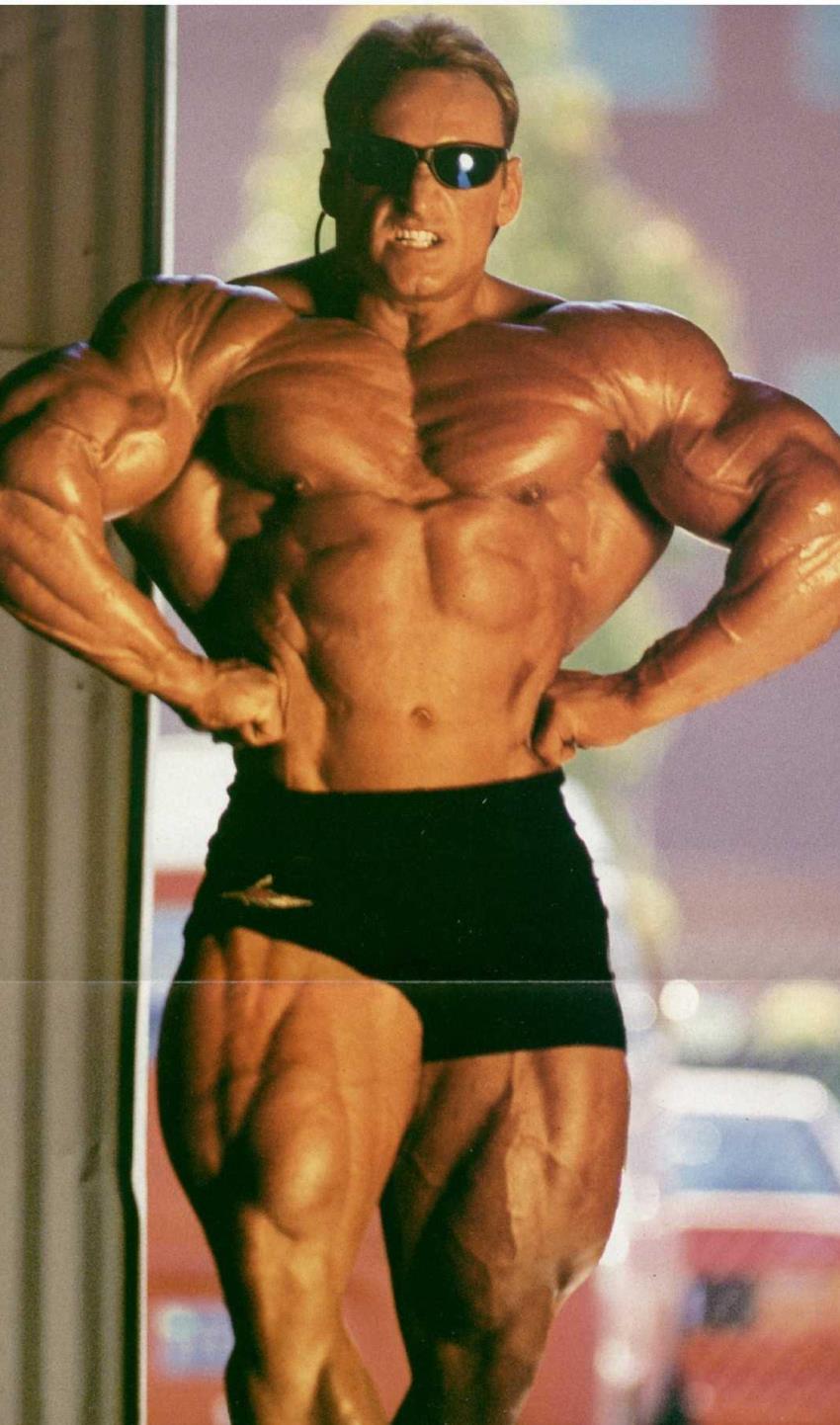 "In training, you must constantly go beyond failure, lift as heavy as you can six days a week. Preferably on a double-split routine, and stay with it for years in order to build the muscles from deep inside your body all the way to the surface of your skin."
Training
Heavy and Intense Leg Workout
During the early stages of his bodybuilding journey, Andreas said he realized his legs weren't up to par with the rest of his body. In Andreas' own words; "It wasn't until two years into my bodybuilding career that I realized my legs were a weak point." – Andreas Munzer
From that point on, Andreas started prioritizing his legs. He would train them with the utmost intensity, doing whatever was necessary to make them grow. He trained them with extremely heavy weights at a low rep range. Somewhere between 6-8 reps per set.
Sometimes, Andreas would even push past this rep range with the help of his training partner, and do as many reps as he could. He did every exercise as if it was the last set of the workout.
Here's Andreas Munzer talking about his 'two cents' on leg training; "You must face the fact that leg training is the most difficult of all
body part workouts, so prioritize it.
Your leg training should receive most of your mental preparation and most of your physical effort, but the benefits will be the most inspirational you'll experience. In addition, heavy leg training is synergistic: the rest of your body will accelerate in growth in direct proportion to the intensity of your leg training." – Andreas Munzer
---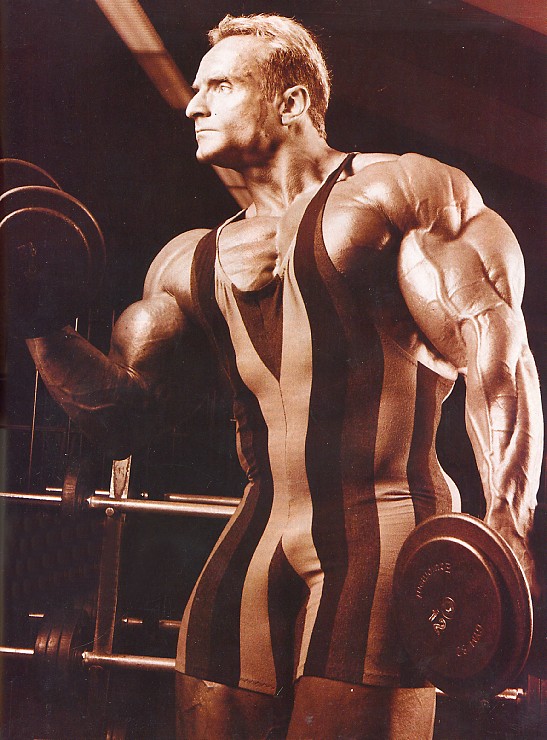 ---
Full Leg Workout Routine
Squats, 4 sets of 8-12 reps
Hack squats, 4 sets of 8-12 reps
Leg extensions, 4 sets of 8-12* reps
Lunges, 4 sets of 8-12 reps

Lying leg curls, 4 sets of 8-12* reps
Seated leg curls, 4 sets of 8-12* reps
Standing leg curls, 4 sets of 8-12* reps
"My favorite hamstring exercise is lying leg curls for four sets. When I hit failure with my very first set, I have my partner start pulling hard against the pad, forcing me to do three or four negative reps." – Andreas Munzer
---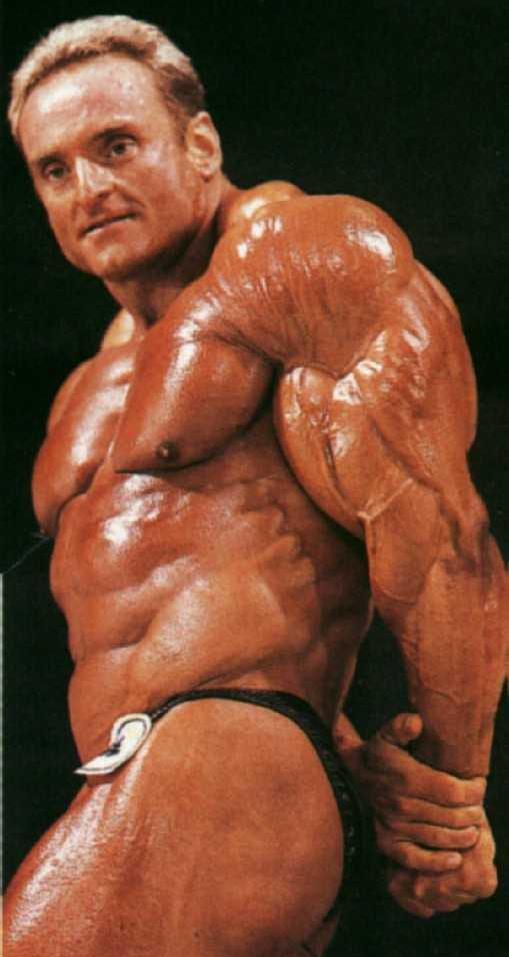 Nutrition
Overall Diet of Andreas Munzer
One of the ways Andreas sculpted his incredibly ripped physique was through his diet.
He only ate the leanest of foods to ensure low body fat levels. These foods included turkey breasts, plain chicken breasts, rice, potatoes, etc.
He kept this approach to diet year after year. Which, despite its health consequences, allowed Andreas to stay ripped for long periods of time.
Adding Mass
Occasionally, when Andreas wanted to add mass to his frame. He would increase his daily calories to 6000 or even more calories; still making sure to get them through lean foods.
This way, Andreas would add pounds of muscle to his frame, gaining very little fat along the way.
Cutting Down
Just as he was extreme with his approach to training, Andreas' 'cutting' diet was no different.
To lose last bits of body fat for a contest, Andreas would drop his caloric intake from 6000kcal to 2000kcal. This would get him to extremely low levels of body fat after several weeks, and allow him to bring possibly the most ripped physique ever seen on the bodybuilding stage.
---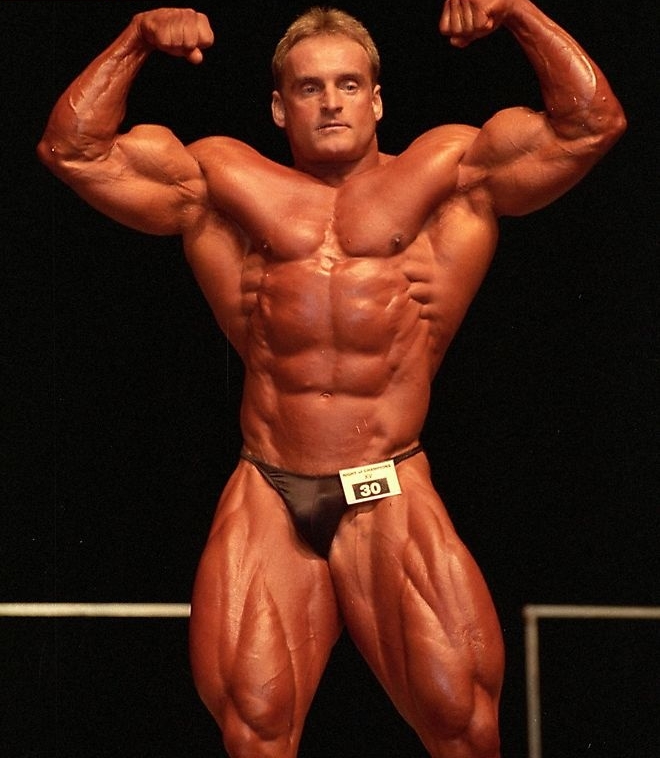 Idols and Influences
Andreas was a big admirer of his fellow bodybuilder and countryman Arnold Schwarzenegger aka The Austrian Oak. The two met for the first time at the Arnold Classic contest in 1996, where Andreas came in 6th place.
---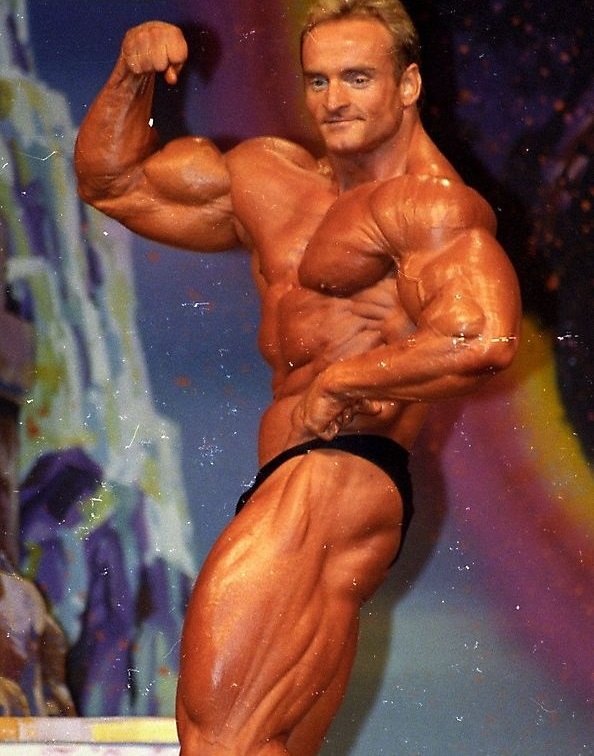 What we can learn from Andreas Munzer
Having a unique approach to bodybuilding, Andreas Munzer stood out from the crowd every time he stepped on the stage. His impressive stage presence, alongside his 'razor sharp' conditioning, cemented his status as one of the greatest bodybuilders of the 90s.
What we can learn from Andreas Munzer and his story is: Always put health as your number one priority in life. Exercise regularly, eat a healthy diet, but make sure to give your body enough time to recover.
Andreas was fascinated with bodybuilding so much, that he knew of no other way than to train extremely hard, and follow an insanely disciplined diet; without taking any breaks. Unfortunately, this was one of the things that cost him his health, and life.
Ultimately, what Andreas' story tells us is that you should always have a balance in life. Work hard, but also give yourself time to relax and enjoy the fruits of your labor. This way, you'll ensure long-term growth and success for yourself.