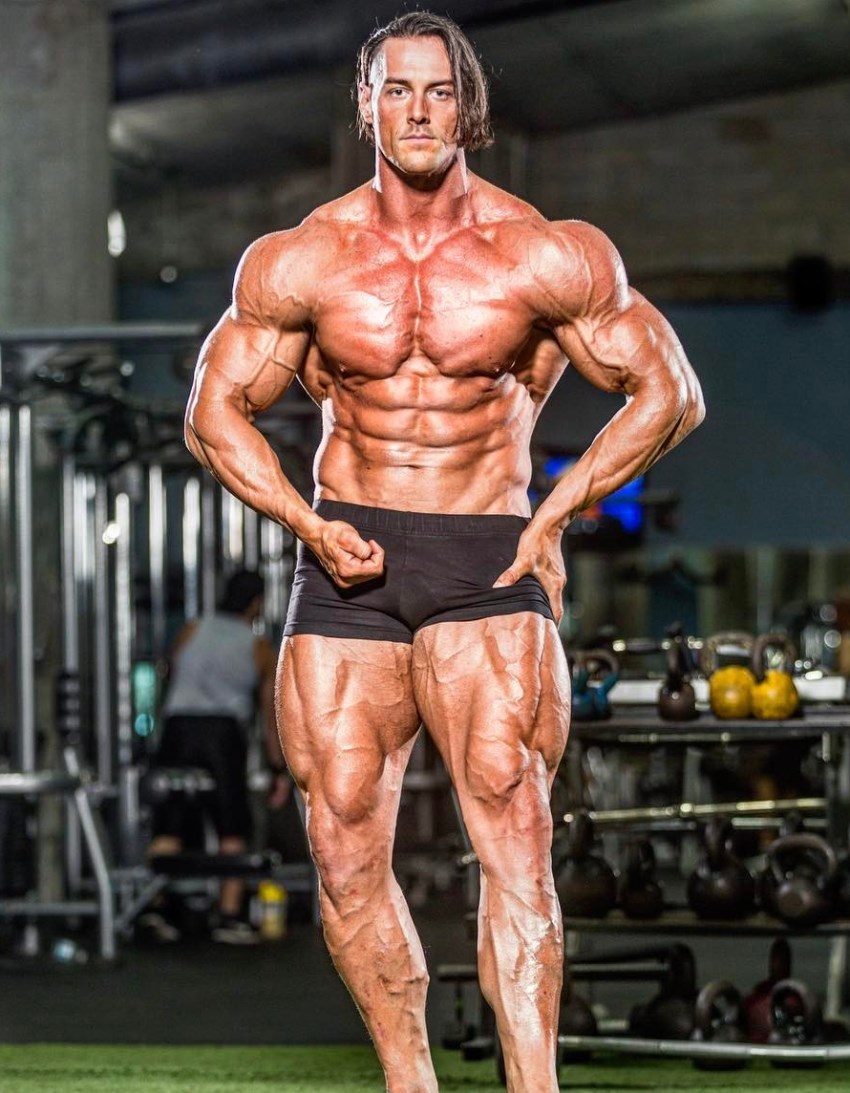 Aaron Reed
Professional Wrestler, Competitive Bodybuilder, Author
Aaron Reed is a professional bodybuilder and an ex-WWE wrestler from Tampa, Florida. At 6'7", he's one of the tallest bodybuilders in the world, and officially, the tallest bodybuilder to win a Men's Physique competition.
Seeking inspiration from his idol Arnold Schwarzenegger, Aaron has enjoyed a successful career as a professional wrestler, and, competitive bodybuilder. He's won shows such as the 2001 NPC Mr. Teen Colorado, the 2010 NPC Florida State Super Heavy Weight Champion, and the 2011 NPC Orlando Metropolitan Men's Physique. He's also become a published author, creating a book on nutrition and living a healthy lifestyle.
However, Aaron didn't always have it easy. As a child, he was diagnosed with leukemia, and later in his WWE days, hepatitis. Fortunately, he was able to beat the illnesses, and live his life to its fullest.
This is his story:
---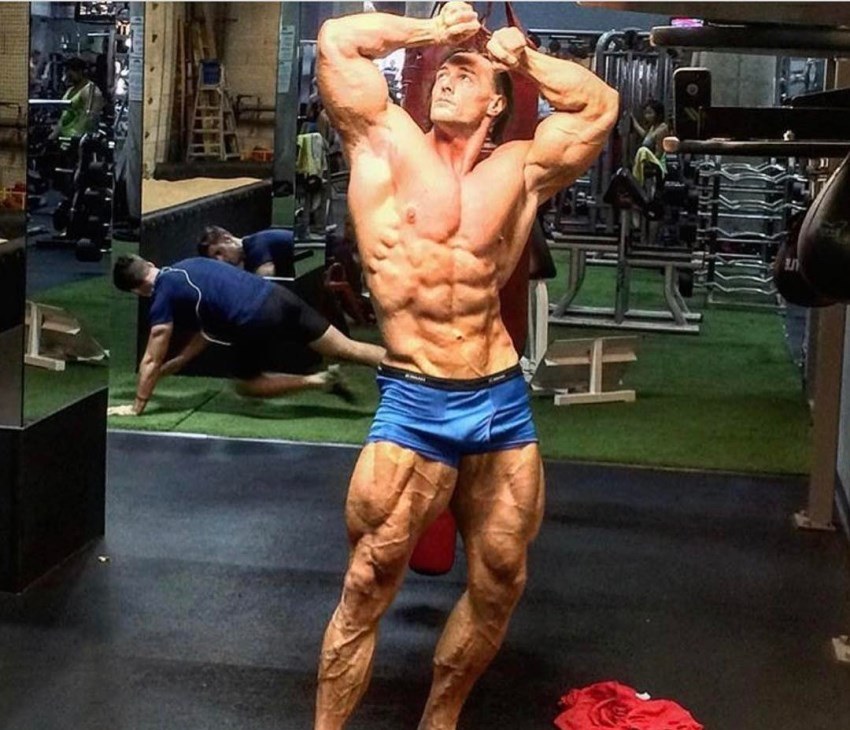 "You are stronger than your situation, your finances, your genetics and your pain! Your are powerful! You just have to believe."
Athlete Statistics
Full Name: Aaron Reed
Weight
Height
Nationality
Profession
295 - 310lbs (133.8kg - 140.6kg)
6'7" (200.5cm)
American
Professional Wrestler, Competitive Bodybuilder, Author
Era
2000, 2010
| | |
| --- | --- |
| Weight | 295 - 310lbs (133.8kg - 140.6kg) |
| Height | 6'7" (200.5cm) |
| Nationality | American |
| Profession | Professional Wrestler, Competitive Bodybuilder, Author |
| Era | 2000, 2010 |
---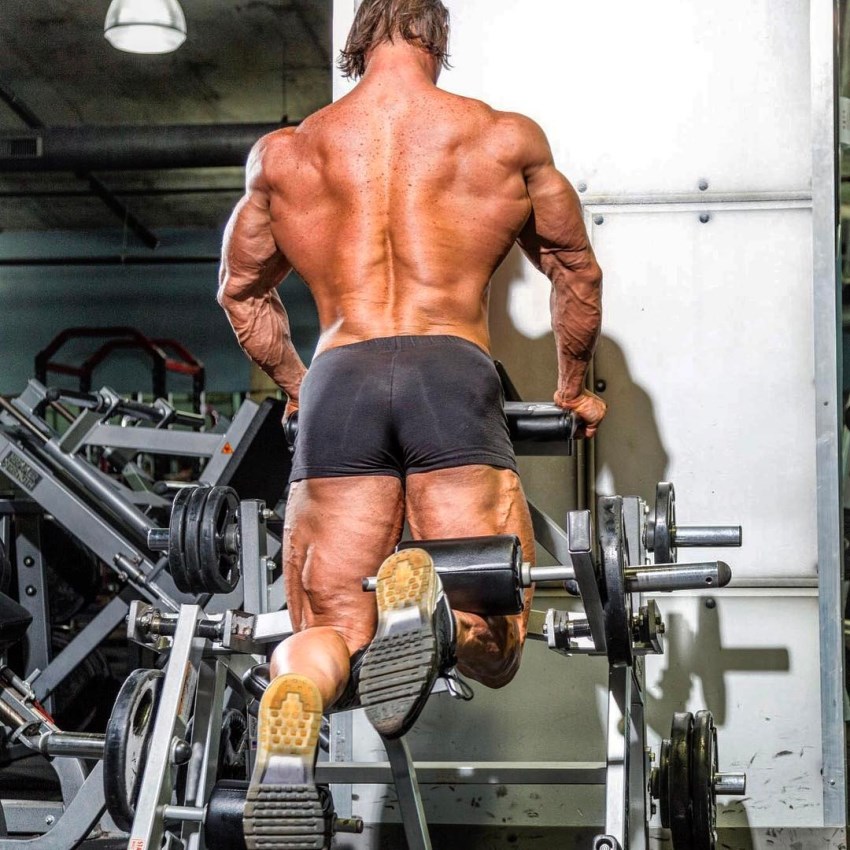 "As my reach gets bigger my circle gets smaller. Surround yourself with people that want to see you succeed and motivate you."
Accomplishments
Bodybuilding Competitions
2013 Muscle Mania Universe Runner Up
2012 Muscle Mania Universe Runner Up

2011 NPC Europa Show of Champions, 4th
2011 NPC Orlando Metropolitan Men's Physique Overall Champion

2010 NPC Florida State Super Heavy Weight Champion

2011 NPC USA Championships, 10th
2010 NPC Greater Gainesville Overall Champion

2005 NPC Steele City Heavy Weight Champion

2002 NPC Rocky Mountain Super Heavy Weight Champion


2001 NPC Mr. Teen Colorado
Movie Appearances
---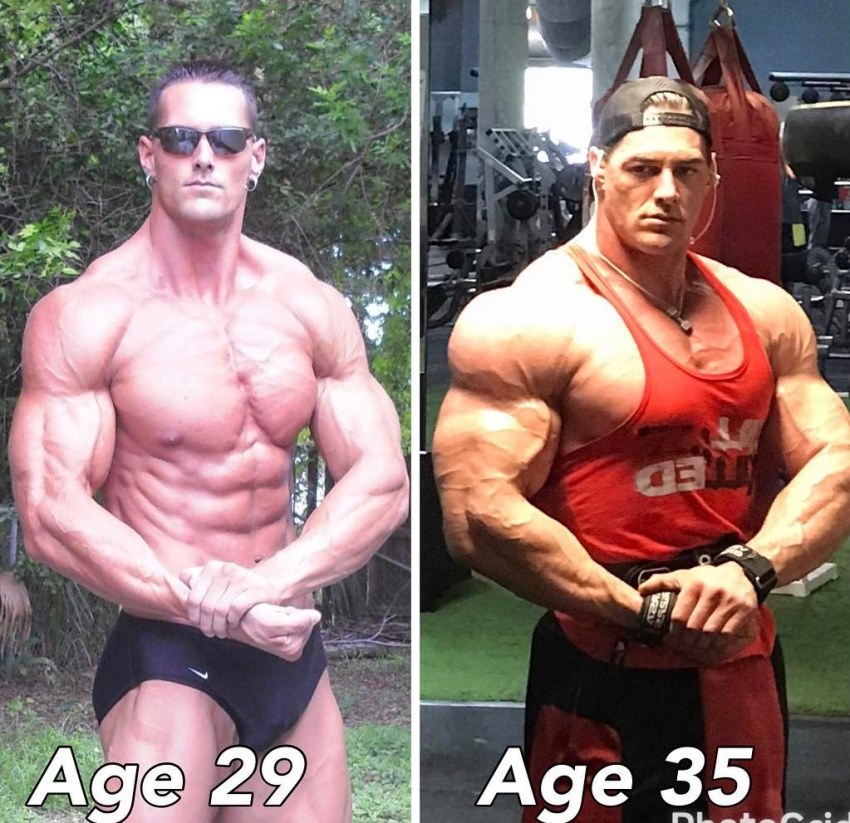 "If you know where you came from, you can decide if you like where you are going. In the end, you can't decide how you start, but you can decide how you finish."
Biography
Fight with Leukemia
Aaron Reed was born and raised in the small city of Minco, Oklahoma. Coming from a family with an athletic background, Aaron began following in their footsteps from an early age.
However, he had a major setback – he was diagnosed with leukemia while he was still a little child. The terrifying illness required the youngster to undergo a chemotherapy treatment.
Turning to Fitness
After years of struggle with the illness, Aaron fought the illness, and eventually he fully recovered. Moreover, he was finally able to live a normal and active life.
As he was always fascinated with fitness and weightlifting, it was no surprise that Aaron started training in the gym. Inspired by the one and only Arnold Schwarzenegger, Aaron embarked on his fitness journey at the age of 12.
He noticed progress in his strength and size fairly quickly, thanks to his fitness coach and a mentor. He said; "My childhood mentor, Gus Handke, taught me how to squat, bench, and deadlift. After two weeks of training, I was able to bench 115lbs and deadlift 300lbs. I was twelve years old, and hooked for life."
In the beginning of his fitness journey, Aaron made a lot of mistakes which hindered his progress. He would lift weights six days per week, training two muscle groups a day. Despite his hard-working attitude and mentality, this type approach was yielding little results. However, this changed over time – he slowly began paying more attention to his nutrition, as well as his training frequency.
---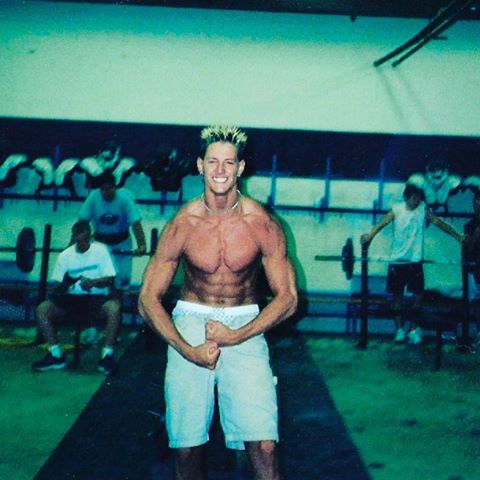 Aaron in high school.
---
Competitive Beginnings
After graduating from Minco High School, Aaron enrolled in Messa State College to study business. It was during this time he developed an insatiable thirst for competitiveness, after witnessing his physique transform.
This "competitive itch" led Aaron to participate in bodybuilding shows. His debut came in 2001, winning the NPC Mr. Teen Colorado title. 
Motivated by his early success, Aaron continued getting respectable results at local and regional bodybuilding competitions.
At this point, Aaron decided to drop out of college and fully focus on his career in bodybuilding. He started studying nutrition and exercise to further improve his physique and ultimately win more competitions.
Three Years, Two Titles
One year after his first victory on the stage, Aaron was successful once again. This time he won the 2002 NPC Rocky Mountain competition, in the super heavyweight category.
He then took two years to perfect his physique, to return in the best shape of his life. His return was nothing short of amazing – at 6'7", and 310 pounds, Aaron demolished his competition at the 2005 NPC Steele City show, taking home the title of the Super Heavyweight Champion.
---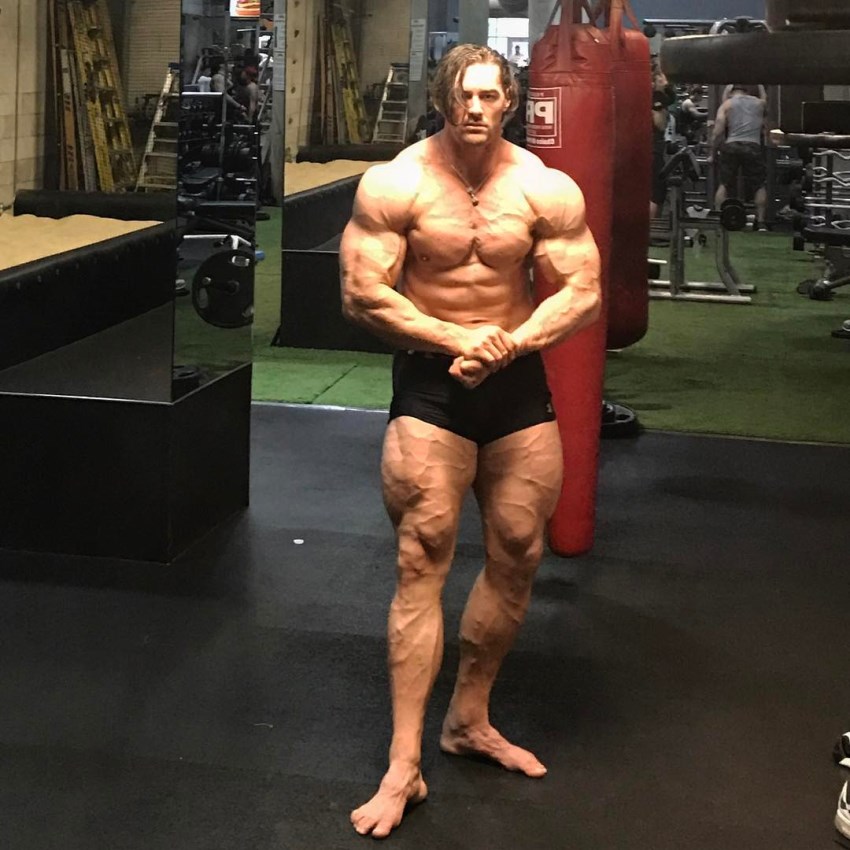 ---
Wrestling Career and Hepatitis
After winning the show, Aaron took a step back from competitive bodybuilding and turned his focus to wrestling. He was always fascinated by wrestling as a child, but it wasn't until he contemplated his next moves, that he decided to try and make a career out of it.
In August 2009, he became a professional wrestler by signing a contract with WWE.
His professional wrestling career didn't last long – after being injured during one of the matches, Aaron discovered he had hepatitis. This left him with only one choice – going back to chemotherapy treatments.
However, Aaron decided this time he would treat the illness with a healthy diet. As a result, Aaron was able to beat hepatitis in several months.
Back on the Stage
In 2010, Aaron came back to his old bodybuilding routine. He once again put the spray tan on, and stepped on the stage at the 2010 NPC Greater Gainesville.
Having just came back from a long period of abstinence from competing, Aaron surprised everyone when he took home 1st place that day.
Despite his early success upon returning to bodybuilding, 2011 started off badly for the American. He was only able to take home 10th place at the NPC USA Championships, missing his opportunity to win the Pro Card.
However, he didn't let that influence his later results. In fact, he came back strong several months later, winning the 2011 NPC Orlando Metropolitan Championship (Men's Physique, Overall category). This victory saw him become the tallest bodybuilder to ever win a Men's Physique competition.
---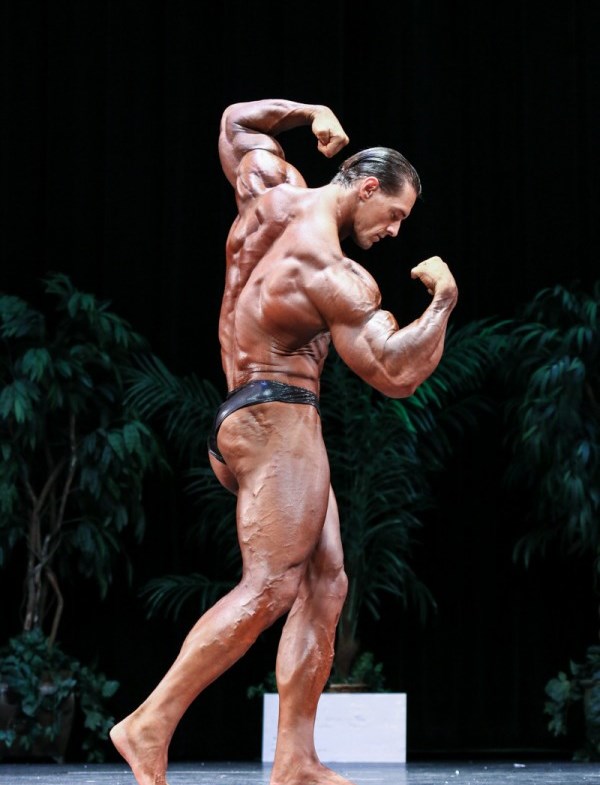 ---
Later Competitions
For the following three years, Aaron competed at a number of bodybuilding shows.
His last show of 2011 was the NPC Europa Show of Championships, where he took home 4th place. In 2012 and 2013, he was a runner-up at the Muscle Mania Universe.
Nutrition Expert
Since his last competition of 2013, Aaron has become involved in writing and nutrition coaching. He's published his own book on diet and lifestyle, and in the process, become a nutrition expert.
Nowadays, he shares his fitness-related advice with his fans, and motivates them to overcome obstacles in their lives – just like he did.
---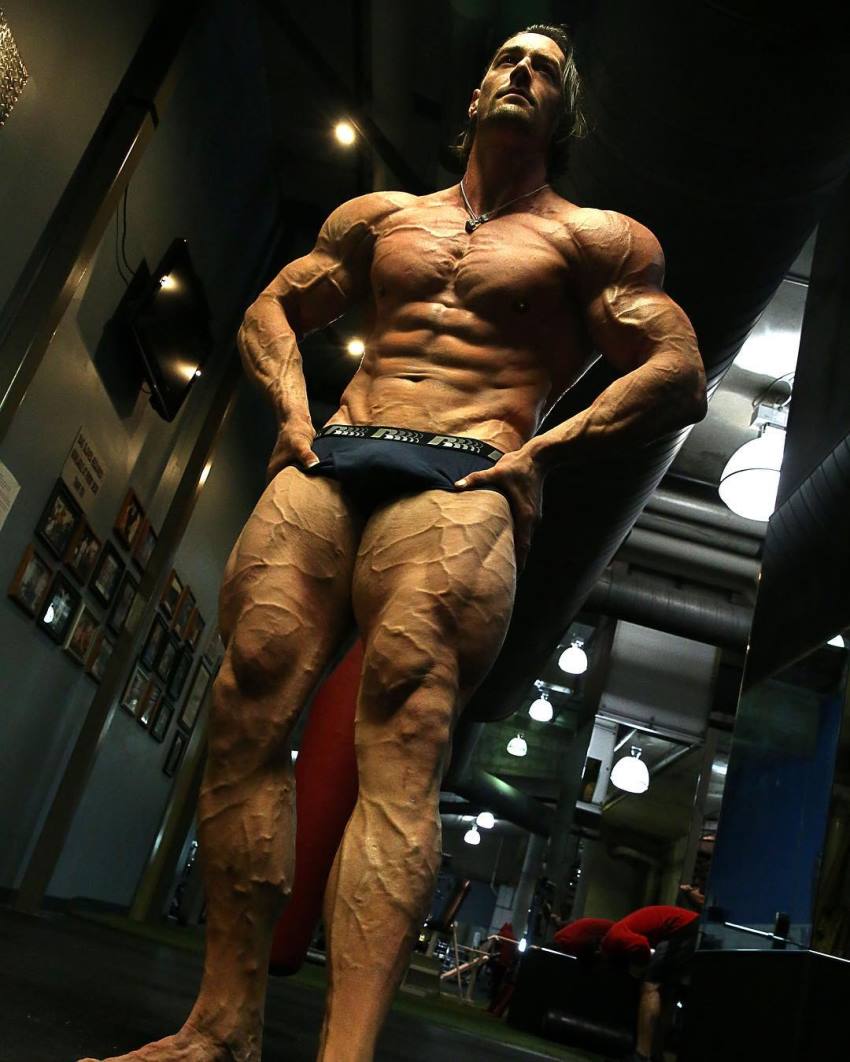 Training
Aaron's training sessions last between 1-2 hours. He believes that any more time spent in the gym is a waste. If he's training hard, it doesn't take him much longer than one or two hours to finish a workout.
When training legs, Aaron likes to aim for a high number of repetitions – somewhere around 20. However, he'll change that every now and then with a couple of heavy sets and low reps to make his muscles "remember how to lift and push".
His back responds best to 8-12 repetitions, arms to 6-8, chest to pyramid work, and shoulders to 12+ reps.
Workout Routine
Monday: Two Times per Day Split
6:45am
Morning workout explosive conditioning sprints 8 x 100-yard dash or stairs
5:30pm
Evening workout is Functional training:
Hand cleans (Real Heavy, 300lbs is my best),
Heavy upright rows
Heavy shrugs, all for 5 sets of 5 reps
Calves exercises, 3 sets of 10 each
serratus- Hangers for two sets of 10 and Russian twist 2 sets of 25
Afterwards posing for 45 min
Tuesday: Chest, Abs, Calves
Bench Press (Pyramid) – 10, 8, 6, 4
Dumbbell Press (Pyramid) – 10, 8, 6, 4
Dumbbell Flys, 4 sets of 12 reps
Cable Flys, 4 sets of 12 reps
Push-ups, till failure
Dips, till failure
2 calves exercises for 3 sets of 10
Sit-ups and leg raises for 2 sets of 15 to 25 each
Posing 45 min
Wednesday: Back, Hams, Serratus, Calves
Deadlifts (Heavy), 4 sets of 5-8,
T-bar Rows (Heavy, old school), 4 sets of 6-8,
DB Row (Heavy) 3 sets of 5
Heavy Seated Rows, 3 sets of 8-10
Pull-ups, 3 sets 10,
Lat pulldowns, 3 sets of 8-10
Close grip pulldowns, 3 sets of 10
Standing straight arm lat pulldowns for a finisher, 2 sets of failure
Horizontal Calve, 3 sets of 10
Standing one leg calve, 3 sets of 10
Thursday: Off
Friday: Two a Day Workout
6:45 am workout: explosive conditioning, same as Monday
5:30 pm workout: Arms, Calves, Abs
Tri's Press downs for warm up 2 or three sets of 10
Skull crushers superset with close grip pressed for 3 sets of 10 reps then 15 reps
One-arm overhead cable ext 3-4 sets of 10-12 reps
Finish with one arm cable reverse curl or kickbacks to failure
Heavy standing alternating dumbbell curls, 4 sets of 5 adding weight.
Preacher curls 4 sets of 8, standing one arm isolation curls with elbow on the incline bench for 2 sets of burnout
Donkey calf raises, 3 sets of 10
standing calve, 3 sets of 10
Sit-ups and leg raises, 2 sets of 15-25 reps
Posing afterwards
Saturday: Quads, Calves
Leg extensions, 3 sets warm up
Squat 5 – 6 sets of 8-15 reps, start light
Hack squat, 3 sets of 15
Leg press (feet low and close), 4 sets of 25
One leg squat, 2 sets of 15
Leg extensions, 3 sets 10-12
Seated calf raises, 4 sets of 10
Sunday: Shoulders, Neck, Abs, Calves
Seated dumbbell press, 4 sets of 8-10
Standing Shoulder fly, 4 sets 20
Bent over fly, drop set, 3 sets
Rear Delt machine, drop set, 3 sets
Neck Machine front back, left, right for 3 sets of 10, superset with calves, 3 sets of 10
Sit-ups and leg raises, 3 sets of 15-25 reps
---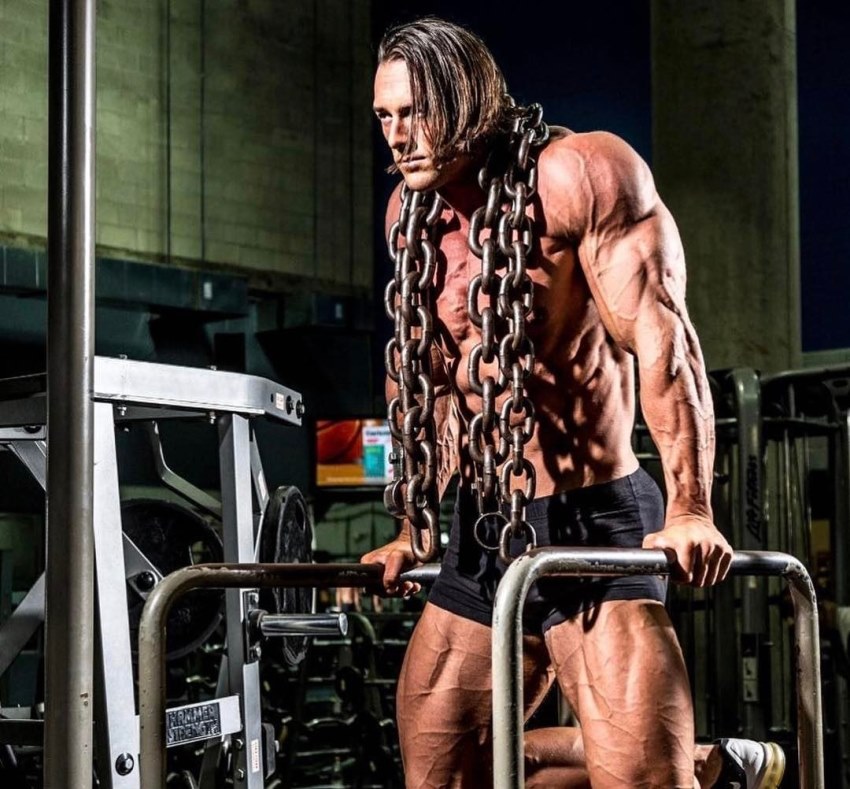 Nutrition
Aaron eats the same foods throughout the whole year, which means his weight changes only a couple of pounds from one year to the next.
His protein intake ranges between 350-400 grams per day. With his height at 6'7," and weighing over 310 lbs of lean mass, it's necessary for Aaron to consume this much protein in order to retain hi strength.
He also makes sure to time his meals to the exact minute. According to him, timing is crucial for natural athletes.
If he has sugar cravings, Aaron will usually consume some sort of fruit.
Aaron's Top 3 Dieting Tips
Eat whole foods
Don't combine sugar and fat
Eat certain macronutrients at certain times
---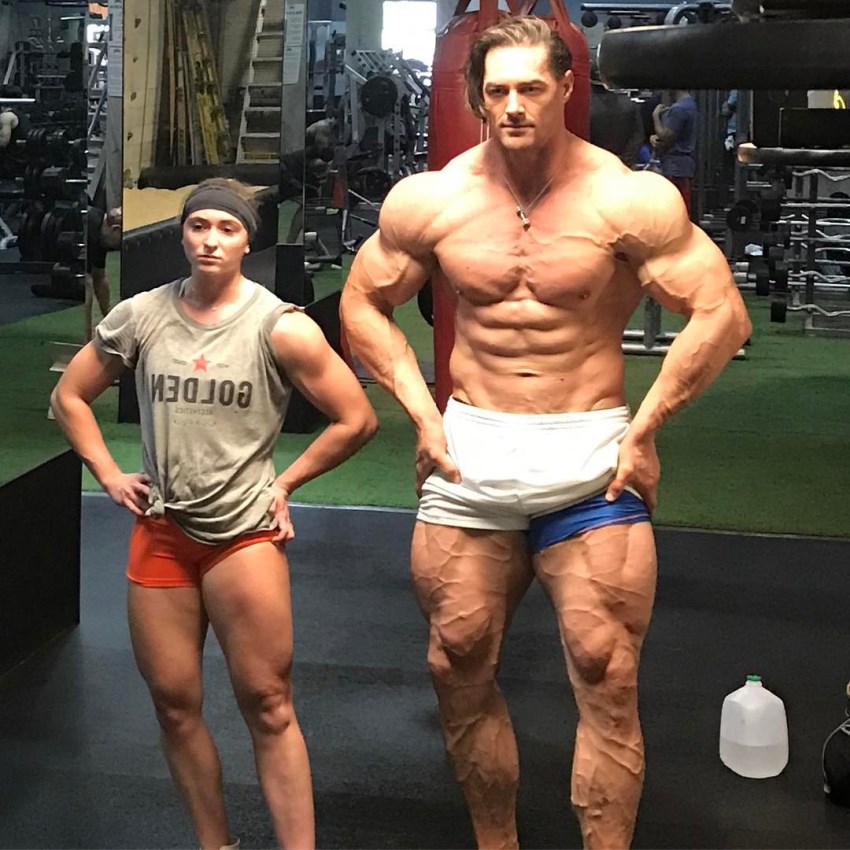 "Always believe in yourself. Everyone is capable of something great, yet sadly, most people will never know because they were either lazy, weak, or scared. At some point, I have been all three. Don't hold yourself back."
Idols and Influences
Throughout his entire bodybuilding journey, Aaron found inspiration in the likes of Arnold Schwarzenegger and Frank Zane.
These legendary bodybuilders inspired Aaron to sculpt a physique of his dreams, and later, to step on the bodybuilding stage.
---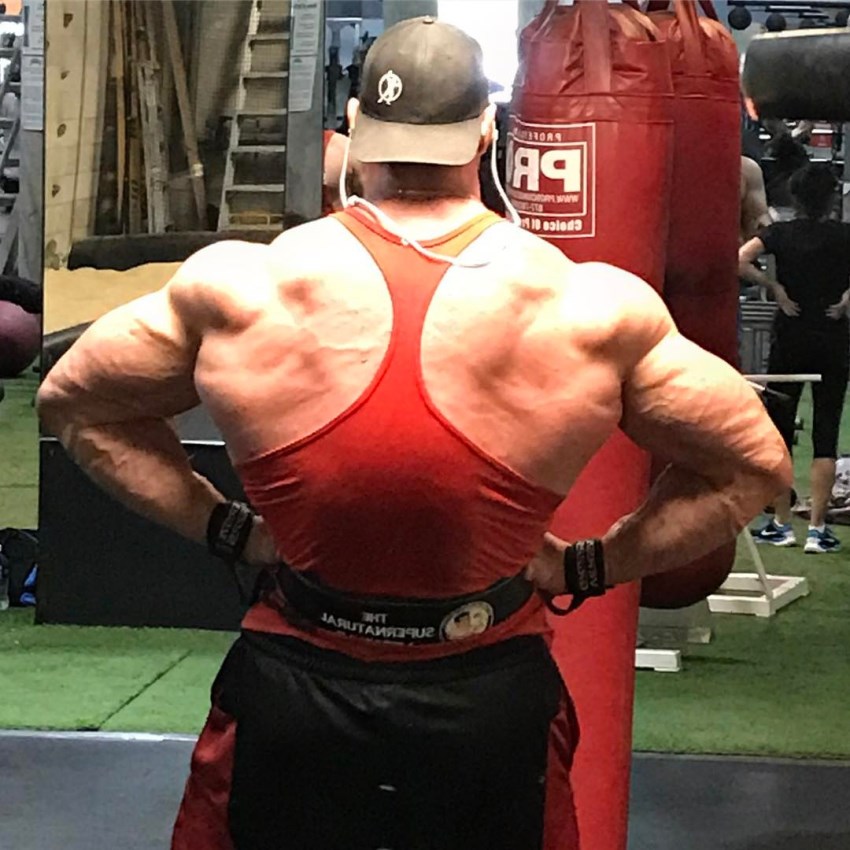 "When it's fueled by passion, the will to succeed can be a super power, bending this reality to fit your desires."
What we can learn from Aaron Reed
Aaron Reed went through some difficult moments in his life. First, he was faced with a horrible illness – leukemia. Later, in his wrestling days, he was diagnosed with hepatitis.
He not only he came out victorious through both illnesses, but he also became a successful bodybuilder and an author. Some would give up on life, and their dreams, if they were faced with this kind of situation, but Aaron Reed knew better.
His story is something we all can learn from – keep working on your goals, and don't let obstacles stop you from achieving them. That's something Aaron would tell you.