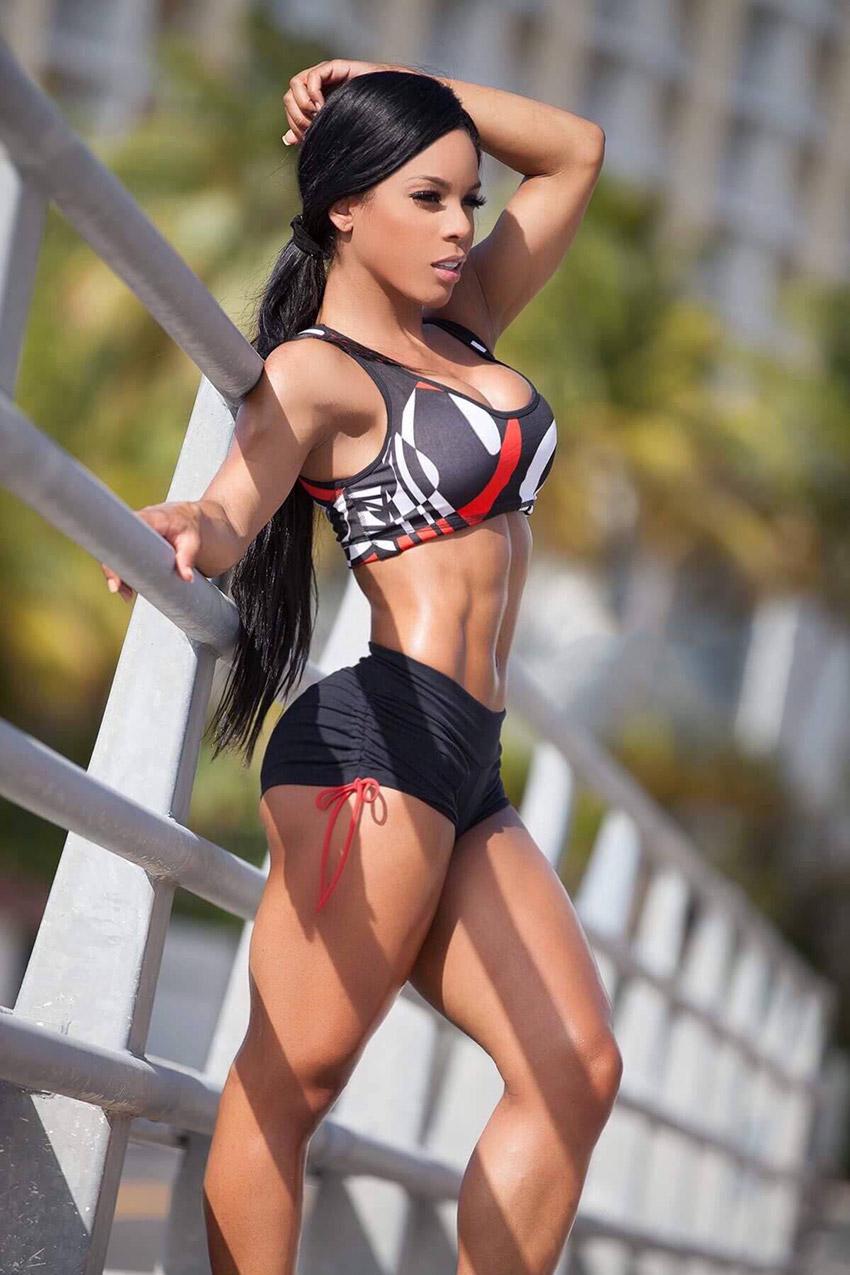 Yarishna Ayala
Bikini Athlete
From being a professional dancer on a reality TV show to becoming a Bikini Athlete, Yarishna (AKA. The Puerto Rican Queen) has had a very interesting journey in the fitness industry.
She began weight lifting when she started to worry about what she wanted to do with her life, but by the age of 25, she'd sculpted an incredible physique and won numerous competitions.
This is her story:
---

Athlete Statistics
Full Name: Yarishna Nicole Ayala Otaro
Weight
Height
Year of Birth
Nationality
125 - 135lbs (56.7 - 61.2kg)
5'5" (165cm)
1991
Pueto Rican
Profession
Alias
Era
Bikini Athlete
The Puerto Rican Queen
2010
| | |
| --- | --- |
| Weight | 125 - 135lbs (56.7 - 61.2kg) |
| Height | 5'5" (165cm) |
| Year of Birth | 1991 |
| Nationality | Pueto Rican |
| Profession | Bikini Athlete |
| Alias | The Puerto Rican Queen |
| Era | 2010 |
---

Accomplishments
2013 Unique Fitness Classic, 1st
2013 Ms and Mr. Puerto Rico, 1st
2013 Tony Roman Bodybuilding, 1st and Overall
2013 Central American and Carribean Games, 2nd
2013 NPC New York State Grand Prix, 3rd
2013 NPC Bev Francis Atlantic States, 4th
2013 NPC Junior National Championships, Chicago, 1st
2013 IFBB PBW Tampa Pro, 8th
2013 IFBB Valenti Gold Cup Pro, 7th
2014 IFBB Europa Show of Champions Ontario, 6th
2014 IFBB Pittsburgh Pro, 13th
2014 IFBB New York Pro, 16th
2014 OFBB Toronto Pro Supershow, 8th
2014 IFBB Patriots Pro Bikini, 8th
2014 IFBB Europa Pheonix, 7th
2014 IFBB Irongames Pro Bikini, 7th
2015 IFBB New York Pro, 16th
2015 Puerto Rico Pro, 9th
2015 IFBB Wings of Strength PBW Tampa Pro, 16th
---

Biography
Reality TV Star and Start of Journey
Born and raised in Puerto Rico, Yarishna Ayala began training after worrying about what she would accomplish in life – at the time her twin sister was heaving a baby, Yarishna felt there was no future.
Yarishna and her sister had just finished participating in the American reality TV show, "Q'Viva! The Chosen" in 2012, as professional dancers. It was at this point she didn't know what direction she was headed.
Feeling the need to be active, it wasn't long until Yarishna entered the gym and hired a personal trainer. Through rigorous training, Yarishna made serious progress and her coach encouraged her to compete in shows.
She set her sights on becoming a professional Bikini Athlete.
First Competition
In 2013, Yarishna finally decided to enter her first competition – the 2013 Unique Fitness Classic. Impressively, she managed to walk away with a trophy, gaining valuable experience which has helped in her career as a Bikini Athlete.
But she was just getting started.
---

Yarishna ready to step on stage at a competition.
---
Earning her Pro Card
For the next few months, Yarishna entered a further 6 contests, winning 3 more in the process. However, trophies weren't the only thing she was taking home – on her 7th show, the 2013 NPC Junior National Championships, Yarishna earned her Pro Card.
By the age of 22, she realized her ambition of becoming a professional Bikini Athlete.
Yarishna's first appearance as a pro was the 2013 IFBB PBW Tampa Pro. Although she didn't win, she placed 8th in a fiercely contested show with the likes of Courtney King fighting for first place.
Her last competition of 2013 was the IFBB Valenti Gold Cup Pro, where she placed 7th.
Life as a Professional Athlete
For the next two years, Yarishna competed in a further 10 shows, gaining more experience and exposure with each appearance. It wasn't long until the Puerto Rican Queen was noticed on social media and gained millions of followers.
By 2016, at the age of 25, Yarishna had become a fitness icon and Instagram sensation.
---

Training
Yarishna trains 6 days per week to maintain her amazing physique. She lifts weights for three days and trains cardio for the rest.
Workout Plan
Yarishna's workout plan would look something like this:
Monday – Weight Lifting
Tuesday – Cardio
Wednesday – Weight Lifting
Thursday – Cardio
Friday – Weight Lifting
Saturday – Cardio
Sunday – Rest
---

Nutrition
Yarishna keeps a clean diet all-year-round, and plans her meals around lean proteins, complex carbs and fruit. Her favorite meal is chicken breast with baked potato.
Diet Plan
Yarishna's diet would look similar to this:
Meal 1 – Oats with Milk and Egg Whites
Meal 2 – Chicken Breast, Baked Potato and Green Grapes
Meal 3 – Fish, Baked Potato and Green Grapes
Meal 4 – Chicken Breast, Baked Potato and Green Grapes
Meal 5 – Fish, Baked Potato and Green Grapes
Supplements Stack:
Fat Burner
Glutamine
Whey Protein
---
Editor's Tip

Inspired to reach your maximum potential like Yarishna? Read our comprehensive guide on how fat burner supplements can really up your game!

---

Idols and Influences
Yarishna is grateful to her mother, coach and fans for motivating her throughout her journey. However, she names Nicole Nagranni, Nathalia Melo, India Paulino and Amanda Latona as her main influences.
---

What we can learn from Yarishna Ayala
Yarishna has taught us that everyone should have a goal they have to work hard to achieve. She began training after successfully finding an exciting direction to take her life, and after intense training she became a professional Bikini Athlete.
With the same discipline and commitment, you too can achieve your goals.