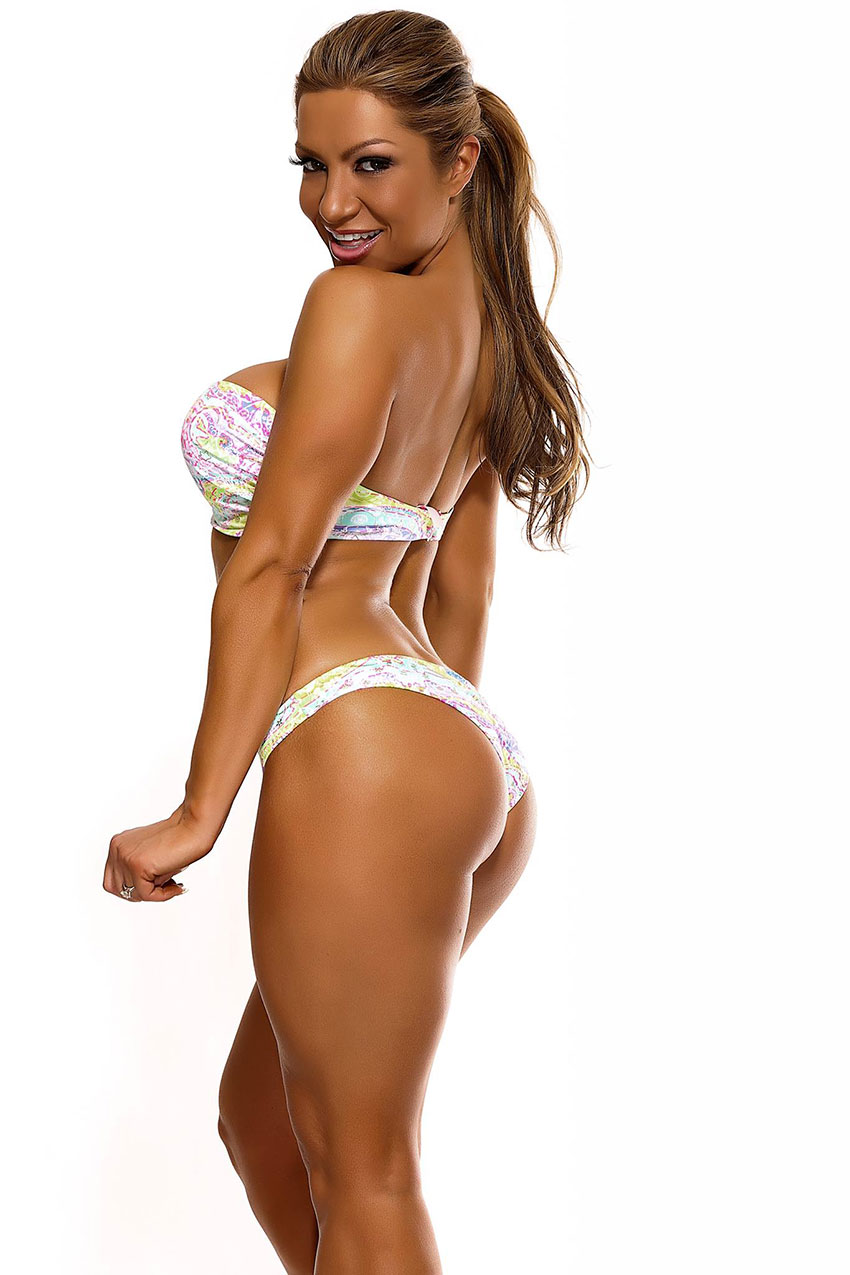 Vlatka Dragic
Fitness Model, Personal Trainer, Sponsored Athlete
Since moving to Australia at the age of 16, Vlatka Dragic has earned success on the fitness modelling stage – awarded WBFF Pro status in 2014 as a result of her hard work and determination.
However, things weren't always sunshine and rainbows. Spending her entire childhood living in Croatia, Vlatka moved to Australia in 2001, without any knowledge of the English language. This proved to be a major roadblock in her life, forcing her to push herself out of her comfort zone to adapt to her new way of life.
Throughout this time, Vlatka learned to become self-motivated, determined, and dedicated to become a success in every aspect of her life. Eventually, she took a huge risk by quitting her job as an account manager.
Initially, her job search proved to be unsuccessful – leaving her without employment for several months. Until one day, that all changed. She found a love for fitness modelling, and from then on, she never looked back.
This is her story:
---

Athlete Statistics
Full Name: Vlatka Dragic
Weight
Height
Age
Date of Birth
115 - 125lbs (52.2 - 56.7kg)
5'3" (160cm)
37
December 27, 1985
Nationality
Profession
Era
Croatian
Fitness Model, Personal Trainer, Sponsored Athlete
2010
| | |
| --- | --- |
| Weight | 115 - 125lbs (52.2 - 56.7kg) |
| Height | 5'3" (160cm) |
| Age | 37 |
| Date of Birth | December 27, 1985 |
| Nationality | Croatian |
| Profession | Fitness Model, Personal Trainer, Sponsored Athlete |
| Era | 2010 |
---

Accomplishments
Career Accomplishments
Fitness Model
Sponsored Athlete
Personal Trainer
Competition Results
2014: WBFF Las Vegas Bikini Class – 1st Place (Earned WBFF Pro Card)
2011: NABBA QLD Sportsmodel Championship – 1st Place
---

Biography
Early Fitness Journey
Vlatka Dragic was born in Zagreb, Croatia in 1985, spending her life there until her mid teens. Throughout her childhood, she took inspiration from her mother to maintain an active lifestyle – hiking, skiing, and swimming ever since she was a young girl.
During her time in high school, Vlatka established a keen interest in gymnastics. Taking part in this sport gave her the opportunity to learn about stage presence from an early age – using this as a basis to find success on the fitness modelling stage later in her life.
By the time she reached 16, Vlatka made the decision to relocate to Melbourne, Australia. However, she had no prior knowledge of the English language. As a result, she initially struggled to settle in to her new surroundings. Here's Vlatka recalling her time adjusting to life in Australia:
"Having to deal with so many life changes at 16, gave me the strong attitude now to always go that extra mile and not be afraid of changes. I couldn't speak one world of English either and had to do everything I can to catch up with everyone else".
However, Vlatka soon realized that she needed to stand her ground. By doing this, she quickly became accustomed to her new way of life. Ever since then, she was able to live her life in a more positive way.
Falling in Love with Fitness
After she settled into her new surroundings, Vlatka was able to rediscover her love for fitness. Taking part in gymnastics taught her a lot about discipline, consistency, and believing in herself. Because of this, Vlatka was eager to regain her fitness levels to earn a great physique.
At this point, Vlatka became inspired by cover models on fitness magazines. Because of this, she was determined to obtain a physique just like her idols. From then on, Vlatka began to train hard in the gym to continually improve her body.
Vlatka was putting in maximum effort into her training, but due to paying little attention to her diet, she initially failed to make progress. It was at this point, Vlatka began focusing on eating healthier foods, and from then on, the results soon began to show.
Alongside her training, Vlatka was working as an account manager for various supermarkets across Australia. However, she became disillusioned with her career due the long working hours her job entailed. Because of this, she sought a new challenge. It was at this point, she took huge risk by quitting her job – initially proving to be costly decision.
---

Determined Attitude
Shortly after she quit her job, Vlatka struggled to find alternative employment for several months. This left her wondering whether she had made the right decision. Because of this, she was unsure where to turn next.
However, during this period Vlatka didn't let her love for fitness come to an end. She trained hard in the gym, earning a great physique in the process. So it was at this point, Vlatka set her sights on reaching the fitness modelling stage.
Vlatka stayed focused with her training and nutrition heading into preparations for her first competition appearance. Entering the NABBA QLD Sportsmodel Championship in 2011, she finished in 1st place – a true representation of her capabilities on the fitness modelling stage.
From then on, Vlatka retained her focus to move on from her days of unemployment. As a result of the success in her first competition, her motivation was higher than ever. Vlatka took advantage of this to keep pushing forward. Recalling her first competition, Vlatka stated:
"I was so focused, determined and strong the entire comp prep and wanted to prove to myself that I can be one of those fitness models I used to look at in the magazines".
Winning Her Pro Card
Vlatka entered the WBFF Las Vegas competition in 2014, aiming to win her WBFF Pro Card. She worked hard to get to this point, so was determined to achieve success. Her hard work paid off as she stormed to a 1st place finish to earn WBFF Pro status – being the highlight of her fitness career.
Ever since then, Vlatka proved to herself and others that she was capable of achieving great things in her fitness journey. As a result of her success, she propelled to fame across social media – inspiring many people across the world with her phenomenal physique.
Upon earning her Pro Card, Vlatka began to place focus on her personal training company. From then on, she helped others to achieve all of their fitness goals – just like her.
---

Training
Vlatka consistently works out in the gym, often training six days per week to reach her fitness goals. Legs and glutes are her favorite body parts. Because of this, Vlatka places emphasis on training these particular muscle groups.
In terms of cardio, Vlatka goes on a 1 hr walk on the beach every day prior to eating any meals. This way, she is able to maintain her lean physique.
Additionally, her favorite exercises are deep squats, deadlifts and the leg press. She performs these exercises regularly, gradually increasing the weight she lifts as often as possible.
Furthermore, to ensure maximum muscle growth, Vlatka trains each body part at least twice a week. Her training split looks something like this:
Vlatka's Training Split
Monday: Back and Biceps
Tuesday: Chest, Triceps, and Abs
Wednesday: Shoulders and Legs
Thursday: Back and Biceps
Friday: Chest and Triceps
Saturday: Shoulders, Quads, and Abs
Sunday: Rest Day
---

Nutrition
Vlatka's goal is to stay as lean as possible all year round. To achieve this, she bases her diet around lean protein, complex carbohydrates, vegetables, and healthy fats. However, she has a cheat meal on the weekends as a reward for her progress in the gym.
She stays consistent by preparing her meals in advance, keeping her diet strict in the run up to a competition. Additionally, Vlatka measures her foods and tracks her calories on a daily basis to reach her macronutrient goals.
Below are the foods that Vlatka eats often:
Vlatka Dragic's Food Sources
Lean Protein
Lean Steak
Prawns
Chicken Breast
Whey Protein
Kangaroo
Tuna
Egg Whites
Healthy Fats
Complex Carbohydrates
Brown Rice
Sweet Potatoes
Oats
Vegetables
Broccolo
Green Beans
Asparagus
Cabbage
---

Idols and Influences
Vanessa Tib, Larissa Reis and Amanda Latona are the fitness icons that Vlatka idolizes. Speaking about their influence, Vlatka stated the following:
"They look amazing, are positive and love what they do. Just seeing their physiques makes me train and diet even harder".
Additionally, Vlatka developed a huge strength of character to improve her life and settle into life in Australia. This meant that she became independent, self-motivated, and determined to keep moving forward in her life. Here's Vlatka talking about her influences:
"I stay motivated by surrounding myself with positive people, competing and being close with my friends who are into fitness. As I know I have girls who look up to me, I need to make sure I am in great shape all year round. Healthy lifestyle makes me happy and I love the reward I get from it".
---

What we can learn from Vlatka Dragic
Vlatka Dragic went from not knowing a word of English to making a name for herself as a professional fitness model. She took a huge risk by quitting her job, but her determination truly paid off when she became a success on the fitness modelling stage.
What we can learn from Vlatka Dragic is that her willingness to take risks meant that she was able to achieve all the things she dreamed of. As a result, she was able to turn her passion for fitness into something so much more.