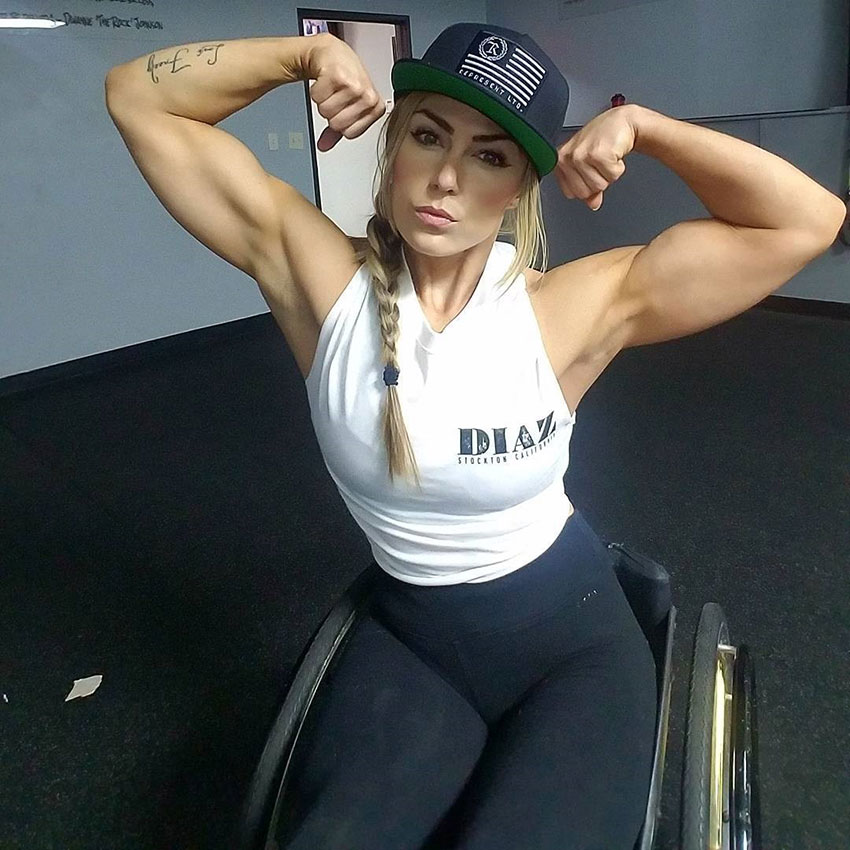 Tiphany Adams
Television Personality, Actress, Model, and Speaker.
Tiphany Adams is an American television personality, fitness trainer, actress, model and speaker. She endured a difficult period in her early life – changing schools five times due to her poor behavior.
Matters were made worse when she suffered a life-changing event. At the age of 17, Tiphany was in a serious car accident involving a drunk-driver who was travelling at 130 mph. Tiphany's life quickly went downhill – taking its toll on her significantly.
However, Tiphany was eventually able to overcome her darkest days to achieve success in her life. She achieved her ultimate goals of becoming an actress and model, while in the process gaining a a positive outlook on life that could drive her fitness journey forward.
It is now Tiphany's aim to inspire others to achieve great things in their fitness journey. Becoming a fitness trainer allowed her to do this, while accomplishing her own goals along the way. This is her story:
---

Athlete Statistics
Full Name: Tiphany Adams
Height
Age
Date of Birth
Nationality
5'2" (157.5cm)
40
March 5, 1983
American
Profession
Era
Television Personality, Actress, Model, and Speaker.
2010
| | |
| --- | --- |
| Height | 5'2" (157.5cm) |
| Age | 40 |
| Date of Birth | March 5, 1983 |
| Nationality | American |
| Profession | Television Personality, Actress, Model, and Speaker. |
| Era | 2010 |
---

Accomplishments
Career Achievements
Television Personality
Fitness Trainer
Actress
Model
Speaker
---

Biography
Early Life
Tiphany grew up in the small town of Lodi, California. Her childhood was surrounded by controversy – as she lived a troubled life. Tiphany changed schools a total of five times due to her problematic behavior – either through being expelled, or suspended.
Tiphany was raised by her father throughout her early life, as her mother had begun to suffer from addictions to alcohol and drugs. This had a negative impact on Tiphany's life, leading to her making several poor life choices, including being in many fights and having issues at school, including fights, and antisocial behavior at school.
Tiphany cites this as the main reason for her troubles, stating:
"My mother's addictions played a part in feeling rejected & abandoned growing up begging for her love & attention. I was in 5 different schools, multiple street fights and court ordered programs. The struggle was real beyond belief".
However, it was Tiphany's dream to become an actress and model later in her life. She started out by attending theater classes and joining the choir – giving her a release from her difficult days earlier in her academic career. From this point, Tiphany began to make amends for the bad choices that she had made.
Life-Changing Incident
At the age of 17, Tiphany was in a serious car accident that changed her life forever. She collided head-on with a drunk driver who was travelling at 130 mph. This had a devastating impact on Tiphany's life. Three of her fiends died in the car accident, and Tiphany was left as a paraplegic for the rest of her life – Tiphany was the only survivor.
This hit Tiphany hard, as she quickly commenced on a downward spiral.
Tiphany was absolutely devastated by her loss, beginning to suffer from post traumatic stress as a result of the accident. She then turned to a life of heavy drinking and consuming prescription drugs as a way to deal with the pain. Tiphany cites these as her darkest days, stating:
"The loss of everyone in the wreck caused post traumatic stress with survivors guilt, so throwing drugs & alcohol in the mix it was suicidal combination".
However, through sheer determination and months of recovery, Tiphany was eventually able to overcome the life-changing event. She attended her graduation just months after the accident – emphasizing her huge strength of character.
---

"In the hospital, I was given a five percent chance of survival, but with my optimistic views and spiritual beliefs, I pushed forward knowing I had a higher purpose to fulfill in the world".
Finding Fitness
Tiphany turned to fitness as a way of getting over the incident that had totally changed her life. She set herself goals for the future to remain in pursuit of her dream – overcoming her difficult past.
However, Tiphany initially struggled to adapt to life in a wheelchair. She couldn't work with certain exercises due to losing the use of her legs, but Tiphany sought guidance in order to excel in the ones that she could perform.
Eventually, Tiphany was able to begin regular training in the gym, under the direction of a personal trainer. She quickly fell in love with fitness – now motivated more than ever.
This had a positive effect on her self-confidence – able to overcome her darkest days to become the best possible version of herself.
---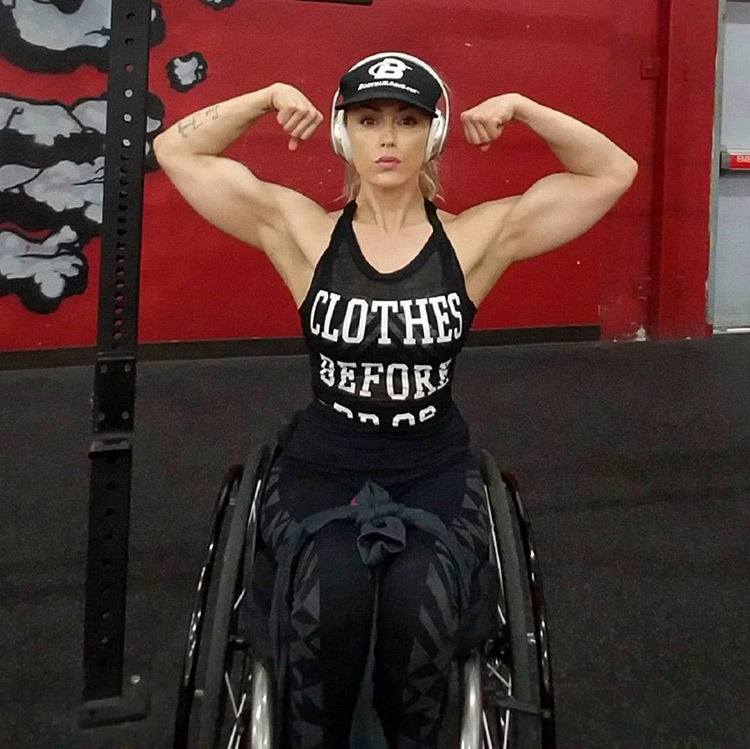 ---
Present Day
Tiphany continues to chase her dream, having achieved her ultimate aim of becoming an actress and model. She features regularly on TV and trains often, showing just how far she has come since her accident.
Finding fitness allowed Tiphany the chance to completely turn her life around for the better. Now, Tiphany aims to help others achieve things they never thought they could. Tiphany became a fitness trainer to obtain this goal – allowing others to move forward in their fitness journey.
Eventually, Tiphany wishes to take her fitness journey to the next level by appearing on the bodybuilding stage, showing her true dedication to obtaining a phenomenal physique.
Outside of fitness, Tiphany appears as a speaker for various charities. She raises awareness of disabilities such as autism, as well as being a representative for the LGBT community. This proves that her ability to positively influence others doesn't just lie within fitness.
---

Training
It took Tiphany some time to get used to life in a wheelchair. However, she didn't let this negatively impact on her wish to have a healthier lifestyle. She works out regularly with a personal trainer in order to stay on track with her fitness goals.
Tiphany lists cardio, strength training and yoga as her favorite methods of training. She constantly mixes up her workouts, making it possible for her to achieve maximum benefit in terms of muscle gain.
Furthermore, at some point in her fitness journey, Tiphany wishes to start competing in bodybuilding competitions. So, in order to achieve this ambition, Tiphany needs to stay focused in the gym to continually progress, while building lean muscle mass.
A chest workout that Tiphany follows consists of the following exercises:
Tiphany's Chest Workout
Machine Chest Flyes
Olympic Plate Loaded Chest Press
Machine Bench Press
---

Nutrition
Tiphany stays on track with her nutrition by preparing her meals at the start of the week. By doing this, she is able  diet clean, while hitting her fitness goals.
In addition, Tiphany avoids eating unhealthy foods that could potentially lead to her falling off track. She states the following in regard to her nutrition:
"I am vegetarian, and I try to avoid things like gluten, trans fat, and highly processed foods. And I try to maintain a diet of natural produce".
This shows that Tiphany is not only dedicated to her workouts, but also, her nutrition – eating healthy in order to achieve optimum results.
---

Idols and Influences
Tiphany states her personal trainer as one of her idols and main influences, highlighting how crucial his support was in the beginning of her fitness journey:
"Thankfully I crossed paths with Eric DiLauro. He began assisting me and helping me work effectively on different muscle groups, training better than I ever have before".
Furthermore, Tiphany idolizes wheelchair athletes including Nick Scott, who was able to bring wheelchair bodybuilding into the limelight. It is people like Nick Scott who make Tiphany want to achieve more – aiming to become a success on the bodybuilding stage just like him.
---

What we can learn from Tiphany Adams
Tiphany didn't have the best start in life. She had to overcome a difficult upbringing, in addition to suffering from life-changing injuries. However, Tiphany stopped at nothing to reach her goals.
She eventually became a success not only in fitness, but also in her TV career – showing that she is a truly determined and inspirational character. Now, she hopes to help others to achieve the same things she has.
What we can learn from Tiphany Adams is; in life, you might make some poor decisions, but with the right amount of guidance, strength and determination, it is possible to turn your life around – just like Tiphany.