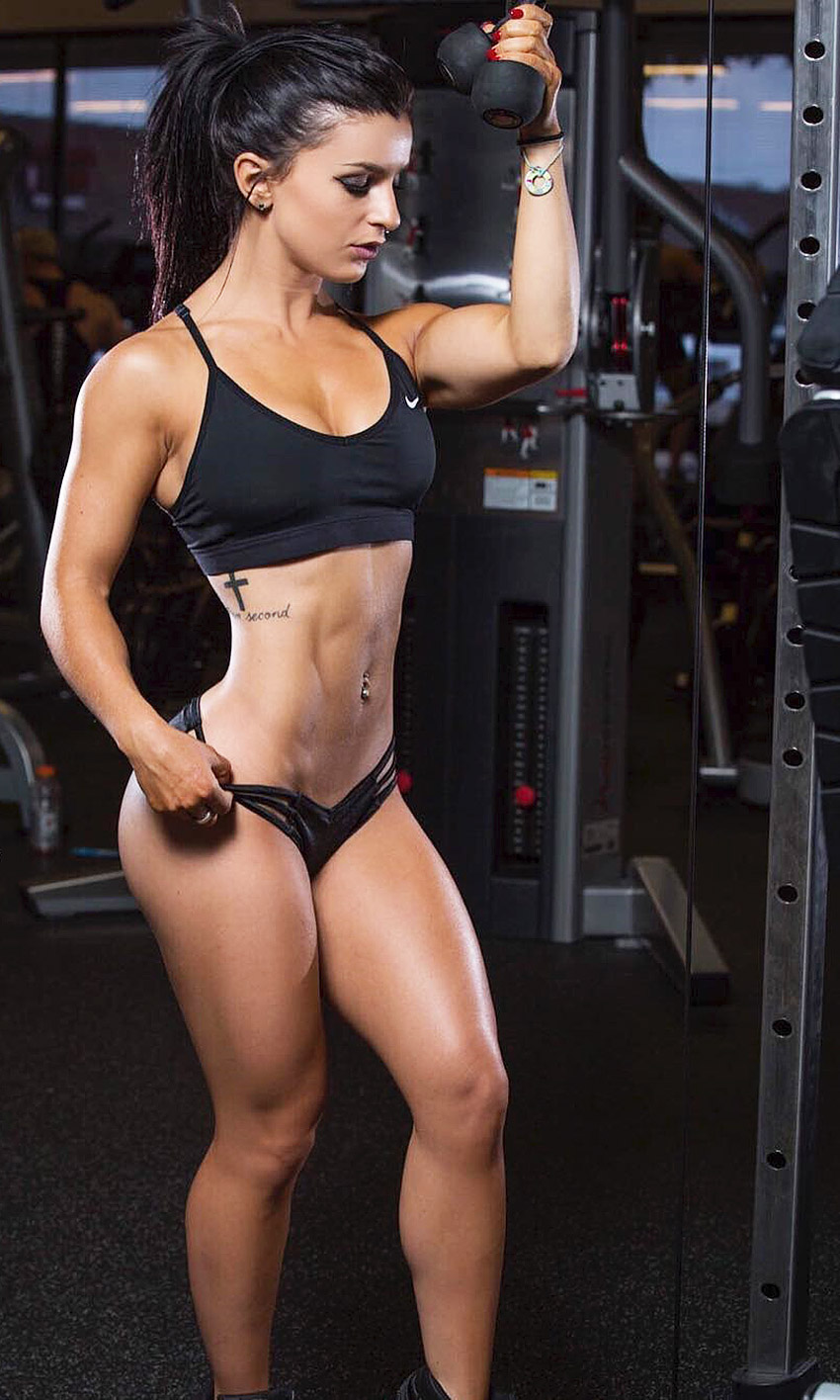 Taylor Vertucci
From being underweight and suffering from an eating disorder to being admired around the world, Taylor dug deep and found a healthy lifestyle through weight training and healthy approach to nutrition.
She's now admired around the world and inspires countless fans to lead their own healthy lifestyle.
She learned the hard way that being too skinny was damaging her body. However, she achieved her aim of sculpting an incredible physique after years of hard work.
This is her story:
---

"If you're truly working hard and doing everything you can you will get somewhere."
Athlete Statistics
Full Name: Taylor Vertucci
Weight
Height
Bust
Hips
Under 115lbs (52.2kg)
4'10" (147cm)
32"
35"
Waist
Year of Birth
Nationality
23"
1995
American
| | |
| --- | --- |
| Weight | Under 115lbs (52.2kg) |
| Height | 4'10" (147cm) |
| Bust | 32" |
| Hips | 35" |
| Waist | 23" |
| Year of Birth | 1995 |
| Nationality | American |
---

I hope to become a lot more successful and change more lives while also bettering myself."
---

"I began my fitness journey about 2 ½ years after I had stopped eating properly."
Biography
Early Years and Eating Disorder
Born in the Lone Star State, Texas, Taylor always had an interest in fitness. She began following models like Michelle Lewin, Wendy Fortino and Paige Hathaway, aiming to imitate their success.
However, she had no idea about nutrition and how to diet properly.
In her teenage years, she believed that being skinny was the key to being aesthetic – she stopped eating and became dangerously underweight.
Believing that she looked great, Taylor entered a bikini competition. But she received extremely negative feedback and was shocked by the pictures of herself on stage.
This was the wake-up call she needed to turn her life around.
"I entered my first bikini competition 'thinking' that I looked good and would do well. But I didn't realize how skinny I had become"
Start of Fitness Journey
A week after her first bikini show, Taylor signed her first gym membership and began following a balanced diet. It wasn't long until she reached a healthy weight, and started sculpting her figure.
For the next 2 and a half years, Taylor trained rigorously to attain her dream physique.
Online Sensation
By 2016, at the age of 21, Taylor's hard work was recognized. Her story inspired many around the world, and she gained a mass of followers on social media.
After acquiring the respect of countless fans and becoming known for her incredible physique, Taylor had become an online sensation.
---

"I always try to keep my goal in my mind and remember where I started and how unhappy it made me."
Training
Taylor trains 6 times a week to stay fit and healthy. She performs 10-15 reps in sets of 3-4.
However, unlike other athletes, Taylor chooses to rest on Saturdays instead of the usual Sunday – she feels that this allows her enough time on the weekends to enjoy herself.
Monday – Legs
Single Leg Extensions 4 x 10
Double Leg Extensions 4 x 10
Deadlifts 4 x 8
Lunges 50 Steps
Reverse Hack Squats 4 x 10
Cable Kick-Backs 4 x 10
Tuesday – Back
Close Grip Seated Cable Row 4 x 10
Wide Grip Lat Pulls 4 x 10
Dumbbell Row 3 x 10
Single Arm Seated Cable Row 3 x 10
Close Grip Lat Pulls 4 x 10
Wednesday – Shoulders
Dumbbell Shoulder Press 4 x 10
Side Lateral Cable Raises 4 x 10
Front Raises 4 x 10
Reverse Fly's 4 x 10
Thursday – Legs
Single Leg Extension 4 x 10
Double Leg Extension 4 x 10
Leg Press 4 x 10
Barbell Squats 3 x 10
Jumping Weighted Barbell Squats 4 x 10
Weighted Side Lunges 50 x Each Side
Friday – Abs
Hanging Leg Raises 4 x 15
Medicine Ball Ab Crunch 4 x 15
Lying Leg Raises 4 x 15
Hanging Leg Raises 4 x 10
Saturday – Rest
Sunday – Back
Close Grip Seated Cable Row 4 x 10
Wide Grip Lat Pulls 4 x 10
Bent-Over Barbell Row 4 x 10
Single Arm Seated Cable Row 3 x 10
Close Grip Lat Pulls 4 x 10
---

"Once you see results it becomes an addiction to see what else you can achieve."
Nutrition
Taylor consumes 5 meals per day in order to please her high metabolism. She plans her diet around lean proteins (turkey, eggs, red meat), complex carbs, green vegetables and healthy fats.
But she does enjoy a cheat meal once every week
"I admit it is a struggle to stay away from those cookies lol!"
Diet Plan:
Meal 1: 3 Egg Whites, 2 Whole Eggs and 15 Almonds
Meal 2: 4 ounces 99% Lean Ground Turkey, ½ cup Brown Rice and 1 cup Green Vegetables
Meal 3: 5 ounces Red Meat, ¾ cup Brown Rice, 1 cup Vegetables
Meal 4: 5 Egg Whites, 1 Whole Egg and Salad
Meal 5: 1.5 Scoops Whey and 15 Almonds
Supplements Stack:
Whey Protein
Creatine
Glutamine
BCAA
Pre-Workout
---

"I'm very self-motivated and I love seeing results. I also have an amazing support system. My family, friends and my boyfriend have been incredibly supportive of me."
Idols and Influences
Taylor draws her motivation from her friends and family, appreciating them for their support throughout her journey.
However, Michelle Lewin, Paige Hathaway and Wendy Fortino were the athletes that inspired her to attain her dream physique.
"I LOVE when my followers tag me in their progress pictures, it makes me very happy inside knowing that I'm a part of their motivation to become who they aspire to be"
---

"Put in 110%, because at the end of the day, wouldn't you like to say you tried? Don't live in a "what-if" lifestyle, because life's short, and wouldn't you like to spend it being happy?"
What we can learn from Taylor Vertucci
Taylor's taught us to make a change in our lives if we aren't happy – she became miserable after realizing she was underweight, but within a week she'd joined a gym and planned a healthy diet.
One thing we can take away from Taylor's story is that being skinny isn't the most important thing in the world. She believed that being aesthetic depended on how thin she was and stopped eating properly, but learned the hard way that it took dedication to sculpt a great physique.