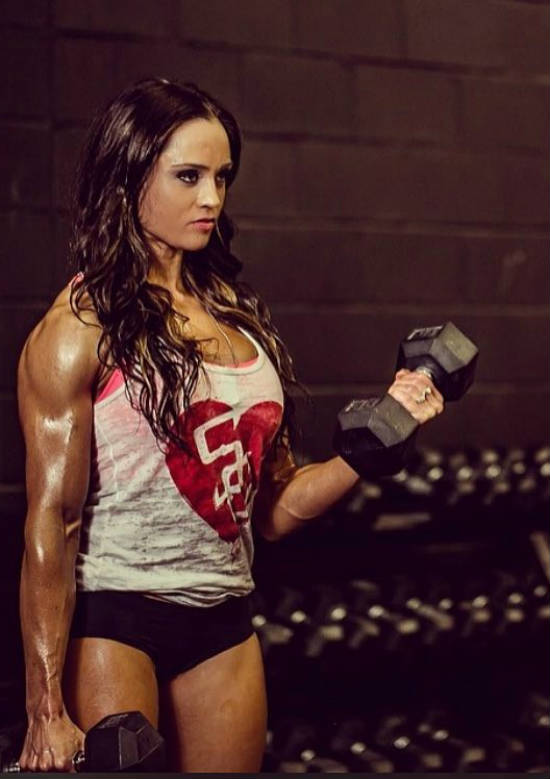 Stephanie lovato
Entrepreneur, Fitness Competitor
Stephanie Lovato is an entrepreneur and figure competitor from Toronto, Canada. She's also a popular figure on social media who aims to spread "positive energy", as well as honest advice to her fans.
Growing up, Stephanie was obsessed with playing sports of all kinds, ranging from gymnastics to boxing and lacrosse. She loved staying fit so much, that she asked her mother to pay for a gym membership at 13 years old. Since then, she's been hooked to the fitness lifestyle.
Her passion for sports and fitness, inspired her to study for a BSc in Kinesiology at the University of Guelph. While she didn't use her degree for a number of years after graduating, she moved to LA to start her fitness career. By chance, she met and married a golds gym personal trainer and started an online coaching and apparel business together.
Fast forward to today, Stephanie has helped a large group of people achieve their fitness goals. Her and her husbands business has attracted many clients, and in the process, she's made a name for herself around the world as a fitness expert.
---

Athlete Statistics
Full Name: Stephanie Lovato
Nationality
Profession
Era
American
Entrepreneur, Fitness Competitor
2010
| | |
| --- | --- |
| Nationality | American |
| Profession | Entrepreneur, Fitness Competitor |
| Era | 2010 |
---

Stephanie's Transformation
Accomplishments
BSc in Kinesiology
Started an online coaching business
---

Training
Leg Focus
Stephanie loves to train her legs and completes squats, lunges with dumbbells, as well as leg presses and deadlifts. She goes to the gym with her friends to complete her leg workouts, enjoying filming these sessions for fans.
Upper Body Exercises
As well as heavy leg workouts, Stephanie introduces dumbbells into her routine and lifts heavy for the shoulder press, bicep curl, and chest flye, as well as the deltoid raise.
Abdominal Workouts
When it comes to her ab workouts, Stephanie focuses on intense workouts to burn calories and develop her desired physique. She incorporates crunches, sit-ups, leg-raises, and planks – using a lot of bodyweight exercises to hit her abs hard.
Cardio
In terms of cardio, Stephanie likes to complete a lot of HIIT and similar sessions at home. She particularly enjoys completing box jumps, step ups, and skipping, along with extremely intensive gymnastic workouts such as back flipping.
---

Nutrition
Healthy Diet Balanced Diet
Stephanie follows a strict and healthy diet, which focuses on foods that allow her to hit her daily macronutrient needs. She eats a lot of egg omelettes, as well as fish, such as salmon and raw meals like sushi.
In terms of cheat meals, Stephanie occasionally eats fast food such as pizza and burgers. She doesn't see this as an issue, as she believes that eating a fun meal occasionally is 'OK' if your diet is generally good.