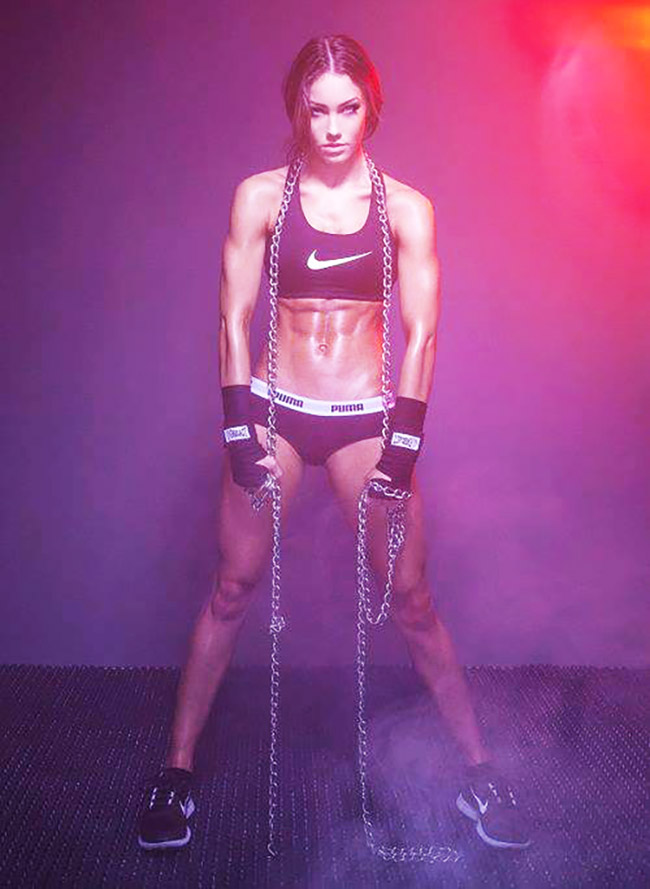 Stephanie Davis
Fitness Model
Stephanie Davis is a world leader in the fitness and modeling industry. She's competed in numerous events such as the IFBB Bikini Fitness International shows and the Austrian IFBB Bodycult Challenge.
Originally from Austria, Stephanie had always been into fitness when she was a child. From horse riding, to gymnastics, Stephanie loved being fit and active. Later on in life, she made the big decision to channel her energy into fitness modeling.
Needless to say, Stephanie has become a star in her own right. She continues to train her body and represent what can be achieved with hard work and dedication to diet and exercise.
This is her story:
---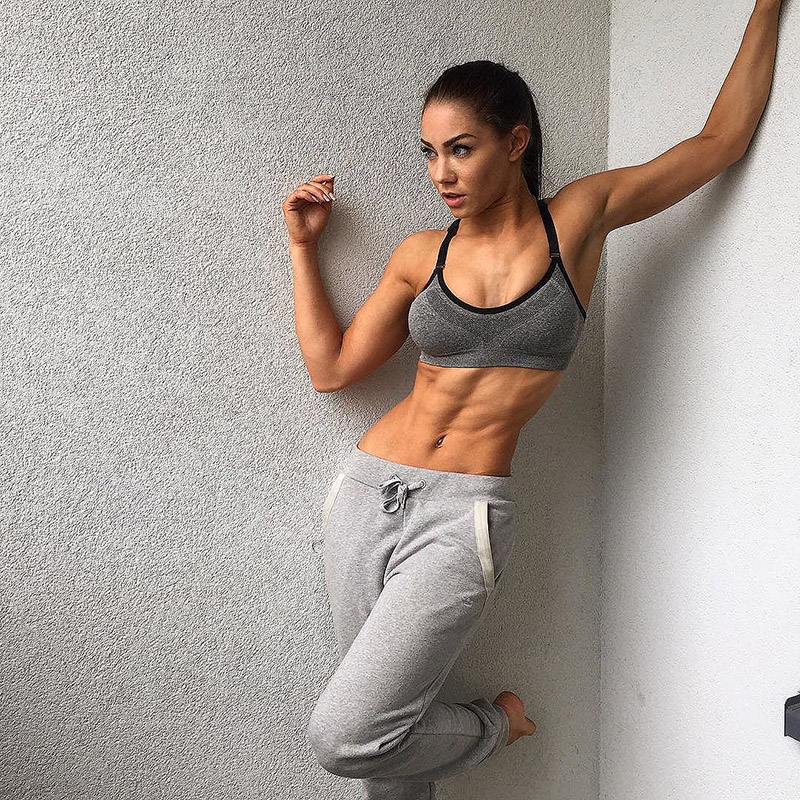 Athlete Statistics
Full Name: Stephanie Davis
Weight
Height
Waist
Year of Birth
135 - 145lbs (61.2 - 65.8kg)
5'11" (180cm)
26"
1991
Nationality
Profession
Alias
Austrian
Fitness Model
stephaniedavisfitness
Era
2010
| | |
| --- | --- |
| Weight | 135 - 145lbs (61.2 - 65.8kg) |
| Height | 5'11" (180cm) |
| Waist | 26" |
| Year of Birth | 1991 |
| Nationality | Austrian |
| Profession | Fitness Model |
| Alias | stephaniedavisfitness |
| Era | 2010 |
---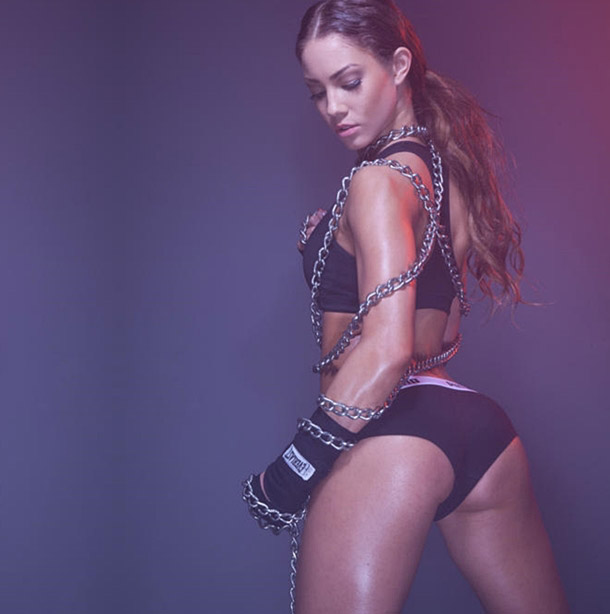 Accomplishments
Pro Fitness Model
Fitness Competitor
---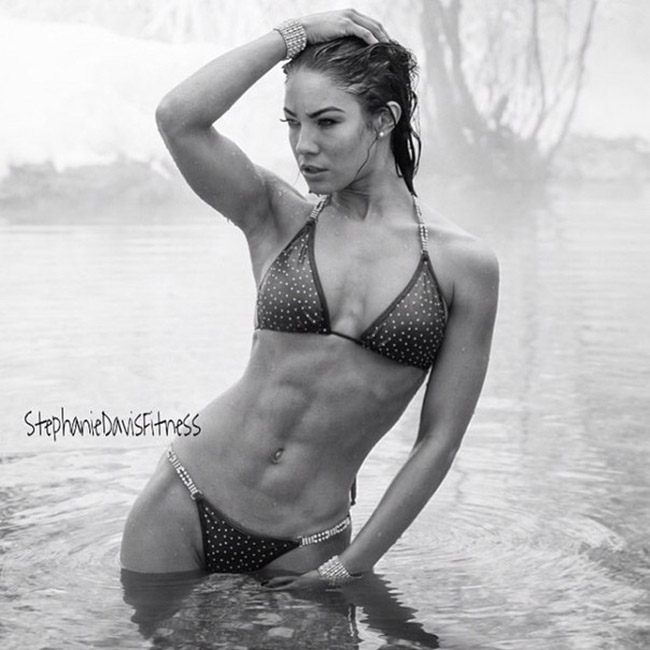 Biography
A Life In Fitness
Stephanie was always into fitness ever since she was a child. She enjoyed horse riding, gymnastics, and athletics. She also enjoyed being active and playing outside with friends, as Stephanie says, "I couldn't sit still".
It wasn't until Stephanie got into the gym that things really started to take off. Her training was intense and she was 100% focused on training, she recalls "falling in love with the results".
"There was an upcoming fitness competition which caught my attention as this was something I had always wanted to do. So I decided to enter it and I ended up placing first!"
After months of training and strict dieting, Stephanie decided to enter a competition and was blown away when she placed 1st overall in her very first competition.
Ever since that moment, Stephanie has continued to train hard and represent her awesome physique across numerous fitness magazines, as well as create awareness for her sponsors through her growing social media account.
Competition History
Throughout 2013 and 2014, Stephanie competed in numerous events, including the Hungarian 2013 IFBB Bikini Fitness competition, and in Austria for the IFBB Bodycult Challenge. Needless to say, Stephanie has gone one to become a top model and world class athlete in a short space of time.
---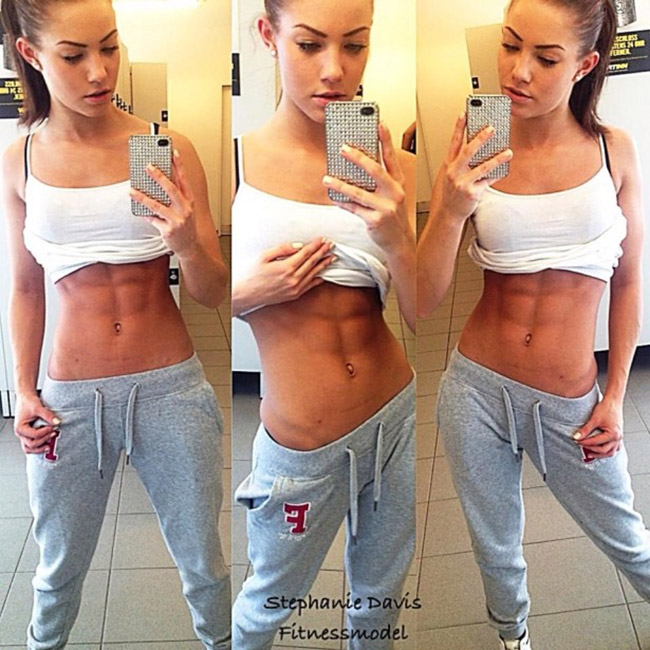 Training
Stephanie has built her incredible physique through hours of hard work in the gym. Over the years, she's managed to build up her workout routine which consists of large sets per workout spread throughout the week. Her training routine has been created to work all major muscle groups, which allows enough recovery between workout days to start all over again on Monday. An example of Stephanie's workout can be seen below.
Stephanie's Workout
Monday: Legs
Leg Extensions 5×10
Single Leg Curls 3×10
Reverse Hack Squats 3×12
Leg Press 3×12
Lunges 5×20 steps
Tuesday: Arms
Tricep Extensions 4×10
Dumbbell Curls 4×10
Skull Crushers 4×10
Hammer Curls 4×10
Supinated Bicep Curls 3×10
Tricep Dips 3×10
Wednesday: Off
Thursday: Back
Pull-ups 3×10
Lat Pulldowns 3×10
Single Arm Rows 3×10
T-Bar Rows 3×10
Shrugs 3×10
Friday: Chest/Abs
Incline Bench 3×12
Push Ups 3×20
Single Arm Fly's 3×10
Weighted Crunches 5×10
Hanging Leg Raises 3×10
Saturday: Off
Sunday: Shoulders
Shoulder Press 4×10
Lateral Raises 4×10
Rear Delt Raises 4×10
Upright Rows 4×10
---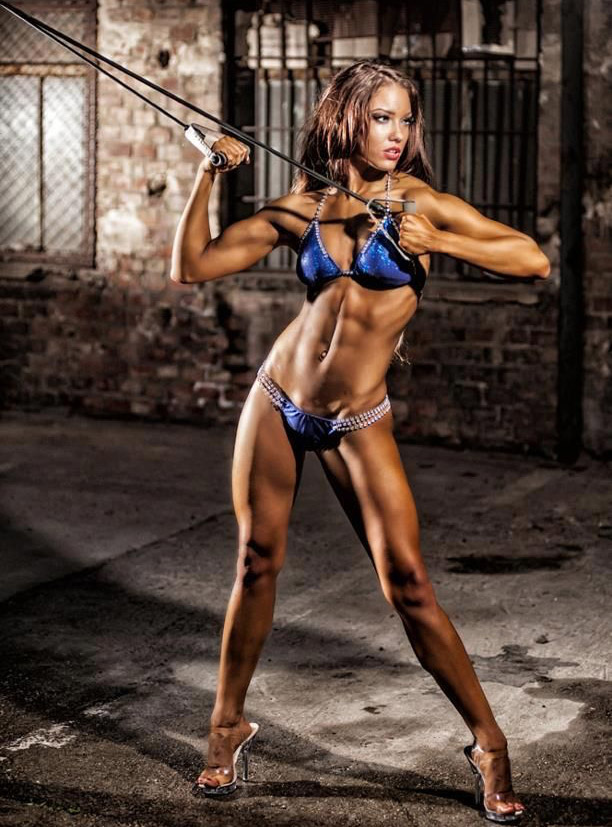 Nutrition
Like all great athletes, Stephanie's diet consists of lean proteins, healthy fats, and complex carbs. However, she will allow for simple carbs around her workouts to help with recovery and power in the gym. As for supplements, Stephanie knows the importance of a balanced diet along with multivitamins, fish oils, and the occasional pre-workout booster.
Stephanie's Diet
Meal 1: Oatmeal with Coconut Flakes, Honey, 1 glass of Water & 1 serving of BCAA's
Meal 2: 1 serving of Nuts (Almonds/Cashews)
Meal 3: Grilled Chicken or Fish with Potatoes, Vegetables & 1 serving of BCAA's
Meal 4: 1 Banana and/or Dextrose
Meal 5: Whey Protein shake, 1 serving of BCAA's & Smoked Salmon
Meal 6: Tuna Salad & Casein Protein
Supplements
Whey Protein Isolate
Casein Protein
Creatine
BCAA's
L-Carnitine
Pre-Workout Booster
Multivitamin's
Fish Oil
---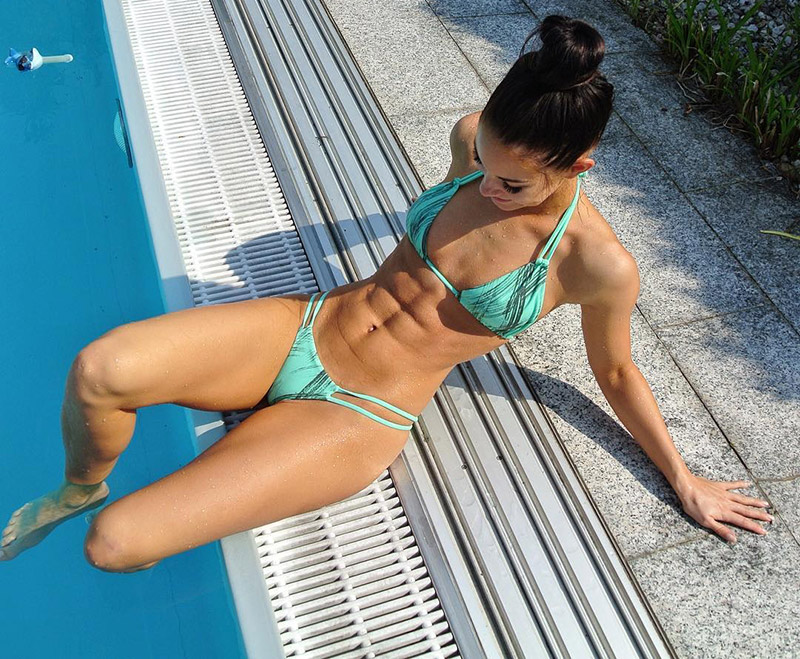 "I am also very proud of the physique I have achieved and the level of discipline I have."
Idols and Influences
Stephanie finds her motivation from other athletes and fitness models in the industry. She names India Paulino, Ashley Kaltwasser, and Larissa Reis. Stephanie admits their achievements in the fitness industry are what inspires her to reach the same level one day.
She also states her positive mindset and driven attitude are what keeps her moving forward. As Stephanie says. "The other thing that helps keep me motivated and driven is my positive mindset. It has really helped me achieve my goals much faster by keeping me more focused."
---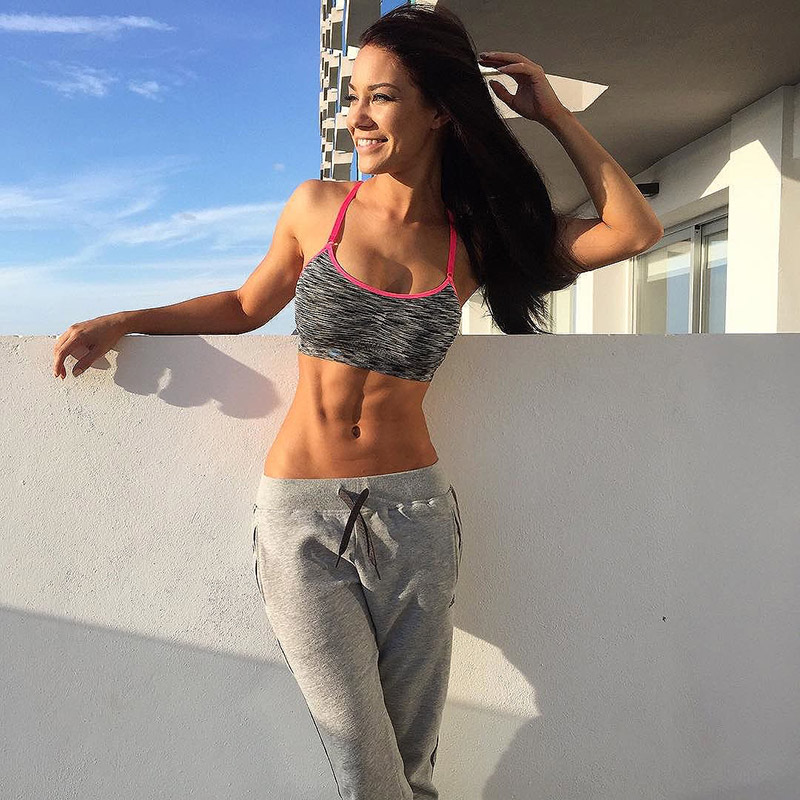 What we can learn from Stephanie Davis
Stephanie's passion for fitness and bodybuilding has taken her to the top of her game. She's become known around the world as a leading fitness model and inspiration for millions of fans worldwide.
One thing we can learn from Stephanie is to never give up, find motivation through others, and keep moving forward. With the same drive and ambitious nature as Stephanie, you too can achieve greatness.