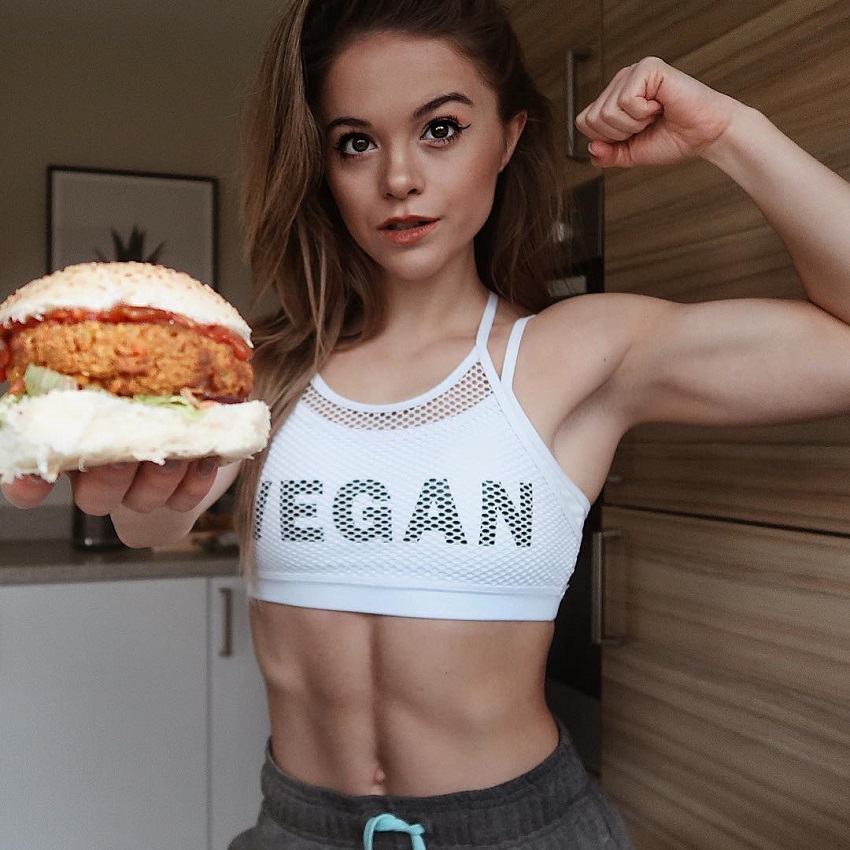 Stefanie Moir
Fitness Model, Video Blogger
Stefanie Moir is a Scottish fitness model and vegan activist. She promotes a plant-based lifestyle, something that she believes is healthy for both people, and the environment.
Stefanie was a vegetarian since the age of 10, but in 2013, she switched to a 100% vegan diet. This meant she stopped eating all animal products, including eggs, dairy, and fish. She did this for both ethical, and personal reasons.
After making the switch to veganism, Stefanie has noticed a number of benefits. Her strength in the gym has increased, her abs and legs became more toned, and her overall health also improved.
Ever since she began spreading her message about veganism, Stefanie has inspired a number of people to follow in her footsteps. Driven by her passion for health and animals, Stefanie continues to inspire more and more individuals to join the 'vegan revolution.'
This is her story:
---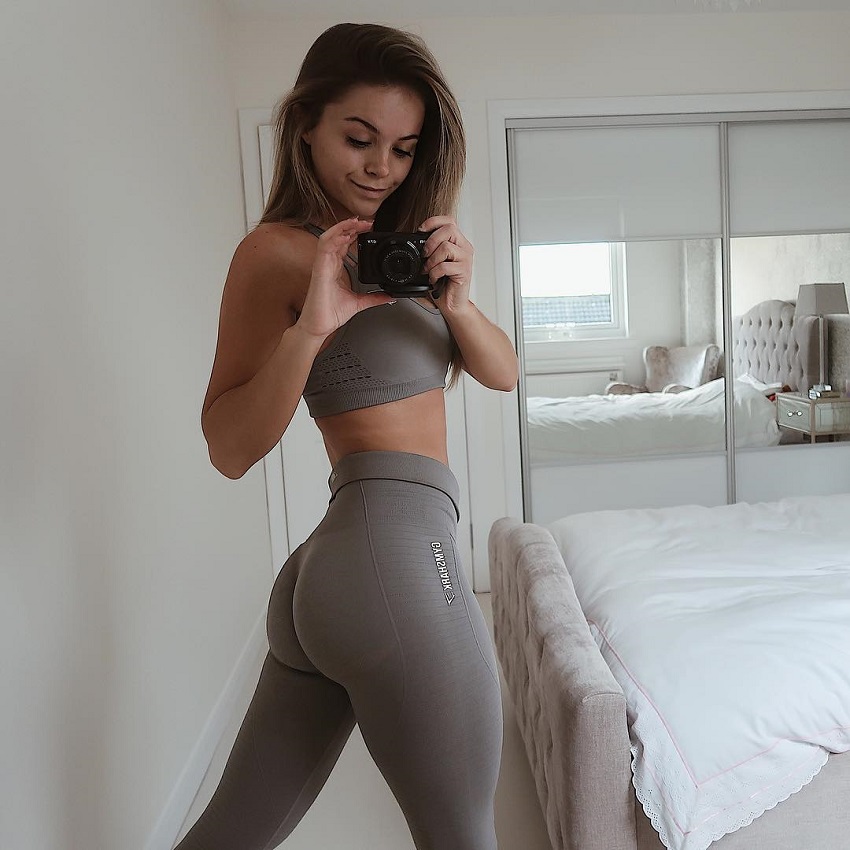 "Fast forward to today, and I am the heaviest I've ever been, yet leanest, and best shape of my entire life, maintaining lean muscle all year round and eating all the foods (my cacao-holics know me)."
Athlete Statistics
Full Name: Stefanie Moir
Height
Age
Date of Birth
Nationality
5'5" (165cm)
29
October 17, 1993
Scottish
Profession
Era
Fitness Model, Video Blogger
2010
| | |
| --- | --- |
| Height | 5'5" (165cm) |
| Age | 29 |
| Date of Birth | October 17, 1993 |
| Nationality | Scottish |
| Profession | Fitness Model, Video Blogger |
| Era | 2010 |
---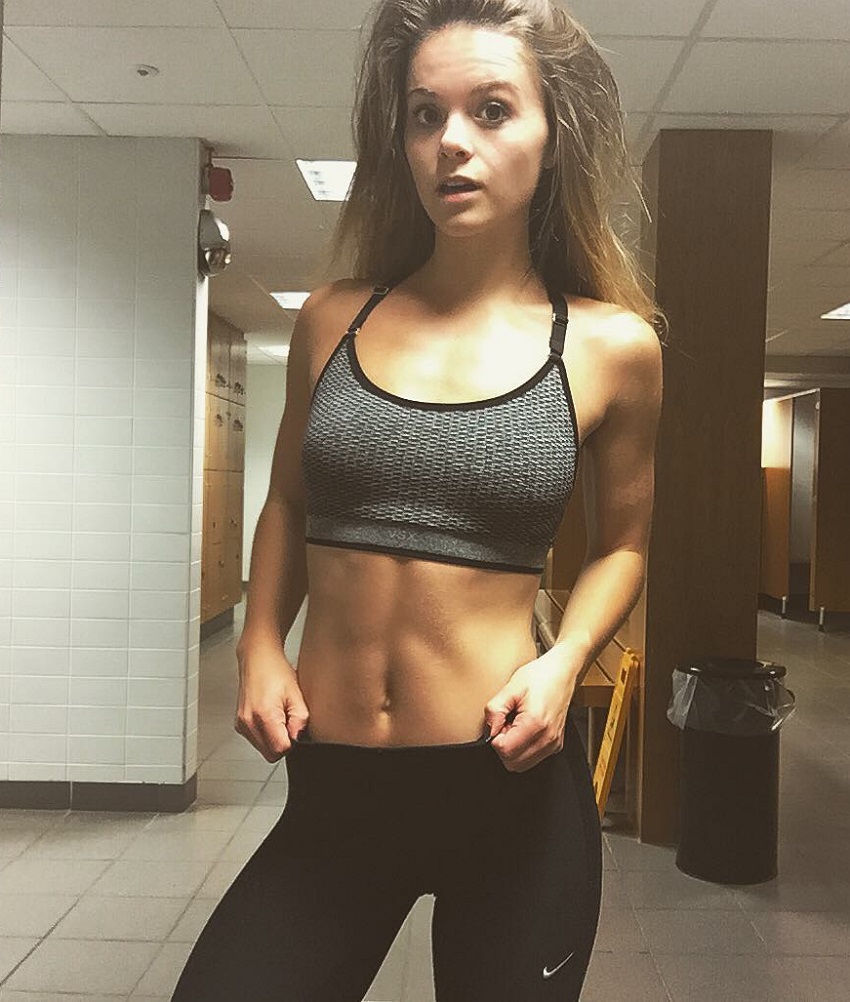 "By no means is there such a thing as a perfect diet, lifestyle, workout plan or body; there is what works for you and the best shape and routine that you can achieve."
Accomplishments
Fitness Model
Video Blogger
Vegan Activist
---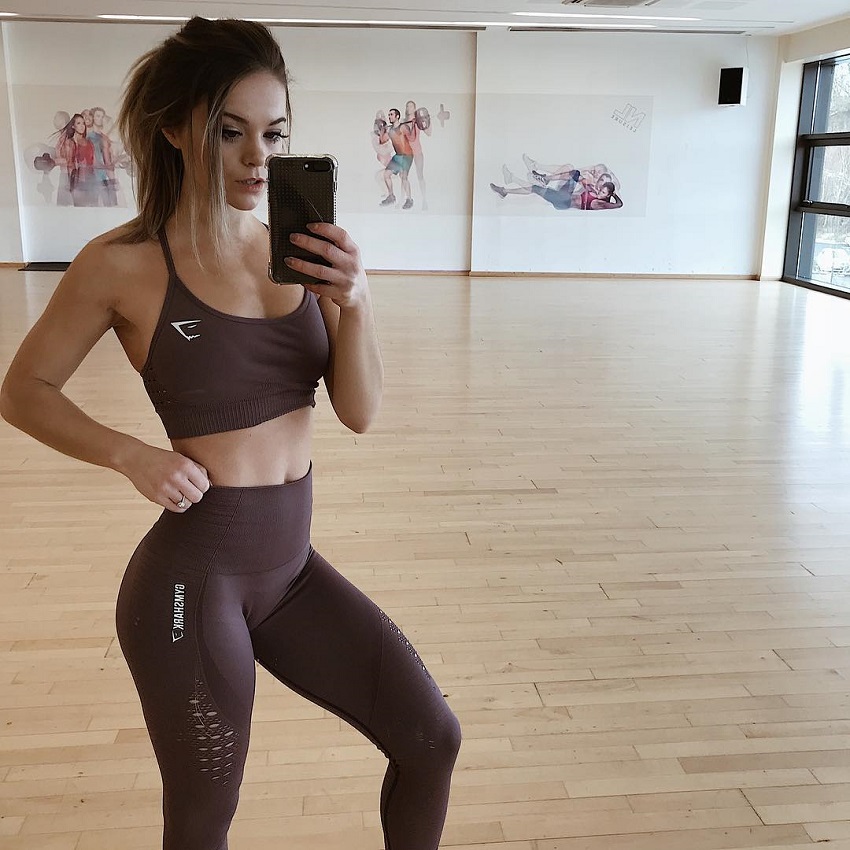 "Filling my body with so much easily digestible food that is full of vitamins and minerals, really makes a difference to your stomach as it does not bloat it. I did not change this lifestyle to lose weight but in terms of my energy, my strength in the gym, my moods, everything is so much better."
Biography
Vegetarian Beginnings
Hailing from Glasgow, the largest city in Scotland, Stefanie Moir grew up as an active and healthy child. She played school sports, and she loved to spend time outdoors in nature.
Stefanie also followed a healthy diet, adopting a vegetarian meal plan at the age of 10. It was at this point, Stefanie stopped eating meat completely. Her family was fully supportive of her decision, they believed Stefanie was doing the right thing in terms of her own health and environment.
---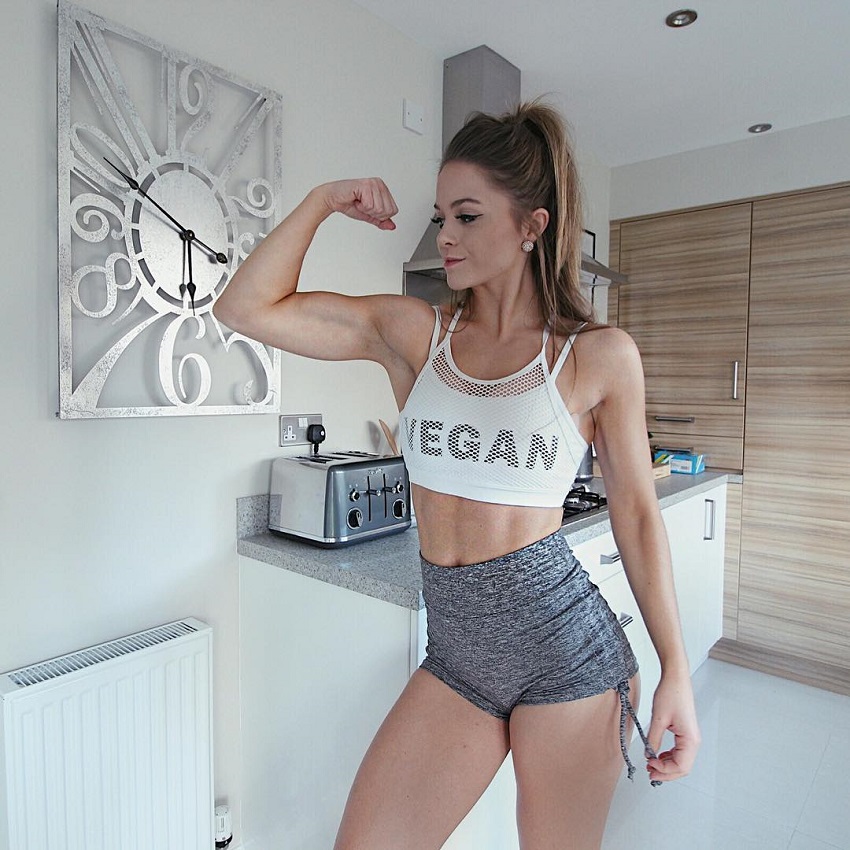 ---
Turning Vegan
It was during 2013 when Stefanie made her transition to become a 100% vegan. Wanting to improve her figure and overall health even further, she dropped all animal products. This included eggs, yogurt, fish, honey, etc.
She replaced these products with foods like soy protein, lentils, tofu, kidney beans, tempeh etc. She also drastically increased her fruit intake. Her breakfast consisted of one big shake which included 10 frozen bananas, totaling 1000 calories.
"I originally got into veganism for health reasons, to be the healthiest version of myself! I came across veganism on social media and started watching documentaries such as Forks Over Knives and that was me!"
Initially, Stefanie's parents weren't supportive of her decision to be a 100% vegan. They believed that she wouldn't be able to get all the vitamins and minerals by only eating fruits and plant foods. However, after noticing Stefanie becoming stronger, happier, and healthier, they changed their views – fully supporting her vegan journey.
---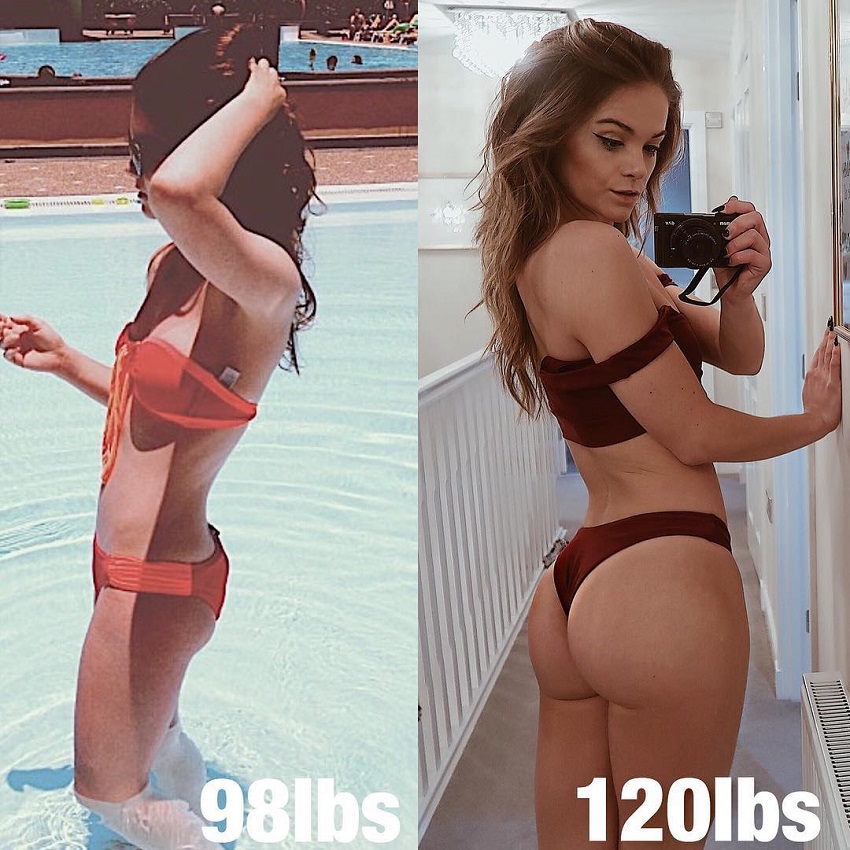 Stefanie Moir's fitness transformation: from a vegetarian, to a high-carb vegan diet.
---
Gym Workouts as a Vegan
It wasn't just Stefanie's health that improved from a vegan diet. Her strength in the gym also increased. Here's Stefanie talking about changes that she experienced from going vegan;
"I weight-train five or six times a week – but being on a plant-based diet has definitely helped me to build muscle. Since going vegan, I'm never bloated, I feel more energized, my skin is clearer and I find I recover quicker after working out."
Throughout her journey as a vegan, Stefanie wanted to show other people how it's possible to get stronger on a vegan diet. She wanted to prove that foods like lentils, beans, and tofu, are just as good, if not better than animal products in regards to building muscle – using herself as an example.
Soon, more and more people started following what Stefanie preached – instigating their own journey into veganism.
---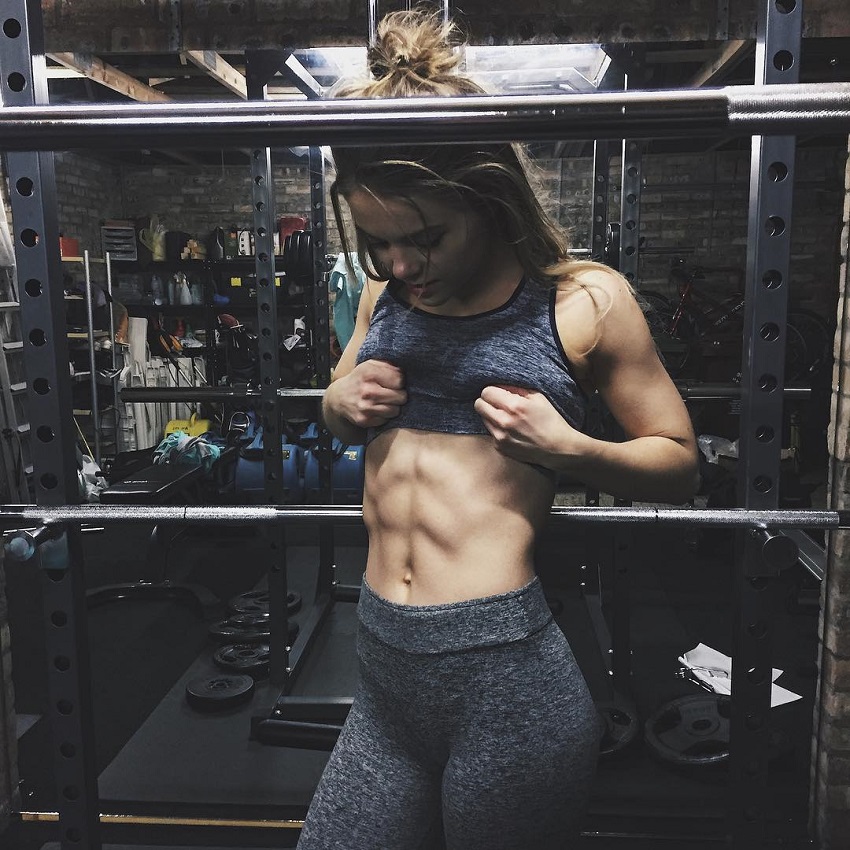 ---
Becoming an Inspiration
By 2017, Stefanie became one of the most prominent female vegan athletes in the UK. Her blogs, motivational posts, as well as educational vegan videos, have brought an immense number of people to her sites.
Stefanie continues to put efforts to her cause of advocating a plant-based diet and active lifestyle. She hopes that her example will inspire everyone to lead a life that is both healthy, and animal-friendly.
---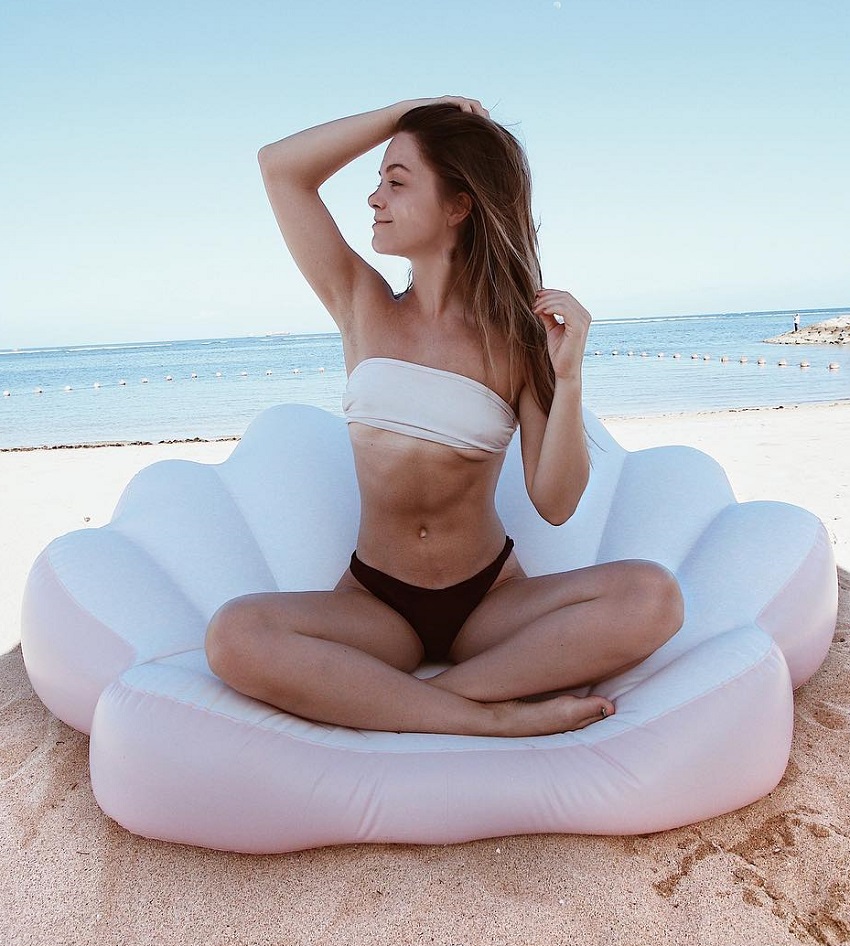 Training
Stefanie Moir's Unique Training Style
Stefanie trains five to six times per week in the gym. She enjoys combining cardio with weight lifting, following her own style of training.
In regards to her rep range, it depends on Stefanie's goals. If she wants to add more muscle, she'll do 6-10 reps per set. This repetition range is ideal for improving her strength and overall body composition.
On the other hand, if she wants to lean out, Stefanie will do 12+ reps per set. This will increase her metabolism, which will in turn burn more calories.
---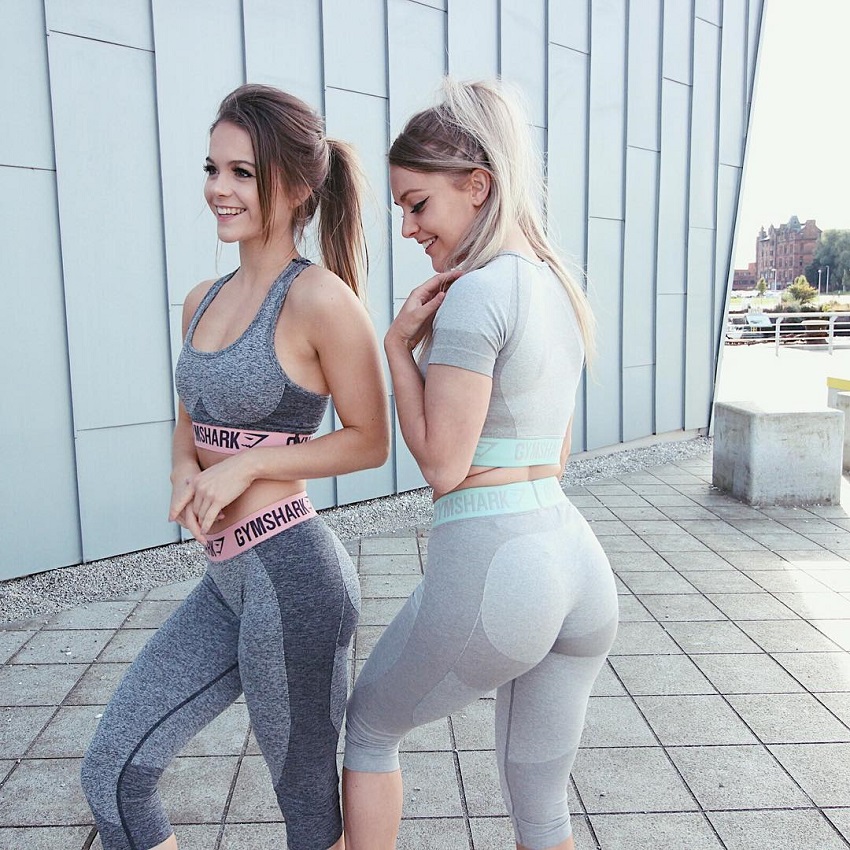 Stefanie Moir posing with Jane Campbell.
Nutrition
High-Carb, Low-Fat Diet
Initially, Stefanie followed a high-fat, high-protein, and low-carb diet. However, this approach didn't give her the results that she wanted. Stefanie felt lethargic and unmotivated, craving sugary foods because of the lack of carbs. As she said;
"High fat makes the body feel lethargic, restricting carbs makes the body crave junk food as it isn't getting the glucose it needs, it also means you are not giving your body as many antioxidants, vitamins, and minerals but rather pumping it full of fat."
After switching to a high-carb diet, Stefanie almost immediately noticed an increase in energy and performance in the gym.
Stefanie now eats a high carb diet, where 80% of her daily calories come from carbohydrates. These foods include fruits, vegetables, potatoes, rice, and lentils. The other 20% come from proteins and healthy fats.
---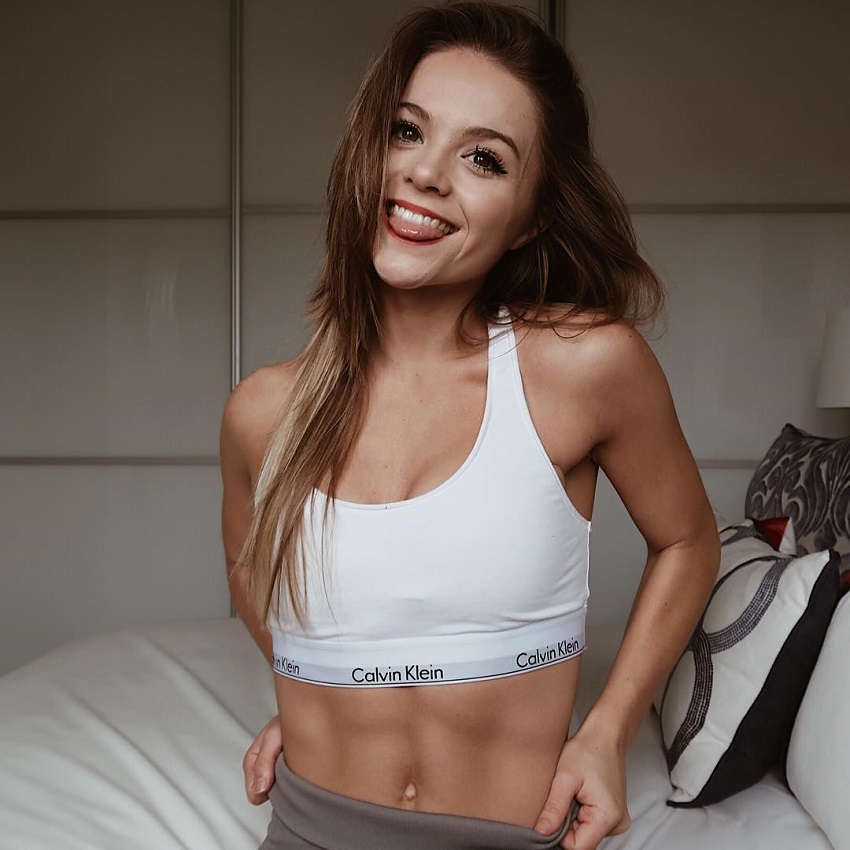 ---
Stefanie Moir's Daily Meals
Stefanie starts her day with a frozen banana smoothie. She typically uses 10 bananas which totals 1000 calories per shake. She says, this is a simple way of consuming a lot of calories in a short space of time.
For lunch, Stefanie will eat dates. A few hours later, she'll have an afternoon snack, such as vegan protein bar.
For dinner, Stefanie will eat 1,5kg of potatoes baked in the oven. Alternatively, she'll have steamed vegetables with rice or pasta.
Alternative Meal Plan
Stefanie doesn't eat the same foods every day, she enjoys experimenting with different recipes. Here's an alternative daily meal plan for Stefanie;
Breakfast: Rolled oats with almond milk, blueberries, strawberries, maple syrup, and peanut butter
Lunch: 1-liter protein smoothie made with bananas, vegan protein powder, almond milk, raw chocolate, and ice
Dinner: Spiced rice and beans, chopped tomatoes, onions, and other vegetables
---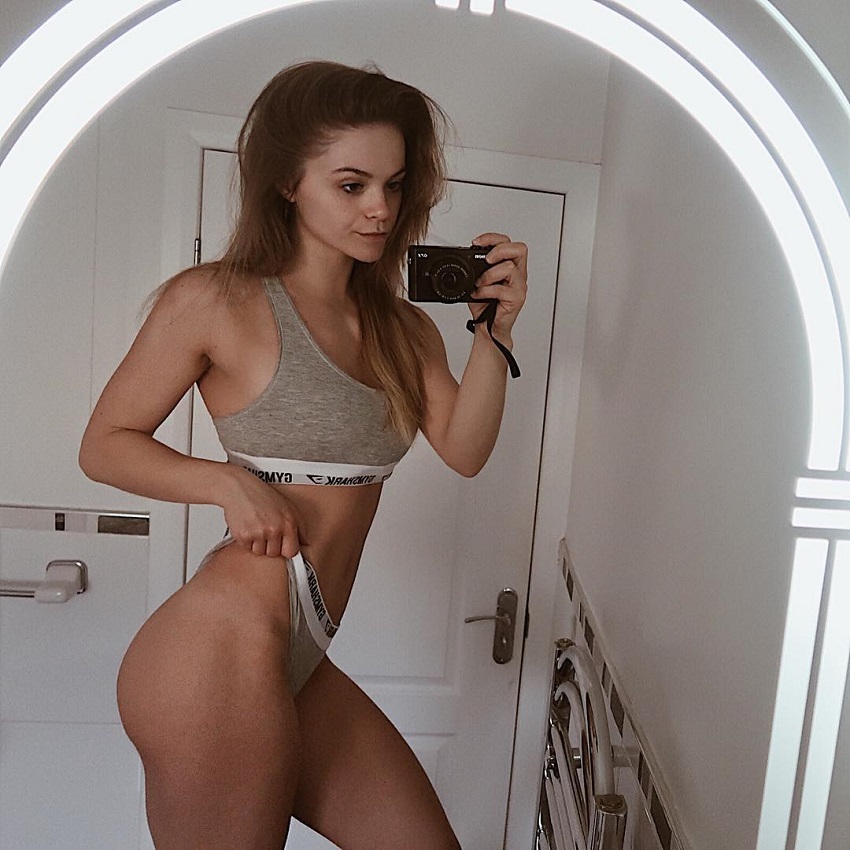 ---
BBQ Baked Beans on Toast Recipe
This is one of Stefanie's favorite breakfast recipes. It's packed with complex carbs and proteins, which are ideal for pre-, or even a post-workout meal when Stefanie's muscles need energy.
Ingredients;
1 pepper, 1 onion
2 garlic cloves
bbq sauce, 1 tablespoon
chickpeas, 1 tin
bean salad, 1 tin
1 x 400g tin chopped tomatoes
1 tsp each cumin, coriander, ginger, chili powder, turmeric, black pepper and salt
2 slices toast
How to make;
Add vegetables to pre-heated pan.
Once the vegetables are cooked, add spices and mix.
Add beans, chopped tomatoes, and barbecue sauce.
Bring to simmer and then cover for about 10 minutes.
Pour over toast.
---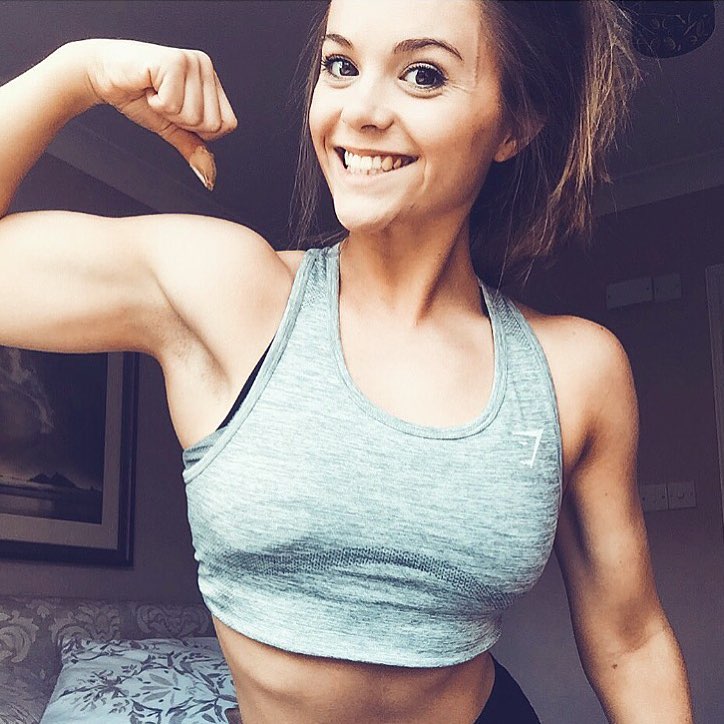 Idols and Influences
When she first became a vegan, Stefanie followed a high-fat, high-protein, and low-carb diet. Although this diet was unprocessed and whole-food based, Stefanie felt lethargic and weak. She also often craved sugars.
Then, several months later, Stefanie came across 'Freelee the Banana Girl,' who promoted a high-carb diet based on fruits. Surprised by what she saw, Stefanie decided to give a high-carb diet a try. Ever since then, she hasn't looked back.
Here's Stefanie talking about her switch to a high-carb diet; "I was sick of restricting my food, like I said I love to eat a lot so I needed something that would allow me to do that without gaining weight.
 I then came across freeleethebananagirl and also Sasha from rice and raw and was astonished at what I found. Both have weight loss journeys eating more food and fruits they have ever eaten on any other lifestyle so I did my research and went for it. "
---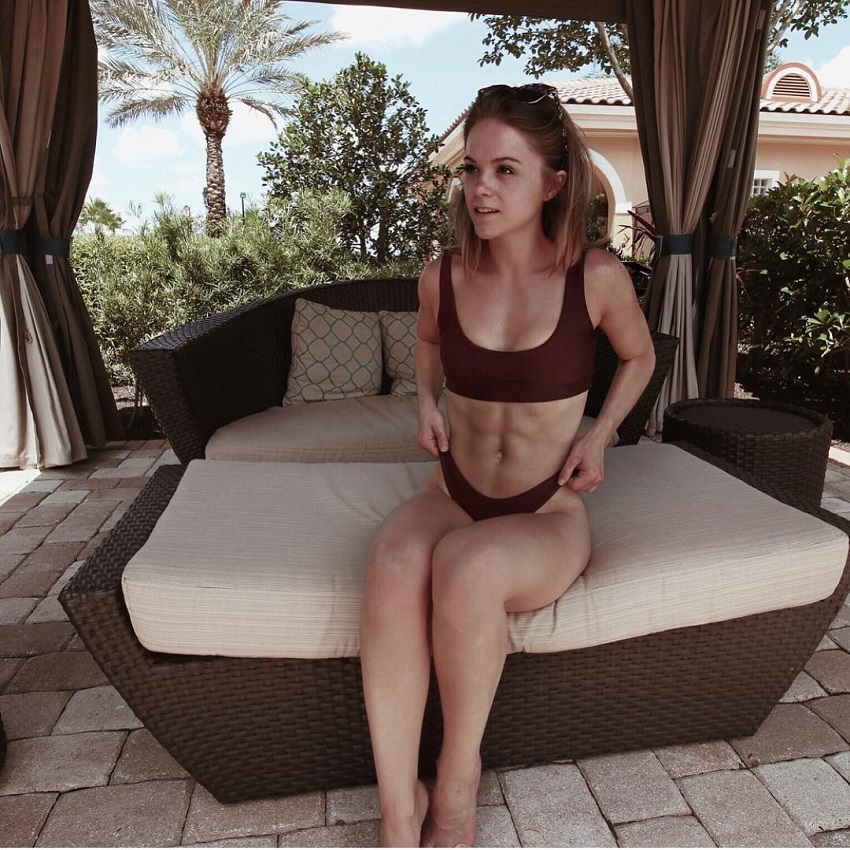 What we can learn from Stefanie Moir
When Stefanie Moir decided to adopt a plant-based diet, she encountered some people who doubted her decision. They told Stefanie that it's impossible to maintain a good health and strength by just eating plants and fruits. But Stefanie proved them all wrong.
She not only became stronger, leaner, and fitter, Stefanie also became healthier than ever before. This only proves that sometimes, you should listen to your own intuition, instead of doing what others say.
If you feel you should make a change in your life, don't let anyone stop you from making it happen. Have a clear goal in your mind, stay determined, and most importantly, believe in yourself – that's something Stefanie Moir would tell you.