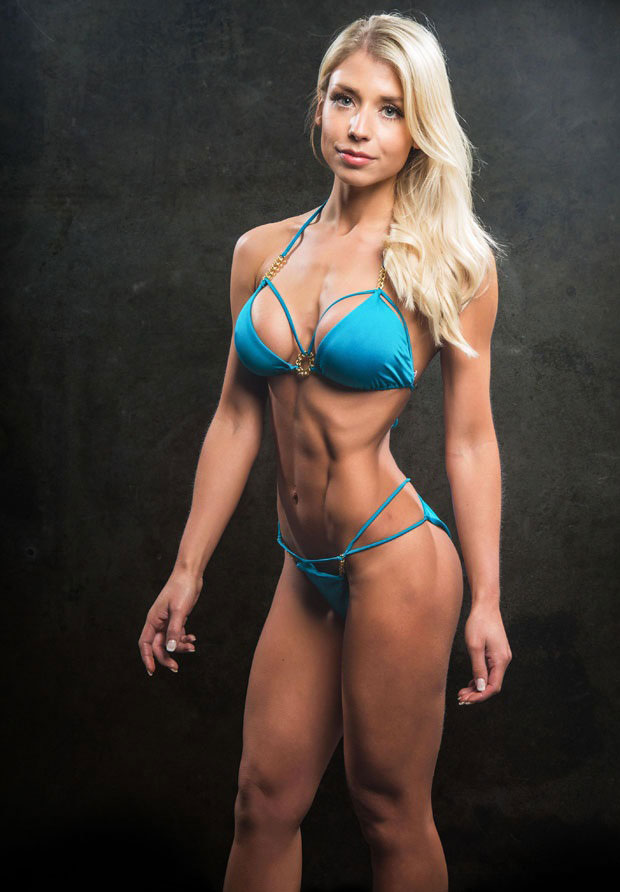 Sophie Aris
Bikini Competitor, Fitness Model, Sponsored Athlete, Social Media Celebrity
Sophie Aris is a bodybuilder from Cheshire, England. She became a success as a bikini competitor, but first, she had to overcome aspects of her life that had begun to take its toll.
Throughout her time in high school, Sophie became a victim of bullying – affecting her self-confidence. But one day, matters were made much worse.
She had to cope with the loss of both her grandparents, on top of her parents getting divorced. During this period, her life continued to fall into a downward spiral – overindulging on unhealthy foods as a way to cope with her heartbreak.
However, she was able to overcome this and much more. She eventually reached her goal of winning a bikini competition. In the process, she not only became a sponsored athlete and social media celebrity. But also, an inspiration to many people across the world.
This is her story:
---

Athlete Statistics
Full Name: Sophie Aris
Weight
Height
Age
Date of Birth
Under 115lbs (52.2kg)
5'1" (155cm)
34
September 7, 1989
Nationality
Profession
Era
British
Bikini Competitor, Fitness Model, Sponsored Athlete, Social Media Celebrity
2010
| | |
| --- | --- |
| Weight | Under 115lbs (52.2kg) |
| Height | 5'1" (155cm) |
| Age | 34 |
| Date of Birth | September 7, 1989 |
| Nationality | British |
| Profession | Bikini Competitor, Fitness Model, Sponsored Athlete, Social Media Celebrity |
| Era | 2010 |
---

Accomplishments
Career Achievements
Bikini Competitor
Fitness Model
Sponsored Athlete
Social Media Celebrity
Former Art Teacher
Competition Stats
UKBFF North East Qualifiers – 2nd Place
UKBFF North West Qualifiers – 1st Place
---

Biography
Difficult Early Life
Sophie Aris was born in Cheshire, England in 1989, where she grew up throughout her childhood. During her time in high school, things in her life were nothing out of the ordinary, until one day, things took a turn for the worse.
Sophie began to suffer from bullying – constantly receiving negative comments about her weight, where she was cruelly referred to as 'tree trunk legs'. From this point, Sophie soon commenced on a downward spiral – with low self-esteem taking over her life.
But, matters were made worse when both of Sophie's grandparents passed away within a short space of time. In addition to this, Sophie had to deal with the break up of her parents' marriage – sending her life into despair.
As a result, Sophie struggled to cope. Her self-confidence was at an all time low. Because of this, she began binge eating as this was the only way she knew how to deal with the negative aspects of her life.
Making A Change
Shortly after starting college, Sophie went on a girl's holiday to Cyprus. She quickly became self-conscious about her body, worried about what other people might think. As a result, Sophie felt as though she didn't fit in, and was uncomfortable in her own body.
But one day, Sophie decided that enough was enough. She needed to change her ways – it was now or never. From then on, Sophie's journey in fitness came to life.
At this point, Sophie began training in the gym regularly. It was her goal to put in the past her darkest days, while building a physique that she was happy with.
However, Sophie failed to make much progress. She only performed cardio since she was put off from the weight room – worried about others judging her. This was a knock on effect from Sophie's difficult times throughout her time in high school.
Finding Fitness
Initially, Sophie was apprehensive about starting weight training. She was afraid that people would stare at her while she was training, something that really put her off lifting weights.
However, she soon decided to bite the bullet. Sophie attended her first training session with a personal trainer that she met – instantly, her mindset about fitness totally changed. As a result, she was eager to build upon this, stating:
"I was definitely one of those girls that thought lifting weights made you 'bulky' but soon came to realize this wasn't the case. Going to the gym is a learning process and the sooner you realize this the better".
Sophie was given some basic information about fitness nutrition by her personal trainer. Shortly after, she began conducing research about healthy eating so that she could overhaul her unhealthy diet. From then on, she never looked back.
Fitness became something that Sophie was highly interested in. She had now formed the foundation to build a better life for herself, overcoming roadblocks along the way.
---

Sophie's transformation: how she used to look compared to now.
Teaching Career
Outside of her newly discovered love for fitness, Sophie had become a teacher in secondary school. She had a love for art, something that she had passion for all the way throughout her time in education.
At this point, Sophie was teaching full time, meaning that her fitness aspirations initially hit a set back. As a result, she failed to make the progress that she hoped for. Because of this, Sophie knew that she needed to make a change to reach her fitness goals.
However, it wasn't until she attended a bodybuilding competition that her friend was competing in, that Sophie decided to take a step back from teaching. She began teaching part time instead, after realizing that she wanted to take to take a different direction in her life – reaching the bodybuilding stage.
Starting Out Competing
Sophie attended the UKBFF North West Qualifiers as a spectator in May 2014. Prior to the show, she previously looked down on those who were competing due to the clothing they wear on stage.
However, this became the day that her thoughts about bodybuilders totally changed. Here's Sophie recalling the moment she realized she wanted to follow in their footsteps and appear on the bodybuilding stage:
"It was seeing the girls in the bikini category when I began to feel inspired. Previously I thought 'bikini fitness' competitors were almost like strippers! They must be so attention seeking to want to be parading around in a minuscule sparkling bikini I thought. But at the show, I wasn't only in awe of the ladies killer bodies, but also recognized how much hard work it had taken to get in that condition".
From this moment onward, Sophie was determined to appear in the same competition the next year. Shortly after, Sophie began weight training in the gym to achieve her goal. This was something that she was scared to perform previously – until now.
Fast forward to the next year, Sophie obtained her goal – finishing first in her category on the same stage where she was a spectator the year before. This emphasized just how far she was able to come since starting out in fitness – spurring her on to achieve so much more.
Present Day
Sophie became an internet sensation when she began sharing her fitness transformation online with others. She inspired many people across the world by overcoming negative aspects of her life, to transform into a whole new person.
As a result, she became a sponsored athlete and bikini competitor – allowing her to keep pushing forward in her life in fitness, both on and off the bodybuilding stage.
---

Training
Sophie's aim is to consistently grow and become stronger in each and every one of her training sessions. To achieve this, she works out using the following split:
Sophie Aris' Training Split
Day 1: Upper body (shoulders & arms)
Day 2: Glutes & hamstrings
Day 3: Upper body (back)
Day 4: Quads
Day 5: HITT & cardio only
Day 6: repeat day 1
Sophie enjoys working on her lower body, highlighting glutes as her favorite muscle group. Here's a routine that she follows to work on her glutes:
Sophie Aris' Glute Workout
Dumbbell Deadlifts: 3 sets of 12 reps
Wide Stance Barbell Deadlifts: 3 sets of 15 reps
Wide Stance Cable Squats: 3 sets of 12 reps
Single Leg Lying Leg Curl: 3 sets of 12 reps each leg
Bodyweight Walking Lunges: 3 sets of 20 reps
Bodyweight Elevated Squats: 3 sets of 15 reps
---

Nutrition
Sophie follows a diet that allows her to eat what she likes as long as she sticks to her macronutrient goals. In addition, Sophie tracks her calories on a daily basis, so that she's able to remain on target to reach her fitness goals.
However, Sophie cites the need to have a balance in her life so that she's not tempted to fall off track. Here's Sophie talking about her diet choices:
"It is all about balance and everything in moderation. If I want to go out for pizza, I will. It is about changing your way of thinking and finding ways to feel better about yourself".
Sophie's diet to stay lean and add muscle mass is listed below:
Sophie Aris' Diet
Breakfast
(Cooked as an Omelette)
1 egg
1 Egg White
Tomato
Spinach
Feta
Post Workout Meal
Oats
Water
Chopped Courgette
1 Scoop of Whey Protein
Healthy Mocha Recipe
1 Tsp Hot Chocolate Powder
1 Tsp Coffee Granules
Almond Milk
Wrap
1 Wholegrain Wrap
1 Tin of Tuna
Avocado
Spinach
Tomato
Snack
Cooked Turkey
Feta Cheese
Iceberg Lettuce
2 Rice cakes
Peanut Butter
Final Meal
Peanut Butter 1 Tsp
Courgette
Oats
Flavour Drops
---

Idols and Influences
Sophie looks up to bikini competitors that have a made a name for themselves on the bodybuilding stage. She lists the likes of Sara Back and Justine Munro as her idols, aiming to replicate the success they have earned in their careers.
However, Sophie also takes inspiration from those around her on the bodybuilding stage, along with her friends and family who support her throughout her fitness career. Here's Sophie talking about their influence:
"I take inspiration from so many people. You've got to surround yourself with positive people who believe in you. Competing is such a selfish sport at times so it's important to have those in your life who 'get' your vision and ambition".
---

What we can learn from Sophie Aris
Sophie Aris quickly rose to fame when she learned to overcome issues in her life that held her back. However, she hit many roadblocks along the way. This included the loss of loved ones, issues with her weight, and the divorce of her parents, that left her close to breaking point.
But then, she found fitness. It offered her the chance to transform her life for the better, finding success on the bodybuilding stage in the process. Soon after, she became a sponsored athlete, highlighting that her darkest days had been left behind.
What we can learn from Sophie Aris is; negative aspects may sometimes get the better of you, making you feel worthless and in need of a change. Sophie went through this, but, by finding fitness, she was able to achieve things in her life that she never thought were possible.