Born and raised in Colorado (USA), Sommer Ray is a model, fitness icon, social media sensation, and bikini athlete.
She took the world by storm after beginning to post pictures and videos of her lifestyle in September 2016. Sommer was quickly acknowledged for her aesthetic physique, and became the subject of numerous online forums and articles.
Since then, she's gained millions of followers – being admired for her incredible figure, glutes and bubbly personality.
This is her story:
---

"You can steal my look, but you can never steal my vision."
Athlete Statistics
Full Name: Sommer Ray
Weight
Height
Bust
Waist
115 - 125lbs (52.2 - 56.7kg)
5'6" (167.5cm)
34"
24"
Age
Date of Birth
Nationality
27
September 15, 1996
American
Profession
Era
Model
2010
| | |
| --- | --- |
| Weight | 115 - 125lbs (52.2 - 56.7kg) |
| Height | 5'6" (167.5cm) |
| Bust | 34" |
| Waist | 24" |
| Age | 27 |
| Date of Birth | September 15, 1996 |
| Nationality | American |
| Profession | Model |
| Era | 2010 |
---

"I prefer to earn it. makes me appreciate it more."
---

Sommer Ray competing as a bikini athlete from 16, 17, and 18 years old.
Accomplishments
Competition History
2015 NPC Colorado State Championships, Bikini Teen – 1st
2015 NPC Colorado State Championships, Bikini Class D – 1st
2015 NPC USA Championships – 16th
---

"I choose to embrace & love my flaws & that's what matters. Be true to you."
---

"Failure will never overtake me if my determination to succeed is strong enough."
Biography
Start of Fitness Journey
Born and raised in the heart of Colorado, Larkspur (USA), Sommer Ray spent her childhood moving frequently due to her parents' professions; being competitive bodybuilders, they needed to travel in order to compete in fitness shows.
However, eventually, her family decided to settle down in Lone Tree, Colorado (USA). It was here where Sommer was encouraged to embark on her fitness journey, at the age of 15 in 2012.
Under the guidance of her parents, Sommer began lifting weights in her basement gym, aiming to follow in her mother's footsteps and compete as a bikini athlete.
First competition
In 2012, at the age of 16, it was clear that Sommer had been blessed with great genetics; only a year after beginning her fitness journey, she had managed to sculpt an incredible figure.
As a result, Sommer's parents encouraged her to sign up for her debut show as a bikini athlete that year.
Although she didn't experience immediate success, over the next 2 years, Sommer improved on her performances. Her most notable achievements include her victories at the 2015 NPC Colorado State Championships, where she earned 2 trophies.
---

"Nothing compares to working hard for what you got. Muscle booties over everything."
---
Fitness Sensation
Proud of her accoplishments as a bikini athlete, Sommer decided to document her fitness journey using an Instagram profile in 2016; she began posting pictures and videos of her workouts and lifestyle, aiming to reach out to other fitness enthusiasts online.
It wasn't long until the bodybuilding community fell in love with Sommer's incredible figure, resulting in her gaining masses of followers extremely quickly.
By 2017, Sommer had become a social media & fitness icon, inspiring countless females around the world to work towards achieving a similar figure.
The Haters & Gaining Respect
As with anything, with fame came the haters. Due to her photos on social media being focused around her assets, Sommer Ray attracted many negative comments, as well as fans.
However, this didn't affect her; Sommer began posting vlogs on YouTube as a reaction, stating that her 'saucy' pictures were simply to help 'pay the bills' and weren't an accurate representation of who she actually was.
Since then, the fitness community has shown Sommer increasing respect and managed to connect with her through her vlogs.
"It's so funny how people have this image of me an they think I'm a sl*t and I don't wear clothes. But that's all an illusion, this is social media people. Those booty shots, it's what pays the bills.
"I'm a normal human, I wear normal clothes. Actually I dress sort-of like a hobo everyday, I'm not in yoga pants, I'm in long baggy t-shirt things." – Sommer Ray
---

"Positive vibes. Positive mind. Positive life."
Nutrition
Sommer was raised in a very health-conscious family, with her mother being a great role model in this regard. As a result, she grew-up with a naturally lean frame.
However, between the ages of 16-18, Sommer began focusing on competing as a bikini model; during this period, she mainly consumed lean proteins, green vegetables & fruits, placing a limit on carbohydrates to help lower her calorie intake.
Since stepping away from the stage as a bikini athlete, Sommer now believes that it's important to follow a more sustainable, less restrictive diet.
On this topic, she says:
"It takes time and it takes commitment. Don't do it for anyone or anything, you need to do it for yourself or you're not going to be successful with it. 
"That's why I've had the good results that I've had because I put my mind, body and soul into it because I'm passionate about nutrition and fitness." – Sommer Ray
---
Editor's Tip
Inspired to reach your maximum potential like Sommer? Read our comprehensive guide on how fat burning supplements can really up your game!

---

"I workout cause I love it and wanna be healthy."
---

"I work hard to reach my goals, whether it's in fitness or lifestyle."
Training
Sommer Ray is known for her glutes, so it's no surprise that she places a particular focus on her lower body during her workouts.
The Instagram star enjoys training with a high rep-range, aiming for between 12-15 reps per set to help tone her figure. Although Sommer isn't known for her strength like some other female fitness icons, she still loads-up on squats on certain days.
In terms of cardio, Sommer rarely performs any; being blessed with a fast metabolism, she finds that including too much cardio in her routine leads to loss of muscle mass.
Leg Workout Routine:
Sommer's leg session looks something like this:
Hack Squats – 4 x 12 reps
Leg Press – 4 x 12 reps
Standing Cable Glute Extensions – 4 x 12 reps
TRX Jump Squats – 4 x 12 reps
Jump Rope – 4 x 5 min
---

Sommer Ray's transformation – 15 (left) and 20-years-old (right)
---

"My momma is GOALS, proving that age is just a number."
Idols and Influences
Sommer Ray considers her mother, Shannon Ray, and her father as the main driving forces behind her passion for fitness; Shannon is also known for her incredible figure, also attracting masses of followers too.
In fact, it was her parents who introduced Sommer to the gym and encouraged her to sculpt her trademark glutes, due to them both being competitive bodybuilders. As a result, Sommer's debut appearance as a bikini athlete was in the same bodybuilding show as her mother.
Speaking about the relationship with her mother, Sommer said: "I've been working out with my mother my whole life. We had a gym in our basement and we would work out down there. 
"I used to compete in bodybuilding and the first competition I ever did was with my mum." – Sommer Ray
---

"Life is a shipwreck, but we must not forget to sing in the lifeboats."
---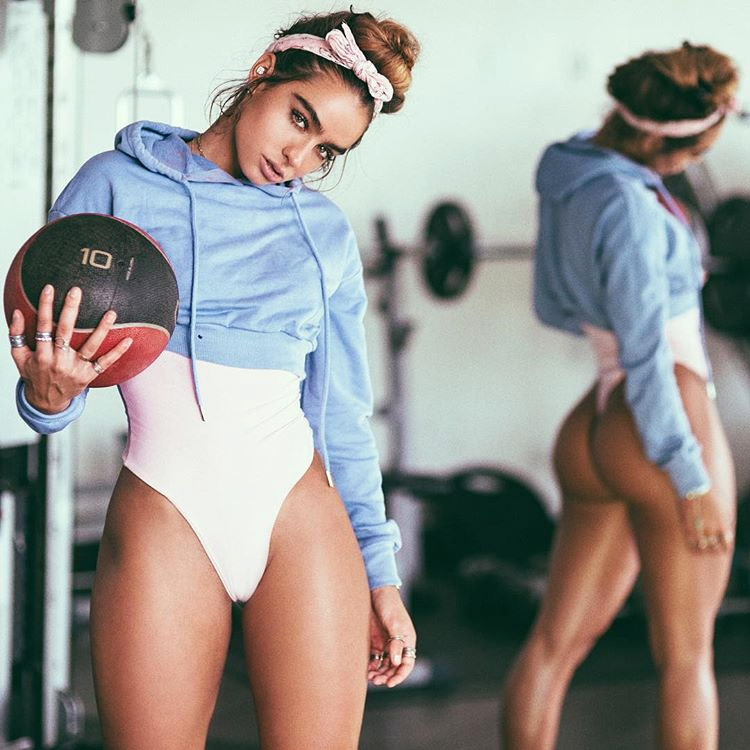 "Everything I do, I do it with a passion."
What We Can Learn From Sommer Ray
Sommer Ray gained attention for her figure, then managed to subdue most of her haters by connecting with them through YouTube vlogs; through this, she has taught us that responding to criticism with love can change the tide of your future.
One thing we can take away from Sommer, is to always focus clearly on your goals, and chase them until you succeed.
Ultimately, while she had the expert guidance of her bodybuilding parents, she still displayed the discipline necessary to follow strict workout and diet plans – in order to earn trophies as a bikini athlete and gain respect as a fitness icon.