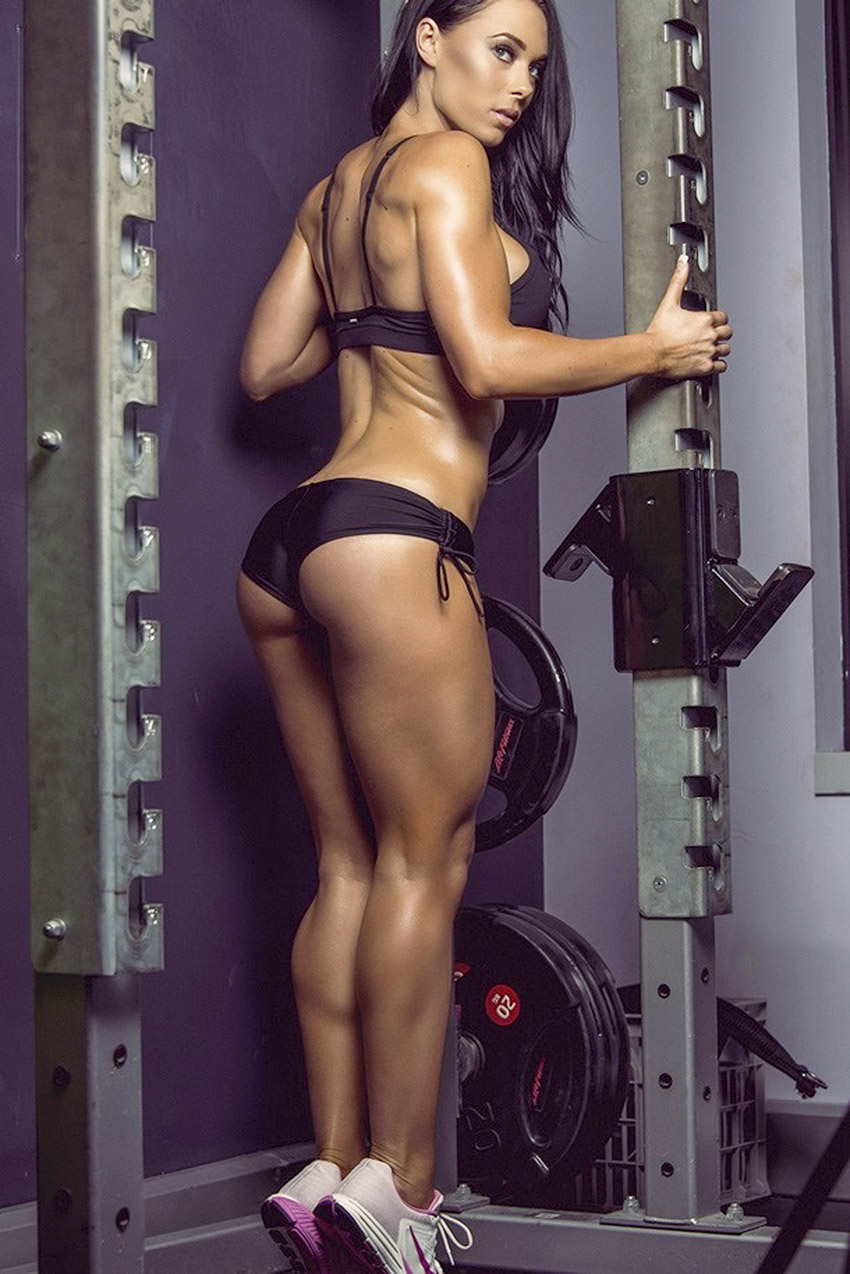 Shannah Baker
Bikini Athlete, Fitness Model
Shannah Barker first entered the gym in order to sculpt her dream physique for her wedding day. But she'd soon developed an incredible physique and realized her potential in the fitness industry.
Since then, Shannah's earned Pro Cards in two different federations and become an inspiration to countless fans around the world.
This is her story:
---

"Remember, you always have the power to change your path"
Athlete Statistics
Full Name: Shannah Baker
Weight
Height
Bust
Hips
135 - 145lbs (61.2 - 65.8kg)
5'5" (165cm)
32"
35"
Waist
Year of Birth
Nationality
24"
1990
Australian
Profession
Era
Bikini Athlete, Fitness Model
2010
| | |
| --- | --- |
| Weight | 135 - 145lbs (61.2 - 65.8kg) |
| Height | 5'5" (165cm) |
| Bust | 32" |
| Hips | 35" |
| Waist | 24" |
| Year of Birth | 1990 |
| Nationality | Australian |
| Profession | Bikini Athlete, Fitness Model |
| Era | 2010 |
---

"I've been extremely lucky as I was chosen to compete in Las Vegas where I earnt my pro card!"
Accomplishments
2014 ANB Asia Pacific Fitness Model Championship, 1st
2014 Fitness America Weekend, Bikini, 1st (Fitness Universe Pro Card)
2015 Fitness Universe Miami, 2nd
2016 IFBB Queensland competition, 1st (IFBB Pro Card)
---

"I first got into fitness in the lead up to my wedding!

Before I knew it, what was an occasional visit to the gym for cardio & light weights turned into a 12 week comp prep. I've never looked back!"
Biography
Early Years
Born in Mandurah, Australia, Shannah had always been into sports as a child. She took part in basketball, horse riding and swimming, growing up naturally lean.
However, it was during the lead-up to her wedding that she decided to get fit and healthy. Shannah found the desire to sculpt her dream physique for the best day of her life.
In 2012, at the age of 22, Shannah entered the gym, embarking on her fitness journey.
---

"Some people track their progress through a macro counting diet. Other people don't count at all.

It's about balance, finding out what your body responds to and what works best for you!"
---
Fitness Journey
It wasn't long before Shannah made serious progress and fell in love with the gym. By 2013, Shannah was on the way to developing a formidable figure – a personal trainer at her gym noticed her potential and encouraged Shannah to enter a fitness competition.
Initially, the Australian's response was: "No way! I love food too much!". But she soon realized that she would consume more food than she'd ever done by following a diet plan.
Over the next year, Shannah trained rigorously, preparing to step on stage.
---

"Seeing the results and the feeling of being fit and healthy becomes an addiction in itself. When you feel good, you want that constant high – therefore you keep up your training and clean eating!"
---
First Competition
After a year of intense workouts and dieting, by the age of 23, Shannah had sculpted an incredible physique. After her wedding, she finally decided to enter her first competition – the 2014 ANB Asia Pacific Fitness Model Championship.
Shannah beat all expectations and managed to place 1st in her debut show. This motivated her to pursue a career in fitness, and she set her sights on winning more trophies.
"Knowing my husband, family and friends were in the audience watching me win the competition was such a joyful feeling!" 
---

Shannah lifting the Mr. Bikini title after winning the 2014 Fitness America Weekend.
---
Pro Card
Shannah was invited to compete in the 2014 Fitness America Weekend after her victory. She knew that she'd be up against tough competition, but she made the most of the opportunity.
Impressively, Shannah placed 1st in the national contest, earning her second title of the year. However, along with the trophy, Shannah was awarded her Pro Card.
At the age of 24, the Australian had realized her dream of becoming a professional bikini athlete.
---

"I still get nervous but I always remember how I love the feeling of adrenaline as soon as I step off! I just think to myself before stage that its all going to be worth it!"
---
Life as a Pro
Riding high from her victory, Shannah stepped up her game and prepared to compete as a pro. After a year of further developing her physique, she was ready for her comeback.
In 2015, Shannah stepped on stage at the Fitness Universe Miami show. Although she didn't win, she placed a close second in her first professional competition.
---

Shannah after winning the 2016 IFBB Queensland competition and her IFBB Pro Card.
---
Switch to IFBB
After her experience as a Fitness Universe Pro, Shannah made a massive decision to switch federations and compete as an IFBB athlete.
Amazingly, Shannah placed 1st in her first competition as an IFBB athlete. She'd continued her quick rise to the top of the industry by earning her IFBB Pro Card in the process.
---

"I love the pump you get from lifting heavy and the feeling you get from HIIT cardio!"
Training
Shannah enjoys lifting weights 6 days a week in the gym. She trains multiple muscle groups per session, except for when she trains shoulders and legs.
In terms of cardio, she performs HIIT to keep her sessions on the treadmill or stair-master short but intense.
Workout Routine:
Monday – Glutes & Hamstrings
Reverse Hack Squat 3×15
Good Mornings (Light weight) 3×20
Sumo Squats 3×15
Lying Leg Curl (Single Leg) 3×10 each leg
Glute Cable Kick Back & Side Kick 3×10 each side
Walking Weighted Lunges 3×20
Barbell Glute Bridges 3×10
Abductor (Sitting on edge) 3×20
Stepper 20 Min
Tuesday – Shoulders
Shoulder Press 4×12
Face Pulls 3×20
Dumbbell Seated Side Lateral Raise 4×12
Rope Push Down 4×12
Kettle Bell Swings 4×12
Cable Rear Delt Fly 3×10
Seated Fly's 1×100
Wednesday – Back & Biceps
Lat Pulldowns 4×12
Bent Over Rows 4×12
Barbell Curls 3×10
Dumbbell Curls 3×10
Bent Over Two Arm Long Bar Row to failure
Thursday – Legs
Calf Press using the Leg Press Machine 3×20
Smith Machine Pistol Squats 3×10 (each leg)
Lying Leg Curls with Dumbbell 3×12
Standing Calve Raises 3×10
Seated Leg Extensions 4×15
Dumbbell Sumo Squats 3×12
Barbell Glute Bridges 3×10
Stair Master 20 Min
Friday – Abs & Cardio
Cable Crunches 3×15
Lying Leg Raises To Failure
Cable Reverse Crunches 3×10
Stair Master 30 Min
Saturday – Shoulders
Shoulder Press 4×12
Face Pulls 3×20
Dumbbell Seated Side Lateral Raise 4×12
Rope Push Down 4×12
Cable Rear Delt Fly 3×10
Seated Military Press 3×15
Seated Rear Delt Fly's 1×100
Sunday – Rest
---

"When I'm not preparing for a show, I do enjoy a nice big steak with vegetables and mushroom sauce or a prawn and avocado salad! On prep though my diet is very simple and plain"
Nutrition
Shannah aims to eat 6 meals per day to keep her body fuelled and metabolism high. She plans her diet around lean proteins, green vegetables, and healthy fats.
Shannah tries to stay away from red meat, consuming only chicken, turkey or salmon instead.
Diet Plan:
Meal 1: 100 grams Grilled Chicken, 4 Egg Whites + 1 Yolk, 120 grams of Blueberries or Strawberries
and ½ cup of Brown Rice
Meal 2: 120 grams of Grilled Turkey Mince, 1 x cup of Fresh Green Beans, ½ cup of Pumpkin and 30 grams of Raw Mixed Nuts
Meal 3: 120 grams Turkey Mince (cooked weight), 1 cup of Green Vegetables, 1 Carrot and ½ cup of Pumpkin
Meal 4: 110 grams of Grilled Salmon, 1 cup of Steamed Green Vegetables and 30 grams of Almonds
Meal 5: 130 grams of Grilled Chicken (cooked weight), 1 cup of Steamed Green Vegetables and 1 piece of Roast Pumpkin (100 grams)
Meal 6: Before Bed – 2 teaspoon Chia Seeds in warm water and 2 pieces of Fruit
Supplements Stack:
L-Carnatine
L-Glutamine
Fat Burners
Whey Protein
Pre-Workout
Multivitamins
BCAA
---

"I most proud of the person I have become. I am from a small town in Western Australia, grew up with my grandma & always knew life wasn't going to come handed to me on a silver platter"
Idols and Influences
Shannah's family and friends have always motivated her to succeed since she embarked on her fitness journey.
However, she names numerous athletes that she looks up to, who have helped her realize her ambitions:
Fernanda D'Avila
Paige Hathaway
Ana Delia
Ashley Kaltwasser
Michelle Lewin
Anllela Sagra
Janet Layug
Erin Stern
Alice Matos
Larissa Reis
Marina Krause
---

"I like to think I am set apart from the rest because I am very 'real'. What you see is what you get, and I just always try to be relatable with people"
What we can learn from Shannah Baker
Shannah has taught us that you should always make the most of everything and see where it takes you. She began weighttraining after desiring to get fit for her wedding, but went on to become an IFBB Pro bikini athlete.
Always aim high, work hard to achieve them and you'll find success eventually.