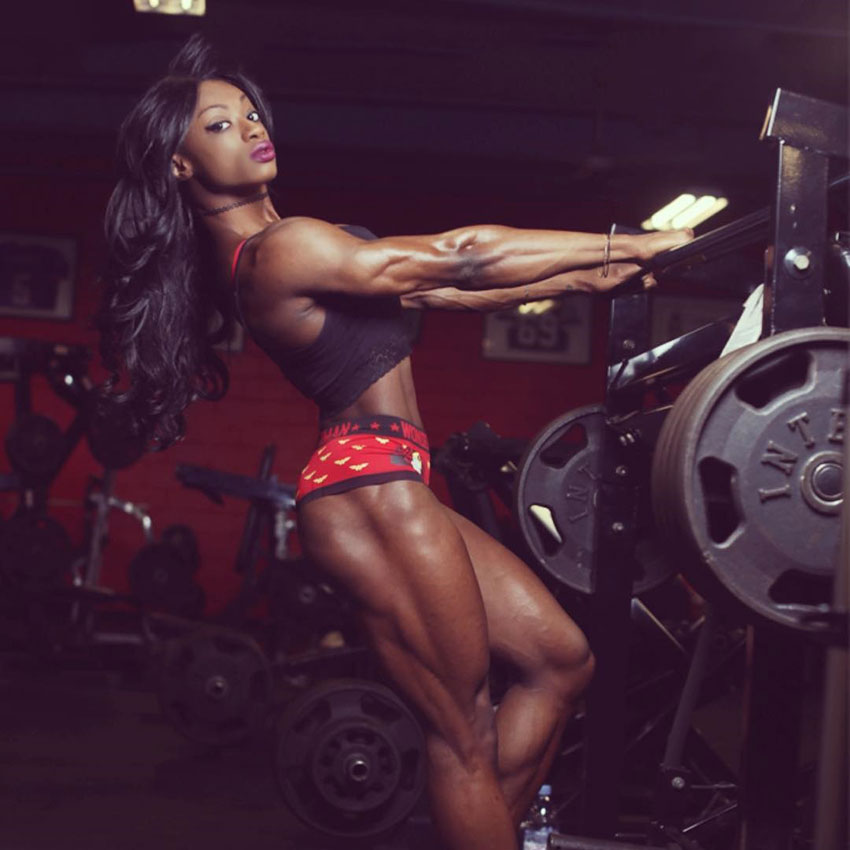 Shanique Grant
IFBB Professional Bodybuilder, Online Coach
Shanique Grant is an American IFBB professional bodybuilder and online coach born in Chicago, Illinois in 1995.
Shanique was able to achieve incredible feats at such a young age, earning a first placed finish in the East Coast Championships at the age of 19. This is when her fitness journey stepped into gear, and she began to make a name for herself in the fitness industry.
However, her high school years saw her become a victim of bullying, making life almost unbearable for her. Her confidence was deeply affected, leading to her having low self esteem throughout her childhood.
Shanique didn't feel herself, and knew that something had to be done. This is when she turned to fitness as a way of reinventing herself, and never looked back.
---

Athlete Statistics
Full Name: Shanique Grant
Age
Date of Birth
Nationality
Profession
28
August 10, 1995
American
IFBB Professional Bodybuilder, Online Coach
Alias
Era
The Future
2010
| | |
| --- | --- |
| Age | 28 |
| Date of Birth | August 10, 1995 |
| Nationality | American |
| Profession | IFBB Professional Bodybuilder, Online Coach |
| Alias | The Future |
| Era | 2010 |
---

Accomplishments
Competitions
East Coast Championships 2014 Class D (1st place)
NPC National Championships 2014 Class E (2nd place)
NPC National Championships 2014 (Earned Pro Card)
IFBB Tampa Pro 2015 (IFBB Pro Figure, 5th place)
Atlantic City Europa 2015 (IFBB Pro Figure, 2nd place)
Pittsburgh Pro 2016 (IFBB Pro Figure, 6th place)
New York Pro 2016 (IFBB Pro Women Physique, 1st place)
New York Pro 2017 (Physique, Women's Physique, 1st place)
---

Biography
Early Life
Shanique Grant is an IFBB professional bodybuilder and online coach hailing from Chicago, Illinois, where she was born and raised. Running track throughout her high school years, her interest in fitness began from an early age.
However, high school would become the place in which a difficult period of her life began. She became the victim of bullying, and this strongly affected her self-confidence. She felt isolated, and negativity soon began to take its toll on her.
Shanique felt like she had to deal with the bullying in some way. So she turned to a life of constant partying, with a blatant disregard for her personal well being. She would eventually hit rock bottom, and soon she realized that her life needed to change.
When Fitness Changed Her Life
Shanique ended up in the hospital after her partying antics almost led to kidney failure. It soon dawned upon her that it was now or never. The path she chose had to completely change her life, otherwise the consequences could have been disastrous.
It had become apparent that she needed to reevaluate her life, so Shanique turned to fitness as a way of reinventing herself. This would offer her a fresh start, and the chance to completely turn her life around.
Fitness soon became a huge part of her life, and she began to channel her energy into the gym, giving it her all. Wishing to put in the past her darkest days, her fitness journey began, and she was able to make significant progress at a fast pace.
Early Competition Appearances
Shanique had quickly obtained a physique that led to her being asked if she had ever competed before, but she admitted that the thought never really crossed her mind.
Her difficult past meant that prior to finding fitness, she was unwilling to try new things and come out of her shell. Bullying had left her with low self confidence, and for many years this had a negative impact on her life.
However, fitness had completely changed her mindset, and Shanique took the decision to go for it. She did some research on how to gain entry into competing, and entered her first bodybuilding competition at the East Coast Championships in 2014 where she finished first place.
At this point, Shanique knew she was capable of achieving so much more, so she set herself a new goal of achieving her pro card, and four months later at the NPC National Championships, she achieved just that, finishing in second place.
Latest Competition Appearances
Shanique remained focused in taking her fitness journey to the next level, and so continued to appear in competitions, including the IFBB Tampa Pro (6th place) and Atlantic City Europa (2nd place) in 2015.
A Pittsburgh Pro appearance in May 2016 saw her achieve a sixth placed finish, and shortly after, Shanique stormed to a first placed finish at the New York Pro competition.
Her preparations began for the Olympia competition in 2016, but unfortunately she had to withdraw as she recovered from a violent attack by three women in August 2016. She bounced back from the attack, and was able to replicate her first placed finish from the previous year at the New York Pro in May 2017.
On the back of this win, she could now begin training for the Olympia competition in 2017, but again had to withdraw due to having a detached retina. It remains her ultimate goal to be successful in this competition, but having her whole career ahead of her means she could one day turn her dream into reality.
---

Where is She Now?
Shanique continues to push herself further with her training, as she strives to achieve her ultimate goal of being successful in the Olympia competition.
She ensures that her motivation levels remain high to stay on track, and pushes herself to continually progress, using her past experiences to prove she is capable of moving on from any set-backs.
Shanique began to take advantage of her difficult past, by using it as a basis to show how far in her fitness journey she had come. She stated the following with regard to her new found self:
"I don't even care what people think of me. I'm just in my own little world, doing what I do. Not afraid to be different".
---

Training
Shanique started out her bodybuilding career by training seven days a week. She felt this was the best way to start making significant progress at a fast rate, and begin to put in the past her darkest days.
Fasted cardio in the morning is another method of training Shanique uses regularly. By doing this, she is able to use her fat stores for energy and maintain her ripped, sculpted physique.
A workout she performs regularly for training her legs consists of the following exercises:
Leg Day Routine
Lying Leg Curls
Single Dumbbell Squat
Standing Leg Curls
Smith Machine Squats
---

Nutrition
When her fitness journey began, Shanique completely overhauled her diet. She began to incorporate lean proteins, healthy fats and complex carbohydrates, whilst remaining consistent to begin to build a phenomenal physique.
Foods she eats regularly as part of her daily diet are listed below:
Common Foods
Oatmeal
Rice Cakes
Eggs
Chicken
Lean Fish
---
Editor's Tip

Inspired to reach your maximum potential like Shanique? Read our comprehensive guide on how fat burner supplements can really up your game!

---

Idols and Influences
Shanique has worked with a coach since starting out in her bodybuilding career, and with his influence was able to take her career a long way in a short space of time. He kept her motivated, and with his guidance was able to attend her first show within weeks of beginning training.
Her ultimate aim is to be successful at Olympia, which would make her realize just how far she has come in her fitness journey. She continues to move forward, and her online coaching business allows her to stay motivated, whilst encouraging her clients to progress in their fitness journeys.
Shanique has cited big name bodybuilders such as Dallas McCarver and Phil Heath as some of her main influences. Shanique greatly admires them, and strives to be as successful as them in her future career.
---

What we can learn from Shanique Grant
Shanique has proven that even in your lowest moments, with the right guidance it is more than possible to turn your life around for the better.
She overcame obstacles in her life that had left her almost at breaking point, but ultimately, this is what made her realize her need for change.
Upon her realization however, Shanique stood by the fact that it was only her that could have changed her life when she hit rock bottom. She sought guidance from others, but used her lowest point to her advantage, and was then able to achieve things she thought she would never be capable of.