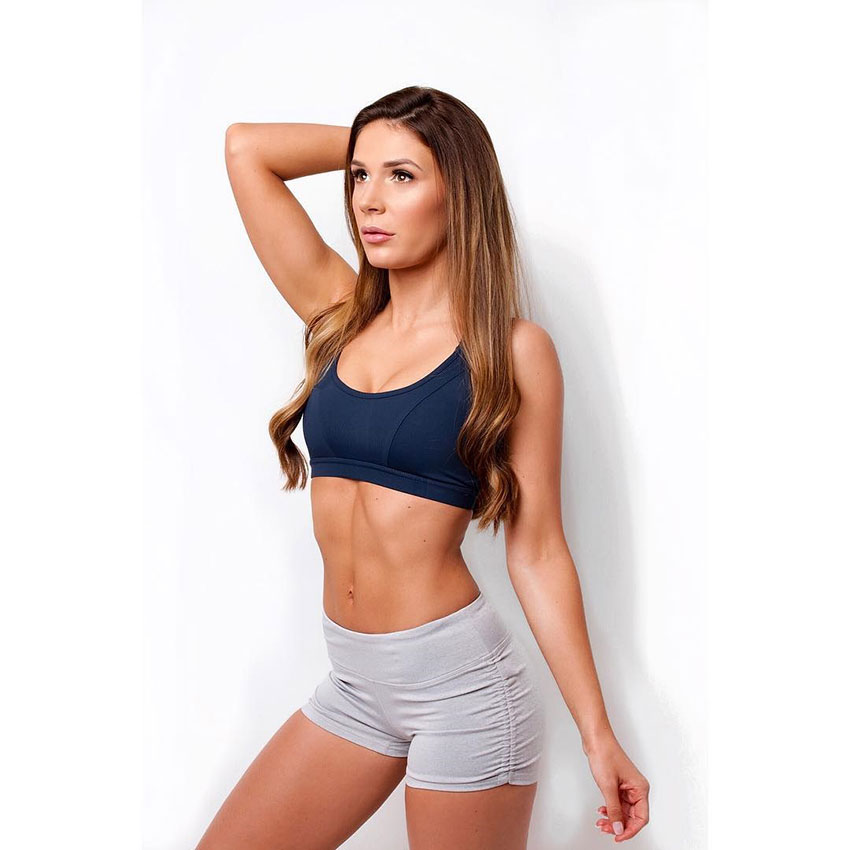 Sarah Godfrey
Sponsored Athlete, Social Media Celebrity
Sarah Godfrey is a popular YouTube star, who's seen her online following surge ever since she took inspiration from her fitness idols, including the likes of Nikki Blackketter and Heidi Somers – doing everything that she could to follow in their footsteps.
But first, Sarah had to overcome a huge personal obstacle – having to deal with the unfortunate loss of her father in her late teens. It was at this point, her life quickly commenced on a downward spiral – her well-being then began to suffer as a result. To cope with her loss, she began eating unhealthy foods, and lost all motivation for working out in the gym.
However, she's since become an internet sensation for being so open and honest about her life. From then on, her life as a social media celebrity allowed her to leave her darkest days behind – becoming a sponsored athlete along the way.
This is her story:
---

Athlete Statistics
Full Name: Sarah Godfrey
Weight
Height
Bust
Hips
115 - 125lbs (52.2 - 56.7kg)
5'7" (170cm)
32B
33"
Waist
Age
Date of Birth
24"
30
February 14, 1993
Nationality
Profession
Era
Irish
Sponsored Athlete, Social Media Celebrity
2010
| | |
| --- | --- |
| Weight | 115 - 125lbs (52.2 - 56.7kg) |
| Height | 5'7" (170cm) |
| Bust | 32B |
| Hips | 33" |
| Waist | 24" |
| Age | 30 |
| Date of Birth | February 14, 1993 |
| Nationality | Irish |
| Profession | Sponsored Athlete, Social Media Celebrity |
| Era | 2010 |
---

Accomplishments
Career Achievements
Sponsored Athlete
Social Media Celebrity
---

Biography
Sarah's Early Life
Sarah Godfrey's life has been based in Dublin, Ireland ever since she was born in February 1993. Throughout her childhood, taking part in sports was something that Sarah was never really interested in.
However, hockey became a sport that she frequently played during her high school years. Despite this, Sarah failed to show potential in the sport. As a result, she eventually decided to give hockey up for good.
Instead, Sarah turned her attention to working out in the gym. However, Sarah was lacking in fitness knowledge. Because of this, she had no idea what she was doing and struggled to find a training routine that worked for her.
But then one day, matters were made far worse. It was at this point, Sarah's dad unfortunately passed away. This was a devastating blow to Sarah, and from then on, her life commenced on a downward spiral.
Coping With Her Loss
As a way to cope with the loss of her father, Sarah began to eat unhealthy foods on a regular basis, paying little to no attention to her fitness and overall well-being. Consequently, she began to gain weight – causing her self-confidence to fall to an all time low. Until one day, that all began to change.
It was at this point, Sarah realized that she needed to do something to overcome her low self-esteem. From then on, she became determined to live her life in a positive way, while in the process, build a great physique.
From this moment onward, Sarah found herself a job in a gym, and started to move on with her life. Soon after this, she began to workout with a personal trainer – ensuring that she followed the right path to reach her fitness goals.
---

Sarah before compared to how she looks now.
Becoming A Social Media Celebrity
After just 5 months, Sarah was able to make considerable progress with her training in the gym. Ever since then, she's become a self-motivated individual with the desire to earn a great physique – something that she has now earned.
After attending a fitness expo in May 2016, Sarah was inspired to really kick her fitness journey into gear. It was at this point, her motivation was higher than ever. Sarah then set up her YouTube channel less than a month after the expo.
Ever since this moment, Sarah began to frequently document her daily life and workouts. From this point onward, she quickly grew a substantial online following.
Eventually, Sarah was able to become a sponsored athlete, offering her the chance to excel in her fitness career. Ever since then, she's been able to positively influence many people across the world, stating the following in regard to this:
"I really want to positively impact as many people as possible and show them that by making small changes to their daily life, they can have a huge impact on how they feel about themselves both physically and mentally".
---

Training
Sarah attends the gym on a frequent basis, often 5 days per week. Glutes are her favorite muscle group to work on. Because of this, she places emphasis on training this body part – citing squats and hip thrusts as her favorite exercises.
Through trial and error, Sarah was able to find a workout split that allows her to optimally build lean muscle, looking something like this:
Sarah Godfrey's Training Split
Two Upper Body Days
Two Lower Body Days
One Steady State Cardio Day – Usually Treadmill Running on an Incline
---

Nutrition
Sarah tracks her calories on a daily basis so that she's able to stay lean all year round. She follows flexible dieting (IIFYM), allowing her to eat the foods she likes as long as she sticks to her calorie and macronutrient goals.
Sarah bases the majority of her diet on whole foods, including complex carbohydrates, healthy fats, and lean protein. However, she makes room for 'cheat' foods including her favorite – frozen yogurt, which satisfies her sweet tooth.
Sarah common food choices includes the following:
Sarah Godfrey's Common Food Choices
Coffee with Flavor Drops.
0% Fat Greek Yoghurt
Protein Granola
Whey Protein Powder
Egg Whites
Eggs
Green Vegetables including Spinach
Wholegrain Bread
Zero Calorie Syrup
---

Idols and Influences
When attending a fitness expo in 2016, Sarah met fitness icons Heidi Somers and Nikki Blackketter. Sarah felt inspired by their phenomenal physiques. So it was at this point, Sarah set out to achieve a physique just like her idols.
Additionally, Heidi and Nikki have become a success in their fitness careers, inspiring many people across the world – including Sarah, who wanted to follow their example to achieve the same level of success.
---

What we can learn from Sarah Godfrey
What we can learn from Sarah Godfrey is; dealing with the trauma of losing her father threatened to throw her life off course. However, she proved her ability to overcome this to become the best possible version of herself.
In the process, Sarah became a social media celebrity and sponsored athlete – commended for her openness and honesty on her online vlogs. Her strong and determined attitude to overcome any obstacles gave her a platform to excel far in her fitness journey.
From then on, Sarah not only earned a great physique, but also began to inspire others to follow their fitness dreams – just like her.