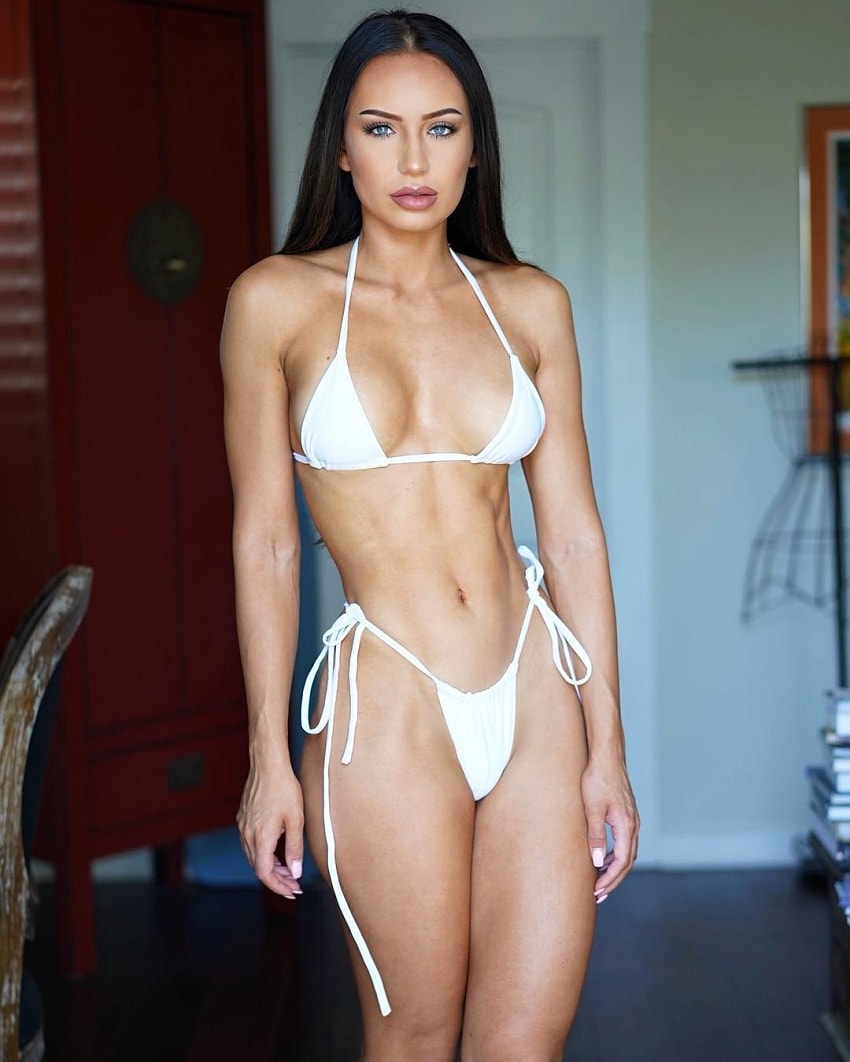 Sanna Maria
Fitness Instructor, Model
Sanna Maria is a Finnish fitness model and instructor. Today, she's known for her lean figure which she maintains all year-round. However, growing up, Sanna struggled to achieve the body she wanted.
Due to her fast metabolism, Sanna could eat a lot of foods without gaining weight. This was a 'double-edged sword,' in a sense that it allowed her to stay lean but also kept her from gaining muscle tone.
After she graduated from high school, Sanna decided to change her situation by going to the gym. At the age of 17, she picked up the dumbbells for the first time.
Since then, she's not only achieved aesthetic physique but also fell in love with fitness in the process – leading her to become a rising name in the industry. This is her story:
---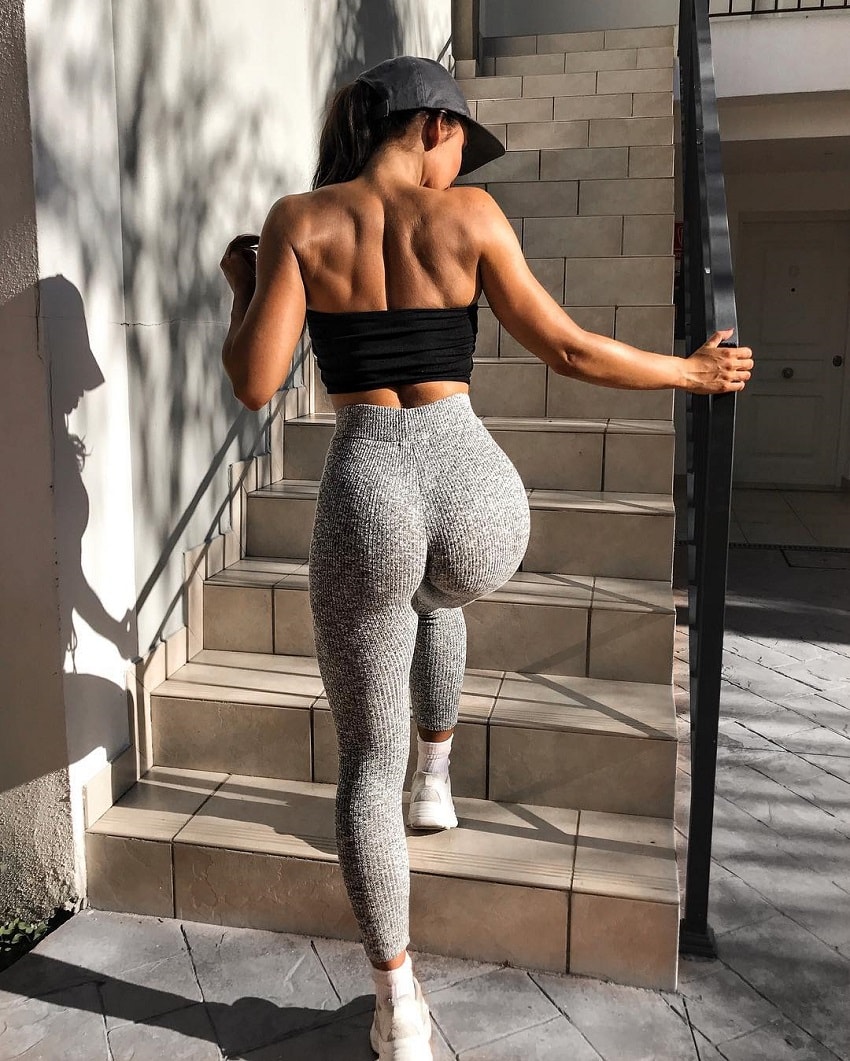 Athlete Statistics
Full Name: Sanna Maria
Weight
Height
Age
Date of Birth
115 - 125lbs (52.2 - 56.7kg)
5'4" (162.5cm)
32
August 28, 1991
Nationality
Profession
Alias
Finnish
Fitness Instructor, Model
mssannamaria
Era
2010
| | |
| --- | --- |
| Weight | 115 - 125lbs (52.2 - 56.7kg) |
| Height | 5'4" (162.5cm) |
| Age | 32 |
| Date of Birth | August 28, 1991 |
| Nationality | Finnish |
| Profession | Fitness Instructor, Model |
| Alias | mssannamaria |
| Era | 2010 |
---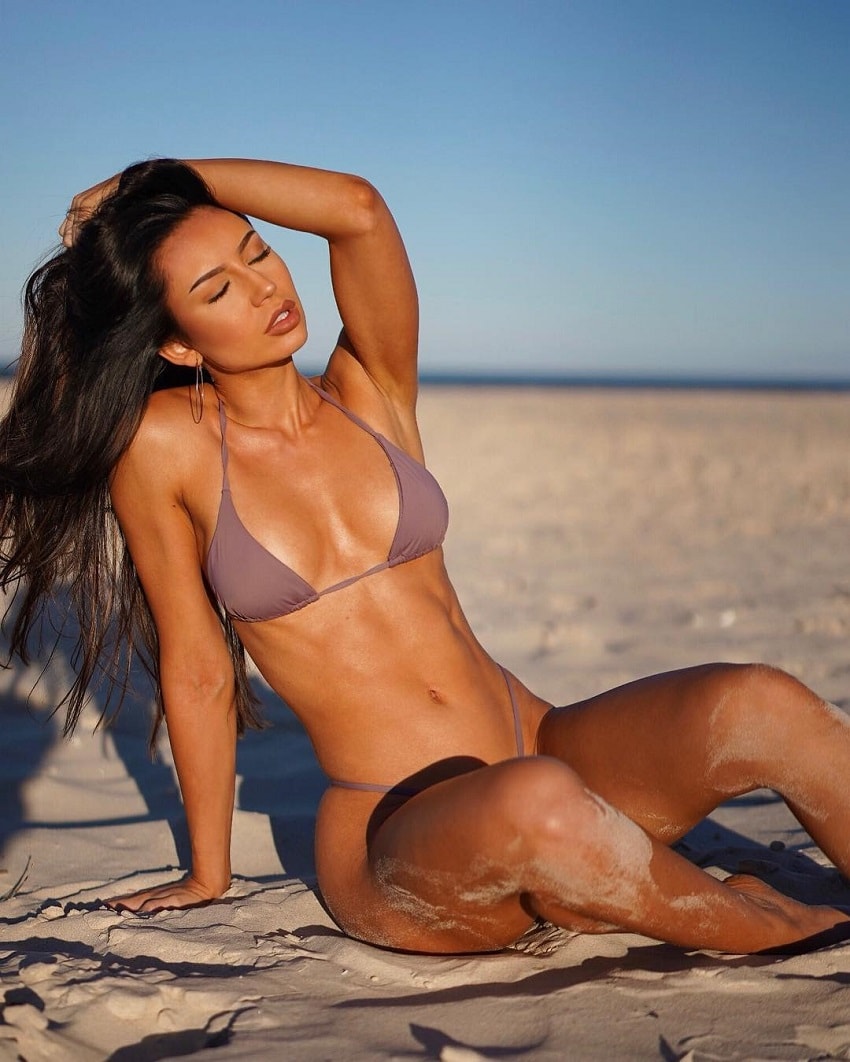 Accomplishments
---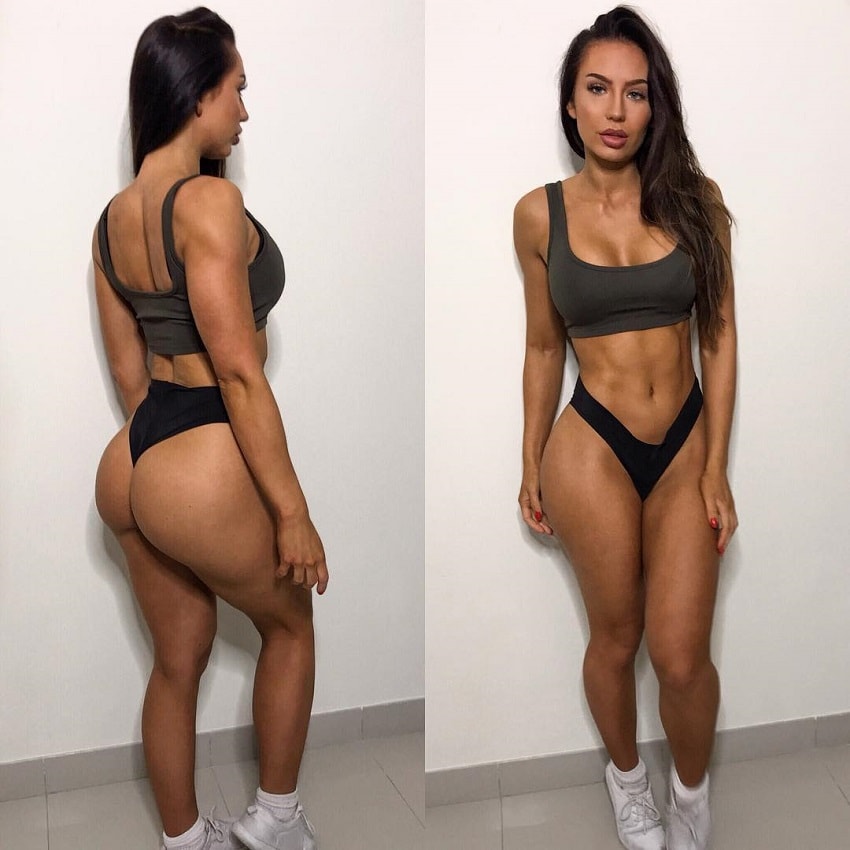 Biography
Early Fitness Days
Sanna Maria might be known for her fit and curvy body today, but she was once a girl who wanted to improve her figure. Growing up, Sanna had a fast metabolism. She could eat almost anything and not gain weight.
Although this didn't seem like a problem to her peers, it was a huge issue for Sanna. Her goal was to gain toned and curvy muscles, but she didn't know how to do it. This finally changed after Sanna graduated from high school, and started going to the gym with a couple of experienced friends.
"I first started when I was 17 years old and studying in Florida. Some of my friends who were into weightlifting invited me to the gym with them."
After joining her friends in the gym, Sanna adopted a training plan which left her exhausted after each workout. But while her training was rigorous, Sanna's diet wasn't up to par. She said; "Honestly I didn't really care what I put in my mouth. A lot of fast food and not too many vegetables." – Sanna Maria
---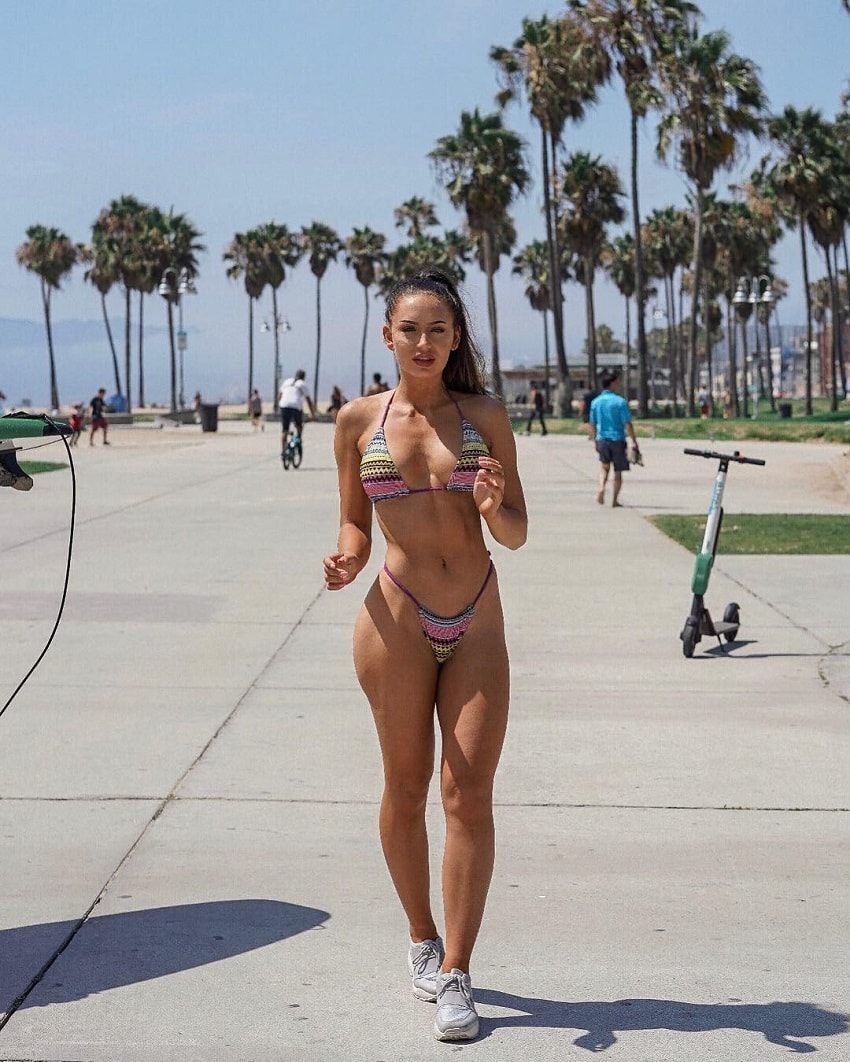 ---
Improvements
Before long, Sanna noticed that her diet was hindering her progress in the gym. Even though she trained hard, she didn't really feel healthy; this is what ultimately spurred her to make a radical change in terms of her food choice.
After months of trial and error, Sanna started to cut out the foods that didn't serve her; such as sugars, processed meat, and fried foods. On the other hand, she added foods like kale, broccoli, spinach, and other leafy greens which were rich in vitamins and phytonutrients.
On top of this, Sanna added a healthy portion of protein to each of her meals, which ensured her muscles stayed strong and toned. In time, these changes saw Sanna's physique improve in leaps and bounds. She was in the best shape of her life.
Becoming an Instructor
Alongside her personal success and transformation, Sanna also reached great heights as a fitness influencer. After opening her social media profiles, she gained attention from fitness fans, who were impressed by the results Sanna achieved.
Sanna has also become a training instructor and model. Her career continues to expand, and with it, so does the number of people she influences. "It took time and patience to learn to eat enough and activate my muscles the right way! Though I'm very proud of my progress, I can't wait to see what the future will bring. Results take time, so never give up!" – Sanna Maria
---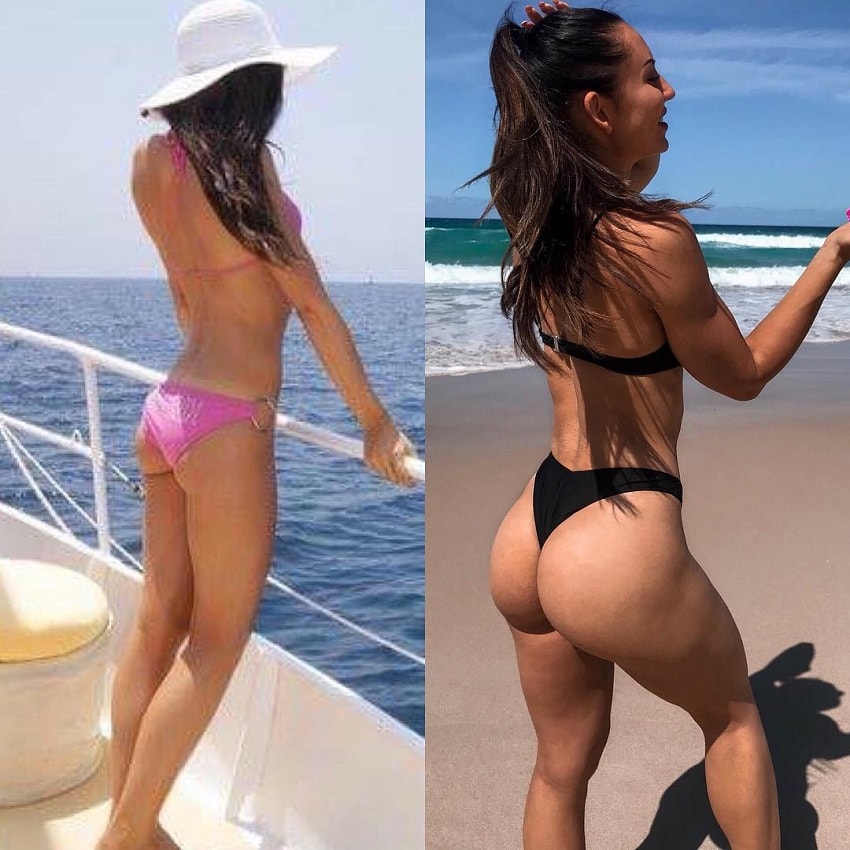 Sanna Maria's body transformation; before and after.
Training
Weekly Training Routine
Sanna Maria trains with weights five times per week. However, she doesn't train five days in a row; instead, skipping every third day.
Although she pays equal attention to every muscle group, Sanna's favorite workouts are those that include legs and abs. At the same time, training these body parts is one of her greatest challenges in the gym, due to the sheer amount of volume and intensity in these workouts.
This is how a typical week of training looks for Sanna;
Tuesday: Legs
Thursday: Shoulders & Arms
Friday: Legs
Saturday: Back & Chest
Sunday: Abs & Sprints
Keeping The Abs Tight
Sanna says, "abs are made in the kitchen," however, training them directly in the gym helps to bring them out even further. To achieve this, Sanna does a lot of compound movements, which indirectly stimulate and work her abs. She also performs circuit ab workouts, which consist of 3 different exercises.
Only after she completes all 3 exercises, Sanna will allow herself to rest – this counts as one round. After taking a short respite, she'll hop into the second round, doing the same process all over again.
---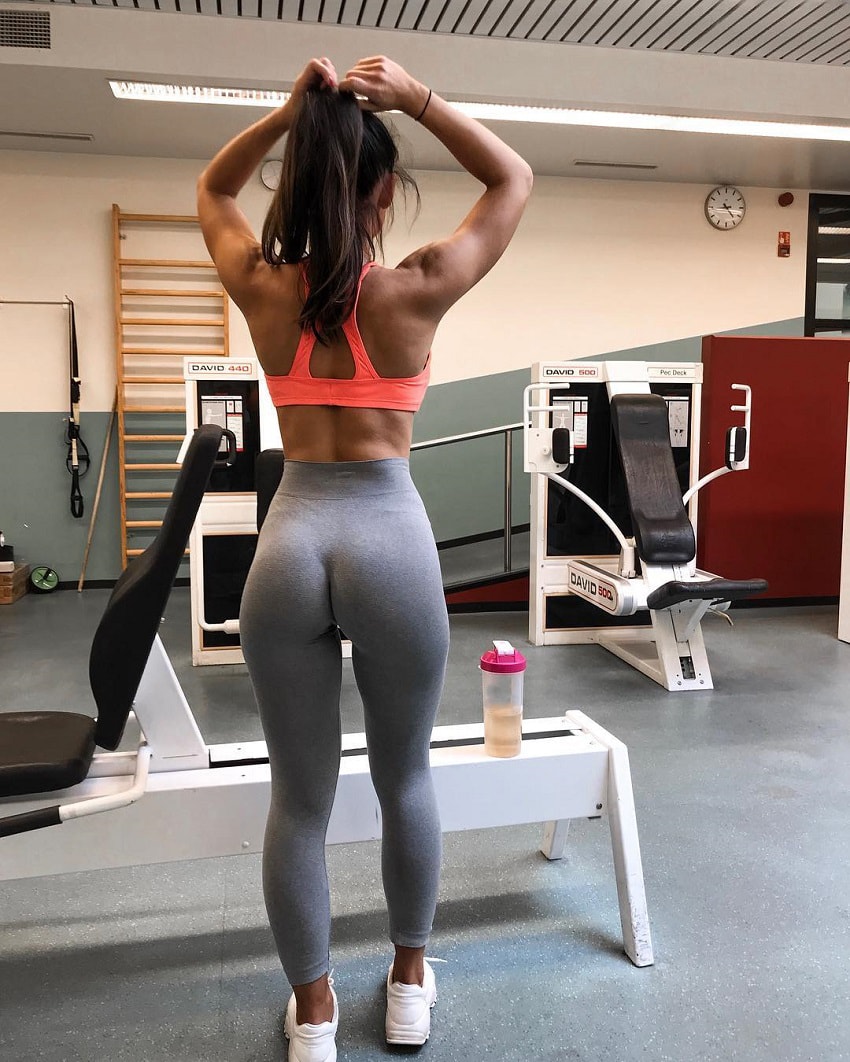 ---
Working Glutes
Sanna's top movements for glutes are squat jumps and hip thrusts. When working this body part, Sanna doesn't use heavy weights.
Instead, she concentrates on muscle activation, making sure to go slow and squeeze her glutes at the top of the movement.
---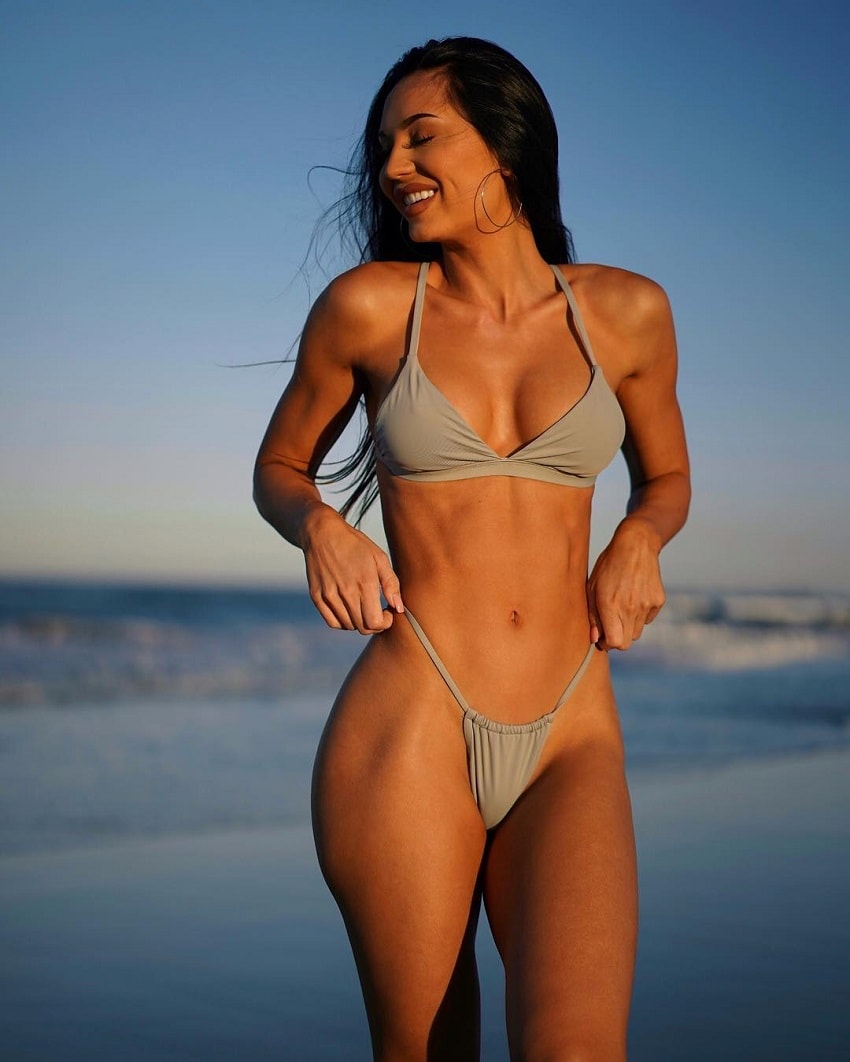 Nutrition
Meal Plan
When she was first getting into learning about nutrition, Sanna's diet was far from perfect. In fact, she ate a lot of sugars and fast food initially. This made her feel terrible even though she trained consistently. After cutting out sugars, Sanna saw the most changes in how she looked and felt.
Nowadays, she eats a clean diet consisting of wholesome foods. Refined sugars aren't allowed. The only fluids Sanna drinks are typically water and tea. However, sometimes she'll drink a fruit juice, depending on what she feels like having.
Sanna's meal plan looks something like this;
Breakfast: Oatmeal, blueberries, 2 eggs, walnuts, and chia seeds.
Snack: Rice cake and turkey.
Lunch: Salmon, sweet potatoes and vegetables.
Snack: Protein bar.
Dinner: Chicken, sweet potatoes and vegetables.
---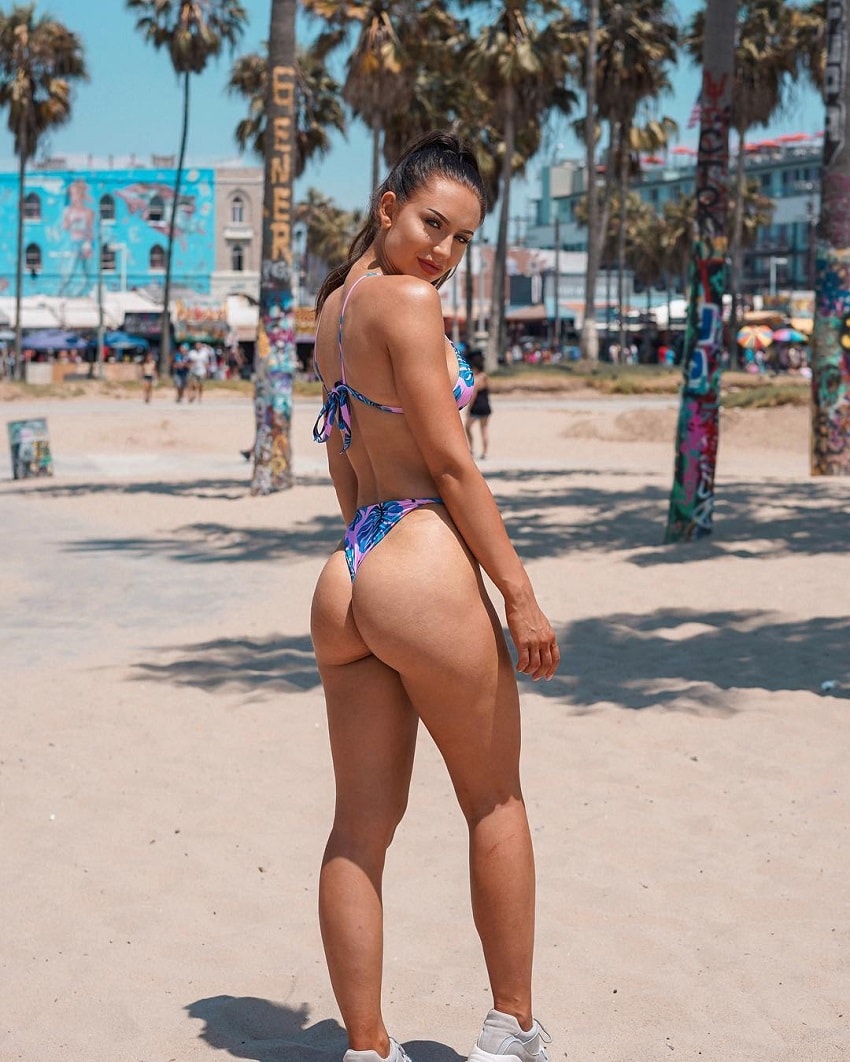 ---
What we can learn from Sanna Maria
One thing Sanna Maria showed us with her story, is that you should tackle one goal at the time instead of trying to get everything right immediately. When Sanna was getting into fitness, she didn't adopt a strict training routine, diet, and supplementation all at once.
Instead, she learned it one by one; she first taught herself the correct way of doing exercises. Then, she added healthier foods into her diet, while cutting out the unhealthy ones.
Ultimately, it was a long and slow process, but Sanna knew this was the best way to achieve the results she was looking for.
One key lesson to remember here is that fitness is not a sprint, but a journey full of ups and downs. By embracing this process, and learning from your mistakes along the way, you'll enjoy the fruits of your labor that much more.