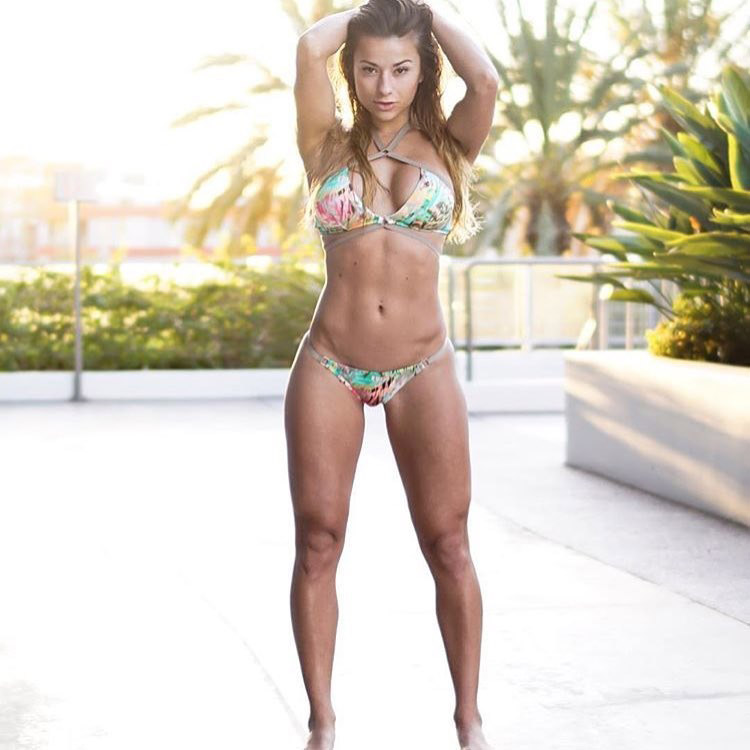 Sandra Prikker
Fitness Model, Social Media Personality
From competitive kickboxing to becoming an online sensation, Sandra started her journey after an accident which left her with serious injuries. She was forced to quit the sport that she had loved for 10 years, but Sandra quickly found another passion – fitness.
It wasn't long until she had sculpted an amazing physique, and was quickly noticed for her hard work. By the age of 25, Sandra had gained millions of followers and become an icon.
This is her story:
---

 "I have always been very sporty and active. I started competitive kick boxing at the age of 14 and absolutely loved it"
Athlete Statistics
Full Name: Sandra Prikker
Weight
Height
Bust
Hips
Under 115lbs (52.2kg)
5'5" (165cm)
36"
36"
Waist
Year of Birth
Nationality
24"
1990
Dutch
Profession
Era
Fitness Model, Social Media Personality
2010
| | |
| --- | --- |
| Weight | Under 115lbs (52.2kg) |
| Height | 5'5" (165cm) |
| Bust | 36" |
| Hips | 36" |
| Waist | 24" |
| Year of Birth | 1990 |
| Nationality | Dutch |
| Profession | Fitness Model, Social Media Personality |
| Era | 2010 |
---

Biography
Early Life and Injury
Born in the Netherlands, in 1990, Sandra began working out while training to become a professional kickboxer at the age of 14. Through years of relentless training, she attained an amazing physique.
However, in 2012, she suffered an injury after an accident which ruled her out of the sport. With her competitive spirit still fighting to be active, Sandra knew that she had to find another way of keeping busy.
Start of her Fitness Journey
At the age of 22, in 2013, she entered the gym and began her journey into the industry. But she soon faced a setback – her limited knowledge on fitness meant that she wasn't making much progress.
Sandra became frustrated with her lack of development and a month later, sought help. She hired a personal trainer, and with a solid diet and training plan, started to make great progress.
Becoming an Online Sensation and Personal Trainer
After a few years of intense training, at the beginning of 2016, she started posting pictures of her journey on Instagram. It wasn't long until Sandra had become an online sensation, gaining millions of followers in less than 6 months.
This motivated her to up her game and give back to her fans. She began personal training in late 2016, helping others to realize their dreams.
---

"I couldn't stand sitting around doing nothing and being sedentary, so about 3 years ago I started hitting the gym, learning everything I could about training and nutrition"
Training
Sandra enjoys training with 3 sets of 8 reps, keeping the weights heavy. She adds in some drop sets during her sessions if she feels that she needs to up her tempo in the gym.
In terms of cardio, she utilizes HIIT, setting herself the aim of burning 300 calories in 15-20 minutes.
Workout Routine:
Her workout routine will look something like this:
Monday: Legs
Squat Wide Stance 3×8
Squat Narrow Stance 3×8
Stiff Legged Deadlift 4×8
Leg Press Wide Foot Placement 3×8
Leg Press Narrow Foot Placement 3×8
Leg Curls 3x Drop set
Leg Extensions 3x Drop set
Tuesday: Chest/Biceps
Flat Barbell Bench Press 3×8
Incline Barbell Bench Press 3×8
Dips 3×8
Flat Dumbbell Press 3×8
Incline Dumbbell Press 3×8
Straight Barbell Curls 3×8
Heavy Hammer Curls 3×8
Cable Curls 3×8 Drop set
---

"I prefer HIIT but usually I just give myself principles that I know work. I just set myself to burn 300 kcal in 15-20 minutes. It doesn't matter how I do it as long as it's that energy expenditure in that time frame"
---
Wednesday: Back/Abs/HIIT
Deadlift Bent Over Barbell Rows 3×8
Bent Over V Bar Rows 3×8
Two Handed Cable Rows 3×8 Drop set
Kneeling Cable Crunches 3×8
Standing Cable Crunches 3×8
Weighted Leg Raises 3×8
Thursday: Shoulders/Triceps
Military Press 3×8
Barbell Upright Rows 3×8
Side Raises 3×8
Bent Over Lateral Raises 3×8
Skull Crushers 3×8
Cable Tricep Extension 3×8
Overhead Cable Tricep Extension 3×8
---

"I like to train heavy and hard! I keep my rep range at 8 and sometimes incorporate drop sets into some of my exercises"
---
Friday – Glutes, Calves, HIIT
Cable Kickbacks 3×8
Smith Machine Kick Ups 3×8
Lunges Smith Machine 3×8
Standing Calf Raises 3×8
Seated Calf Raises 3×8
HIIT 20 mins
Saturday – Back/Abs
Wide Grip Pull Ups 3×8
Wide Grip Pull Downs 3×8
Close Grip Pull Downs 3×8
Machine Pull Downs 3×8
Crunches 3×8
Seated Leg Tucks 3×8
Bent Knee Leg Raises 3×8

Sunday – Rest
---

"Initially I just wanted to maintain my body after stopping with kick boxing. This was the beginning, but it wasn't until I started seeing results and getting feedback from friends and family, that I knew I wanted to take it further"
Nutrition
Sandra follows a strict diet to maintain her amazing physique. She plans her meals around lean protein, vegetables, fruits, nuts and complex carbs.
She consumes 5 meals per day, to keep her metabolism high and encourage her muscle growth.
Diet Plan:
Meal 1 – Cottage Cheese with Blueberries & Almonds
Meal 2 – Chicken Breast & Broccoli
Meal 3 – Whey Isolate Protein Shake with Oatmeal
Meal 4 – Chicken Breast & Brown Rice
Meal 5 – Casein Protein
Supplements Stack:
Multivitamins and Minerals.
Omega 3
Vitamin C
Green Tea
BCAA
Fat Burners
---

"You must do what others don't, to achieve what others won't."
What we can learn from Sandra Prikker
Sandra Prikker has taught us that you should always bounce back from adversity and come back stronger. After an accident, she was left having to leave the sport she had loved for 10 years. But she was quick to find another passion.
One thing we can take away from Sandra, is that you should always keep an eye on your development. She realized that she wasn't making much progress on her own, so she hired a personal trainer, and with the right help, sculpted her dream physique.