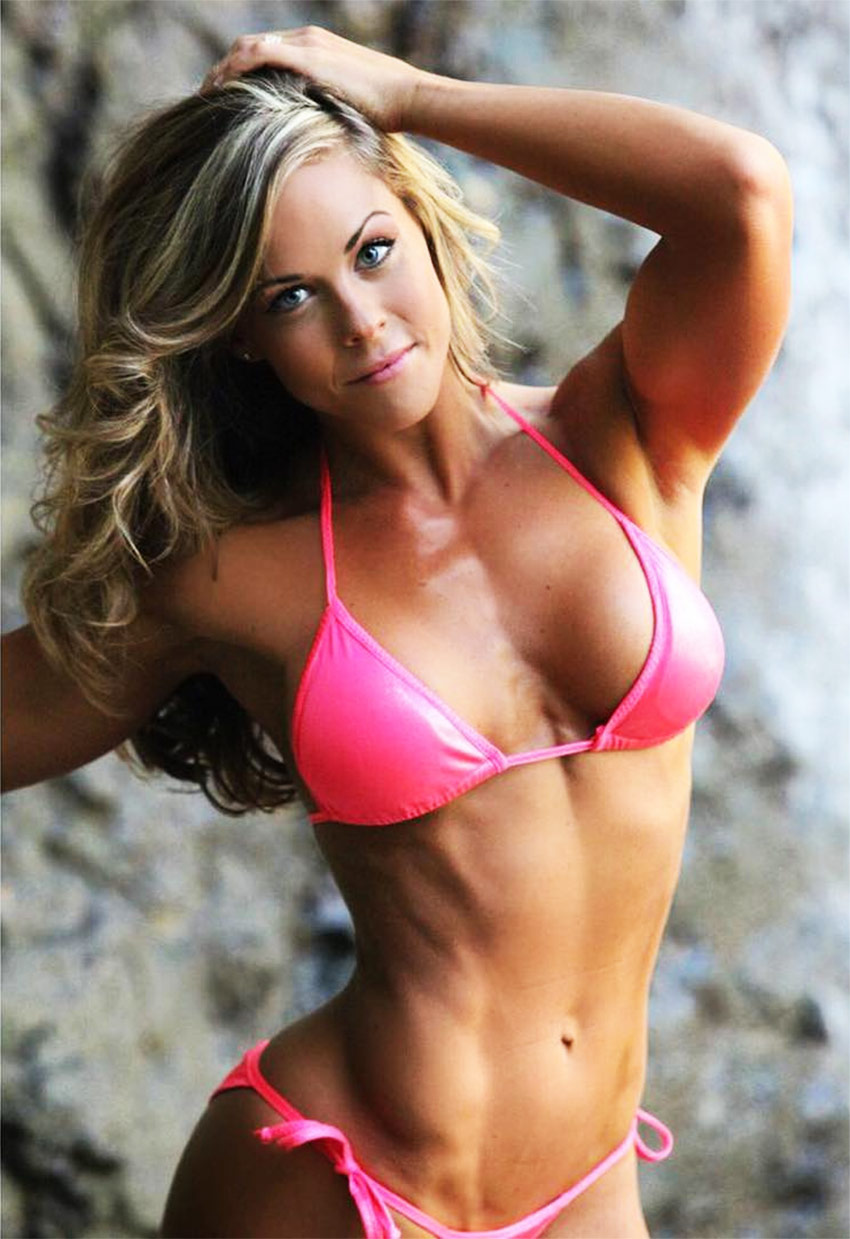 Sami Bossert
Fitness Instructor, Social Media Star
Sami Bossert is a personal trainer, bikini athlete and social media sensation from Ohio (USA). She embarked on her fitness journey after gaining body fat due to an unhealthy diet.
She passed her personal training certification during college, and managed to sculpt an incredible figure after expanding her knowledge on nutrition and fitness.
As a result, she's become one of the most admired female athletes online – attaining masses of followers on Instagram and a successful personal trainer in the process.
This is her story:
---

"Fitness became a huge part of me – and it's much more than just physical."
Athlete Statistics
Full Name: Sami Bossert
Weight
Height
Bust
Hips
115 - 125lbs (52.2 - 56.7kg)
5'7" (170cm)
34"
33"
Waist
Age
Date of Birth
24"
34
November 16, 1989
Nationality
Profession
Alias
American
Fitness Instructor, Social Media Star
Lean Machine B
| | |
| --- | --- |
| Weight | 115 - 125lbs (52.2 - 56.7kg) |
| Height | 5'7" (170cm) |
| Bust | 34" |
| Hips | 33" |
| Waist | 24" |
| Age | 34 |
| Date of Birth | November 16, 1989 |
| Nationality | American |
| Profession | Fitness Instructor, Social Media Star |
| Alias | Lean Machine B |
---

"I want to help people who want to help themselves. I want to help motivate those who need some motivation to kickstart their journey."
---

"I went to The Ohio State University for my undergraduate and received a Bachelors of Science in Nursing."
Accomplishments
Qualifications
BA Nursing – Ohio State University
Personal Training Certification
Competition History
2012 NPC National Competition
---

"Although I was very athletic growing up, my problem came when I stopped playing these sports"
---

"In a world full of unhealthy, addictive outlets, I chose training to be my therapy and keep me sane. And I know I am not alone. "
Biography
Early Years
Born and raised in Ohio (USA), Sami participated in many sports as a child; she was multi-talented, representing her school at soccer, volleyball, softball, track, basketball and athletics.
However, she also enjoyed eating comfort food at home – eventually, she'd packed-on-the pounds after years of snacking and consuming junk food. Her passion for fitness was still at large, but she had become unhappy with her appearance.
At this point, Sami was determined to lose body fat, and work towards achieving her dream figure.
---

---
Fitness Journey
During her college years, Sami made the decision to earn her personal training certification – in order to expand her knowledge of nutrition and fitness.
This made her realize that she could change and develop her physique through her training methods and diet. As a result, it wasn't long until she'd sculpted a lean figure, and became motivated to help others succeed in their fitness goals.
---

---
Social Media Star
At around 2015, at the age of 26, Sami created an Instagram for her personal training – determined to spread her love for fitness around the world.
After being spotted by the online fitness community, the american became admired for her incredible figure – as a result, she gained masses of followers and had become a social media star by 2017.
---

"I started realizing how much I could manipulate the way my body looked, how I felt overall and how I had control over my own happiness."
Nutrition
Sami has followed a clean-eating approach to nutrition since she began her fitness journey. She plans her meals around lean proteins and vegetables – keeping her carbohydrate intake to a minimum.
Her favorite snacks include baked spiced cauliflowers, and lettuce wrapped meat.
Diet Plan
Here's an example of Sami's diet plan:
Breakfast – Egg Whites Only Scrambled Eggs
Snack – Cucumbers and Chillies dipped in Natural Yoghurt
Lunch – 4oz Chicken topped with Zucchini Noodles and 1 tsp of Parmesan Regiano Cheese
Snack – Lettuce Wrapped Minced Turkey and Jalapenos
Dinner – Extra Lean Ground Turkey and Zucchini Noodles with 1tsp Parmesan Cheese
---

"I have a strong passion for fitness and nutrition."
---

"I want to inspire and educate people that their health is in their own hands."
What We Can Learn From Sami Bossert
The main thing we can take from Sami's story, is to learn from our mistakes and develop from them – she became unhappy with her figure after realizing her unhealthy diet led to her gaining body fat.
As a result, Sami made strong efforts to change her lifestyle; earning her personal training qualifications, while following a strict no-carb diet and training rigorously in the gym. Ultimately, this has led to her achieving a figure that most females dream of – above all, Sami has proven that achieving your ideal physique can be fun and enjoyable through her fitness journey.