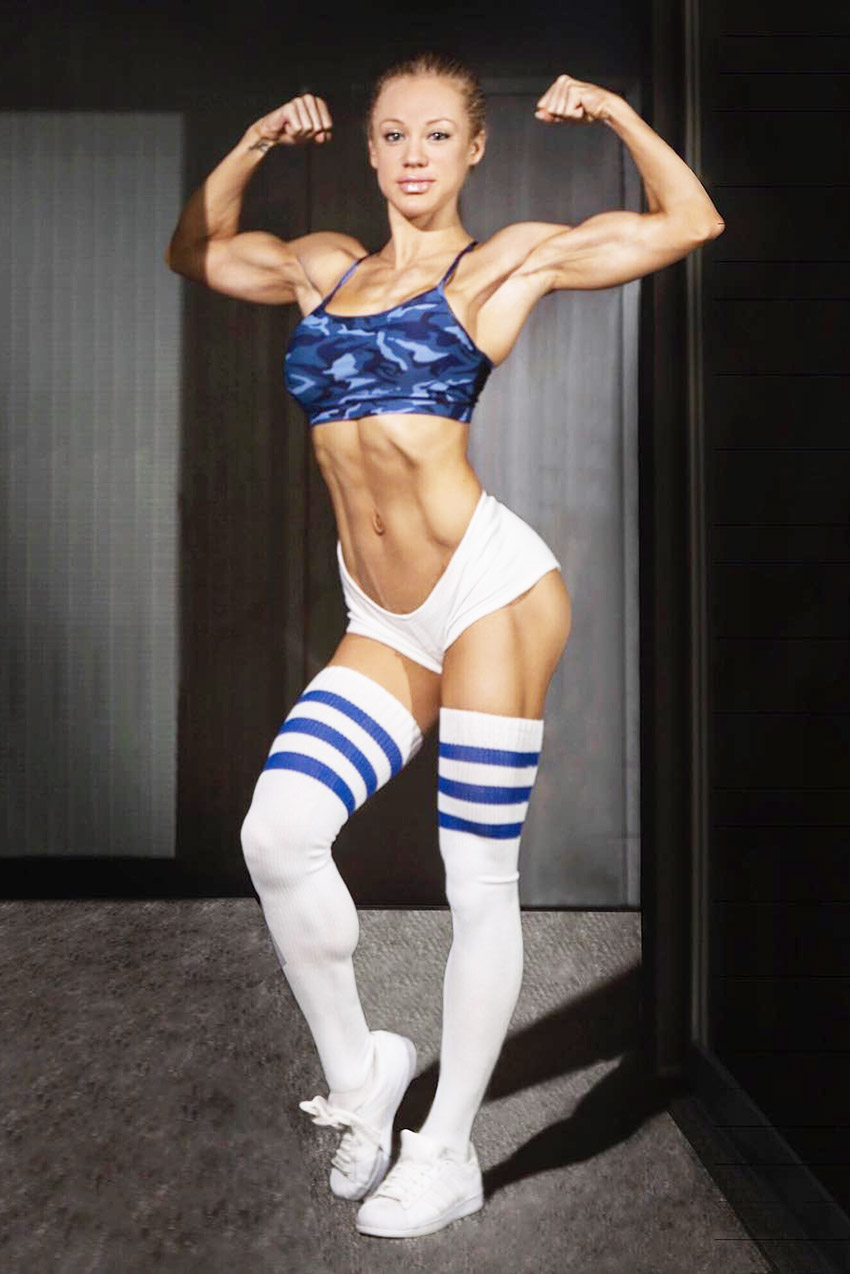 Samantha Skolkin
Bodybuilder, Personal Trainer
Born and raised in Brooklyn, New York, Samantha Skolkin has made a name for herself as an elite trainer with an amazing body. After placing in numerous competitions, she gained attention on Instagram after posting pictures of her physique, and since then, her reputation has gone through the roof.
She was voted NYC's hottest personal trainer in 2015, but her story could easily have been different – she was working towards a career in the fashion industry before falling in love with fitness.
This is her story:
---

"I genuinely care about my clients and motivate them in such a way that they have never been motivated before"
Athlete Statistics
Full Name: Samantha Skolkin
Weight
Height
Nationality
Profession
145 - 155lbs (65.8 - 70.3kg)
5'7" (170cm)
American
Bodybuilder, Personal Trainer
Era
2010
| | |
| --- | --- |
| Weight | 145 - 155lbs (65.8 - 70.3kg) |
| Height | 5'7" (170cm) |
| Nationality | American |
| Profession | Bodybuilder, Personal Trainer |
| Era | 2010 |
---

"I set a goal and reached it way earlier than I thought I would"
Accomplishments
2015 NPC Steve Stone Metropolitan Championships, 6th
2015 NPC Pittsburgh 

Championships,

 3rd Place (Nationally Qualified)
2015 NPC Team Universe, 5th Place
2015 NPC USA Championships, 5th Place
2015 IFBB North American Championships, 16th Place
2015 NPC National Championships, 3rd Place
---

"I do not know what I would be doing if I wasn't in the fitness industry—I am obsessed"
Biography
Early Life
Samantha was raised in a fitness-addicted family in New York, America, and she became fascinated by the world of fitness from an early age. Her father was a bodybuilder who constantly worked out in their basement gym – he encouraged Samantha to take part in sports during her childhood.
Inspired by her dad, she played several sports during high school. Naturally, she grew up fit and lean with the perfect frame to build her physique on.
At this point, Samantha had ambitions of making a name for herself in the fashion industry.
Start of Fitness Journey
However, after graduating, her passion for fitness had blossomed. She had gained an admiration for fitness models on social media, and it wasn't long until she started her fitness journey.
In 2014, Samantha set her sights on becoming an IFBB Pro athlete – she entered the gym and began weight lifting.
She spent the next year working rigorously, and with the help of a professional coach, she made serious progress towards sculpting her dream physique. After intense preparation, she was ready for the stage.
Competing as a Bikini Athlete
In 2015, Samantha entered her first competition, the NPC Steve Stone Metropolitan Championships. Although she didn't win, she was excited about her future in the industry.
This motivated her to push harder towards her goal.
It wasn't long until she entered the NPC Pittsburgh Championships, and this time, she found some success. She placed 3rd, but this allowed her to begin entering national shows.
That same year, she began competing in the nationals, but the highest she managed in 4 contests was 3rd. However, she was proud of how far she had come in such a short space of time.
---

---
Becoming a Personal Training
After gaining vital experience as a Bikini athlete and being asked numerous questions about her profession on social media, Samantha was inspired to help others to realize their dreams. She began studying to become a personal trainer, and became qualified soon after.
A few months into her new career, she had gained a mass of followers on social media for her physique and work. In 2015, she was voted as NYC's Hottest Personal Trainer of the year.

"I crave the weirdest things sometimes because when I am prepping for a show, my diet is so boring. I am not even able to have one single cheat meal until after the competition.

You cannot out train a shitty diet! Work just as hard in the kitchen as you do in the gym and you will see awesome results (if you really want it, you will do it.) Remember, this is a LIFESTYLE. Fall in love with it"
---

"I believe in hard work, so I don't allow for easy workouts—I want everybody to leave dripping with sweat and feeling proud of what they've accomplished!"
---

"The first thing I will tell them is never give up—I can't say this enough. Consistency is key!"
What can we learn from Samantha Skolkin
Samantha has taught us to always keep our options open. At first, she wanted to pursue a career in fashion, but after she saw how fast her physique was developing, she made the most of her training and competed as a Bikini Athlete.
One thing we can take away from Samantha's career is to never give up. She didn't get her contest history off to a dream start, but she has always kept her eyes on the final goal.