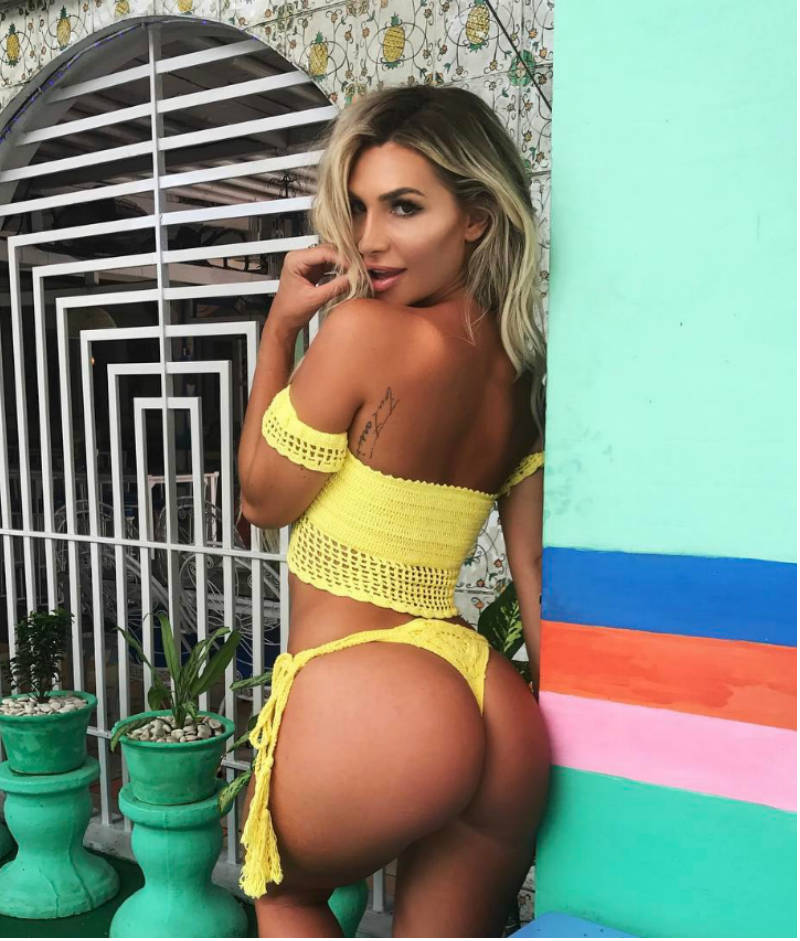 Rosanna Arkle
Fitness Model, social media celebrity
Rosanna Arkle is a model and social media celebrity from Whangerei, New Zealand. She's well known for her appearance on a major reality TV show, and has attracted millions of followers on social media.
Growing up, Rosanna lived a very normal life in Northern New Zealand. While she was happy, she really wanted to be a famous model, so decided that she would have to make the move to Australia.
Upon moving to the Gold Coast, Rosanna began to find some modelling work for magazines. This developed into shoots for major magazines such as Zoo, which allowed her to land a place on the 'The GC' reality TV show.
Her performance on this show enabled Rosanna to build a massive social media following. She earns up to $3000 per Instagram post, and has used the platform to inspire women and publicize her own business ventures.
This is her story:
---

Athlete Statistics
Full Name: Rosanna Arkle
Weight
Height
Age
Date of Birth
115 - 125lbs (52.2 - 56.7kg)
5'6" (167.5cm)
35
September 30, 1988
Nationality
Profession
Era
New Zealand
Fitness Model, social media celebrity
2010
| | |
| --- | --- |
| Weight | 115 - 125lbs (52.2 - 56.7kg) |
| Height | 5'6" (167.5cm) |
| Age | 35 |
| Date of Birth | September 30, 1988 |
| Nationality | New Zealand |
| Profession | Fitness Model, social media celebrity |
| Era | 2010 |
---

Accomplishments
Social media celebrity
Magazine spread in playboy
Television star
---

Biography
Growing Up
Growing up, Rosanna was always very active and lived a normal life in New Zealand's most northerly province – Whangerei. She was always out in nature and lived in a tight-knit family home; receiving support for whatever she decided to do.
Starting To Land Modelling Gigs
In the mid 00's, Rosanna began to look for work as a model in her home town. She found work for promotions such as Libra and Carefree and Northland Rugby; she also appeared in the October 2008 issue of New Zealand Performance Car magazine.
Moving To Australia
In 2009 Rosanna decided that, if she was going to make it as a model, she would have to move to Australia. She moved to the Gold Coast and began looking for work in and around Queensland.
She featured in a television commercial for a glass fitter and featured on the front cover of a major Australian fishing magazine. This was followed by a cover on the 'Meter Maids' calendar of 2010.
Major Magazine Interest
This experience as a magazine model allowed Rosanna to attract major publications throughout Australia. One of her largest jobs to date came from Zoo magazine – a big name mens publication.
They signed her for a lengthy contract and invited her to the 'Wild Orchid Australia Bikini Parade.' This show was shot for Zoo Weekly Australia and Unit Riders Clothing respectively.
Unit riders clothing took interest in her straight away and their Winter Range featured her prominently in various poses. She was then featured in Zoo's 2011 'Best Bums,' and "50 Sexiest New Aussie Models" editions.
---

---
Continuing To Work With Zoo
In August 2011, Rosanna was the cover girl and feature model for an 'Australian Swimsuit' Edition of the magazine. By 2012, she had become the Zoo Weekly covergirl feature and had attracted attention nationwide.
Television Appearance
This fame as a popular mens magazine model, allowed Rosanna to land television work. She took part in 'The GC' – a reality TV show based in the Gold Coast which showed off the lives of young Maori's.
Rosanna enjoyed this experience greatly, and it allowed her and her boyfriend Zane to become well-known figures.
Social Media Fame And Magazine Appearances
This fame was reflected in Rosanna's social media pages. She managed to attract over 3 million followers on Instagram and knew that, at this point, she could make a good income from instagram posts alone.
But rather than simply working on Instagram, Rosanna began to look for more magazine shoots. She featured in magazines such as playboy and sports illustrated and became a household name across Australia.
---

Training
Weight Lifting
Rosanna realized early on that the only way to build toned glutes and legs was through weightlifting. She had initially just completed cardio sessions, but  became skinny rather than toned.
Her favorite lift for building up this area is the squat. She sinks deep into the movement in order to stimulate her quads and glutes as much as possible.
Cardio
As well as weightlifting, Rosanna loves to complete cardio sessions to burn fat and reveal muscle tone. She spends a lot of time on the treadmill and goes for regular jogs outdoors.
---

Nutrition
Healthy And Nutritious
When Rosanna eats, she always chooses healthy and organic foods. She eats lean meats such as chicken, turkey and steak and needs this protein regularly to maintain her figure.
She tries to eat regularly also. Through doing this, she can ensure that she gets a constant stream of nutrients to flood into her system.
Fruits
Rosanna loves to eat healthy fruits, and is spoiled for choice in Australia. She loves tropical fruits particularly, and usually includes some citrus options with her breakfast.
As well as citrus fruits, Rosanna regularly starts the day with oats. She loves this hit of carbs early in the day as it provides her with the energy she needs for her active lifestyle.
---

What we can learn from Rosanna Arkle
Rosanna proves that, sometimes, we need to make big moves to follow our dreams. She couldn't find adequate work in New Zealand as a model, so flew to Australia to live, work and follow her career path.
This determination and confidence ultimately paid off for Rosanna, and she gained millions of Instagram followers. She also starred in major television shows and landed spreads for major magazines such as Playboy.
If you want to work as a model and follow your own dream, show as much dedication as Rosanna and who knows where you might end up.