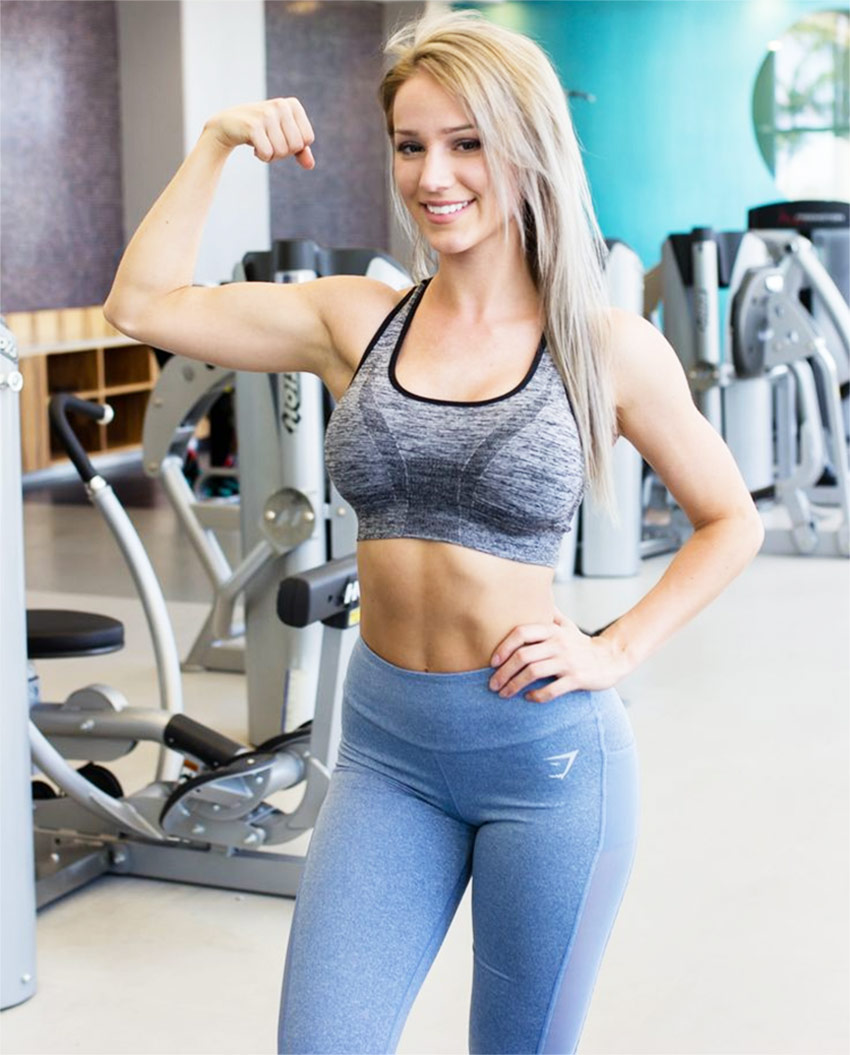 Robin Gallant
Fitness Model. Social Media Star
Robin Gallant is a powerlifter, figure competitor and fitness model. She's become an established athlete in the fitness community, after embarking on her journey in 2012.
Since graduating from college, Robin has gained masses of followers on social media – inspiring countless fans around the world to lead a healthy lifestyle.
This is her story:
---

"I share my personal journey online on Instagram and YouTube, hoping to inspire & give back by sharing my knowledge."
Athlete Statistics
Full Name: Robin Gallant
Weight
Height
Bust
Hips
115 - 125lbs (52.2 - 56.7kg)
5'2" (157.5cm)
32"
34"
Waist
Year of Birth
Nationality
23"
1994
Canadian
Profession
Era
Fitness Model. Social Media Star
2010
| | |
| --- | --- |
| Weight | 115 - 125lbs (52.2 - 56.7kg) |
| Height | 5'2" (157.5cm) |
| Bust | 32" |
| Hips | 34" |
| Waist | 23" |
| Year of Birth | 1994 |
| Nationality | Canadian |
| Profession | Fitness Model. Social Media Star |
| Era | 2010 |
---

"My goal is to empower other women to become body and self-confident, and to live a balanced, healthy lifestyle."
Accomplishments
Qualifications
Biochemistry & Molecular Biology Degree – Dalhousie University (2015)
Human Nutrition, Exercise Science and Strength & Conditioning (NSCA-CSCS)
Competitive Bikini & Figure Competitor
ASUPL Nationally Qualified Powerlifter
Competition History
Powerlifting 
2015 Canadian Powerlifting Nationals, 47kg – 2nd
Bodybuilding Figure
2016 OCB New York Stats Natural, Open & Novice – 2nd
Powerlifting Records
At 103lbs (46.72kg) bodyweight:
Squat – 176lbs
Bench Press – 116lbs
Deadlift – 207lbs
---

"By pursuing endeavors and a career I am passionate about, I've been able to work through difficult situations!"
Biography
Education
Born and raised in Nova Scotia (Canada), Robin grew up with a keen interest in fitness. After seeing numerous fitness models online, she was amazed by their figures and what the human body was capable of.
As a result, in 2012, Robin made the decision to study a degree in Biochemistry & Molecular Biology. During her time at college, she gained an expansive knowledge on nutrition and human metabolism.
Ultimately, it was during this period that Robin began her fitness journey. With the right tools to succeed, she set her sights on sculpting her dream figure.
The Canadian found weight-lifting as the perfect escape from the stresses of education – as well as improving her confidence in her appearance.
---

Robin's transformation from 2014-2015
---
Powerlifting & Bodybuilding
Three years after embarking on her fitness journey, Robin had managed to achieve a lean and strong figure – as well as completing her degree.
Robin's training in the gym had led to her being inspired to compete as a powerlifter; she wasted no time and entered the 2015 Canadian Powerlifting Nationals shortly afterwards.
Although she didn't have her dream start to her powerlifting career, Robin left the show with a respectable silver medal. This gave her the motivation she needed to pursue success – both as a powerlifter and bodybuilder.
Only a year later, Robin entered the 2016 OCB New York Stats Natural show – placing 2nd in her debut competition as a figure competitor.
---

---
Social Media Star
Not long after starting her preparations as a powerlifter and figure competitor; Robin began posting pictures and videos of her journey on Instagram.
She impressed the fitness community with her incredible transformation photos, and gained masses of followers as a result. After documenting her early success in competitions, Robin had gained even more exposure and fans.
By 2017, this Canadian had become an online fitness icon.
---

"Ever since I discovered fitness, I have never looked back."
Training
Robin is a big advocate of girls being 'strong not skinny'; she showcases this as a competitive powerlifter. As a result, she always trains using compound movements – especially the big three lifts, squat, bench press and deadlifts.
Her favorite training routine is her 'leg day'.
Leg Day
Here's what Robin's leg training routine looks like:
(Warm Up) Wide Squats, light weight – 2 sets of 15 reps
Wide Squats, heavy weight – 3 sets of 12 reps
Dumbbell Stiff Leg Deadlifts – 2 sets of 30 reps
Walking Lunges – 4 set of 25 meters
Stability Ball Hamstring Curls – 3 sets of 15 reps
Single Leg Press & Regular Leg Press (Superset) – 4 sets of 20 reps
Glute Bridges – 3 sets of 25 reps
Stair Master on Highest Incline – 5 mins
---
 
"Ever since IIFYM, my life has seriously changed. I don't have panic attacks going out to eat, I don't have fear foods. It's amazing."
Nutrition
In terms of her diet, Robin is quite flexible; she allows herself to eat foods that she enjoys – following the IIFYM (If It Fits Your Macros) plan. She believes that moderation is key, and that IIFYM is key to sustaining a healthy eating pattern.
For this reason, she doesn't follow any strict weekly meal plans.
---

"I love the reach I'm given via social media and I use that to inspire other women to get into lifting."
Idols and Influences
Robin has always been a 'self-starter'; for this reason, she doesn't have any particular influences.
However, she credits the fitness industry and all competitors for inspiring her to achieve a similar figure. Also, Robin names her followers on social media as great sources of motivation – their support constantly fuels her to succeed and push through her limitations.
---

"Being a perfectionist, I always train and work hard to achieve my goals."
What We Can Learn From Robin Gallant
Robin has taught us that chasing your dreams can lead to success – if you work hard enough.
The Canadian dedicated her life to the industry; she chose to study Biochemistry & Molecular Biology at college, in order to gain knowledge on nutrition and fitness – alongside an intense training schedule.
Ultimately, this led to Robin succeeding in 2 sports; bodybuilding and powerlifting.