Roberta Zuniga is a world renowned fitness model from Chile who's known for her awesome physique, and huge social media following. She's also competed in numerous global events for fitness modeling.
Roberta first caught the fitness bug while she was a teenager. After working-out hard for several months, she soon started to see results. Since then, she never looked back, going from strength to strength.
Not only does Zuniga take part in competitions, she also posts videos of her workouts while giving nutrition and training advice to her followers around the globe.
Hailing from Vina del Mar, Chile, it's clear to see why we often see her on the beach soaking up the sun and enjoying her hard earned efforts.
This is her story:
---

Athlete Statistics
Full Name: Roberta Zuniga
Weight
Height
Age
Date of Birth
135 - 145lbs (61.2 - 65.8kg)
5'6" (167.5cm)
31
April 7, 1992
Nationality
Profession
Era
Vina del Mar, Chile
Model
2010
| | |
| --- | --- |
| Weight | 135 - 145lbs (61.2 - 65.8kg) |
| Height | 5'6" (167.5cm) |
| Age | 31 |
| Date of Birth | April 7, 1992 |
| Nationality | Vina del Mar, Chile |
| Profession | Model |
| Era | 2010 |
---

Accomplishments
Competition History
2015 
WBFF Tempa Diva Pro – 1st
Arnold Classic Brazil – 1st
---

Biography
Start of Fitness Journey
Born and raised in Vina del Mar, Chile, Roberta Zuniga grew-up with no knowledge in nutrition or fitness. But being heavily involved in numerous sports such as ballet, swimming, soccer and jiu-jitsu meant that Roberta was blessed with a naturally lean frame.
As a result, she was scouted to become a fashion model by the age of 15 in 2007. However, Roberta soon became conscious of how skinny she was, becoming unhappy with her appearance during her late teenage years.
It was around this point when Roberta found fellow countrywoman, Gracyanne Barbosa on social media; she was in awe or her incredible figure and was inspired to sculpt a similar body herself.
In 2009, at the age of 17, Roberta began adopting bodybuilding as a way of life – determined to add lean mass and curves to her thin frame.
"I practised physical activity from 5 years of age (ballet, jazz, swimming, soccer, jiu jitsu, judo). Every year I tried something new, but I always became bored of certain sports, until I found fitness at the age of 15.
"I identified with bodybuilding so much that I started to compete and train in the gym everyday" – Roberta Zuniga
Bikini Athlete
A year after beginning her fitness journey, through hard work and strict dieting, Roberta had shown great progress on her physical development.
After being encouraged by her friends and family to take her passion for fitness further, the youngster decided to sign-up for her first competition at the age of 18, in 2010.
Although she didn't win, Roberta felt motivated by being surrounded by numerous athletes that had fallen in love with fitness. Ultimately, this proved to be the spark that she needed to create a social media profile and document her journey with the bodybuilding community.
---

Roberta posing with her trophy after winning the 2015 WBFF Tempa Diva Pro.
---
Social Media Sensation
Over the next 5 years, Roberta continued developing her figure, impressively maintaining her abs while adding lean mass to her butt and legs.
This effort didn't go unnoticed, and eventually, the bikini athlete from Chile attracted masses of followers by 2015; after achieving over 300,00 fans on social media, she became known as a fitness icon around the world.
That same year, Roberta was able to add to her accomplishments by taking home the trophy at the WBFF Tampa show – further strengthening her reputation in the industry as a leading fitness icon.
Only a month afterwards, she finished the year with style, by winning the Arnold Classic Brazil.
Giving Birth
In early 2017, Roberta announced to her fans via social media that she was pregnant with her first child.
During her pregnancy, she posted updates on Instagram on a daily basis, asserting her excitement at the prospect of becoming a mother and building a family.
After around 9 months, Roberta gave birth to her child, Manu in late November 2017.
---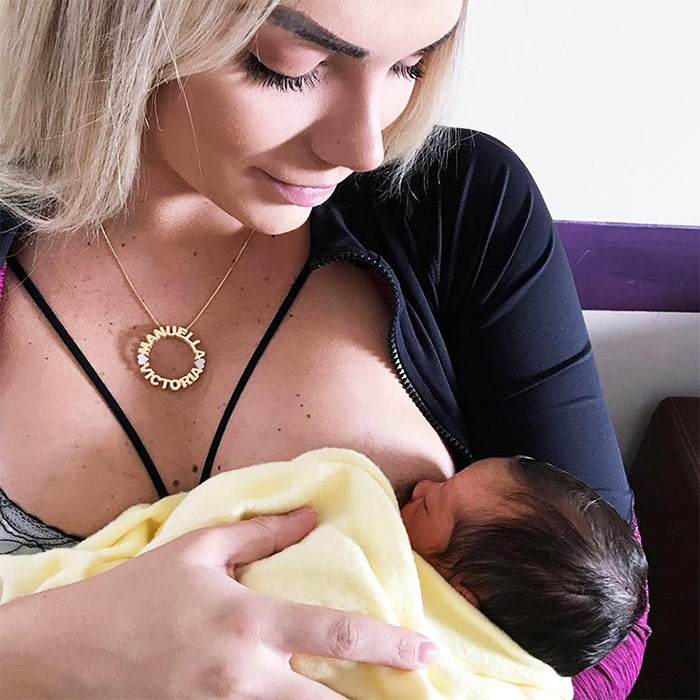 ---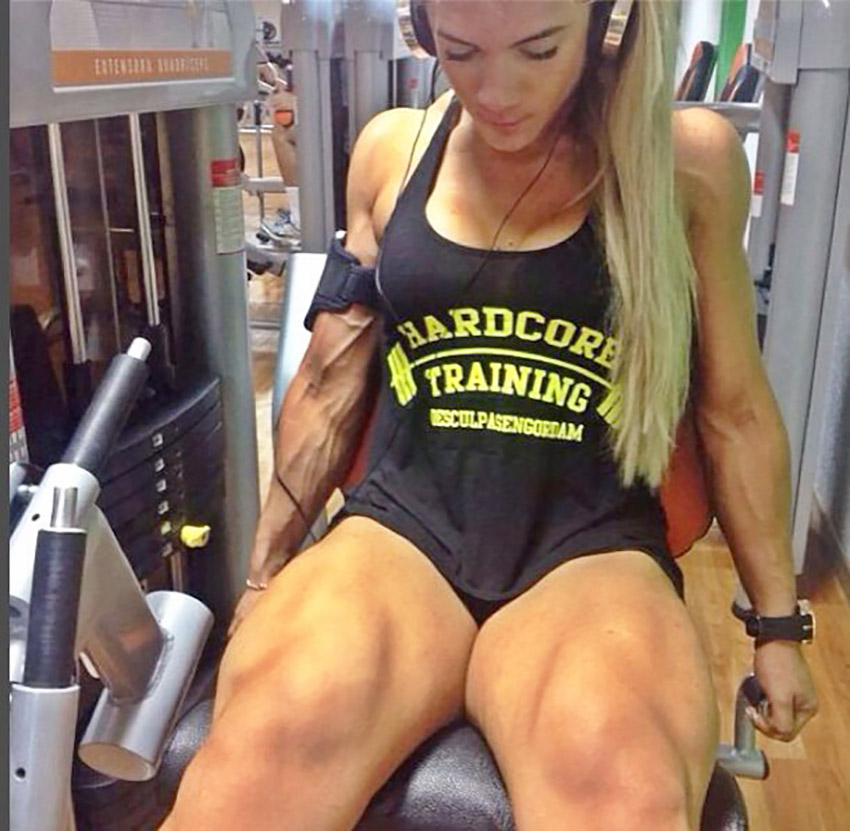 Training
Brazilian fitness models are often known for their impressive glutes, and Roberta is no different. For this reason, she places a particular emphasis on lower body workouts, performing high reps to maintain her lean figure.
However, unlike other female athletes sharing videos of lifting heavy weights, Roberta stays focused on her form – she believes that 'form over weight' is important when aiming to build lean mass with minimal body fat.
"I practise bodybuilding every day, and I love running and performing aerobic exericses to always keep my fat percentage at 7%." – Roberta Zuniga
Leg Workout Routine
Here's what Roberta's lower body training session looks like:
Bulgarian Squat – 4 x 10 reps
Glute Kickbacks – 4 x 10 reps
Hamstring Curls – 4 x 10 reps
Stiff-Legged Deadlifts – 4 x 10 reps
Weighted Hip Thrusts – 4 x 10 reps
Hack Squat Finisher – 3 x 45 reps
---

A young Roberta Zuniga.
Nutrition
After learning the importance of nutrition, Roberta has since become obsessed with keeping a clean diet; she keeps her cheat meals to a minimum, while planning her meals around lean proteins, green vegetables and complex carbohydrates.
In order to keep her metabolism fired-up on all cylinders, Roberta consumes smaller but more frequent meals throughout the day. In total, she usually eats between 6-8 meals to help her achieve her daily macros and protein requirements – to continue developing her incredible figure.
When she craves a sweet treat, Roberta states that whey protein pancakes is her 'go-to' snack; this still positively contributes to maintain and building her lean body, but satisfies her desire for guilty pleasures.
---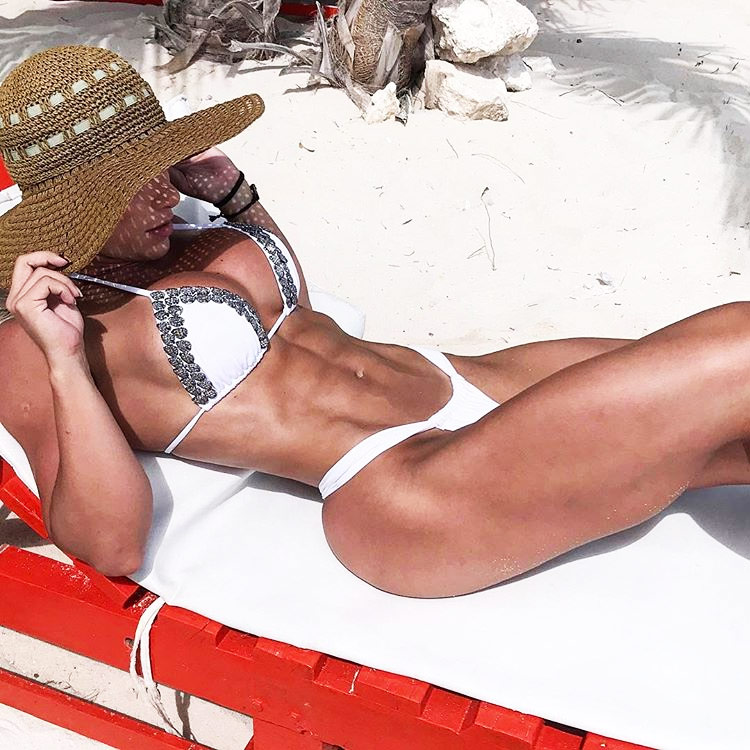 Idols and Influences
Roberta names Gracyanne Barbosa as the fitness model who inspired her to embark on her fitness journey; she was impressed by her curvaceous figure, and set her sights on sculpting a similar body.
However, Roberta also states that her friends and family are her 'rock', who have encouraged her to succeed at every opportunity.
---

What We Can Learn From Roberta Zuniga
Roberta has always been known for her aesthetic looks; she has been working as a model since the age of 15, and has since become an internationally renowned fitness model in the industry.
However, she didn't rely on her genetics to succeed. Instead, she spend years training in the gym and fighting hunger cravings in order to add lean mass to her figure.
Ultimately, what we can learn from Roberta Zuniga is that hard work is the key to success, and that you should take every opportunity to challenge yourself in new surroundings.