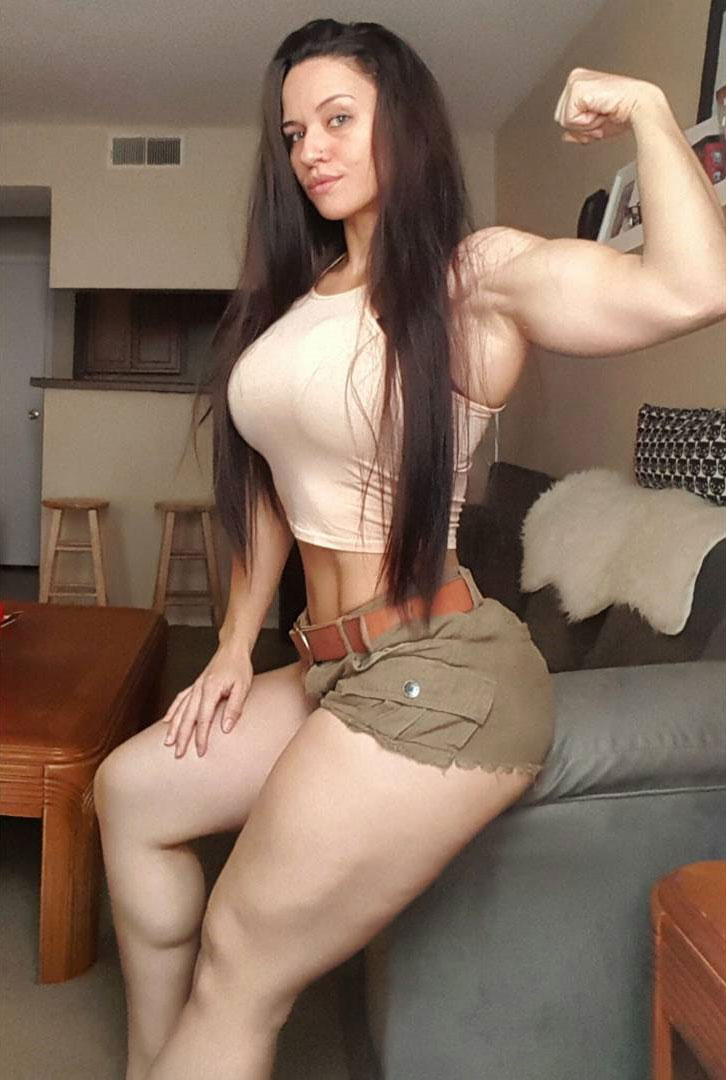 Renee Enos
Renee Enos, or roxyqueflexx as she's known on her Instagram account, is a well-known female bodybuilder with an interest in all things fitness, along with wearing the occasional Cosplay outfit.
Renee has trained hard for years using a natural bodybuilders approach; heavy lifting and eating a surplus of calories.
Year after year, Renee shows vast improvements from her early beginnings. While at the same time, displaying a true love and passion for weightlifting, and the fitness lifestyle.
---
"Self confidence has to be one of the greatest things I've achieved by living a healthy lifestyle and working out. Without a doubt, it changed my life."
---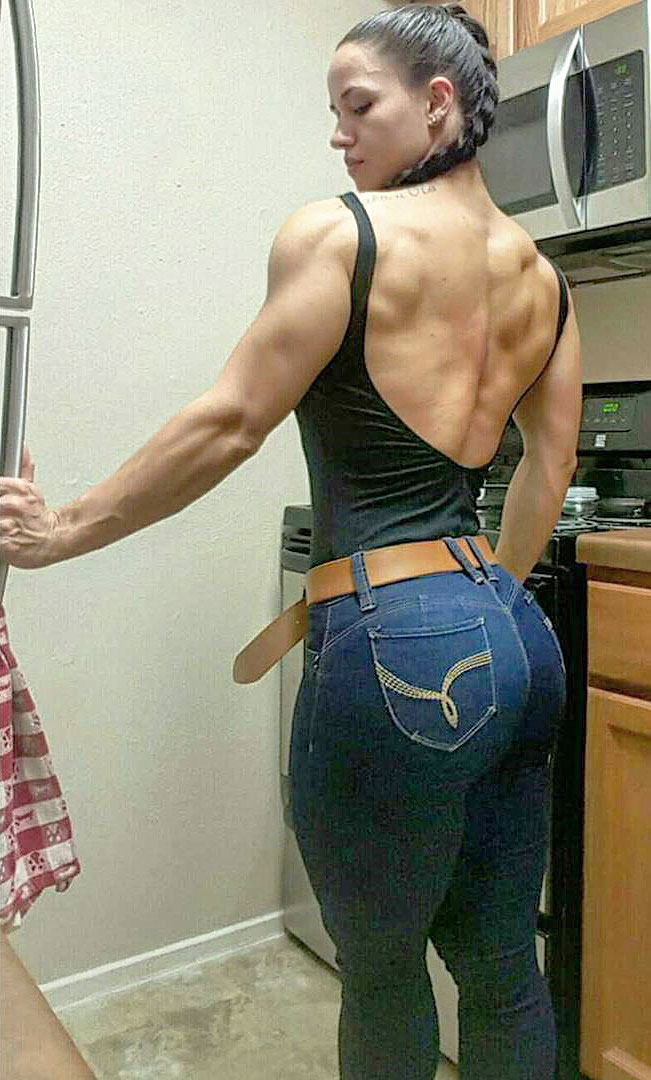 Athlete Statistics
Full Name: Renee Enos
Nationality
Alias
Era
American
roxyqueflexx
2010
| | |
| --- | --- |
| Nationality | American |
| Alias | roxyqueflexx |
| Era | 2010 |
---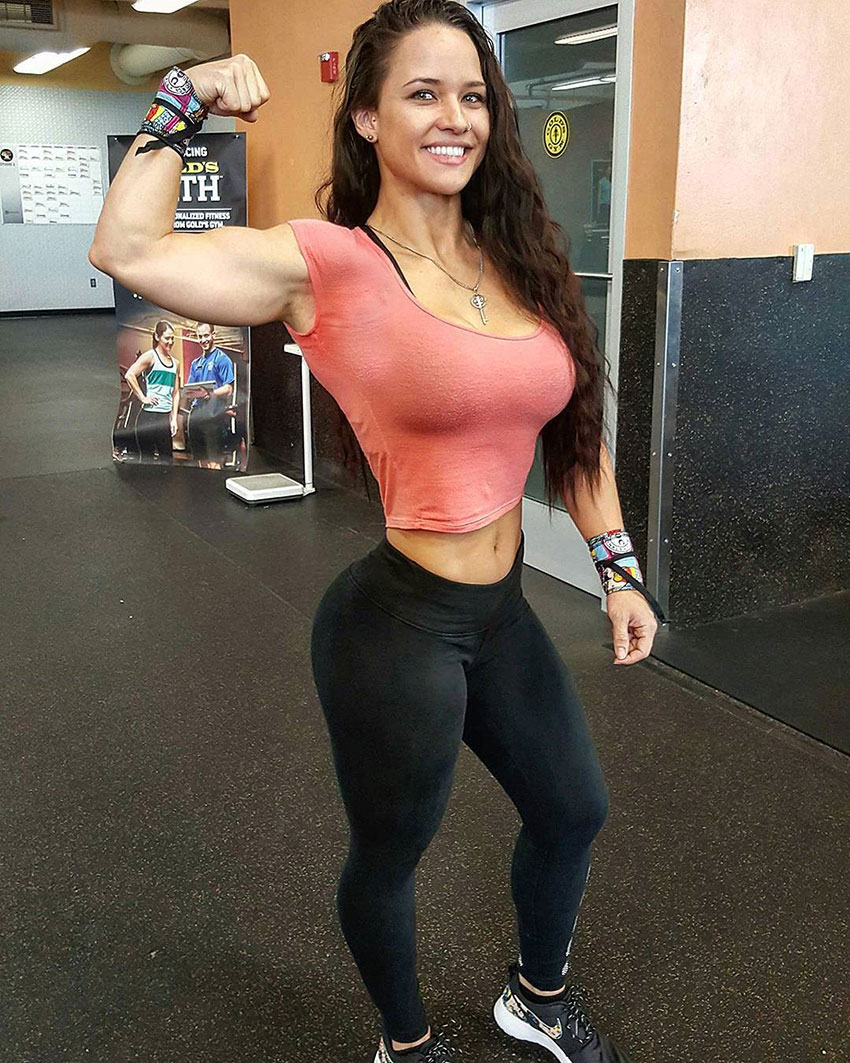 "It takes time, dedication and perseverance. I'm proud of how far I've come but I'm hungry for more and I will work and sacrifice for it because nothing worthwhile ever comes easy."
Accomplishments
Business Accomplishments
Sponsored athlete
Internet sensation
---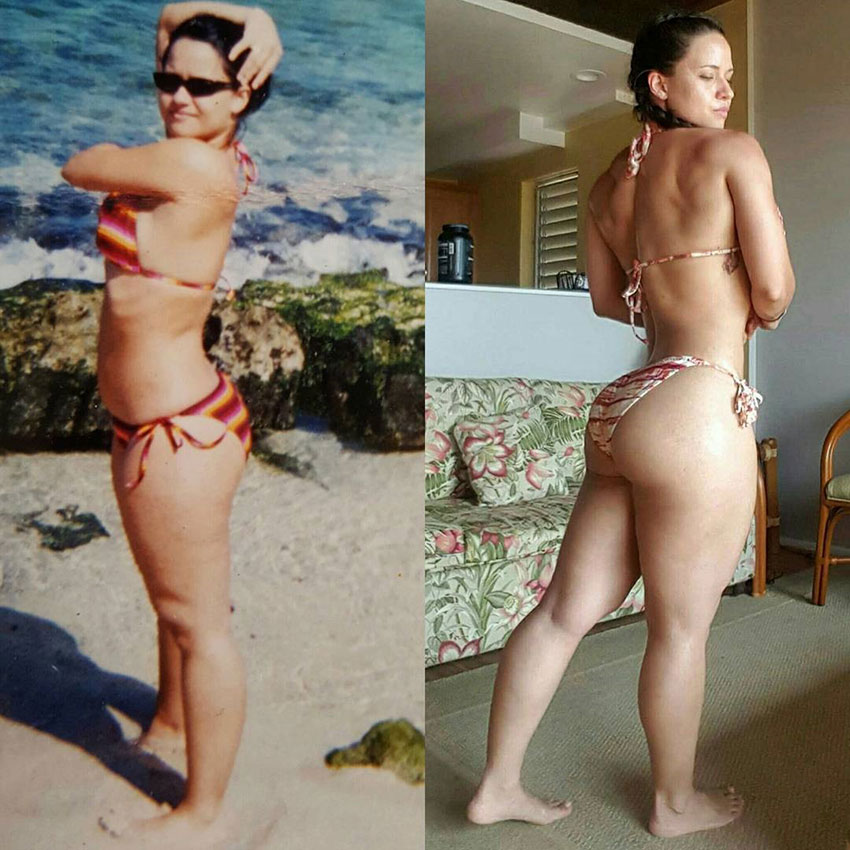 Renee Enos' transformation, before and after years of bodybuilding.
Biography
Early Years, Siblings, and Phobias
Renee was born and raise in the "Big Island of Hawai," then, in 2008, she moved to California. From that point, she moved around a lot, from Montana and Oregon.
After years of finding a place to live, Renee finally settled in San Antonio Texas. She's the youngest of 6 siblings, having 3 sisters and 2 brothers.
Renee also has a serious condition called Trypophobia, which is a phobia of irregular patterns or clusters of small holes or bumps, as Renee says; "Seriously creeps me TF out."
---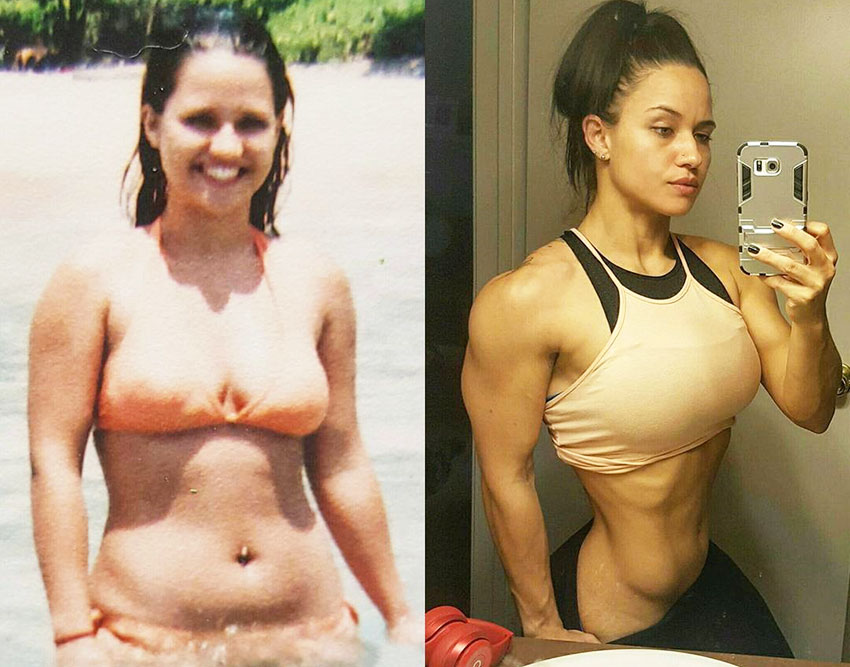 Renee's Turning Point
After years of bad dieting, binge eating, and feeling low, Renee took the big step in 2010 and made a positive change in her life by joining a gym. Here's Renee talking about the whole process;
"I would binge eat, feel guilty, start dieting, not see results, get frustrated, hop on whatever diet trend was popular, still not see results, binge eat again…it was a cycle that I was stuck on for years.
The only thing I didn't try was eating clean and exercising. Until 2010 when I finally got fed up and tired of my shit.
I joined a gym, cleaned up my diet and started seeing noticeable results. Am I happy now? Most definitely. Not only because of what I see on the outside but also because of the way I feel on the inside.
Working out has become an outlet for me, when I'm stressed, frustrated, sad, anxious..stepping in to the gym with some good music, blocking out the world for an hour or two and just clearing my mind..there's nothing else like it." – Renee Enos 
---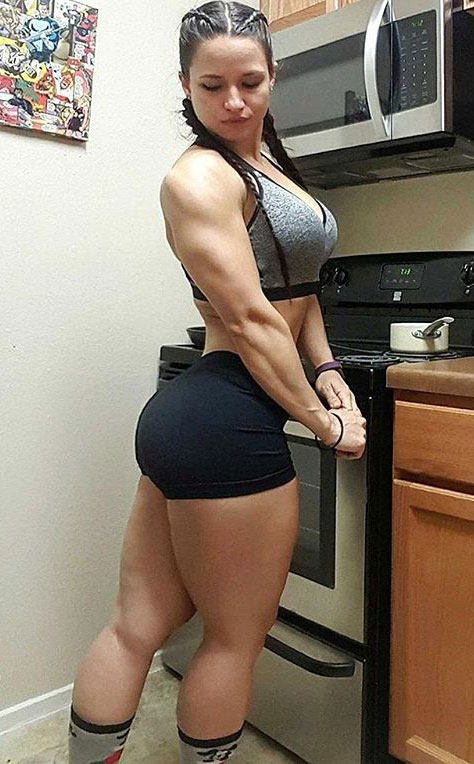 "What we do for recovery is just as important as what we're doing in the gym. If you're not recovering properly it could hinder your workouts."
Training
Classic Lifting Approach
Renee likes to lift heavy, and train hard. Her awesome physique and huge muscles have been built by hard work, and years of using compound exercises.
Exercises such as the squat, kickbacks, lunges, and deadlifts are staples in her exercise routine when it comes to building her strong legs.
As for her upper body, Renee likes to use the classic dumbbell shoulder press, bench press, cable flys, bent over row. Along with a whole host of other exercises to build her well tapered upper body.
---
"I know what I'm doing, I believe in what I'm doing, but most importantly I love what I'm doing."
Nutrition
Supplements And Healthy Eating
Renee sees supplements as an important part of her success. She likes to incorporate whey protein, vitamins, fish oils etc. into her diet to help build and repair her muscles after an intense workout.
However, even though Renee uses supplements from time to time, she wont neglect her diet. Renee likes to eat a variety of healthy 'whole foods' throughout the day, making protein a staple in her diet.
Renee's Diet
Protein:

Chicken Breast, Packs of Tuna (various flavors)

Carbs:

Oatmeal, Bananas, Red Potatoes, Rice Cakes

Fats:

Natural no sugar added Peanut Butter

Other:

Veggies, sugar free jelly, Almond Milk, Water
---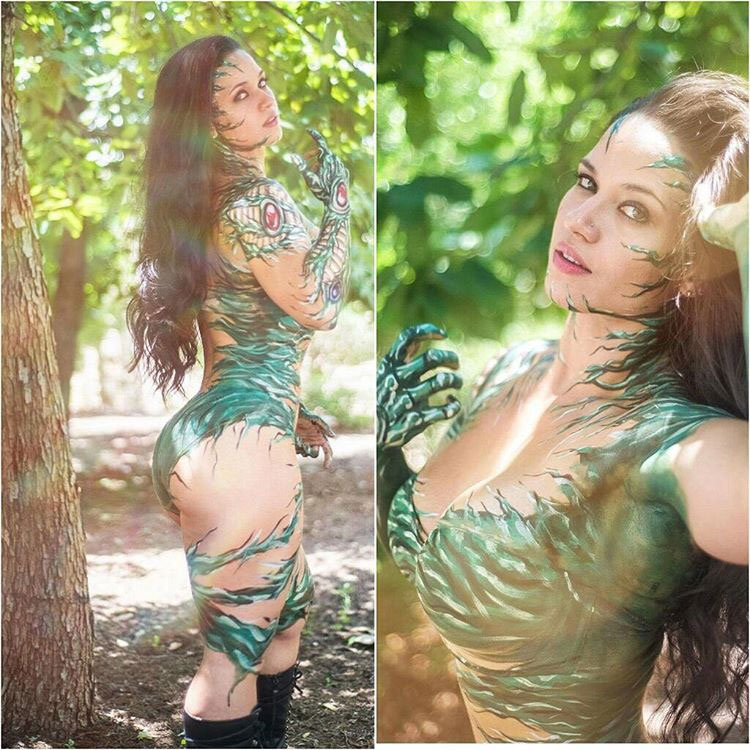 Renee Enos wearing one of her favorite cosplay outfits.
---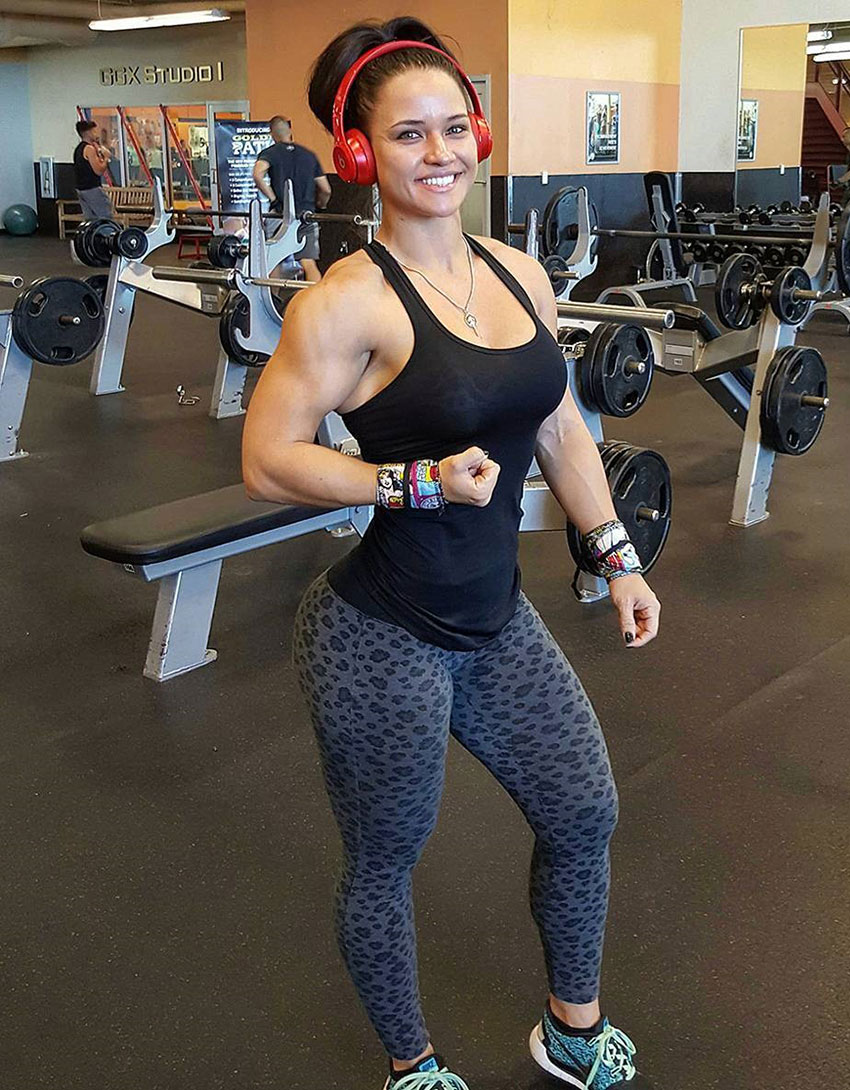 What we can learn from Renee Enos
What we can learn form Renee Enos is; with hard work and consistency in the gym, along with heavy weight training, and a classic bodybuilding approach – you too can build an awesome physique.
Even though Renee's path was long and arduous, it hasn't stopped her from continuing on her path towards creating the best life imaginable for herself. All of this has been done through exercise, and a healthy approach to life.
Following the same commitment to your goals as Renee, you too can make your goals into a reality with time, and patience.
---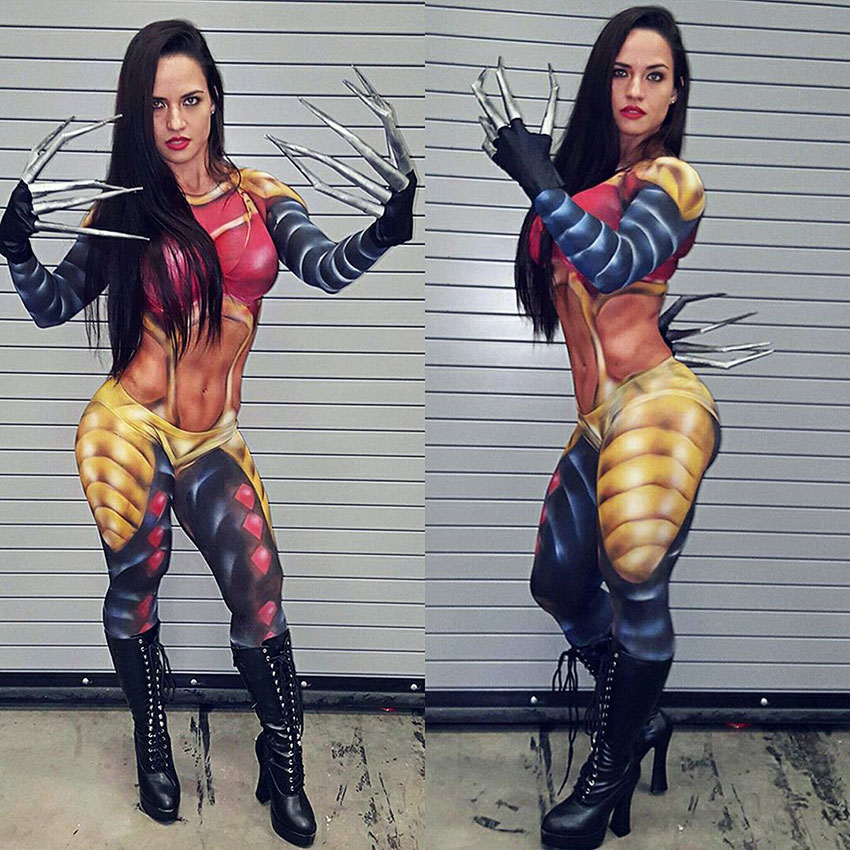 "You'll never shine throwing shade. If they respect you, respect them. If they disrespect you, still respect them. Do not allow the actions of others to decrease your good manners, ultimately you represent yourself, not others….and then hit 'um with a flex."
Renee's Message
Here's Renee's message to everyone on her years of trail and error, in achieving her awesome physique;
"After years of yo-yo dieting ….. I tried everything except eating clean and working out. Looking back I just shake my head at some of the things I tried (cottage cheese diet, lemonade/Cayenne 'cleanse,' an assortment of liquid diets…I could go on but it's embarrassing).
I didn't know anything when I started, I just knew I needed to change, I would read tons of articles online about different training methods, exercises and nutrition. Through self education and a whole lot of trial and error I learned what worked best for me.
There's no secret to fitness, no one size fits all. You just need to make the decision to get started and keep pushing forward. Its not easy but nothing worth having comes easy!" – Renee Enos