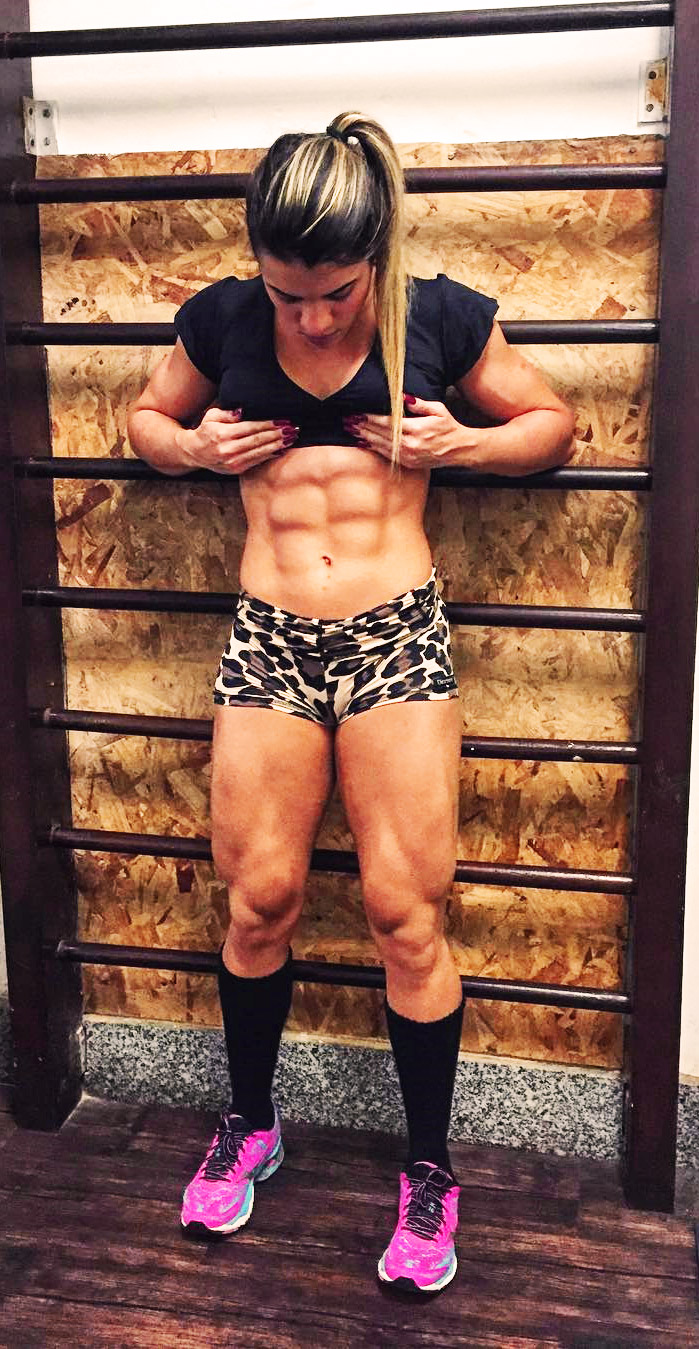 Raissa Rafaelli
Bodybuilder, Fitness Model
Born and raised in Rio De Janeiro, Brazil, Raissa Rafaelli is a wellness-fitness athlete that's known for her muscular legs and amazing physique. She was pulled into the world of fitness at the age of 11, when her mother and father began working at the newly opened gym close to her home.
It wasn't long until she started following a training and diet plan created by her parents, working towards sculpting her dream body. Soon after, Raissa began admiring bodybuilders on social media, and became determined to develop into an athlete herself.
By 2016, at the age of 20, she had placed in numerous high profile competitions while studying Nursing at college.
Raissa has become an social media sensation, gaining of a mass of followers. She inspires thousands around the world to achieve their dream physiques by taking them on her online journey.
---

Athlete Statistics
Full Name: Raissa Raffaelli
Weight
Height
Year of Birth
Nationality
135 - 145lbs (61.2 - 65.8kg)
5'6" (167.5cm)
1996
Brazilian
Profession
Era
Bodybuilder, Fitness Model
2010
| | |
| --- | --- |
| Weight | 135 - 145lbs (61.2 - 65.8kg) |
| Height | 5'6" (167.5cm) |
| Year of Birth | 1996 |
| Nationality | Brazilian |
| Profession | Bodybuilder, Fitness Model |
| Era | 2010 |
---

---

Accomplishments
Top 2 Arnold Classic Brazil 2016
Top 3 Campeonato Brasileiro 2015
Top 4 Arnold Classic Brasil 2015
Top 2 Copa Carioca 2015
---

Training
Raissa is one of the hardest working fitness models in the gym. She is often coached by renowned bodybuilding coach, Carol Vaz, who also trains Viviane Winkler.
She can often be seen perfoming high rep sets between 12-15 or even until failure, completing 3-4 sets of each exercise; Raissa believes that this high volume training has played a key role in helping her sculpt her lean, curvy figure.
The Brazilian enjoys focusing on her lower body, as her main goal is to continue developing her glutes and legs. However, Raissa is equally known for her shredded abs, and will often include exercises focusing on her abs during lower body workouts.
Lower Body Workout Routine
Here's what Raissa's gym session looks like:
Hamstring Kickbacks – 4 x 15 reps
Seated Leg Curl – 4 x 15 reps
Leg Press – 4 x 15 reps
Back Squats – 4 x 15 reps
Hack Squats – 4 x failure
Hanging Leg Raises – 3 x failure
---

---

Nutrition
Raissa is a big believer in eating foods that you enjoy, while still working towards your macros; she doesn't see the need to only consume plain chicken breast and sweet potato, when she can achieve her calorie targets by eating tastier meals.
However, one thing that Raissa does differently to other fitness models, is that she takes 1 week breaks from her diet to enjoy junk food. This is mainly due to her busy lifestyle as a fitness icon and celebrity in Brazil, but also to give her breaks from restricting her calories through the year.
---

---

---