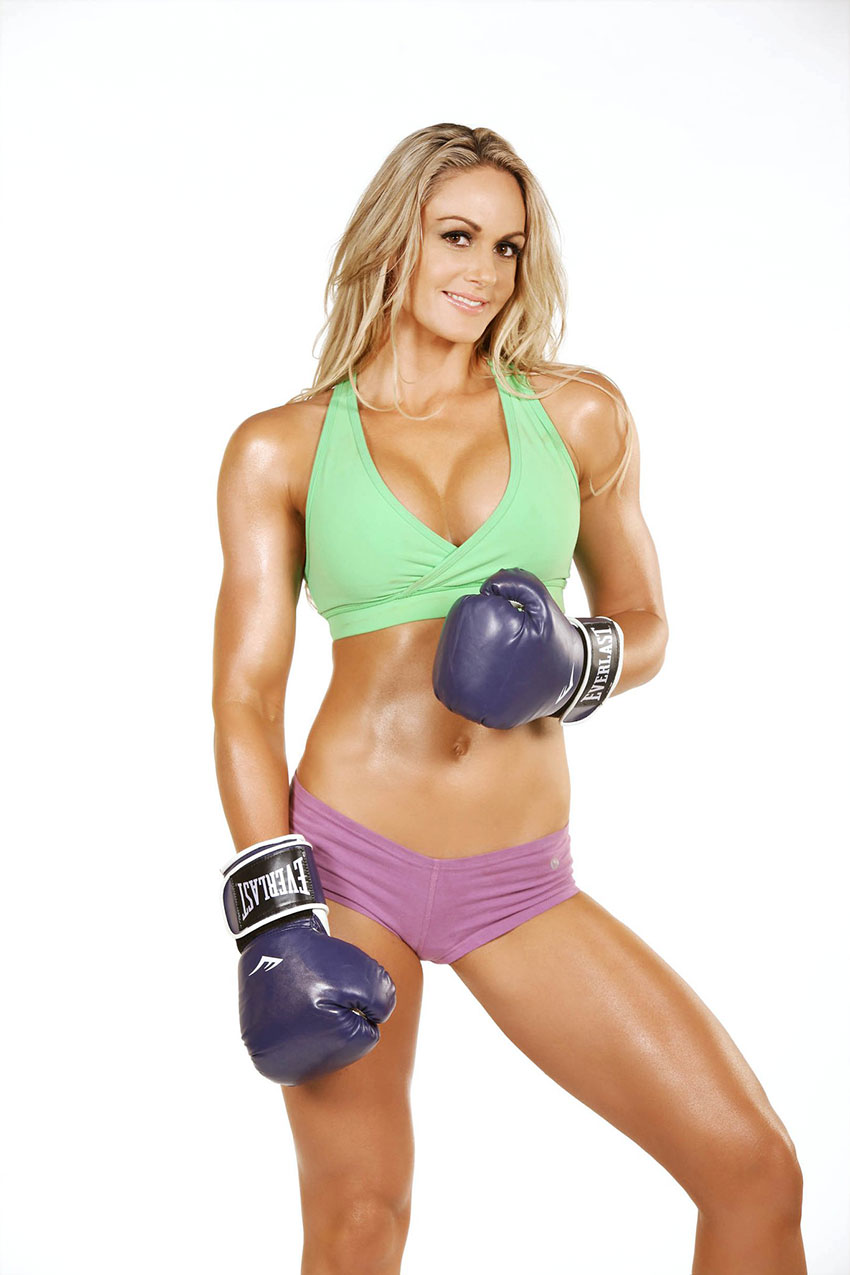 Raechelle Chase
IFBB Pro Figure Competitor, Sponsored Athlete, Fitness Model
Born and raised in New Zealand, Raechelle Chase has become an internet sensation across the world because of her incredible physique, growing a mass of online followers over the years.
Throughout her childhood, Raechelle started off as a competitive gymnast and fashion model. During this period, she lived a heavily and active lifestyle, which led her to take part in netball and surfing. By the time she reached sixteen, she began to sell memberships in a gym part-time. It was here where she fell in love with weightlifting.
Shortly after she entered the weights room, Raechelle was able to build a lean, defined physique after several months of training in the gym. But things started to change, when her duties as a mother took priority. Consequently, Raechelle lost touch with fitness.
After she'd given birth three times, Raechelle looked into the mirror and realized how out of shape she was. At this point, she decided the time was right to rekindle her passion for fitness. In 2007, she achieved just that, as she stepped onto the bodybuilding stage for the very first time. Ever since then, Raechelle has built a successful career in the fitness industry, entering the IFBB Pro circuit along the way.
This is her story:
---

Athlete Statistics
Full Name: Raechelle Chase
Weight
Height
Bust
Hips
125 - 135lbs (56.7 - 61.2kg)
5'7" (170cm)
37"
36"
Waist
Year of Birth
Nationality
27"
1979
New Zealander
Profession
Era
IFBB Pro Figure Competitor, Sponsored Athlete, Fitness Model
2000, 2010
| | |
| --- | --- |
| Weight | 125 - 135lbs (56.7 - 61.2kg) |
| Height | 5'7" (170cm) |
| Bust | 37" |
| Hips | 36" |
| Waist | 27" |
| Year of Birth | 1979 |
| Nationality | New Zealander |
| Profession | IFBB Pro Figure Competitor, Sponsored Athlete, Fitness Model |
| Era | 2000, 2010 |
---

Accomplishments
Career Achievements
IFBB Pro Figure Competitor
Sponsored Athlete
Fitness Model
Competitive History
The New Zealand Pro – 3rd Place & an Olympia qualification
The Melbourne Pro – 4th place
The Houston Pro 2010 – 10th place
California Pro 2010 – 13th place
Sacramento Pro 2009 – 10th place
---

Biography
Raechelle's Early Life
Born in New Zealand in 1979, Raechelle Chase became heavily involved with competitive sports throughout her childhood, starting out as a gymnast, alongside participating in netball and surfing. As well as this, she began a career in fashion modelling, taking part in her first fashion show at the age of 5.
When she reached the age of 16, Raechelle began to work in a gym selling memberships part-time. Just a short while later, Raechelle's interest in weightlifting was sparked, after she became inspired by the great physiques of the people around her in the gym.
It was at this point, Raechelle began to lift weights whenever she had the time. As Raechelle recalls: "I was intrigued watching people lifting weights so I started playing around on the equipment in my spare time". Raechelle soon became captivated with training in the gym, which meant she quickly built a lean, sculpted physique.
---

Losing Touch With Fitness
By the time she reached her late twenties, Raechelle had slowly drifted away from the gym. By this point, she had given birth three times, which meant her duties as a mother became her first priority. Consequently, this left her with barely any time to attend the gym.
Because of her lack of fitness activities, Raechelle became out of shape, losing all of her progress in the weights room. But things became worse for Raechelle when her third child was 4 months old. At this point, Raechelle's confidence was non-existent, where she felt insecure about the way she looked.
Eventually, Raechelle decided that she wanted to regain the amazing physique she had before her children were born. From then on, she set out to rediscover her passion for fitness.
Becoming a Bikini Competitor
After a while, Raechelle decided the best way to obtain her dream physique was to become a bikini competitor. Raechelle knew that she had a long way to go. As Raechelle says:
"One day I looked in the mirror and decided I couldn't put it off any longer, it was time to just start on the journey to getting my body back with the goal being, that I get into the best shape of my life, so naturally the next step was to pick a contest and compete!".
Soon enough, Raechelle was able to obtain her ultimate goal of becoming a bikini competitor, entering her first amateur competition in 2007. It was at this point, Raechelle knew that she had found her true calling, building a career within fitness. In her own words:
"It wasn't until I competed in 2007 as a Novice when I won my class, best posing routine & Overall Figure Champion that I knew that the fitness industry was where I was meant to be". 
Raechelle entered the Pro circuit in 2009, as a result of her hard work to build the phenomenal physique that she's now famous for. Ever since then, her career within fitness has taken off. Not only has she been a cover model for many fitness magazines across the world, but she's also earned herself a sponsorship deal with numerous health companies.
---

Training
Lifting Preferences
Raechelle enjoys lifting heavy weights with low repetitions. Through trial and error, she's found this is the most appropriate way for her to build lean muscle. As Raechelle says: "I lift as heavy as I can for every rep on every set!".
Favorite Exercises
Here's Raechelle's favorite exercises:
Pull Ups – To help build overall back width.
Squats – To work my entire lower body.
Shoulder Press – To keep my shoulders nice and capped.
Cardio
During her off-season, Raechelle prefers to limit her cardio to a 30 minute session after her weightlifting workouts. During her competition preparations, she often performs up to 3 hours a day of cardio, in order to keep her body as lean as possible.
Raechelle's Training Routine
Monday: Quads
Hack Squats or Squats (depending on what I'm in the mood for)
Leg Press
Leg Extensions
Lunges
Tuesday: Shoulders
D/Bell Shoulder Press
Lateral Raises
Rear Delts
Upright Row
Wednesday: Chest
D/Bell Chest Press
D/Bell Fly's
Machine Chest Press
Thursday: Back
Chin Ups
Seated Row
Straight Arm Pulldowns
Bent Over Rows (I love this one)
Friday: Hamstrings
Lying Leg Curls
Seated Leg Curls
Stiff Legged Deadlifts
Lunges
Saturday: Rest Day
Sunday: Biceps/Triceps
Barbell Curl
Machine Curls
D/Bell Curls
Preacher Curls
Skullcrushers
Tricep Push-downs
Overhead Extensions
Dips or Kickbacks
---

Nutrition
Raechelle keeps her diet simple, revolving her nutrition around lean proteins, complex carbohydrates, and healthy fats. Listed below is a meal plan which she follows to fuel her workouts, allowing Raechelle to push her body to its limits:
Raechelle's Meal Plan
1st Meal – Oats, Protein Powder, Blueberries, Raspberries, and Strawberries
2nd Meal – Sushi (after training)
3rd Meal – 200g Fish or Chicken with Rice
4th Meal – Protein Shake
5th Meal – 200g Fish or Chicken and Vegetables
6th Meal – Protein Shake with Water
Here's the supplements which Raechelle consumes daily to aid recovery and boost her immune system:
Supplement Stack
Fish Oils
Zinc
Vitamin D
Vitamin C
Multi Vitamins.
---

Idols and Influences
Raechelle takes great influence from anyone who has established themselves within the fitness industry, including the likes of Kai Greene. In Raechelle's own words:
"I admire everyone that has done well in this sport. It's hard work and it takes dedication. I respect that in anyone".
---

What we can learn from Raechelle Chase
What we can learn from Raechelle Chase is; even though she lost touch with the gym, she was able to reignite her fitness journey by working hard to reach all of her fitness goals. In turn, this allowed her to get into the best shape of her life, becoming an inspiration to many people around the world.
In the words of Raechelle Chase: "Don't try until you get it right, try until you never get it wrong!" – Raechelle Chase