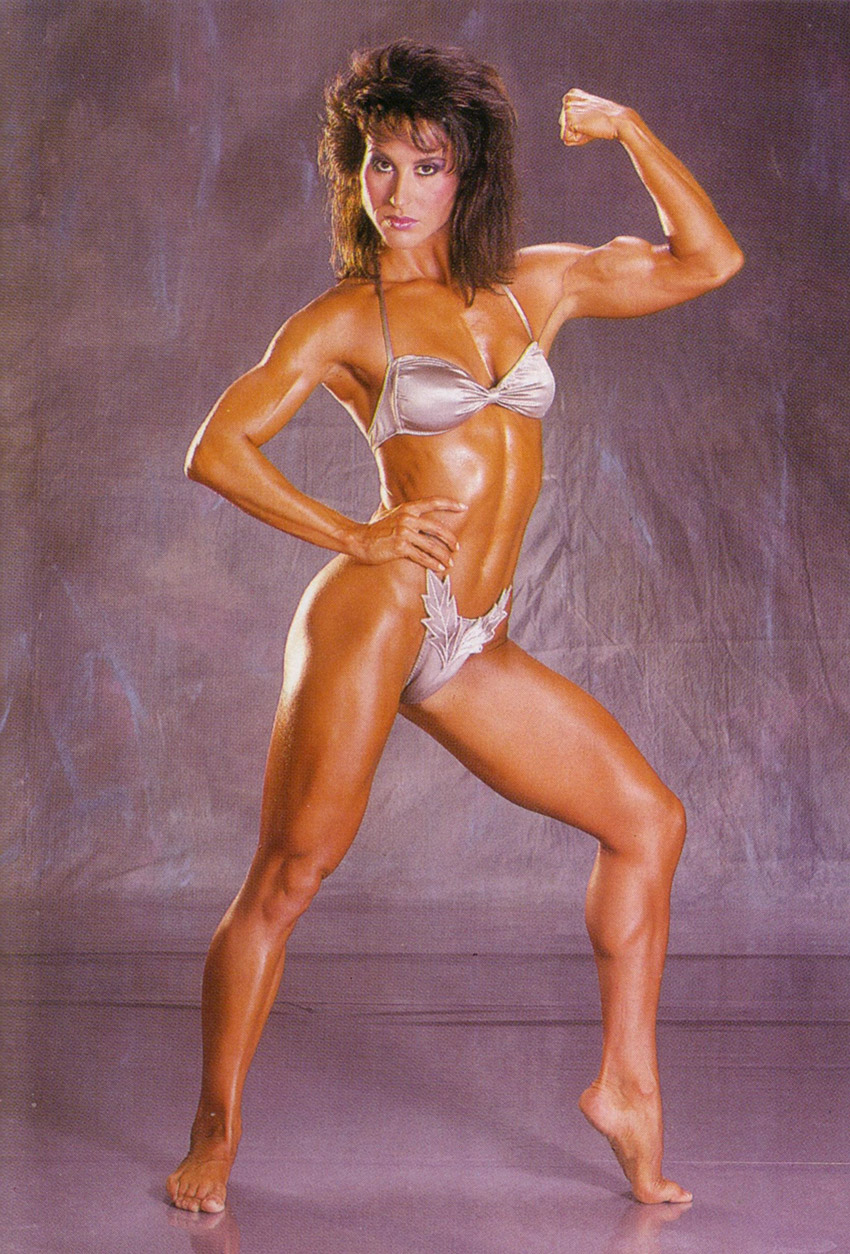 Rachel McLish
Professional Bodybuilder, Actress, Author
Raquel Livia Elizondo (AKA. Rachel McLish) became one of the industry's most recognizable figures through her incredible career. She took home the 1st ever Ms. Olympia trophy back in 1980, making history and cementing her legacy in fitness.
Inducted into the Hall of Fame in 1999, Rachel helped inspire generations of females to sculpt their physiques and thrust female bodybuilding into the spotlight.
But her accomplishments didn't stop there – she also featured in numerous movies and wrote best-selling fitness books.
This is her story:
---

"Sometimes it's also nice to be remembered for the struggles and the bigger picture rather than just the glitzy images"
Athlete Statistics
Full Name: Raquel Livia Elizondo
Weight
Height
Year of Birth
Profession
125 - 135lbs (56.7 - 61.2kg)
5'6" (167.5cm)
1955
Professional Bodybuilder, Actress, Author
Alias
Era
Rachel McLish
1980
| | |
| --- | --- |
| Weight | 125 - 135lbs (56.7 - 61.2kg) |
| Height | 5'6" (167.5cm) |
| Year of Birth | 1955 |
| Profession | Professional Bodybuilder, Actress, Author |
| Alias | Rachel McLish |
| Era | 1980 |
---

"My first competition was in 1980, and as many bodybuilding aficionados know, this was when the first ever women's bodybuilding competition took place"
Accomplishments
1980 US Bodybuilding Championship – 1st
1980 Frank Zane Invitational – 2nd
1980 IFBB Ms. Olympia – 1st
1981 IFBB Ms. Olympia – 2nd
1982 Pro World Championship – 1st
1982 IFBB Ms. Olympia – 1st
1983 Caesars World Cup – 3rd
1984 IFBB Ms. Olympia – 2nd
---

"Working my way through university at a health club until I graduated, was the singularly most important and influential aspect of my young life. It established my love for weight training"
Biography
Early Years
Born in Southern USA, Harlingen (Texas), Rachel was gifted with great genetics – she quickly became known for her beauty and lean physique during high school.
This led to her being named Cardinal's Football Sweetheart twice. After gaining attention for her aesthetics, she was invited to join the high school cheerleading team.
It was here that Rachel began training in the gym and taking an interest in fitness – she'd embarked on her fitness journey.
Health Club
Rachel enrolled at College in 1973, choosing to stay in Texas. As she grew older, she began to appreciate the value of being fit, proud of the progress she was making.
By the age of 18, she'd fallen in love with fitness and began working at her local health club.
After graduating with a degree in Health and Nutrition in 1977, she made the decision to pursue a career in her passion. Through hard work and determination, it wasn't long until Rachel had founded her own sports club in her home city.
By 1980, at the age of 25, fitness had become Rachel's life – her sports club was a massive success and she began making plans to expand.
That same year, Rachel opened a further two facilities in Corpus Christi and Brownsville, Texas. She'd developed into a big figure in the industry, meeting many athletes such as Lisa Lyon as a result.
---

Rachel prepared to step on stage at a competition.
---
Competing
Although Rachel had been training since College, she'd never considered a career as a competitor until 1980. After being inspired by Lisa Lyon, countless bodybuilding magazines, and motivated to promote her new sports clubs, the future legend entered her first show.
Rachel stepped on stage at the 1980 US Bodybuilding Championship with the aim of publicizing her businesses. However, her education in fitness and years of weight lifting paid off.
Beating all expectations, she walked away from the show with the trophy. But she was only just getting started.
Road to Success
Riding high from her victory, Rachel saw a future as a female bodybuilder. At this point, she was more determined than ever to make a name for herself.
Only months later, Rachel competed in the 1980 Frank Zane Invitational contest. She finished second to Stacey Bentley in the fiercely contested show.
However, her greatest achievement yet came in her next competition.
---

Rachel posing with one of her Ms. Olympia trophies.
---
First Ever Ms. Olympia
Towards the end of 1980, Rachel entered the debut Ms. Olympia for women. She appeared on stage in amazing condition and impressed the judges.
Rachel placed 1st in the prestigious contest, but she'd achieved much more than a trophy. At the age of 25, she'd made history by becoming the first ever Ms. Olympia, leading the way for generations to come.
Becoming a Legend
Winning the Ms. Olympia had made Rachel into a fitness icon, being exposed to mainstream media around the world. Over the next 3 years, she traveled the world appearing on TV and entered a further 4 competitions.
During this period, she tasted victory in another Ms. Olympia show in 1982. She always kept her figure lean, refusing to bulk-up and attempt to emulate male bodybuilders.
---

"I always had to make the distinction that there is a difference between a muscular-looking woman such as a ballet dancer, an ice skater, an athlete – and a manly looking woman. And, of course, steroids were an issue even back then"
---
Retirement
By 1984, at 29-years-old, Rachel had cemented her status as a legend in the industry. However, she didn't agree with the direction the sport was taking.
Refusing to pack on size, Rachel walked on stage for the final time at the 1984 Ms. Olympia show.
Although she didn't have the fairytale ending to her career, she finished a very respectable second. Rachel left the sport as an icon for female bodybuilding.
"If I wanted to keep competing I was going to have to put on some size and I thought, You know what? Nope. Because then that means all of you are right and I'm wrong and no. This is what I believe in"  
Actress and Author
After her retirement, Rachel decided to publish books encouraging women to lead a healthy lifestyle – they were huge successes and became bestsellers.
Around this time, Rachel also featured in the bodybuilding documentary "Pumping Iron II: The Women". This focused on the 1983 Caeser's World Cup and kickstarted her acting career.
Rachel appeared in a further 3 movies between 1984-1996, playing roles of physically strong women.
---

"Weight training is the foundation and that's never going to go away"
Training
In her prime, Rachel trained for three days per week in the gym, and practised ballet on the other days.
She performed power movements, using weights to work all of her body and used ballet to focus on her calves.
---

"As the first women's champion, I felt a great responsibility to expand that truth onto the sport that I had no doubt, would catch on like wildfire"
Nutrition
While competing, Rachel ate three main meals per day, adding snacks in between to keep her body fuelled.
She kept track of her calorie intake, always working hard to ensure her body was in peak condition.
---
Editor's Tip

Inspired to reach your maximum potential like Rachel? Read our comprehensive guide on how fat burner supplements can really up your game!

---

"So much can be said about stage presence, but what I will also mention here is the illusive quality known as the X factor, aka charisma"
Idols and Influences
Rachel had many influences that pushed her onto becoming the greatest female bodybuilder in the world. She names her family and friends as great motivators.
However, Lisa Lyon was the athlete that inspired Rachel to begin sculpting her physique and eventually compete.
---

"You have to enjoy your experience on stage. If you don't enjoy it, it will show and do you a terrible disservice"
What we can learn from Rachel McLish
Rachel has taught us to always make the best of your situation – she unexpectedly won her first competition which she only entered to promote her sports clubs. But she comitted to the sport after realizing her potential to succeed.
One thing we can take away from Rachel's story is to always stay true to yourself. She refused to bulk and meet the demands of the developments in the sport, choosing to retire early rather than go against her beliefs.