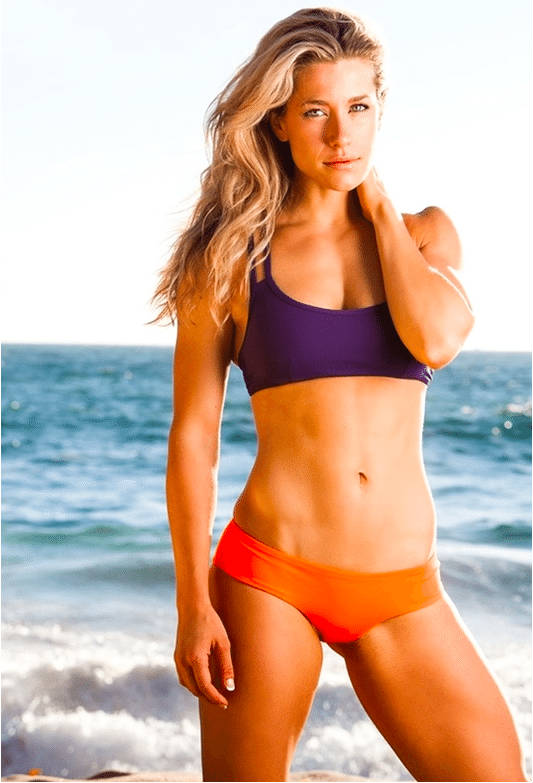 Rachel Elizabeth Murray
Rachel Elizabeth Murray is a nutritionist, personal trainer and fitness personality from Tulsa, Oklahoma. She is a well-known as an online trainer who aims to help women, and donate to charitable causes with some of her profits.
Growing up, Rachel was extremely sporty and became involved in equestrian sports, as well as snowboarding and outdoor pursuits. As she entered college to pursue advertising, she unfortunately suffered from a sexual assault which caused a depressive period.
Rachel found that weight lifting was a way to overcome this mental anguish and build her mental and physical strength. She pursued bodybuilding with all her heart and decided that she would pursue a career in this area.
Fast forward to today, and Rachel has built a strong online following. She set up a website to advertise her personal training services, and aims to help as many women as she can to achieve their fitness goals.
This is her story:
---

Athlete Statistics
Full Name: Rachel Elizabeth Murray
Weight
Height
Year of Birth
Nationality
125 - 135lbs (56.7 - 61.2kg)
5'7" (170cm)
1983
American
Era
2010
| | |
| --- | --- |
| Weight | 125 - 135lbs (56.7 - 61.2kg) |
| Height | 5'7" (170cm) |
| Year of Birth | 1983 |
| Nationality | American |
| Era | 2010 |
---

Accomplishments
Qualified personal trainer
Nutritionist
---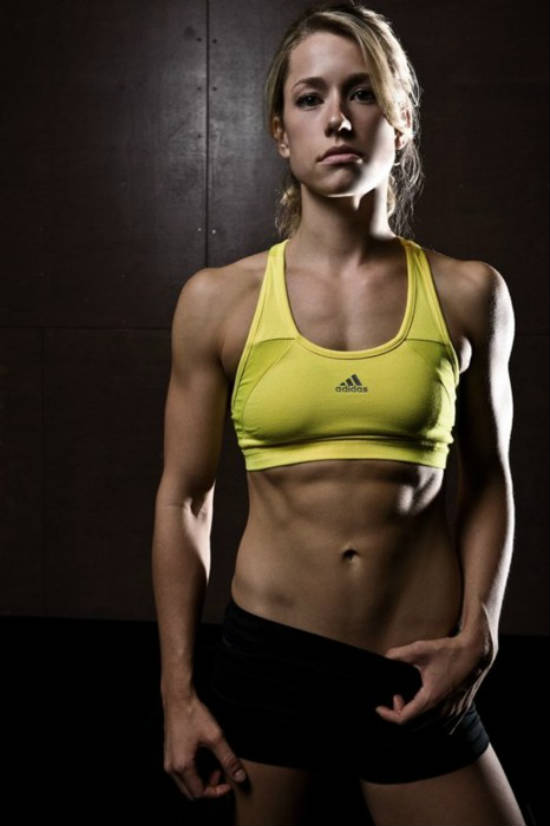 "Don't be normal. Do everything you can to BE GREATER. Don't settle for pats on the back or a nod-and-a-smile."
Biography
Sporting Beginnings
Rachel was always extremely active growing up and played sports regularly. She learned to swim early on and was obsessed with horseriding and equestrian sports.
While living in Germany on her fathers military base, Rachel learned to ski in the Alps and became involved in snow sports, before moving back to the US.
During her state-side high school years, basketball, soccer, track, and varsity cheer leading occupied her time. She also spent winters snowboarding in Washington and loved the opportunity to be outdoors.
Genetically Gifted
Rachel was physically fit from all this activity, and was also genetically gifted. She had an ectomorph- upper body and endomorph lower-body, which gave her a pear shaped physique.
While these characteristics were beneficial for her overall look, she says that she has found it very hard to maintain a toned figure. She would gain weight on her lower body easily, and found it hard to lose.
Suffering From A Violent Attack
When she finished school and studied communication and college, Rachel was dedicated to pursuing a career in advertising. In a horrific turn of events, she was raped before her junior year and sunk into a deep depression.
After the attack, she pushed herself into fitness with the intention of blocking out the memory. She says that she made running her go-to way of dealing with the pain, but she ran too much.
---

---
Discovering Weightlifting
She says that she ran for too long and too hard, and it was breaking her down. Luckily, she found weight lifting; seeing this as a way to make her body stronger and build mental strength at the same time.
She says when looking back on this discovery that she noticed "incredible changes" almost immediately. She felt amazing inside and out, and knew that she would pursue weight lifting with all her heart.
"Body sculpting is truly an art and an act of patience. It's taken years to get where I am now, and I'm truly excited about where that is…but more excited to know that I can be even better in the years to come!" 
Moving To Seattle
After college graduation, Rachel moved to Seattle, Washington. She knew at this point that she wanted to work in the fitness industry – seeing this as much more beneficial to her life than a career in advertising.
She pursued personal training at this stage; taking a professional course and beginning to take on clients shortly after. About six months after completing the course, she signed with her first agency and began sports modeling.
Making The Move To LA
Finding success and enjoyment in modelling, Rachel decided that she wanted to help as many women as she could by becoming a fitness personality. She moved to Los Angeles in 2012 with the aim of pursuing this dream.
Around this time, Rachel also began to read fitness magazines. She subscribed to Oxygen, and became inspired by the work of fitness models across America. The positivity which they inspired and promoted, was something that Rachel wanted to replicate in her work.
"I wanted to be a part of how she had inspired me, and inspire others, without 'selling-out' to what many fear the modeling industry has become which is unhealthy and dishonest."
---

Training
Training Approach
Rachel is involved in strength and power training and loves the opportunity to test herself in every session. She lifts for 5 days a week and focuses on a system of heavy lifting for 4 sets, followed by a volume set of 1 exercise for 10 sets
Following this, she usually completes 2-4 more exercises for 2-4 sets of 10 reps each; finishing with a plyometrics (jump training) circuit for 20 minutes.
Through completing such a heavy workout followed by this speed and agility session, Rachel burns fat and builds quality lean mass.
Avoiding Cardio
Plyometrics is about as close as Rachel comes to a dedicated cardio session. In her usual routine, Rachel doesn't place much value on the standard gym-based cardio sessions at all. She opts instead to make her diet as healthy as possible and introduces the occasional HIIT session.
These sessions come in the form of sprints and circuits. She loves how she can work on both her stamina and strength, without having to jog and burn too many calories.
---

---
Favorite Exercises
Rachel has 3 favorite exercises which she says she couldn't live without. For her back and legs, the rack deadlift is her go-to movement. She loves how testing the movement is for full body strength and mental resilience.
As previously mentioned, plyometrics are also central to her gym sessions. Because of this, Rachel has learned to love box jumps – really enjoying the chance to take a break from the weights and leap onto the box.
Taking a cue from Olympic weightlifting technique, Rachel has also incorporated the single arm dumbbell snatch into her workout. This movement works the core, back, shoulder and tricep and is an excellent addition to any routine.
Advice To Beginners
These three exercises have taken a long time for Rachel to master. Because of this, she insists that her clients start with the basics when learning how to lift weights.
She also insists that they choose one new habit at a time, engaging with it daily until it becomes second nature. Rachel believes that this is the only way to build a lifestyle rather than a quick fix.
---

Nutrition
Upon Waking
As soon as Rachel wakes up in the morning, she has her green juice blend including kale and fruit juices. She believes that this is an excellent way to start the day, as the drink fills her with energy straight away.
Natural Diet
When it comes to her daily diet, Rachel follows an "all natural, non-allergenic, GI friendly" approach. She says that she basically has a paleo diet, with a side of sports nutrition for recovery and lean mass preservation.
Combined with this healthy and nutritious food, Rachel focuses on eating as many vegetables as she can – including them in almost every meal. For carbs, she opts for sweet potatoes, brown rice and oats.
---

---
Contest Preparation Diet
During contest prep, Rachel is strict with her calorie intake and only uses a few select condiments. She needs to keep carbs reasonably low, and she's always aware of how easy it is for her to pack on the pounds in her lower-body.
Dealing With Chocolate Cravings
Rachel follows the 'out of sight, out of mind' approach when it comes to beating her cravings for chocolate. She says that if she doesn't keep any in her house, she can't eat it.
This causes an issue when Rachel is at parties with food spreads. When there is a spread which includes chocolate desserts, Rachel says she sometimes tries a little bit to satisfy her cravings.
Supplements
Supplementation is central in Rachel's diet. She uses supplements such as whey protein to help her build lean mass. Combined with such products, she also uses multivitamins and fish oil capsules to boost her immune system.
---

Idols and Influences
Rachels main inspiration throughout her fitness journey has been Amber Elizabeth Dodzweit. It was seeing Amber's image in a fitness magazine, which first got her into working out in the first place.
She loves how Amber has stayed true to herself, and has maintained her integrity in everything she does. She also has a similar back-story to Rachel, and the two have become good friends.
---

What we can learn from Rachel Elizabeth Murray
Rachel overcame a horrific event and came out of the other side positive, fit and strong. She started working out after being raped; discovering that weight lifting was a powerful tool to overcome her depression.
Lifting weights is an activity which improves outer and inner strength. If you are feeling down and depressed, maybe bodybuilding could be your way out too?