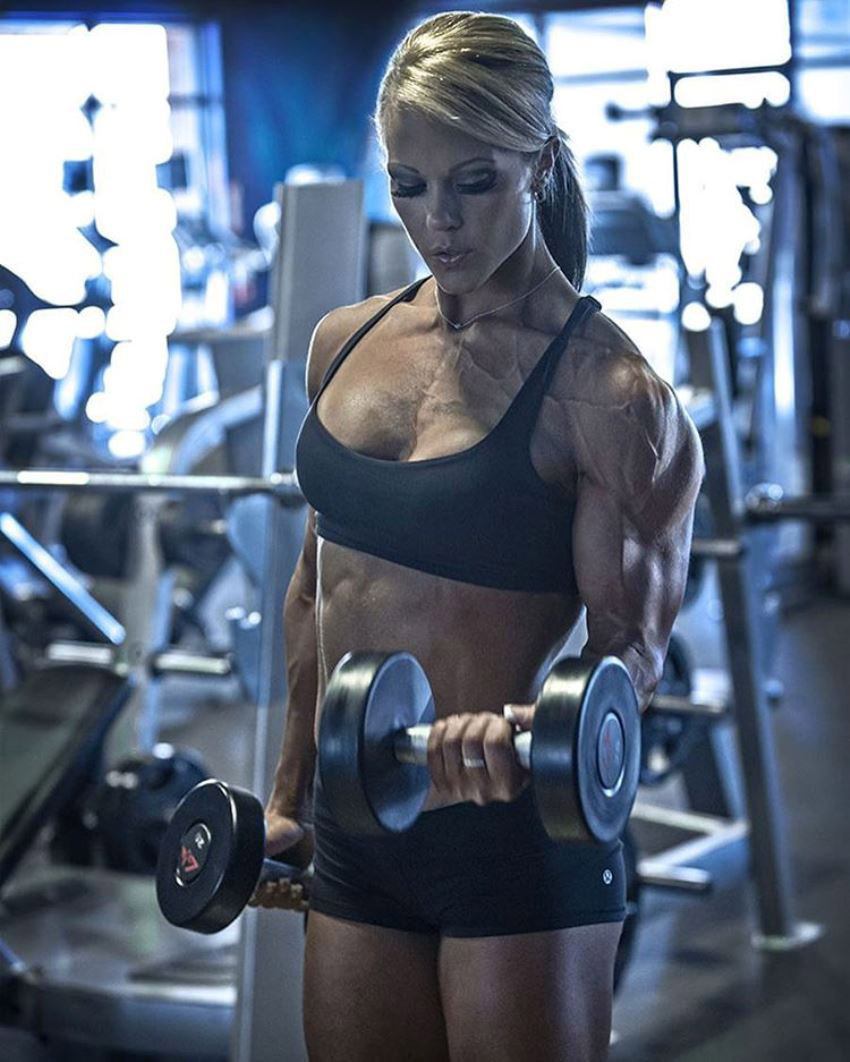 Nicole Wilkins
Fitness Model, Professional Figure Competitor, Fitness Trainer
From a 5-year-old ballet dancer to the youngest ever IFBB Figure Olympia champion and the winner of a long list of titles. Nicole Wilkins has continued to inspire fans worldwide with her dedication to the sport of bodybuilding.
Nicole first became interested in fitness through ballet, and then gymnastics, however, she suffered a knee injury in her youth, which prevented her from competing in gymnastics.
Nicole had to go through many obstacles during her journey in becoming a champion figure competitor and bodybuilder. Overcoming her injuries and successfully competing for over a decade, she's shown everyone just what can be achieved with determination.
This is her story:
---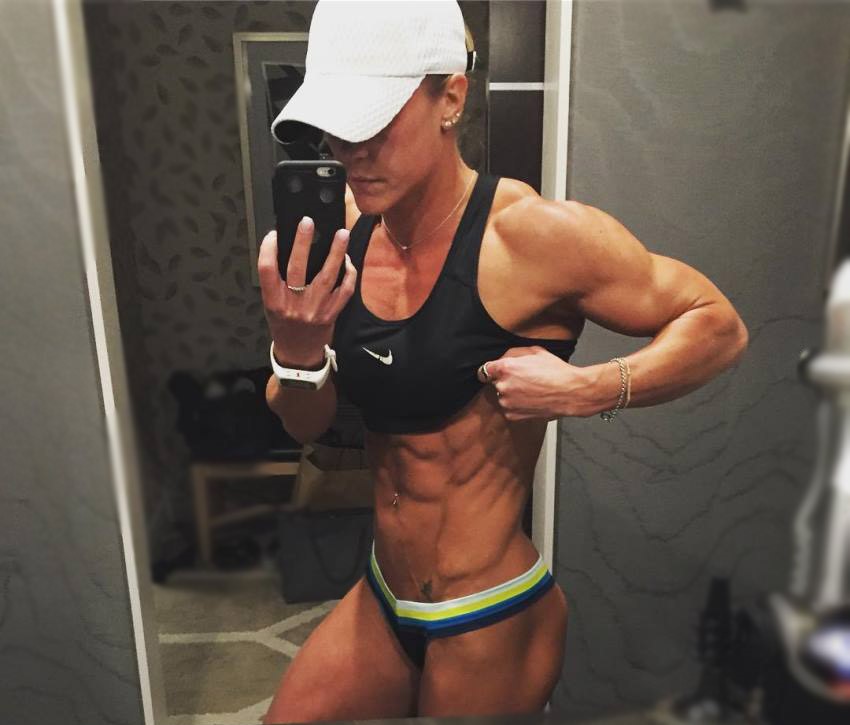 "Let your dreams be bigger than your fears, your actions louder than your words, and your faith stronger than your feelings."
Athlete Statistics
Full Name: Nicole Wilkins
Weight
Height
Year of Birth
Nationality
135 - 145lbs (61.2 - 65.8kg)
5'5" (165cm)
1984
American
Profession
Era
Fitness Model, Professional Figure Competitor, Fitness Trainer
2010, 2000
| | |
| --- | --- |
| Weight | 135 - 145lbs (61.2 - 65.8kg) |
| Height | 5'5" (165cm) |
| Year of Birth | 1984 |
| Nationality | American |
| Profession | Fitness Model, Professional Figure Competitor, Fitness Trainer |
| Era | 2010, 2000 |
---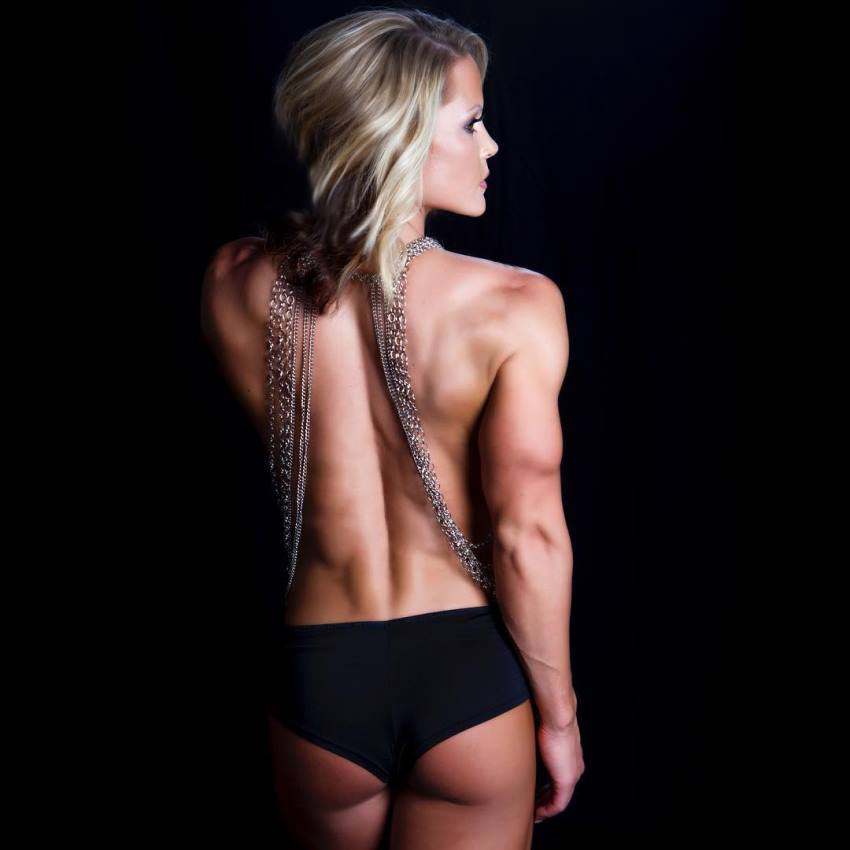 "No one but you knows how hard you work, how many hours you put in the behind the scenes, so rely on tourself for approval, not the outside world."
Accomplishments
Achievements
Four-time IFBB Figure Olympia champion, winner of the most titles in history (2009, 2011, 2013-2014)
Youngest competitor to win the Figure Olympia (25 in 2009)
Three-time Figure International champion (2010-2012)
The first competitor to reclaim the Figure Olympia title (2011)
The first competitor to reclaim any Olympia title two times (2013)
The only competitor to hold Figure Olympia and Figure International titles in the same calendar year (2011)
The first to win five professional figure contests in one season
The first to win Overall titles in two divisions at a pro-qualifying event (Team Universe Fitness Overall and Figure National Overall 2007)
18-Time cover model
Personal Training Business Owner
Sponsored Athlete
Competitions
2015 IFBB Figure Olympia, 2nd
2014 IFBB Figure Olympia, 1st
2013 IFBB Figure Olympia, 1st
2013 IFBB New York Pro, 3rd
2012 IFBB Figure Olympia, 2nd
2012 IFBB Sheru Classic, 2nd
2012 IFBB Figure International, 1st
2011 IFBB Figure Olympia, 1st
2011 IFBB Sheru Classic, 1st
2011 IFBB Tournament of Champions, 1st
2011 IFBB Figure International, 1st
2011 IFBB St. Louis Pro, 1st
2010 IFBB Figure Olympia, 2nd
2010 IFBB Figure International, 1st
2009 IFBB Figure Olympia, 1st
2009 IFBB New York Pro, 1st
2009 IFBB Europa Show of Champions, 1st
2009 IFBB New York Pro Fitness, 4th
2009 IFBB Fitness International, 8th
2008 IFBB Figure Olympia, 9th
2008 IFBB Pittsburgh Pro, 2nd
2008 IFBB New York Pro Fitness, 3rd
2008 IFBB Figure International, 11th
2007 IFBB Amateur World Championships, DNP Figure Class C
2007 NPC Team Universe Fitness Championships, 1st Tall Class, and Overall* *Earned IFBB Pro Card
2007 NPC Figure Nationals, 1st Class E and Overall*
2006 NPC Junior Nationals Fitness, 2nd Tall Class
2006 NPC Nationals, 5th Fitness Class C
2006 NPC Motor City Classic, Overall Fitness & Figure Winner
2004 NPC Novice Michigan, 1st Fitness, and 1st Figure Tall Class
2004 NPC Natural Ohio, 5th Figure Class C
2004 NPC Michigan State Championships, 5th Figure Tall Class
2004 NPC Junior Nationals, DNP Class C
2003 NPC Western Michigan Championships, 1st Fitness
---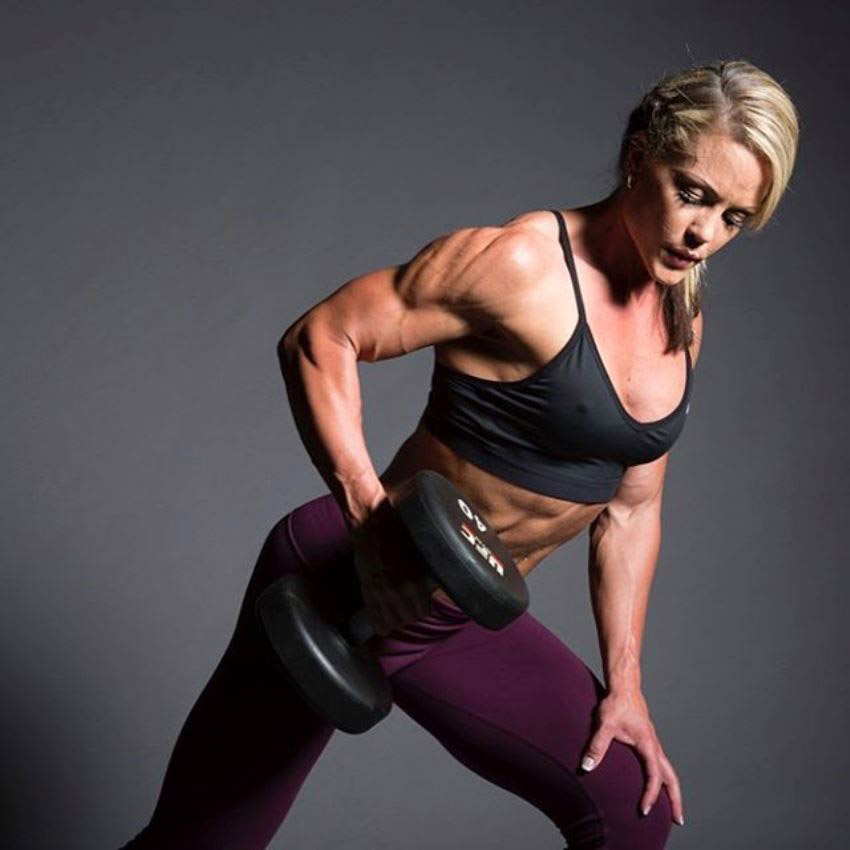 "Don't think about what can happen in a month or a year. Focus on the 24hrs you have ahead of you and do everything you can to get closer to where you want to be."
Biography
Early Life
Nicole Wilkins was born on 5th of February, 1984, in Farmington, Michigan. Growing up, she always showed an interest in physical activity and sports, along with joining ballet classes at only 5 years old.
Nicole would often go out alone, climb trees or ride bikes, while friends her age were "playing with dolls." 
Over time, Nicole lost an interest in ballet and moved on to other activities, such as cheerleading and dancing.
At the age of 7, Nicole moved onto gymnastics and went on to compete during primary, and high school. Later on, she also competing in Track and Field.
Teenage Years and Injury
Wilkins continued taking part in Track and Field and gymnastics for several years. However, by the time she was 15, Nicole suffered from an unforeseeable accident. Nicole tore the medial meniscus in her left knee and was in need of immediate surgery.
According to her, it was at that point she suspected her gymnastics career was over. She said the uncertainty of what would happen after the surgery frustrated her, as gymnastics was her main passion.
At the time of her accident, the doctors decided they wouldn't remove the torn cartilage, but rather stitch the injured area.
After spending over six weeks on crutches, Nicole started walking normally and hoped the injury wouldn't return. However, after one year of strenuous activities since the accident, the injury returned. This time, the tear was even worse than before. She said; " I was finally back to normal … at least I thought. I was wrong."
Life After the Injury
After suffering the same injury twice, Nicole realized she needed to move forward and find another activity, this is when she started going to the gym to help with recovery.
Nicole was still doing gymnastics, even though she couldn't do the same activities as before, such as training on parallel bars. Nicole had to adapt to a completely new style of training. The sessions lasted for several hours, and during the last stages of the activities, she would switch to strength training instead of gymnastics.
Nicole continued working out for several months and soon started to see noticeable changes in her upper body. Nicole never thought she'd be able to transform her physique in just a few months.
Nicole says she immediately "fell in love" with the sport, and soon started replacing gymnastics with strength training. After her knee was completely recovered, Nicole found a coach who taught her how to squat, dead-lift, and power clean to avoid further injuries. After that point, she was even more "hooked" to the new lifestyle.
---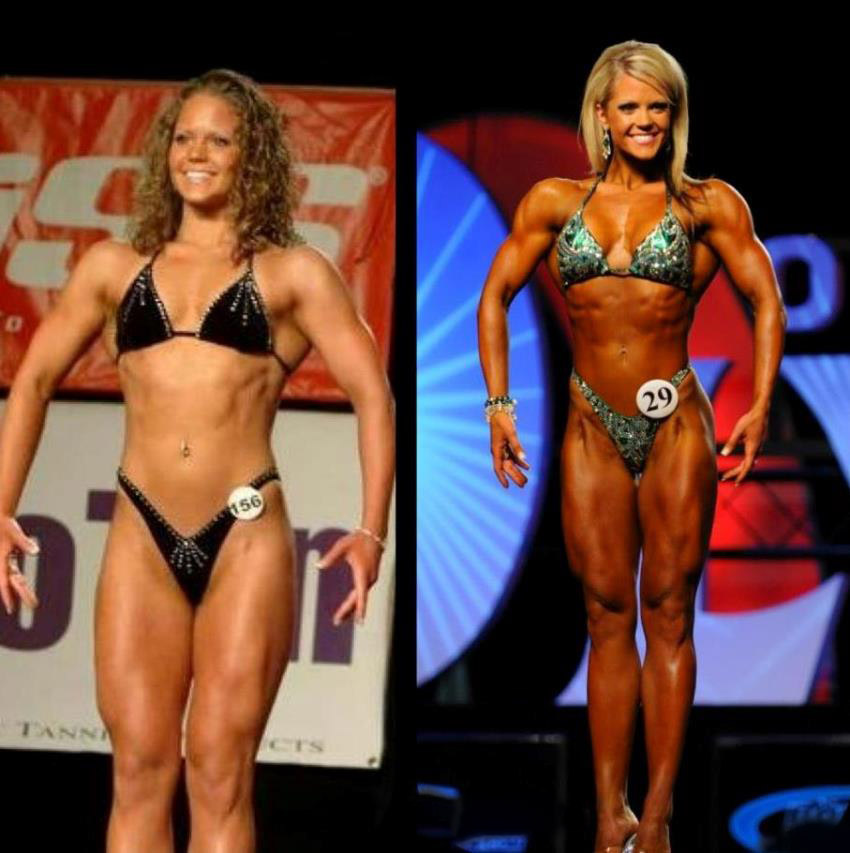 ---
A New Lifestyle
Even though Nicole started paying more attention to her strength training than gymnastics, she was still passionate about her first discipline and decided to try one last time and compete at the 2002 Gymnastics Arnold Classic Sports Festival, held in Columbus, Ohio,
After the competition, Wilkins realized she lost the passion for gymnastics she once had, and decided she'd retire from gymnastics, and by the time she entered college, she completely abandoned gymnastics altogether.
As a past-time, Nicole started going to various fitness competitions as a spectator and became amazed by the physiques she saw on stage and said; "I knew that one day I wanted to compete on that stage. In my heart, I knew I would be there one day – I just didn't know where to start."
The First Competition
After a few years of hard work and dedication, Nicole decided she would compete in a fitness show – With the help of her best friend who was a professional dancer and choreographer, she started her preparations and practiced different styles of posing routines.
Nicole stepped on stage for the first time in the November 2003. Needless to say, her hard work and dedication paid off. She won the competition, and said, it was at this point she had found her real passion.
"I won. But more than that, I knew I had found my passion."
Pro Card
Wilkins continued to train with more intensity than before, motivated to win even more competitions. She started off by competing in local and regional shows, and because of her results, she moved on to the national level.
Over the course of 4 years, Nicole competed in several more regional and national shows. She took home 2nd place at the 2006 NPC Junior Fitness Nationals.
In 2007, she stepped on stage and won the NPC Figure Nationals, and for the second time in a row, the American competitor managed won both tall class and overall – this is where she earned her Pro card.
Nicole was also the first competitor in the history of a national-level contest who successfully won both Figure and Fitness overall titles. Needless to say, Nicole proved to herself she was a Pro competitor, and continued training for more upcoming competitions.
---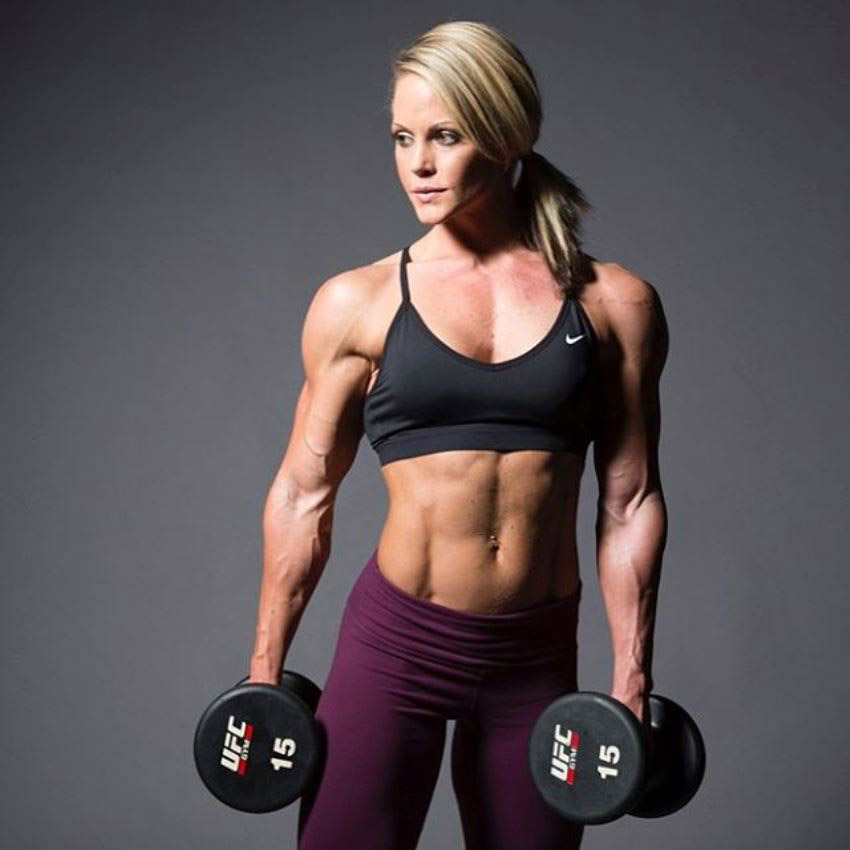 ---
Youngest Olympia Winner
For the next two years after winning her pro card, Nicole placed below average in many of her shows, taking home 11th place at the 2008 IFBB Figure International, and 8th at the 2008 IFBB Figure Olympia. Her best result of the year was 3rd place in the 2008 IFBB New York Pro Fitness.
The results didn't discourage Nicole, as she made a comeback in 2009. Wilkins started off the year by placing 4th at the IFBB New York Pro Fitness, and only a few months after the event, she took home 1st place at the IFBB Europa Show of Champions.
Several months after, she won the IFBB New York Pro, then started preparing for the upcoming Olympia. Nicole said she was more determined than ever to win the Olympia for the first time.
In 2009, Nicole stepped on the stage and took home 1st place. It was at this point she became the youngest competitor to win the Figure Olympia. For the next several years, Wilkins continued her dominance by winning 3 more figure Olympias, among other prestigious competitions, cementing her place as one of the most iconic fitness icons in the history of bodybuilding.
---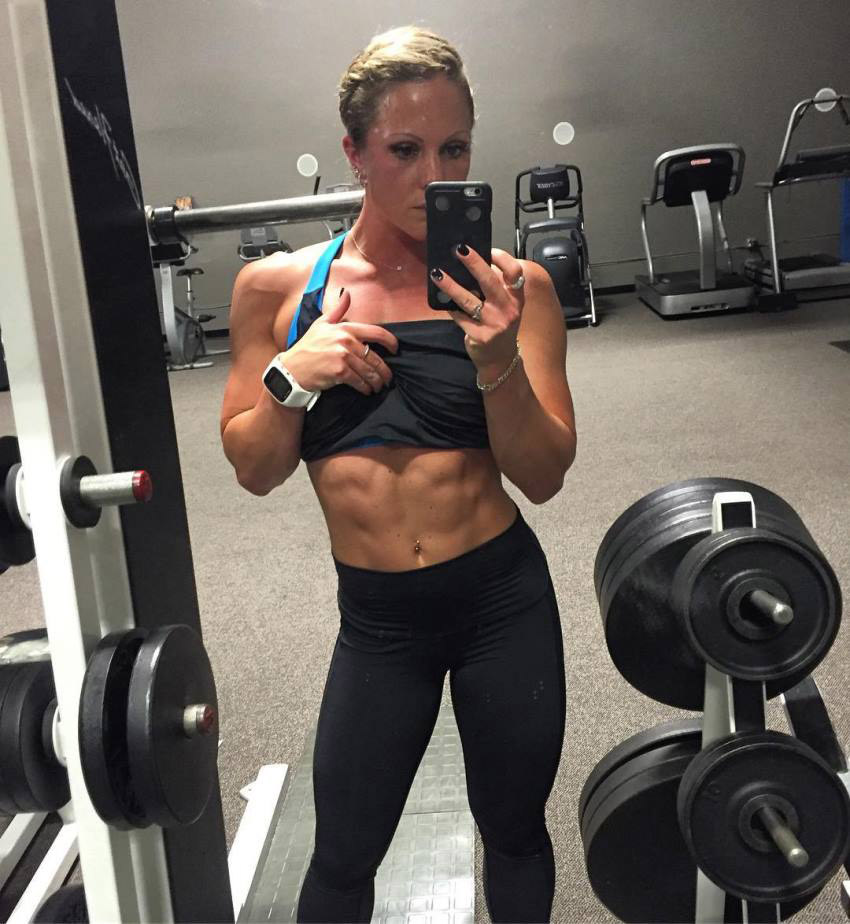 "Being weak is a choice."
Training
Training Philosophy
When it comes to her training regimen, Wilkins is an advocate of short, but intense training sessions. Nicole's workouts last for about an hour, with high volume and low rest periods. She occasionally switches to heavy weight and longer resting periods, stating the importance of rotating workouts to increase growth.
Nicole usually trains 5-6 days per week, depending on her conditioning, diet, and other factors. In terms of cardio, she does it separately from her strength training workouts as she feels that doing cardio takes away a lot of her energy that she could use for mass-building.
For her cardio sessions, Nicole likes to vary High-Intensity Interval Training with sprinting or cycling.
Favorite Exercises
Wilkins's three favorite exercises are:
Barbell squats – Best lower-body mass builder, according to the American
Seated dumbbell shoulder press – Provides a great pump and makes the shoulders grow
Bent-over barbell rows – Great mass builder as well
"I think if you are performing an exercise properly, seeing progress, and you enjoy doing it, why not use it?"
Glutes Workout
Known for her impressive glute development, Nicole, says both lunges and squats are vital for overall leg and glutes development, "but they are not enough by themselves" says Nicole.
She says the glutes are tricky to hit from all the possible angles, but stresses the importance of it if she wants to have an all-around great physique.
She said that when doing compound movements such as deadlifts or squats, she can build her lower body mass, but in order for her to properly develop gluteus maximus, she uses isolation exercises.
Nicole's glutes workout looks like this:
Smith Machine Squat
3 sets of 12 reps, rest 30-45 sec. Smith Machine Squat Smith Machine Squat
Smith Machine Reverse Lunges
3 sets of 10 reps per leg, rest 30-45 sec. Smith machine reverse lunge
Sumo Squat 
3 sets of 20 reps, rest 30-45 sec. Sumo squat Sumo squat
Curtsy Box Lunge 
3 sets of 12 reps, rest 30-45 sec. Curtsy box lunge Curtsy box lunge
Lateral Band Walk 
3 sets of 20 reps per leg (40 steps total) rest 30-45 sec. Lateral band walk Lateral band walk
Straight Leg Cable Kick Back 
3 sets of 10 reps, rest 30-45 sec. Straight-leg cable kickback Straight-leg cable kickback
Bent Leg Cable Kick Back 
3 sets of 10 reps, rest 30-45 sec. Bent-leg cable kickback Bent-leg cable kick-back
Single Leg Press 
3 sets of 15 reps, rest 30-45 sec. Single-leg leg press Single-leg leg press
Seated Hamstring Curl 
3 sets of 20 reps, rest 30-45 sec. Seated hamstring curl Seated hamstring curl
Stiff Legged Deadlift 
3 sets of 10 reps, rest 30-45 sec. Stiff-legged deadlift Stiff-legged deadlift
Swiss Ball Tuck Up 
3 sets of 15 reps, rest 30-45 sec. Swiss-ball tuck-up Swiss-ball tuck-up
Swiss Ball Glute Raise 
3 sets of 10 reps, rest 30-45 sec. Swiss-ball glute raises Swiss-ball glute raise
Training Split
Even though Nicole stresses the importance of changing her workouts, her usual split workout can be seen below:
Day 1: SShoulders
Day 2: Chest and Arms
Day 3: Legs
Day 4: Back
Day 5: Light Shoulder Circuit
Days 6 & 7: Rest
---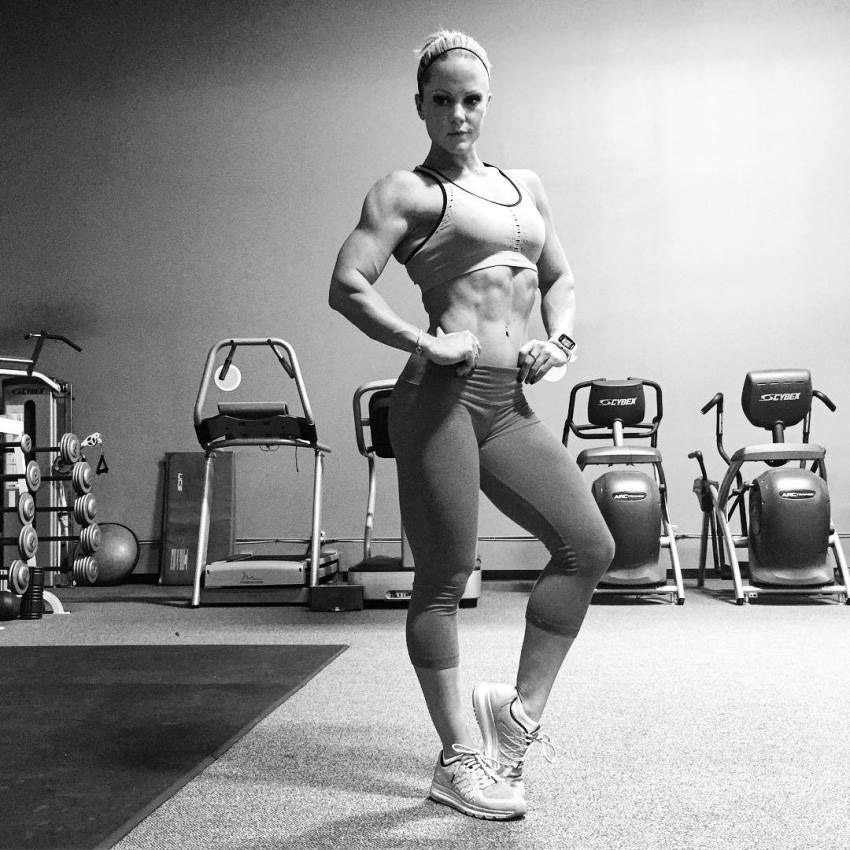 "write your own rules on how your build your body."
Nutrition
Dieting Philosophy
When it comes to her eating habits, Nicole is strict with no matter if she is preparing for a competition or if she's in the off-season. According to her, she likes to stay lean and healthy throughout the whole year and during the off-season.
She increases the number of calories she consumes in her mass-building phases, by incorporating more fruits and dairy.
Nicole's favorite healthy foods are oatmeal or grilled salmon, and her favorite cheat food is any Mexican dish and sweet-potato fries. She stresses that she doesn't eat cheat meals often, especially when dieting for a competition. Her estimation is 1 cheat meal every 3 weeks.
Meal Plan
This is what Nicole's diet looks when she is preparing for competition:
Meal 1 – 4 egg whites and 1/2 cup of oat bran.
Meal 2 – 4oz tuna, 15 almonds, green veggies
Meal 3 – 5oz chicken breast, 4oz sweet potato, green veggies
Meal 4 – 5oz tuna, 15 almonds, green veggies
Meal 5 – 5oz cod, large green salad with avocado
Meal 6 – 4 egg whites with whey isolate protein powder
Supplementation
Nicole's supplementation philosophy is similar to other successful athletes' – She uses pre-workouts during the time of preparation for competitions and cycles them in the off-season. She's also a believer in supplementation as a way to aid muscle recovery and promote lean muscle mass.
Her supplement stack looks like this:
Multivitamin
Omega 3,6,9
Supplementation for joints
BCAAs
L-carnitine
L-glutamine
Fat Burner
Pre-workout
---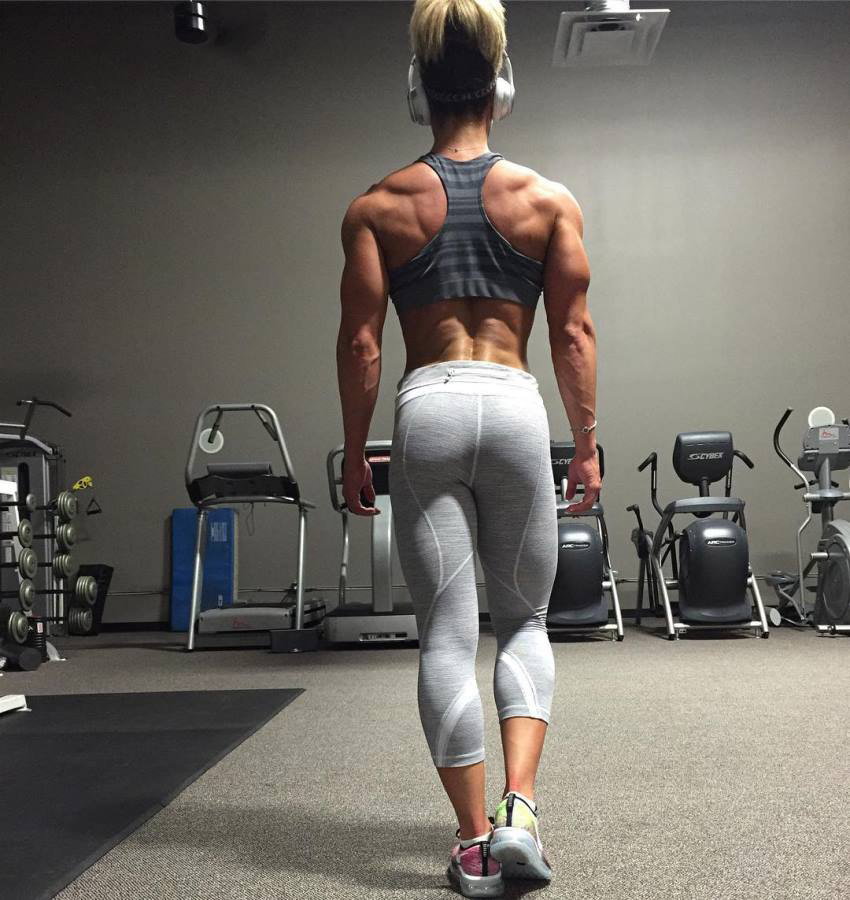 "Almost every successful person begins with two beliefs: The future can be better than the present. And I have the power to make it so."
Idols and Influences
Nicole has been an idol and inspiration to people the world over. Her determination and willpower she had from the beginning, and winning many titles, along with being featured in over 18 magazines makes Nicole an idol and influence to everyone interested in fitness.
---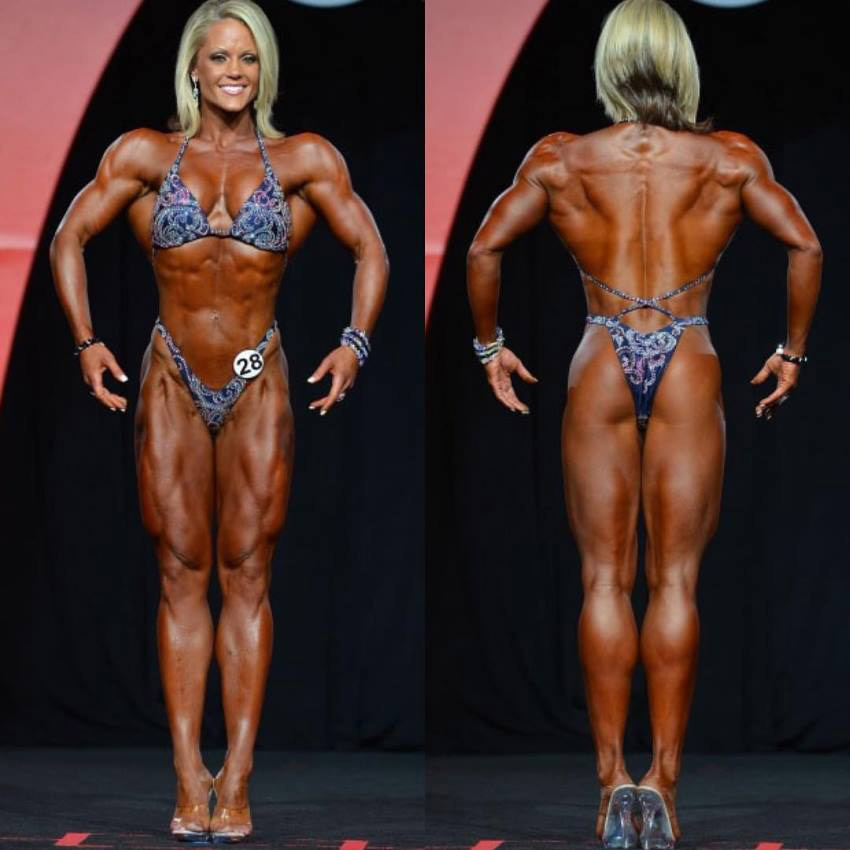 "Forget Skinny. Do work. Get fit."
What we can learn from Nicole Wilkins
Ever since she was a child, Nicole was competitive and had a burning desire for victory. Competitiveness is part of who Nicole is, and that's one of the reasons why she managed to win so many shows and along with many other awards and recognitions.
Willpower and determination are two main traits we can learn from Nicole, not giving up when it's tough, and having enough courage to plan big. By doing so, and by visualizing your path and the end goal, you too could achieve your own physique of greatness, just like Nicole.