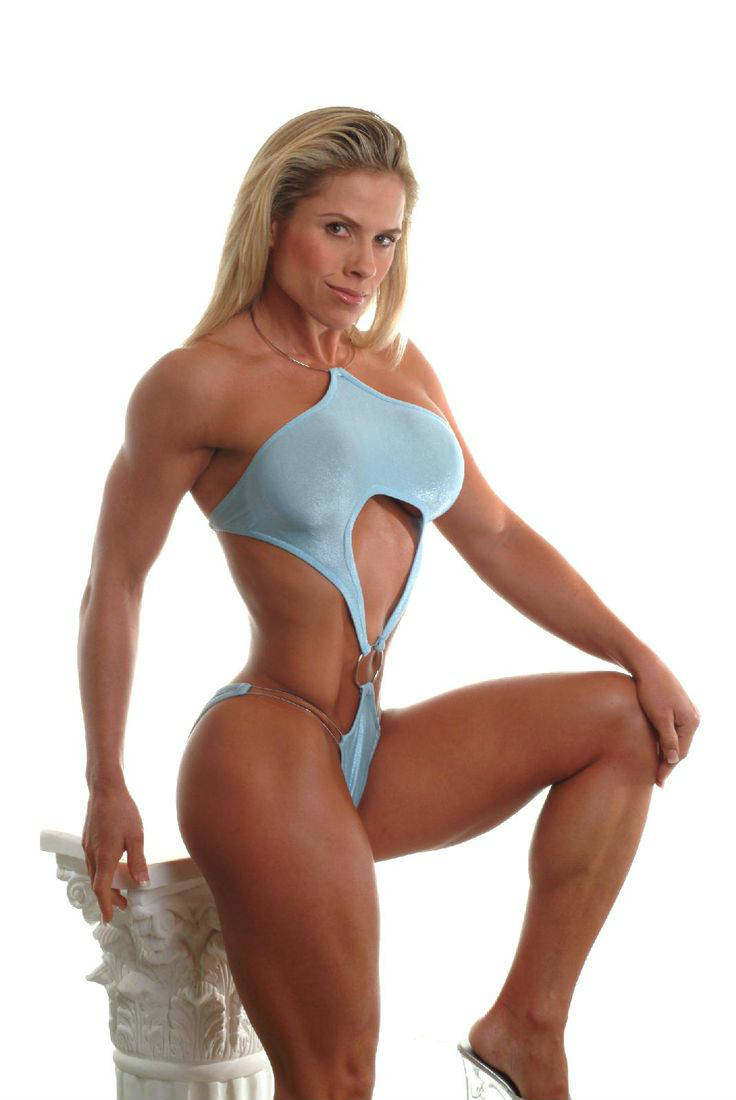 Monica Brant
Professional Fitness and figure competitor, entrepreneur, sponsored athlete
Monica Brant is a WBFF professional figure and fitness competitor from Texas, USA. She's a well-known female bodybuilder, who has appeared on high-profile magazines and has won numerous competitions over the years.
While Monica has dedicated her life to building a professional level physique, her first love was actually horse riding. She aimed to join her mothers horse training business as a teen, but a chance glimpse at a picture of Marla Duncan (a Pro bodybuilder) inspired her to follow the same path.
As she began to train and improve her figure, she managed to land a photo shoots with famous bodybuilding magazines. These shoots gave Monica the confidence she needed to begin competing in professional shows – winning 6 by 2013.
In recent times, Monica has started a business with the aim of helping other women achieve their fitness goals. She continue to train hard herself, and follows a strict diet and training routine to keep herself in the best shape possible.
This is Monica's story:
---

Athlete Statistics
Full Name: Monica Brant
Weight
Height
Age
Date of Birth
125 - 135lbs (56.7 - 61.2kg)
5'4" (162.5cm)
52
October 26, 1970
Nationality
Profession
Era
American
Professional Fitness and figure competitor, entrepreneur, sponsored athlete
1990, 2000, 2010
| | |
| --- | --- |
| Weight | 125 - 135lbs (56.7 - 61.2kg) |
| Height | 5'4" (162.5cm) |
| Age | 52 |
| Date of Birth | October 26, 1970 |
| Nationality | American |
| Profession | Professional Fitness and figure competitor, entrepreneur, sponsored athlete |
| Era | 1990, 2000, 2010 |
---

Accomplishments
Competitions
(1991-1995) Amateur Comps
Ms Fitness USA Nationals, 1995- 9th
Ms Fitness USA Southern CA. 1994- 1st
Ms Fitness USA Texas 1993- 6th
Ms National Fitness 1991- 9th
Ms Fitness USA Arizona 1991- 1st
(1995-1999) Professional Fitness Comps
Fitness Olympia 1999- 4th

Fitness Olympia 1998- 1st

Fitness International 1998- 2nd

Fitness Olympia 1997- 6th

Fitness International 1997- 2nd

Fitness Olympia 1996- 7th

Fitness New York Pro 1996- 4th

Jan Tana Fitness Pro 1996- 2nd

Fitness Olympia 1995- 7th

Jan Tana Fitness Pro 1995- 1st
IBFF Comps (2000-2010)
Figure International 2010- 7th
Figure Olympia 2009- 10th
Figure Europa 2009- 3rd
Figure International 2009- 6th
Figure Olympia 2007- 7th
Figure Olympia 2006- 3rd
Figure International 2006- 2nd
Sacramento Pro Figure 2005- 3rd
Figure Olympia 2005-3rd
San Francisco Pro Figure 2005- 2nd
Figure International 2005- 2nd
Figure Olympia 2004- 3rd
Figure International 2004- 2nd
Figure Olympia 2003- 2nd
GNC Pro Figure 2003- 2nd
Figure International 2003- 2nd
WBFF Comps (2010-2013)
World's Figure Pro 2013- 1st
World's Figure Pro 2010- 1st
---

Biography
Sporting Beginnings
Born and raised in Fort Hood and San Antonio, Texas, Monica was a very active child growing up. Her mother ran a professional horse training business, and taught Monica how to ride from an early age.
She was also passionate about gymnastics and maintained this passion all her life.
When Monica entered high school education, she took this love for sport with her – joining the track and field squad, as well as the volleyball and horse riding clubs.
Following her high school years, she decided to study equestrian science at a local San Antonio college, intending to join her mothers business.
Falling In Love With Bodybuilding
While horse riding was Monica's first love, in 1991, a photo of Marla Duncan winning a national bodybuilding competition grabbed her attention. Marla's beauty and physique impressed her so much that she decided fitness competitions would be the place for her.
She attended her local gym and gradually began to build a body worthy of amateur competitions. After 4 years of training in the gym, and following a professional level nutrition plan, she began to believe in her own abilities.
This confidence in her new physique, however, took her down a different path altogether.
In 1994, she was scouted in her gym by a representative from 'Muscle And Fitness' magazine. She managed to land a picture on the front cover, which pushed Monica to look for other opportunities, and career paths in the fitness world.
---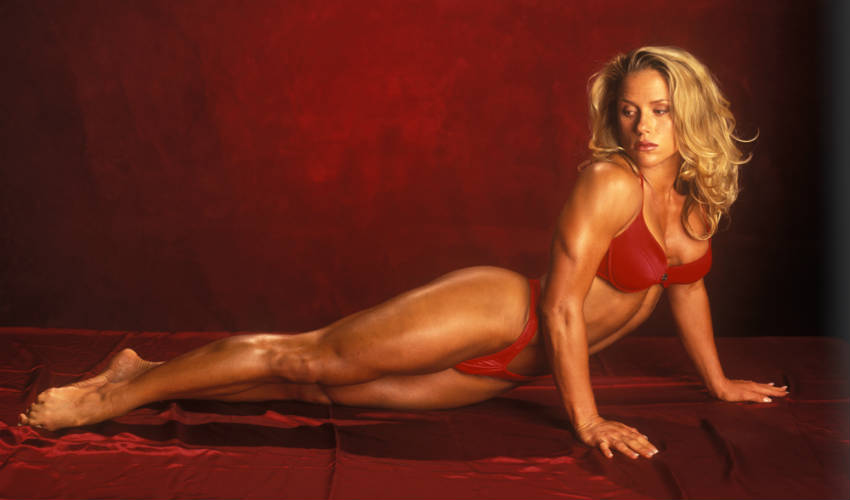 ---
Professional Competitions
Following this career making photo shoot, Monica started competing in professional fitness competitions. She moved to Los Angeles in 1995, and began pursuing more and more competitions until she was booked up for 3 years in advance.
Between 1995 and 1999, she was on the top 3 podium 5 times throughout 10 competitions, with two 1st place trophies. One of her key achievements during this period, was winning the Fitness Olympia in 1998.
After placing second twice after this victory, she decided to retire from fitness competitions altogether. Saying the gymnastics round introduced in the late 90's was too much strain on her joints.
Returning To Competing
It wasn't until 2003 that Monica returned to the competition circuit. She focused on the Figure Olympia competition in particular, coming 2nd in 2003 and 3rd in 2004.
Following these podium finishes, she began to compete in the WBFF competition circuit and came 1st in 2010 and 2013.
Sponsorship Deals And Entrepreneurship
These victories, as well as her years of experience in the fitness industry, gave her the confidence she needed to branch out when the time was right.
She set up her own website and began to offer personal training options for women, as well as more spiritual offerings such as a 'body and soul retreat.'
---

Training
Abdominal Workouts
Monica works her abs three times a week. She usually incorporates super-sets and remains in each set until failure. One of her favorite exercises for this area is the hanging leg raise, which she believes hits her abs better than any other movement.
She also completes crunches, believing that older movements are just as good as newer inventions.
Combining Biceps And Triceps
For her arm workouts, Monica likes to combine her biceps and triceps together and includes 4 exercises per muscle.
For biceps she trains as heavy as possible, incorporating 8-12 reps, but for her triceps she lowers the weight and ups the reps to 12-15 per set. She also changes her exercises every couple of sessions, so that she enjoys her workouts as much as possible.
Heavy Back Workouts
Monica works her back once a week. She uses heavier weights and always keeps her rep count under 15. Her exercises of choice are the wide grip pull-up, and any exercise that will work the rear delts such as the bent over lateral raise. Monica always includes super sets for the rear delts.
Using The Tried And Tested Pushup
For chest training, she prefers the simple pushup. When she is trying to hit the upper chest, she places her hands higher and wider to hit her shoulders and upper-chest as much as possible. She says that she never uses her knees for support and she completes this exercise 2-3 times a week..
---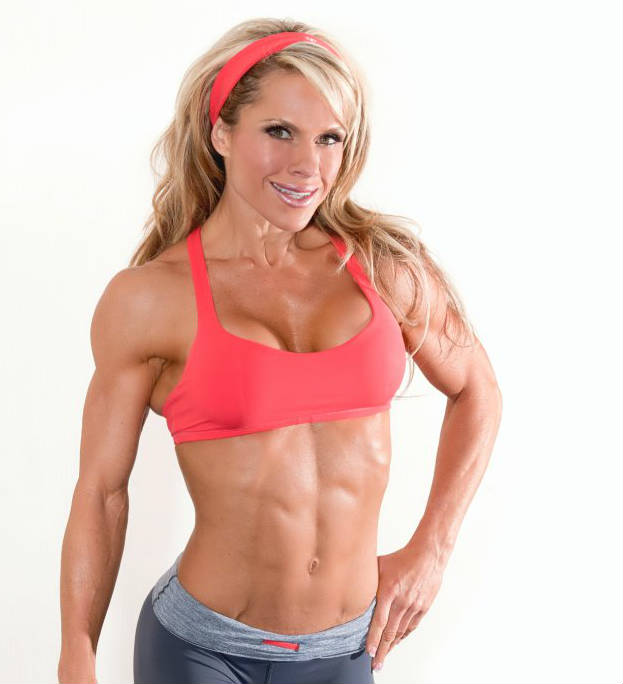 ---
Gymnastics For Her Legs And Shoulders
Monica doesn't focus hugely on her legs as she performs at gymnastic shows and practices 2-3 times a week. As a result of all this training, her legs are usually too sore to to handle squats etc.
If she does find the energy to do a leg day, she will use light weights or no weight at all. She performs 4-6 different exercises with 20-50 reps per set, sometimes increasing her reps to 100. She loves doing one-legged exercises such as lunges, extensions, and leg curls.
For her shoulders, her favorite exercise is the handstand push-up she learned at gymnastics. For this, she balances her feet on a wall with her hands directly under her shoulders. She slowly lowers herself as far down as possible, completing as many reps as she can before failure.
She also says that strengthening exercises for her rotator cuffs are vital due to her gymnastics activity. She says that "it is very important to always remember that your joints are delicate."
The Importance Of Cardio
Monica sees that cardio is a key element of her workout routine. She completes a 45-60 minute session in the morning most days, and luckily she also lives near the beach – so spends a lot of time jogging. During her cardio sessions she wears a heart rate monitor so she can quickly assess the changes.
She also adds interval sprinting to her aerobic activity quite regularly, using her heart monitor again after each sprint to track her progress.

Nutrition
Dieting Philosophy
Monica believes that it's OK to try as many diets out as you want. She says the most important thing you need to focus on when dieting is "discipline and consistency"; 6 weeks with a particular diet plan, she believes, is enough time to make your mind up.
She says this 6 week period is also vital in terms of training your body to stay at a lower fat level. She says that you can't try a diet then stop following it after a week, as your body is still not used to it.
Avoiding Binging
Monica says that it is very important to stop binging. She says that she is always tempted to eat poorly, as most people are, but she tries to eats clean "about 75% of the time."
She advises to her fans and clients to save their sugary deserts or snacks for one day at the weekend. Through doing this, she says you'll be more likely to stick to a healthy diet during the week.
Meat With Every Meal
Protein is vital in Monica's diet. She says she tries to eat meat with every meal and enjoys chicken, turkey, tuna, and salmon in particular. As she travels a lot, she always makes sure to pack some canned tuna or other meats for the journey.
Supplements
She also uses whey protein heavily to supplement her diet. She carries it in small bags, so that everywhere she goes, she will always have protein available.
As a woman, she says she needs more protein daily than a man, as her body naturally eats away at lean muscle. As well as the whey protein powder itself, Monica also buys, or makes protein bars.
---

What we can learn from Monica Brant
Monica's start in bodybuilding may be familiar to many of you. She saw an image of a professional champion and was inspired by their dedication to the sport.
This simple event sparked a career that lasted 22 years. She's won a number of high-profile national events, and has helped countless women with their own fitness goals.
It may be useful to think back to what inspired you to begin your fitness journey in the beginning. Remember that initial spark today as you push towards your next goal – just like Monica did.