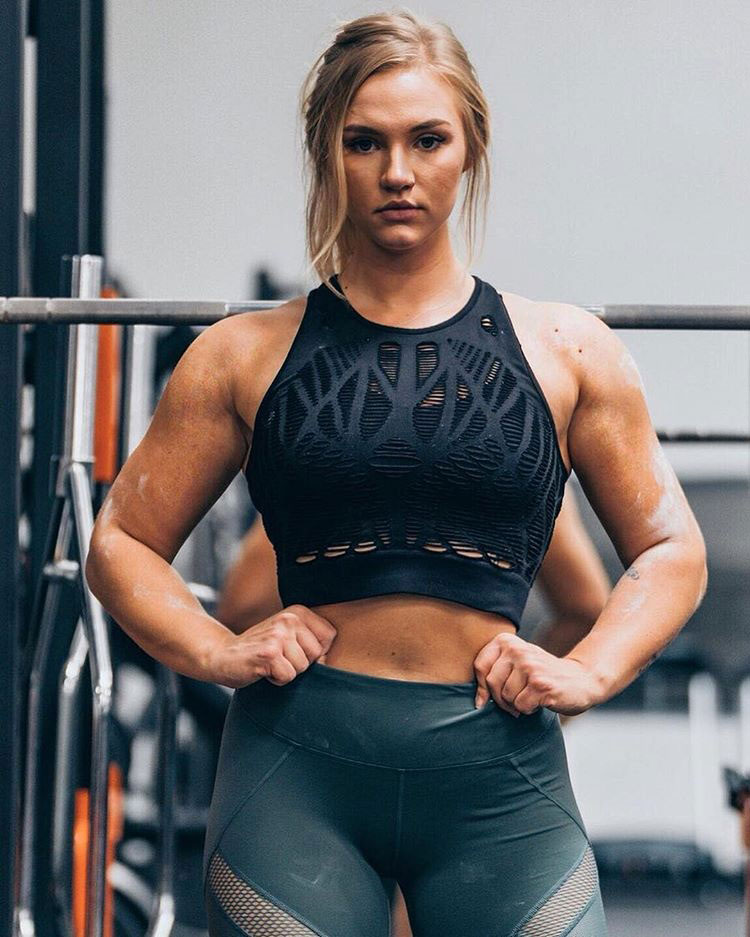 Mikayla Zazon
Certified Personal Trainer, Yoga Instructor, Powerlifter, Sponsored Athlete
Mikayla Zazon, also known as 'Mik', or 'Mik.fit' started her passion for fitness from an early age – becoming a nationally recognized soccer player throughout her days in high school.
But then one day, Mikalya's dreams of becoming a professional soccer player were crushed, when frequent injuries forced her to call time on her career on the soccer pitch.
From this point onward, Mikayla commenced on a downward spiral, where her life became overwhelmed with negativity – suffering from depression, anxiety, and chronic migraines towards the end of her high school years.
Further down the line, Mikayla was able to fully recover – moving on from her darkest days. In the process, she's become a powerlifter, personal trainer, and sponsored athlete.
This is her story.
---

Athlete Statistics
Full Name: Mikayla Zazon
Weight
Height
Age
Date of Birth
155 - 165lbs (70.3 - 74.8kg)
5'4" (162.5cm)
27
November 20, 1995
Nationality
Profession
Alias
American
Certified Personal Trainer, Yoga Instructor, Powerlifter, Sponsored Athlete
Mik Fit
Era
2010
| | |
| --- | --- |
| Weight | 155 - 165lbs (70.3 - 74.8kg) |
| Height | 5'4" (162.5cm) |
| Age | 27 |
| Date of Birth | November 20, 1995 |
| Nationality | American |
| Profession | Certified Personal Trainer, Yoga Instructor, Powerlifter, Sponsored Athlete |
| Alias | Mik Fit |
| Era | 2010 |
---

Accomplishments
Certified Personal Trainer
Yoga Instructor
Powerlifter
Sponsored Athlete
---

Biography
Soccer Days
Mikayla Zazon's sporting beginnings date back to her childhood. She began to take part in soccer from the age of 10, quickly falling in love with the active lifestyle. Thanks to her dedication, she soon made a name for herself as a nationally ranked soccer player – with dreams of becoming a professional in the sport.
However, frequent injuries soon began to hinder Mikayla's progress on the soccer pitch. She started to suffer from knee problems, which meant that Mikayla had to spend a long period of time on the sidelines. By the time she reached 14 years old, she had undergone three operations on her knee.
Matters were made worse when Mikayla began to suffer from concussions when taking part in soccer. Due to the concern from her doctors, they advised Mikayla that playing soccer was doing her more harm than good. When she reached 16 years old, Mikayla was forced to wave goodbye to her soccer playing days once and for all.
When Her Life Went Downhill
Mikayla suffered from social anxiety as result of her withdrawal from soccer. Because she placed so much focus on her sporting ambitions, Mikayla barely had any friends towards the end of high school. As Mikala says: "You grow up with people, and that's who you hang out with. I grew up with my soccer team and I had to quit soccer, so I soon began to lose touch with them".
Things then got even worse for Mikalya, when she was diagnosed with 'post-concussive syndome'. This meant that because of her head traumas, she began to suffer from numerous side effects – such as learning difficulties, depression, and chronic migraines.
During this period, Mikayla unfortunately became a victim of bullying, which had a negative impact on her self-esteem. Ultimately, Mikayla ended up having to transfer to a new school in order to move forward in her life.
---

Mikayla Zazon before compared to how she looks now.
Losing Touch with Athletics
Because she couldn't participate in sports, Mikayla no longer lived a heavily active lifestyle. Instead, she spent her time focusing on her academic studies, in addition to the rehabilitation process after her concussion issues.
During her recovery, Mikayla paid little attention to her nutrition. Because of her inactivity, Mikayla's poor eating habits soon caught up with her. In the time she spent on the sidelines, she gained around 40 lbs, which meant she was no longer able to fit into many of the clothes she had.
But one day, Mikayla realized just how much her life had changed since she was forced to give up playing soccer. It was at this point, Mikayla became fully aware of how much weight she'd gained, which made her decide to make a change in her life.
Health Issues
After Mikayla came to the realization that her life had tumbled downhill, she took the steps to regain the athletic physique she'd earned while playing soccer. She looked to her parents for advice, who suggested that she should start to follow a healthy meal plan and lift weights.
Mikayla then began to follow a nutrition method in which her calories were heavily restricted. By sticking to her new diet along with regular training in the gym, she was able to lose a large amount of weight in a short space of time – building a lean, toned physique in the process.
However, Mikayla's overall mood was deeply affected. As well as this, she had little to no energy. Consequently, her relationships with her friends and family took a turn for the worse – where she would have arguments with her parents on a daily basis.
During this period, Mikayla's health worsened considerably. At it's lowest point, she began to suffer from a serious eating disorder, after she went too far with her calorie restriction. Until one day, that all began to change, when Mikayla sought help to live her life in a positive way.
Rediscovering her Active Lifestyle
Mikayla traveled across India for a month, as a way of moving on from the negative aspects of her life. She completely put herself off the map, with no access to a phone or the internet. Because of the extreme lengths that she went to, Mikayla was able to give herself a fresh start – overcoming her eating disorder in the process.
During the time she spent in India, Mikayla fell in love with hiking and kayaking. Because of her new sporting passions, Mikayla was able to rediscover her desire for an active lifestyle.
This eventually led her to discover powerlifting, a sport in which she now excels – setting herself personal lifting records such as a 405 lbs deadlift, 195 lbs bench press, and a 305 lbs squat along the way.
Ever since she began to share her story online, Mikayla has stormed to fame on social media – inspiring people all over the world. In addition, she has become a certified personal trainer, and sponsored athlete.
---

Training
Powerlifting
Mikayla lifts heavy weights with low repetitions, aiming to continually build muscle and overall strength. As a powerlifter, she'll place focus on basic compound lifts such as deadlifts, squats, and the bench press – with the aim of regularly increasing the weight of her lifts. Here's some of the common exercises that she performs:
Common Exercises
Deadlifts
Cable Donkey Kicks
Walking Dumbbell Lunges
Dumbbell Stiff Legged Deadlifts
Resistance Band Abductions
Hack Squats
Bulgarian Split Squats using Dumbbell
Barbell Bench Press
Seated Dumbbell Press
Machine Assisted Pull Ups
Barbell Squats
---

Nutrition
Mikalya's Nutrition Staples
Mikayla admits that she has a big appetite, but she'll keep her food choices clean in order to build lean muscle mass. Here's the foods that she eats regularly:
Fruit and Vegetables
Onions, Tomatoes, Spinach, Mixed Salad, Mushrooms, Squash, Mixed Berries
Lean Protein
Complex Carbohydrates
Oats, Rice Cakes, Sweet Potatoes
Healthy Fats
---

Idols and Influences
Mikayla is a self- motivated individual, driven by her hard work, dedication, and commitment to progression. With the help and support of her friends and family, she's been able to overcome serious injuries and an eating disorder – allowing her to become the greatest possible version of herself.
---

What we can learn from Mikayla Zazon
What we can learn from Mikayla Zazon is that she went from rock bottom, to achieving greatness within her fitness career. This was all down to her desire to live her life in a positive way.
Even when Mikayla felt as though she wasn't getting anywhere, she looked back on her life to realize that she'd come a long way. In Mikayla's own words: "When you are feeling down about your progress, it is important to remind yourself of how far you've come" – Mikayla Zazon