Michell Kaylee
Personal Trainer, Nutrition Coach
Michell Kaylee is a fitness expert and bikini model from Switzerland. With her toned and lean physique, Michell is an inspiration for her followers to take on weight training and lead a healthy lifestyle.
However, Michell wasn't always a picture of health like she is today. While she was interested in sports growing up, Michell lost interest in them once she became older, where she was faced with life's responsibilities.
To cope with work and other obligations, Michell often binged on alcohol and junk foods on the weekends. Over the course of three years, this took a major toll on her body and mind as she developed an eating disorder.
Once her health reached 'rock bottom,' Michell realized she needed to do something about her situation. With the help of her fitness coach, as well as her own strong mindset, Michell was able to overcome this dark period in her life, becoming a fitness trainer the process.
This is her story:
---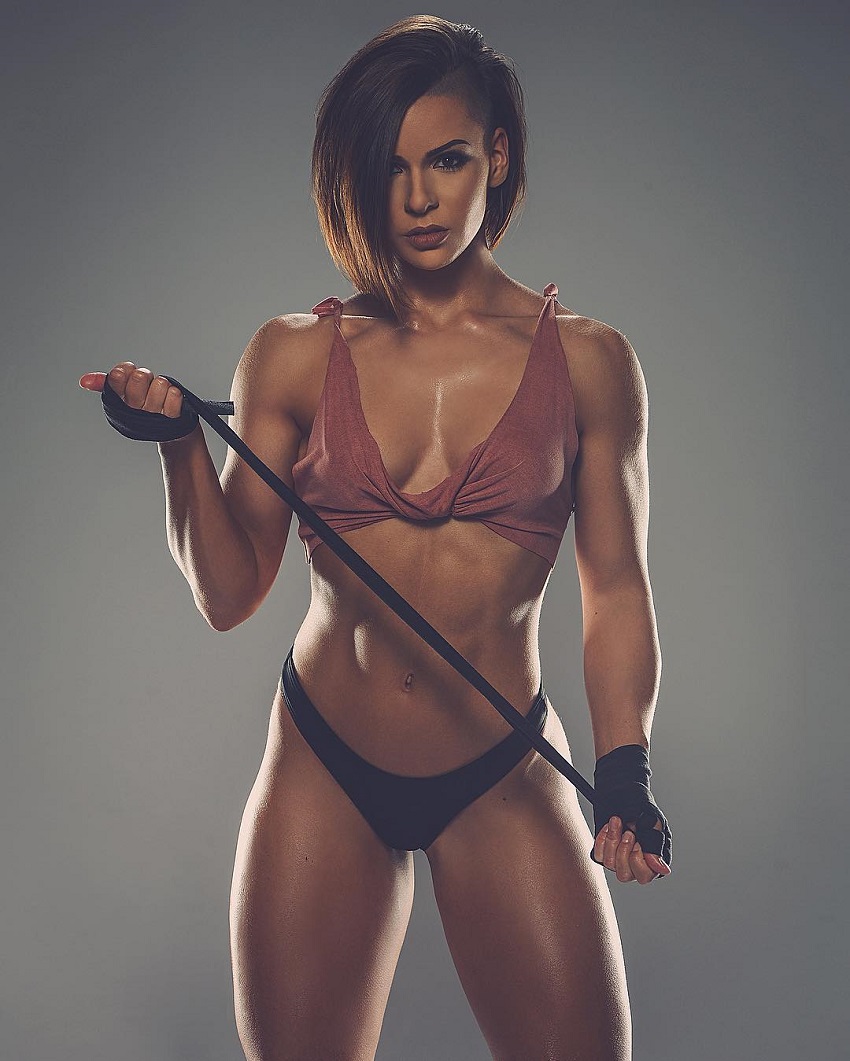 Athlete Statistics
Full Name: Michell Kaylee
Weight
Height
Age
Date of Birth
125 - 135lbs (56.7 - 61.2kg)
5'5" (165cm)
29
September 25, 1994
Nationality
Profession
Era
Swiss
Personal Trainer, Nutrition Coach
2010
| | |
| --- | --- |
| Weight | 125 - 135lbs (56.7 - 61.2kg) |
| Height | 5'5" (165cm) |
| Age | 29 |
| Date of Birth | September 25, 1994 |
| Nationality | Swiss |
| Profession | Personal Trainer, Nutrition Coach |
| Era | 2010 |
---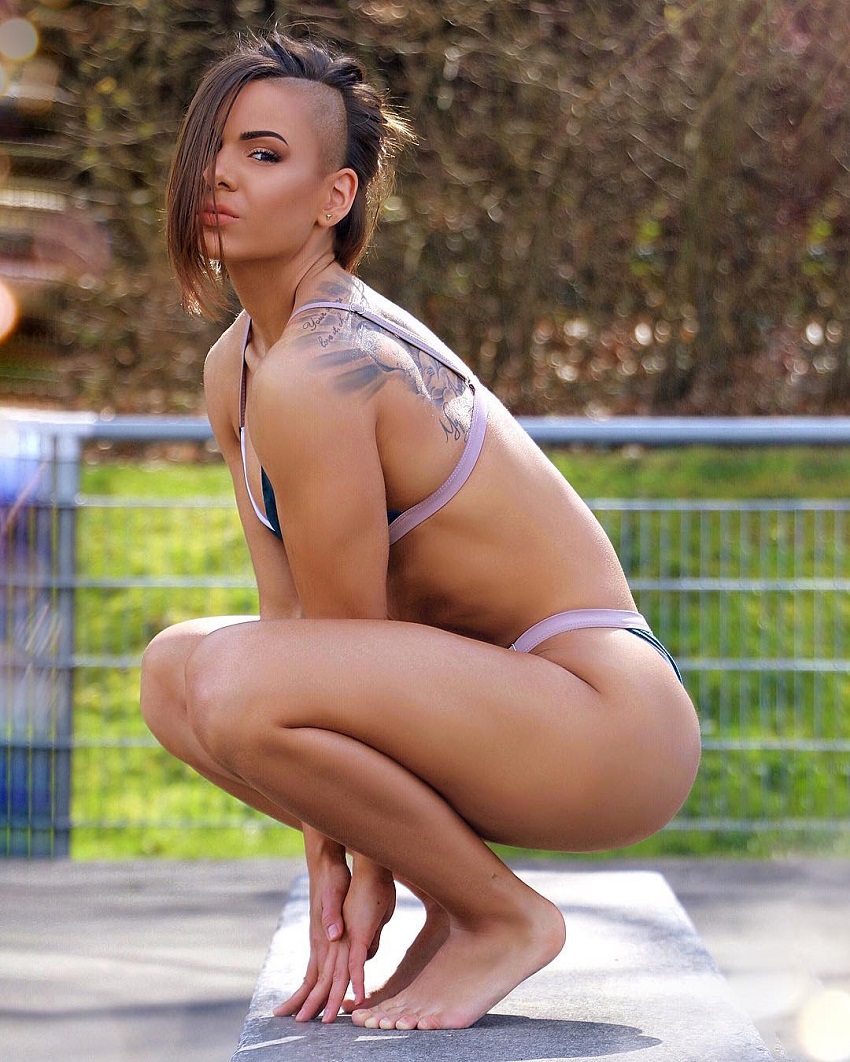 Accomplishments
Training Instructor
Nutrition Coach
Bikini Model
---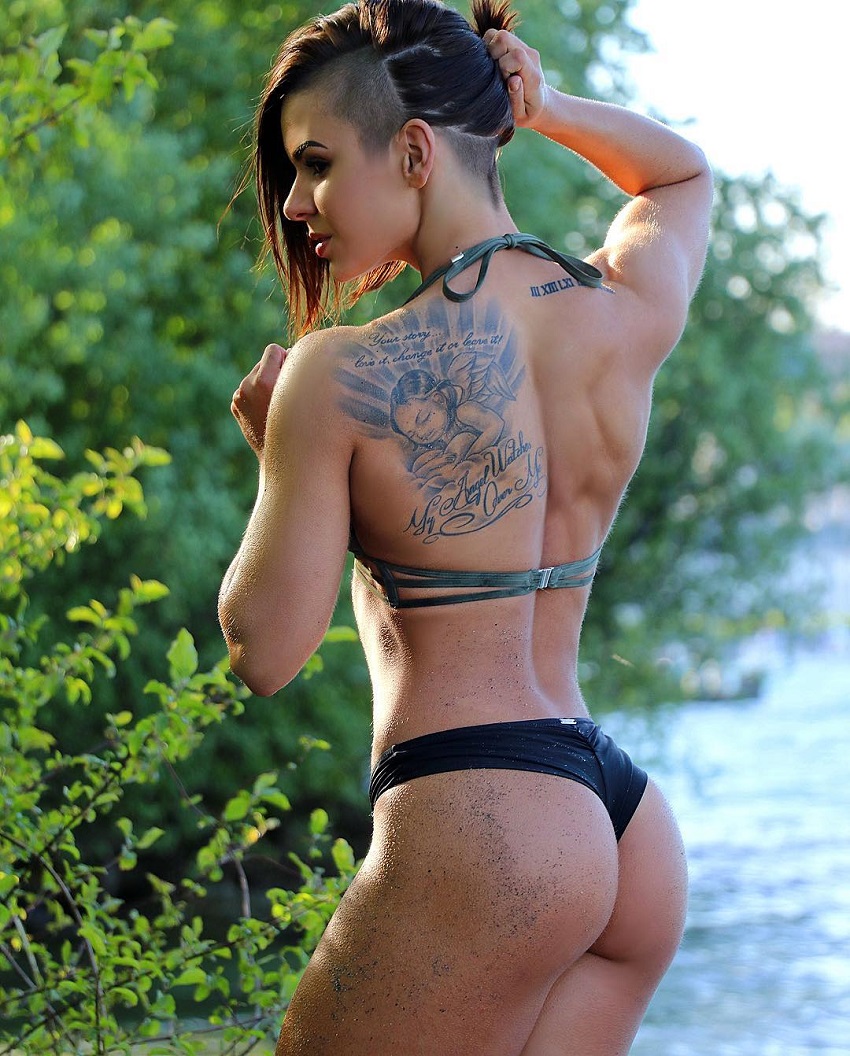 Biography
Involvement in Martial Arts
Michell Kaylee was born in 1994 in Sursee, Switzerland. Growing up, Michell's parents encouraged her to stay active, especially her father who was a successful martial artist.
Intrigued by what her father did, Michell decided to follow in his footsteps and become involved in martial arts at the age of six.
However, while Michell displayed great skills in martial arts, she gradually lost interest in the discipline over the years. As she said; "Although I was pretty good, I turned away from this sport as I grew older and spent my spare time doing everyday things that kids do."
---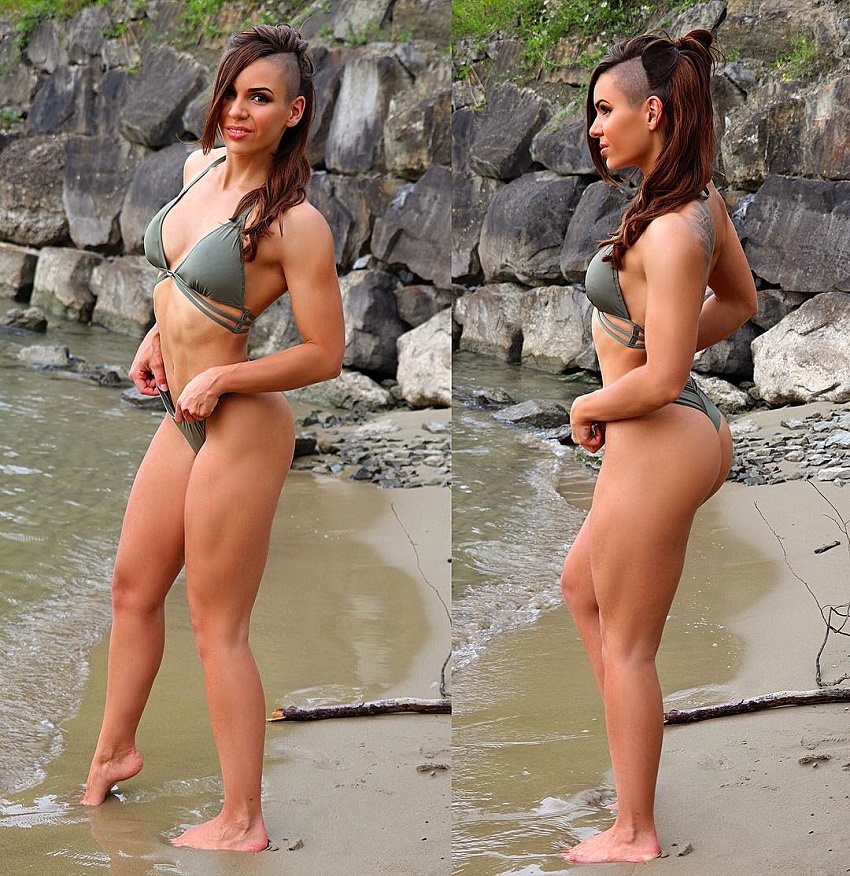 ---
Michell's First Job, Partying, and Unhealthy Choices
After completing her compulsory education, Michell started working as an apprentice hairdresser.
"After completing compulsory education, I started an apprenticeship as a hairdresser and taught what it means to make money."
During this period, Michell discovered the nightlife and began to party on the weekends. This included drinking alcohol, eating unhealthy foods, and smoking cigarettes.
For the next three years, Michell kept partying on a weekly basis, unaware of the damage she was causing to her body. As she said; "In those 3 years, I was quite unconscious of what makes a healthy lifestyle."
---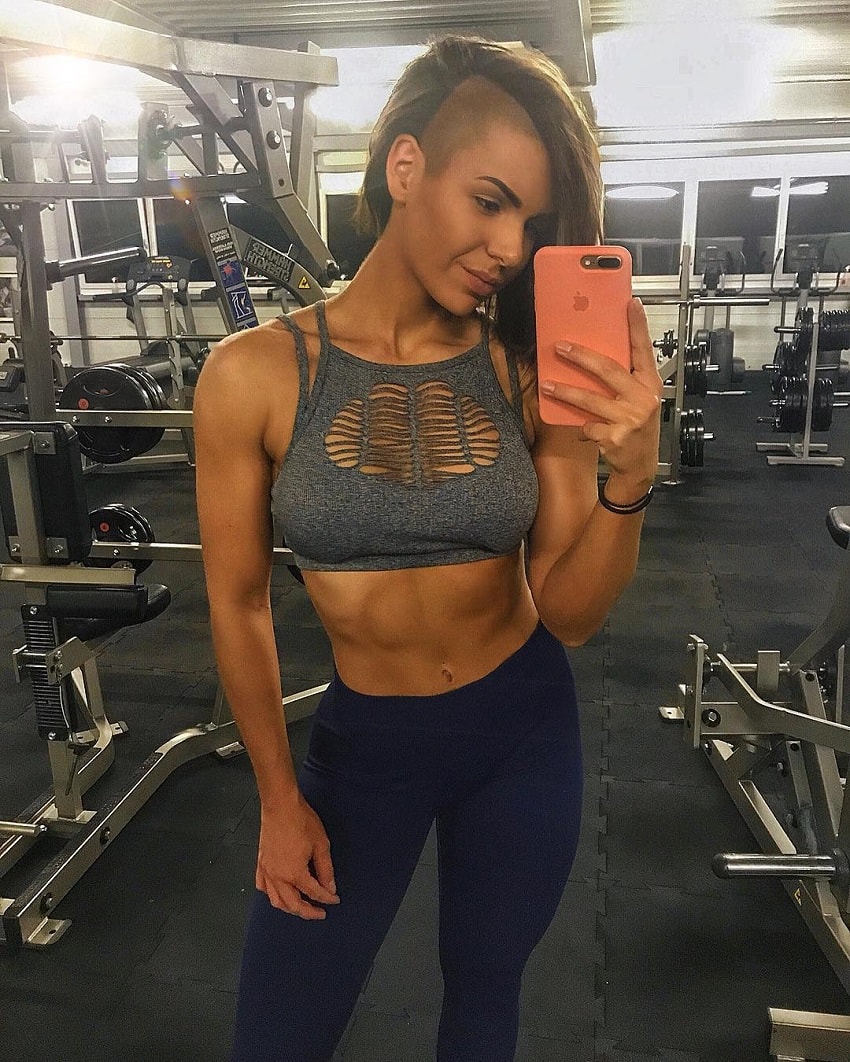 ---
Eating Disorder
Amidst her work, parties, and other activities Michell did, there was no room left for sports. As a result, her physical condition gradually deteriorated over the years.
Eventually, Michell was faced with a 'rude awakening.' She looked at herself in the mirror one day and realized what she did to her body. She looked weak, slim, and extremely unhealthy.
"I was often dissatisfied with myself and doubted my decisions."
Michell became so insecure about her body, that she developed an eating disorder. The disorder only made things worse for Michell, as she began to rapidly lose weight on her already slim body. At her lowest point, she weighed 39 kilograms at 165 centimeters in height.
---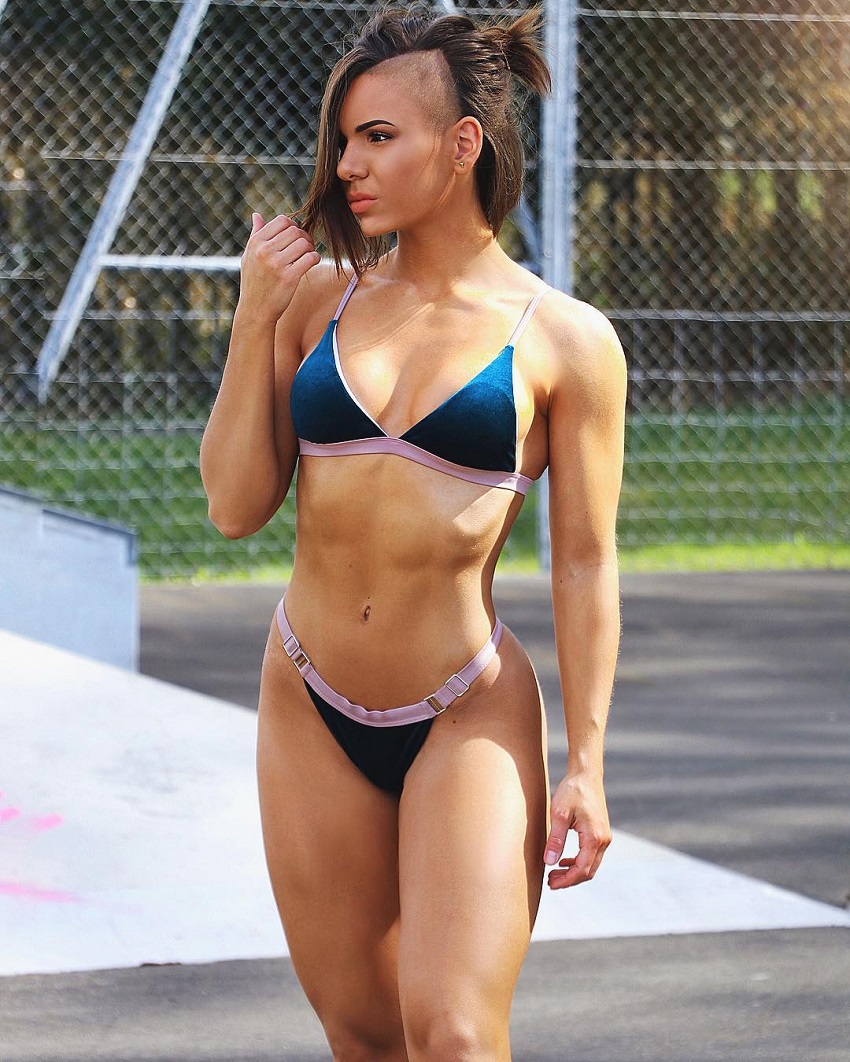 ---
Early Signs of Improvement
Even after successfully finishing her hairdresser apprenticeship, Michell's life didn't change a lot. While she wanted to improve her health and looks, she simply didn't have the necessary knowledge to do so.
"The will for a stronger look was there, but it lacked a certain 'know how, as well as the necessary motivation boost and the right plan."
However, this changed when Michell met her former partner, who was a fitness expert with 10 years of experience in training.
He told Michell that she had a great potential in fitness. She just needed the right plan and program to see her transformation through.
---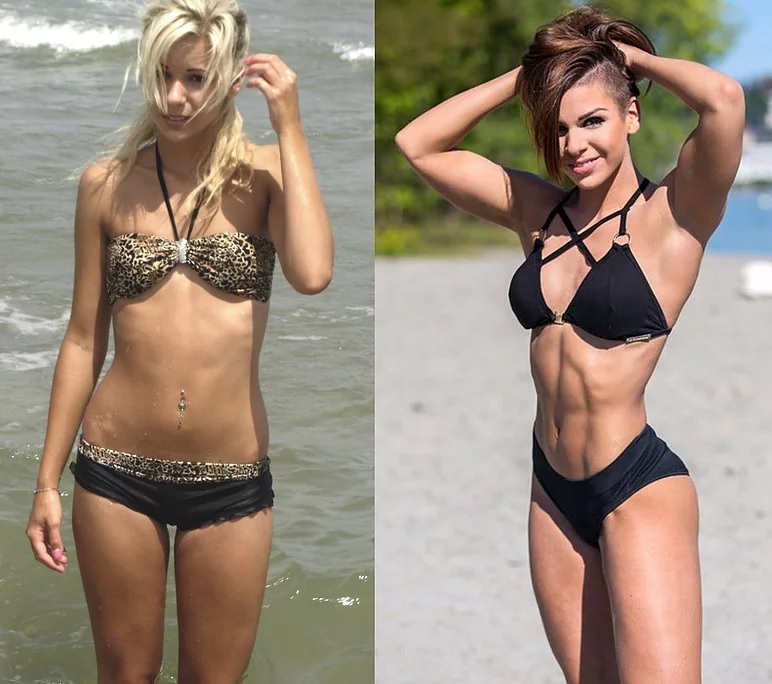 Michell Kaylee's body transformation.
---
Making a Lasting Change
With the help of her ex-partner and coach, Michell started her fitness journey at the age of 19. Together, they created a structured training and dieting routine for Michell.
Thanks to her new routine, Michell quickly began to notice improvements in her appearance and health.
Her abs became firmer, her legs were more toned, and her overall body shape became much more aesthetic.
Michell says, it was at this point her "fire was kindled to fitness and nothing could ever stop me again."
---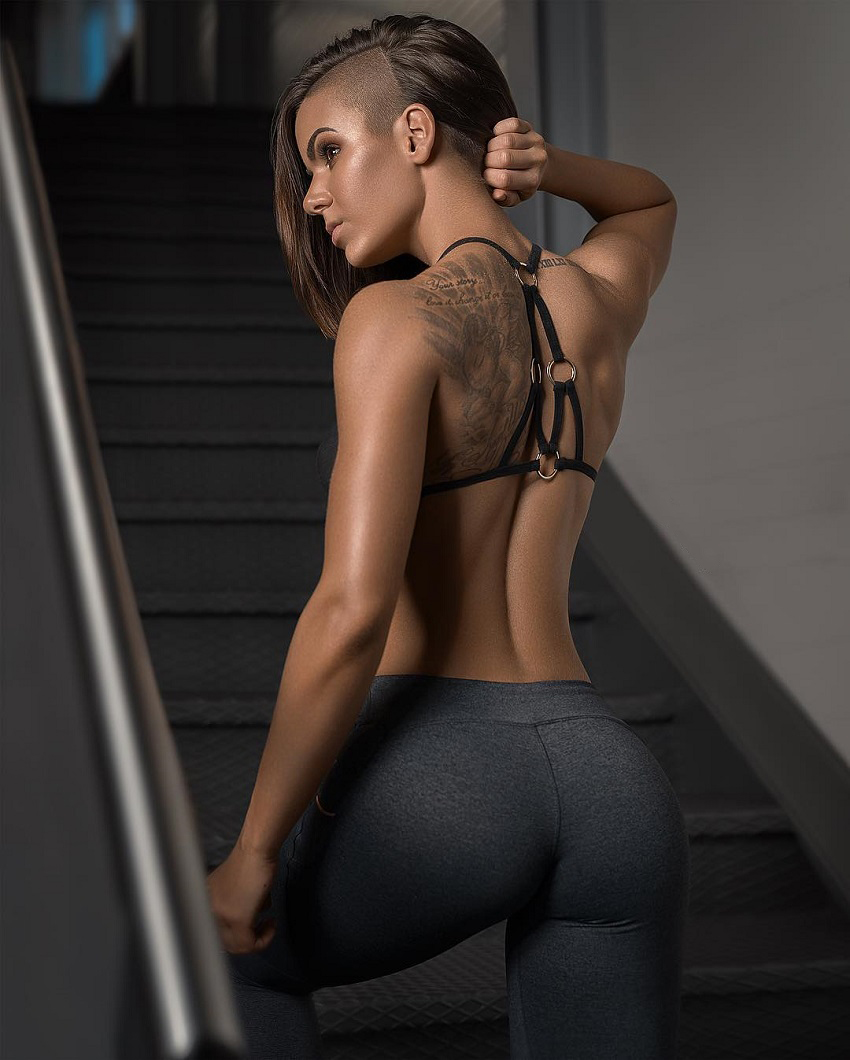 ---
A Healthy Lifestyle
Instead of eating fast food and cakes, Michell now prepared meals consisting of lean meat, brown rice, and vegetables.
She also removed alcohol from her life, replacing it with water and green tea which made her feel healthy and energized for her workouts.
Ultimately, thanks to the help of her coach and her own mindset, Michell was able to see her fitness transformation through.
---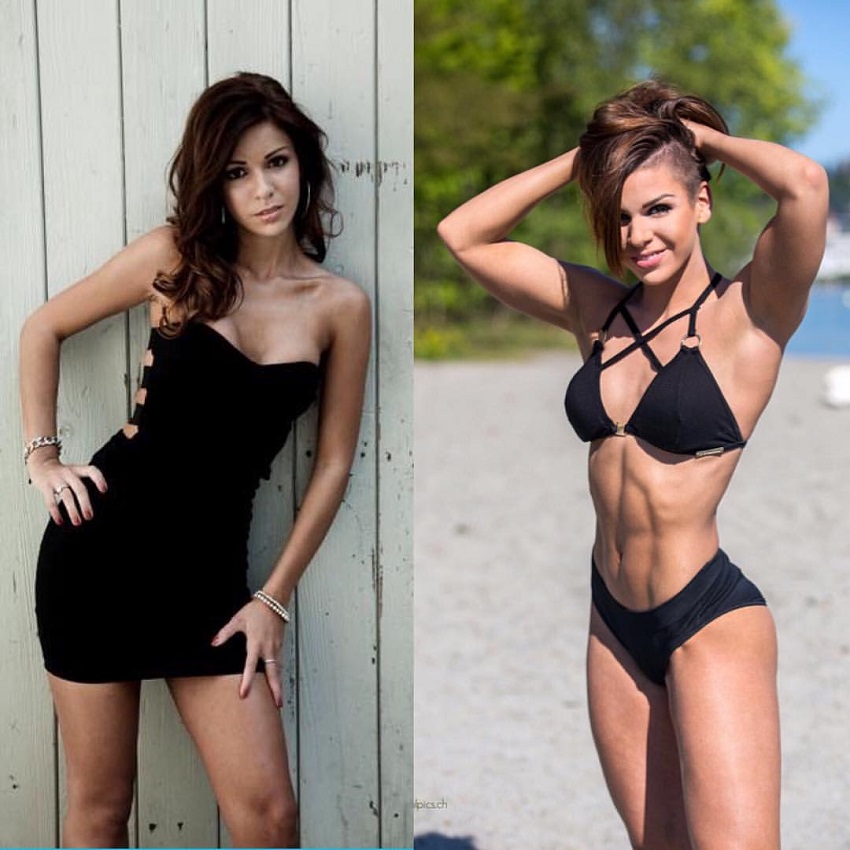 ---
Building a Career in Fitness
After four years of intense and disciplined training, as well as studying the subject of nutrition and supplementation, Michell became a certified training instructor and nutrition coach.
She now lives a life that's balanced between regular exercise, healthy diet, and helping others achieve their fitness goals.
"My constantly burning fire for this sport motivates me every day to continue on this path, to motivate others and to accompany them to their goals & I know that you too can do it!"
---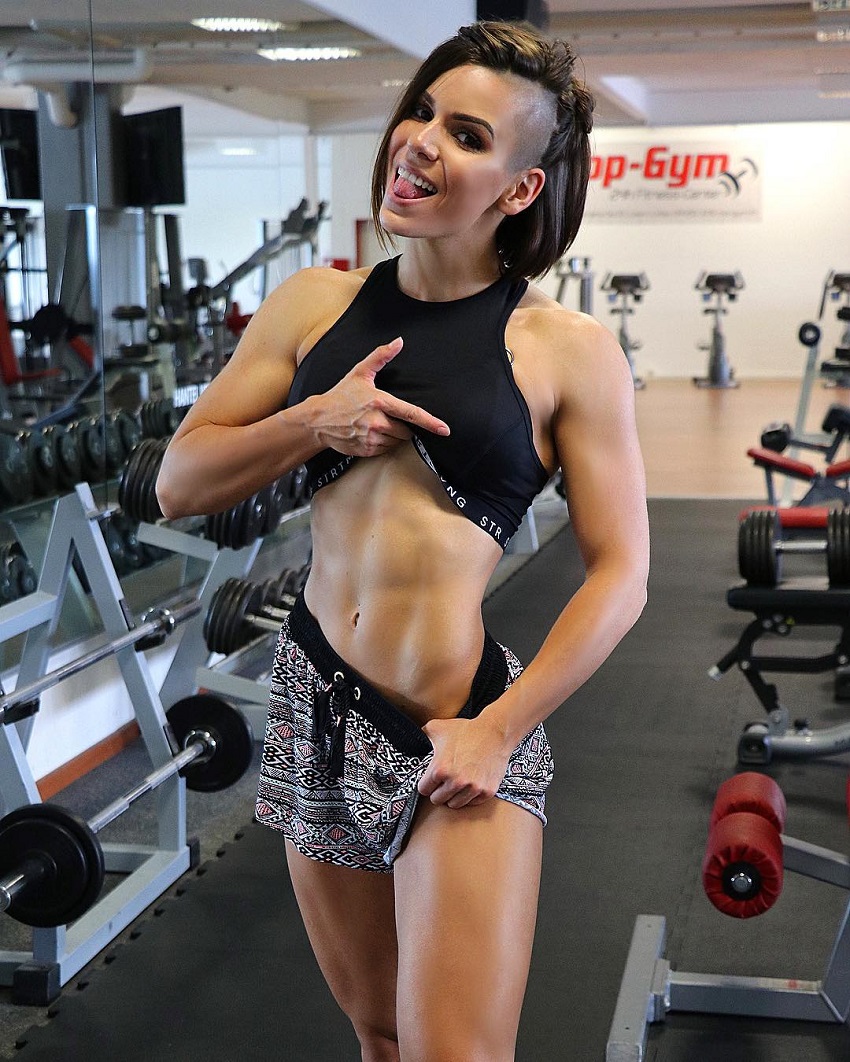 Training
Michell is a big fan of machines. They allow her to target the specific muscle groups that she wants to train. She also loves bodyweight workouts, which give her the freedom to exercise anywhere, anytime.
Some of the exercises Michell enjoys doing are cable crunches, pulse squats, and hip thrusts. If she wants to grow her strength, Michell might also add a few sets of heavy compound lifts. Such as pull-ups and deadlifts.
---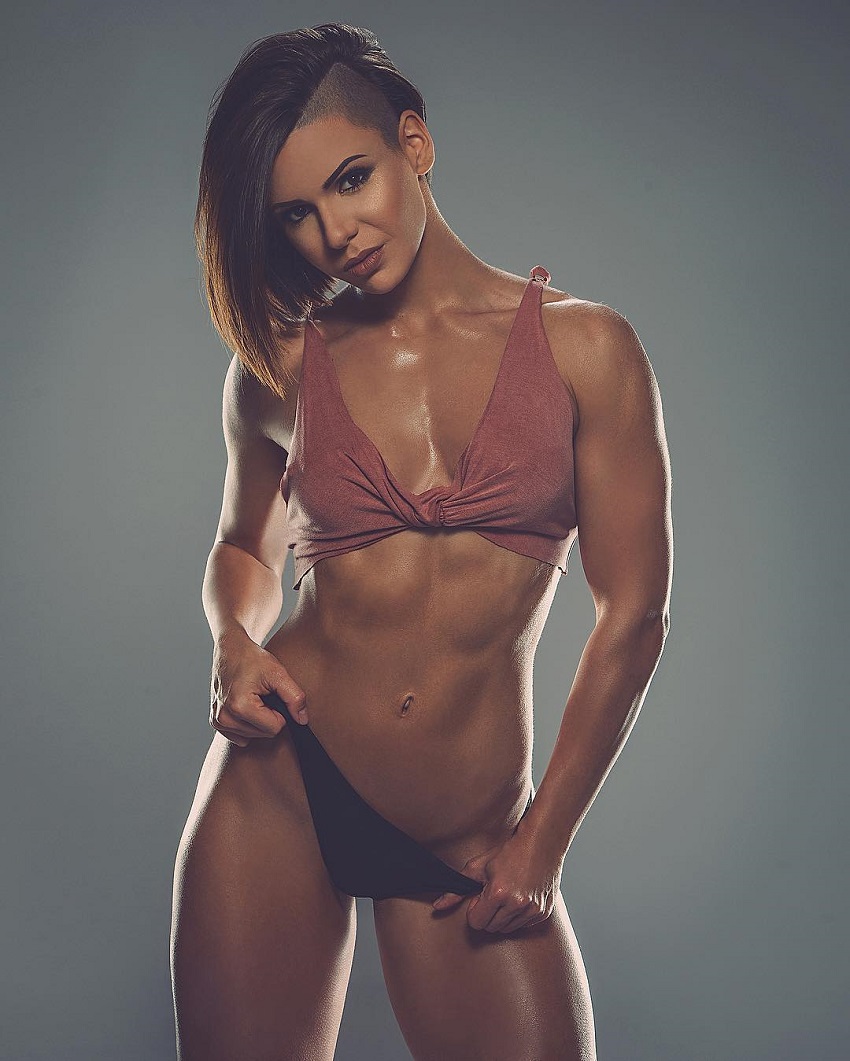 "If you think positive, you get it. So, try it in every moment, no matter what the problem is, to find the solution!"
Nutrition
It's clear that Michell likes to maintain a physique that's strong, lean, and toned. In order to achieve this, she follows a diet rich in proteins and healthy fats, and low in carbohydrates.
While she consumes proteins and fats throughout the entire day. Michell only eats carbs in the morning and after her workouts – that's when her muscles need glycogen the most.
---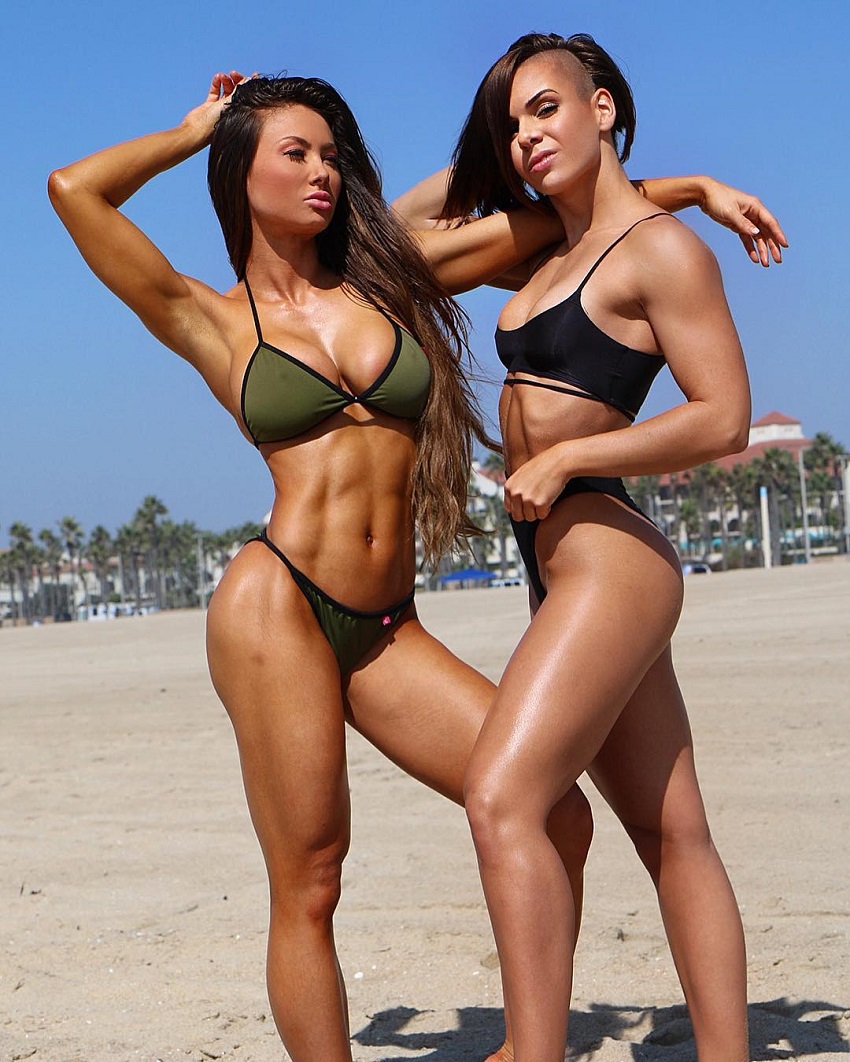 Michell Kaylee posing with Michie Peachie on the beach.
---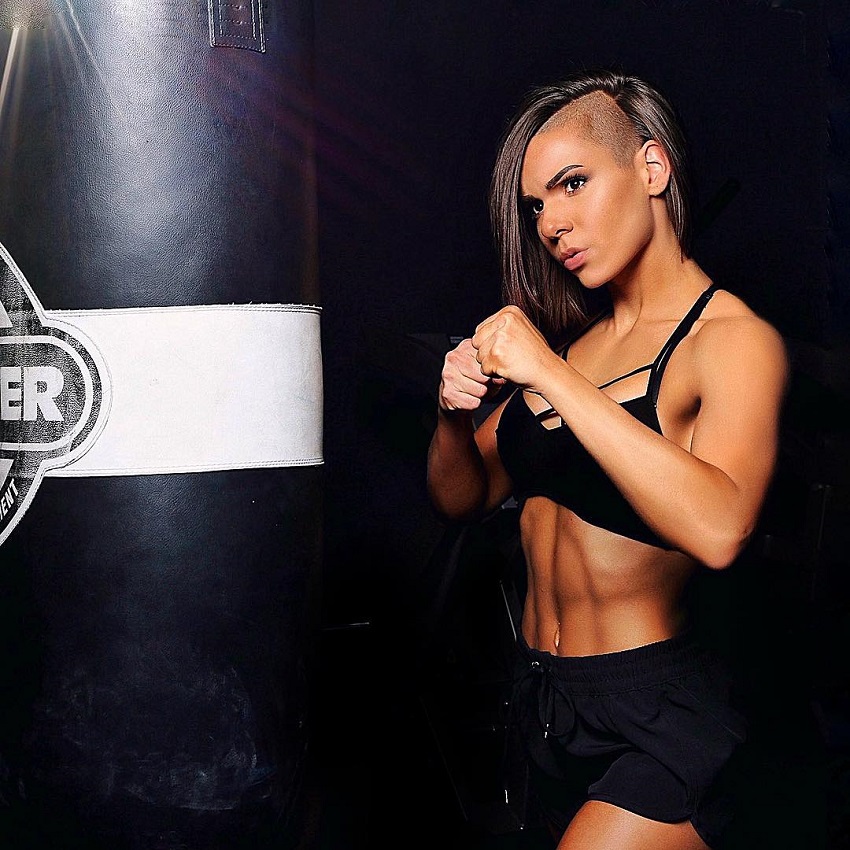 "It's my life. I live in my body and with my own thoughts! I know my own mind! So I did it! I walked my way. The strength of will is the solution to bring you to the goals in your life! So now I'm myself! Not whatever others want to see in me! Be happy, reach your own goals!"
What we can learn from Michell Kaylee
Michell Kaylee has shown us that motivation and willpower aren't always enough to reach your goals. Sometimes, you also need the guidance of others to steer you in the right direction. In Michell's case, she wanted to improve her health and appearance, but she didn't know how.
It was only after she met her coach and ex-partner, when Michell was able to instigate her fitness transformation. With the help of her coach, Michell was able to overcome her eating disorder and start a career in fitness in the process.
What we can learn from her, is that you should never be afraid to ask for help on your fitness journey. If you don't know how to train or eat correctly, there are always others who can help you learn this. With their help and your own dedication, you too can reach your fitness goals – just like Michell Kaylee.