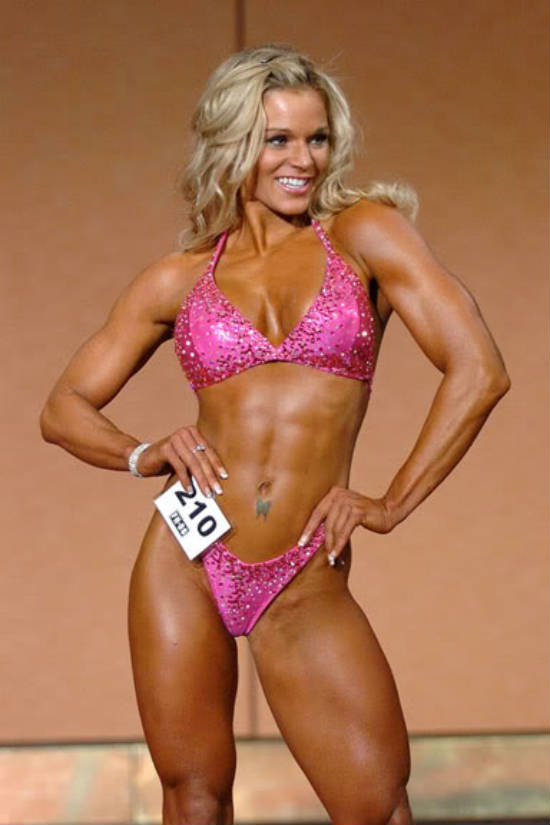 Michele Levesque
Fitness Model, Personal Trainer, Bikini Competitor
Michele Levesque is a Massotherapist, female bodybuilder and fitness model from Quebec, Canada. She is a highly respected professional, who divides her working day between the gym and massage room with her clients.
While Michele sees weightlifting and bodybuilding as her main passions, this wasn't always the case. In fact, she had grown up skiing and competing in track and field events, before a knee injury prevented her from continuing. This devastated Michele, but luckily, she found strength training as an excellent outlet for her energy and has been obsessed with bodybuilding ever since.
Today, Michele is a respected massotherapist who has been helping injured athletes and sports enthusiasts for a number of years. She has competed in a physique competition and she hopes to inspire others with her story. This is it:
---

Athlete Statistics
Full Name: Michele Levesque
Weight
Height
Waist
Nationality
Under 115lbs (52.2kg)
5'4" (162.5cm)
24"
Canadian
Profession
Alias
Era
Fitness Model, Personal Trainer, Bikini Competitor
Michele Levesque
2000, 2010
| | |
| --- | --- |
| Weight | Under 115lbs (52.2kg) |
| Height | 5'4" (162.5cm) |
| Waist | 24" |
| Nationality | Canadian |
| Profession | Fitness Model, Personal Trainer, Bikini Competitor |
| Alias | Michele Levesque |
| Era | 2000, 2010 |
---

Accomplishments
Degree in Kinesiology
Professional Massotherapist
---

Biography
Early Years
Michele was born and raised in the city of Bromont, in Quebec, Canada. Growing up, she was always extremely active and loved physical fitness and sports of all kinds. She says that from a very early age, she devoted herself to gymnastics, figure skating, biking and skiing.
As she entered high school, she found a new passion in track and field. She says that she "let off steam" in this sport, progressing quickly from the sprint, to running 30 kilometers on the road.
She says that running was her "drug," until she gradually developed serious knee problems which meant she had to stop for good. This was devastating for Michele and she says that her "world fell apart"; she became depressed and needed another outlet for her energy.
Finding Weightlifting Through Injury
When Michele was in rehabilitation for her knees, strength training was her outlet. She says that "aside from running, lifting weights was the only way I got satisfaction."
As she learned more about weightlifting, her satisfaction grew and she, in her words, discovered her "second obsession." She immediately began to buy books and read magazine articles on correct nutrition and form, looking around for a coach to help her. It was then that she found Francine Savard, and they began working on Michele's physique one session at a time.
College
As her personal interest in weight lifting and nutrition developed, she began to incorporate it more and more into her life until it became her main focus. She moved her entire life to Montreal, (the capital city of Quebec,) in order to study Kinesiology (the study of body movements.) She was accepted onto the course at the Université du Québec à Montréal and enjoyed every minute.
The area of her course she enjoyed the most was Massotherapy (the study of massage techniques.) Following her graduation, she immediately started working in this field and loved helping athletes with injuries.
Physique Competition
Her degree gave her a career in Massotherapy, but it didn't make her a better bodybuilder. Michele had to learn bodybuilding technique in her own time, and as she built a professional routine, she also developed a dream of one day competing.
She says that the biggest challenge was to increase her self-esteem and confidence. When she did though, it showed. Michele won her first competition in November 2016 and was extremely proud of her achievements.
---

Training
Routine
As Michele is a fitness model and bodybuilder, she likes to stay lean and involves a lot of cardio in her routine. She also focuses on compound lifts to work multiple muscle groups at once, as well as elevate her heart rate while burning calories. Her weekly routine is as follows:
Monday:
Day 1: Legs (glutes), triceps, shoulders,abs. 8 exercises, 4 sets of 6-8 reps.
Cardio: 10 minutes intervals.
Tuesday:
Day 2: Legs (quads, buttocks), biceps. 6 exercises, 4 sets of 6-8 reps
Cardio: 10 minutes intervals.
Wednesday:
Day 3: traps, back, pecs, abs 8 exercises, 4 sets of 6-8 reps
Cardio: 10 minutes intervals
Thursday: Same as Monday
Friday: Same as Tuesday
Saturday: Same as Wednesday
Sunday: Off
Advice To Beginners
Michele also offers advice to beginners, based on the extensive knowledge of the human body developed in her degree course. She says:
Don't train your abs each day. Work them 2-3 days a week.
Vary your exercises. Choose 2-3 specific exercise to do for each training session. Do 3-4 sets of 12-15 reps.
Lift Heavy – it's the only way to build a good amount of muscle.
Favorite Exercises
1. Pull-ups for your lats.
2. Bicep curls. 3X7 reps. "You start heavy for 7 reps, go lighter for another 7 and drop another 5 pounds for the last 7 reps. Non stop."
3. Dips for the triceps with your body weight.
4. Shoulders exercises. I do them all. I just love working my shoulders. 4 sets of 6-8 reps, heavy!!!
Cardio
In terms of cardio, Michele loves to interval training for 30 minutes. She combines treadmill workouts, with circuits involving exercises such as squat thrusts and jumping jacks.
---

Nutrition
Healthy Eating
When it comes to dieting, Michele focuses on eating as healthy as she possibly can. She chooses to cut out pasta and bread as she believes they are low quality carbohydrates. She also eats low glycemic foods to retain a good glucose balance in her system.
She also says that eating fruits in the morning on an empty stomach is better than at other times. This is because fruits are said to stimulate the digestive tract when eaten first thing.
Michele also divides her food intake into 5 meals a day. This is a standard meal plan on an average day (not competing):
Breakfast: 9-10 egg whites with butter
Mid-Morning Snack: oatmeal with protein powder
Lunch: chicken or horse meat with vegetable
Mid-Afternoon Snack: chicken or horse meat with vegetable
Dinner: filet mignon with salad
Note: oatmeal with protein powder
Supplements
Supplements are essential in her diet. She takes glutamine to help her muscles recuperate faster, as well as green tea to speed up her metabolism and help her burn more fat.
---

What we can learn from Michele Levesque
Michele's story shows us that bouncing back from an injury is possible, even going into professional bodybuilding. Her knee injury put an end to her track and field journey, but she was determined to develop weightlifting as her new passion.
If you have a setback in your fitness journey, it may be useful to look at the stories of individuals such as Michele. They may be a real help when you're struggling to see an alternate path.