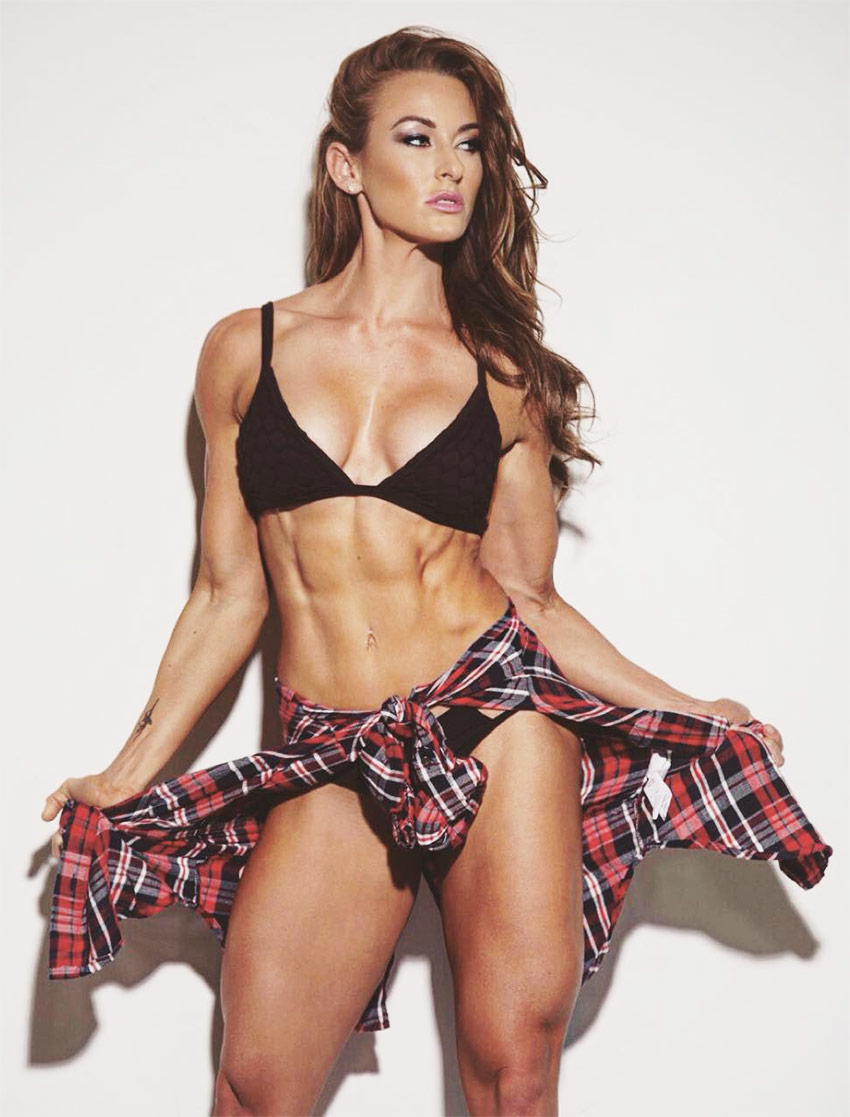 Melissa Le Man
Professinoal Bikini Athlete, Fitness Model
Melissa Le Man is a bikini athlete and fitness model from Australia. She began competing in 2010, after leaving her office job behind.
In 3 short years, she managed to earn her WBFF Pro Card, and has attracted fans around the world – becoming an online sensation in the fitness community.
This is her story:
---

"Wake up and crush your day. Attitude is everything, set your mind right and achieve your goals"
Athlete Statistics
Full Name: Melissa Le Man
Weight
Height
Year of Birth
Nationality
125 - 135lbs (56.7 - 61.2kg)
5'4" (162.5cm)
1986
Australian
Profession
Era
Professinoal Bikini Athlete, Fitness Model
2010
| | |
| --- | --- |
| Weight | 125 - 135lbs (56.7 - 61.2kg) |
| Height | 5'4" (162.5cm) |
| Year of Birth | 1986 |
| Nationality | Australian |
| Profession | Professinoal Bikini Athlete, Fitness Model |
| Era | 2010 |
---

"Succeeding means believing in something with so much passion that it becomes your reality. Passion is fuel to your fire."
Accomplishments
Fitness Modelling
Ultra-Fitness Magazine
Oxygen Magazine
Men's Muscle and Health Magazine
Women's Fitness Magazine
Natural Bodz Magazine
Ironman magazine USA
Ironman Magazine AUS
Muscle and Fitness Hers
Competition History
2013 ANB Asia Pacific Day, Fitness Model Under 30 Short – 1st
Awarded WBFF Pro Status 2014
2014 WBFF World Championships Pro Fitness – Finalist
2015 WBFF World Championships Pro Fitness – Finalist
2016 WBFF World Championships Pro Fitness – Finalist
---

"I have always been an 'active' type of a person. However, when I decided in 2010 that I wanted to compete, it was the start of a life changing journey."
Biography
Start of Fitness Journey
Born and raised in Queensland (Australia), Melissa Le Man grew up with a passion for fitness. She took part in numerous sports such as netball and touch football, developing a lean physique.
But at this point, she hadn't lifted any weights in the gym – preferring to run on treadmills instead.
After graduating from college, she began working in corporate positions. She was mostly sedentary in her new job, working in the office jobs in her hometown.
Melissa became unhappy with her level of inactivity – she wanted to pursue a career in something she loved.  Determined to change her situation, Melissa began thinking about a career as a competitive athlete.
Competing
In 2009, at the age of 24, Melissa began preparing to enter her first show. The Australian began lifting weights in the gym, aiming to add size and definition to her figure.
Melissa entered her first competition in 2010, and fell in-love with bikini contests. She went from strength to strength, picking up experience and gaining more exposure in the sport.
At this point, she set her focus on earning a Pro Card.
---

"With the right nutrition and training, I was able to transform my shape."
---
Pro Card
It wasn't long until Melissa had earned a trophy in her first big competition – the 2013 ANB Asia Pacific Day.
This pushed her further to achieve even more, and a year later, she'd realized her aim since the start of her journey. After consistently placing highly in bikini shows, Melissa finished 2014, at 29-years-old, with her Pro Card.
Online Sensation
Melissa's impressive appearances at bikini shows had gained her huge exposure. She started attaining a mass of followers on social media, being admired for her incredible physique.
After continuing to post pictures and videos, sharing her fitness journey with fans around the world – by 2016, Melissa had become a social media star.
---

"I want you to know that there is no such thing as failure when you start to believe that every experience is an opportunity to grow."
Training
Monday – Legs 
Treadmill (Fasted Cardio) – 45 mins
Barbell Squats – 10 sets of 10 reps
Leg Press – 10 reps (superset)
Barbell Walking Lunges – 5 sets of 20 steps
Stiff Leg Dead Lifts – 12 reps (superset)
Lying Hamstring Curl – 5 sets of 15 reps
Leg Extension – 15 reps (superset)
Jump Squats – 5 sets of 20 reps
Tuesday – Shoulders, Back, & Calves
Bike (Fasted Cardio) –  45 mins
Seated Shoulder Press Machine – 5 sets of 10 reps
Single Arm Dumbbell Arnold Press – 5 sets of 10 reps
Standing Cable Shoulder Press – 10 reps (superset)
Narrow Pushups – 5 sets of 10 reps
Dumbbell Lateral Raise – 10 reps (dropset)
Cable Front Raise – 5 sets of 10-15 reps
Rear Delt Machine – 15 reps (dropset)
Seated Calf Raise Machine – 5 sets of 30-50 rreps
Wednesday – Cardio & Core 
Bike (Fasted Cardio) – 45 mins
Core & Yoga – 90 mins
Thursday – Arms & Abs 
Abs – 15 mins
Bike – 30 mins
Dips – 5 sets of 10 reps
Skull Crushers – 10-12 reps (superset)
Close Grip Bench – 5 sets of 15 reps
Cable Tricep Push Down – 15 reps (superset)
Tricep Rope Flare – 5 sets of 25 reps
Barbell Bicep Curl – 10 reps (superset)
Cable Rope Bicep Curl – 5 sets of 15 reps
Friday – Back & Chest Circuit
Bike (Fasted Cardio) – 45 mins
Bent Over T-Bar Row – 10 reps
Close Grip Chins – 10 reps
Seated Row – 15 reps
Underarm Grip Lat Pull Down – 10 reps
Incline Chest Press Machine – 10 reps
Cable Cross Overs – 15 reps
Push Ups – 10 reps
(Rest 45 seconds, then repeat 5 times)
Saturday – Abs & Cardio 
Abs – 15 mins
Incline Treadmill – 30 mins
Sunday – Rest 
Walk along the beach for 45 mins
---

"Who wants to get lean but still eat yummy food? … me! I've done the years of super strict nutrition to drop body fat and since learnt it doesn't have to be like that. Enjoy foods you like and still get the results you want."
Nutrition
Melissa considers diet as the key to success when aiming to sculpt a great figure. She knows that you need to eat clean, and follow a well-planned diet when cutting body fat.
But she also believes that you can enjoy tasty meals in the process – Melissa began eating bland foods, but realized that she could fit in some small treats if she works harder in the gym.
Supplements Stack
In terms of supplements, Melissa takes these:
Spirulina
Multi-vitamins
Fish Oil
BCAA's
Whey Protein
---

"If I can achieve my dreams so can you! Write them down, say them out loud, make them a priority. This is YOUR life, YOU control the outcome"
Idols and Influences
Melissa names her mother as her main influence, as she's always been pushed to succeed and supported by her.
"I have several influences that have help mold me to be who I am today. My mother is my number one role model. She is a hard working woman who has taught me to be the same; she has been my rock and role model since day one; constantly offering me amazing advice and guidance.
---

"Anything you dream can become reality: if you work hard enough for them, don't give up when things are not running smoothly and have patience…"
What we can learn from Melissa Le Man
One thing Melissa's taught us, is this – if you're not happy with your life, then change it. She didn't enjoy working in the corporate world, and made the big decision to pursue her passion, fitness.
Melissa earned her WBFF Pro Card within 3 years of competing, proving that anyone can realize their dreams if they work hard enough.