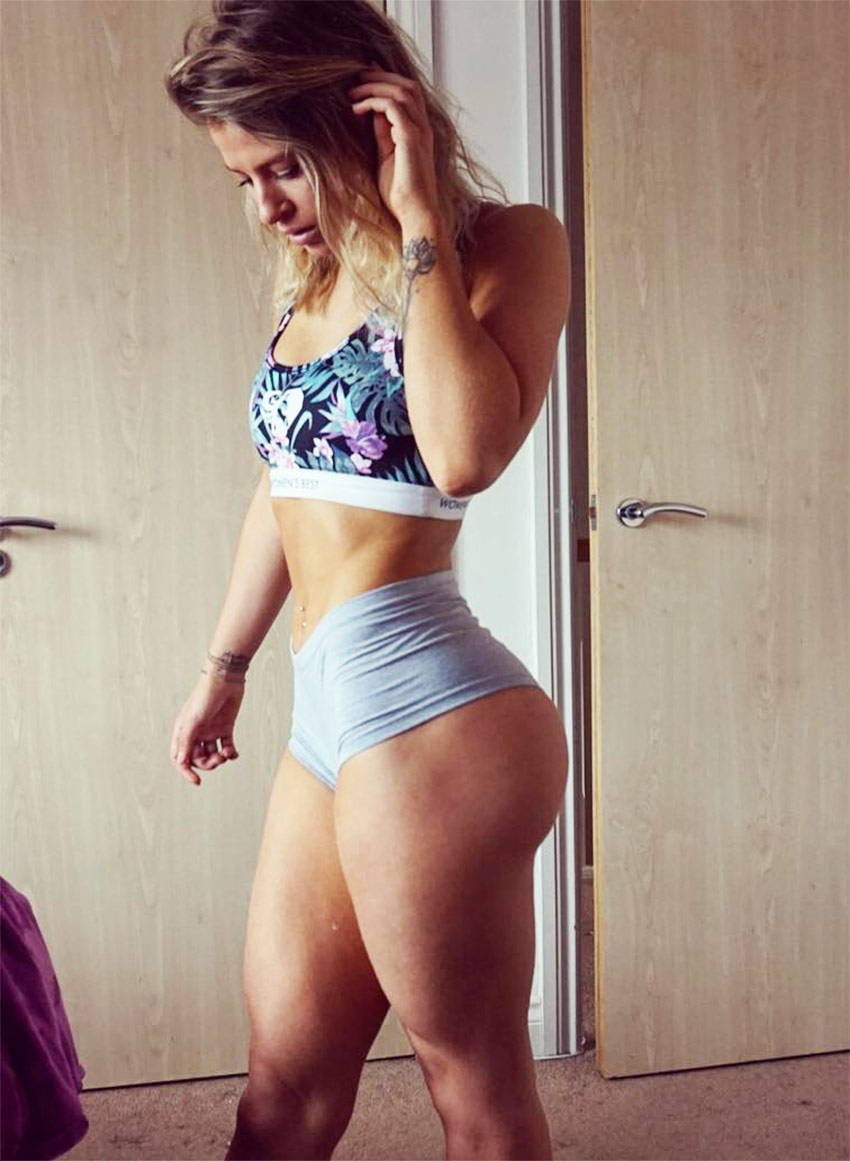 Meggan Grubb
Social Media Star
Meggan Grubb is a personal trainer, musician and social media star from London, UK. She began posting pictures of her lifestyle on March 30th 2016, determined to share her passion for fitness with her friends and family.
However, due to her great figure, Meggan was soon found by the fitness community; many began admiring her musical talent and workout videos, and she gained masses of followers as a result.
This inspired her to take her love for fitness to the next level – the young Brit began studying to achieve personal training qualifications, motivated to help others realize their dream physiques. On the 10th September 2016, Meggan successfully passed and began offering her services as a PT.
By 2017, the Londoner had developed into a social media star, known internationally as @meggan_fit_music on Instagram.
This is her story:
---

Athlete Statistics
Full Name: Megan Grubb
Weight
Height
Bust
Hips
125 - 135lbs (56.7 - 61.2kg)
5'6" (167.5cm)
33"
35"
Waist
Age
Date of Birth
26"
27
February 27, 1996
Nationality
Profession
Alias
English
Social Media Star
Megan Fit Music, Megan Moore
Era
2010
| | |
| --- | --- |
| Weight | 125 - 135lbs (56.7 - 61.2kg) |
| Height | 5'6" (167.5cm) |
| Bust | 33" |
| Hips | 35" |
| Waist | 26" |
| Age | 27 |
| Date of Birth | February 27, 1996 |
| Nationality | English |
| Profession | Social Media Star |
| Alias | Megan Fit Music, Megan Moore |
| Era | 2010 |
---

Accomplishments
Certifications
Personal Training Qualification – Level 3
BIMM London Graduate
---

Biography
Unhealthy Lifestyle
Born and raised in the UK, Megan spent her childhood being increasingly told by her mother how 'lazy' she was. In her teenage years, she enjoyed the party lifestyle and didn't follow a very healthy diet as a result.
Due to not putting any thought into how unhealthy the foods that she was consuming were, Megan finally became unhappy with her figure while on a holiday with her friends; she noticed how self-conscious she was while in a bikini, and felt unattractive compared to other females on the beach.
Making The Change
At this point, she realized that spending time partying wasn't positively affecting her life. Megan knew that she needed to find a purpose and try to succeed in something.
Here's Meggan speaking about her partying lifestyle:
"I just didn't have much direction, and this was the time I came to a standstill after partying for a few years. I partied before I even started at University, I worked at a bar and was always around this environment doing whatever you want. 

"After coming back from holiday, I remember looking back at the pictures and thinking to myself 'OMG what am I doing, what is the point of this and what am I achieving here?'. 

"I began to think there's no point in thinking 'she looks better than me' unless I was prepared to do something about it." – Meggan Grubb
For this reason, she decided that setting her sights on sculpting her dream body would give her something positive to work towards; determined to succeed, she began vlogging and documenting her fitness journey in 2015.
Start of Fitness Journey
At first, Meggan entered the gym without any direction. She didn't have any knowledge in weight-lifting or nutrition, so mistakenly, she believed that lifting weights would lead to her becoming 'too muscular'; at this point, Meggan didn't realize that adding lean mass to her frame would take hard work and consuming a strict diet plan.
As a result, she only used cardio machines without touching any weights.
Although she was putting effort into burning calories in the gym, she wasn't seeing any results due to not changing her diet. Ultimately, this made her realize that she needed to make a change and began following a balanced eating plan.
"I would train once or twice a week, but I didn't know how important nutrition was. I remember one day when I was eating a big bag of chocolate after a gym session, not knowing that I was basically cancelling-out my hard work. 

"Then, I'd go and make myself a ready meal cottage pie! I knew I needed to make a change to my eating habits." – Megan Grubb
---

Meggan's transformation over 2.5 years.
---
Finding Inspiration on Social Media
After educating herself about fitness, Meggan started gaining confidence in her sporting abilities. However, it took her a while to learn more about training methods in the gym; due to her lack of knowledge, she focused on abs and dedicated most of her time working her midsection during workouts.
In fact, it wasn't until Meggan found athletes on Instagram that she realized where she was going wrong; she saw countless female fitness models that hardly focused on their abs, while lifting weights and still managing to sculpt a 6-pack and lean body – without turning into a 'she-hulk'.
As a result, Meggan started to make changes to her training routines, beginning to include weight-lifting workouts provided by athletes on Instagram.
Ultimately, this resulted in Meggan finally seeing small improvements to her figure. Not long after, she made it her goal to add more lean mass to her legs and butt, in order to sculpt a body similar to her main inspiration, Tammy Hembrow.
Here's Meggan speaking about finding her passion for fitness:
"At around 2015, I was starting to want to gain muscle and gain a womenly, curvy figure. I got with my boyfriend, and was shocked at by how little I was eating at first, so he started to cook us both meals and teaching me about the importance of carbs and calories.

"Still to this day, I love Tammy Hembrow. I saw her bum and I said 'I want that'. – Megan Grubb
---

Another picture of Meggan's transformation over the course of 2.5 years.
---
Becoming A Personal Trainer
By 2016, Meggan's confidence had grown enormously, and she'd finally built lean mass on her body; her progress motivated her to pursue a career in fitness and be more involved in the community.
This made her look back on where she started, and all the early mistakes she made, wishing she had more guidance before finding her own feet. As a result, she found the desire to study towards a personal training qualification, in order to help others along their own fitness journey.
Alongside her degree, she spent 6 months working towards the necessary certifications, and after passing her exams, Meggan managed to secure a role as a PT at her local gym.
Here's Meggan speaking about the steps that led to earning her PT qualifications:
"I really started to love fitness by this point. I decided to go even further with fitness and study personal training while still at University. 

"So I did a course that was 1 weekend a month for 6 months, and I worked as a personal trainer at the gym I trained at from the start." – Meggan Grubb
Social Media Star
After helping numerous clients realize their own ambitions in fitness, Meggan made the decision to create her own Instagram profile; she began to use this as an outlet to reach out to females who were intimidated by weight-lifting in the gym.
By uploading videos of her workouts, Meggan hoped that others would embark on their own fitness journey with the right tools needed to succeed – and it worked.
By the end of 2017, Meggan had gained recognition for her Instagram profile. After attracting masses of followers on social media, she created a website offering personalized workout programs, in order to guide clients around the world towards their dream figure.
"I started to film workout videos on Instagram. The reason I wanted to do that was to help other girls who felt scared to go to the weight section in the gym, and a lot of people don't have the money to pay personal trainers. – Meggan Grubb
---

Training
Meggan's goal was to always sculpt a curvy figure with a full butt and lean legs. For this reason, she places a particular focus on lower body workout sessions.
She performs between 8-12 reps per set, believing that her body responds to this rep-range the best, with 3-4 sets per exercise; Meggan likes to focus on HIRT sessions, using circuits to keep the intensity high, without spending hours in the gym.
In terms of cardio, she enjoys performing HIIT (High Intensity Interval Training), as she believes that this is the most efficient method of keeping fit in shorter periods of time. However, she limits the amount of cardio in her workouts, due to her aim being to gain lean mass on butt and legs.
Workout Routine
Here's what Meggan's lower body workouts look like:
HIRT Lower Body Session 
(45 seconds of each exercise, completing 4 rounds of this circuit)
Crab Walk into Sumo Squat
Scissor Legs
Sumo Box Squat into Burpee
Plant Step-Up into Toe Taps
Squat Jumps
Booty-Growing Session 
Barbell Pause Squats – 4 x 8 reps
Smith Machien Squats with Resistance Bands – 4 x 10 reps
Smith Machine Static Lunges – 4 x 8 reps per leg
Smith Machien Split Squats – 3 x 8 reps per leg
Hip Thrusts – 4 x 10 reps
Walking Lunges – 100 reps
---

Nutrition
Unlike other female athletes, Meggan doesn't believe that it's necessary to consume 5-6 meals per day.
Not only that, Meggan doesn't keep track of her calories or macros; instead of religiously counting calories, she ensures that she keeps her intake down by measuring her carbs and sticking to learn proteins and green vegetables.
Ultimately, this has allowed Meggan to sculpt an incredible figure without letting her passion take over her life in a negative way,
Diet Plan
Here's what Meggan's daily eating plan looks like:
Breakfast – Begel with 2 scrambled eggs in coconut oil, and 3 bacon medallions (low fat)
Snack – Peanut butter, milk, chocolate protein powder and banana shake
Lunch – Lean beef burger, sweet potato wedges, spinach and hummus
Dinner – Salmon, steamed broccoli and baby potatoes
---

Idols and Influences
Meggan considers her friends and family to be key motivators behind her success in fitness; it was her mother who made her realize how 'lazy' she was and how destructive leading a party-lifestyle was on her health.
Since then, Meggan has been inspired by numerous female athletes on social media – most notably, Tammy Hembrow, who's workouts she used to sculpt her own curvaceous body.
---

What We Can Learn From Meggan Grubb
One thing that Meggan has displayed throughout her fitness journey is resilience. She made many mistakes before educating herself on training & nutrition, but she never gave up – eventually succeeding in sculpting an amazing bikini body.
Not only that, Meggan has taught us to always help others once you're in a position to do so; after building a curvy figure she was proud of, Meggan went on to earn her personal training qualifications, in order to guide clients around the world to success.